No-bake monster energy balls are made with wholesome ingredients like peanut butter and flaxseeds and naturally sweetened with honey. They're simple to make in 10 minutes and the perfect bite sized snack!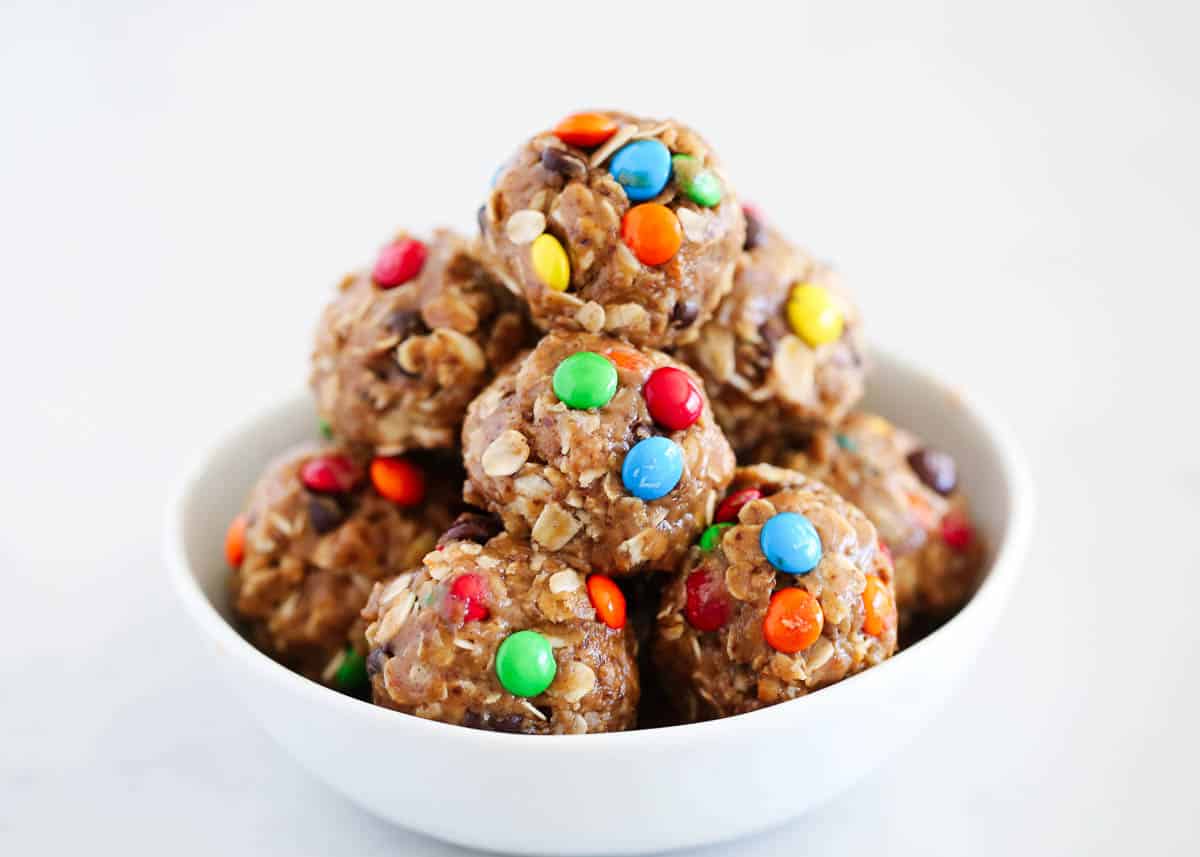 So Much Good in One Little Bite!
This monster ball recipe comes from my desire to turn monster cookies into no-bake energy balls. We're still using oats, peanut butter, and colorful M&M's, but this time we're adding flaxseed and replacing the sugar with naturally sweetened honey.
These energy bites are portable and great for boosting your energy in the afternoon or when you need a healthy snack idea for on-the-go, after school, camping, hiking, road trips, and post workouts!
There's a delicious balance of sweet and salty flavors with creamy crunchy textures. It's so easy to make and fun for the kids to help make. The hardest part about these monster cookie protein balls is resisting popping them all in your mouth in one sitting!
Why We Love Monster Energy Balls
A versatile no-bake treat! They're delicious and nutritious, similar to breakfast cookies or my peanut butter oatmeal balls, and made with plenty of wholesome ingredients that can be swapped, omitted, or added to.
Healthy. These raw monster energy balls are packed with protein from the peanut butter, fiber from the oats and flax, and antioxidants from the honey!
Quick and simple. 5 minutes of prep time and 5 minutes of chill time is all that separates you from biting into one of them. A great no-fuss snack!
Freezer-friendly. Not only do they keep for weeks in the fridge, but months in the freezer!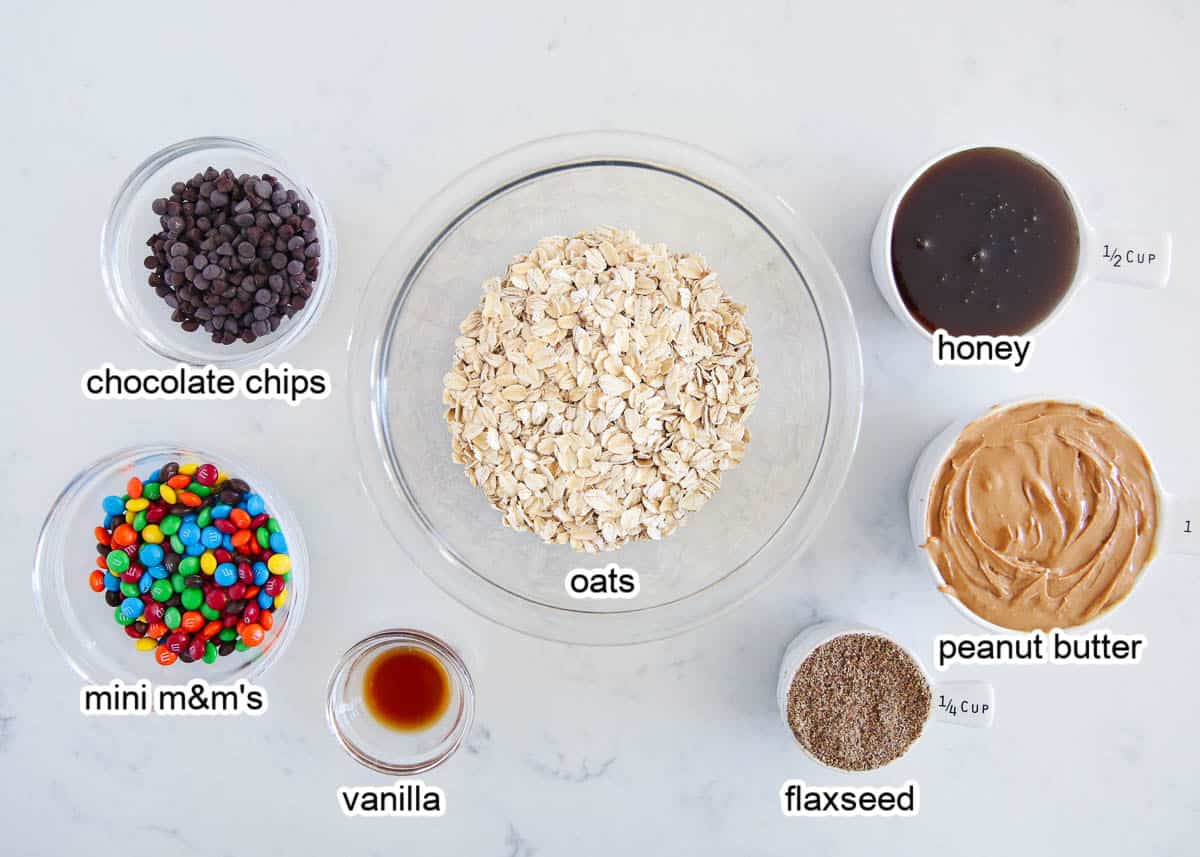 What's in These Monster Energy Balls?
Creamy peanut butter: I use Jif Natural brand, however, it's still regular peanut butter that doesn't need to be stirred. Avoid using natural peanut butter that separates as it is quite thin and runny and will have a hard time keeping its shape.
Honey: The added natural sweetness! Use raw, unpasteurized, creamy, or liquid, it's up to you. Adjust the amount as needed.
Vanilla extract: A flavor boost.
Salt: Balances the sweet and salty ratio to perfection.
Old fashioned oats: I prefer these to instant oats because they are less processed and have a coarser texture, but either will work.
Ground flaxseed: Besides all of the nutrition flaxseed provides like fiber and Omega 3s, it also helps to bind everything together.
Mini M&M's and mini chocolate chips: The fun part! Adjust the amounts as desired.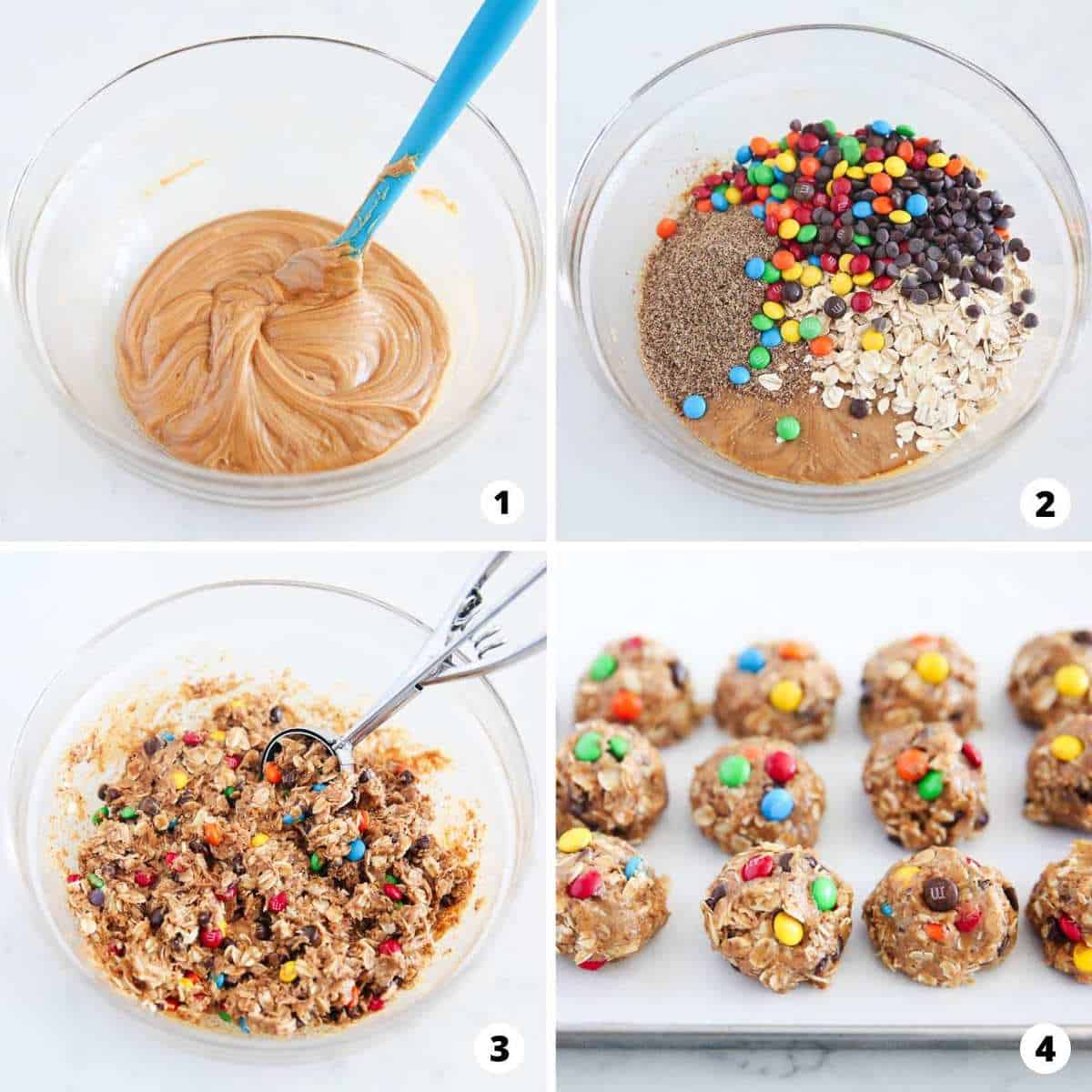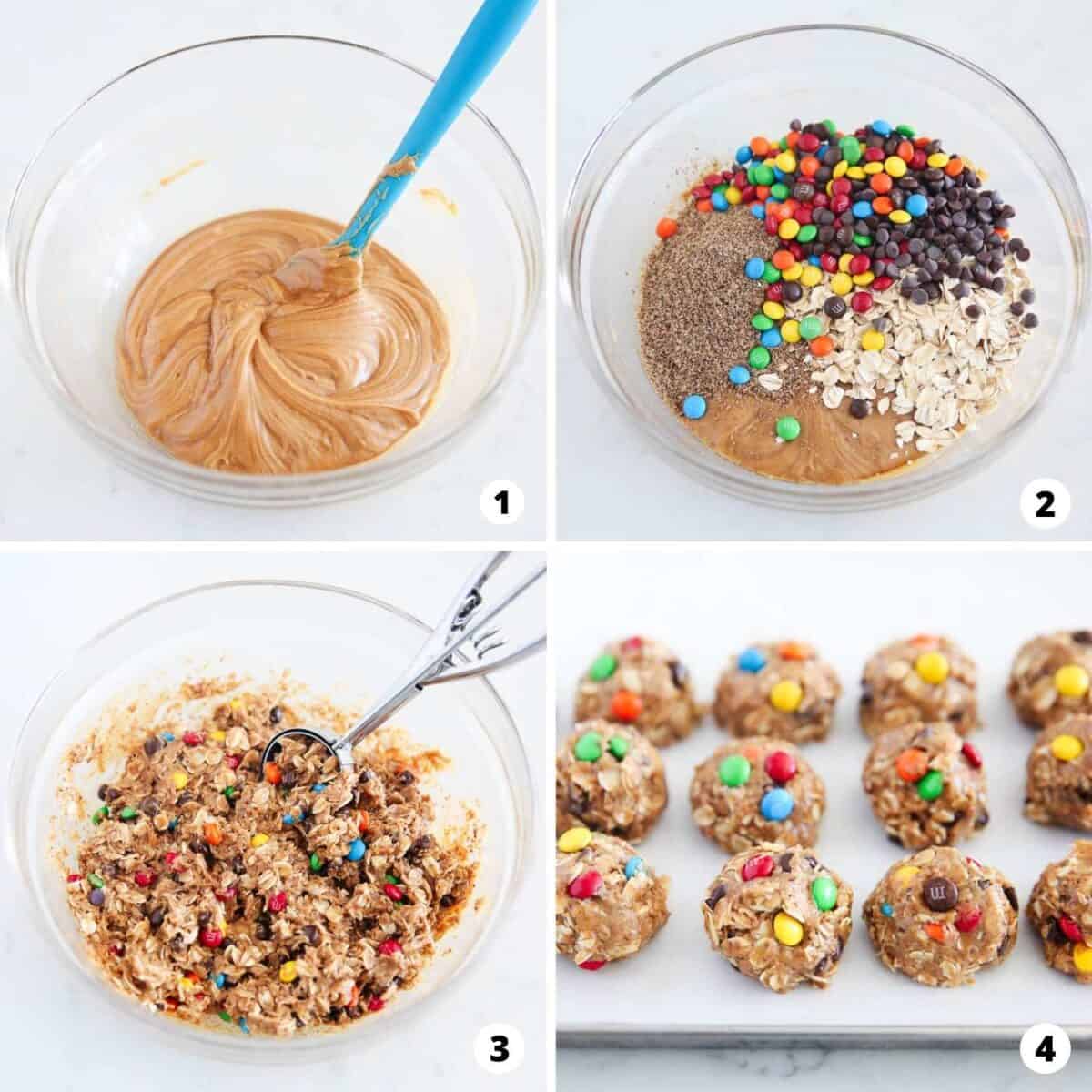 How to Make Monster Balls
Make peanut butter mixture. Grab a medium or large bowl and add the peanut butter, honey, vanilla, and salt. Stir everything until smooth. Give it a little taste and add more honey if you like yours a little sweeter.
Toss in add-ins. To the peanut butter mixture, add in the oats, flaxseed, mini M&M's, chocolate chips, and any other add-ins of your choosing. Stir with a wooden spoon or spatula, until combined.
Scoop out the dough and roll them into balls. Place each one on a parchment-lined baking sheet.
Chill and enjoy. Transfer the sheet to the fridge to chill. Once solid and set, transfer the balls to an airtight container.
Enjoy one immediately. You know, for quality control ;)
What Else Can I Add to Monster Energy Balls?
Whether for flavor, texture, or taste, here are a few ways to boost all three:
A pinch of ground cinnamon
Chia seeds
Protein powder
Unsweetened coconut flakes
Crispy rice cereal
Cocoa powder
Chopped nuts
Recipe Tips
Adjusting for add-ins. When adding extra ingredients, you may notice the dry to liquid ratio has changed. If the mixture feels too try, add a bit more peanut butter and honey. If the reverse happens and it's too sticky, add in 1 or 2 Tablespoons of oats.
For smoother dough texture, use 1/2 cup oats and 1/2 cup Kodiak cakes. Kodiak cakes is a brand of pancake and waffle mix that uses whole-grain flour. Keep in mind mixes do contain their own fat and sugar content.
For a crunchier texture, mix in 1/4 crispy rice cereal.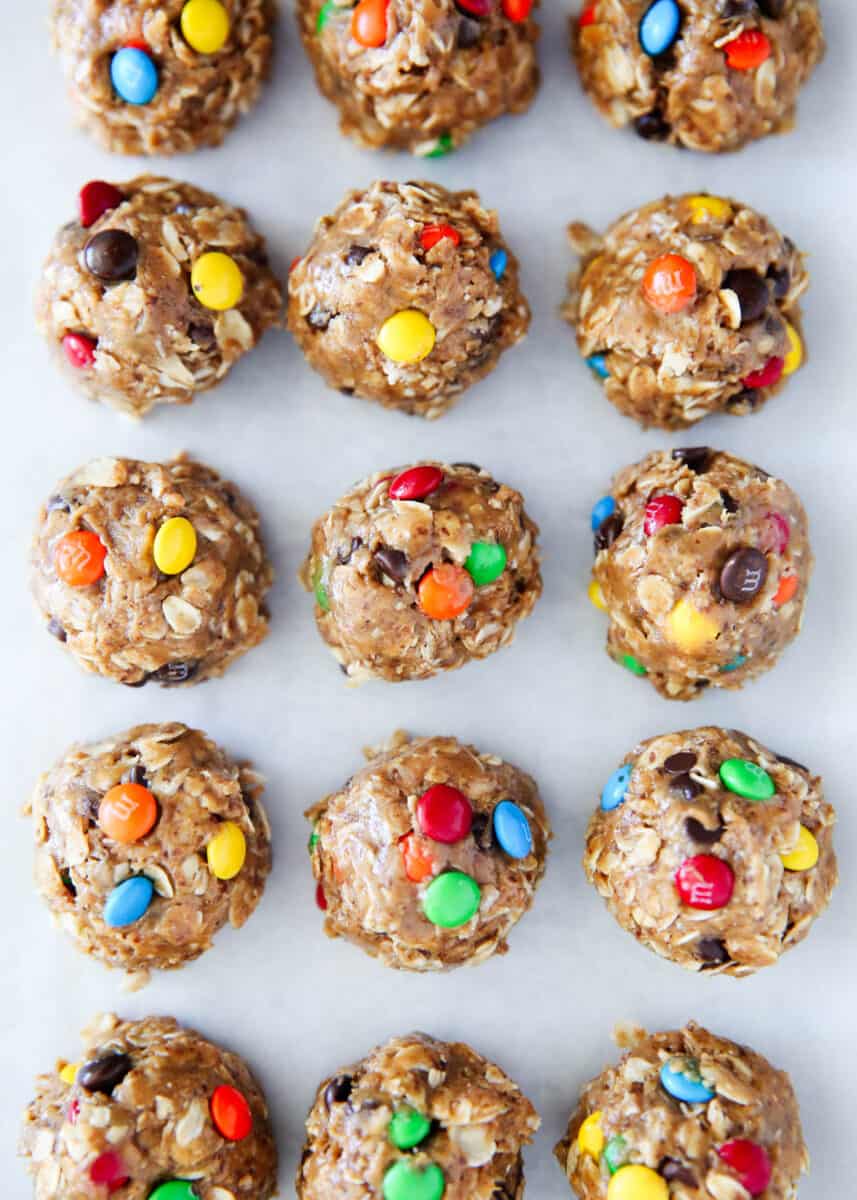 Substitutions
Omit the candy and chocolate. The candy-coated chocolate is part of what makes these monster energy balls just like the monster cookies, but feel free to leave them out if you like. You can also swap them with raisins or chopped nuts instead.
No honey? You can swap for maple syrup instead (I would start with a little less than it calls for)! Both are delicious natural sweeteners.
No peanut butter? Substitute peanut butter for almond butter, Biscoff, cookie butter, cashew butter, or pumpkin seed butter. Just make sure whatever you choose is nice and creamy and not too runny.
FAQs
What makes this no-bake monster cookie energy bites healthy?
Peanut butter delivers tons of protein which keeps us full longer. The flax and oats give us fiber and blood sugar balancing benefits and the flax also has Omegas which we need!

Honey, while it is still a sweetener, has antimicrobial and anti-inflammatory properties and also has vitamins and minerals, especially when raw.

What's great about a flexible recipe is that you can add ingredients that boost the level of nutrients in these monster balls, or omit whatever doesn't work for you and your family.
Are they gluten-free?

Yes! Be sure to check the labels of the peanut butter and oats for GF certification if you're concerned.
Why are they called energy balls?

They're given the name based on what the ingredients are and how they provide energy. Good fats, fiber, and protein all contain elements that can make you feel great and keep you satiated longer.
How long will they keep in the freezer?

3 months. So double or triple your batch if you must!
Storing Suggestions
Keep them stored in an airtight container for up to 2 weeks in the fridge.
To freeze them, consider flash freezing them first before transferring them to a freezer-friendly bag. This way they won't freeze together. To thaw, just leave them out on the counter for a bit before serving.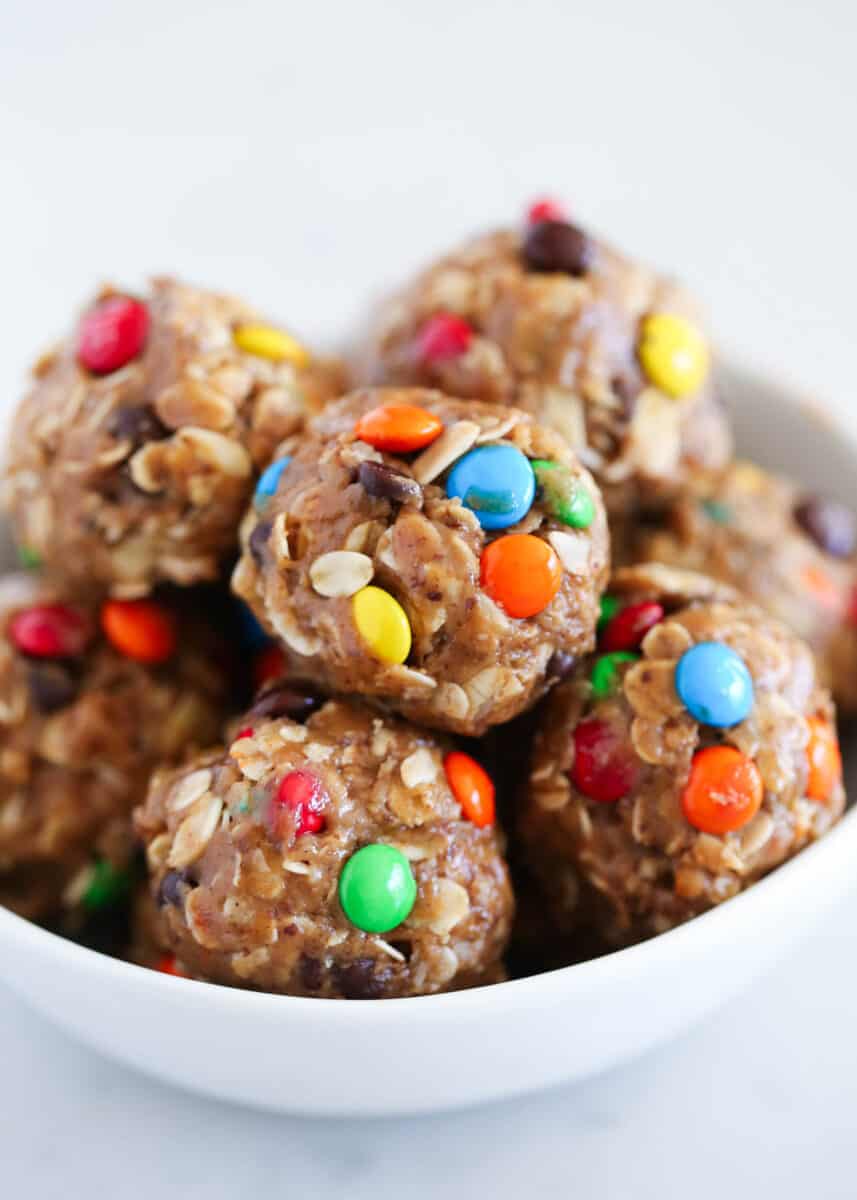 Check out these other easy healthy snack ideas that are great for on-the-go!
HUNGRY FOR MORE? Subscribe to my newsletter and follow on Facebook, Pinterest and Instagram for all the newest recipes!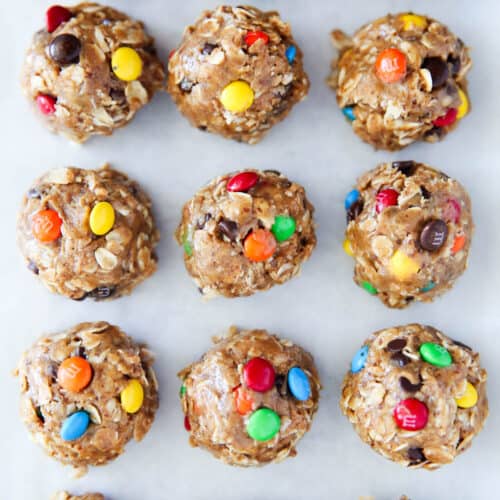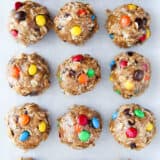 Monster Energy Balls
Monster energy balls are made with wholesome ingredients like peanut butter and flaxseeds and naturally sweetened with honey. They're simple to make in 10 minutes and the perfect protein-packed snack!
Ingredients
Optional Mix-in's: Pinch of ground cinnamon, Chia seeds, Protein powder, Crispy rice cereal, Coconut
Instructions
Line a baking sheet with parchment paper.

In a medium bowl, stir together the peanut butter, honey, vanilla, and salt until smooth. Taste and add more honey if desired.

Add the oats, flaxseed, mini M&M's, chocolate chips, and any other desired mix-in's. Stir until combined.

Using a small cookie scoop or 1 Tablespoon, shape the dough into balls and place on the baking sheet.

Chill in the refrigerator on baking sheet. Then once firm, move to a covered container.
---
Notes
Note: If you add extra ingredients and the mixture feels too dry, add a little more peanut butter and honey. If it feels too sticky, add 1 to 2 Tablespoons of oats. Oats: Yes, you may substitute quick oats, but I prefer old fashioned. Nut Butter: I prefer JIF Natural brand for these. Yes, you may substitute almond butter (make sure it's not too runny). For nut allergies, you could also use Biscoff or cookie butter. Variation: For a smoother cookie dough flavor, try using 1/2 cup oats and 1/2 cup Kodiak cakes. For a crunchier flavor, try mixing in 1/4 cup crispy rice cereal. Storage: Store in a covered container for up to 2 weeks in the fridge or up to 3 months in the freezer.
Nutrition
Serving: 1ball | Calories: 105kcal | Carbohydrates: 11g | Protein: 3g | Fat: 6g | Saturated Fat: 1g | Polyunsaturated Fat: 2g | Monounsaturated Fat: 2g | Trans Fat: 1g | Cholesterol: 1mg | Sodium: 40mg | Potassium: 72mg | Fiber: 1g | Sugar: 8g | Vitamin A: 9IU | Vitamin C: 1mg | Calcium: 14mg | Iron: 1mg
Nutrition provided is an estimate. It will vary based on specific ingredients used.
Did you make this recipe? Don't forget to give it a star rating below!