Jump to Recipe⌄
Rainbow Honey Lime Fruit Salad
Rainbow Honey Lime Fruit Salad Recipe …filled with fresh strawberries, oranges, bananas, grapes and blueberries. Topped with a honey lime glaze. This fruit salad is very easy and very tasty!
One of my favorite things to make during the spring and summer months is a fresh fruit salad. The fresh flavors cannot be beat on a hot summer day. I love adding a honey lime glaze to my fruit salad to not only add a little more sweetness, but to help it stay fresh longer. The flavor combination is outstanding. It is the perfect addition to any BBQ or get together and is a nice twist on your basic fruit salad. Sometimes I like to sprinkle a little coconut, pine nuts or poppy seeds on top.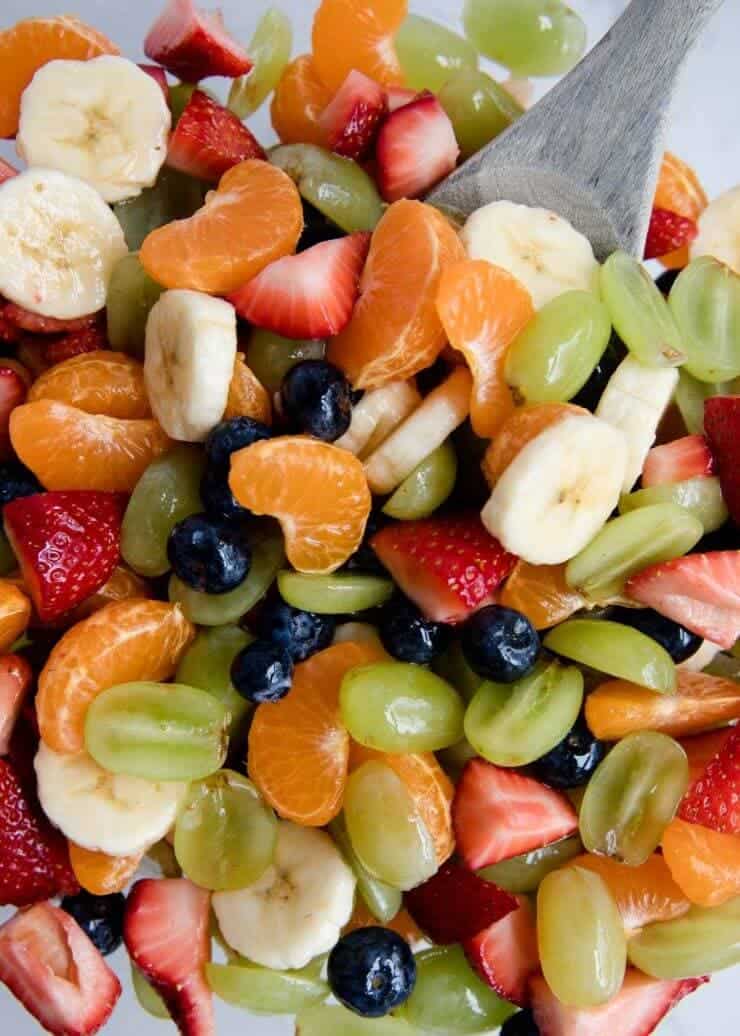 This is such a pretty salad with all the rainbow colors! My kids loved helping me line them up in the right order. They were very particular about the order.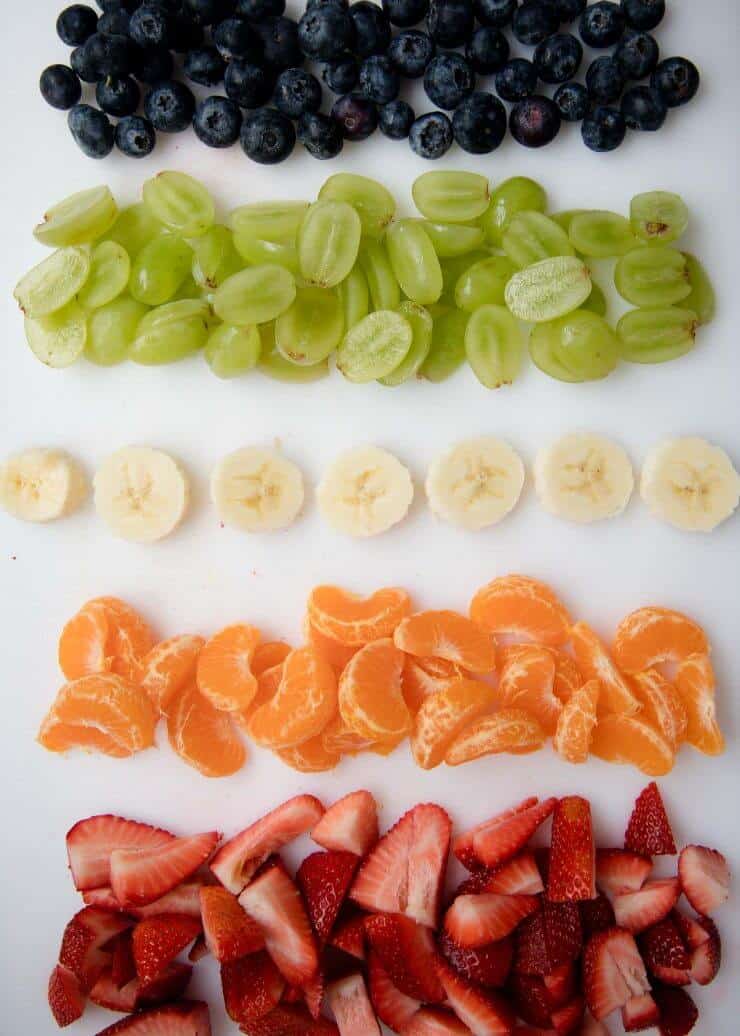 MY OTHER RECIPES
Once all your fresh fruit is washed and cut, you can layer it in a big bowl and then mix up your glaze which is basically lime juice and honey. You could also use fresh orange or lemon juice as well. You can definitely mix up the fruits as well. I tend to use whatever I have on hand.
Favorite fruits to add to this Rainbow Honey Lime Fruit Salad
Strawberries
Raspberries
Mandarin oranges
Mango
Bananas
Pineapple
Kiwi
Green or red grapes
Blueberries
Blackberries

I feel like the salad must have strawberries and grapes though (especially if there are kids around). Those tend to always be the favorite around my house. Although, I'm pretty sure my kids will eat any type of fruit. Veggies are a whole different story.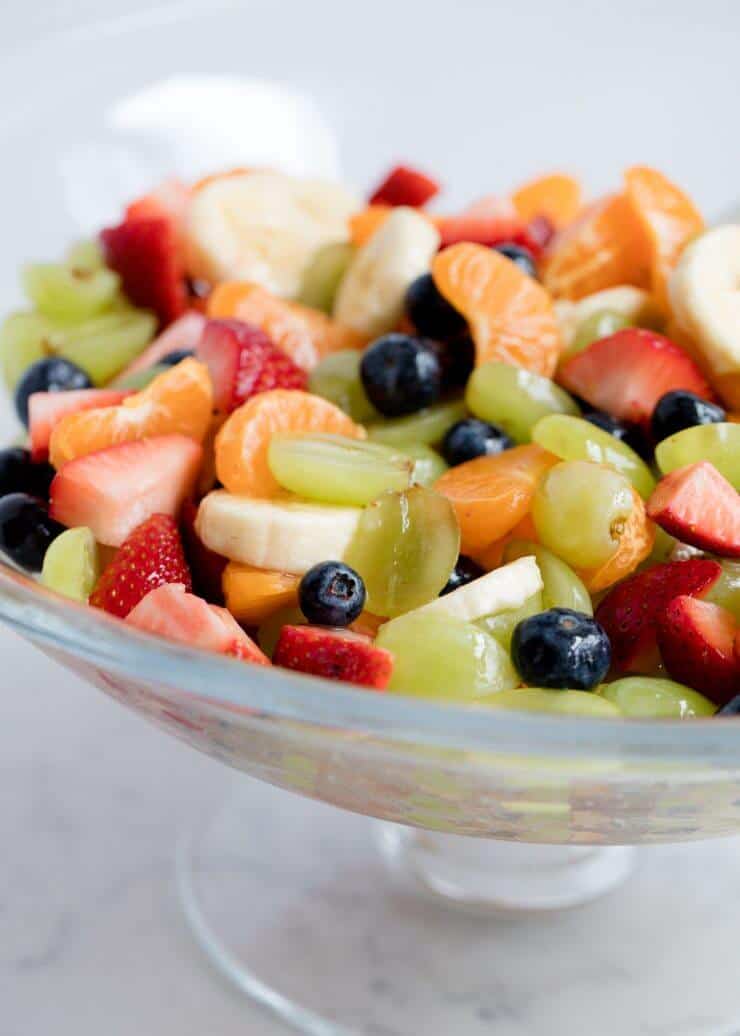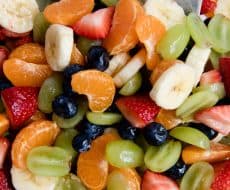 Rainbow Honey Lime Fruit Salad
Easy, healthy fruit salad! A must try!
Print
Ingredients
2 cups strawberries
1 cup mandarin oranges about 4 oranges or an 11 ounce can
1 large banana sliced
1 1/2 cups green grapes sliced in half
1/2 cup blueberries or blackberries
2 Tablespoons honey
1 lime juiced
lime zest if desired
Instructions
Toss the fruit in a large bowl. Then whisk together the honey and lime in a small bowl. Add some zest from the lime, if desired. Drizzle over the top of the fruit and stir until evenly coated. Refrigerate until ready to serve. Best served within the first day or two.
Recipe Notes
You may also use a lemon or orange for the juice/zest.
Nutrition Facts
Rainbow Honey Lime Fruit Salad
Amount Per Serving
Calories 53
% Daily Value*
Sodium 1mg 0%
Potassium 145mg 4%
Total Carbohydrates 14g 5%
Dietary Fiber 1g 4%
Sugars 10g
Vitamin A 2.6%
Vitamin C 26.8%
Calcium 1.4%
Iron 1.5%
* Percent Daily Values are based on a 2000 calorie diet.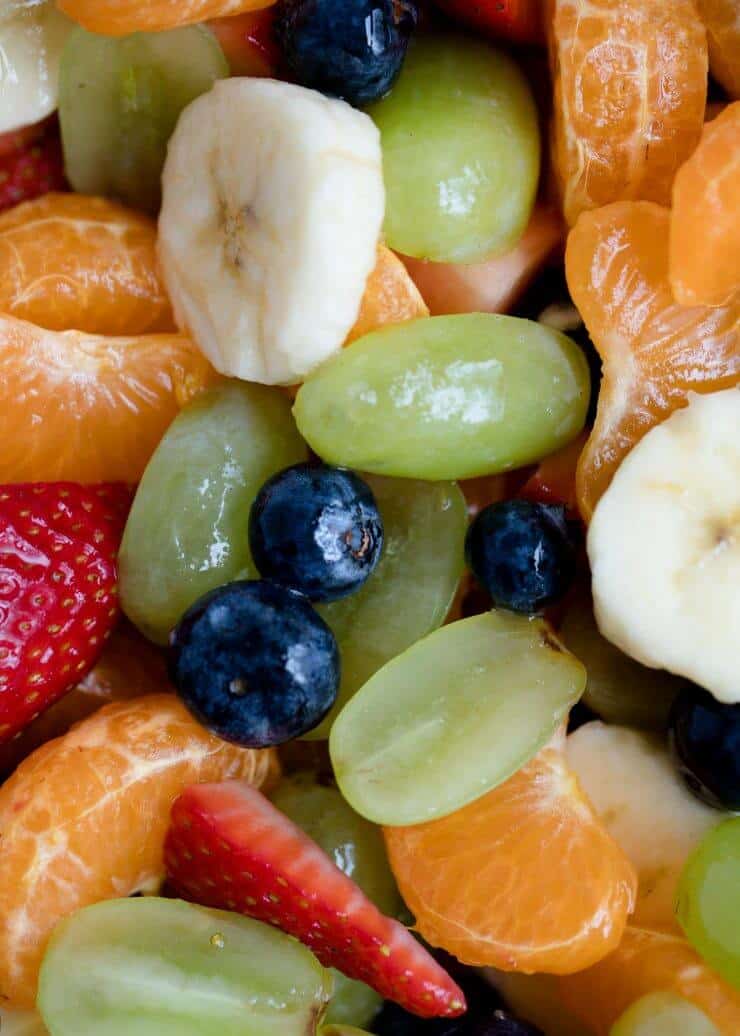 Enjoy!
Looking for more fruit recipes? You'll loves these too: