Rainbow honey lime fruit salad filled with fresh strawberries, oranges, bananas, grapes and blueberries. Then topped with a delicious honey lime glaze.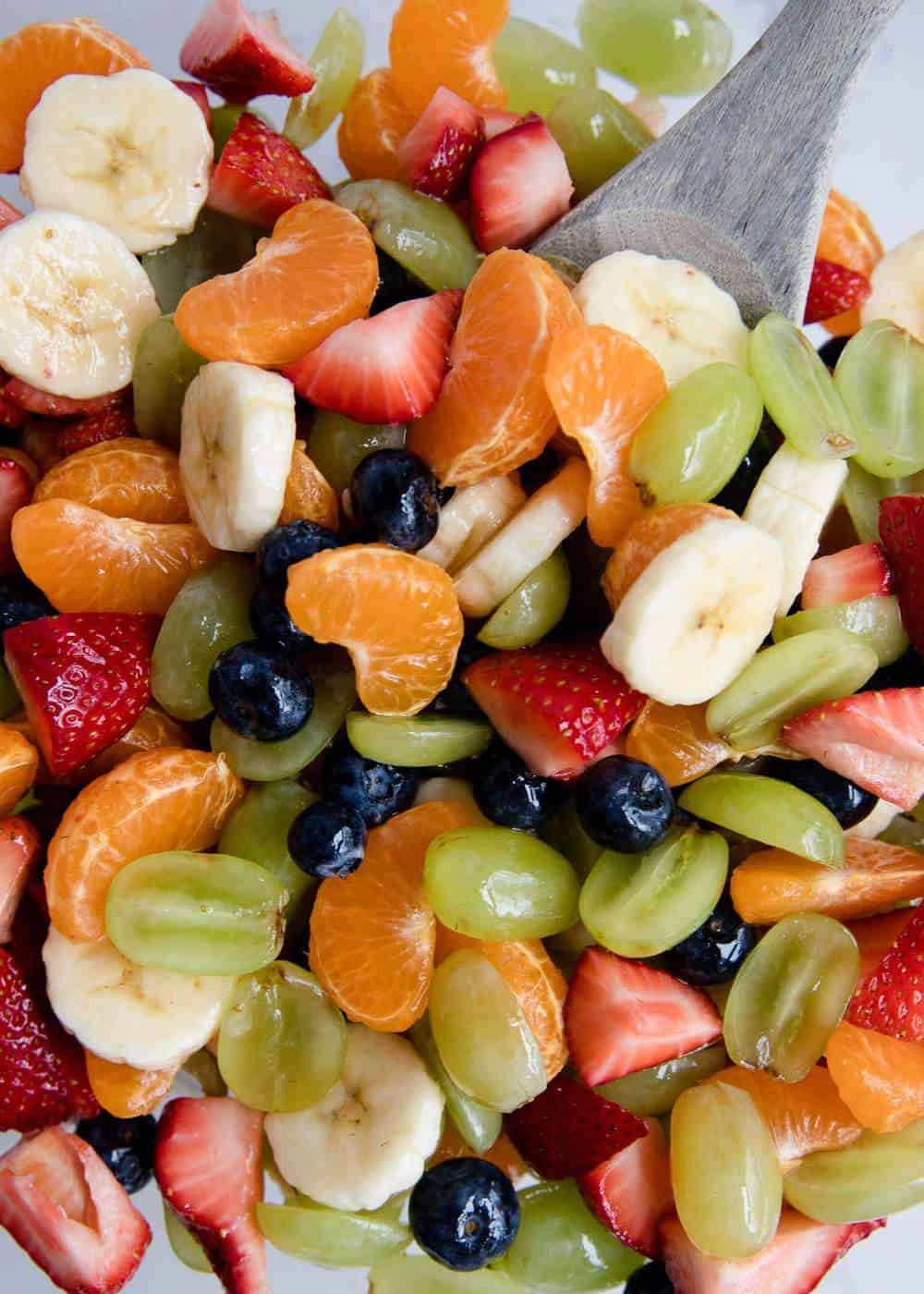 Healthy Potluck Salad
One of my favorite things to make during the spring and summer months is a fresh fruit salad. The fruit is so ripe and juicy and the refreshing taste just can't be beat on a hot summer day. This recipe is the perfect side dish to bring to a BBQ or get together and is a nice twist on your basic fruit salad.
I love adding a honey lime glaze to not only add a little more sweetness, but to help it stay fresh longer. The lime keeps the fruit from browning and adds a bright citrus flavor. When mixed with the honey, it makes a syrup consistency and coats the fruit perfectly. The flavor combination is outstanding.
Sometimes I like to add in a little shredded coconut like in I do in my ambrosia salad recipe, or add in pine nuts or poppy seeds for a crunch. So simple, fresh and delicious! And don't forget healthy too :)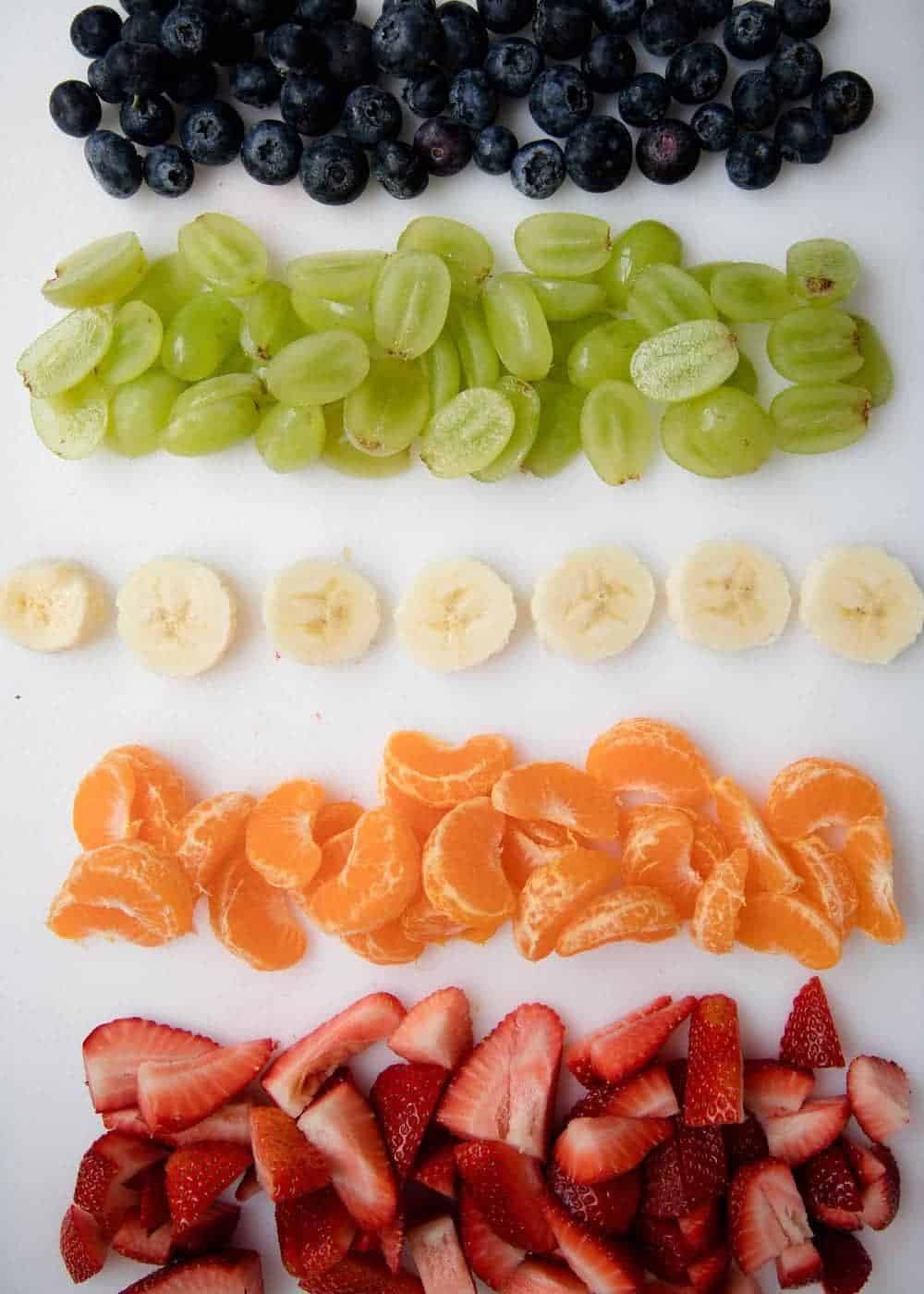 Best Fruit to Use
To me, the must-haves are strawberries and grapes (especially if there are kids around). Those tend to hold up well and are always the favorite around my house. Although, I'm pretty sure my kids will eat any type of fruit. Veggies are a whole different story. :)
Below are some of our favorites to add. You can definitely mix up the varieties you add though…I tend to use whatever I have on hand. You could even use different types of berries to make a berry fruit salad.
Strawberries
Raspberries
Mandarin oranges
Mango
Bananas
Pineapple
Kiwi
Green or red grapes
Blueberries
Blackberries
How Do you Keep the Fruit From Turning Brown?
One of the main tricks to keep fruit salad from turning brown is to mix in some lime juice (or any type of acidic juice like orange juice or lemon juice). The acidity in the juice helps to slow down the chemical reaction that causes it to brown. Plus it adds great flavor, especially when it's mixed with the sweet honey. Also make sure to cover the dish tightly with plastic wrap or a lid, so that it stays super fresh and delicious!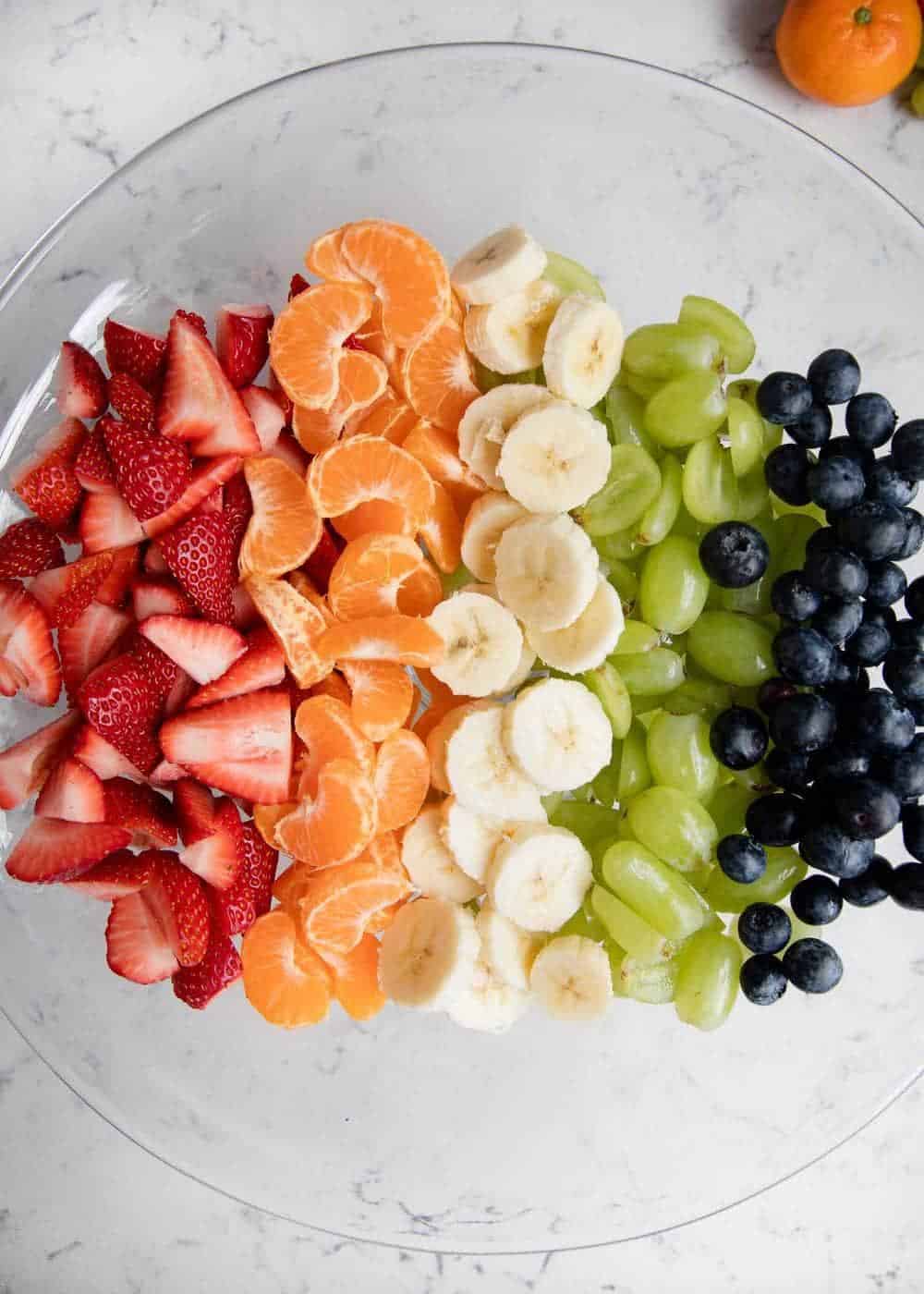 Tips for the Best Fruit Salad
Ripe fruit. Use fruit that's in season, so that it's super ripe, juicy and perfectly sweet. If you're buying varieties that takes a few days to ripen (mangoes, pineapples), make sure to pick those up a few days in advance so that they're fully ripe by the time you make the salad.
Juice. Use the juice of a FRESH lime. It tastes so much better than the bottled lime juice and gives you the opportunity to grate in some extra lime zest for more flavor. If you don't have limes on hand, you may also use fresh lemon or orange juice. Pineapple juice would also taste delicious.
Dice evenly. Make sure to dice all of the fruit into evenly sized pieces, so that each bite is filled with a nice variety.
Add bananas last. If you're preparing the salad in advance, hold off on adding the sliced bananas. They tend to brown quickly and sometimes the flavor can be overpowering. Add them in right before serving.
Make Ahead + Storing
This recipe will keep in the fridge for about 1-2 days. I like to enjoy it within the first couple of days so that the fruit doesn't get soggy or lose it's flavor. If you're looking for ways to use it up, try adding it in a yogurt parfait or on top of overnight oats. You can even use it to make infused water as well.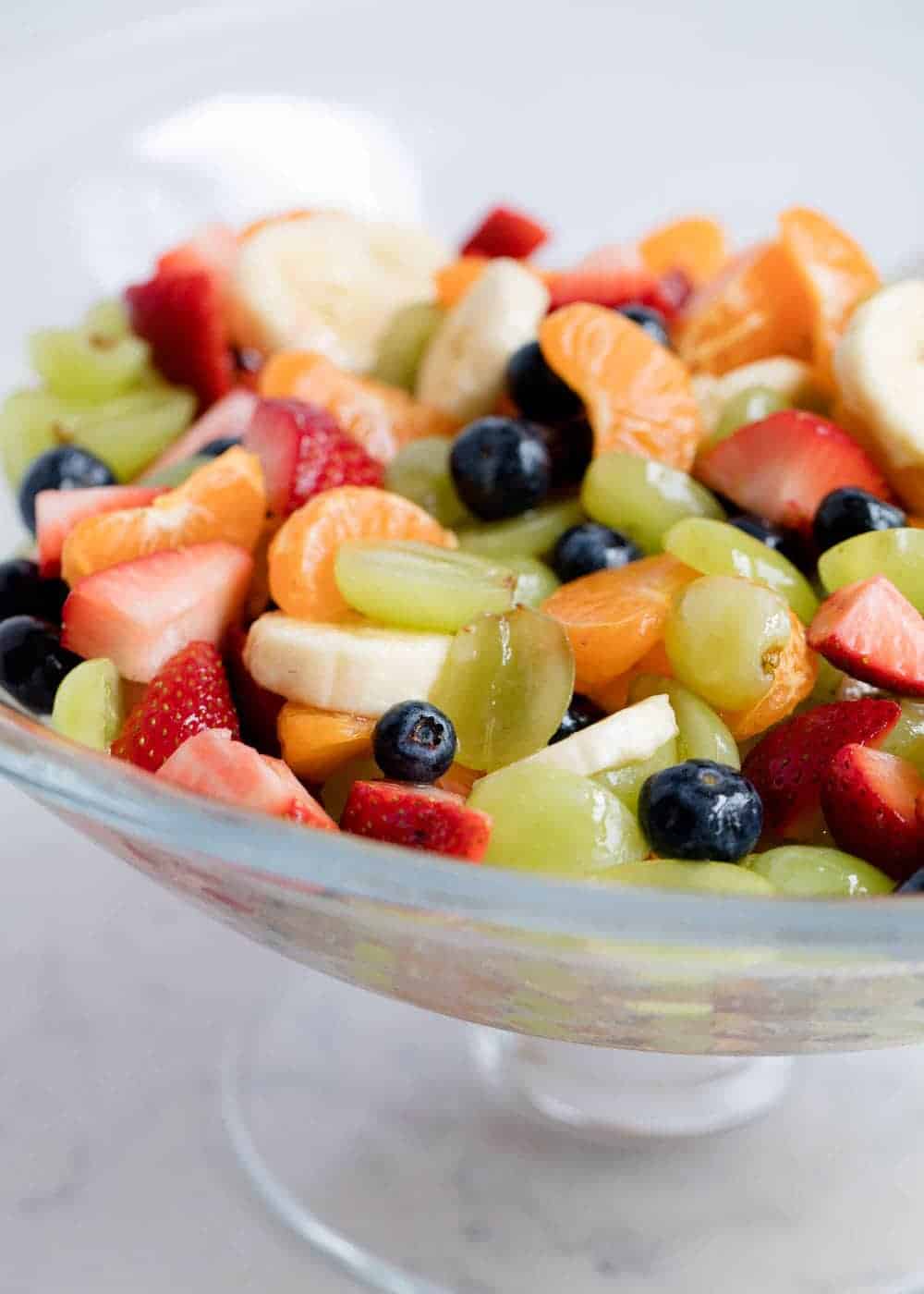 More Fresh Fruit Recipes
HUNGRY FOR MORE? Subscribe to my newsletter and follow on Facebook, Pinterest and Instagram for all the newest recipes!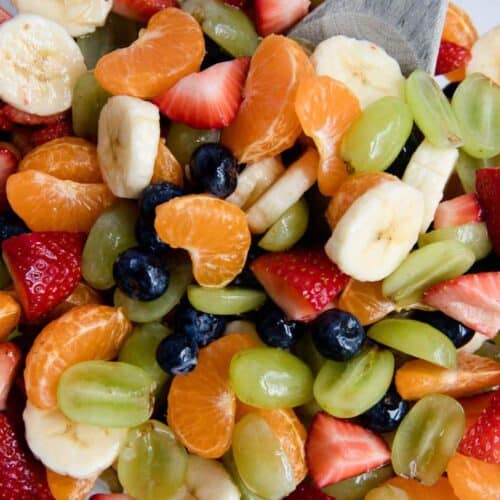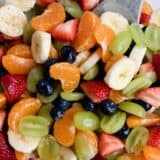 Honey Lime Fruit Salad
Rainbow honey lime fruit salad filled with fresh strawberries, oranges, bananas, grapes and blueberries. Then topped with a delicious honey lime glaze.
Ingredients
2 cups strawberries
1 cup mandarin oranges , about 4 oranges or a 11 ounce can (drained)
1 large banana , sliced
1 ½ cups green grapes , sliced in half
½ cup blueberries or blackberries
2 Tablespoons honey
1 lime , juiced
lime zest , if desired
Instructions
Toss the fruit together in a large bowl.

Then whisk together the honey and lime in a small bowl. Add some zest from the lime, if desired.

Drizzle over the top of the fruit and stir until evenly coated. Refrigerate until ready to serve. Best served within the first day or two.
---
Notes
Juice: You may also use a lemon or orange for the juice/zest.
Fruit: Feel free to add in other varieties, like mangoes, pineapple, raspberries or kiwi. Or just use a mix of fresh berries, like I did in my berry fruit salad recipe.
Nutrition
Calories: 53kcal | Carbohydrates: 14g | Sodium: 1mg | Potassium: 145mg | Fiber: 1g | Sugar: 10g | Vitamin A: 130IU | Vitamin C: 22.1mg | Calcium: 14mg | Iron: 0.3mg
Nutrition provided is an estimate. It will vary based on specific ingredients used.
Did you make this recipe? Don't forget to give it a star rating below!