Everyone needs the perfect homemade pound cake recipe in their back pocket and this one is it! Perfectly moist, slightly dense, tender, buttery, and with the right amount of sweetness!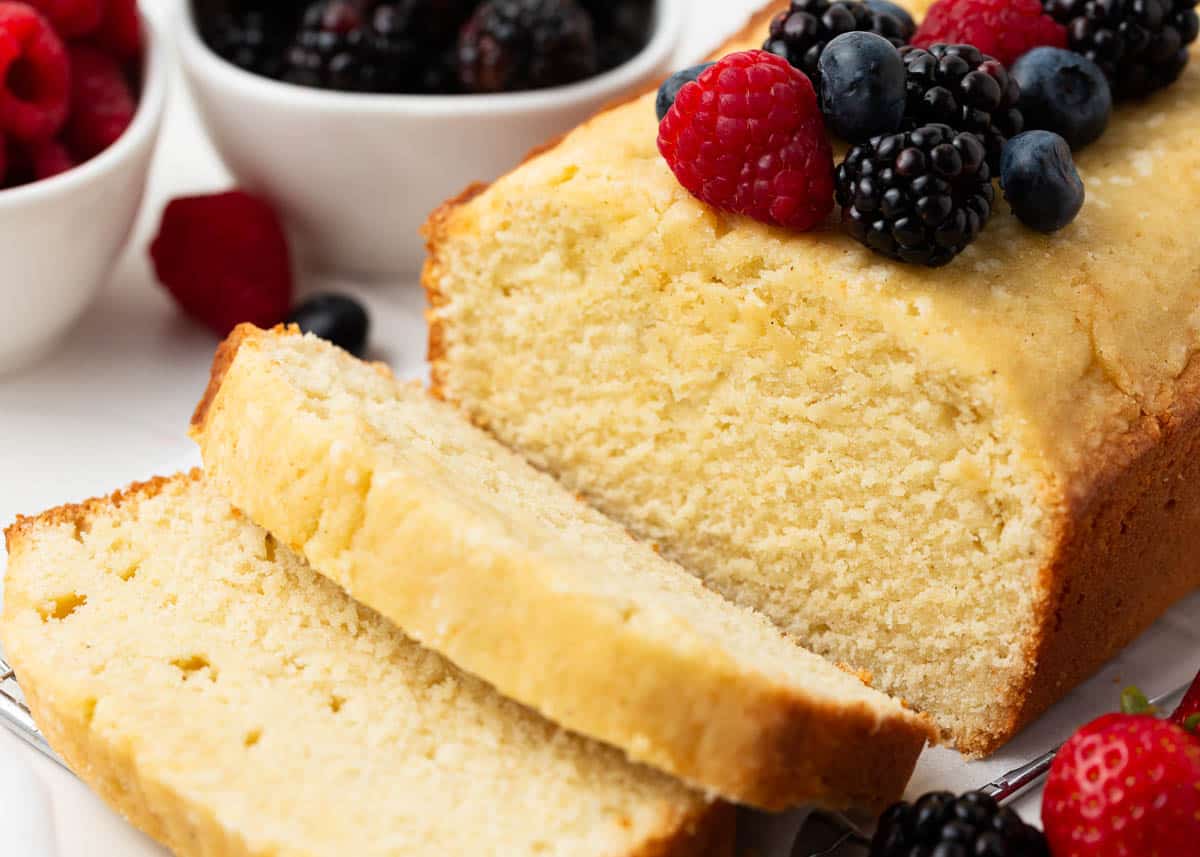 A Cake For Every Occasion!
This easy pound cake recipe is the perfect way to spark new life into a timeless classic otherwise known as a homemade pound cake! Don't get me wrong, it's always been a fantastic cake, however, I do feel it's been underrated. Until now that is because this rich, buttery, moist cake is dense with a tender crumb that just melts in your mouth!
While the traditional pound cake recipe is made with a pound of flour, butter, eggs, and sugar, we're ramping ours up with delicious vanilla flavor and baking soda and milk for a little extra moisture and bounce!
It can be enjoyed as is for breakfast, brunch, or snack, or used in other recipes like this strawberry shortcake trifle or classic strawberry shortcake recipe. A cake so simple, yet so tasty and versatile deserves the spotlight once in a while!
Why We Love This Dessert
It's the easiest! It's one of those desserts you can make on a whim because the chances of you having everything you need on hand are pretty great. Just a handful of ingredients, 10 minutes of prep and the oven does the rest. It's a recipe every home cook and new baker should have on hand!
Moist and delicious. At first glance, the pound cake doesn't look all that inspiring. It's very unassuming. No frosting, no layers, just buttery, moist, softness that has just the right amount of sweetness. It's incredibly deceiving because it's so good!
Freezer-friendly. There is nothing more satisfying than remembering you have a frozen pound cake stored in your freezer because you were smart enough to make two! It's a quick thaw and you have something to serve guests on a whim!
Ingredients Needed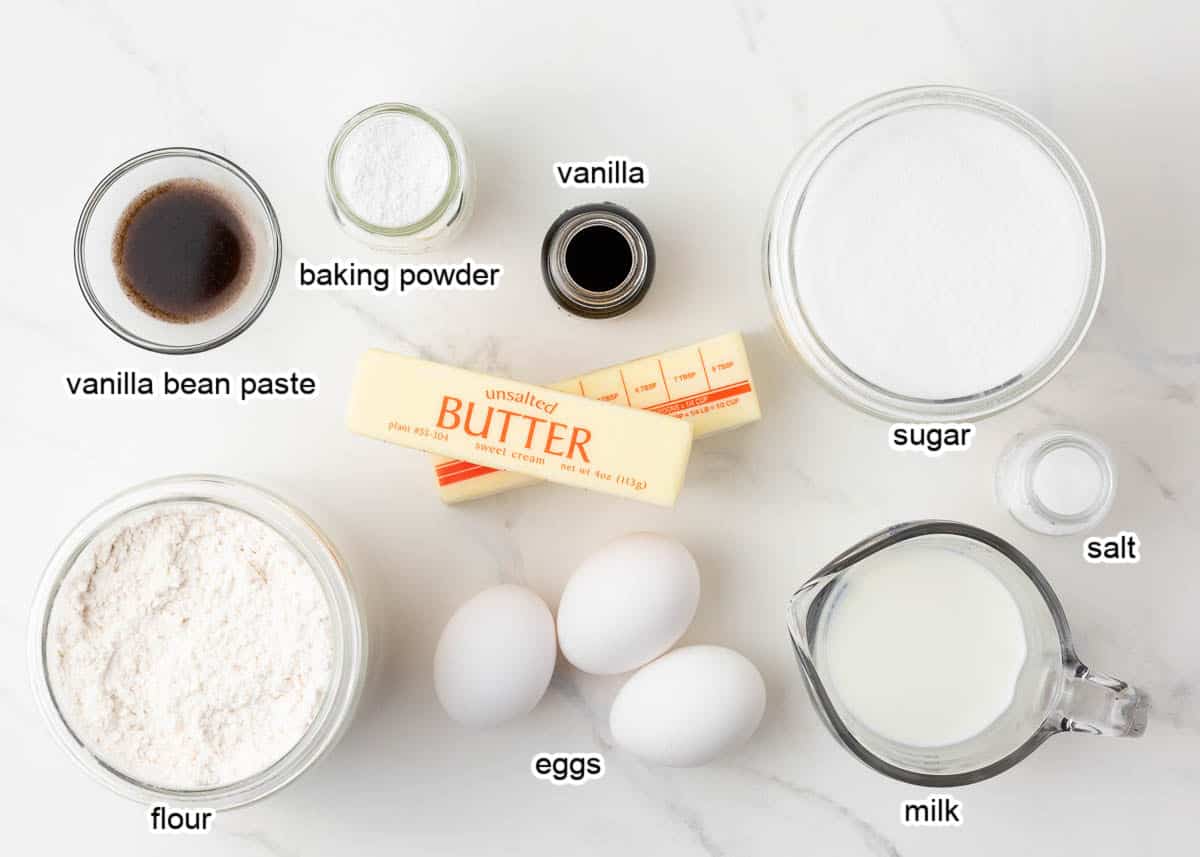 Find the full printable recipe below.
All-purpose flour: I use all-purpose flour rather than any sort of cake flour, as it is much sturdier and keeps a moist crumb, but nothing that is too delicate. As with any baking recipe, it's important to know how to measure flour correctly for the best homemade pound cake!
Baking powder: A leavening agent that gives the cake a bit of extra rise it might not have otherwise.
Fine sea salt: Brings out the flavors in this cake recipe.
Butter: This recipe benefits from all the ingredients starting at room temperature. If you're ready to begin and forgot this step, here's a note on how to soften butter quickly and easily. You can also grate the cold butter into the bowl which helps it to soften.
Large eggs: Same goes for the eggs! If they're still cold, cover them with warm water for 5 minutes.
Pure vanilla extract: A really good quality extract can make a world of difference!
Vanilla bean paste: A combination of vanilla extract, vanilla powder, and other thickening agents. It provides those delicious flecks of vanilla that the vanilla bean does and a more intense flavor than just the extract alone.
Milk: Use any kind you want but the higher the fat the more moist the texture will be.
Variations & Substitutions
Jazz up the taste of this classic pound cake with a different flavor. Replacing the vanilla extract and vanilla paste with almond extract.
Make a lemon pound cake by using lemon extract and lemon zest or orange extract or orange zest, lime extract, and lime zest. You get the idea!
This vanilla pound cake recipe stays true to the frosting-less ways of baker's past and is great with just a dollop of homemade whipped cream and fresh berries. However, I'm also not opposed to adding a cream cheese glaze, orange glaze, or a simple powdered sugar icing either.
How to Make Pound Cake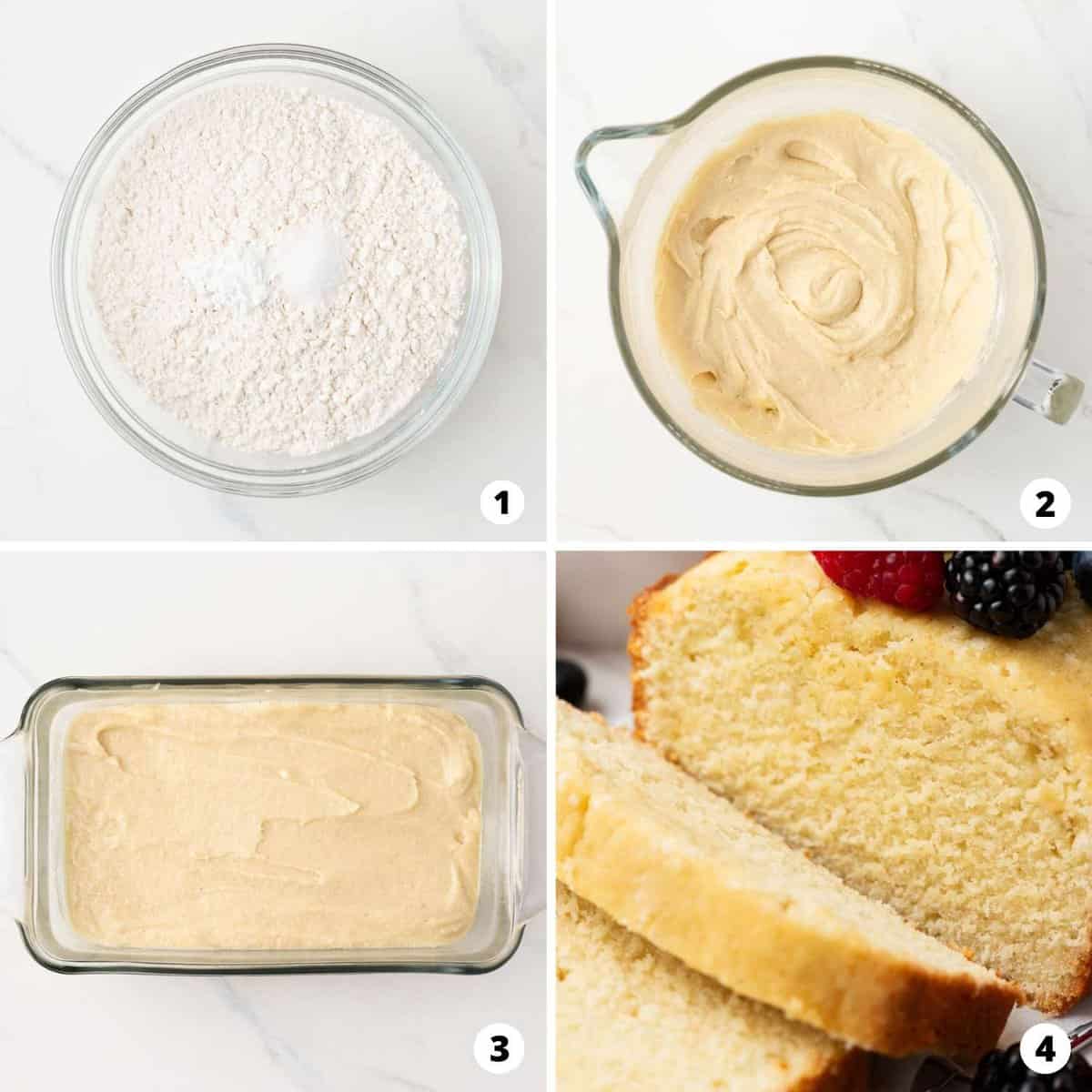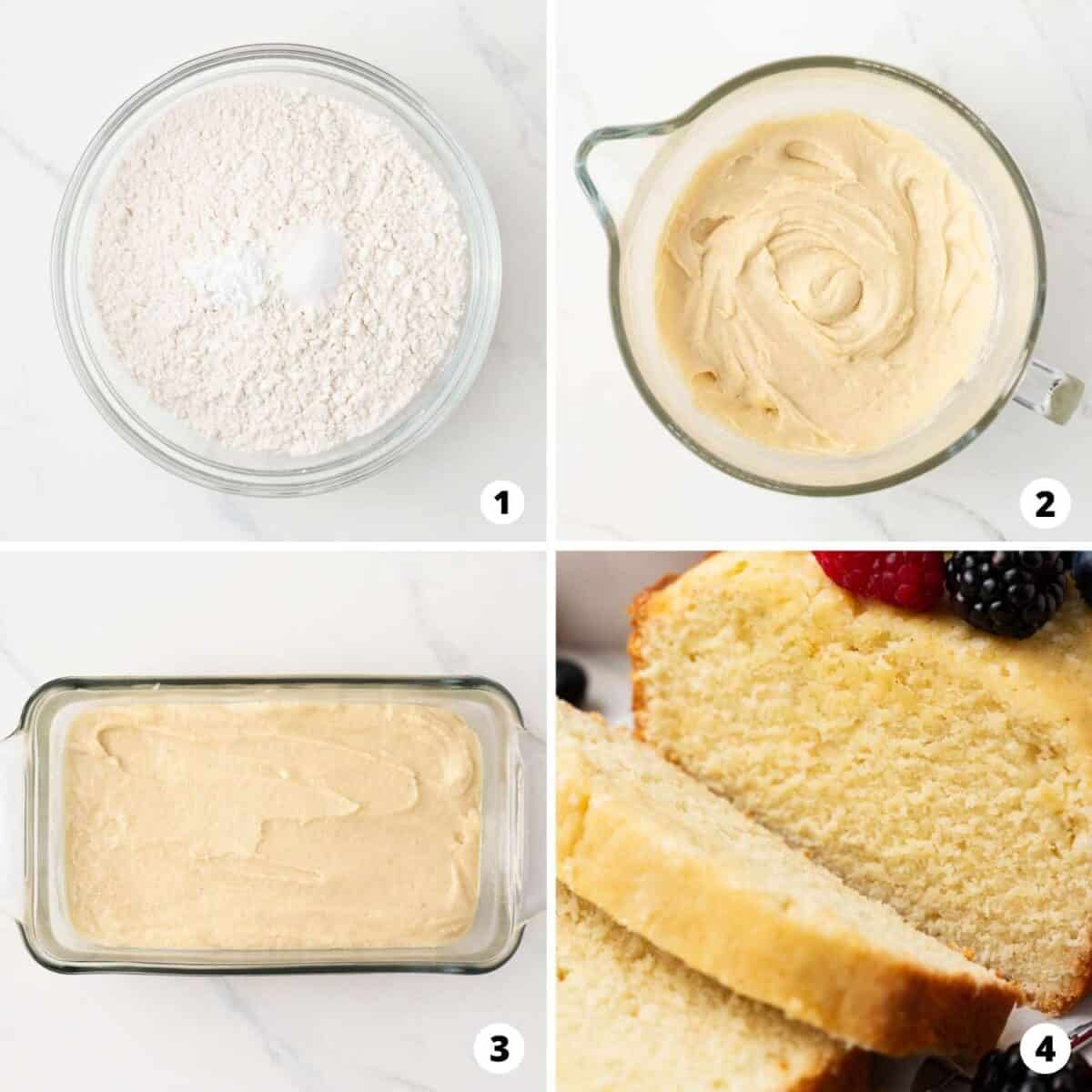 Mix dry ingredients: In a small bowl, whisk together the flour, baking soda, and salt.
Mix wet ingredients: In the bowl of a stand mixer, beat butter and sugar until pale and creamy. Then, add 1 egg at a time until they are fully combined. Next, add in both the vanilla extract and vanilla paste. Finally, take your small bowl of dry ingredients and add 1/3 of it while mixing, then 1/2 the milk. Repeat this by alternating milk and flour until the cake batter is nice and smooth, but be careful not to overmix.
Pour the prepared batter into your loaf pan and don't forget to scrape the sides of the bowl to get all of it in there. Smooth the top with a rubber spatula.
Bake for 40 minutes at first, then open up the oven and loosely tent the cake with foil to keep it from getting too dark. You want just a subtle golden color. Then bake for 10-12 minutes more.
Expert Tips
To check for doneness, you'll notice the cake has domed, which means it has risen above the loaf pan. Place a toothpick in the middle of it and if it comes out clean, it's ready. A longer wooden skewer might do a better job just because of how deep this cake is.
Allow it to cool in the pan for at least 30 minutes before removing it to cool completely on a cooling rack. It will continue to bake a bit as it cools, so do not keep it in the oven too long!
This recipe suggests a stand mixer, but it's completely doable with a hand mixer.
Be sure to grease the pan with a cooking spray or butter and flour so it doesn't stick when you're trying to remove it.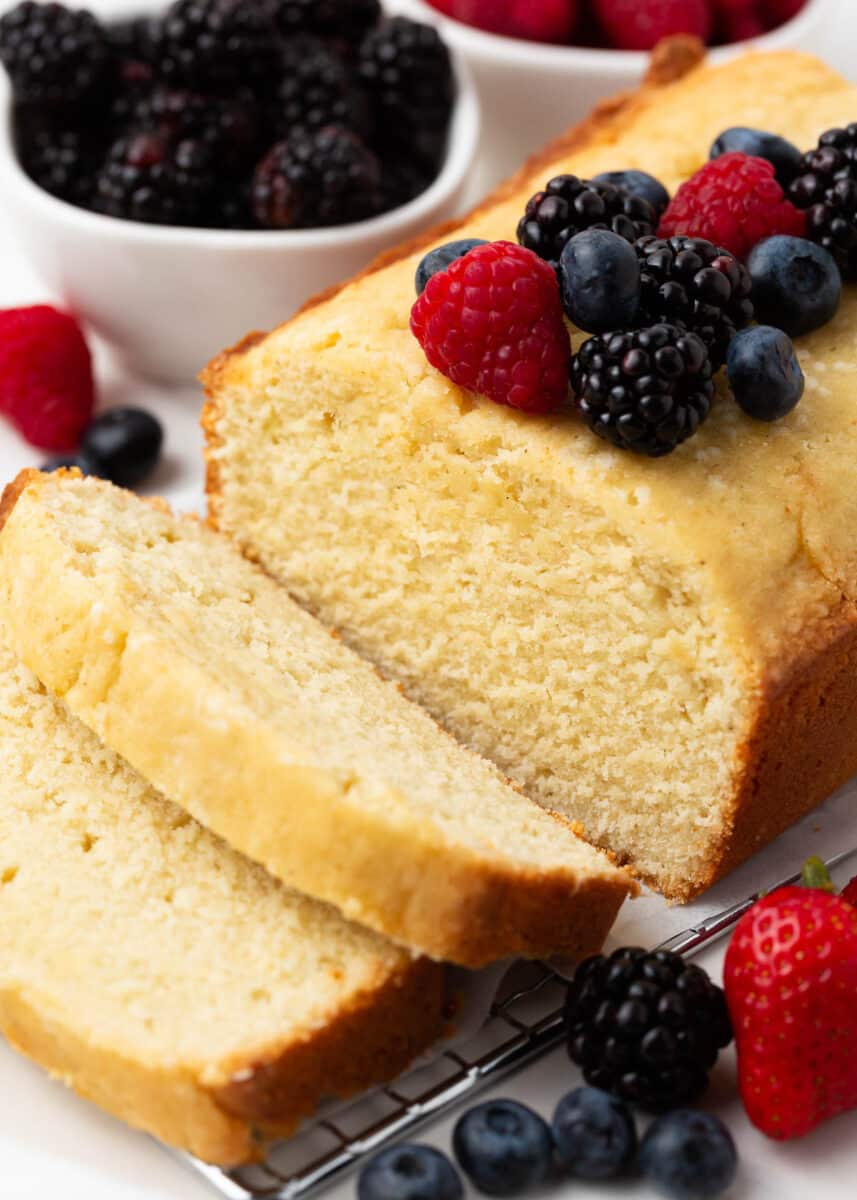 Recipe FAQs
Why are pound cakes called that?
Traditionally it was made with just four ingredients, flour, butter, eggs, and sugar and the amount of each one was…a pound!
What is the difference between a pound cake and a sponge cake?
The main difference is that sponge cake doesn't use eggs, but instead will sometimes use whipped egg whites to give it a nice fluffy texture. Pound cake is more of a dense cake.
Why do pound cakes crack on top?
Pound cake (unlike other cakes) are supposed to crack a little bit on top. It is more of a dense cake so the exterior cooks first causing the center to break as it rises. If you don't want it to crack you can bake it in a tube pan.
Storage
To store: If you have a leftover slice or two, keep them at room temperature in an airtight container. I promise, they'll be gone soon enough! If you happen to have more, they'll stay fresh for up to 5 days.
I wouldn't keep it in the fridge, as it tends to dry it out quickly.
To freeze: If you know you're going to be making two to freeze one, don't slice it first. It'll stay extra moist this way. If you're freezing leftovers, no biggie, just be sure to wrap it nice and tight and store it in an airtight freezer-friendly bag or container.
Thaw at room temperature so it won't dry out!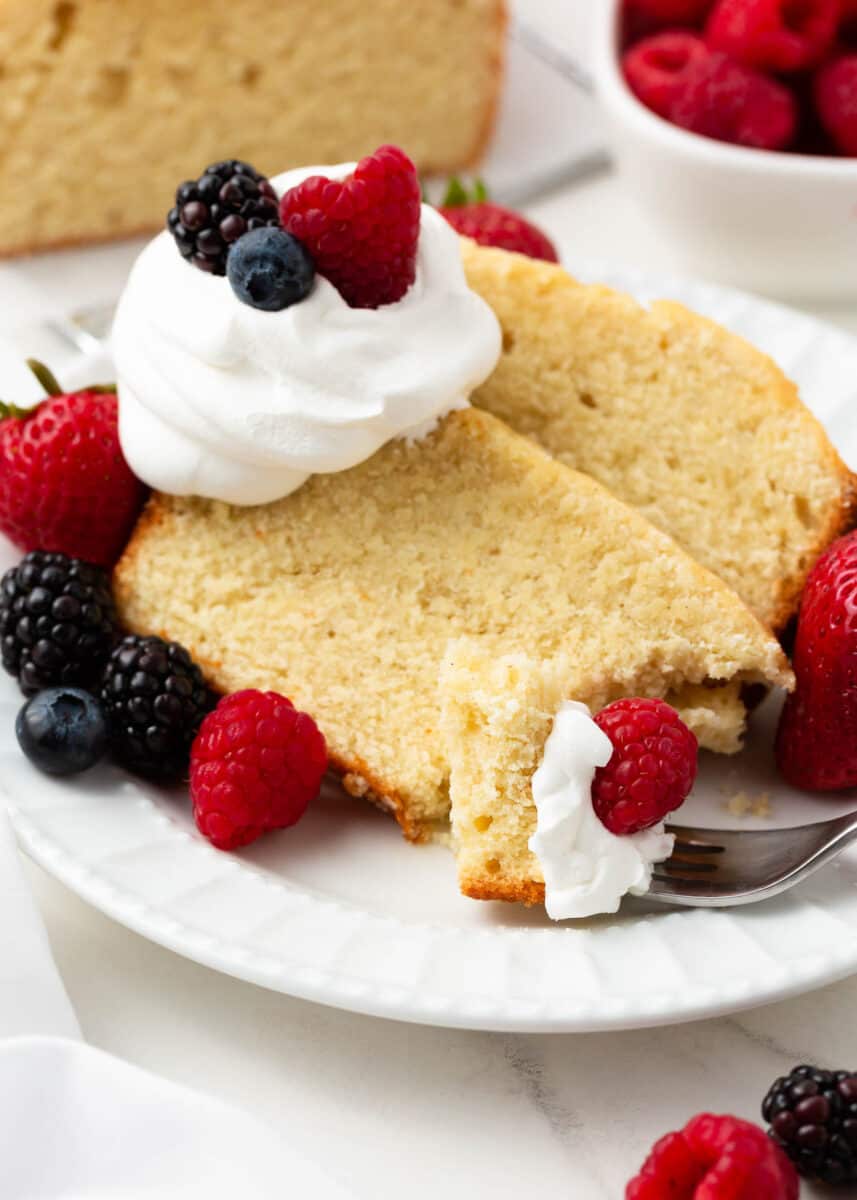 HUNGRY FOR MORE? Subscribe to my newsletter and follow on Facebook, Pinterest and Instagram for all the newest recipes!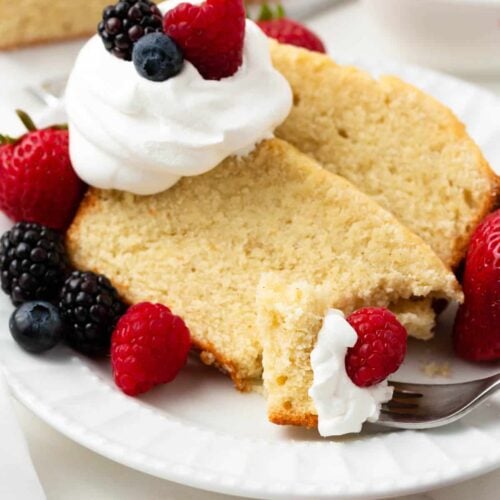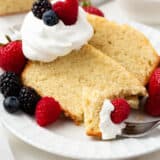 Homemade Pound Cake
Everyone needs the perfect pound cake recipe in their back pocket and this one is it! Perfectly moist, slightly dense, tender, buttery, and with the right amount of sweetness!
Ingredients
2 cups (240 grams) all-purpose flour
½ teaspoon baking powder
½ teaspoon fine sea salt
1 cup unsalted butter , at room temperature
1 cup (200 grams) granulated sugar
3 large eggs , at room temperature
1 Tablespoon pure vanilla extract
2 teaspoons vanilla bean paste
½ cup (165 milliliters) milk
Instructions
Preheat the oven to 350°F. Spray a 9×5-inch loaf pan with floured cooking spray, or butter and flour the pan.

In a small bowl, whisk together the flour, baking powder, and salt.

In a stand mixer fitted with a paddle attachment, beat butter and sugar on medium-high 3 minutes, or until pale and creamy. Turn the mixer to medium-low and add 1 egg at a time until combined. Mix in vanilla and vanilla bean paste.

Turn the mixer to low. Add 1/3 of the flour mixture and mix until just combined. Mix in 1/2 of the milk. Repeat, alternating the remaining flour and milk until just combined and the batter is smooth, being careful to not overmix.

Spoon the batter evenly into the loaf pan. Smooth the top with a rubber spatula.

Bake 40 minutes. Loosely tent the pan with aluminum foil to prevent browning. Bake 10 to 12 minutes more, or until the cake is domed and a toothpick inserted into the center comes out clean.

On a wire rack, let cool in pan at least 30 minutes before turning out onto the rack to cool completely.
---
Notes
Storage: The loaf will keep in an airtight container at room temperature for up to 5 days or in the freezer for up to 3 months. Storing it in the fridge may dry it out. Thawing the frozen cake in the microwave or oven may dry it out, so let it sit at room temperature until defrosted. Variations: This cake is easily adaptable. Try swapping the vanilla extract with almond extract or adding lemon, orange, or lime juice and zest. Room temperature: This cake really benefits from the room temperature ingredients, so don't skip this step. If, however, you forgot you can bring eggs to room temperature quickly by covering them with warm water for 5 minutes and grate the butter using a cheese grater into the mixer.
Nutrition
Calories: 365kcal | Carbohydrates: 41g | Protein: 5g | Fat: 20g | Saturated Fat: 12g | Polyunsaturated Fat: 1g | Monounsaturated Fat: 5g | Trans Fat: 1g | Cholesterol: 105mg | Sodium: 146mg | Potassium: 94mg | Fiber: 1g | Sugar: 21g | Vitamin A: 671IU | Calcium: 42mg | Iron: 1mg
Nutrition provided is an estimate. It will vary based on specific ingredients used.
Did you make this recipe? Don't forget to give it a star rating below!