This orange glaze is made with fresh orange juice and orange zest to give it an extra burst of citrusy flavor. It's a breeze to make and it makes the perfect orange icing for cakes, muffins and all your baked goods!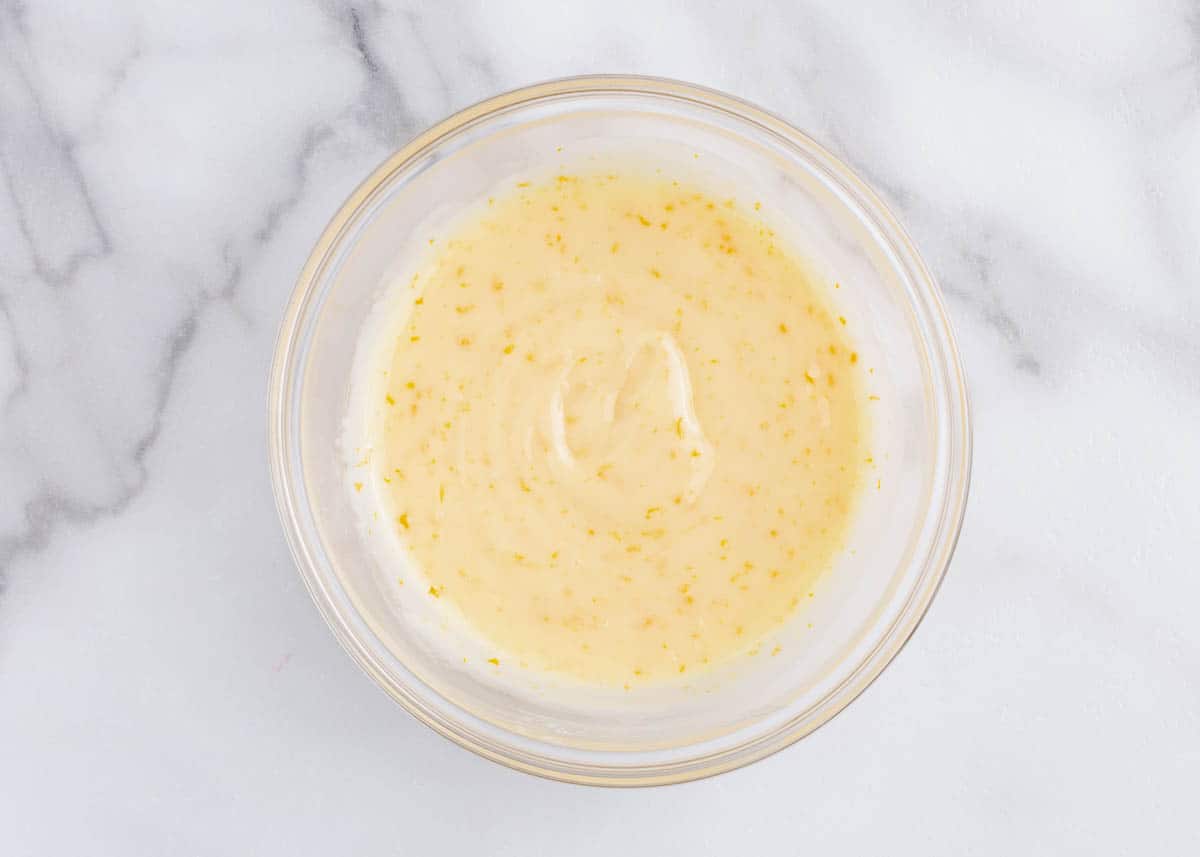 Simple Orange Icing Glaze
I love to use citrus glazes on my baked goods and while lemon might be the more popular choice, I think a sweet orange glaze never disappoints! A glaze can really dress up a simple dessert or sweet bread and the best part is that it only takes a couple of minutes to make!
This orange glaze recipe is a fun variation on my powdered sugar glaze and is flavored with the bright freshness of orange juice and zest. It's a pale orange color flecked with pieces of orange zest, which looks so pretty on top of cakes, especially bundt cakes! You can also alter the thickness of your icing by adding more or less powdered sugar.
It really can't get any easier to make this orange icing. Simply add all the ingredients into a bowl and whisk until smooth. It's so quick to whip up this icing and drizzle it over orange scones, glazed orange muffins, cinnamon rolls, and even cookies!
Ingredients for Orange Icing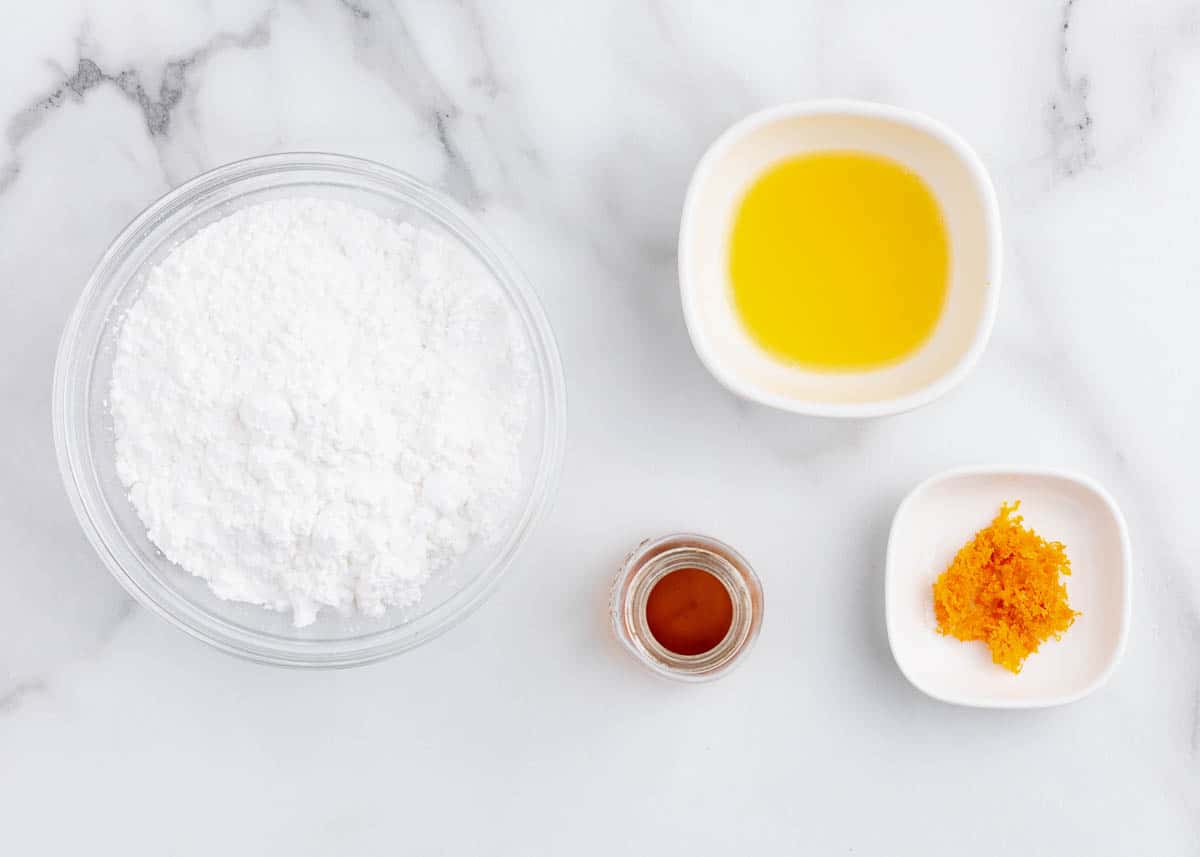 Powdered Sugar: You can add more or less sugar to the other ingredients depending on how thick or thin you want your glaze to be.
Fresh orange juice: Look for the freshest oranges you can find. Cara Cara oranges are the best oranges, in my opinion, but use what you can get your hands on.
Orange zest: Use a zester or a Microplane grater to peel off the zest. Make sure to only take the orange part as the white pith tastes too bitter.
Vanilla: I like to use pure vanilla extract. Adding vanilla magically enhances the flavor of the icing!
Variations
Any citrus fruit: This recipe works for lemon, grapefruit, lime, and key lime too!
Butter: Add a small amount of melted butter go give it a more decadent taste.
Salt: A pinch of salt can balance the sweet orange.
How to Make Orange Glaze
You'll see from the steps below just how simple this icing is to make. You can whisk it up in a matter of minutes which makes it an ideal recipe to have on hand when you want to dress up your baked goods in a hurry!
Whisk: In a small bowl whisk or stir together the confectioners' sugar, orange juice, zest, and vanilla. Stir until everything is smooth.
Taste: Give the glaze a taste test and see if you would like to add more vanilla or orange juice/zest.
Drizzle: Your glaze is ready to drizzle on top of bread, muffins, rolls, or any of your other favorite desserts!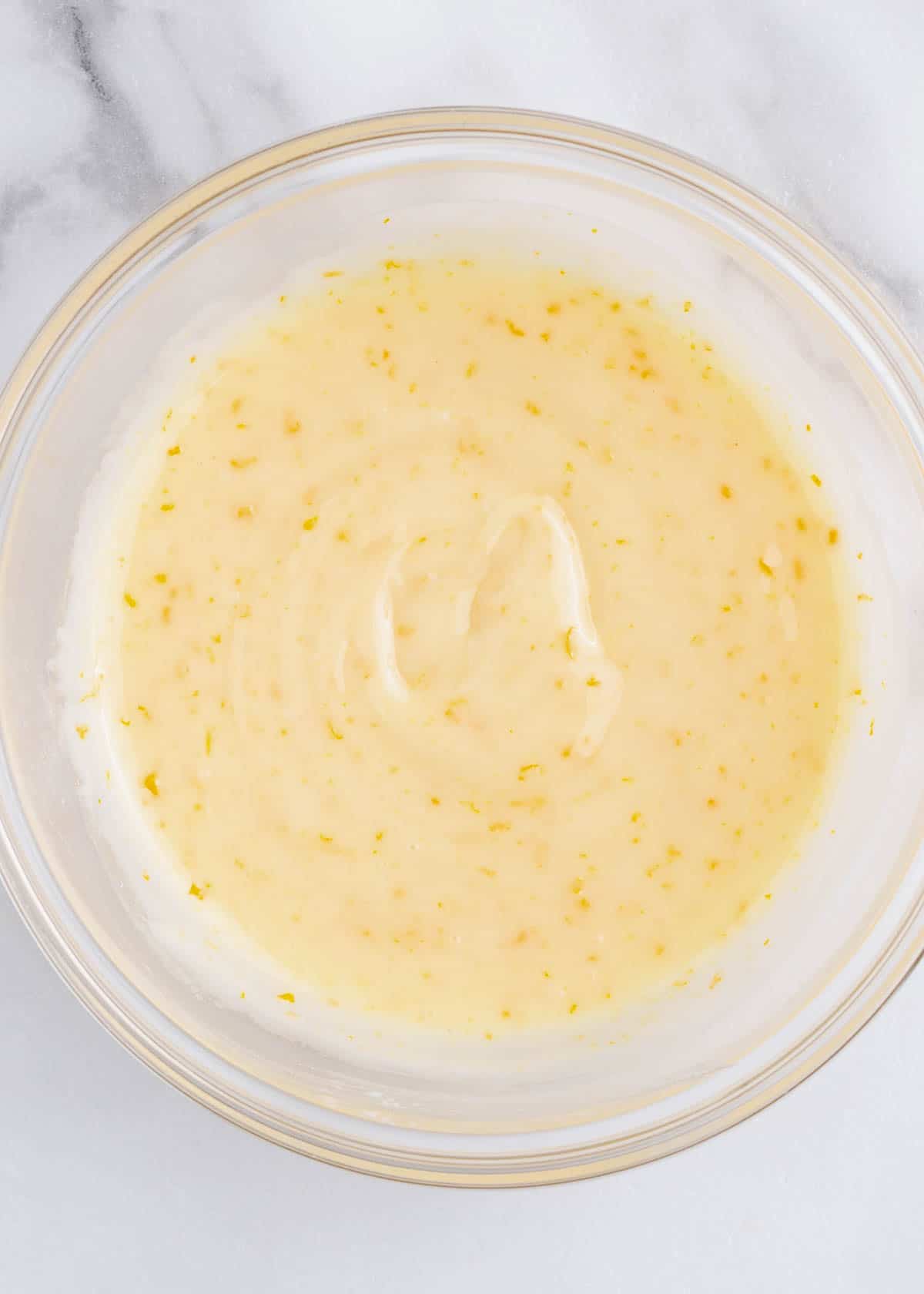 Tips for Making the Recipe
When you're shopping for oranges, look for ones that have a healthy peel on the outside without many blemishes. You'll be using the zest, so it's important to have a good peel to start with.
Use this simple trick to get the most juice from your orange! Soften it up by heating it in the microwave for 10 seconds and then rolling it on the countertop with the weight of your hand pressing the orange down. Softening the orange up will make it easier to squeeze out the juice.
If your icing is too runny, add a tablespoon more powdered sugar. If your icing is thicker than you need, add a teaspoon at a time of orange juice (or water) until you have achieved the right consistency.
This recipe is easy enough to whip up by hand, however, if you do use a stand mixer, be sure that it's on low speed.
FAQs
How do I pick the best flavorful oranges to use?
It can sometimes be difficult to determine if an orange is fresh and will have good flavor. I always look for ones with smooth, firm skin and that are quite heavy in my hand. This usually indicates a juicier orange. Also, if the orange is very fragrant, that can be a good sign that your orange is ripe and ready!
Is glaze just sugar and water?
Glaze is a simple mixture of sugar and a liquid. The liquid can be milk, cream, lemon juice (or any other citrus) or water.
Do I need to use food coloring in this orange icing glaze?
No, unless you need your glaze to be a bright orange no food coloring is needed.
How do I keep the orange glaze from soaking into my baked goods?
You need to wait until your baked good is completely cool, otherwise the icing will melt into it. If you are finding that your glaze is soaking in much more than you would like, add a little butter to the glaze. The extra fat will help hold the glaze together to form a layer.
Serving Suggestions
There are so many ways in which you can use orange glaze icing. Try pairing it with some of the sweets below or using it on your favorite desserts:
Spoon it over a loaf of cranberry orange bread or a loaf cake.
Use a thicker orange glaze to spread over orange sweet rolls or these one hour cinnamon rolls. You could also leave it a thinner glaze and pour it on top, allowing it to melt right into the roll.
The next time you bake sugar cookies jazz them up with a glaze.
How to Store
You can make this orange glaze ahead of time and store it in an airtight container in the refrigerator for up to 5 days.
When you're ready to use it, remove it from the fridge and allow it to come to room temperature then whisk everything together and a drop or 2 of water to the glaze if you need to loosen it a bit.
HUNGRY FOR MORE? Subscribe to my newsletter and follow on Facebook, Pinterest and Instagram for all the newest recipes!
Orange Glaze
This orange glaze is made with fresh orange juice and orange zest to give it an extra burst of citrusy flavor. It's a breeze to make and it makes the perfect orange icing for cakes, muffins, and all your baked goods!
Ingredients
½ cup powdered sugar
1-2 Tablespoons fresh orange juice
zest of 1 orange
½ teaspoon vanilla
Instructions
Whisk together the powdered sugar, orange juice, zest and vanilla in a small bowl. Stir until smooth.

Taste and add more vanilla or orange juice/zest as needed. If you want a thicker consistency, add a Tablespoon more of powdered sugar. To thin it down, add in a teaspoon of juice or water until desired consistency is met.

Drizzle on top of bread, muffins, rolls or your favorite dessert.
---
Notes
Storing: This glaze will stay fresh in an airtight container in the refrigerator for up to 5 days. Before using, let set on counter to come to room temperature. Then mix together and add a few drops of water if needed to loosen it up a bit. Flavor: This recipe works for lemon, grapefruit, lime, and key lime too!
Nutrition
Calories: 21kcal | Carbohydrates: 5g | Protein: 1g | Fat: 1g | Polyunsaturated Fat: 1g | Monounsaturated Fat: 1g | Sodium: 1mg | Potassium: 3mg | Fiber: 1g | Sugar: 5g | Vitamin A: 3IU | Vitamin C: 1mg | Calcium: 1mg | Iron: 1mg
Nutrition provided is an estimate. It will vary based on specific ingredients used.
Did you make this recipe? Don't forget to give it a star rating below!