A soft tender white cake topped with light and airy whipped cream and sweetened fresh strawberries, this classic strawberry shortcake recipe is the perfect summer dessert!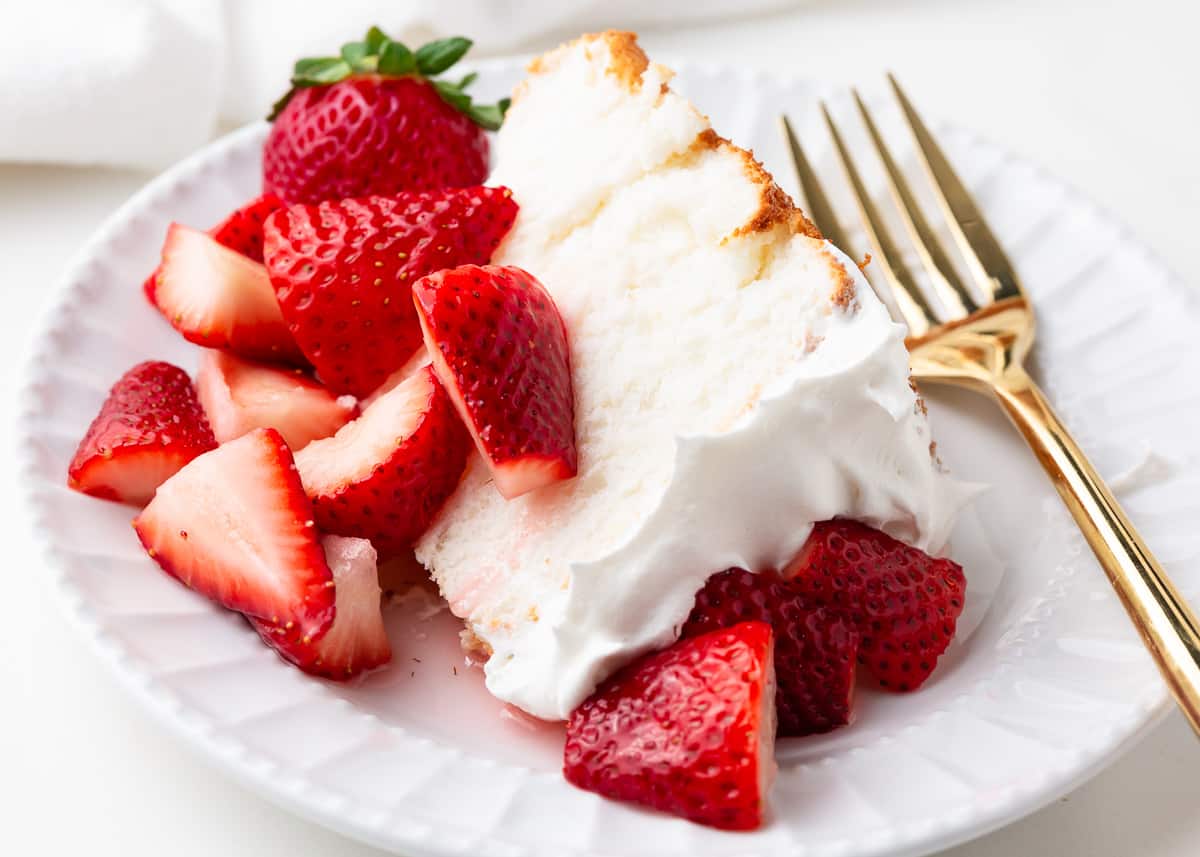 Better Than Store-bought!
A classic strawberry shortcake is light, airy, refreshingly sweet and a great way to showcase those ripe juicy strawberries. Topped with homemade whipped cream, there's no better way to finish off a satisfying meal.
There are many versions to strawberry shortcake on the blog, from strawberry shortcake trifle to the more traditional strawberry shortcake biscuits, but sometimes a girl just wants cake!
I'm making my classic strawberry shortcake with a soft and tender homemade angel food cake, but you can also use my recipe for homemade pound cake. I personally prefer the light softer texture of the angel food cake.
If you've never made a classic strawberry shortcake from scratch, now's your chance. I'm sharing my easy strawberry shortcake recipe with simple instructions that will result in a show stopping strawberry dessert that everyone will love!
Then, use any leftover strawberries to make a strawberry sheet cake tomorrow!
What is Strawberry Shortcake?
The traditional version of this classic strawberry shortcake dessert is made with crumbly biscuits (shortcakes) made from a dough made with flour, butter, baking powder or baking soda, sugar, salt, and either heavy cream or milk. Then it's layered with cream and fresh strawberries that have been sitting in sugar making them sweet and syrupy.
Because they're much smaller than an average cake size, each portion is made for an individual.
There have been variations created including this one made with a sponge cake or angel food cake that makes it much easier to serve a crowd. It's also made without butter or cream. Still layered with the same flavors but in a more traditional cake formation.
Ingredients for Strawberry Shortcake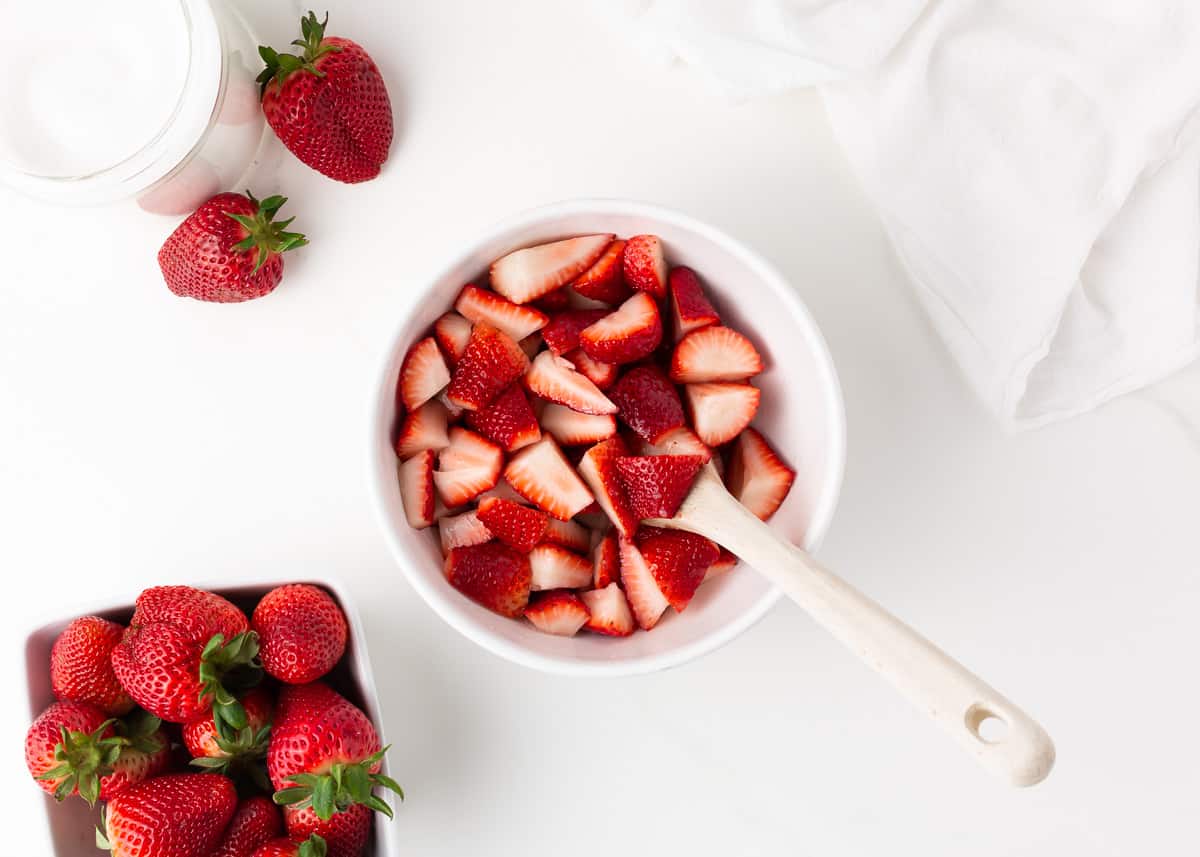 Find the full printable recipe with specific measurements below.
For the Angel Food Cake
Granulated sugar: Gives the cake its sweetness. Angel food cake is nice and light and not overly sweet so you'll want to measure the exact amount.
Cake flour: This type of flour is how we get the crumb of our cake so soft and tender.
Egg whites: You'll need about 12 egg whites at room temperature. Using just the egg whites is what keeps the color of the cake so white.
Cream of tartar: This will help stabilize the egg whites and the cake batter itself which in turn helps it rise and keeps it nice and fluffy.
Fine sea salt: To enhance the flavor.
Pure vanilla extract: A delicious flavor that is a staple ingredient in any classic strawberry shortcake.
For the Strawberry Shortcake Topping
Strawberries: Washed, hulled, and cut into halves or quarters, depending on the size. Pick strawberries that are plump, nicely red, and smell like strawberries!
Sugar: Used to break down the strawberries and extract the juices making them deliciously syrupy, similar to my strawberry sauce recipe.
Whipped cream: Use homemade whipped cream or store-bought whipped cream. Thawed cool whip is also an option.
Variations
For a quick and easy shortcut, you can use store-bought angel food cake in a pinch. It's not the same as homemade, but it'll get the job done.
If you want to try your hand at making biscuits but also want a shortcut, Bisquick strawberry shortcake is a thing!
For a hint of a different flavor swap the vanilla extract for almond extract. You can also add lemon zest, orange zest, or lime juice and zest to the cake batter.
As you can imagine, you can make this classic strawberry shortcake without strawberries at all! Use whatever fresh berries or fruit you'd like. Blueberries, raspberries, blackberries, peaches, etc.
Instead of whip cream, try it with a scoop of strawberry ice cream! The best way to serve it in the summer in my opinion.
How to Make Strawberry Shortcake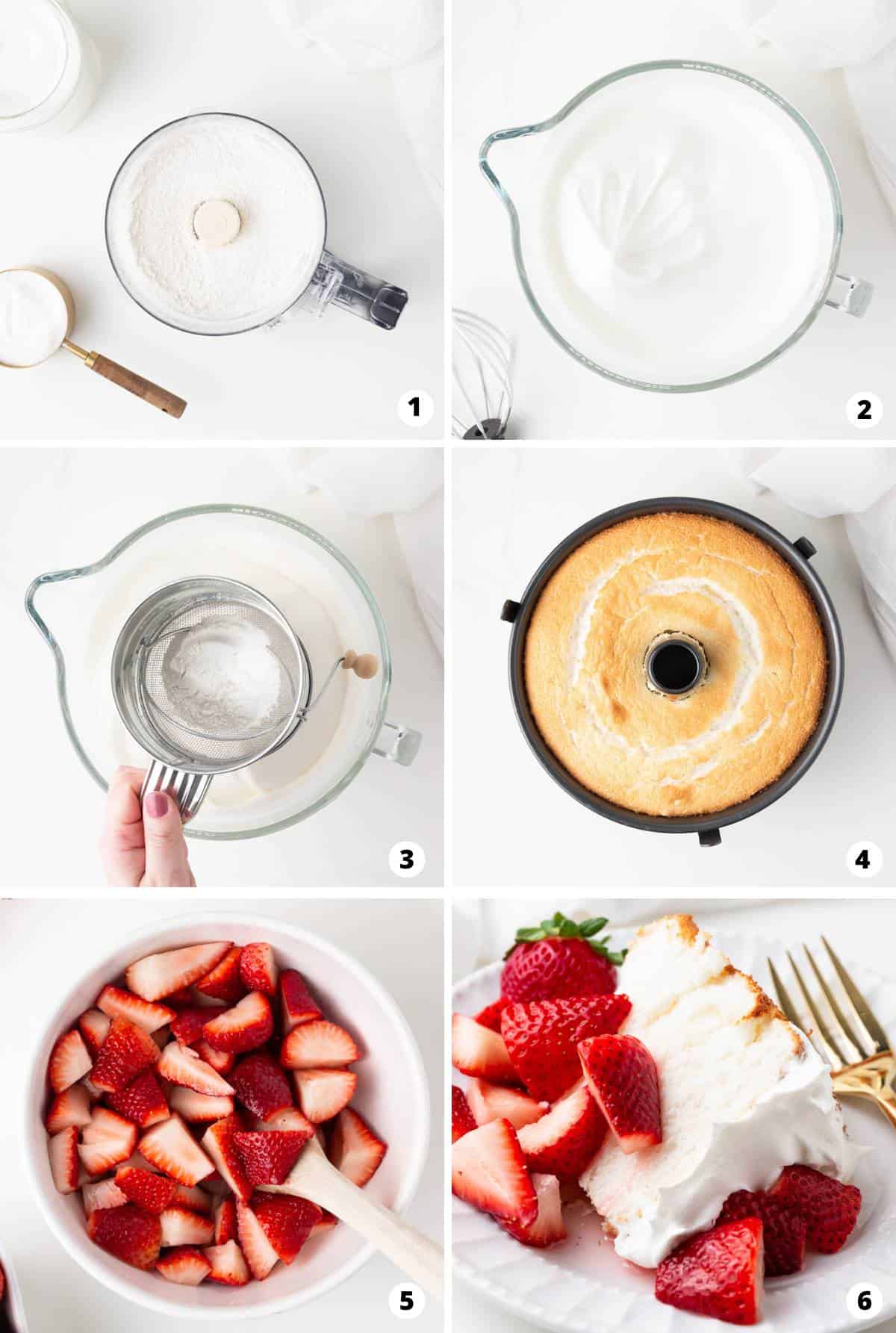 Grind the sugar and flour. Making such a light cake not only requires cake flour to help with texture but you'll want to grind the sugar into a fine powder as well. Use a food processor to pulse the sugar 18-20 times or if you can find castor sugar or fine sugar, use that instead. Remove 1 cup of the sugar and set that aside, then add the flour to pulse with remaining sugar until light and airy.
Whisk egg whites, cream of tartar, and salt on medium-high until pale and frothy. Still mixing, add 1 Tablespoon at a time of the sugar you set aside, whisking in between each addition. Whip until medium peaks form then add the vanilla extract to combine.
Make the cake batter. Remove the bowl from the mixer and sift 1/4 cup of the flour mixture overtop the whipped eggs. Use a rubber spatula to gently fold it in. Repeat with remaining flour, 1/4 cup at a time. Carefully pour the batter into an ungreased 10-inch tube pan. Remove any air pockets with a knife and gently smooth the top.
Bake on the lower middle rack in a preheated 350°F oven for 30-35 minutes, rotating halfway, until the top is lightly golden brown. Place the pan upside down on a wire rack to cool for a minimum of 1 hour.
Make the topping. While the cake cools, toss together the strawberries and sugar until combined. Add more sugar to your tastes. You can chill it until you're ready to serve if you prefer yours cold.
To assemble the cake spread whipped cream evenly over the top of the cooled strawberry shortcake. Use a slotted spoon to scoop and deliver the strawberries overtop the cream. Drizzle any remaining liquid over the sliced cake and garnish with fresh mint. Enjoy!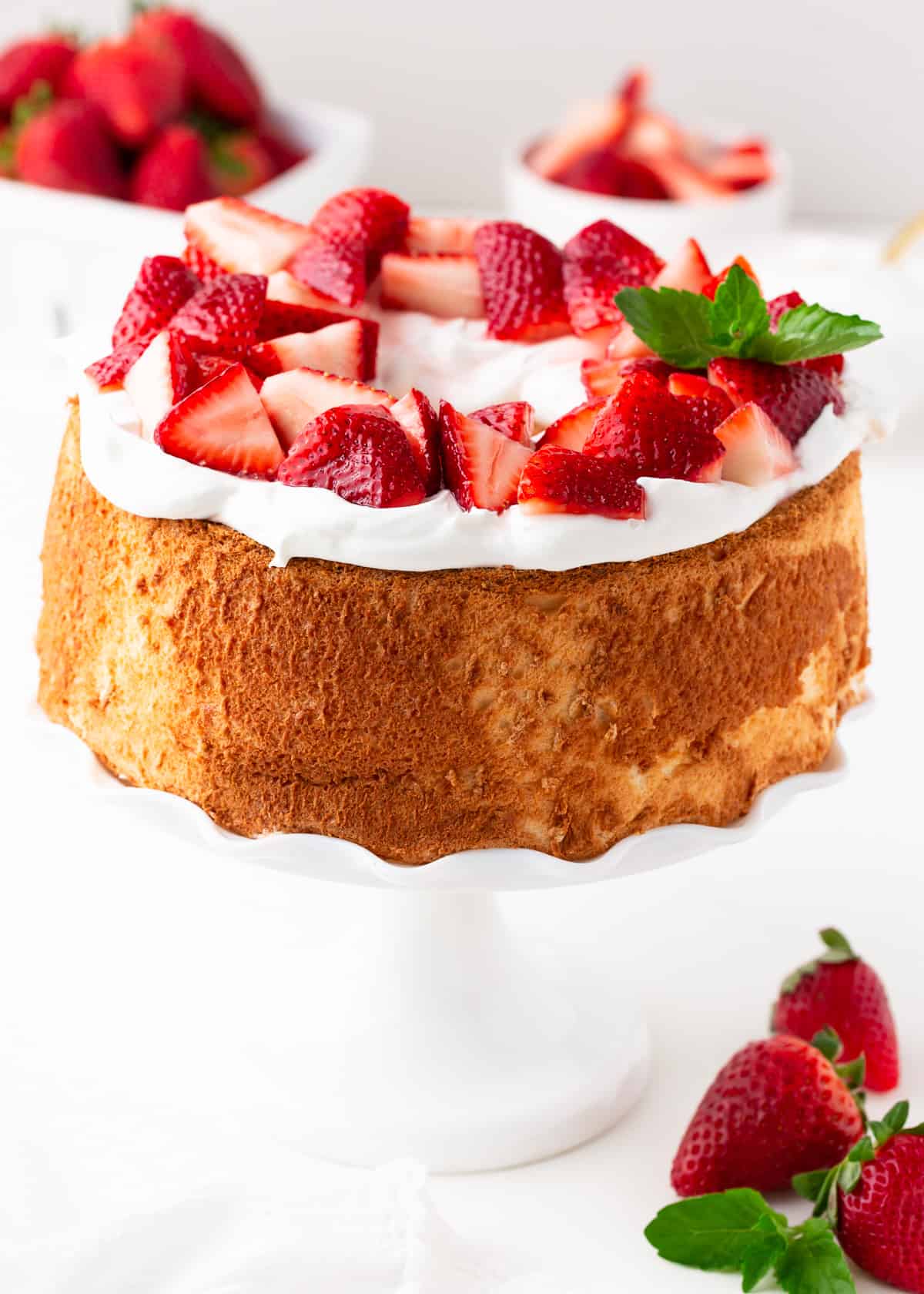 Expert Tips
A tube pan is a must! Angel food cakes need to be baked in a tube pan, also known as an angel food cake pan. The straight walls and ungreased sides allow the cake to rise and hold its rise since it doesn't use any leavening agents to help with that. I like the ones with the little feet!
Separate the eggs while they are cold. I find it easier to separate them just out of the fridge. Then, bring the egg whites to room temperature and save the yolks in the fridge for later. It's easier to whip eggs that are at room temperature.
Don't have the cream of tartar? Use an equal amount of lemon juice or vinegar instead. Both will alter the flavor of the cake but either will do the job of stabilizing the egg whites.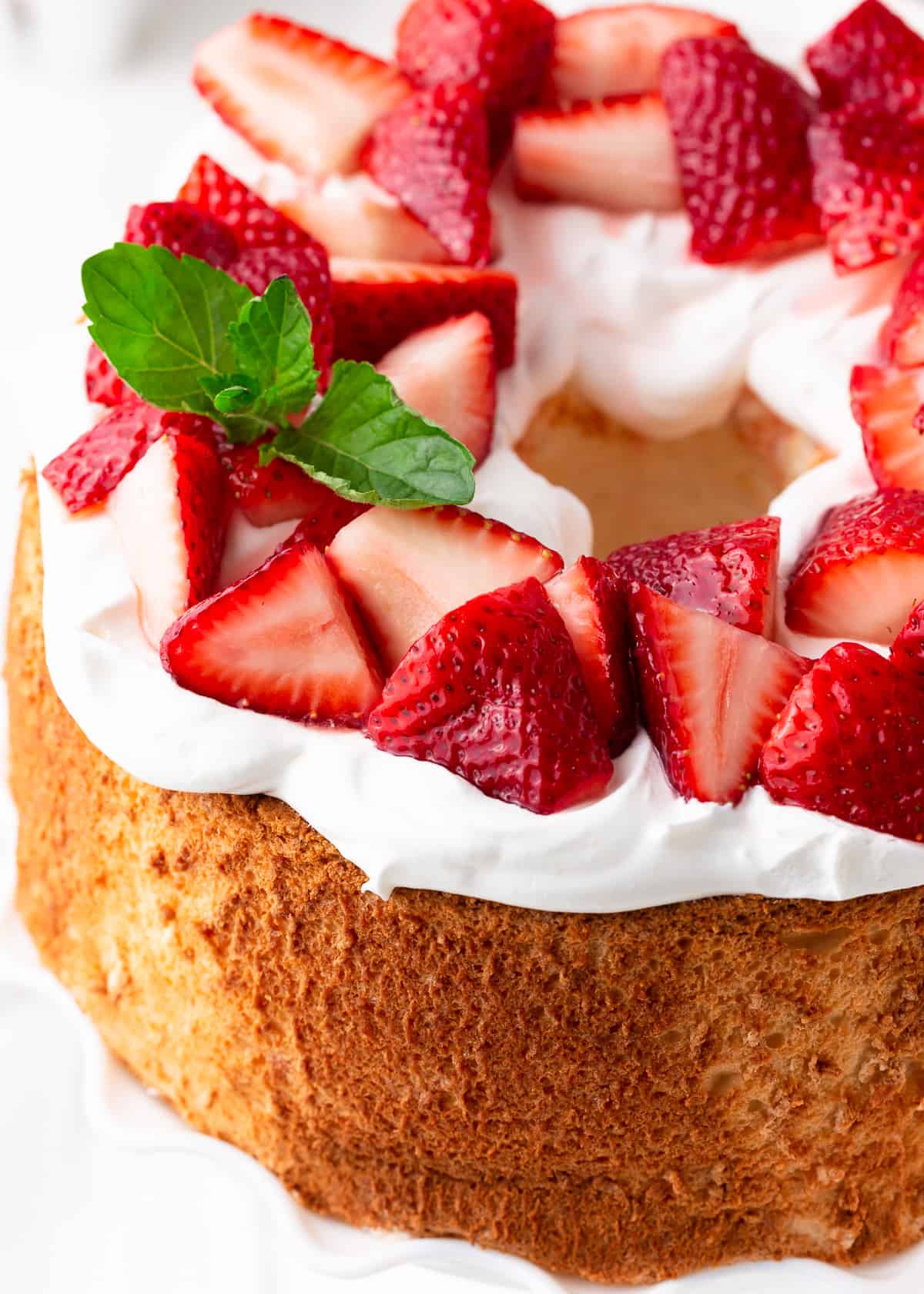 Recipe FAQs
How to properly release cake from a tube pan?
First, you'll want to allow it to cool upside down. It's helpful to have a pan with the feet so that it remains elevated while in this position. Once it's cooled, flip it back over and run a knife around the edge between the wall and the outside of the cake. Do this with the hole and the inside of the cake as well.

It should then slide out easily.
Can I use a bundt pan instead?
No, I don't recommend using it for this classic strawberry shortcake recipe. The angel food cake will get stuck and may not rise enough.
How to tell if my angel food cake is done?
Insert a wooden skewer into the center of the cake. If it comes out clean, it's ready.
What does it mean to fold ingredients?
Folding is the gentle motion of slicing down the middle of the ingredients with a rubber spatula and then bringing it back up the sides while rotating the bowl. It's a way of mixing carefully without overmixing, ensuring that as little air as possible escapes.
Should I chill the bowl and beaters before whipping the egg whites?
No! This is a practice done when whipping cream to form stiff peaks. Egg whites won't reach medium peaks if too cold. Room temperature everything is best.
Storing
Classic strawberry shortcake is best served the day of, once it's assembled. However, if you want to make it ahead, you can bake the cake, cool it and store it in an airtight container for up to 3 days on the counter. Top it when you're ready to serve.
If you want to freeze it, simply wrap the cake tightly in plastic wrap and keep it frozen in a freezer-safe zip-top bag for up to 3 months. Thaw in the fridge overnight and then bring it to room temperature as you prepare the topping.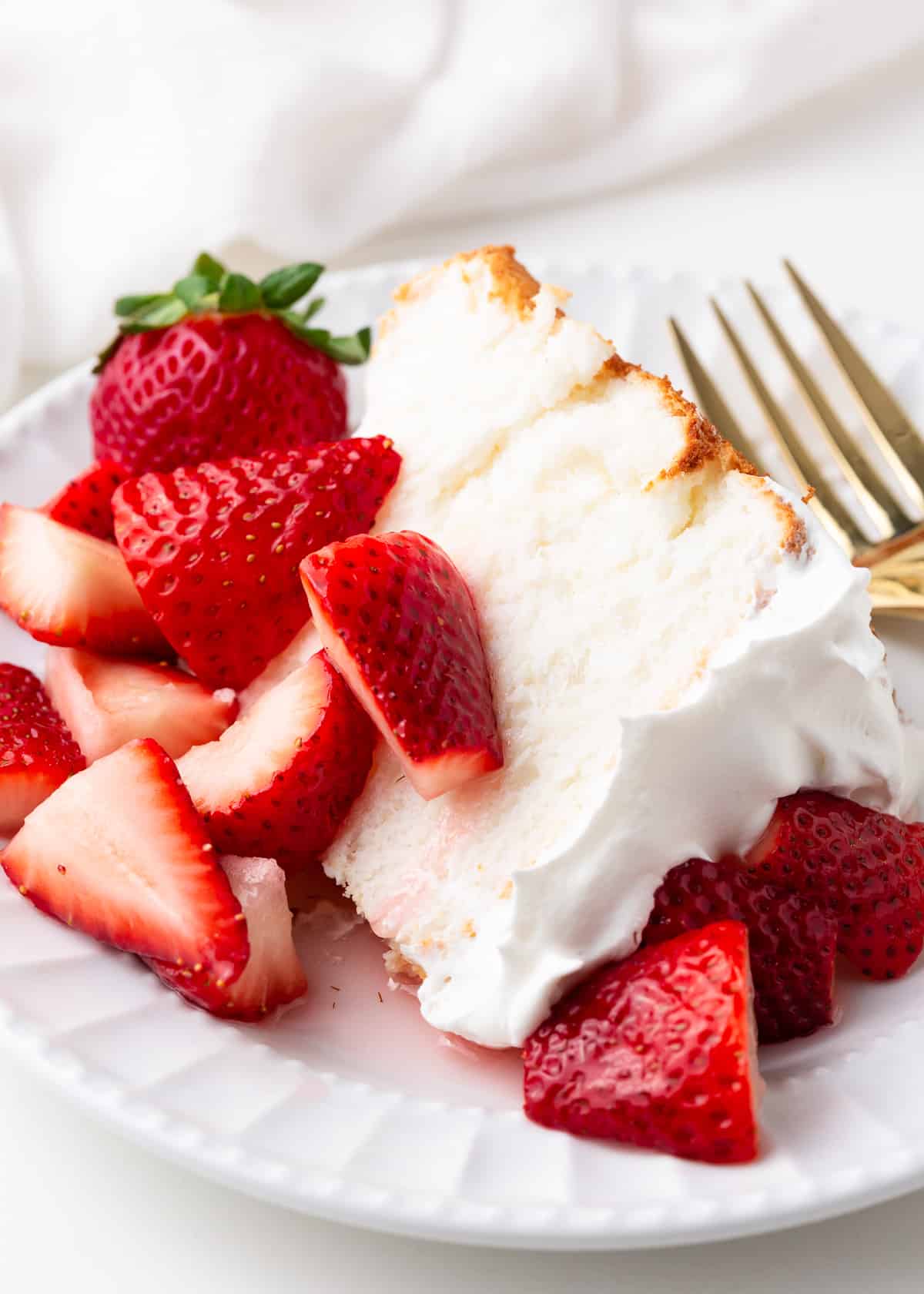 More Strawberry Recipes To Try
HUNGRY FOR MORE? Subscribe to my newsletter and follow on Facebook, Pinterest and Instagram for all the newest recipes!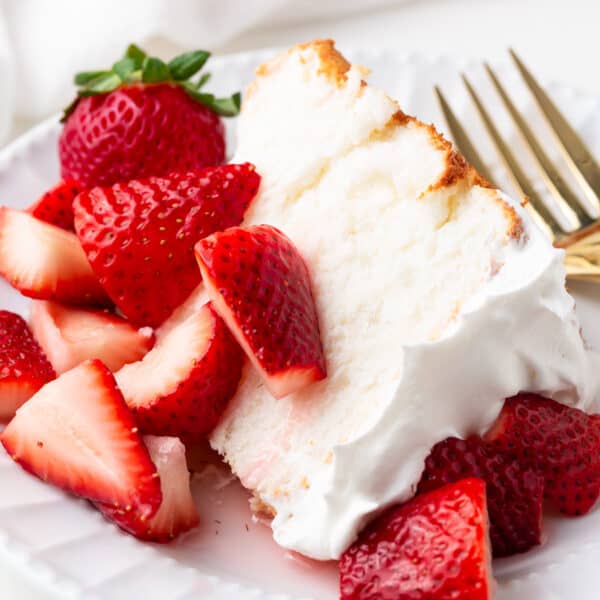 Strawberry Shortcake Recipe
A soft tender white cake topped with light and airy whipped cream and sweetened fresh strawberries, this classic strawberry shortcake recipe is the perfect summer dessert!
Ingredients
Angel Food Cake
1 ¾ cups (350 grams) granulated sugar
1 cup (120 grams) cake flour
2 cups egg whites , at room temperature (about 12 large eggs)
1 ½ teaspoons cream of tartar
¼ teaspoon fine sea salt
1 ½ teaspoons pure vanilla extract
Topping
1 pound strawberries , hulled and halved or quartered (depending on size)
¼ cup granulated sugar , plus more if needed
1 ½ cups homemade whipped cream , or store-bought whipped cream or cool whip
Instructions
Angel Food Cake
Adjust the oven rack to the lower middle position. Preheat the oven to 350°F. Do not grease the tube pan.

In a food processor, pulse the sugar 18 to 20 times, or until fine and powdery. Remove 1 cup and set aside, leaving the rest in the processor. Add the flour. Pulse 8 to 10 times, or until combined and airy.

In a stand mixer fitted with a whisk attachment, whisk the egg whites, cream of tartar, and salt on medium high until pale and frothy. With the mixer on, add 1 Tablespoon sugar at a time, waiting until combined, before adding the next Tablespoon. Whip a total of 5 to 6 minutes, or until medium peaks form. Add vanilla extract and whip just until combined. Remove bowl from mixer.

Sift 1/4 cup flour mixture over the top of the whipped eggs. Using a rubber spatula, gently fold (see notes) in flour mixture until no dry ingredients can be seen. Repeat with remaining flour mixture, sifting 1/4 cup at a time.

Carefully pour mixture evenly into a 10-inch tube pan. Smooth the top and gently run a knife through the batter to remove any air pockets. Bake 30 to 35 minutes, rotating halfway through, or until the top is lightly browned and a skewer inserted in the center comes out clean.

Place pan upside down on a wire rack and cool at least 1 hour. When completely cooled, run a knife along the inner and outer edge and gently tap on counter until the cake releases.
Topping
While the cake cools, make the topping. In a large bowl, toss together the strawberries and sugar until combined, adding more sugar for extra sweetness, if desired. Chill until ready to serve.

Spread whipped cream evenly over the top of the cooled cake. Using a slotted spoon, spoon strawberries decoratively over the top. Reserve any liquid to drizzle over the sliced cake when serving.

Using a serrated knife (a regular knife may squish the cake), gently cut cake into slices. Drizzle with reserved liquid, if desired.
---
Notes
Cake: If you are short on time, you can always use a store-bought angel food cake instead of the homemade one (though it won't be quite as good, I promise).
How to fold: The main purpose of folding is to gently incorporate dry ingredients into wet ingredients. To do this, use a rubber spatula to slice down the center of the batter, scraping up the side as you bring the spatula back up while turning the bowl slightly. Repeat until no dry ingredients remain.
Tube pan: This pan is an absolute necessity for making this cake, as it won't get the same rise and will probably get stuck in a Bundt pan or regular cake pan. I like the ones with the little feet that makes it easy to cool, but you can let it cool on a wire rack if your pan doesn't have them.
Sugar: Don't skip the step of pulsing the granulated sugar to make superfine sugar. If you happen to have superfine or caster sugar, you can pulse 3/4 cup of it with the flour and use 1 cup in the egg whites.
Eggs: This cake really benefits from the room temperature egg whites, so don't skip this step. I find it easiest to separate eggs while still cold. Save the egg yolks to make lemon curd. If you forgot to bring the egg whites to room temperature, covering them with warm water for 5 minutes before separating.
Cream of tartar: If you don't have cream of tartar, you can use an equal amount of white vinegar or lemon juice (will alter the flavor of the cake) to stabilize the eggs.
Variations: This cake is easily adaptable. Try swapping all of the the vanilla extract with almond extract or adding lemon, orange, or lime juice and zest.
Storage: The completed dessert is best on the day it is made, but the cake will keep in an airtight container at room temperature for up to 3 days. Simply make the toppings when ready to serve.
Freeze: The cake can be frozen. Wrap it tightly in plastic wrap and store in freezer-safe bag in the freezer up to 3 months. Thaw overnight in the fridge and bring to room temperature before making the topping for serving.
Nutrition
Calories: 330kcal | Carbohydrates: 69g | Protein: 9g | Fat: 3g | Saturated Fat: 1g | Polyunsaturated Fat: 0.3g | Monounsaturated Fat: 1g | Cholesterol: 7mg | Sodium: 141mg | Potassium: 262mg | Fiber: 1g | Sugar: 50g | Vitamin A: 68IU | Vitamin C: 27mg | Calcium: 24mg | Iron: 0.5mg
Nutrition provided is an estimate. It will vary based on specific ingredients used.
Did you make this recipe? Don't forget to give it a star rating below!