These pumpkin cookies with cake mix are made with only 3 ingredients in just 20 minutes! They are so soft and fluffy. They are the perfect easy dessert to make this fall.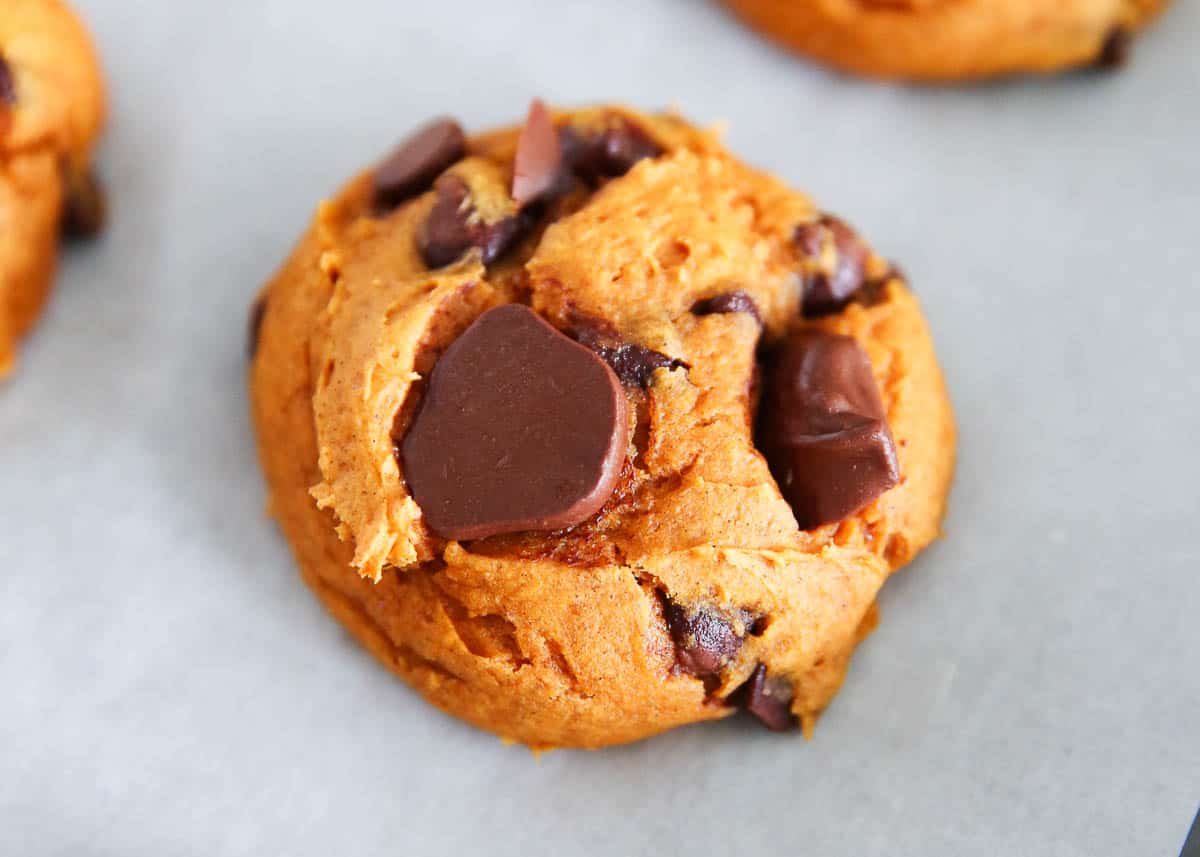 The Easiest Pumpkin Cookies
If you know me, you know I love to doctor up a box of cake mix. It's a simple trick that I've learned over the years that's quick, convenient and can be just as tasty as desserts made from scratch. No one will know the difference!
These 3-ingredient pumpkin cake mix cookies are seriously one of the easiest cookie recipes out there! What makes them so simple?? They're made with just three ingredients: a box of cake mix, a can of pumpkin puree and chocolate chips. That's it!
They do have a more cakey texture than a classic chocolate chip pumpkin cookie, but are still super delicious. If you're a fan of my spice cake mix cookies or any variation of cake mix cookies and cake mix cookie bars for that matter, then you are bound to love these pumpkin cake mix cookies too. They are the easiest dessert you'll make this fall!
Why This Recipe Works
Minimal ingredients. Does it get any more simple than a dessert with 3 ingredients?! The ingredients needed are easy to find and you won't break the bank loading up on a cart full of supplies that you'll never use again.
Ready in 20 minutes. From start to finish, these cookies are prepped, scooped and baked in just 20 quick minutes.
Great for beginners. If you're looking for an easy and fast pumpkin recipe to bake up this fall, these cookies are a great option. They are perfect for beginner bakers and are a fabulous recipe for your little ones to help out with in the kitchen.
Fluffy texture. These pumpkin cookies from cake mix have a more soft and fluffy texture than your average cookie and are seriously delicious. You may find that you prefer the texture of cake mix cookies even better!
Only 3 Ingredients!
The beauty of these cookies is that they only require 3 ingredients! The chocolate chips are optional, so you could even make them with 2 ingredients if preferred.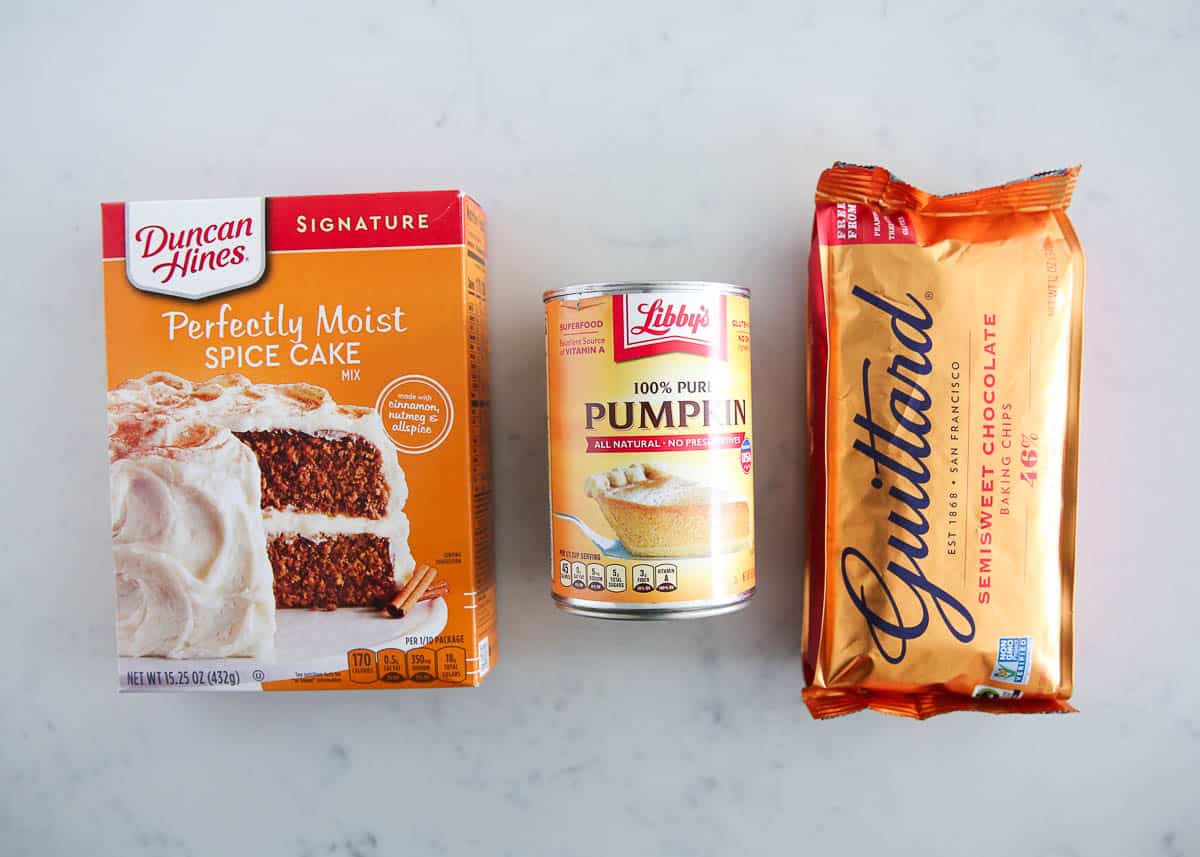 Find the full printable recipe with specific measurements below.
Cake Mix: You can use a box of spice cake mix or yellow cake mix. If you use yellow, add in 1 Tablespoon of pumpkin spice.
Pumpkin: You'll only use 1 can of pumpkin (no eggs or oil). Trust the process! Make sure to use pure pumpkin puree and not pumpkin pie filling. Feel free to make a homemade pumpkin puree if you have the time.
Chocolate Chips: These add the perfect touch of chocolate. I love using semi-sweet chocolate chips, or a mix of chocolate chips and chunks on top.
Variations
Feel free to mix in chopped walnuts or pecans, white chocolate chips, cinnamon chips or add a sprinkle of cinnamon sugar to the tops before they bake. For even more flavor, add a dash of nutmeg, ginger or vanilla into the batter.
These cookies would also taste delicious frosted with cream cheese frosting or drizzled with a sweet maple glaze.
How to Make Pumpkin Cake Mix Cookies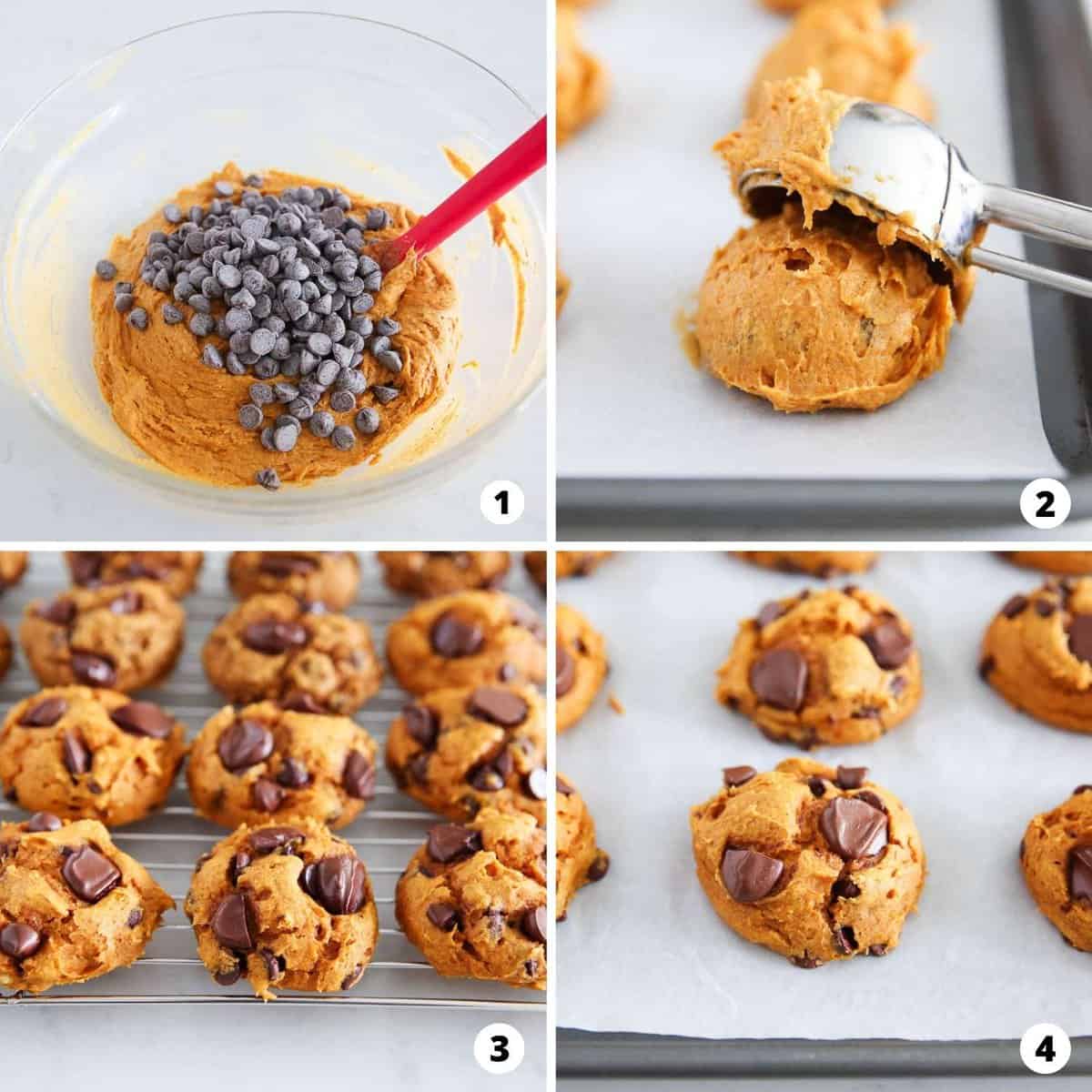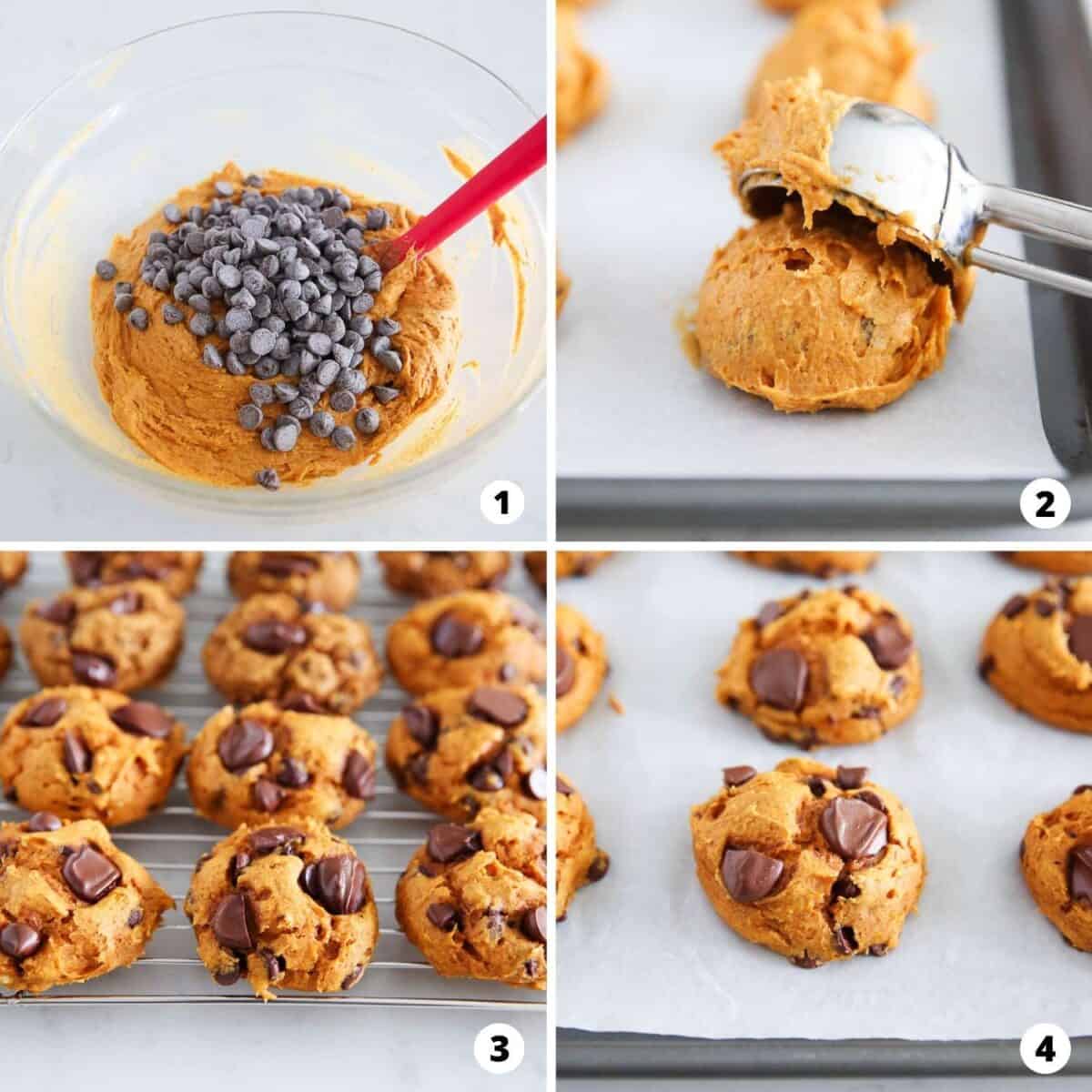 Prepare dough. In a large bowl, stir together the dry cake mix and canned pumpkin until smooth. Then gently fold in the chocolate chips.
Scoop. Using a large cookie scoop or spoon, scoop the dough onto a prepared baking sheet about 2 inches apart so that they have room to spread.
Bake. Place the cookie sheet in the oven and bake the cookies at 350°F for about 13 to 15 minutes, or until they are set. You don't want them to brown or else they won't be as soft.
Let cool. Remove the cookies from the oven and let cool on pan for a couple minutes. Then transfer to a wire rack to cool completely.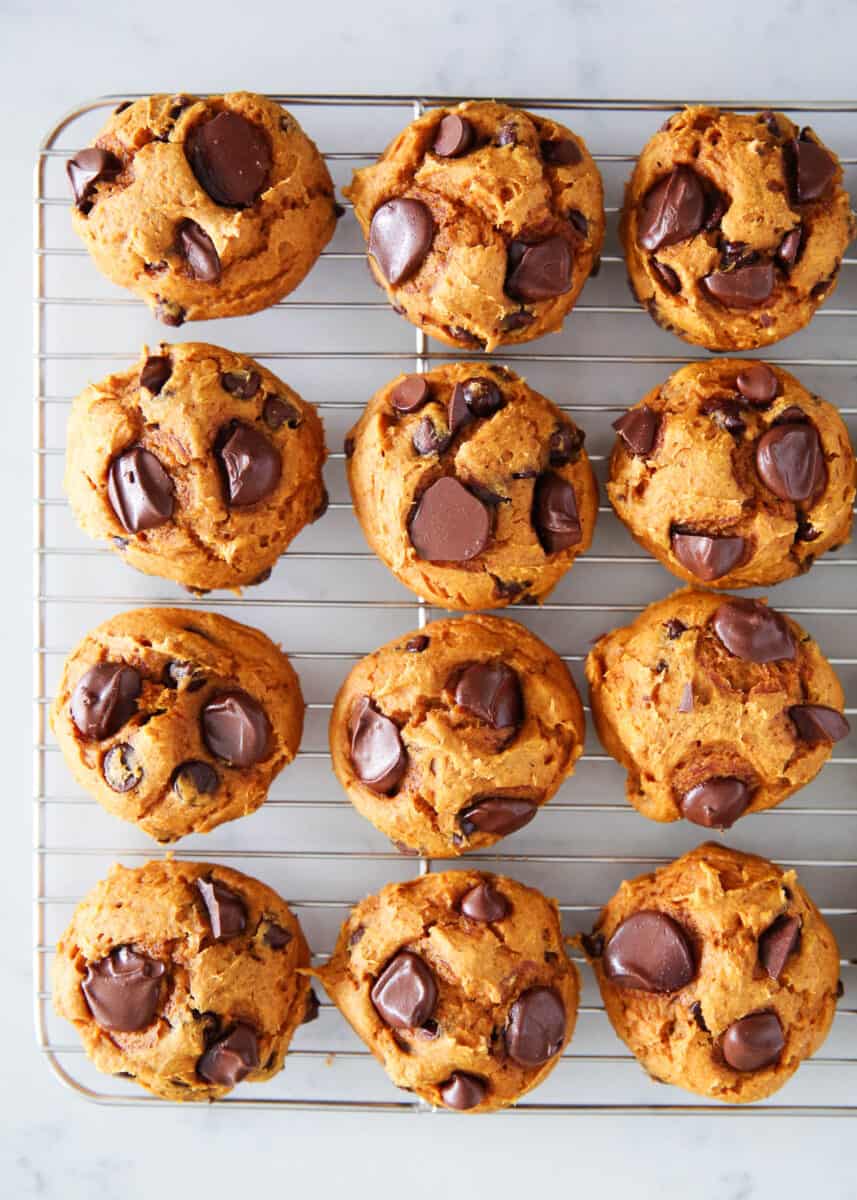 Expert Tips
Be careful not over mix the batter. It will be a thicker and stickier batter than most doughs, but they will bake up nice and fluffy.
Use a large cookie dough scoop (or measure out 2 Tablespoons) to make sure they are all the same size and cook evenly.
Test the cookies with a toothpick to make sure the center is cooked through. They may look done on the onside, but the center may still be doughy.
Top the cookies with chocolate chunks and flake sea salt for optimal flavors. You could also omit the chocolate and frost them with a maple cream cheese frosting or maple glaze.
Recipe FAQs
Do I need to add the ingredients listed on the box of cake mix?
Nope! No eggs, butter or oil needed for this recipe. Pumpkin puree is often used as a cooking substitution for both eggs and oil and will keep your desserts just as moist and delicious as the other two. Trust me on this one!
Can I use other varieties of cake mix?
Definitely. I've tested a few different ways and have to say that using the spice cake mix does give you the best pumpkin spice flavor.

For a more subtle pumpkin taste, you can use a box of a yellow cake mix mixed with pumpkin spice or even a box of chocolate cake mix (although you won't taste the pumpkin nearly as much). Feel free to play around with it and see which combination you like best!
How do you store pumpkin cake mix cookies?
Place cookies in an airtight container or bag and store at room temperature for up to 3 days. These cookies also freeze well and can be frozen for up to 3 months.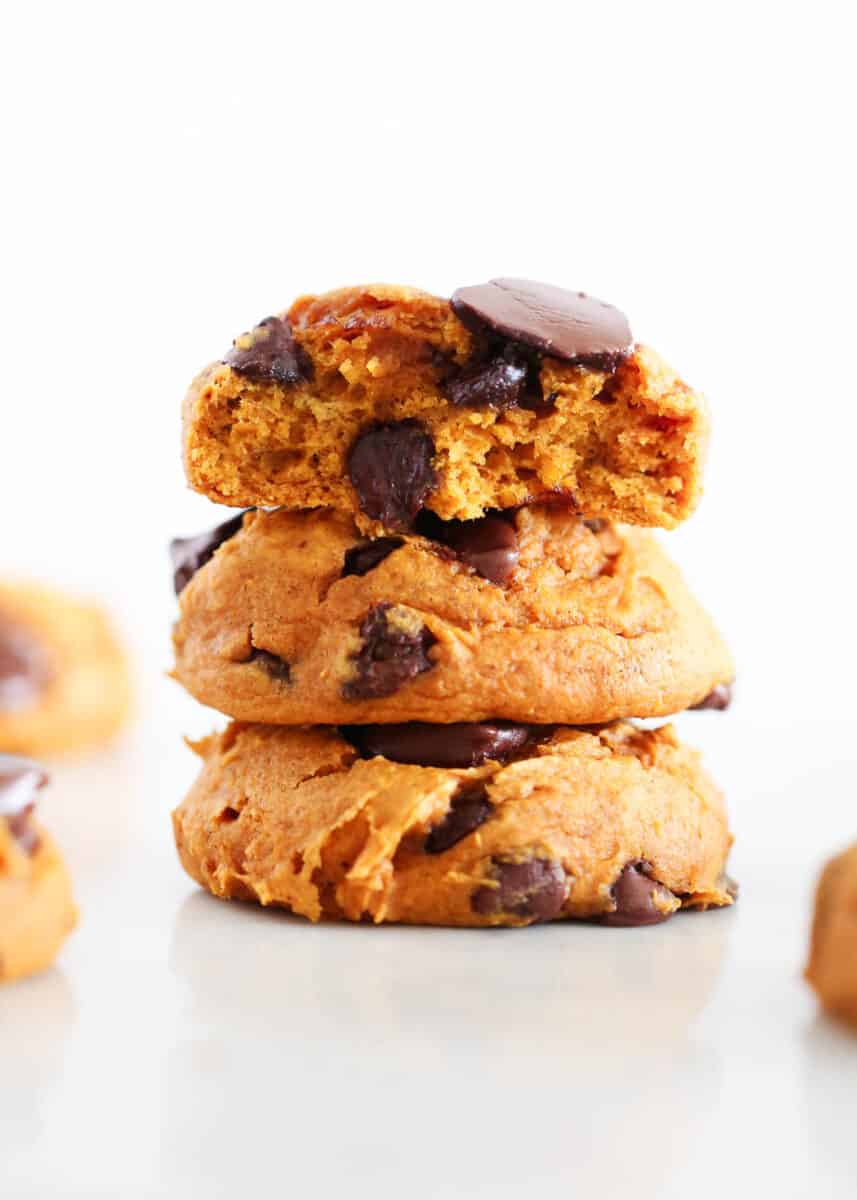 HUNGRY FOR MORE? Subscribe to my newsletter and follow on Facebook, Pinterest and Instagram for all the newest recipes!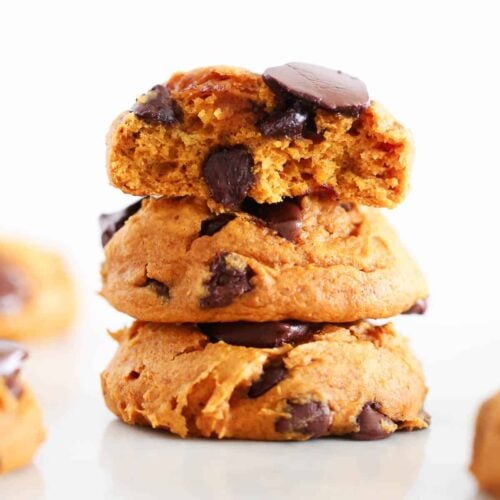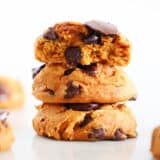 Pumpkin Cookies with Cake Mix
These pumpkin cookies with cake mix are made with only 3 ingredients in just 20 minutes! They are so soft and fluffy. They are the perfect easy dessert to make this fall.
Instructions
Preheat the oven to 350°F. Line a baking sheet with parchment paper or a baking mat.

In a large bowl, combine the cake mix and pumpkin. If using a yellow cake mix add 1 Tablespoon pumpkin spice before adding pumpkin. Stir with a spoon until dough is smooth. Mix in chocolate chips.

Using a large cookie scoop (or 2 Tablespoons), scoop dough onto the pan. Bake 13 to 15 minutes, or until a toothpick inserted in the center comes out clean.

Remove from oven and let cool on the pan for a 4 minutes before transferring to a cooling rack.
---
Notes
Cake Mix: If you're using a yellow cake mix, add in 1 Tablespoon pumpkin pie spice with the dry mix. Do not add any other ingredients on the box listed. I've tested both ways and I will say the yellow cake mix cookie makes a prettier orange color (like the photo above) and are more mild in taste. My kids preferred the yellow cake mix, however if you love pumpkin spice flavor (like me), use the spice mix. You could even use chocolate for chocolate lovers but you will not taste the pumpkin as much. Storage: Store leftovers in a covered container up to 3 days or freeze up to 3 months.
Nutrition
Serving: 1g | Calories: 183kcal | Carbohydrates: 30g | Protein: 2g | Fat: 6g | Saturated Fat: 2g | Polyunsaturated Fat: 1g | Monounsaturated Fat: 2g | Trans Fat: 0.02g | Cholesterol: 2mg | Sodium: 197mg | Potassium: 143mg | Fiber: 1g | Sugar: 20g | Vitamin A: 3455IU | Vitamin C: 1mg | Calcium: 44mg | Iron: 2mg
Nutrition provided is an estimate. It will vary based on specific ingredients used.
Did you make this recipe? Don't forget to give it a star rating below!