The easiest foolproof method to making the smoothest homemade pumpkin puree using just a small sugar pumpkin and a bit of salt!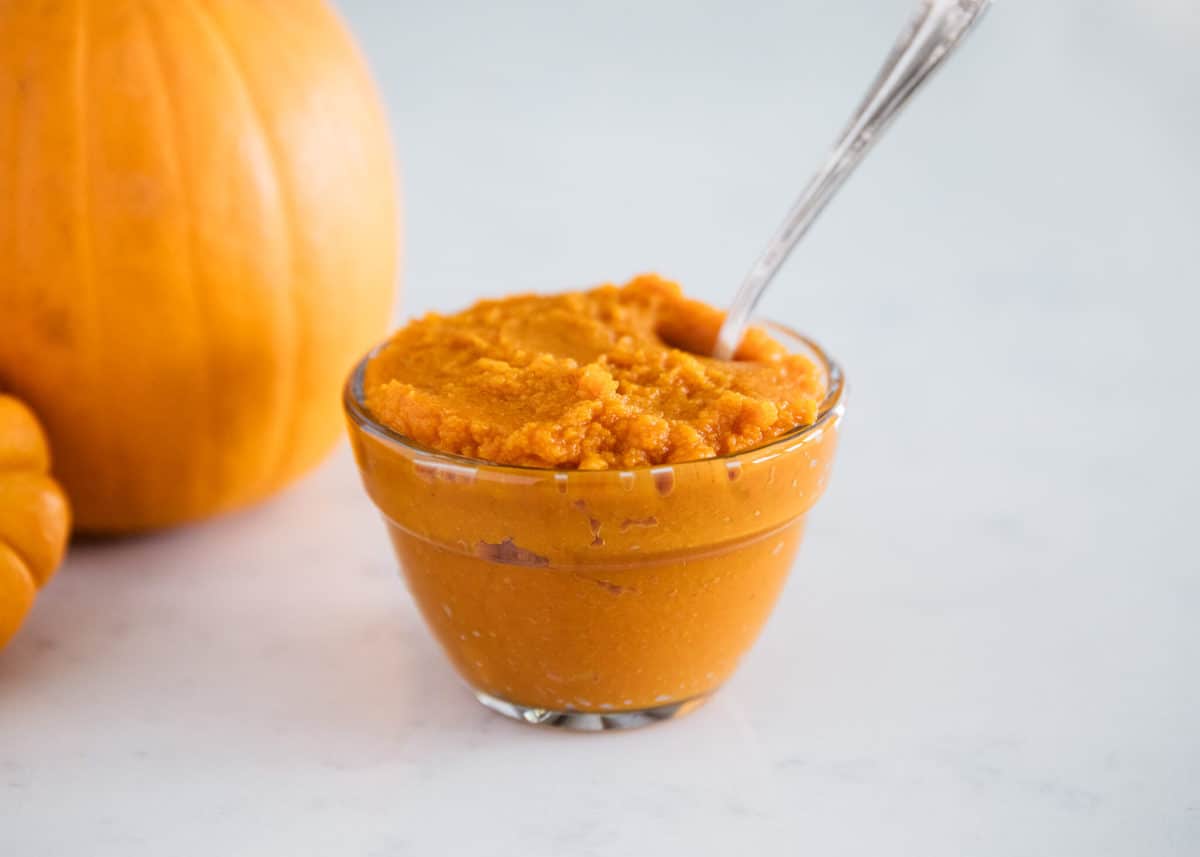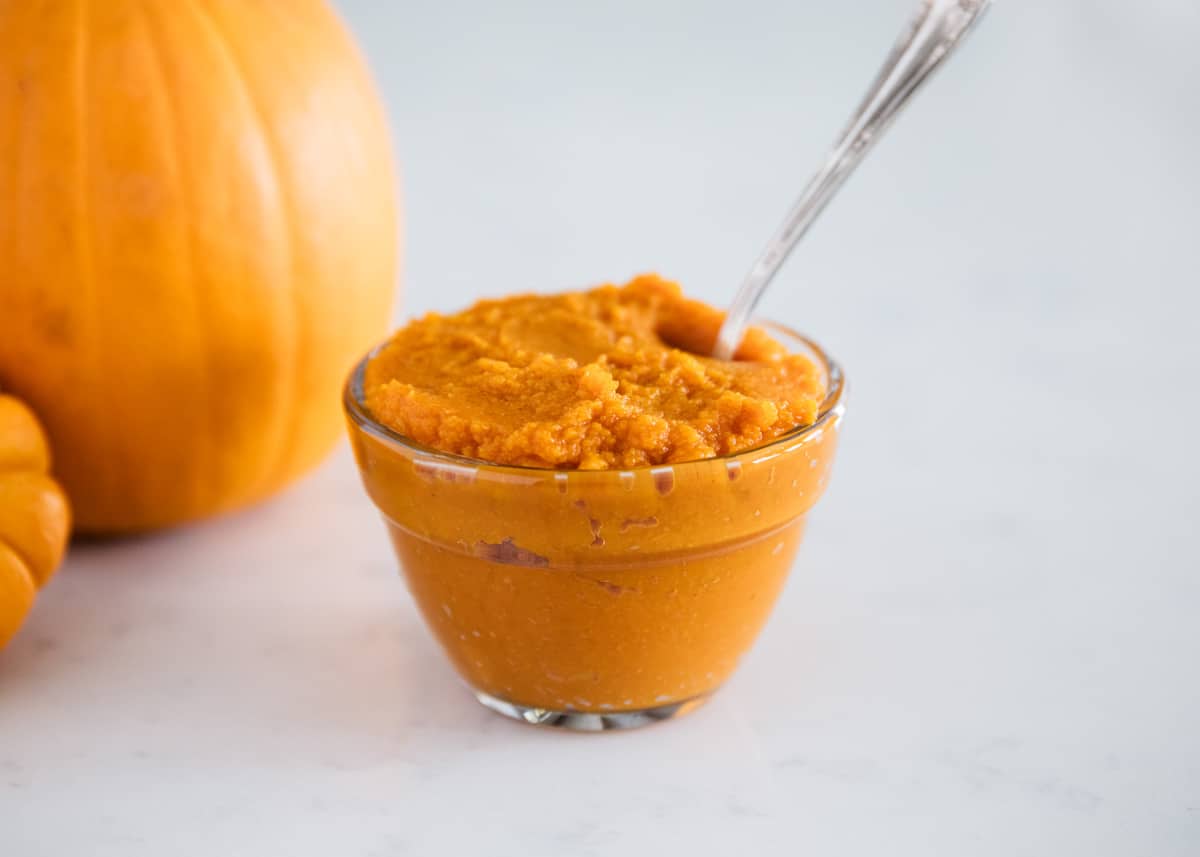 Making Pumpkin Puree from Scratch
Stocking up on this simple roasted pumpkin puree will come in handy this fall season because it's so versatile and used in so many recipes, both classic and creative! Pumpkin cheesecake dip, pumpkin muffins and pumpkin pancakes are just a few of my favorites!
With the current canned pumpkin puree shortage, I wanted to share how easy it is to make homemade pumpkin puree yourself. There is something so fresh and flavorful when making it from scratch. Having access to this puree in a pinch will come in handy for cookies, cakes and donuts.
Make a quick pumpkin bread for the morning or a pumpkin pie for dessert. This time of year is all about the pumpkin recipes! Make a big batch, and freeze some for later. Trust me, you'll never run out of reasons to need it!
What is Pumpkin Puree?
Pumpkin puree is fresh pumpkin flesh that's been cooked and pureed until smooth and thick. It can be used in all sorts of recipes, from baked goods such as pumpkin chocolate chip cookies to savory recipes such as pumpkin chili. It adds a bold pumpkin flavor, while also adding to a moist or creamy consistency depending on how you use it.
Why This Recipe Works
Fresh flavor. Homemade pumpkin puree vs. canned puree has a bolder fresh taste. Canned puree works great and is definitely convenient, but making your own from scratch is an easy way to ramp up the flavor even more.
Nothing goes to waste. Pumpkins aren't just for decoration! Double their use by roasting the pumpkin after you're done decorating.
Freezer friendly. Make a big batch of homemade puree and freeze some for later. It's great to have on hand for making a pumpkin roll for Thanksgiving!
What You'll Need
Making pumpkin puree from scratch only requires a few simple ingredients and tools. Check out the list below to make sure you have everything you need before you get started!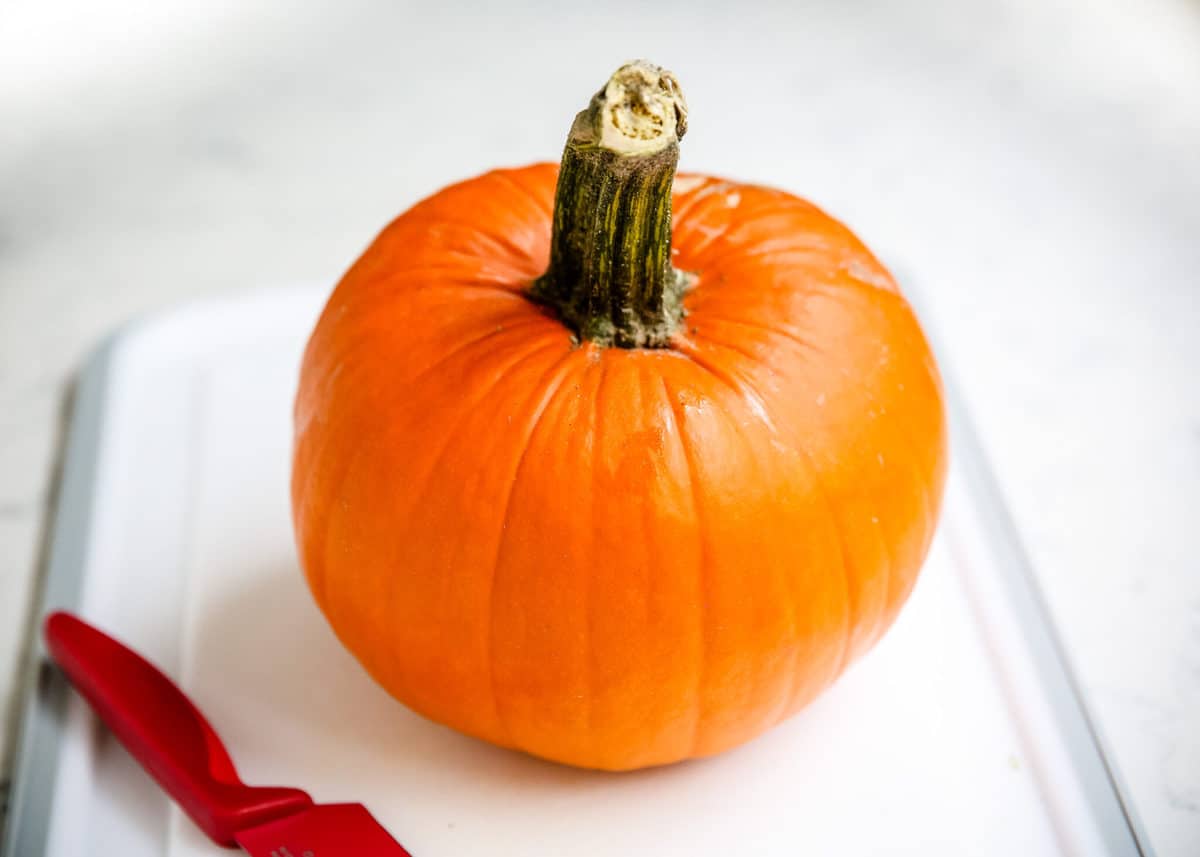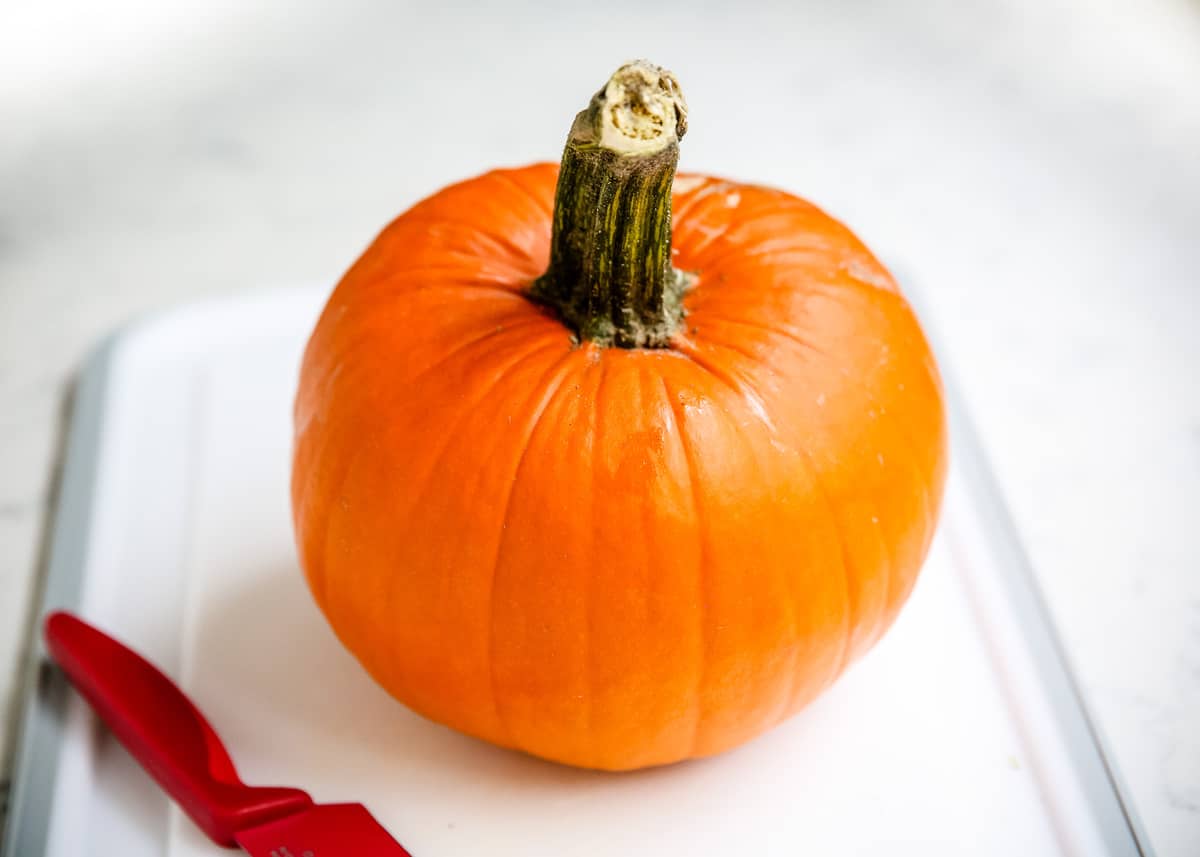 Pumpkin: Making pumpkin puree is as difficult as picking out the right pumpkin. You want to use sugar pumpkins, sometimes called pie pumpkins, because they are much sweeter than their larger jack-o-lantern type cousin. This recipe really only has one star of the show, so you don't want to cut corners! Look for one that's about 5 pounds or so.
Salt: This is optional, but is an easy way to add a small hint of flavor to your puree. I like to use fine sea salt for the best taste.
Supplies: A lined baking sheet for roasting, a knife and cutting board, a large spoon for scooping out the seeds and flesh and a food processor for pureeing.
How to Make Pumpkin Puree
It really is easy to make roasted pumpkin puree at home. Follow the steps below to learn how to prepare, cut and roast your pumpkin in the oven. Then you'll learn how to puree pumpkin into that smooth pureed goodness that everyone knows and loves!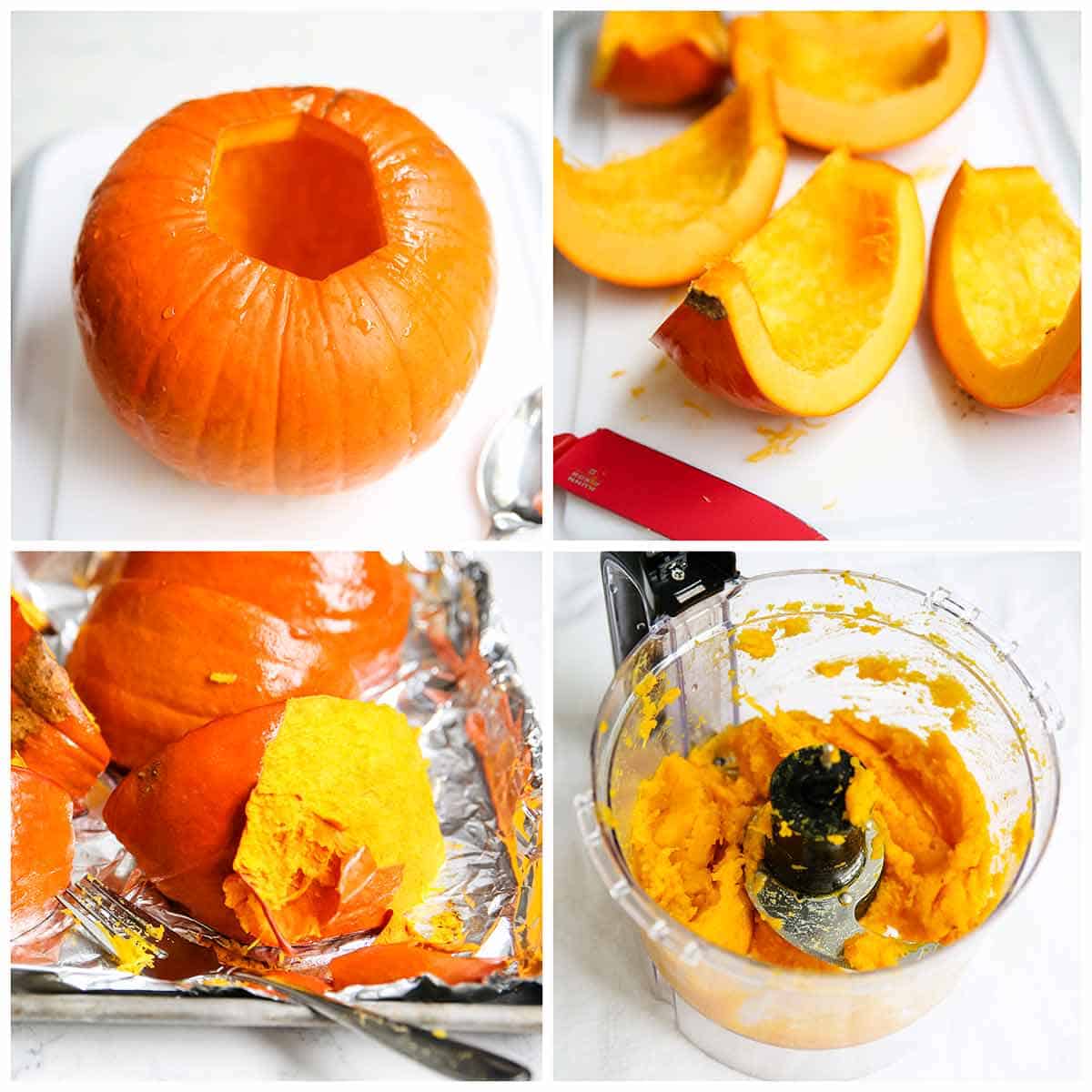 Cut. Slice the top stem off of a small sugar pumpkin. A serrated knife works well for this. Cut in half and remove all seeds and fibers (those pesky strings!). Use a spoon to scrape it down and scissors to cut them off if necessary.
Rinse. Rinse off the pumpkin, getting any of the remaining bits and seeds off the walls. Pat dry, then cut into 6 pieces.
Roast. Place pieces onto a lined baking sheet with the skin side facing up. Sprinkle with optional salt and bake until fork tender. Let cool.
Puree. Scoop the flesh into a food processor or blender and puree until smooth.
Expert Tips
Save the seeds. When cleaning out your pumpkin, save those seeds in a bowl! Rinse off and let dry. Make roasted pumpkin seeds later with a bit of oil and salt and you've got a highly nutritious (and slightly addicting) snack.
Consistency. If it's too dry, add a Tablespoon of water. If it's too watery, squeeze out the excess water in a cheesecloth.
Portions. Because this puree is so full of nutrients, is full of flavor and has its own natural sweetness, it makes a great baby food! Store in little mason jars or freeze in ice cube trays for little portions.
Sweet or savory. It doesn't have the added spices, sugars or other flavors in its original state, so it works well not only for baking sweets but can also be used for savory dishes. Think pumpkin chili or ravioli!
You CAN do this. In some recipes, you may find that the canned version is sturdier and holds the consistency a little better and that's fine. Both canned and fresh puree has a place in our hearts!
Recipe FAQs
Do you have to cook pumpkin puree?
Raw pumpkin puree will not have the same smooth and soft consistency, so you'll definitely want to roast it first so that it's not so stringy and fibrous. Cooking the pumpkin will result in a sweeter taste and will be much easier to puree in a food processor.
How long does pumpkin puree last in the fridge?
It will stay fresh in the fridge for up to 1 week. Check out more storing and freezing tips below.
What spices go well with pumpkin?
Classic warm fall spices such as cinnamon, nutmeg, all-spice, pumpkin pie spice, apple pie spice or cardamom all compliment it perfectly. It even tastes great with spices like chili powder or paprika when making savory recipes like a creamy pumpkin soup.
Is pumpkin puree healthy?
Yes! Pumpkins are filled with beta carotene, vitamin C, fiber and many other nutrients and minerals. It's a power house for your immune system!
Why is my puree watery?
Fresh pumpkins can sometimes hold extra water, so if you end up with a watery puree, simply use a cheesecloth to squeeze out the excess liquid and it'll be good as new!
Storing & Freezing
Homemade pumpkin puree will keep in the fridge in an airtight container or jar for up to a week. If you are making batches at a time, freeze some by putting it into a Ziploc bag once cooled. Place in the freezer for up to 3 months. Then when ready to use, run under warm water.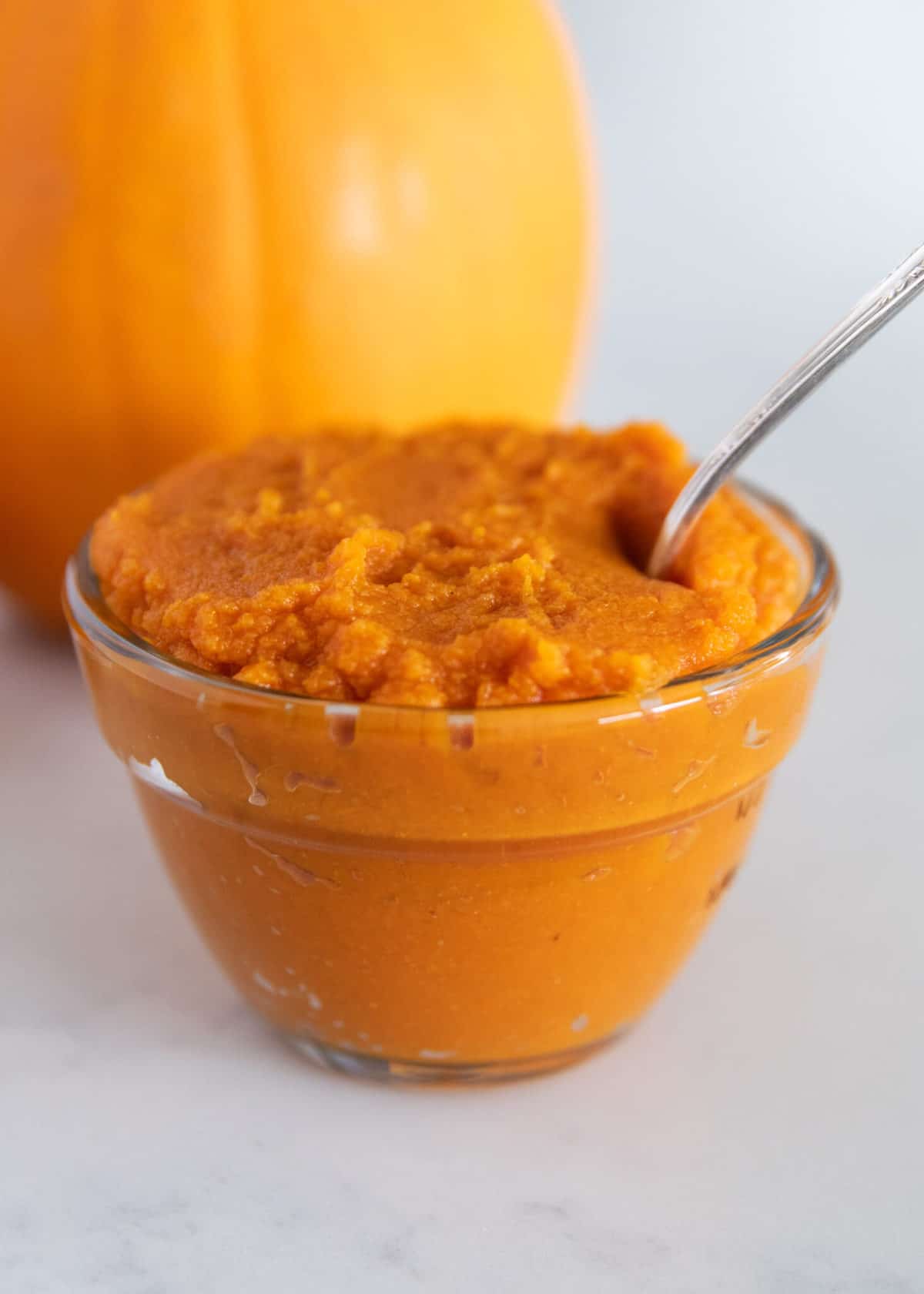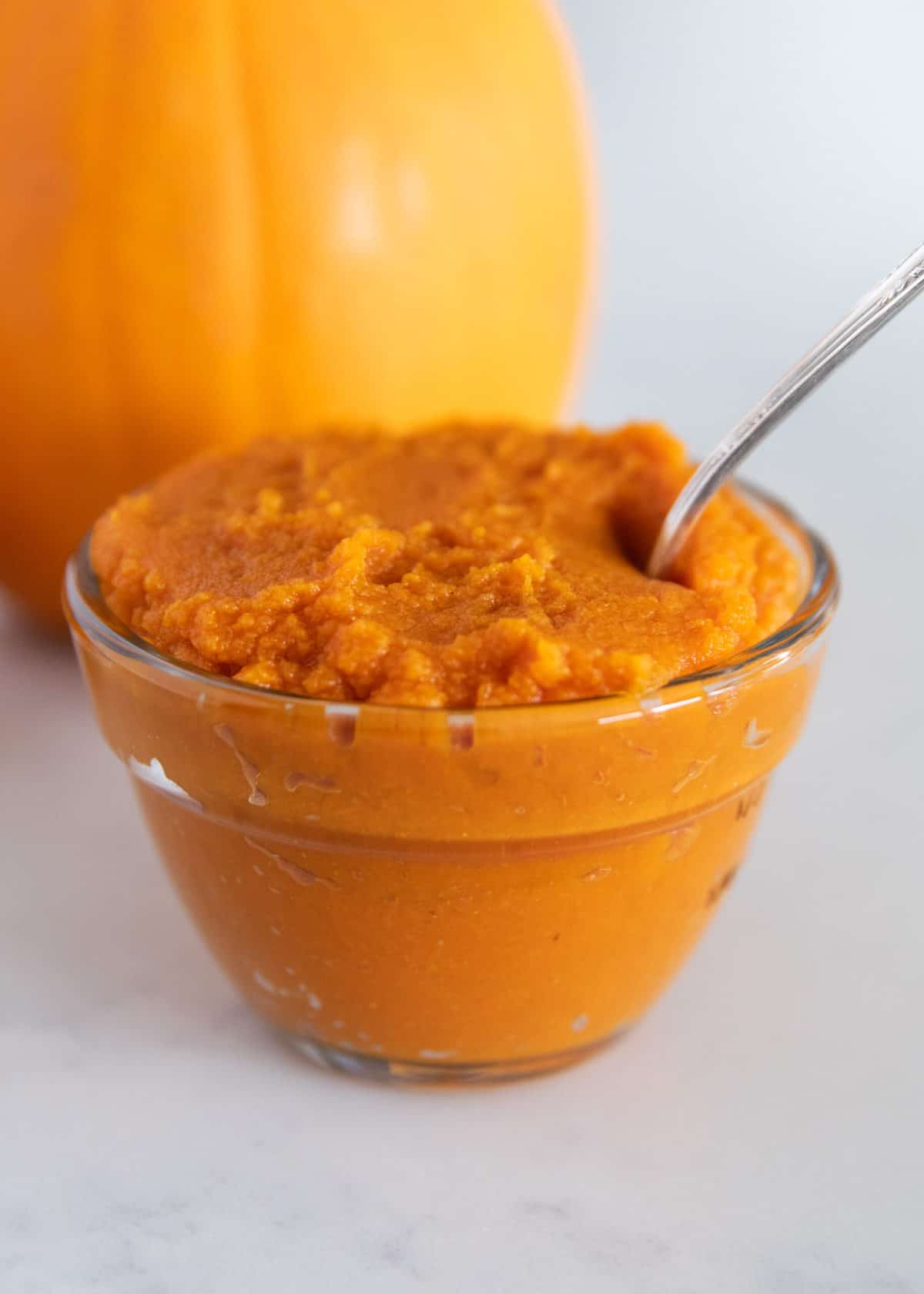 More Ways to Use This Puree
HUNGRY FOR MORE? Subscribe to my newsletter and follow on Facebook, Pinterest and Instagram for all the newest recipes!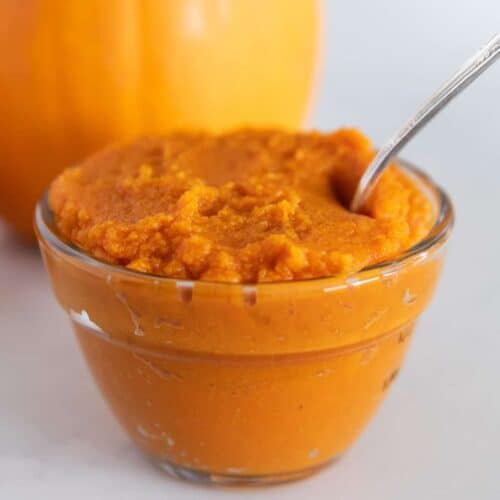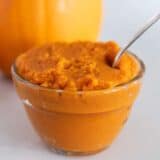 Homemade Pumpkin Puree
The easiest foolproof method to making the smoothest pumpkin puree using just a small sugar pumpkin and a bit of salt!
Ingredients
1 sugar pumpkin (around 5 pounds)
Fine sea salt (optional)
Instructions
Preheat the oven to 400°F. Line a baking sheet with foil or parchment paper and set aside.

Cut the top off the pumpkin and then in half. Remove all seeds and fibers. Remove fibers with scissors if needed. Rinse and pat dry. Then slice into 6 pieces.

Place the pumpkin onto the pan with skin facing up. Sprinkle with salt if desired. Then bake for 30-45 minutes, or until fork tender.

Let the pumpkin cool for 1 hour. Then remove skin and scoop the flesh into a food processor.

Process the pumpkin for 3-5 minutes, or until the puree is very smooth.

Store in the refrigerator for up to 1 week or freeze for up to 3 months in a zip top bag.
---
Notes
Makes about 4-5 cups.
Nutrition
Serving: 1cup | Calories: 88kcal | Carbohydrates: 22g | Protein: 3g | Fat: 1g | Saturated Fat: 1g | Sodium: 3mg | Potassium: 1156mg | Fiber: 2g | Sugar: 9g | Vitamin A: 28944IU | Vitamin C: 31mg | Calcium: 71mg | Iron: 3mg
Nutrition provided is an estimate. It will vary based on specific ingredients used.
Did you make this recipe? Don't forget to give it a star rating below!