Jump to Recipe⌄
Pumpkin whoopie pies with maple frosting
Pumpkin whoopie pies with maple frosting -2 super soft pumpkin spiced cookies sandwiched between a delicious maple frosting.
Hello pumpkin season! Oh my, do I have a yummy recipe for you today! These pumpkin whoopie pies with maple frosting are so so yummy! The little touch of maple really takes these pumpkin cookies over the top! They remind me of a cookie I tasted last year in an Amish bakery in Pennsylvania. I was visiting my husband while he was on a rotation there and they were the perfect treat. I so was happy to find a recipe that looked similar to those cookies and give them a try. These cookies did not disappoint!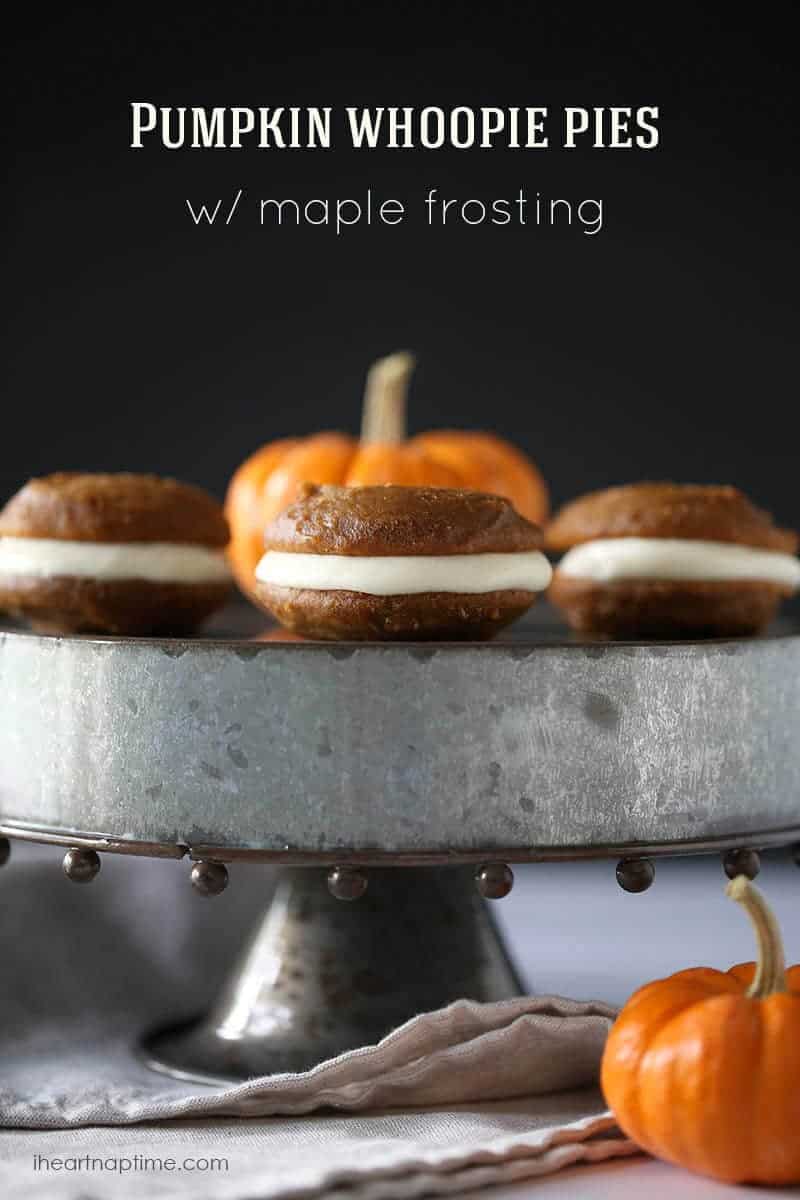 I have to say these pumpkin whoopie pies tasted even better the next day! The pumpkin flavor really comes out. So if you can resist… save a few and store them in a container and place them in the refrigerator until the next day! I can't wait to make these again and again this holiday season.

MY OTHER RECIPES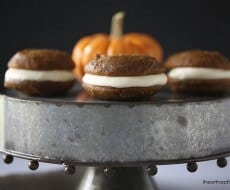 Pumpkin whoopie pies with maple frosting
Ingredients:
3 cups all-purpose flour
1 1/2 tsp baking powder
1 tsp baking soda
1 tsp salt
2 TB cinnamon
1 tsp pumpkin spice
1/2 tsp ground nutmeg
1 cup sugar
1 cup (packed) dark brown sugar
1 tsp vanilla
1 cup vegetable oil
1 29 oz can pumpkin puree (chilled) -not pie filling
2 eggs
*Maple cream frosting:*
3 cups powdered sugar
8 ounces cream cheese (softened)
1/2 cup butter (softened)
1 tsp vanilla
3 TB 100% pure maple syrup
Directions:
1.Pre- heat oven to 350°.
2. In a medium size bowl stir together flour, baking powder, baking soda, salt, cinnamon, pumpkin spice and ground nutmeg. Set aside.
3. In a large bowl combine sugars and oil. Blend together and then mix in pumpkin and vanilla. Add in eggs and mix until combined.
4. Slowly add the flour mixture to the pumpkin mixture and stir until the batter is smooth.
5. Line baking sheet with baking mat or parchment paper.
6. Using a small cookie scoop, place dough onto pan about one inch apart. Bake for 10-12 minutes or until a tooth pick comes clean.
7. Remove pan from oven and allow to cool for two minutes. Then transfer cookies onto a cooling rack and allow to cool for one hour.
8. To make the frosting, beat the butter and cream cheese in a large bowl for one to two minutes, or until smooth. Add the powdered sugar a little at a time, then add the maple syrup and vanilla and beat until nice and creamy.
9. Place frosting in a gallon size Ziplock bag and place in the refrigerator for 30 minutes.
10. To assemble the whoopie pies, turn the cookies upside down. Then snip a small corner from the Ziplock bag and pipe the frosting around the botoom of the cookie. Place another cookie, flat side down, on top of the frosting. Press down slightly. Store pumpkin whoopie pies in the refrigerator to firm before serving.
Enjoy!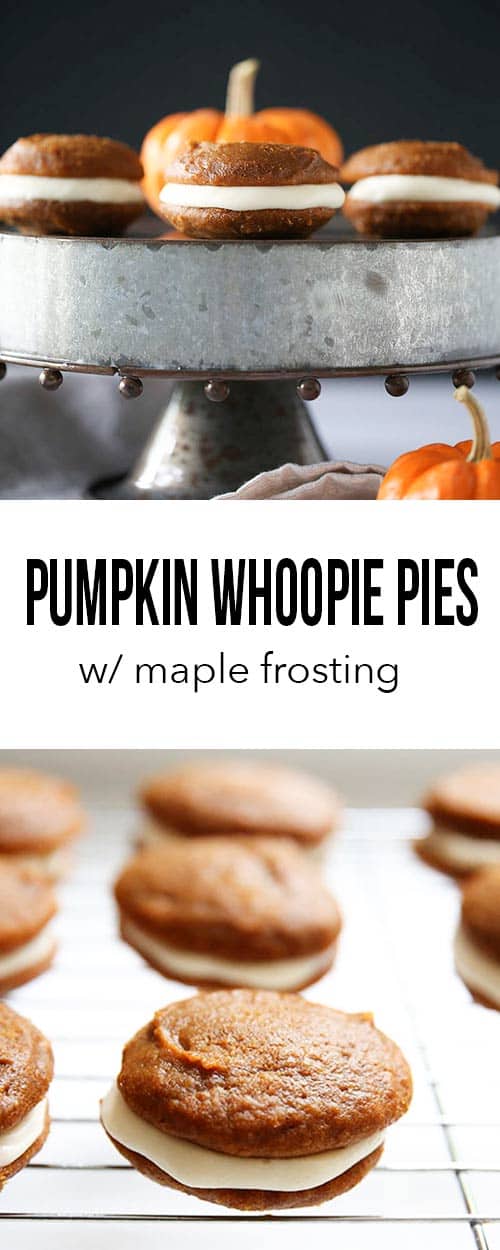 Enjoy!! :D
Happy baking! xo- Jamielyn
Looking for more pumpkin recipes? You'll love these too: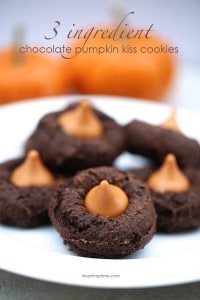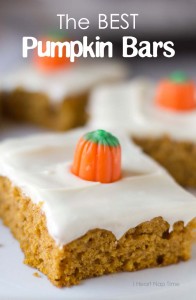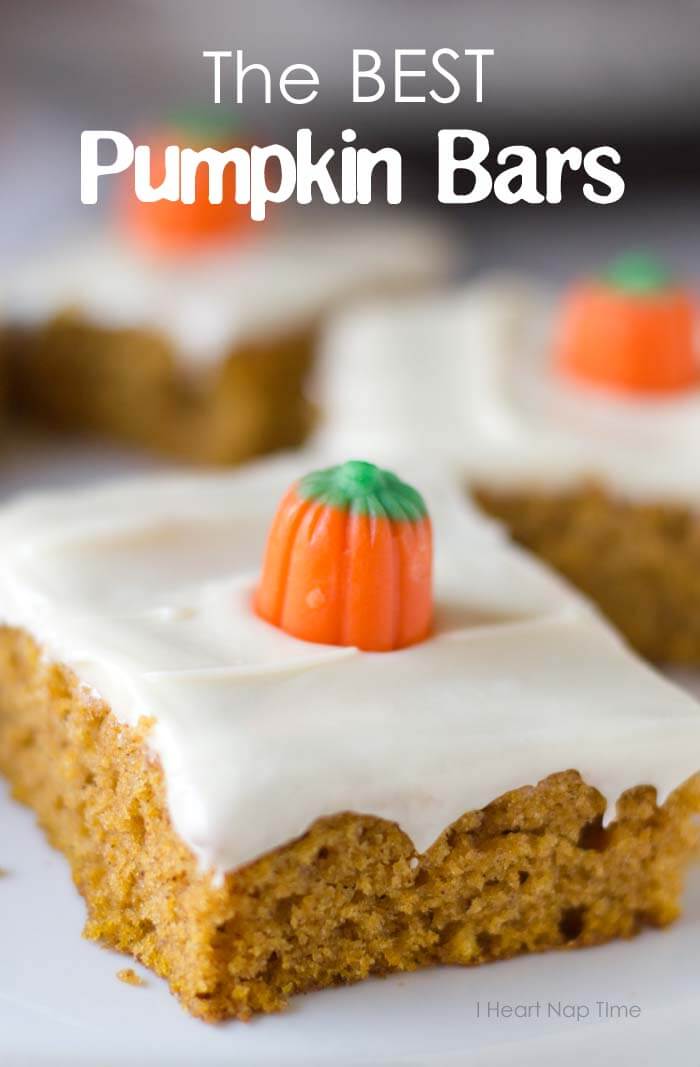 Pumpkin chocolate chip cookies