Pumpkin oatmeal chocolate chip cookies are the perfect fall treat. They're simple yet made with real pumpkin, oats, coconut oil, and chocolate chips. They're the perfect easy snack or dessert!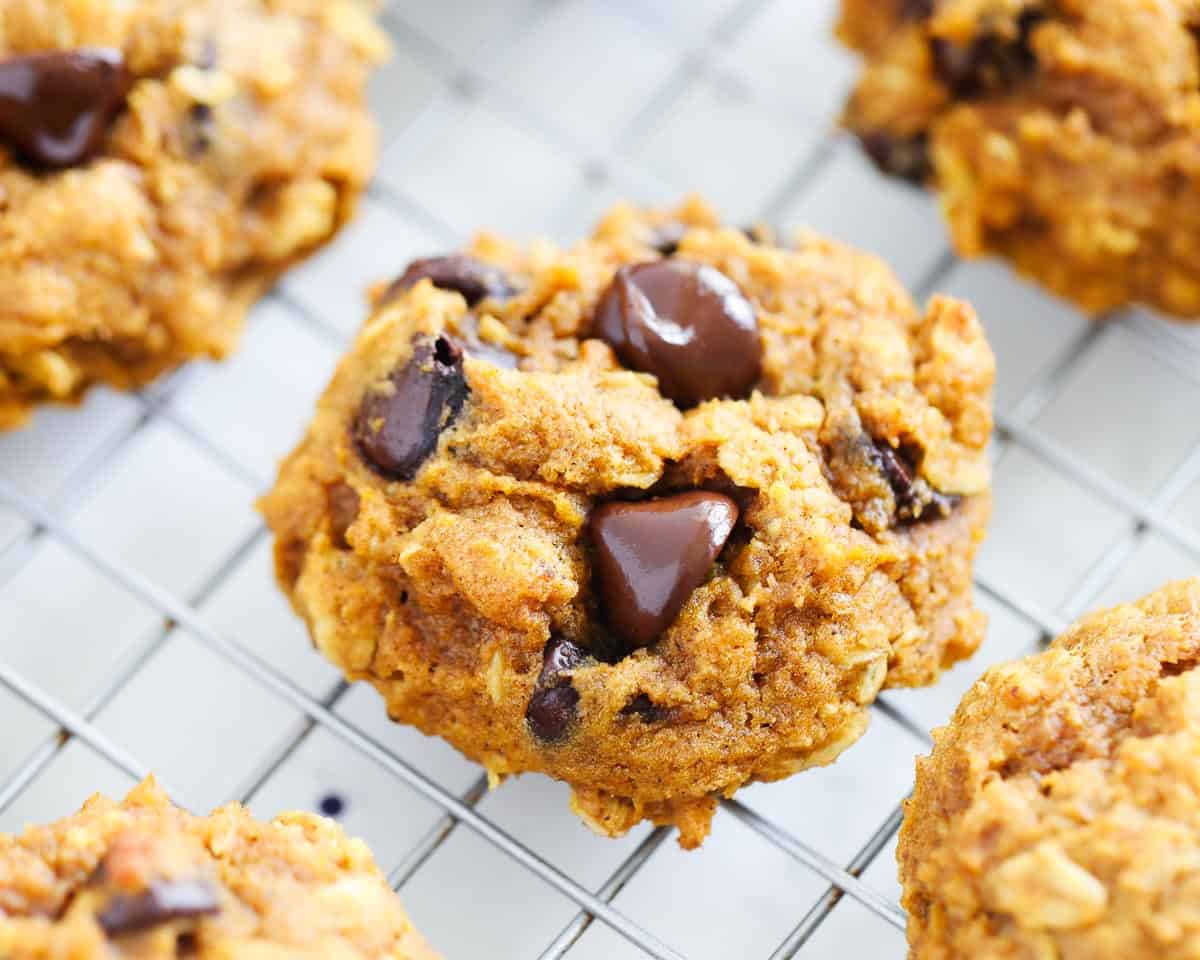 Simple Drop Cookies for Fall
Pumpkin oat chocolate chip cookies are like a warm bowl of pumpkin-flavored oatmeal in cookie form. Delicious, soft, tender-crispy, cookies. Cookies aren't exactly known for their association with pumpkin flavor. Not like cakes, pies, bread, and cupcakes are, but the pumpkin puree and pumpkin pie spice in oatmeal cookies are a very nice surprise that pairs well with chocolate.
If you love our tried and true pumpkin chocolate chip cookies, you're going to love this version. I adapted it from that cookie recipe, however, I've made them a little bit healthier without sacrificing flavor. We've added the oats, swapped the oil for coconut oil, and use a little less sugar in this version.
As far as homemade pumpkin recipes go, these pumpkin oatmeal chocolate chip cookies are hands down one of my new favorites. They can be made chewier and of course, customized to your liking. Make a double batch and freeze them for later because trust me, there will come a time very shortly when you get a craving for these delicious pumpkin cookies.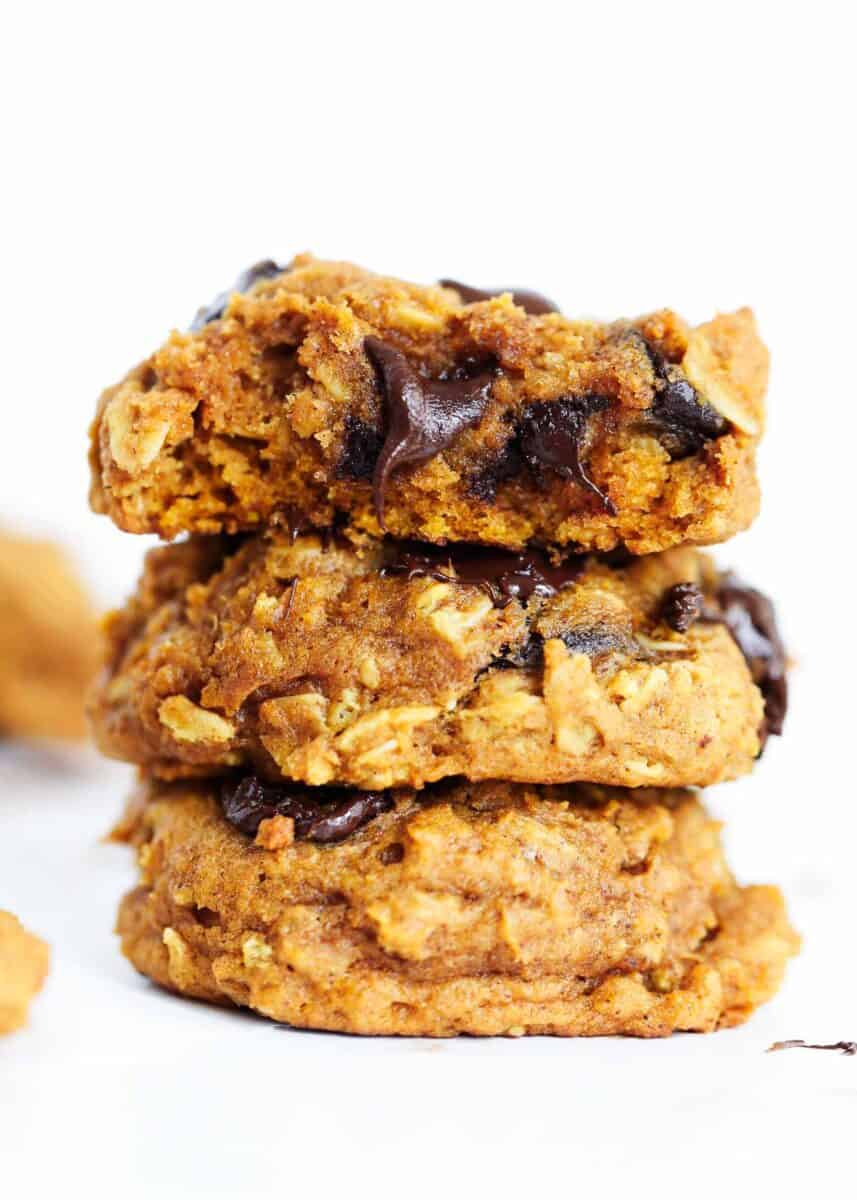 Why This Recipe Works
Textures. Chewy from the oats, moist and tender from the pumpkin and coconut oil and perfectly crispy around the edges. These oatmeal pumpkin chocolate chip cookies have it all!
Drop cookies. No cookie scoop or measuring spoon required. Simply use a spoon to easily drop the dough onto the baking sheet. Perfect for the kids to help with.
Prepped in 15 minutes. The dough comes together in just about 15 minutes, which means you'll be spending hardly any time in the kitchen. All that's left is just baking and cooling.
Cookie Ingredients
These pumpkin oatmeal chocolate chip cookies are made with common pantry staples and a few fall ingredients to give them their delicious taste and texture. Check out the ingredients below.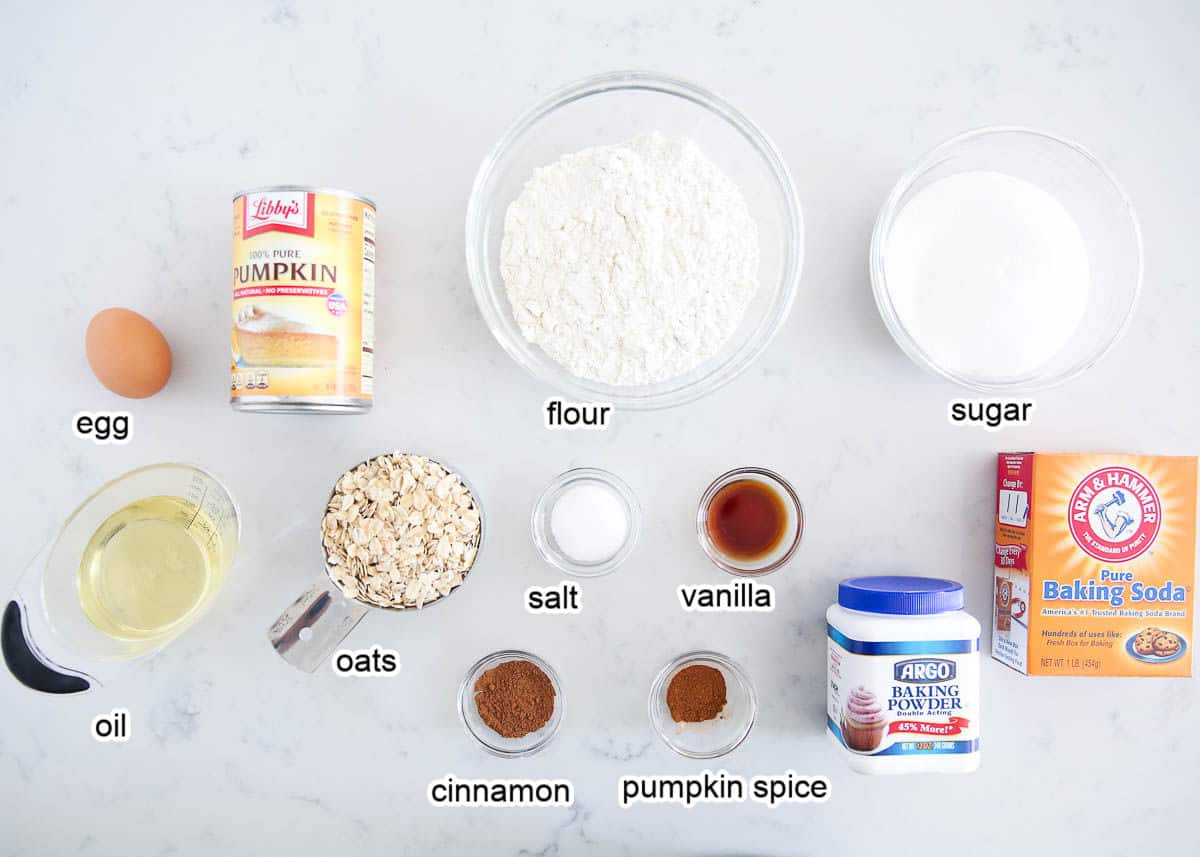 Find the full printable recipe with specific measurements below.
Baking staples: All-purpose flour, sugar, egg, vanilla, baking powder, baking soda and salt.
Pumpkin: Look for 100% pure pumpkin puree (I prefer Libby's). You don't want to use canned pumpkin pie filling, as it has extra sugar and spices that will change the flavor of these cookies.
Oil: I used coconut oil for a healthier alternative, although you could use vegetable oil if that's what you have on hand. Using oil instead of butter will help make the cookies more moist and tender.
Oats: Old-fashioned oats (sometimes called rolled oats) will give you the perfect chewy texture and bite.
Spices: Warm spices like cinnamon and pumpkin pie spice help give these cookies their fall flare. Use more or less to taste, depending on how much spice you prefer.
Chocolate chips: I love using a mix of semi-sweet chocolate chips and milk chocolate chips, but feel free to use one or the other.
Variations
You can make classic pumpkin oatmeal cookies without the chocolate chips, or swap the chocolate for chopped walnuts, pecans, raisins, cranberries or even white chocolate chips or cinnamon chips. Other spices such as nutmeg, cloves, ginger or allspice can be added in for more flavor.
How to Make These Pumpkin Oat Cookies
Only 15 minutes of prep time needed to whip up a batch of these pumpkin oat chocolate chip cookies. Then 10 minutes of baking and the rest is letting them cool. So easy!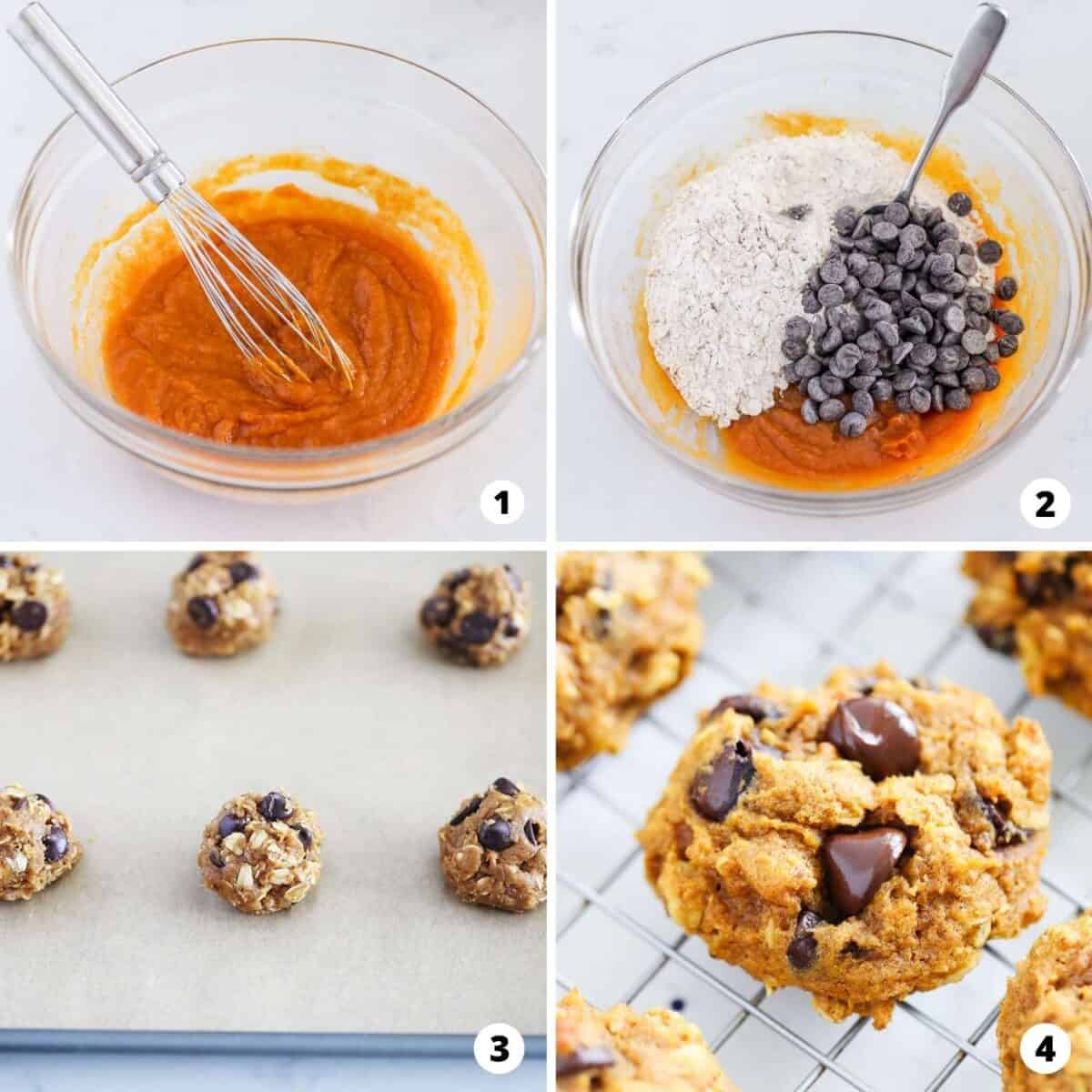 Wet ingredients. Combine the pumpkin, sugar, oil, egg and vanilla in a large bowl. Whisk the mixture together until smooth.
Dry ingredients. Using a separate bowl, whisk together the flour, oats, baking soda, baking powder, salt and spices. Pour the flour mixture into the bowl with the wet ingredients and stir until you see only a little bit of flour left in the mixture. Then gently fold in the chocolate.
Scoop. Drop spoonful's of cookie dough onto the baking sheet, leaving enough room for spreading. I like to press a few more chocolate chips onto the tops after scooping.
Bake. Place the pan in the oven and bake at 350°F for about 10 to 13 minutes. Bake until a toothpick comes out clean and the bottoms are golden brown. Oh, and your house smelling like a bakery is a bonus!
Pro Tip: If you like a chewier texture to your cookie, blot the pumpkin puree to remove excess moisture before adding to the batter.
Expert Tips
Coconut oil is solid at room temperature so remember to melt it ahead of time.
Use fresh pumpkin instead of canned, if you got a sugar pumpkin or two lying around! Or maybe you've got some frozen from another recipe. Use it up!
Homemade pumpkin spice is a simple cost-effective way to keep a very popular spice mix on hand throughout the season. However, if you've got store-bought, go ahead and use it.
Line the baking sheet with parchment paper or a silicone baking mat for a nonstick surface.
Do not overmix. To get a lighter cooker, one that's not too dense, you want to mix the cookie batter until just combined.
Check doneness by inserting a toothpick into the middle. Continue baking if the center isn't quite done. They will not continue to set as they cool.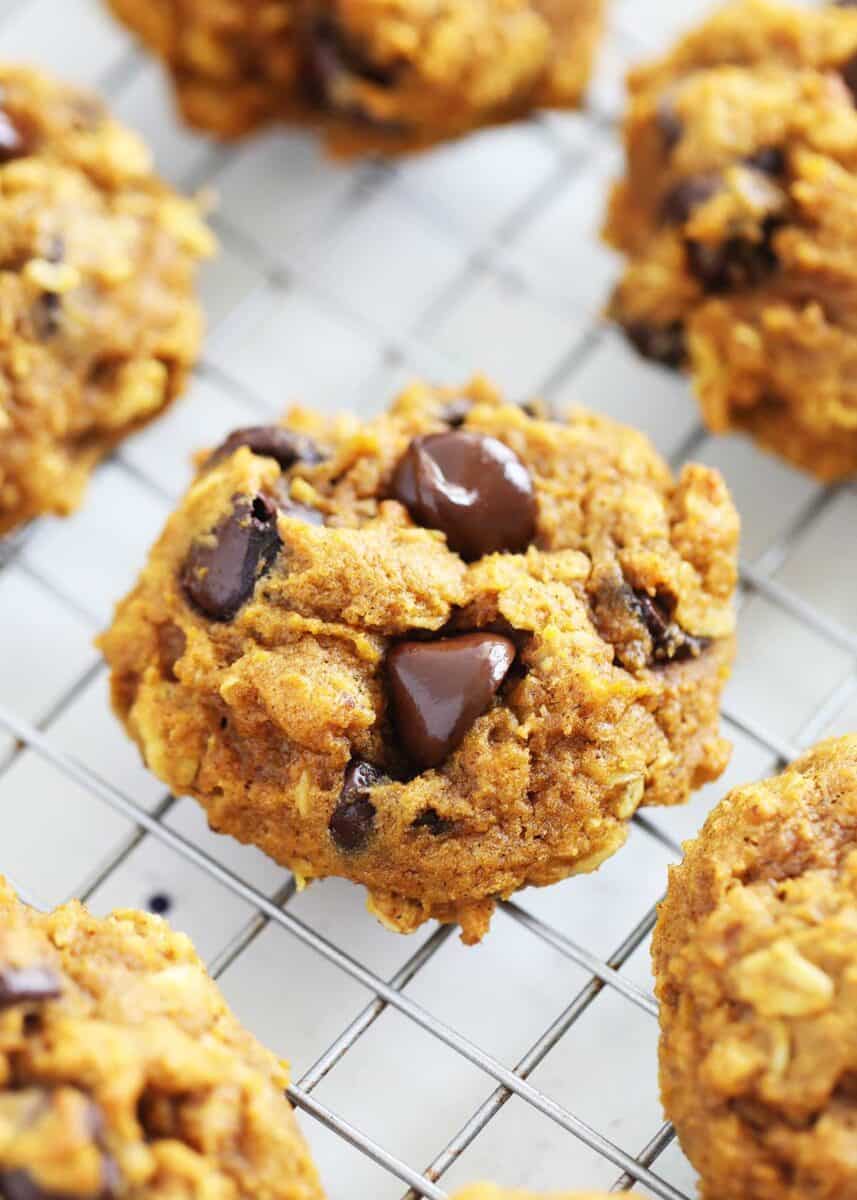 Recipe FAQs
What are drop cookies?
Drop cookies are one of the easiest cookies to make because there is no rolling the dough into balls, or using a rolling pin then cutting out shapes, and there's not even any freezing logs of dough and slicing!

All it is is taking spoonful's of dough and literally dropping them onto the baking sheet. When they bake they spread into their cookie form. It's the best!
Can I double the recipe?
Baking is really precise, so the measurements are exact for the number of cookies yielded in this recipe. If you want to make more cookies I recommend doing two separate batches.
Can I use pumpkin pie filling instead?
No. Pumpkin pie filling comes with its sugar and spice and will throw the amount of each of the remaining ingredients off whack. It may also change the texture of your cookies and lose the flavor of the pure pumpkin.
Can you make these gluten-free?
Although I haven't tried myself, you can substitute the all-purpose flour in this recipe for a gluten-free 1:1 baking flour to make gluten-free. Also make sure the oats you use are certified gluten-free, too!
Storing and Freezing
To store: The longer these cookies sit, the more the flavors have a chance to meld together and get even better! Keep them covered in an airtight container to lock in the moisture and enjoy them for the next 4 days!
To freeze: Once completely cooled, transfer cookies to a freezer-friendly bag or container and remove as much air as possible to avoid freezer burn and loss of moisture. Keep frozen for up to 3 months.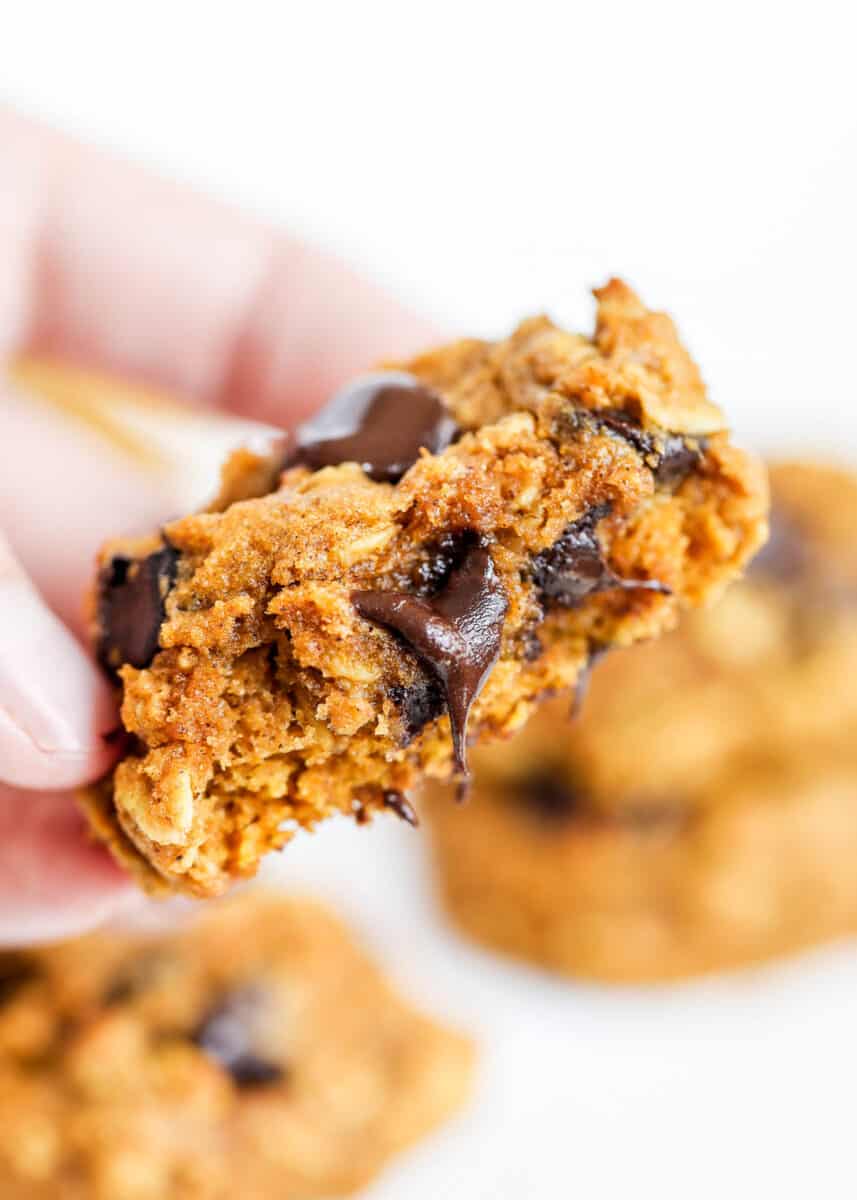 HUNGRY FOR MORE? Subscribe to my newsletter and follow on Facebook, Pinterest and Instagram for all the newest recipes!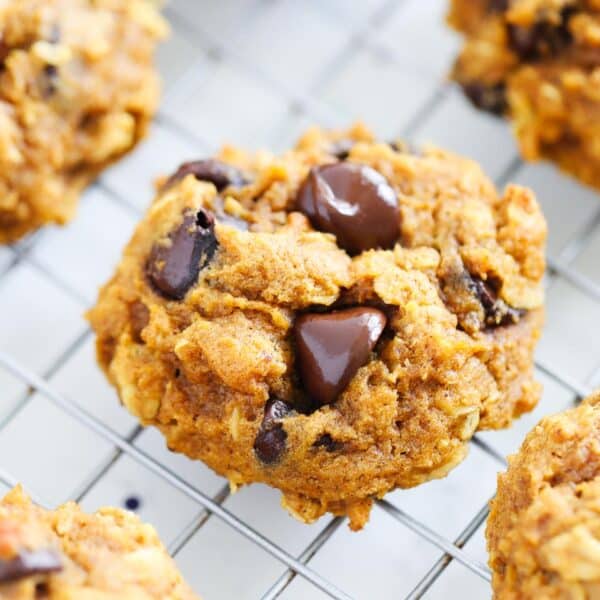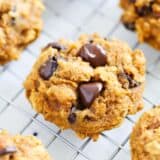 Pumpkin Oatmeal Chocolate Chip Cookies
Pumpkin oatmeal chocolate chip cookies are the perfect fall treat. They're simple yet made with real pumpkin, oats, coconut oil, and chocolate chips. They're the perfect easy snack or dessert!
Ingredients
1 cup canned pumpkin puree
¾ cup granulated sugar
½ cup melted coconut oil , or vegetable oil
1 large egg
1 Tablespoon vanilla extract
1 ¼ cups (160 grams) all-purpose flour
1 cup (100 grams) old fashioned oats
1 Tablespoon baking powder
1 teaspoon baking soda
1 teaspoon ground cinnamon
1 teaspoon pumpkin pie spice , add an extra teaspoon if you like extra spice
½ teaspoon fine sea salt
1 cup chocolate chips , I like to mix semi-sweet and milk chocolate
Instructions
Preheat oven to 350°F. Line a baking sheet with parchment paper or a baking mat.

In a large bowl, stir pumpkin, sugar, oil, egg, and vanilla until smooth.

In a separate bowl, whisk together flour, oats, baking powder, baking soda, ground cinnamon, pumpkin pie spice, and salt.

Stir the flour mixture into the pumpkin mixture just until you see a little flour left. Fold in the chocolate chips until just combined. Do not overmix.

Using a spoon or a medium cookie scoop, drop cookies about 2 inches apart on the baking sheet. Add a few extra chocolate chips to the tops, if desired. Bake 10 to 13 minutes, or until a toothpick inserted in the center comes out clean and the bottoms are lightly brown. Check one and bake 1 to 2 more minutes if the center is not quite done.

Remove from oven and let cool 5 minutes before transferring to a cooling rack to cool completely.
---
Notes
Cookie texture: If you want a chewier cookies, blot your pumpkin with paper towels before adding in to remove any extra moisture. I do not blot mine. Storage: Store in a covered container up to 4 days. These cookies taste best cooled and are even better the next day. The longer they sit the more the flavor comes out. I always make them the day before an event. Freezer instructions: Let cool completely and place in a freezer container or zip-top bag. Remove as much air as possible. Freeze up to 3 months. Remove and let thaw on the counter or microwave for 10 to 20 seconds.
Nutrition
Calories: 191kcal | Carbohydrates: 29g | Protein: 3g | Fat: 7g | Saturated Fat: 5g | Polyunsaturated Fat: 0.4g | Monounsaturated Fat: 1g | Trans Fat: 0.01g | Cholesterol: 9mg | Sodium: 104mg | Potassium: 125mg | Fiber: 2g | Sugar: 11g | Vitamin A: 1617IU | Vitamin C: 0.5mg | Calcium: 43mg | Iron: 1mg
Nutrition provided is an estimate. It will vary based on specific ingredients used.
Did you make this recipe? Don't forget to give it a star rating below!