Raspberry sweet rolls are soft, tender rolls filled with a delicious raspberry filling and topped with a cream cheese frosting. Whether for breakfast, dessert, or anytime in between, these scrumptious rolls are bound to become everyone's new favorite!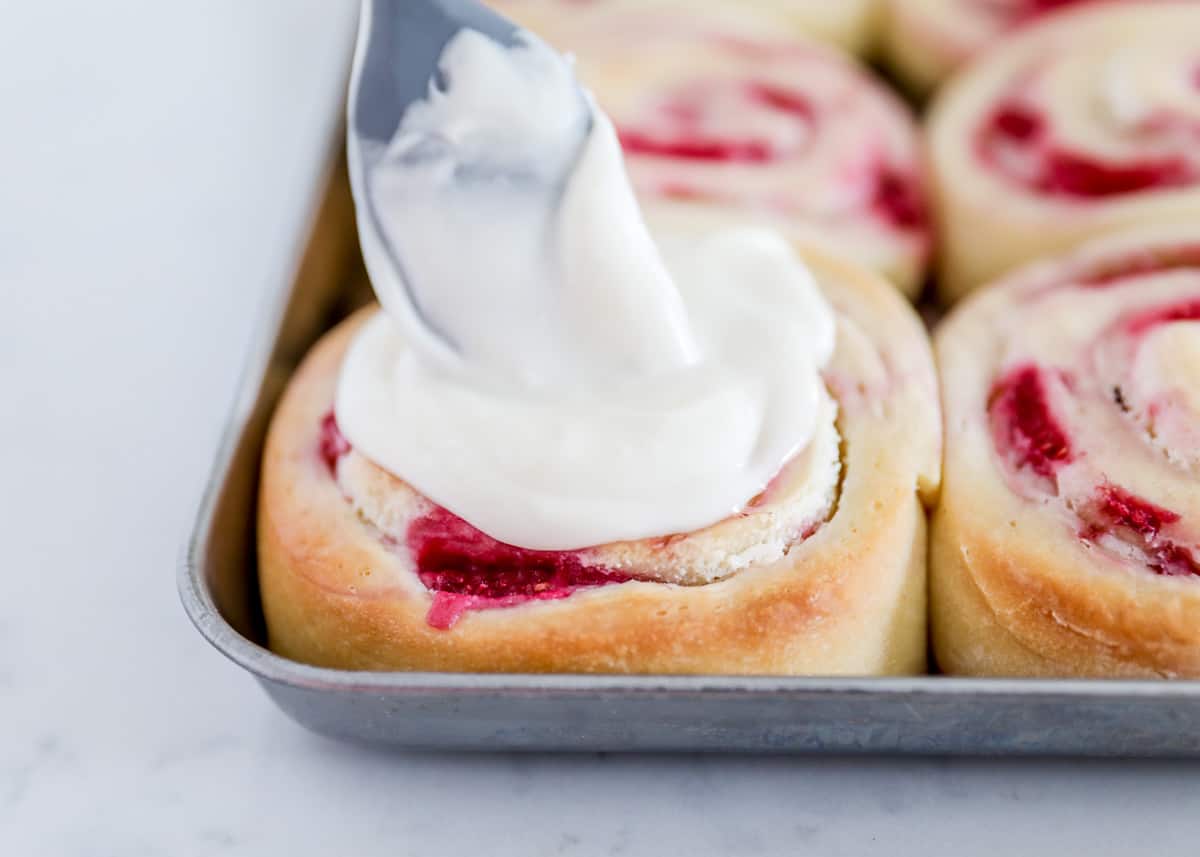 Easy Sweet Rolls
When my friend tried to describe these to me she said they're like if a cinnamon roll and raspberry cheese danish had a baby. She was right! It's a beautiful soft roll filled with the flavors of a creamy raspberry cheesecake and they are seriously so good. If you love my raspberry cookies, this recipe is the perfect breakfast splurge for the holidays.
Top with a classic cinnamon roll frosting or cream cheese glaze and you've got a warm gooey sweet roll perfect for special occasion brunches and desserts. Along with a basket of these traditional Christmas orange sweet rolls, of course!
This simple recipe takes a little bit of work but I will guide you through it all, from how to measure flour and how to proof the yeast. In the end, they are worth it but you can always make this easier cinnamon roll breakfast casserole instead!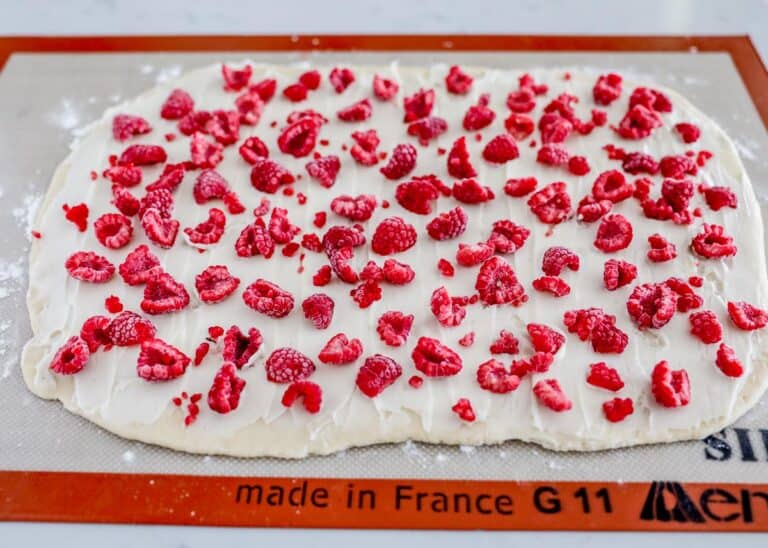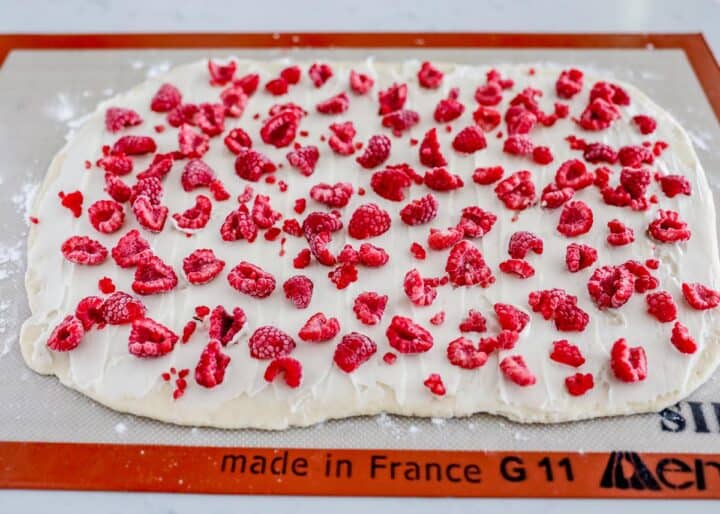 Tips for Making the Dough
Check your yeast. When you add warm milk, yeast, and sugar and it doesn't bubble or activate, it means it's no longer good. Discard and use fresh yeast.
Use a stand mixer with the dough hook for an easier time kneading. It's doable by hand if you don't have one.
The dough should be soft. If you find it too sticky, add a bit more flour. Just a bit.
Proof your dough until doubled in size/bulk.
This recipe requires both softened butter and softened cream cheese from the jump. If you've forgotten to take either out of the fridge not to worry, here you'll learn different ways on how to soften butter and how to soften cream cheese.
Raspberry Sweet Roll Filling
If you can, remember to take your cream cheese out of the fridge ahead of time.
Combine the ingredients for the filling using an electric mixer for it to cream up nicely.
Spread the mixture in an even layer using a spatula. Come close to all the edges leaving 1/2″ around the border.
Tossing the raspberries in cornstarch will help create a thick, "jam-like" consistency in the raspberry mixture, rather than have them runny and a mess.
More Helpful Tips
For a faster rise time, turn the oven on to 175 degrees. Then, turn it off and place the dough in there along with a bowl of hot water. The warm environment will help it rise faster.
Add in a little lemon zest to the raspberry filling for a hint of lemon flavor. Lemon and raspberry are amazing together.
Swap the raspberries with blueberries (or any berry!) for an equally delicious version.
Using a sharp knife will help make clean slices.
Keep in mind, if you add frosting while the buns are still warm it will thin out your frosting into more of a glaze.
Make Ahead, Freezing, & Reheating
Make these ahead by making them entirely the day before. Some recipes will allow for a longer rise time in the fridge overnight. This is not one of them just because of the juice from the raspberries.
Store the frosting in the fridge (bring to room temperature before spreading). Once you're ready to bake, bake at 200 degrees F for 5-10 minutes or until warm. Add frosting just before serving.
To freeze, once completely cooled, place rolls in a freezer-friendly container or zip-top bag. They will keep for up to 1 month in the freezer.
To reheat, thaw overnight and warm individual rolls in the microwave for 10-20 seconds. You can also use the oven at 175 for 5 minutes.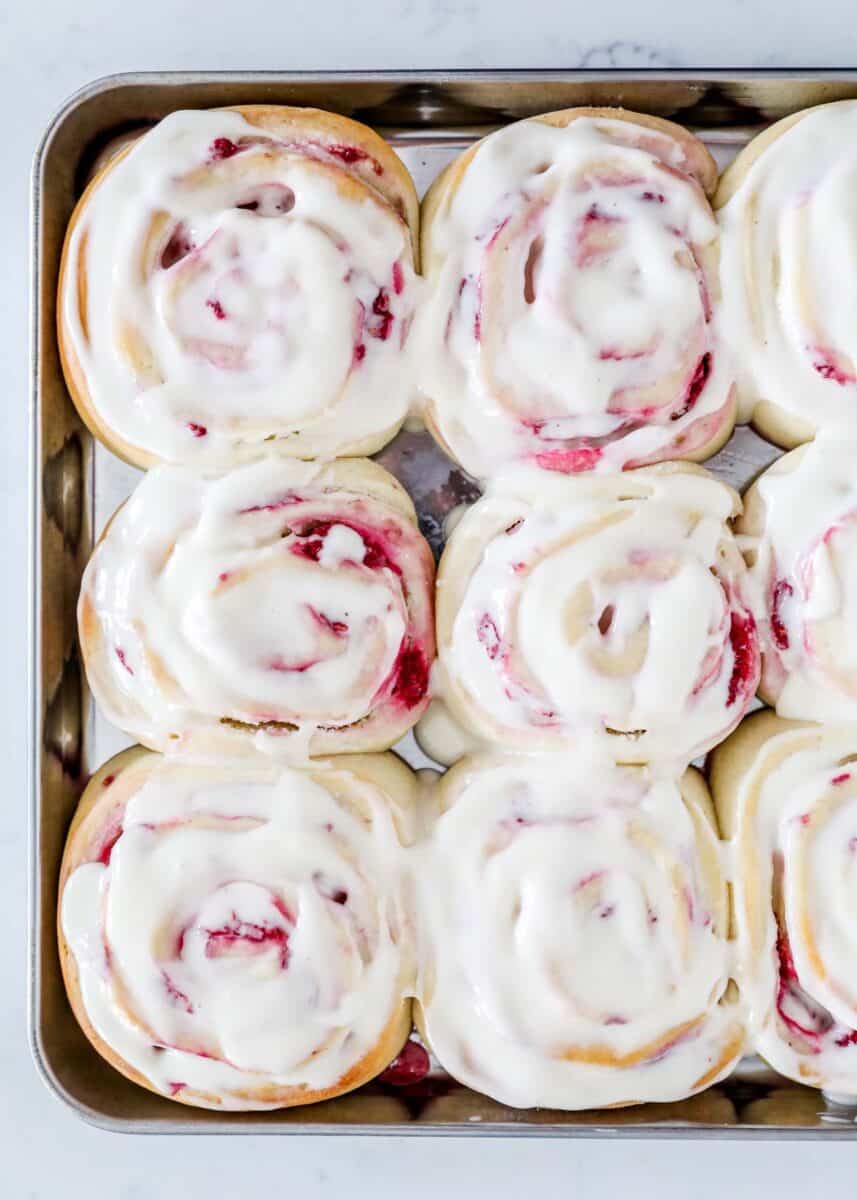 More Recipes to Try:
HUNGRY FOR MORE? Subscribe to my newsletter and follow on Facebook, Pinterest and Instagram for all the newest recipes!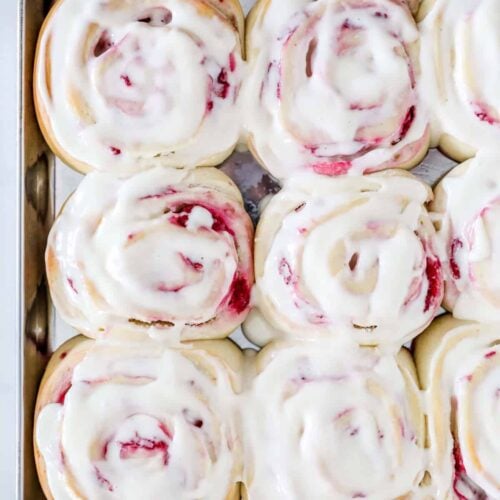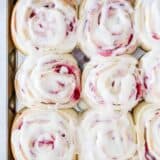 Raspberry Sweet Rolls
Raspberry sweet rolls are soft, tender rolls filled with a delicious raspberry filling and topped with a cream cheese frosting. Whether for breakfast, dessert, or anytime in between, these scrumptious rolls are bound to become everyone's new favorite!
Ingredients
For the Dough:
1 ¼ cups warm milk (105-110°F)
¼ ounce package active dry yeast (about 2 1/4 teaspoons)
½ cup granulated sugar , divided
1 large egg , at room temp
1 teaspoon Kosher salt
½ cup butter , melted
4 cups all-purpose flour , more or less as needed
For the Filling:
4 ounces cream cheese , softened
3 Tablespoons butter , softened
¼ cup granulated sugar
2 to 2 ½ cups frozen raspberries , cut in half
2 teaspoons cornstarch
For the Frosting:
4 Tablespoons salted butter , softened
2 ounces cream cheese , softened
1 cup powdered sugar
1 teaspoon vanilla extract
1 to 2 Tablespoons milk or heavy cream (for consistency)
Instructions
Make the dough:
In a small bowl add the warm milk, yeast and 1 Tablespoon sugar. Let sit for about 5 minutes, until bubbly.

In a large bowl, whisk the egg. Then whisk in the remaining sugar and salt. Next add the melted butter and then the yeast mixture. Add two cups of flour and stir until smooth. Add the remaining flour 1/2 cup at a time. Knead for 5 minutes. If the dough is too sticky, you can add a Tablespoon or two more flour, but the dough should be soft. Don't over do it with flour. Cover the bowl with plastic wrap and place in a warm spot.
Make the filling:
Mix the cream cheese, butter and sugar with an electric mixer until smooth.

Once your dough has doubled in size, punch it down and roll out on a floured surface. You want to form a rectangle approximately 15×20 inches. It doesn't have to be perfect. Spread cream mixture onto the dough with a spatula.

Toss the raspberries with the cornstarch in a small bowl and then sprinkle on top. Roll the dough up tightly starting at the shorter side. Pinch the sides together at the end.

Cut the dough in half and then in half again. From this point cut into 1 inch pieces with floss or a large serrated knife. You can make 12 big sweet rolls or 16 medium sized.

Place dough rolls onto a baking sheet lined with parchment paper, about 1 inch apart. I like to put the 12 big ones on a baking sheet and the ends in a small pan. Cover with plastic wrap and then let rise until doubled (about 1 hour).
Bake:
Bake at 350°F for 20 to 25 minutes or until lightly golden brown on top. Remove from oven and allow to cool about 10 minutes before frosting.
Make the frosting:
Beat together the frosting ingredients in a large bowl with an electric beater. You can add more milk or powdered sugar to reach your desired consistency. Spread over the raspberry rolls with a spatula.
---
Notes
Rising tip: Turn the oven to 175°F and then turn it off and place in there with a small bowl of hot water to help it rise faster. Make ahead: If you'd like to make these ahead, I would recommend baking the day before. Do not let rise overnight (the raspberries will create too much juice). Store the frosting in a container in the refrigerator. Then when ready to serve, bake at 200°F for 5 to 10 minutes or until warm. Then spread with the softened glaze. Freezing the sweet rolls: You can freeze the rolls after they have been baked and cooled. Simply place in a freezer container or zip top bag, then set out to thaw overnight. Warm individual rolls in microwave for 10-20 seconds or in the oven at 175°F for 5 minutes.
Nutrition
Calories: 338kcal | Carbohydrates: 45g | Protein: 5g | Fat: 16g | Saturated Fat: 9g | Polyunsaturated Fat: 1g | Monounsaturated Fat: 4g | Trans Fat: 1g | Cholesterol: 52mg | Sodium: 287mg | Potassium: 113mg | Fiber: 2g | Sugar: 19g | Vitamin A: 525IU | Vitamin C: 5mg | Calcium: 46mg | Iron: 2mg
Nutrition provided is an estimate. It will vary based on specific ingredients used.
Did you make this recipe? Don't forget to give it a star rating below!