Jump to Recipe⌄
The BEST orange sweet rolls
Super soft orange sweet rolls with orange butter cream frosting.
Orange sweet rolls have to be one of my favorite things about Christmas. My mom serves them every year for breakfast and we all go crazy over them. They are the perfect Christmas treat. Let's not even get started on the orange butter cream frosting. I could eat that straight from the bowl!
It took me about 3 tries to get this recipe perfect for all of you and I finally nailed it! These are seriously the best orange rolls I've ever had!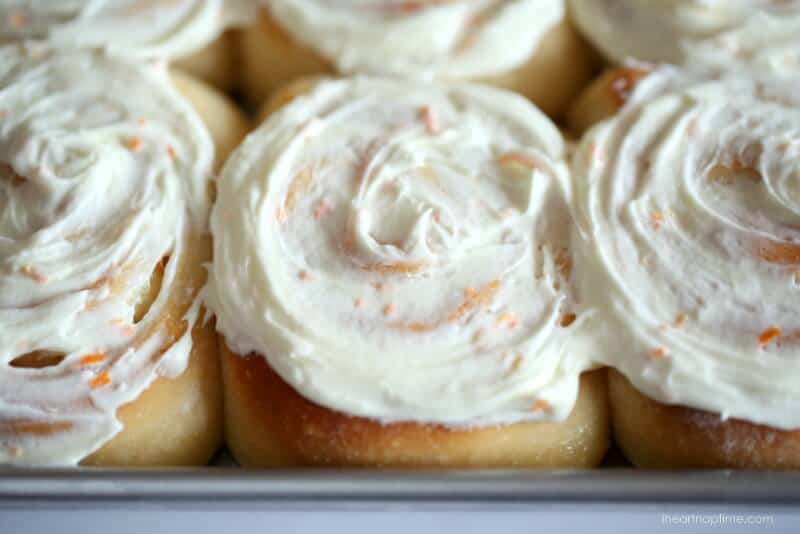 In this recipe I'll be featuring some of my favorite Pampered Chef baking tools. They are ones I love and use all the time while baking. Must have's in my book. ;)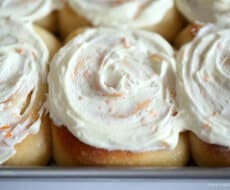 Orange sweet rolls
Ingredients:
1/2 cup warm water
1 (1/4 oz) pkg active dry yeast -2 1/4 teaspoons
2 TB sugar
1/2 cup butter, melted
3/4 cup warm milk
3/4 cup sugar
1 egg, whisked
1 tsp salt
4 cups flour (more or less as needed)
*Filling*
1/2 cup butter, softened
1 cup sugar
zest of 1 orange
1-2 TB fresh orange juice
*Frosting*
1/2 cup salted butter
21/2 cup powdered sugar
zest from one orange
3 tsp orange extract
1 TB milk
Directions:
In a small bowl add warm water, yeast and sugar. Let sit for about 10 minutes until bubbly.
In a large bowl whisk together butter, milk, sugar, egg and salt. Add yeast mixture when ready and stir until combined. Add two cups of flour and stir until smooth. Add the remaining flour 1/2 cup at a time. Knead for 5 minutes. If the dough is too sticky you can add a little more flour. Once dough is nice and soft, cover the bowl with plastic wrap and place in a warm spot. Allow to double in size. If the dough isn't rising I will turn my oven to 200 with a small pan of water, turn it off and set my bowl in there to finish rising.
Once your dough has doubled in size punch it down and roll out on a floured surface. You want to form a rectangle approximately 15×20 inches. It doesn't have to be perfect. Spread filling onto the dough with a brush and then roll the dough up. I did not use all of the filling. Cut the dough into one inch pieces with floss or a large knife. Place dough onto a buttered baking dish with rolls about 1 inch apart. Let rolls sit for about an hour or until rolls have doubled in size.
Bake at 350 for 15 minutes or until golden brown. Remove from oven and allow to cool.
Beat together the frosting ingredients in a large bowl and then spread on top of the rolls. You can add more milk or powdered sugar to reach your desired consistency.
Enjoy!
All images and text ©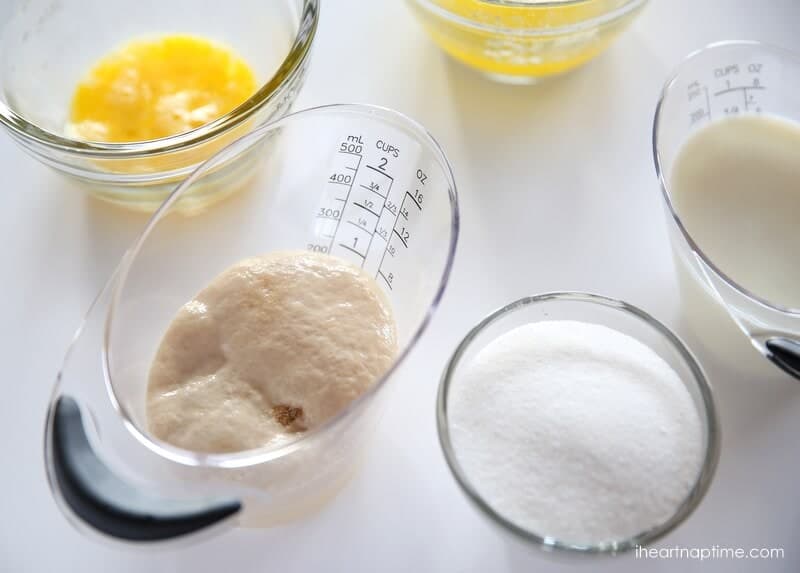 For this recipe I used my prep bowls and easy read measuring cups for my yeast mixture and warming the milk. They are microwave safe, which I love! You'll know your yeast is done when it's nice and bubbly like above.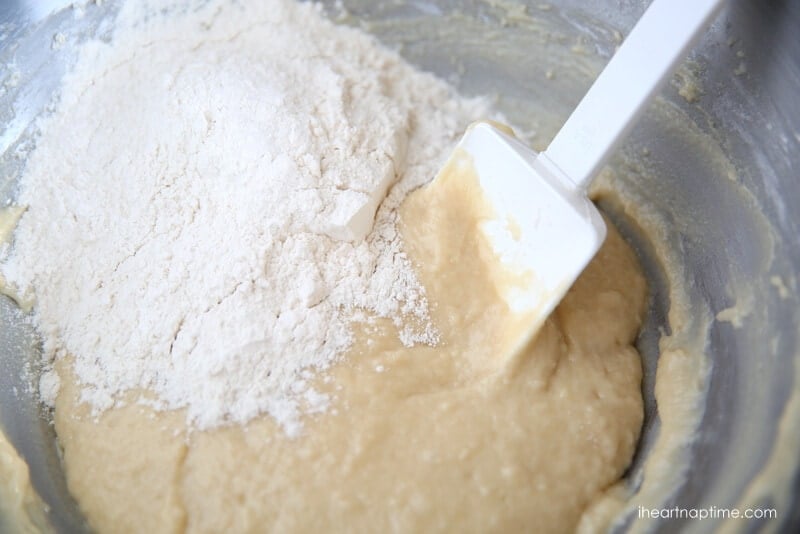 When mixing my dough I Iike to use a Mix N' Scraper to help to keep the flour off the edges. You can also use a mixer with a dough hook if you have one which makes the kneading a little easier. ;)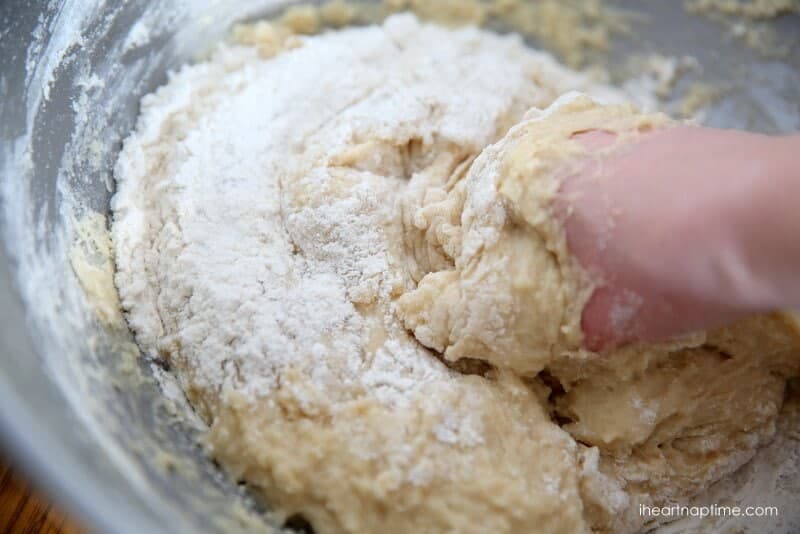 Once the dough is to hard to stir I will knead it with my hands for about 5 minutes. You want the dough to be soft but not too sticky. Almost like play dough, but not quite as hard.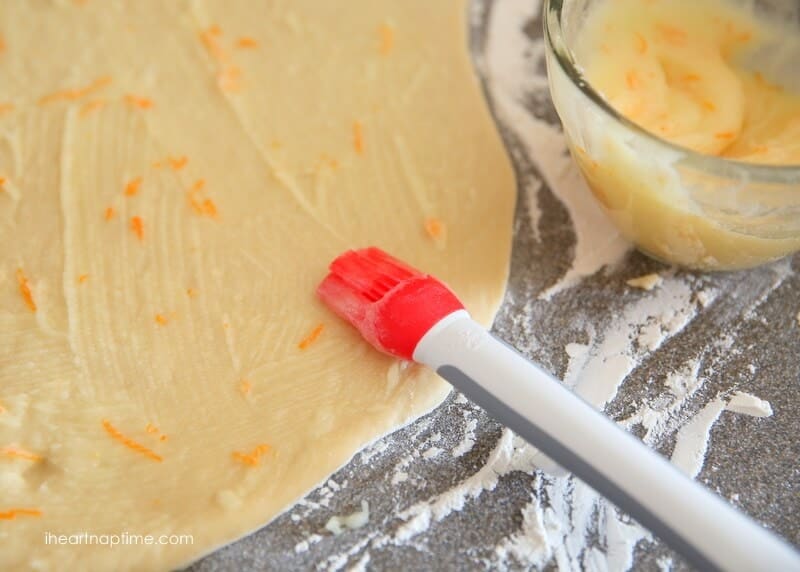 Once your dough is ready, roll it out on a floured surface and form a 15×20 rectangle. It doesn't have to be perfect. Then use your silicone brush to put on your filling.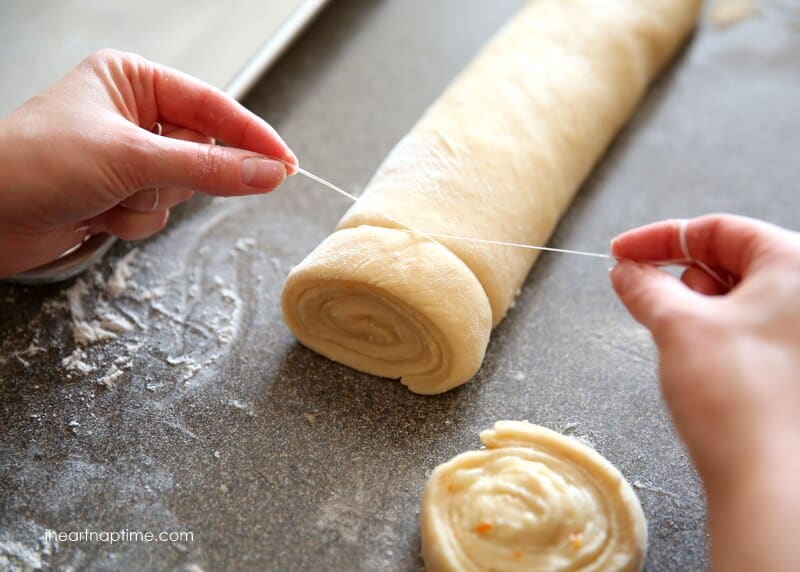 Then roll up your dough and cut it with floss. Just slide the floss under the dough and then pull it up. Cut your rolls into about 1 inch pieces.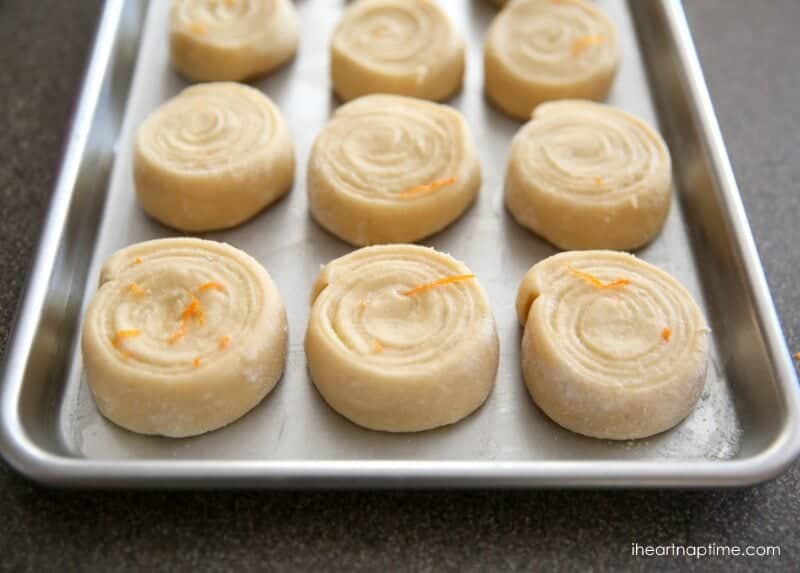 Butter a large sheet pan and then place the rolls on the pan about 1 inch apart.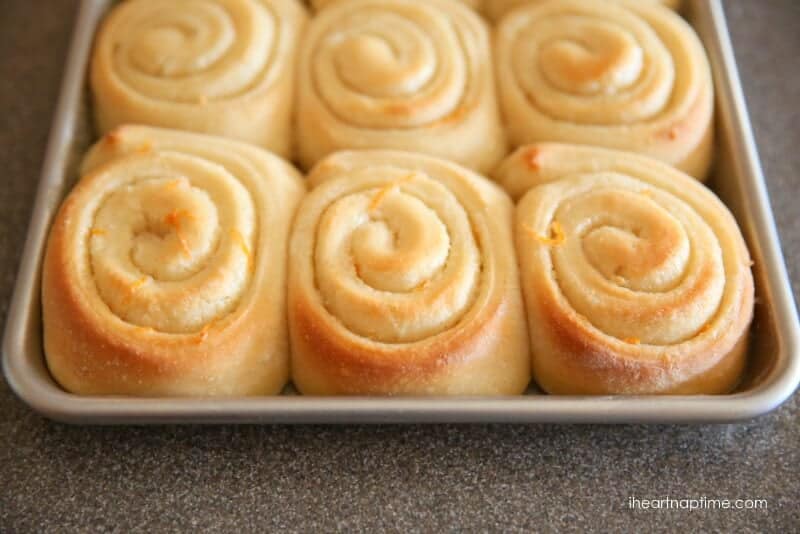 Bake them just until golden brown. You don't want to over cook them. They are the best when they are super soft! Are you drooling yet?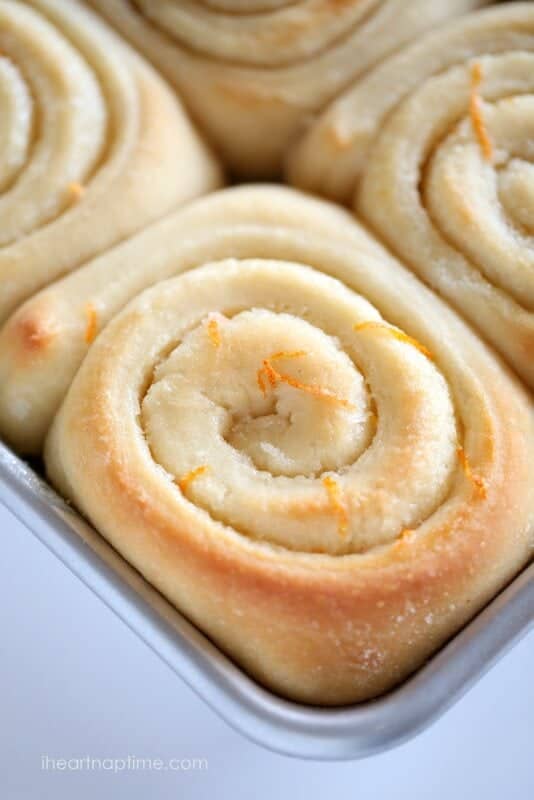 The orange zest makes these rolls PERFECT!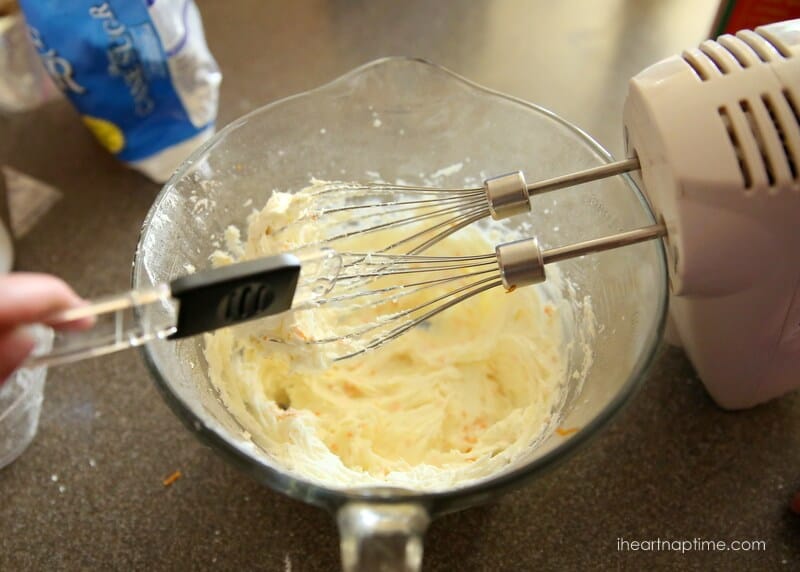 Next grab a small bowl (I love Pampered Chef batter bowls) and whip up your orange buttercream frosting. The orange extract adds the perfect amount of orange flavor to the frosting. Oh and I have to mention my favorite measuring spoons EVER… these adjustable measuring spoons. They are the ones I use all the time!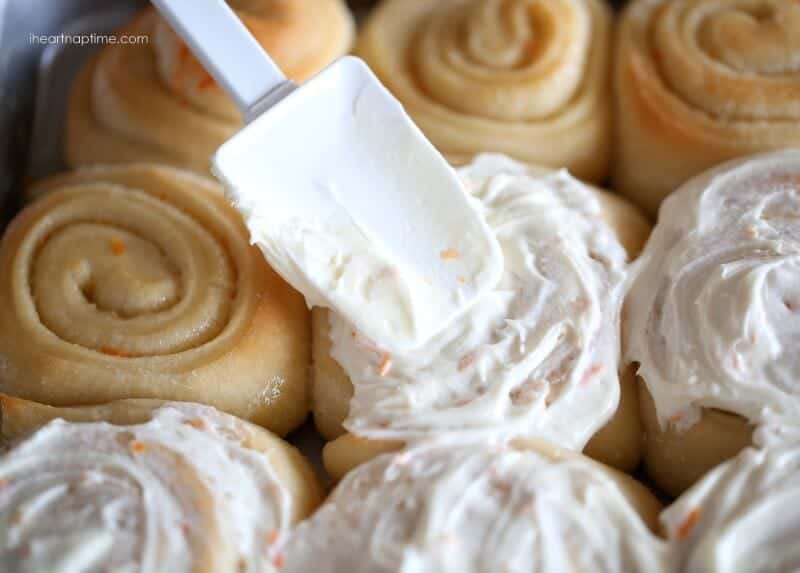 Once your frosting is nice and fluffy spread it on those delicious rolls! The more frosting the better!!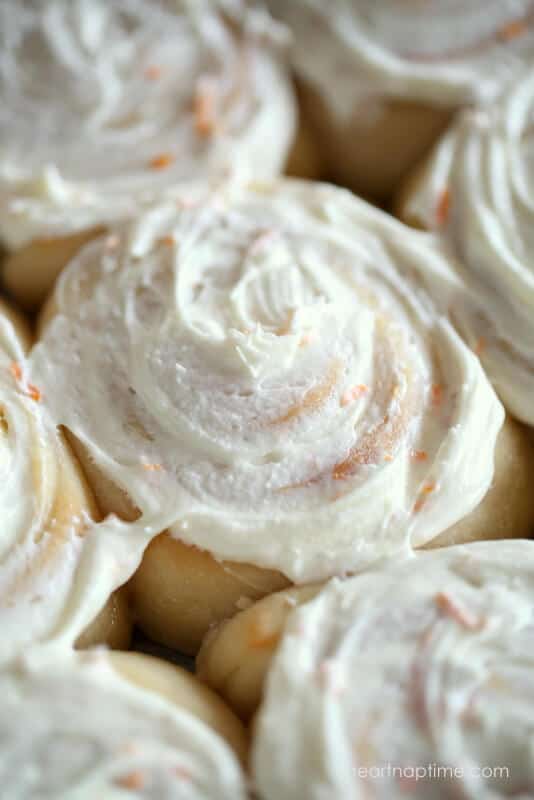 Mmm…. I am still dreaming about these delicious orange sweet rolls. They are unbelievably tasty! I cannot wait to make them again and again.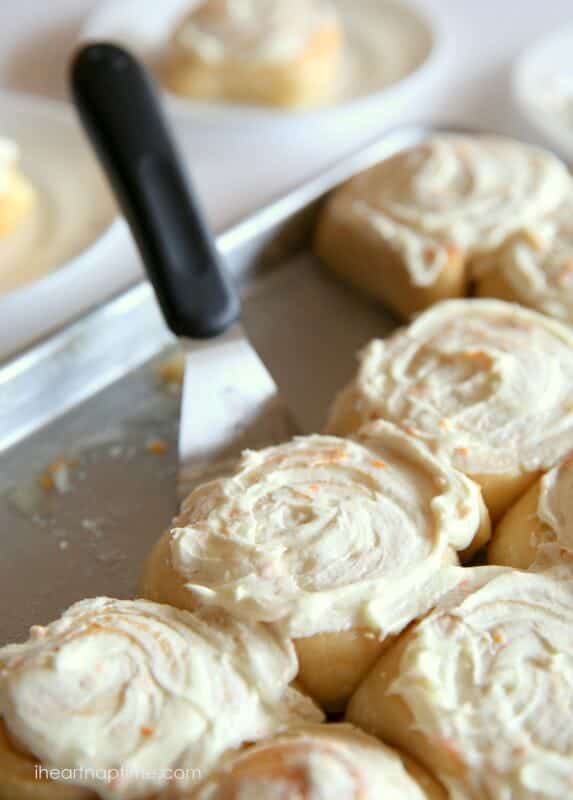 I served these bad boys up with my favorite spatula and they were gone within minutes! Put them on your baking list this weekend. You will not be disappointed! ;)

Thanks to The Pampered Chef for sponsoring this post and creating your amazing products. For more more information visit them on Facebook or Pinterest.
So let's hear it… orange rolls or cinnamon rolls? I vote orange rolls! ;)
Looking for more desserts? Find lots more HERE.