Creamy vanilla ice cream topped with chopped Reese's peanut butter cups and hot fudge sauce. This rich and decadent Reese's ice cream is easy, quick and dangerously delicious!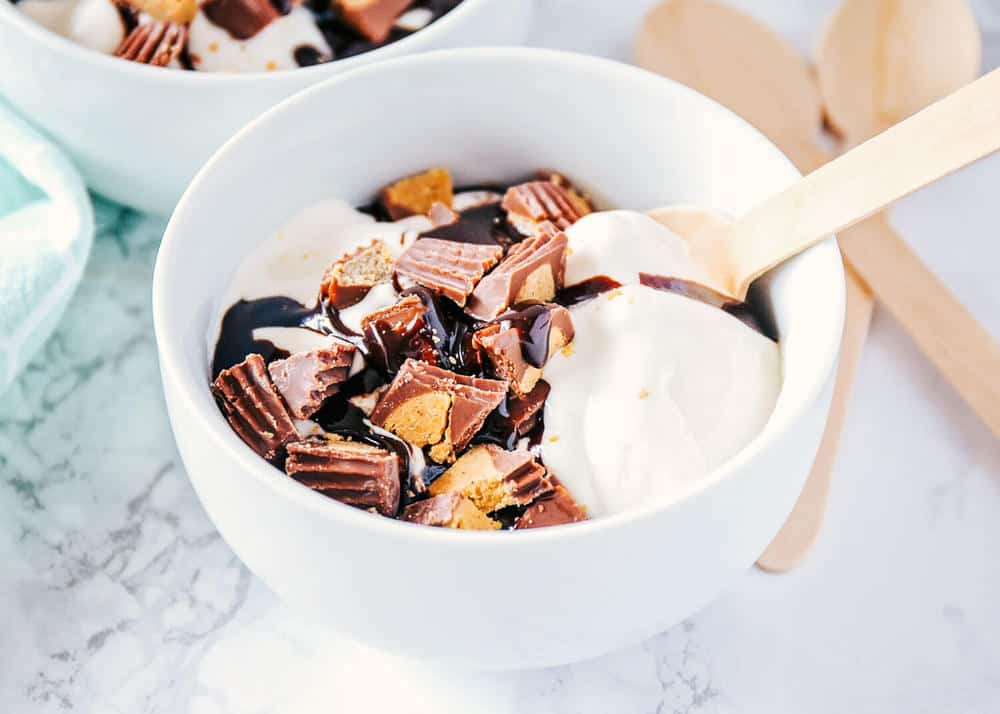 Peanut Butter Cup Ice Cream
If I could only have one type of candy for the rest of my life, it would without a doubt be Reese's peanut butter cups. The sweet chocolate exterior paired with the creamy peanut butter filling is just seriously divine. Pure genius I tell ya! I love them so much I've even recreated the recipe, queue these delicious no-bake peanut butter bars.
So I thought, why not combine them with one of my other favorites: ice cream! The combination is a match made in heaven and tastes super creamy and rich. You can either mix the chopped Reese's cups into the base, or serve them on top after scooping the ice cream. Either way, you get the perfect amount of chocolate and peanut butter in every bite!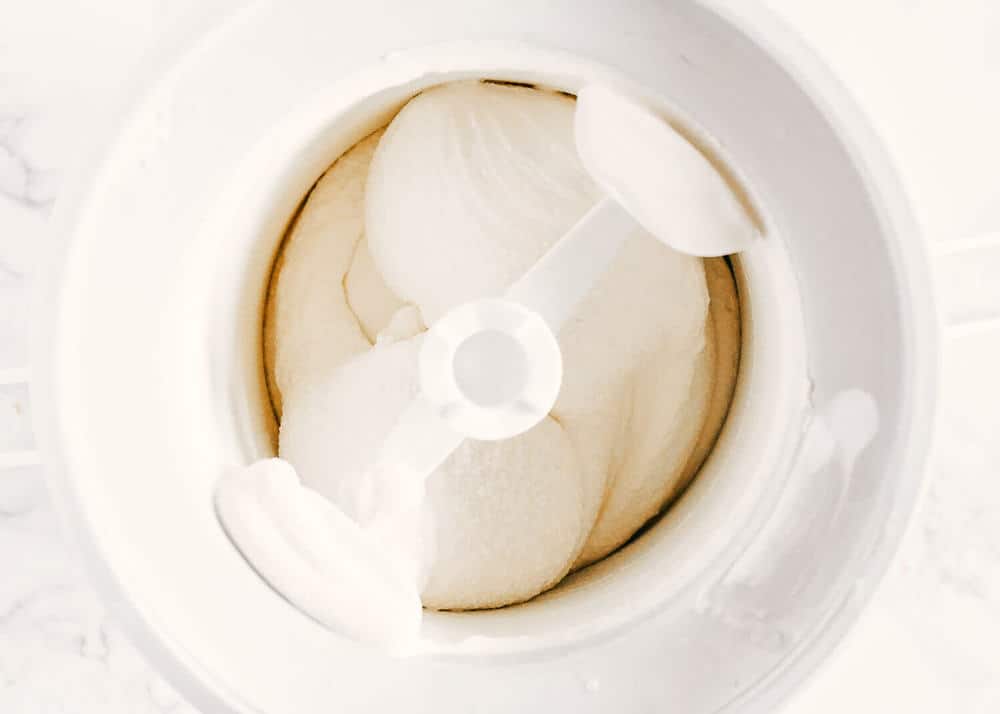 Tips + Variations
Ice cream maker. This recipe does require an ice cream maker to get started. I love my Cuisinart ice cream maker and use it all the time in the summer. If you don't have one, my no churn ice cream recipe is a great alternative!
Freeze the bowl. Don't forget to freeze the bowl of the ice cream maker the night before you make the recipe. This is an important step that most of the machines require.
Peanut butter. For a bolder peanut butter flavor, mix 1/2 cup to 3/4 cup creamy peanut butter into the base mixture and only add in 1 teaspoon of vanilla extract.
Chop the candy. Make sure to chop the peanut butter cups before mixing them in (or adding on top). The pieces don't have to be even…the beauty of this recipe is that some bites may have a bit more or less of the candy. I especially love the bites with a bigger chunk of Reese's. ;)
Mix OR top. This recipe gives you the option to either mix the Reese's into the base mixture, or make plain vanilla ice cream and add the Reese's on top. We have a nut allergy at our house, so I prefer to top mine instead of mixing it in so that my family can choose their favorite toppings.
Consistency. Let it freeze for a few hours for a consistency that's firm and scoop-able. Or enjoy it immediately if you prefer soft serve.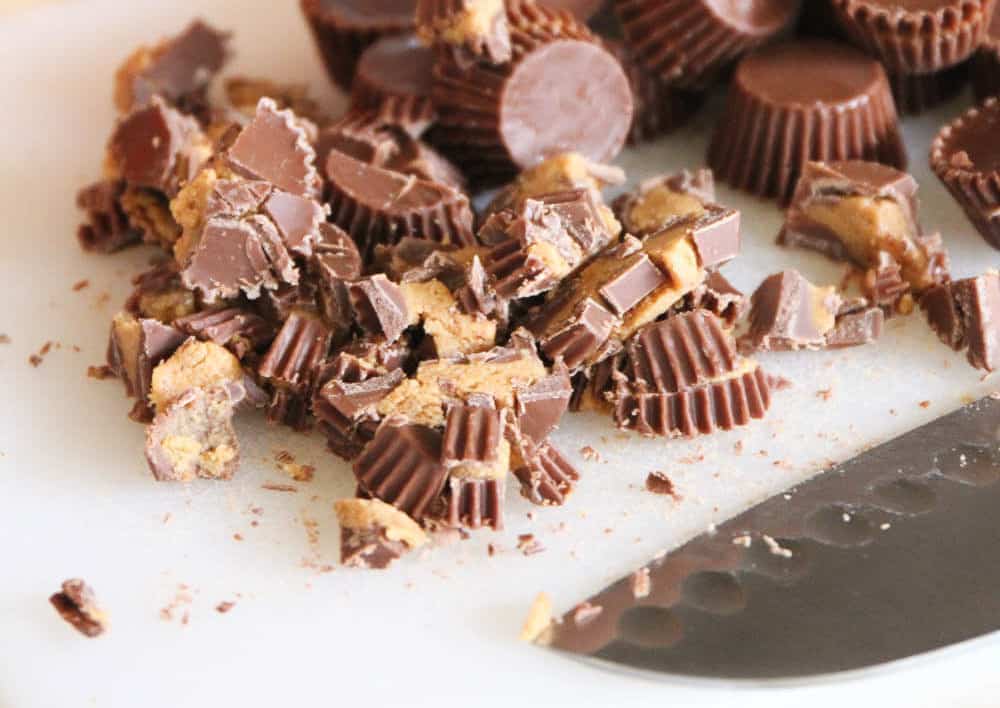 How to Store Reese's Ice Cream
This ice cream will stay fresh in an airtight container in the freezer for up to 3 months. It's always gone super fast at my house, so I give you serious props if you have the willpower to store it for that long. :) When ready to enjoy, simply remove from freezer and let thaw on the counter for a few minutes. Then run your scoop under hot water and scoop the ice cream out of the container.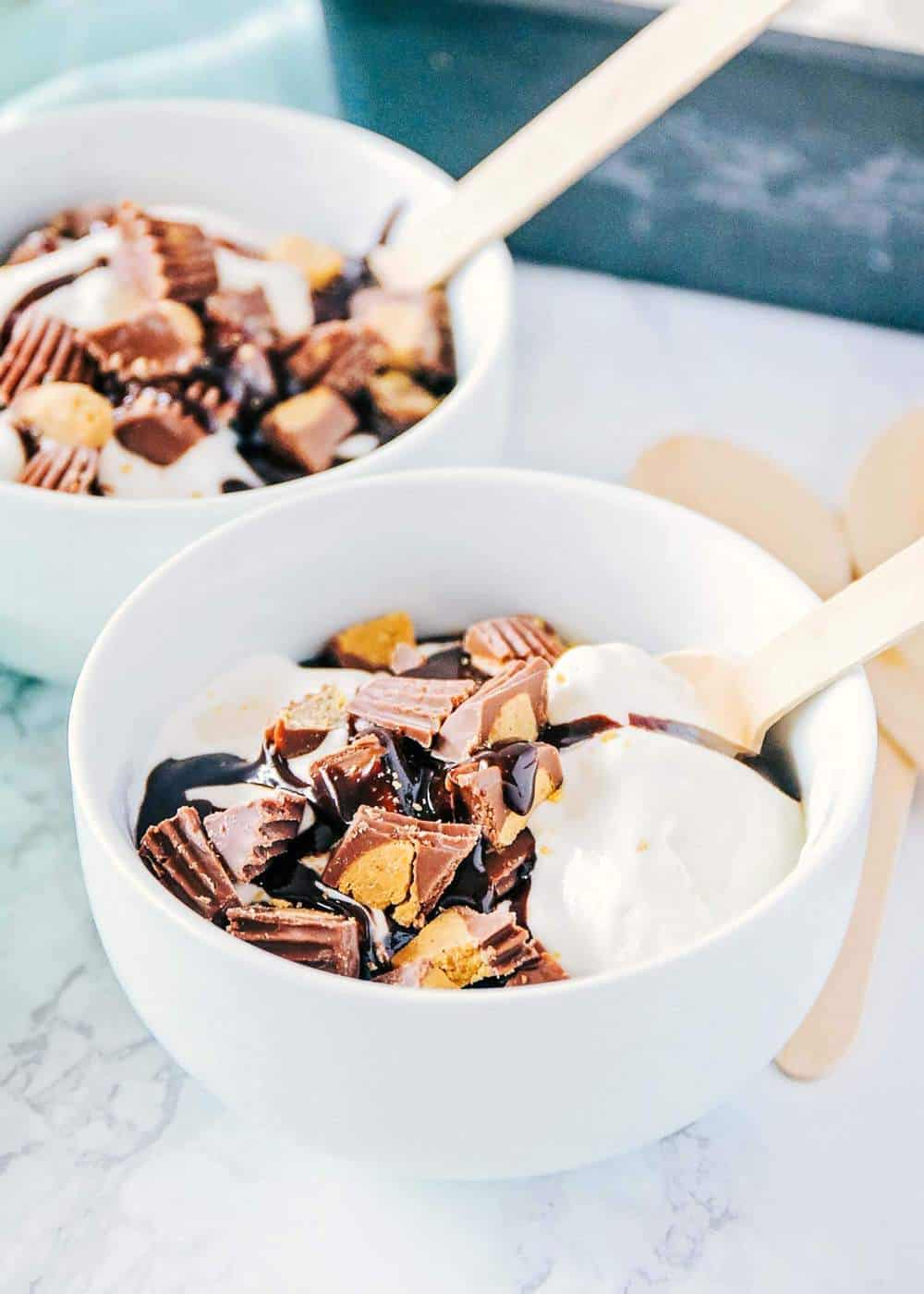 More Chocolate and Peanut Butter Desserts
HUNGRY FOR MORE? Subscribe to my newsletter and follow on Facebook, Pinterest and Instagram for all the newest recipes!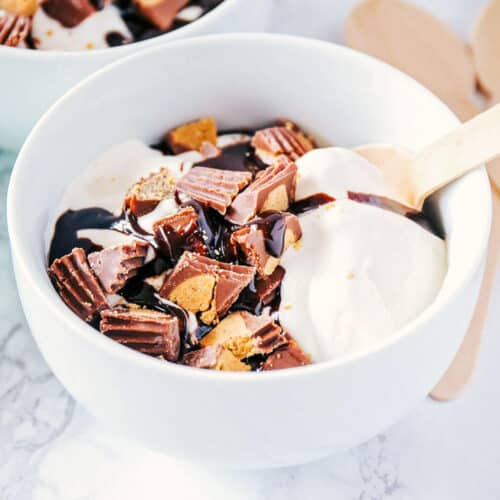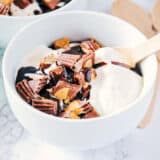 Reese's Ice Cream
Creamy vanilla ice cream topped with chopped Reese's peanut butter cups and hot fudge sauce. This rich and decadent Reese's ice cream is easy, quick and dangerously delicious!
Ingredients
2 cups heavy cream
1 cup whole milk
¾ cup granulated sugar
Pinch salt
2 teaspoons vanilla extract
10 Reese's peanut butter cups , chopped
Depending on machine: Ice and rock salt
Optional toppings: hot fudge or chocolate sauce
Instructions
Prep your ice cream machine according to package directions. Some machines require you to freeze the bowl first and others you will need to have ice and rock salt.

Combine heavy cream, milk, sugar, salt and vanilla in a bowl or the base of your ice cream container you plan to use.

When you're ready to make the ice cream, pour mixture into your ice cream maker bowl. Follow instructions for your specific machine. Turn on machine and let it churn until it looks like frozen yogurt (about 25 minutes). At this point, you can mix in the chopped Reese's or leave them out and save for topping when serving. Then store in an air tight container in the freezer to become firm.

Scoop into a bowl when ready to serve and top with Reese's cups and a drizzle of hot fudge if desired. Enjoy!
---
Notes
Notes: This recipe makes about 1.25 quarts. If you'd like to double, you'll need to do two different batches. Peanut butter: You can mix in 1/4 cup to 1/2 cup creamy peanut butter to the base of the ice cream for a bolder peanut butter flavor (only use 1 teaspoon of vanilla extract if doing so). Storage: Store in the freezer in a covered container for up to 3 months.
Nutrition
Serving: 0.5cup | Calories: 327kcal | Carbohydrates: 27g | Protein: 3g | Fat: 24g | Saturated Fat: 13g | Polyunsaturated Fat: 2g | Monounsaturated Fat: 8g | Cholesterol: 69mg | Sodium: 89mg | Potassium: 128mg | Fiber: 1g | Sugar: 24g | Vitamin A: 749IU | Vitamin C: 1mg | Calcium: 72mg | Iron: 1mg
Nutrition provided is an estimate. It will vary based on specific ingredients used.
Did you make this recipe? Don't forget to give it a star rating below!