These peanut butter blondies are topped with Reese's Pieces and stuffed with peanut butter flavor! This blondie dessert is a fun twist on the traditional blondies and makes the perfect treat!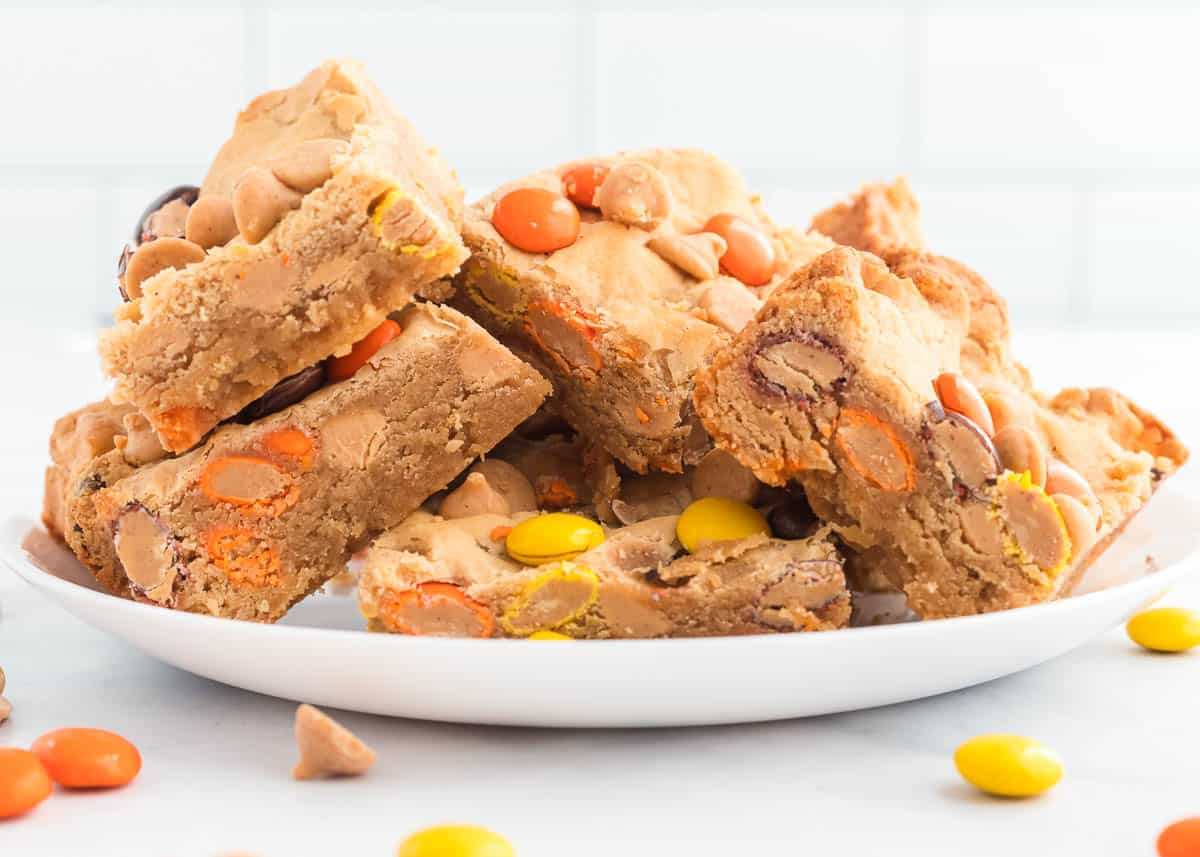 Easy Peanut Butter Blondies
Peanut butter blondies combine the rich and creamy flavor of peanut butter with the sweet and dense texture of traditional blondies! Loaded with peanut butter flavor and studded with Reese's pieces these chewy treats are a favorite for peanut butter lovers!
This blondie dessert tastes like a mix between a classic blondie, M&M cookie bar and peanut butter bar. It's got a great ratio of peanut butter and chocolate flavor and is the perfect texture with a soft middle and crisp edges. You'll need a large glass of milk with these tasty bars. Perfection!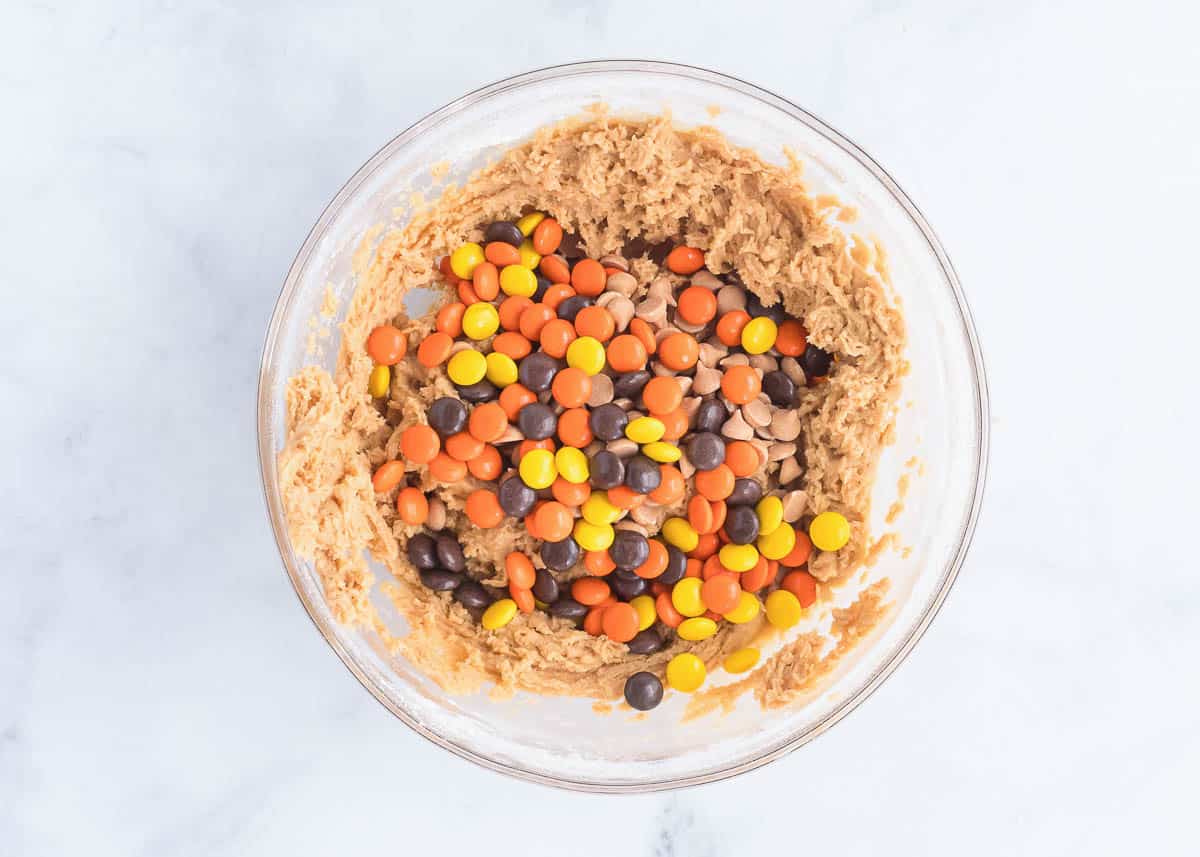 Best Type of Peanut Butter to Use
When making this recipe, it's important to use creamy peanut butter, such as Jif or Skippy. A natural, drippy variety will not give you the same soft texture as the creamy type.
Baking Tips
Line your baking dish with foil for easy removal.
Make sure to accurately measure the flour with the spoon and level technique.
Place extra Reese's pieces on top prior to baking. This makes them look extra pretty.
Don't overbake! They may look a little soft, but they'll harden as they cool.
Use a toothpick to make sure the center of your peanut butter blondies comes out clean.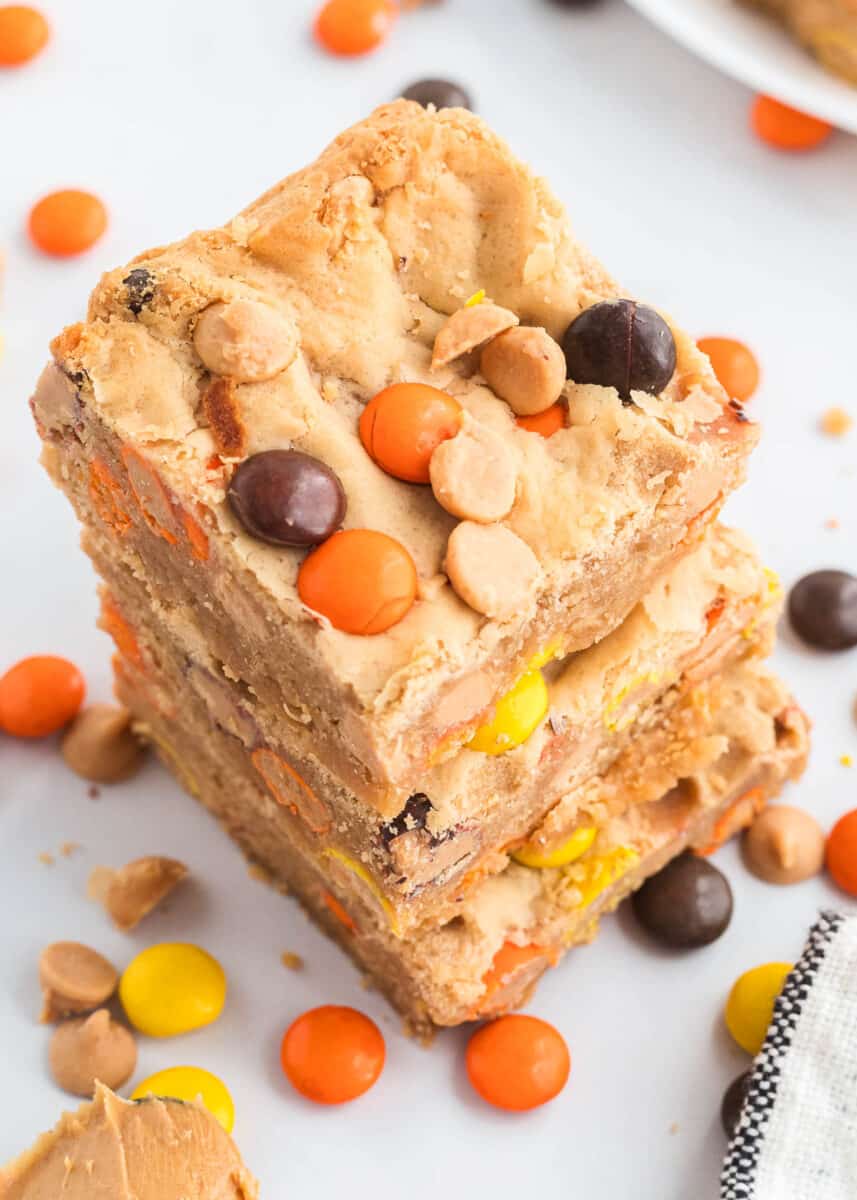 Variations
This recipe is super versatile, so feel free to make it your own. Swap Reese's pieces for M&M's, or use white or semi sweet chocolate chips in place of peanut butter chips. Chopped Reese's cups are also an easy substitute for Reese's pieces.
Or leave out the mix-in's all together if you prefer. These peanut butter blondies are plenty chewy and delicious all on their own!
Can I Freeze Peanut Butter Blondies?
Yes, peanut butter blondies freeze very well. To freeze, simply wrap in foil and place in an airtight container or freezer bag. The blondie dessert will keep in the freezer for up to 3 months. When ready to enjoy, let thaw on the counter about an hour beforehand.
FAQs
What is the difference between a brownie and a blondie?
Although they are both decadent and chewy dessert bars, they both have a totally different flavors. Brownies are made with chocolate and taste fudgy and rich, while blondies are made without chocolate and usually get their flavor from the brown sugar and vanilla (and peanut butter in this case).
Are blondies supposed to be gooey?
Yes! The key to a perfect blondie is a gooey center. To achieve this texture, it's important to remove the blondies from the oven when the edges are barely golden and the blondie is still soft in the center. They might look a little under done, but they'll continue to set as they cool.
Why do my blondies taste like cake?
Over mixing the batter is the #1 culprit for blondies that have gone cakey. When too much air is incorporated into the mixture, this creates a light and fluffier texture similar to cake. So don't get heavy handed with your batter. Mix the batter just until combined and then stop!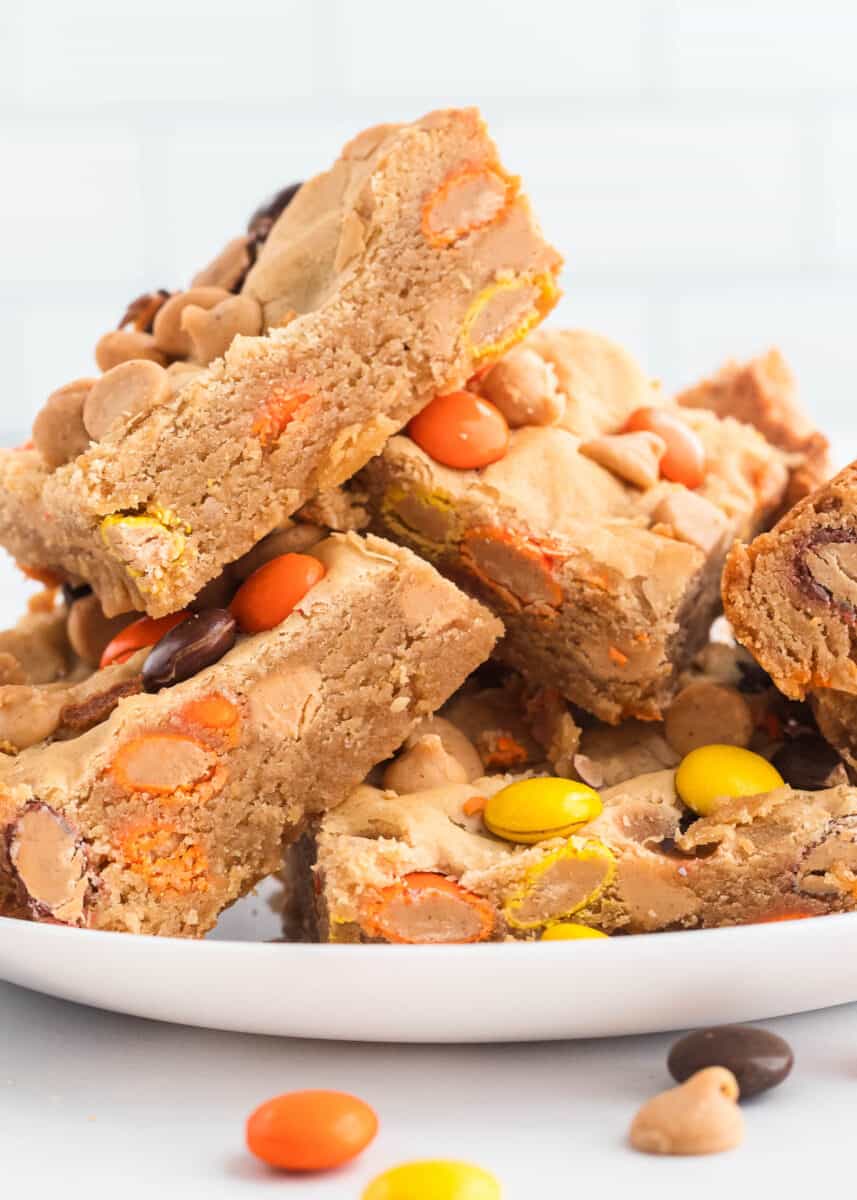 More Dessert Recipes:
HUNGRY FOR MORE? Subscribe to my newsletter and follow on Facebook, Pinterest and Instagram for all the newest recipes!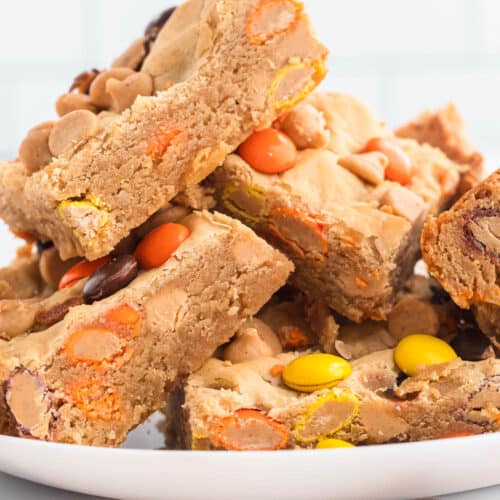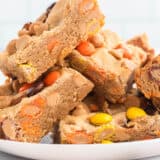 Peanut Butter Blondies
These peanut butter blondies are topped with Reese's Pieces and stuffed with peanut butter flavor! This blondie dessert is a fun twist on the traditional blondies and makes the perfect treat!
Ingredients
½ cup (1 stick) butter , slightly melted
1 cup light brown sugar , packed
1 large egg , whisked
1 teaspoon vanilla extract
½ cup creamy peanut butter , I prefer Jif's or Skippy for this recipe
1 cup all-purpose flour , divided
1 teaspoons baking powder
½ teaspoon Kosher salt
½ cup Reese's Pieces , or chopped reese's
½ cup peanut butter chips , or chocolate chips
Instructions
Preheat oven to 350°F and grease a 9×9" pan. Lightly dust with flour or line with parchment paper or foil. Gather ingredients.

Whisk the butter and sugar in a large bowl or use a handheld mixer. Add in egg and vanilla and stir until combined. Then add in the peanut butter and mix until combined.

Mix in the flour, baking powder and salt. Fold in Reese's Pieces and chips and mix just until combined.

Press the dough into the pan (flour your hands if you need to). Press extra Reese's Pieces and peanut butter chips on top if you'd like.

Bake for 18-23 minutes or until a toothpick comes clean. The dough should be soft in the center and the edges lightly golden.

Allow bars to cool and then slice into 9 bars.
---
Notes
Variation: Alternatively you could use peanut butter M&M's instead or chopped up Reese's peanut butter cups. Storage: Store in an airtight container for up to 3 days. Place in the freezer for up to 3 months. Allow to thaw on the counter an hour before serving.
Nutrition
Calories: 349kcal | Carbohydrates: 46g | Protein: 5g | Fat: 17g | Saturated Fat: 11g | Polyunsaturated Fat: 1g | Monounsaturated Fat: 3g | Trans Fat: 1g | Cholesterol: 48mg | Sodium: 277mg | Potassium: 140mg | Fiber: 1g | Sugar: 33g | Vitamin A: 355IU | Calcium: 55mg | Iron: 1mg
Nutrition provided is an estimate. It will vary based on specific ingredients used.
Did you make this recipe? Don't forget to give it a star rating below!