Jump to Recipe⌄
Reeses peanut butter no-bake bars
Thanks for stopping by! To get our newest post make sure to subscribe or like us on facebook or pinterest.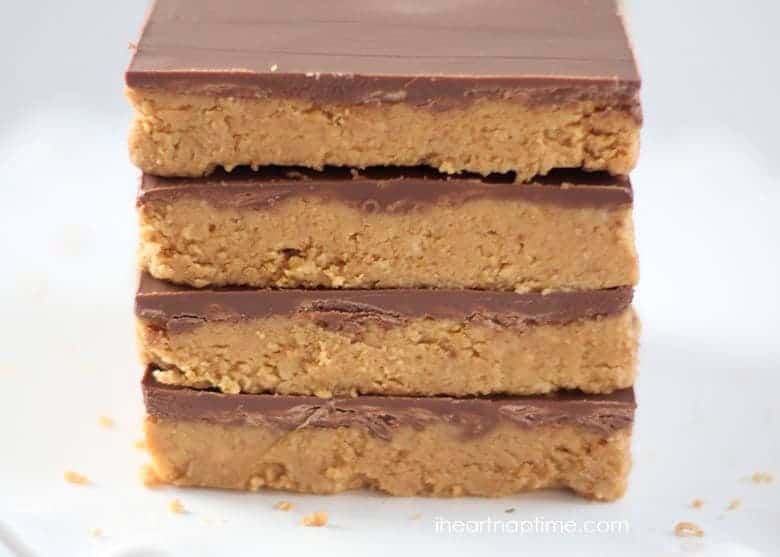 I am so excited to share this recipe for reeses peanut butter no-bake bars with you. I can't beleive I haven't posted these already. They are a family favorite. I found this recipe in my grandma's recipe box a couple years ago and have been making them ever since. I'm telling you… they taste pretty dang close to a reeses bar… but in my opinion BETTER! The best part? They take about five minutes to make and require absolutely no baking. YEA! Not to mention the chocolate peanut butter combo is amazing. My kind of recipe.
Reeses peanut butter no-bake bars
MY OTHER RECIPES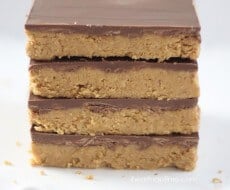 Reeses peanut butter no-bake bars
Ingredients:
1 cup salted butter (melted)
2 cups keebler graham cracker crumbs
1/4 cup brown sugar
1 3/4 cup powdered sugar
1 cup peanut butter
1/2 tsp. vanilla
1 (11 oz) bag milk chocolate chips
Directions:
1. Combine all ingredients, except chocolate chips in a medium sized bowl. Stir until the mixture is smooth and creamy.
2. Pour peanut butter mixture into a 9×13 pan.
3. Melt chocolate chips in the microwave (at 50% power) for 1-2 minutes. Stir chocolate and pour over the peanut butter mixture. Spread chocolate with a spatula. To even out chocolate, tap pan on the counter.
4. Refrigerate bars for one hour. Cut while bars are still cool. Enjoy!
All images and text ©
Check out the video tutorial:
Yummy! These are so good! Enjoy!
Looking for more yummy recipes?? Check out these:

Nutella muffins with reeses chips

Double chocolate pudding cookies

No-bake cookie dough truffles

Hundreds of more recipes in my recipe box here