Jump to Recipe⌄
Roasted Brussels Spouts with Pears and Cranberries
Roasted Brussels Spouts with Pears, Cranberries, and a Honey glaze! These are the best recipe I've ever had for brussels sprouts!
Are you a brussels fan? Even if you aren't, you HAVE to try these caramelized brussels spouts! They are the BEST and my family (who hates brussels) loved these! The caramelized pears and cranberries added the best flavor! Seriously… something divine happens when you roast pears. I'm thinking I need to make a batch of just roasted pears next. Seriously… heaven right there!
These are the perfect side dish for fall and winter. They also would make a great addition to any holiday dinner. They are just screaming Christmas dinner with the red and green colors, don't you think?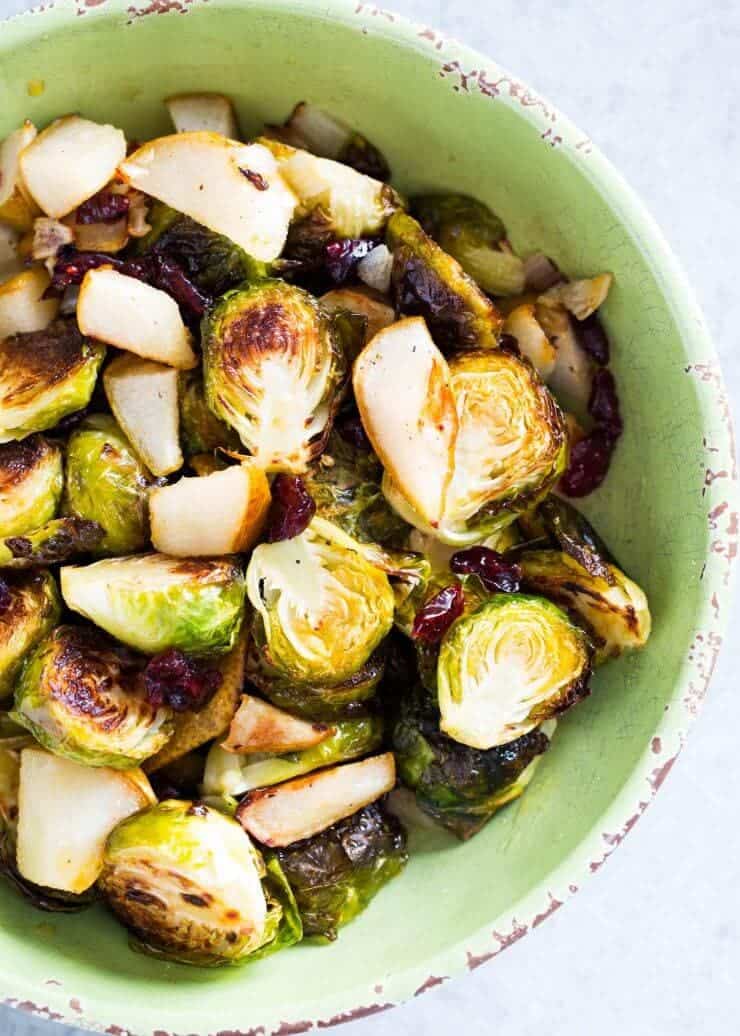 MY OTHER RECIPES
To make these, I like to start by cutting off the ends of the brussels and then cutting them in half. 
Then I toss them with the pears and onions. Drizzle in a little bit of olive oil, salt and pepper. Then it's time to roast! Ah, seriously roasted vegetables are my FAVORITE!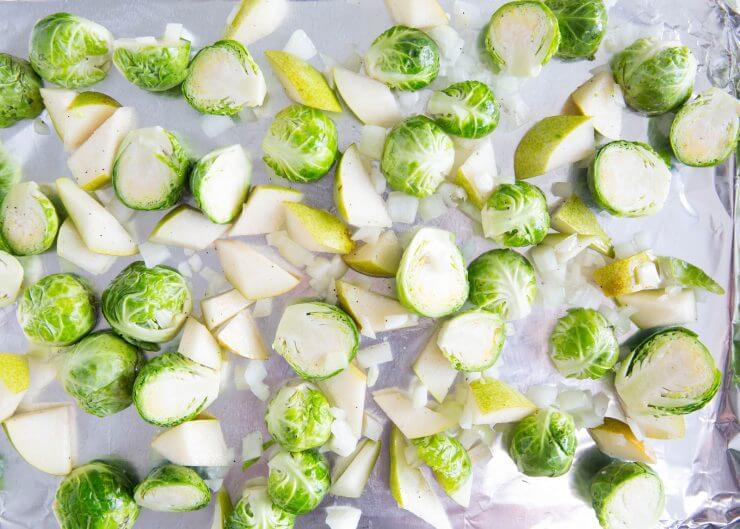 Once they're out of the oven, you're going to squeeze fresh lime (or lemon) juice over the top and drizzle honey over the top. YUM!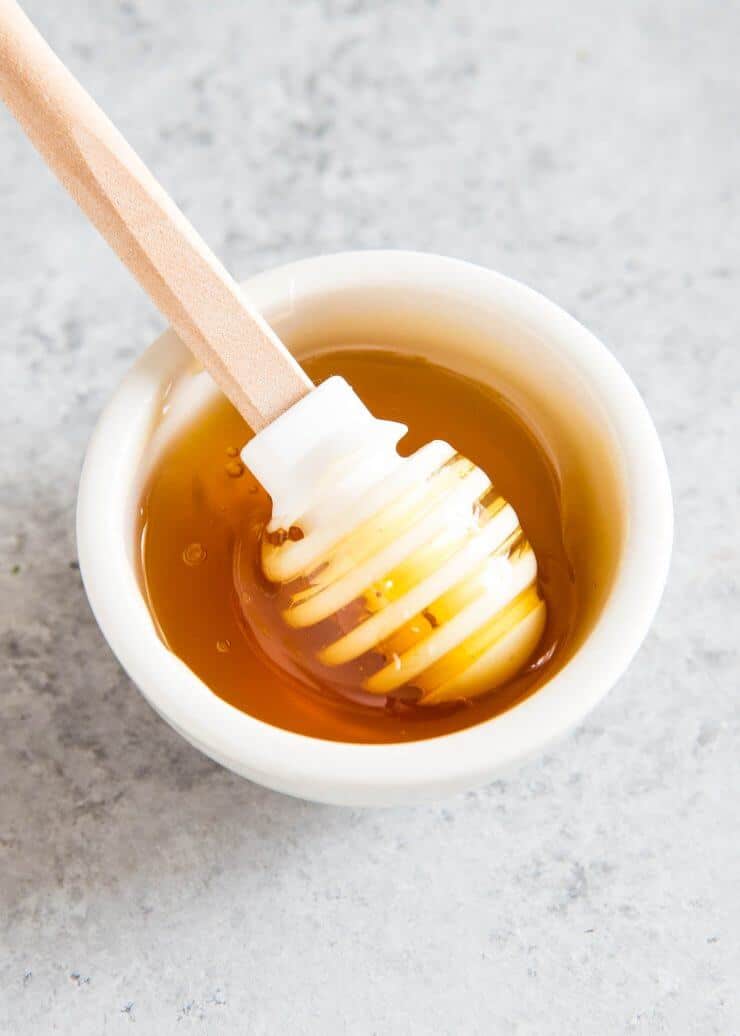 Seriously… I could eat the entire pan. They are that good!

I found this recipe in the new book: The Seasoned Life by Ayesha Curry. Ayesha says the sweetness of the pear, the tartness of the dried cranberries and the caramelized edges of the brussels sprouts make for smiling faces. I have to agree. I even turned my husband on to these who usually won't touch brussels.
Roasted Brussels Spouts Video
Roasted Brussels Spouts Printable Recipe
Roasted Brussels Sprouts with Pears and Cranberries
Brussels sprouts, pears and cranberries make a good combo! You will love these!
Print
Ingredients
1 1/2 pound brussels sprouts halved (about 4 cups)
2 pears cored and cut into bite sized pieces
1/2 cup finely chopped yellow onion
2-3 Tablespoons olive oil
Kosher Salt and Pepper
1/2 lemon or lime
1/4 cup dried cranberries
1 Tablespoons honey
Instructions
Preheat the oven to 450ºF. Line a rimmed baking sheet with foil and set aside.

Combine the brussels spouts, pears and onions in a large bowl. Add the olive oil, salt and pepper and toss to combine. Transfer to the baking sheet and bake for 25 minutes, or until the pears have caramelized. Toss half way through.

Remove pan from oven and squeeze lemon juice over the top. Drizzle the honey over top and top with cranberries. Stir and serve while hot.
Nutrition Facts
Roasted Brussels Sprouts with Pears and Cranberries
Amount Per Serving
Calories 157 Calories from Fat 45
% Daily Value*
Total Fat 5g 8%
Sodium 29mg 1%
Potassium 529mg 15%
Total Carbohydrates 28g 9%
Dietary Fiber 6g 24%
Sugars 15g
Protein 4g 8%
Vitamin A 17.4%
Vitamin C 123.1%
Calcium 5.8%
Iron 9.6%
* Percent Daily Values are based on a 2000 calorie diet.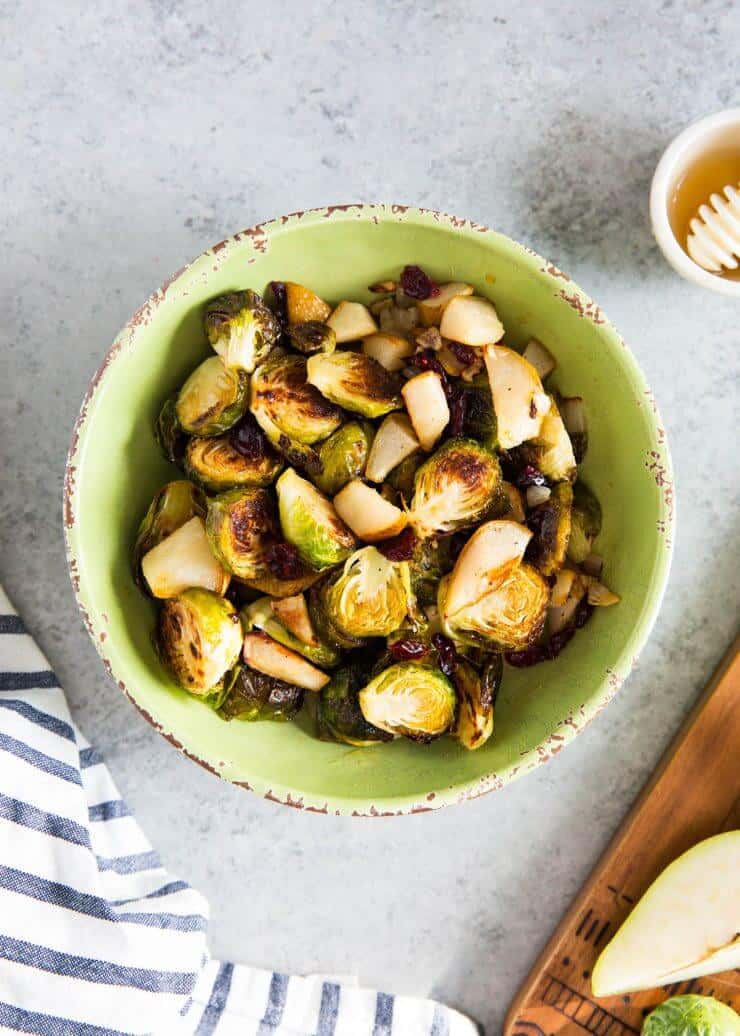 ENJOY! :D