Roasted brussels sprouts are easy to make, perfectly caramelized, and fork-tender. They're the best 30-minute classic side dish that no one can resist!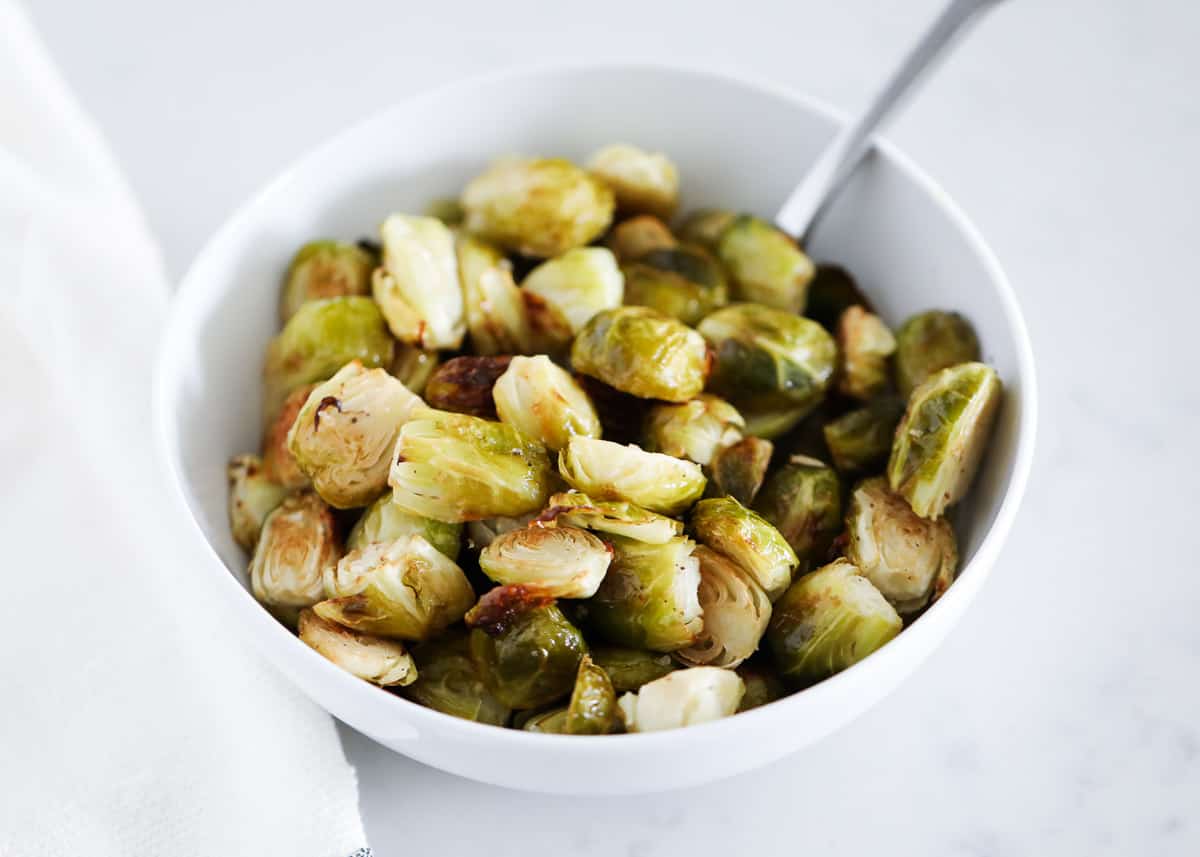 30-Minute Side Dish
A simple side dish of crispy roasted brussels sprouts is one of the easiest Thanksgiving side dish recipes that everyone loves. Even the kids! When they caramelize to form that bit of char on the outer leaves with a tender bite to them, they become irresistible. Oven-roasted vegetables are the best way to bring out their natural sugars and these little gems prove it.
This recipe is a basic version of my roasted brussels sprouts with cranberries which is another favorite that's easy to prepare. I love the contrast between the slightly bitter brussels sprout and sweet or salty additions. That's why finishing these roasted brussels sprouts with a drizzle of balsamic glaze or adding bits of crispy salty bacon is a great idea!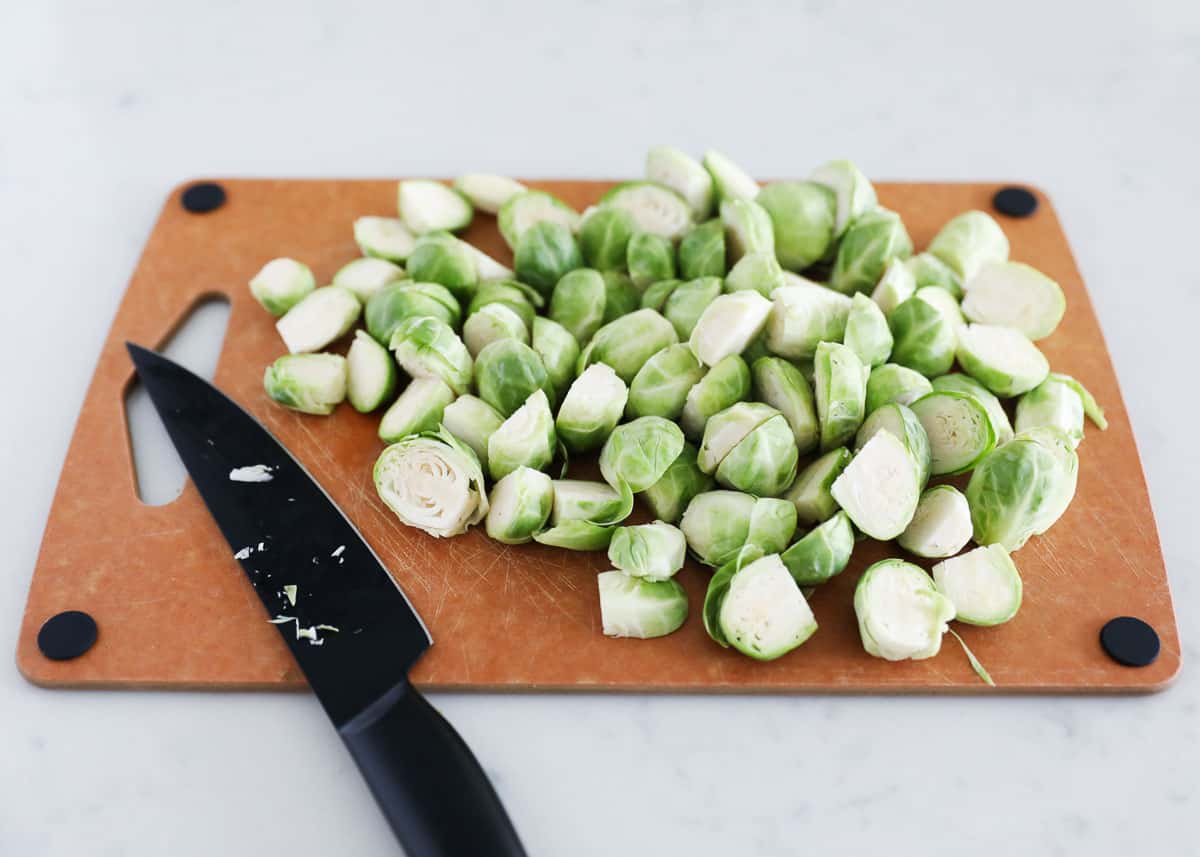 How to Roast Brussels Sprouts in the Oven
Trim the ends off of fresh brussels and cut them in half.
Toss them in olive oil, and sprinkle with salt and pepper.
Arrange in an even layer on a sheet pan with flat sides facing down.
Roast until the edges are golden, tossing halfway.
Trimming Brussels Sprouts
Looking at brussels sprouts, they look like little cabbages, which means there is a noticeable stumpy end at the bottom where the stem is. Using a sharp knife or kitchen scissors, cut off that bit.
You'll notice that some of the outer leaves will naturally fall off, as the stump was holding them in place.
Remove any discolored or yellow outer leaves and cut in half lengthwise.
How Long to Roast Brussels Sprouts
This really depends on how much caramelization you like, so you'll want to keep an eye on the oven. Roasting is best done at high heat and I like mine lightly golden around the edges so 20 minutes in a 450 degree oven is plenty.
It will also make a difference if you decide to roast yours whole, without slicing in half. You'll want to add on a bit more roast time. The same goes for wanting a darker outer layer.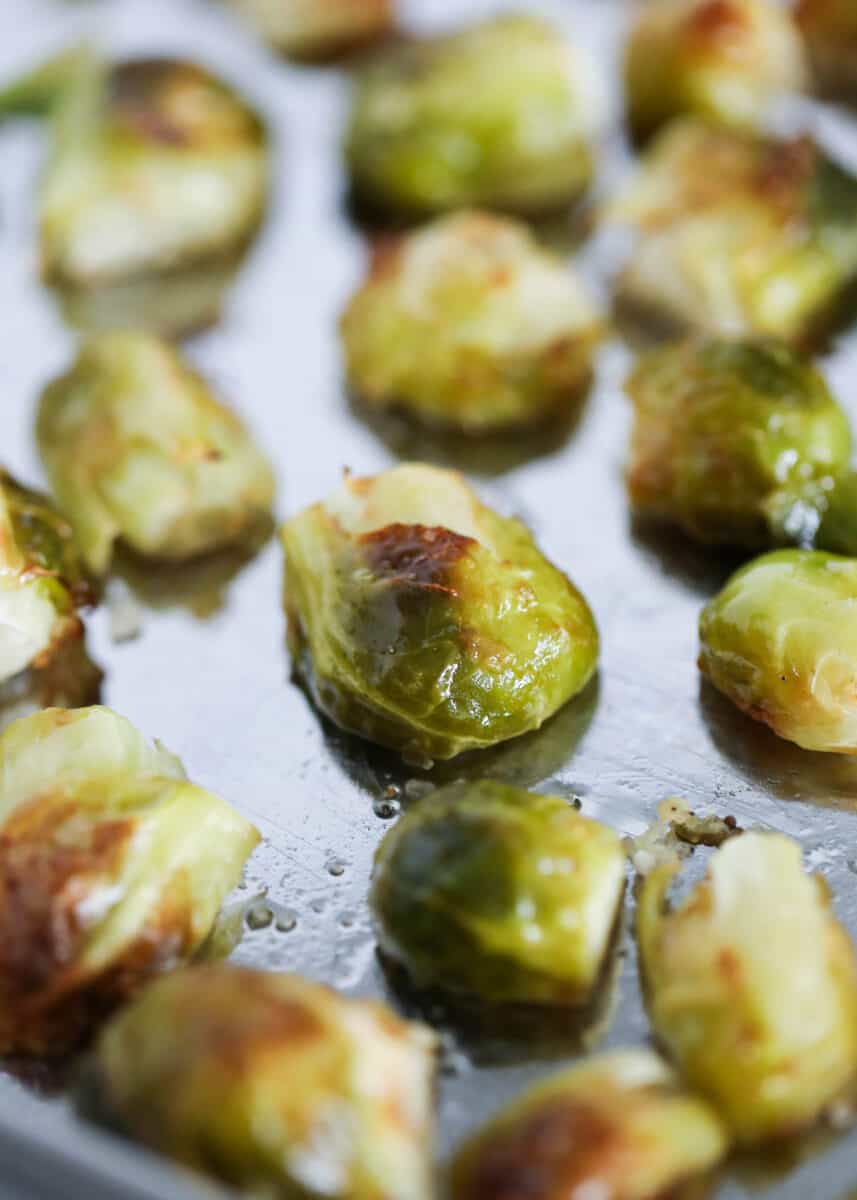 Tips for Making the Best Roasted Brussels Sprouts
Choose similar sizes. Brussels that are generally similar in size will roast evenly, whether you want them bigger or smaller, just make sure they're all the same.
Cut the ends. Trim off the tough ends, as they're difficult to bite into.
Lay them straight. Placing them flat side down gives more surface area a chance to caramelize. Turning halfway through the roasting process is optional. Some say they have better luck when they don't!
Avoid soggy sprouts. Spread them across the baking sheet evenly, being careful not to overcrowd the pan.
Tasty Variations
Drizzle balsamic vinegar or balsamic glaze before serving.
Squirt a bit of lemon juice and a dusting of freshly grated parmesan cheese to top it off.
Add in some minced garlic.
Toss in some raisins, cranberries, or slivered almonds.
Spoon a bit of honey with balsamic vinegar.
Use fresh or dried herbs like Italian seasoning for additional flavors.
Storing Leftovers
Although best served immediately, you may want to store leftovers if you have them! Keep in an airtight container in the fridge for up to 3 days. Reheat in the oven, the air fryer, or the microwave.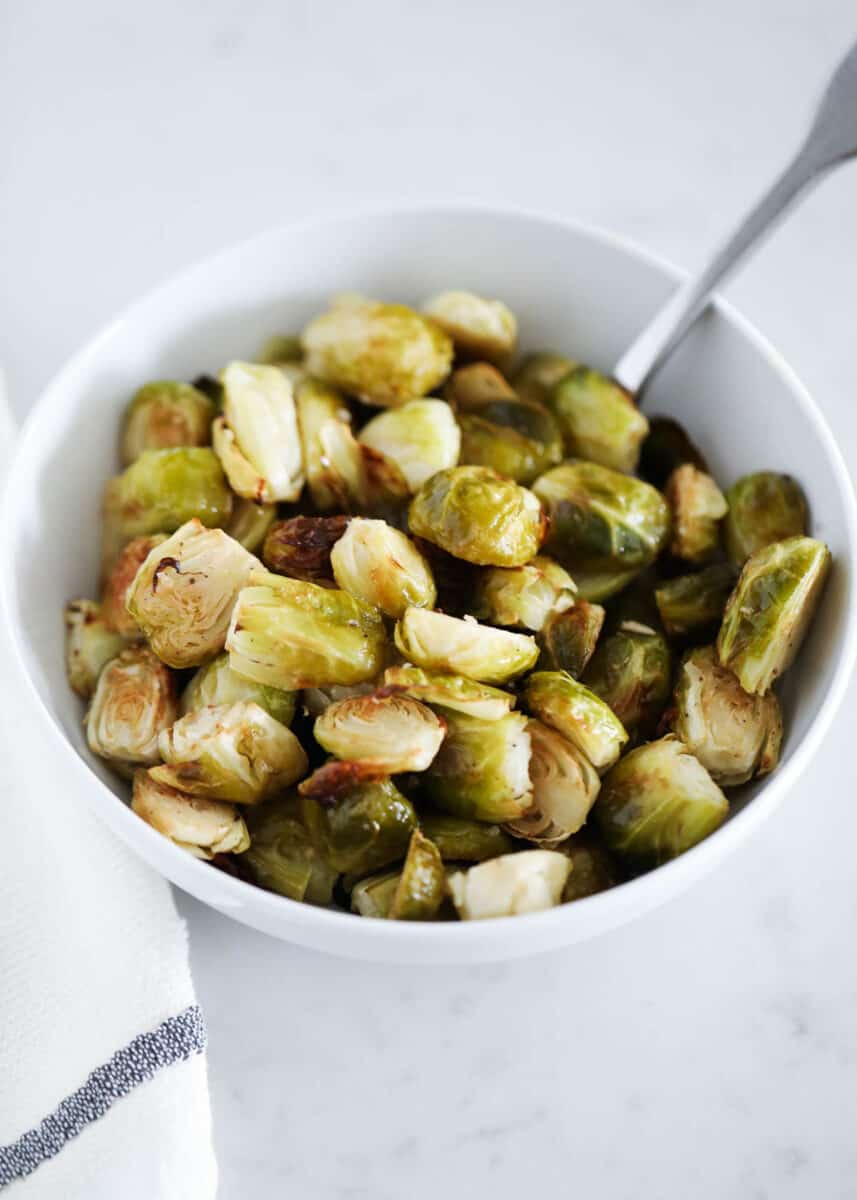 What to Serve with Brussels Sprouts:
HUNGRY FOR MORE? Subscribe to my newsletter and follow on Facebook, Pinterest and Instagram for all the newest recipes!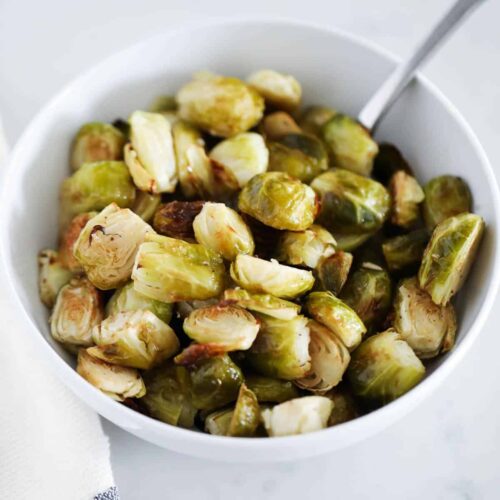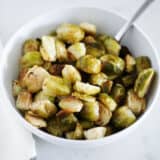 Roasted Brussels Sprouts
Roasted brussels sprouts are easy to make, perfectly caramelized, and fork-tender. They're the best 30-minute classic side dish that no one can resist!
Ingredients
1 ½ pounds brussels sprouts , halved (about 4 cups)
2 Tablespoons olive oil
½ teaspoon fine sea salt
⅛ teaspoon ground black pepper
Instructions
Preheat the oven to 450ºF. Trim the stems off the brussels sprouts and then cut in half.

Add the brussels sprouts to the baking sheet. Add the olive oil, salt and pepper and toss to combine. Arrange sprouts with their flat sides facing down if possible.

Roast the sprouts for about 20-25 minutes or until the edges are golden and crispy. Stir and serve while hot.
---
Notes
Garnishes:
Drizzle a balsamic glaze over top. Delish!
Squeeze fresh lemon juice and add freshly grated parmesan cheese.
Add in nuts and dried cranberries.
Storage: Store leftovers in the fridge up to 3 days.
Nutrition
Calories: 90kcal | Carbohydrates: 10g | Protein: 4g | Fat: 5g | Saturated Fat: 1g | Polyunsaturated Fat: 1g | Monounsaturated Fat: 3g | Sodium: 28mg | Potassium: 441mg | Fiber: 4g | Sugar: 2g | Vitamin A: 855IU | Vitamin C: 96mg | Calcium: 48mg | Iron: 2mg
Nutrition provided is an estimate. It will vary based on specific ingredients used.
Did you make this recipe? Don't forget to give it a star rating below!