Crockpot turkey meatloaf is made with just 10 minutes of prep time and ready for you when you walk in the door. Don't let this delicious, no-fuss, comfort food classic fool you, it's perfect for serving guests too!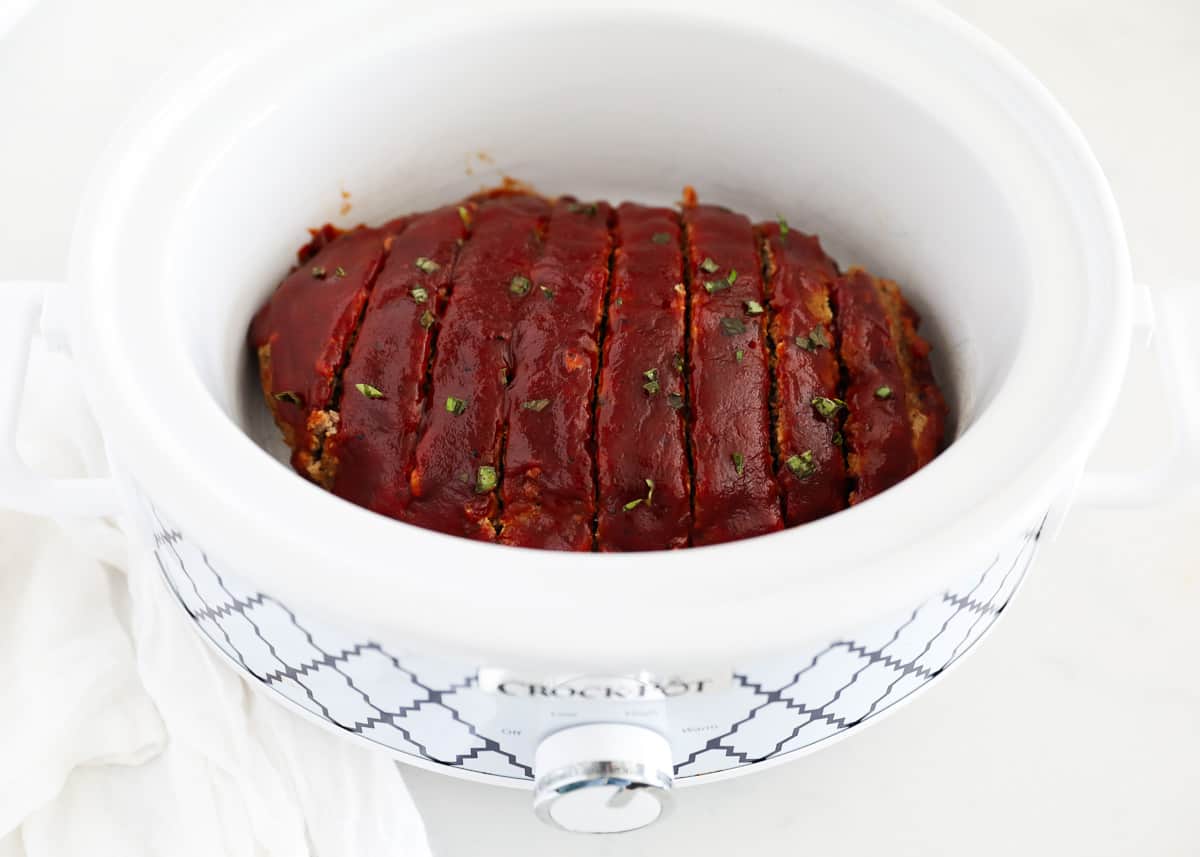 Easy Crockpot Meatloaf
A good old-fashioned meatloaf recipe is something every home cook should have because it's so easy to make! With a variety of meatloaf recipes and even this stuffed meatloaf recipe, there's always an opportunity to jazz things up!
I'm taking my popular turkey meatloaf recipe and instead of making Instant Pot meatloaf to speed things up, I'm turning it into slow cooker meatloaf to slow things down.
Slow cooker recipes are perfect for days when you want to set it and forget it and not have to keep an eye on the oven while you go about doing other things. This recipe sloppy turkey joes and crockpot turkey chili keep my family fed when life gets busy!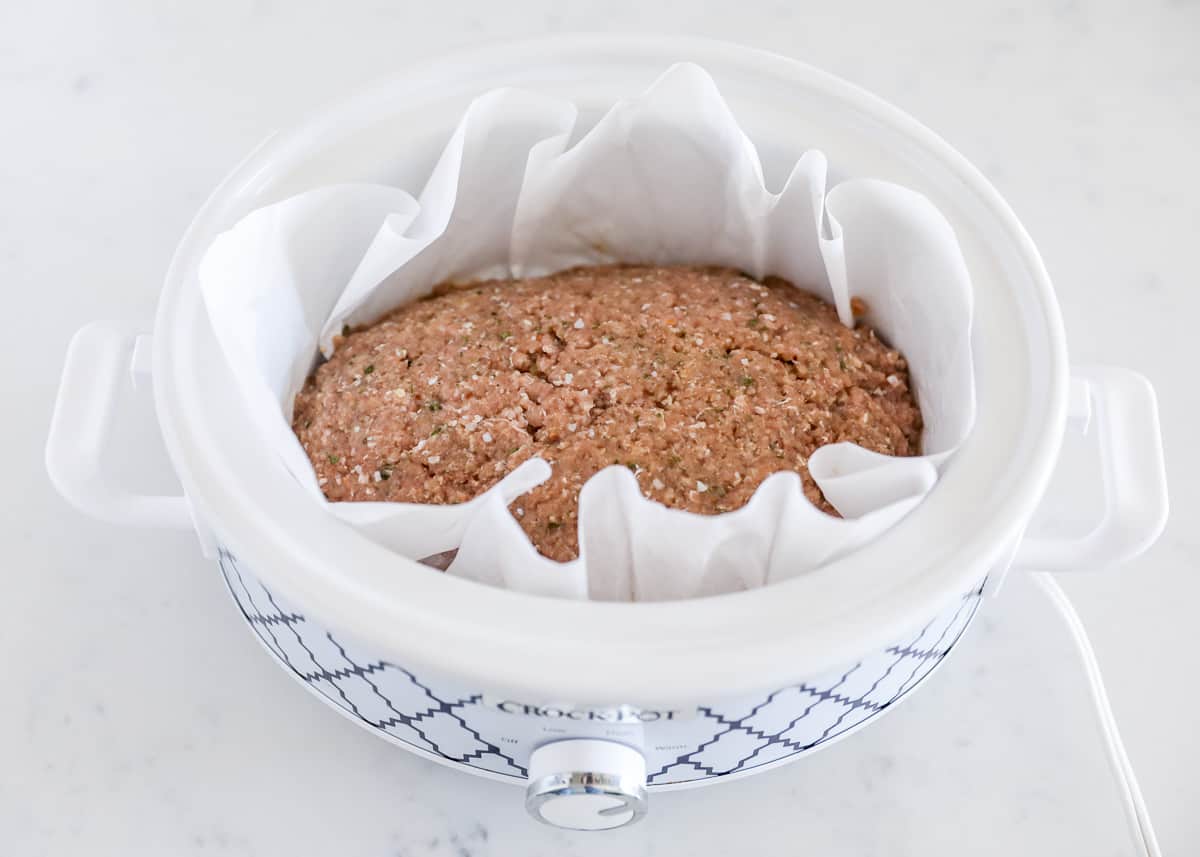 How to Make Slow Cooker Turkey Meatloaf
With just 10 minutes of prep time and a parchment-lined crockpot, you're all set! Just combine all the ingredients until everything is incorporated, form into a loaf to fit the size of the slow cooker and voila! Cook until your house smells amazing and you have a meal to come home too.
Tips & Variations
Do not overmix the meat mixture. Just mix to combine, otherwise, it will become overworked and dense.
The parchment lining in the pot is there to help with not sticking but also for easy removal once it's done.
Substitute 1/4 cup fresh onion and 4 garlic cloves, minced, for the powders. Sauté them both before adding to the meat mixture.
For a meatloaf made with beef, swap ground turkey for ground beef and everything else stays the same.
If you like a little heat, sprinkle in some red pepper flakes to your meatloaf or some sriracha or chili sauce to the meatloaf sauce.
Use a meat thermometer for accuracy. It should read 160-165F in the center when it's done.
BBQ meatloaf recipe: Use your favorite BBQ sauce instead of a traditional meatloaf sauce.
Can I Make it Gluten-Free?
It's an easy swap from regular breadcrumbs to gluten-free breadcrumbs or gluten-free oats. Gluten hides in condiments well, so just be sure to check the labels! Certified gluten-free ingredients are your best bet.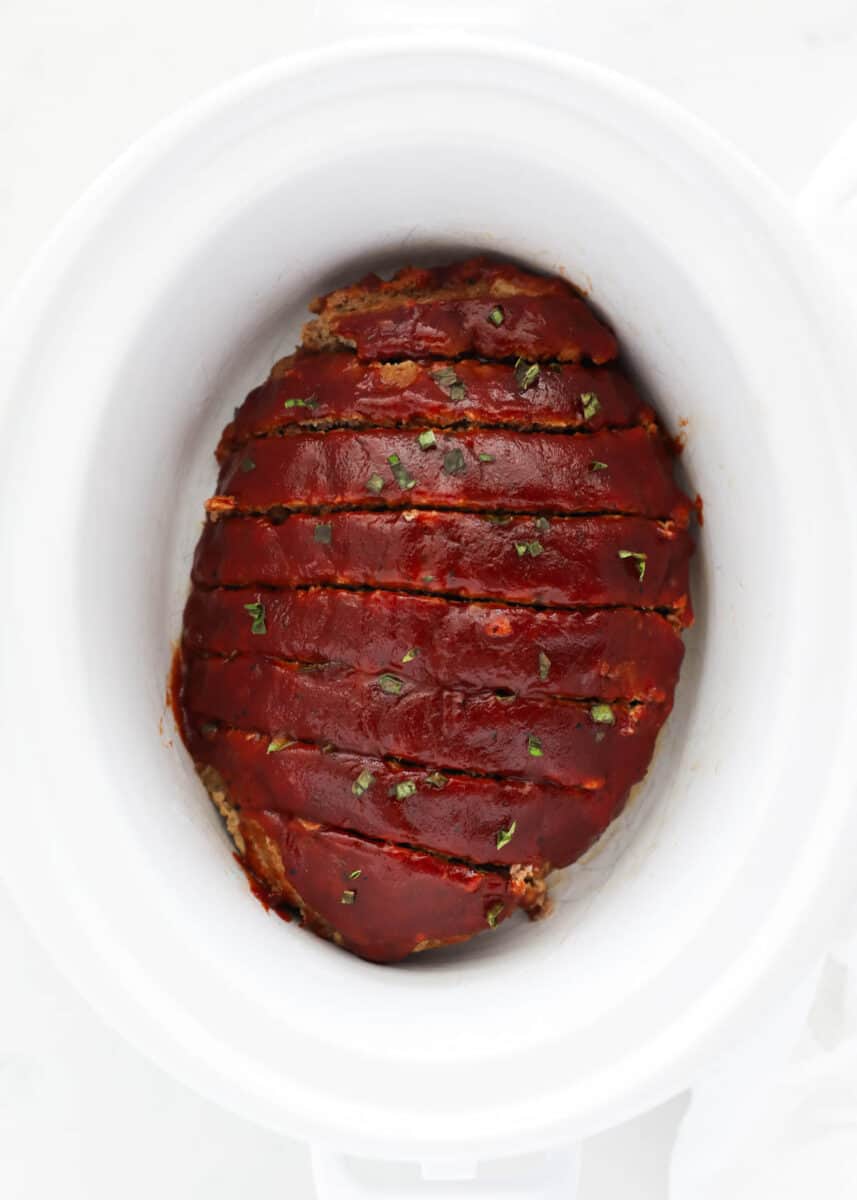 Best Meatloaf Side Dishes
Towards the end of the cooking time, I have the space to make my favorite garlic mashed red potatoes and green beans as a side and it's all ready to go at once! The familiar, comforting smell of crockpot turkey meatloaf smothered in a delicious meatloaf sauce is enough to bring everyone rushing to the table!
Storing Leftovers
Store cooked and cooled meatloaf in the fridge. Ideally, you want to consume it within the first couple of days, but it can last for up to 4 days. To maintain freshness and prevent it from drying out, make sure to seal it in an airtight container.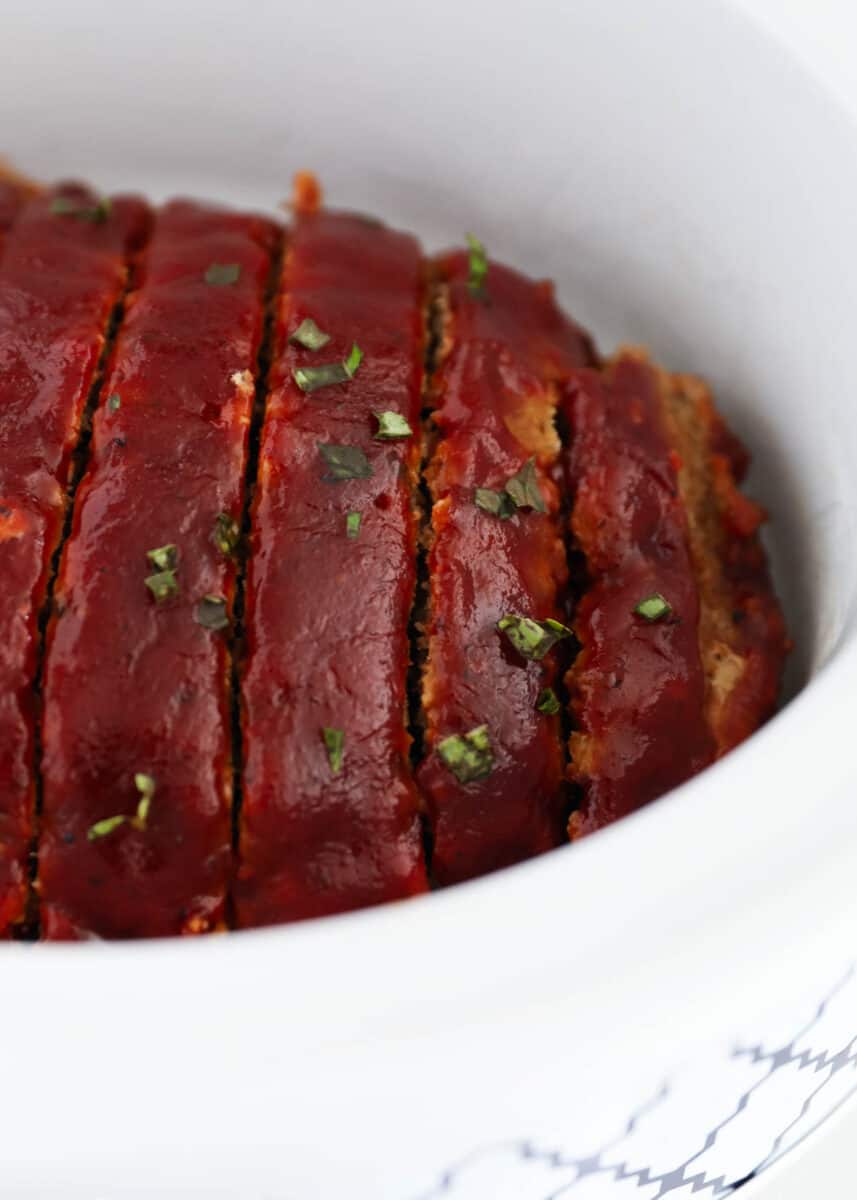 More Slow Cooker Favorites:
HUNGRY FOR MORE? Subscribe to my newsletter and follow on Facebook, Pinterest and Instagram for all the newest recipes!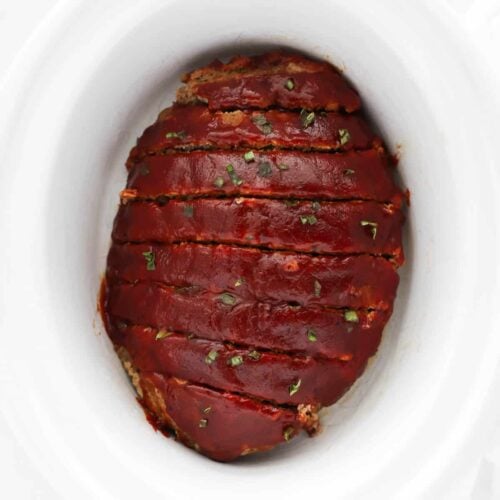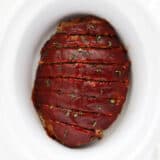 Crockpot Turkey Meatloaf
Crockpot turkey meatloaf is made with just 10 minutes of prep time and ready for you when you walk in the door. Don't let this delicious, no-fuss, comfort food classic fool you, it's perfect for serving guests too!
Ingredients
Meatloaf Ingredients:
1.5 pounds 90% lean ground turkey , you could also use half beef too
⅓ cup panko breadcrumbs
2 Tablespoons milk , or beef broth (more as needed)
1 large egg , whisked
1 egg white
2-3 Tablespoons fresh parsley , or 2 teaspoons dried parsley
1 ½ Tablespoons Worcestershire sauce
1 ½ Tablespoons ketchup
1 teaspoon Kosher salt
¼ teaspoon ground black pepper
¾ teaspoon garlic powder
¾ teaspoon onion powder
Sauce Ingredients:
⅓ cup ketchup or BBQ sauce , I like to mix half and half
2 Tablespoons light brown sugar
Instructions
Combine the meat, breadcrumbs, broth or milk, eggs, parsley, Worcestershire sauce, ketchup, salt, pepper, garlic powder and onion powder in a large bowl. Mix just until combined. Don't over mix or the meat won't be as tender. Add an extra 1 to 3 Tablespoons of panko crumbs if the mixture seems too wet.

Line a slow cooker with parchment paper. This will help you when lifting the loaf out at the end. Place the meat in the slow cooker. Form the mixture into a loaf shape.

Cook on low for 5 to 6 hours or on high for 3 to 4 hours, or until the center reaches 165°F.

Remove any extra liquid or fat from the crockpot with a turkey baster.

In a small bowl, mix together the ketchup and/or BBQ sauce and brown sugar. Then pour over top of the meatloaf. Cook an additional 30 minutes in the slow cooker or move to a baking sheet (lift both side of the parchment paper) and broil for 1 to 2 minutes. Add pepper on top if desired.

Allow to rest for 5-10 minutes before slicing. Then slice into 8-10 slices.
---
Notes
Variations:
You may substitute fresh onion and garlic (1/2 cup onion, 4 garlic cloves minced), however make sure to sauté them with a little olive oil before adding to the meat.
If you prefer a little heat, add in a pinch of red pepper flakes to the meat or a few dashes of chili sauce or sriracha to the meatloaf sauce.
If you want to make this gluten free, use gluten free bread crumbs or old fashioned oats.
Tip: Make sure to use good quality ground turkey for optimal flavor.
Nutrition
Calories: 245kcal | Carbohydrates: 13g | Protein: 24g | Fat: 11g | Saturated Fat: 3g | Cholesterol: 131mg | Sodium: 705mg | Potassium: 384mg | Fiber: 1g | Sugar: 8g | Vitamin A: 350IU | Vitamin C: 3mg | Calcium: 61mg | Iron: 2mg
Nutrition provided is an estimate. It will vary based on specific ingredients used.
Did you make this recipe? Don't forget to give it a star rating below!