This pesto chicken is made with just 2 ingredients! Juicy grilled chicken breast and a beautiful, flavorful, creamy pesto sauce. Enjoy this family-friendly, low-carb, gluten-free dinner in under 20 minutes!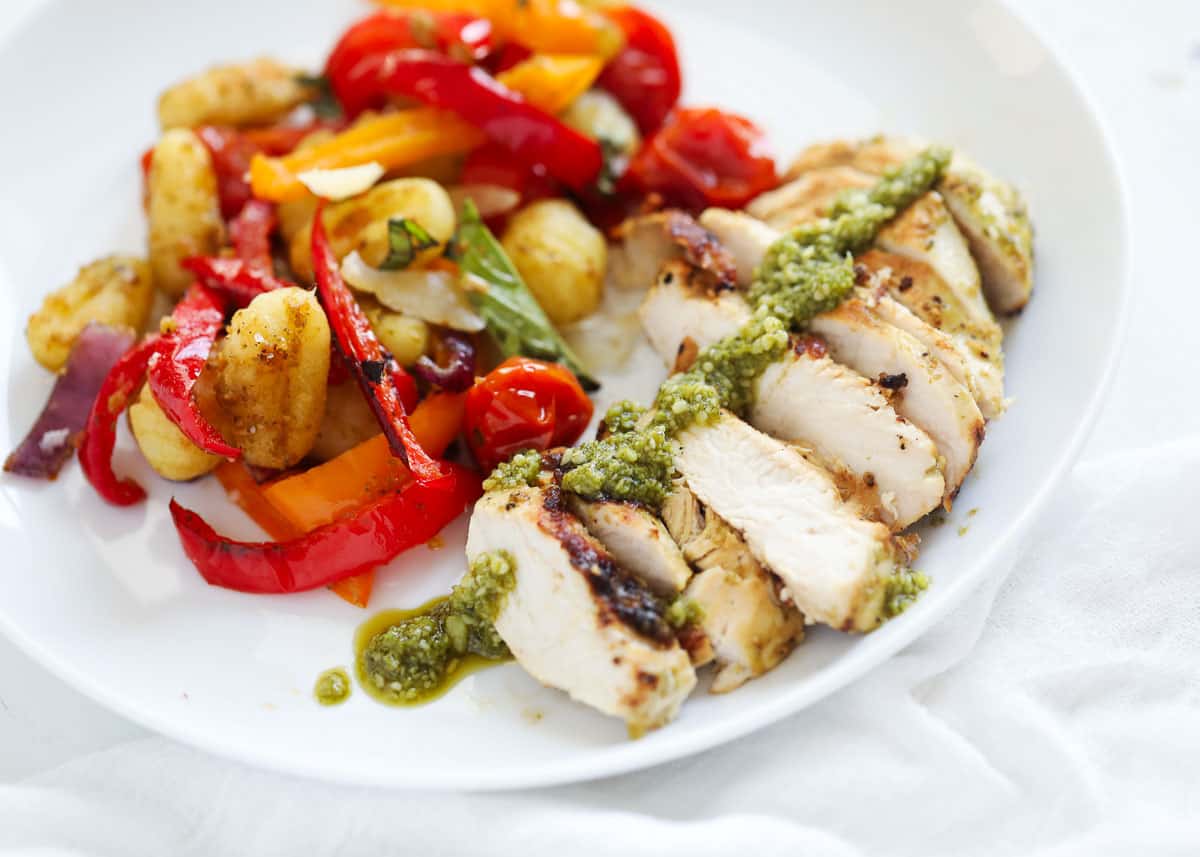 Easy 2-Ingredient Pesto Chicken
This pesto chicken recipe is one of the easiest chicken recipes on my blog and one of my favorites too. Partly because of how simple it is, but mostly because of how delicious it is. Grilled pesto chicken is a lightly seasoned grilled chicken breast with a basil pesto marinade. That's it! Pure, simple, healthy and so, so tasty!
It comes together in under 20 minutes from start to finish which is great for busy school nights. It has a ton of flavor, it pairs well with so many different sides, which my kids appreciate! Sheet pan gnocchi is easy and completes the meal in 30 minutes, but you can serve it however you'd like. A side of grilled veggies, a light chopped salad, on a bed of rice, or alongside skillet potatoes. The options are endless!
What is Pesto?
Pesto is a versatile sauce that can be used for pasta, as a dip, a spread, and as a marinade. Originating in Italy, it's traditionally a simple combination of basil, pine nuts, garlic, salt, and Parmigiano or Pecorino. These are then blended with olive oil and made into a sauce. It's herbaceous, nutty, smooth and creamy, garlicky and so so yummy.
Although, basil pesto is the most widely known variety, there are a TON of different variations which include a range of ingredients, like almonds, spinach, sundried tomatoes, and different herbs, and spices. You can even make a vegan pesto without the cheese!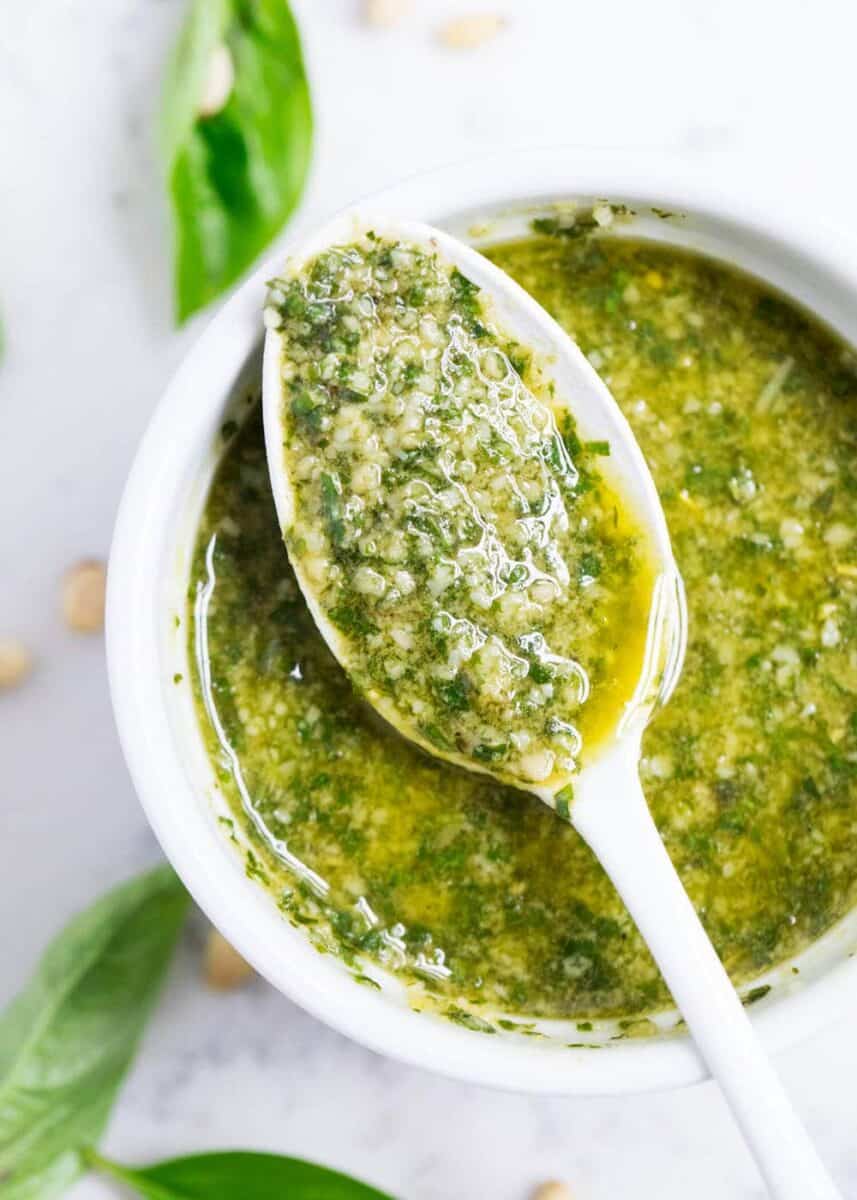 Tips & Variations
There's no long marinating time but do allow it to sit in the sauce while the grill heats up.
Add the chicken to a hot pan, not before. This way the chicken breast won't stick to the skillet.
Allow the chicken to rest before slicing to ensure the juices settle and they don't lose moisture by cutting into it too soon.
Make a homemade basil pesto quickly and easily. You can also buy the Kirkland brand from Costco, which I've done before.
Add a couple of slices of tomato on top of the pesto for another layer of flavor. Or even a drizzle of balsamic glaze. Yum!
Sprinkle some mozzarella on top!
For delicious cheesy mozzarella pesto chicken, sprinkle some freshly grated mozzarella on top of the chicken for the last 10 minutes of cooking time, whether on the stovetop or in the oven.
Ways to Serve Basil Pesto Chicken
I love a simple side of roasted tomatoes or sheet pan gnocchi as mentioned above, but there are a ton of different ways to go about completing this meal!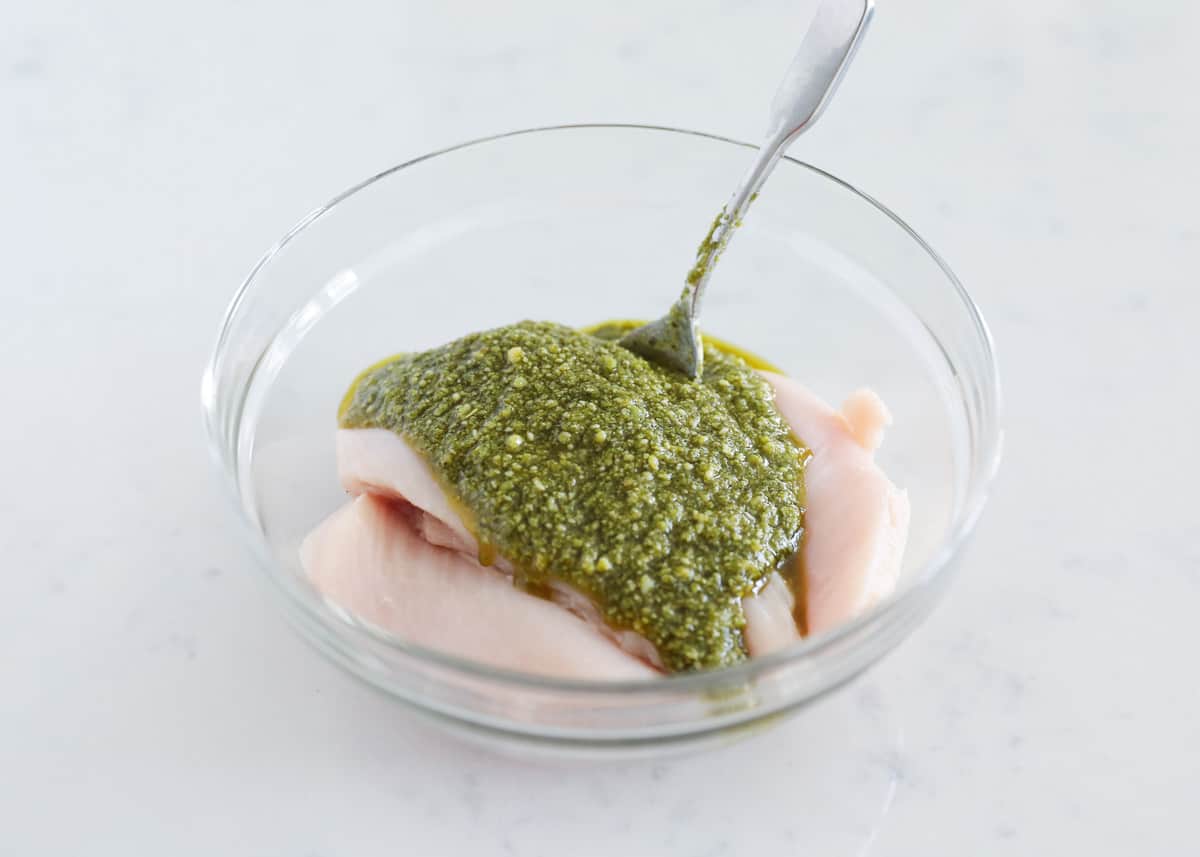 FAQ's
Can I make this dish in the oven?

You can! Making baked chicken breast is just as easy. Place chicken breasts on a baking sheet and bake for 35-40 minutes in a preheated oven at 400°F until the internal temperature reads 165°F.
Why is my pesto oily?

Some brands, if you haven't made it yourself, will come with a lot of extra oil. This is why I like using the Kirkland brand at Costco, as I find it's not runny and holds well.
Can I make this dish ahead?

If you're not ready to grill quite yet, you can marinate the chicken in the sauce for up to 12 hours ahead of time. It makes an even faster way to get dinner on the table!
What can I use leftovers for?

As delicious as this is as a main meal warm right off the stove, it's also great as a salad topping. Cold (or warm) cut up chicken and pesto on top of greens, makes a salad taste amazing! It also tastes delicious served over cooked pasta.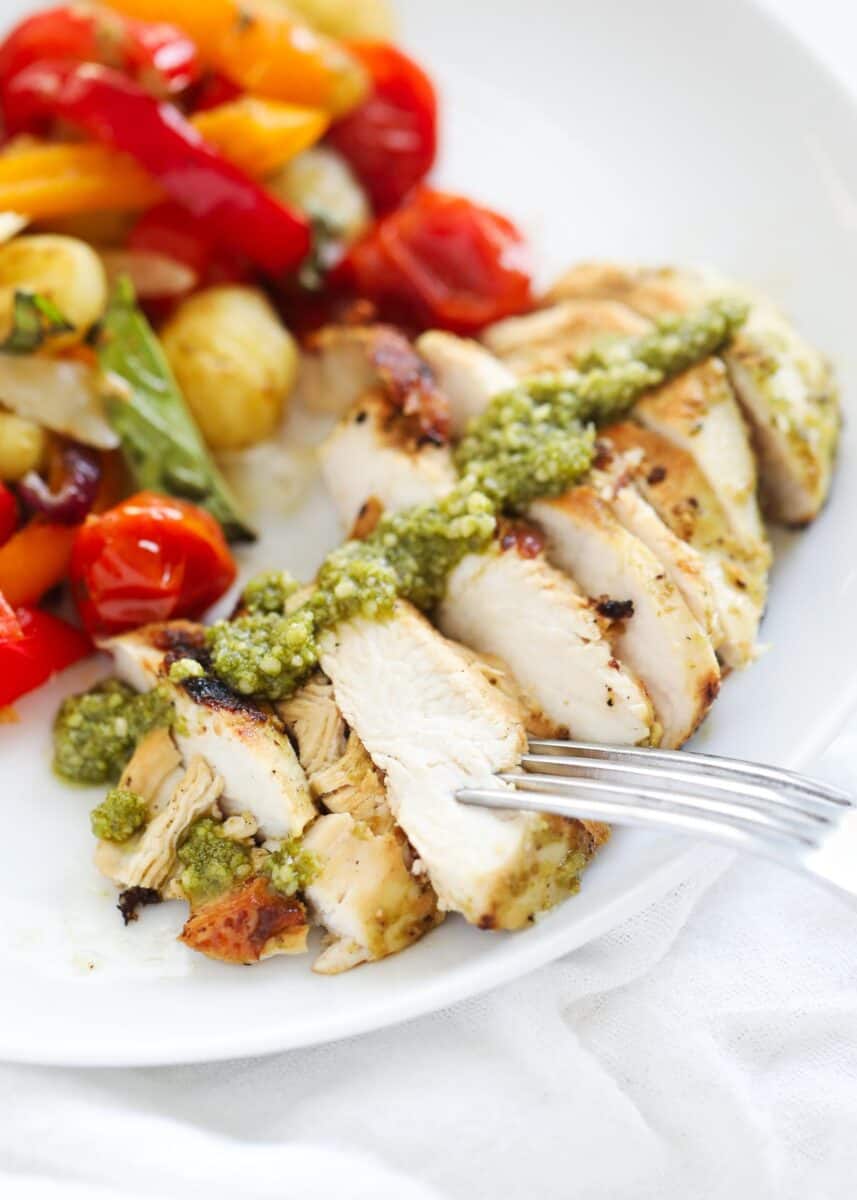 What to Make with Leftover Pesto
If you have more sauce to spare, any of the below recipes are a great way to use up the leftovers.
HUNGRY FOR MORE? Subscribe to my newsletter and follow on Facebook, Pinterest and Instagram for all the newest recipes!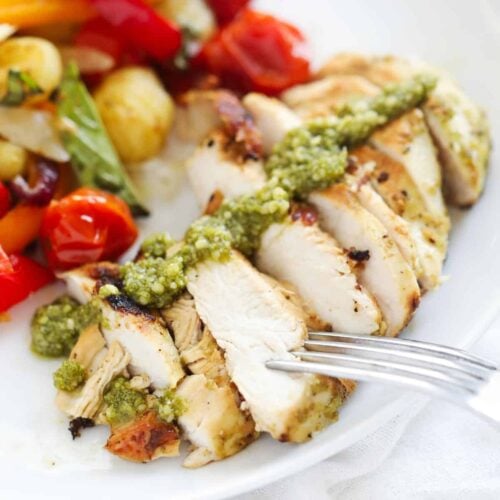 Pesto Chicken
This pesto chicken is made with just 2 ingredients! Juicy grilled chicken breast and a beautiful, flavorful, creamy pesto sauce. Enjoy this family-friendly, low-carb, gluten-free dinner in under 20 minutes!
Ingredients
4 boneless skinless chicken breasts
⅓ cup basil pesto , plus 1/4 cup for serving
salt and pepper
Instructions
Place chicken in bowl. Add salt and pepper on top. Then pour in pesto and toss until combined. Let sit to marinate while the grill is heating up.

Preheat a grill or grill pan to medium high heat. Once heated, add the chicken and cook for 5 to 6 minutes per side or until the center is no longer pink and it reaches 165°F. Turn down the heat if browning to fast.

Remove to a plate and let rest for atleast 5 minutes before slicing to let the juices absorb. Add extra pesto on top. Slice and serve while warm.
---
Notes
Baking in oven: You can also bake this pesto chicken in the oven. Preheat oven to 400°F and then place on a baking sheet. Bake for 35 to 40 minutes, or until the center reaches 165°F. You could also add mozzarella cheese the last 10 minutes of baking.
For serving: I love to serve this chicken with roasted tomatoes or sheet pan pesto gnocchi.
Pesto: You can make a homemade basil pesto or a lot of times I'll buy the Kirkland brand from Costco.
Nutrition
Calories: 209kcal | Carbohydrates: 2g | Protein: 25g | Fat: 11g | Saturated Fat: 2g | Polyunsaturated Fat: 1g | Monounsaturated Fat: 1g | Trans Fat: 1g | Cholesterol: 74mg | Sodium: 324mg | Potassium: 418mg | Fiber: 1g | Sugar: 1g | Vitamin A: 451IU | Vitamin C: 1mg | Calcium: 39mg | Iron: 1mg
Nutrition provided is an estimate. It will vary based on specific ingredients used.
Did you make this recipe? Don't forget to give it a star rating below!