Roasted tomatoes add immense flavor to any recipe. Just a few simple ingredients and 5 minutes of prep time can add zip to dishes like tomato basil soup, bruschetta, and Caprese pasta salad for starters!
Easy Roasted Tomatoes
I'm sharing with you my simple method for roasting tomatoes. This is a recipe that is less about the process because it's super simple to do, and more about the result and all its many uses.
Swapping fresh raw tomatoes for roasted ones adds a depth of flavor that happens when the natural juices are drawn out creating a more concentrated flavor. The sweet and tart combination is amazing and adds a ton of flavor to many recipes!
Just like learning how to roast garlic is a game-changer for the same reason. Major flavor!
Make a big batch so you can use some to make roasted garlic tomato sauce or this roasted salsa recipe to start! You can even swap regular for roasted tomatoes in things like homemade chili or amp up the flavor in my easy lasagna!
Why You'll Love This Recipe
It's a quick and easy way to switch up the flavor profile of a recipe.
They make a great vegetarian side dish!
A great way to use up your summer fresh tomatoes.
They are versatile and be used in many ways but also seasoned to your liking!
Ingredients Needed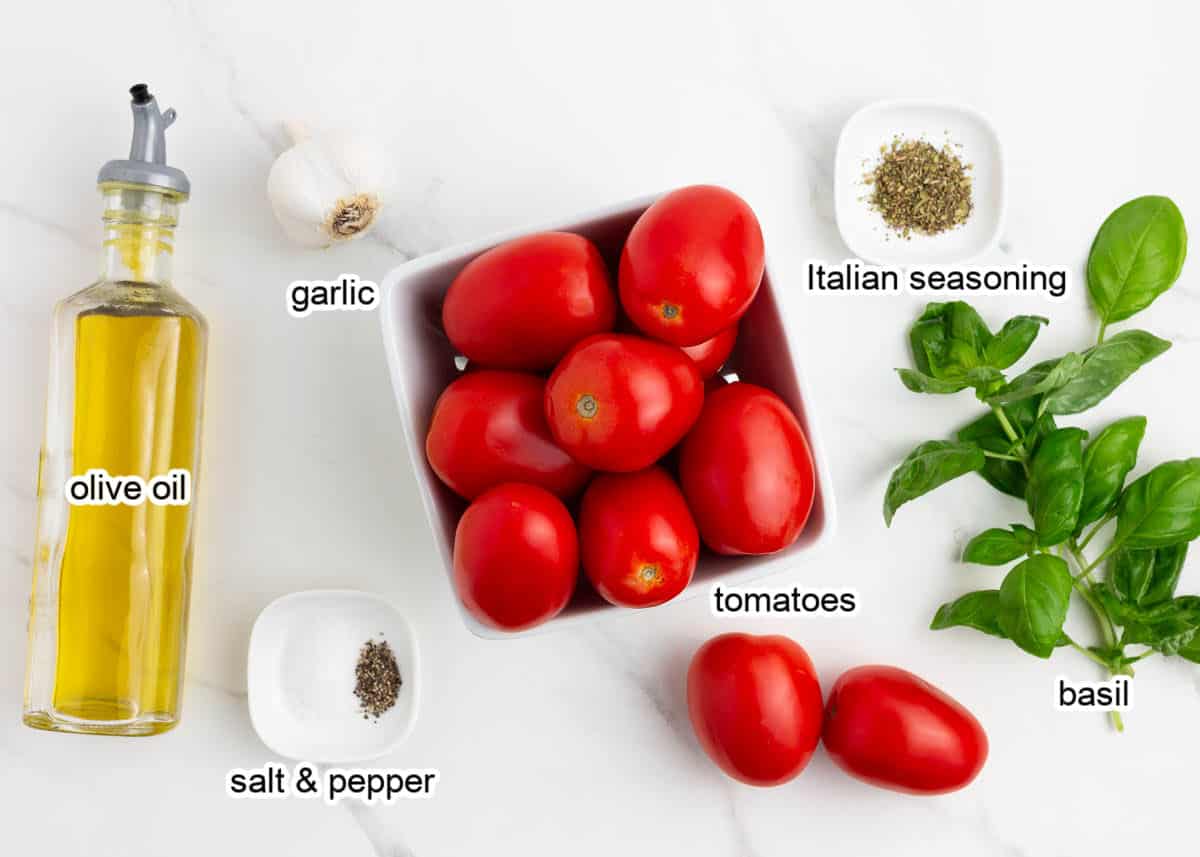 Find the full printable recipe below.
For this recipe, all you'll need are tomatoes, oil, and a bit of seasoning. It's easy to do and takes just a few minutes to prepare.
Tomatoes: The kind of tomatoes you choose to use is up to you. I'd say the riper and juicier the better, but they'll be great no matter what. You can make heirloom or Roma tomatoes, grape tomatoes, plum tomatoes, or roasted cherry tomatoes instead.
Olive oil: A drizzle of neutral-tasting extra virgin olive oil helps with roasting. You can opt to use avocado oil if you prefer.
Salt & pepper: A little seasoning for flavor. The salt will help draw out the juice.
Fresh basil: An optional addition that adds something bright and herbaceous to this side dish!
What Tomatoes are Best to Use for Roasting?
The good news is that any variety of tomato can be roasted! Most common types to roast, though, include the following:
Cherry or grape tomatoes: These can be roasted whole if preferred.
Plum tomatoes
Roma tomatoes
Campari tomatoes
Depending on how large your tomatoes are, you may need to cut them in halves or quarters. For plum, Roma and campari, I cut them in half, but larger, meatier tomatoes I cut into quarters.
How to Roast Tomatoes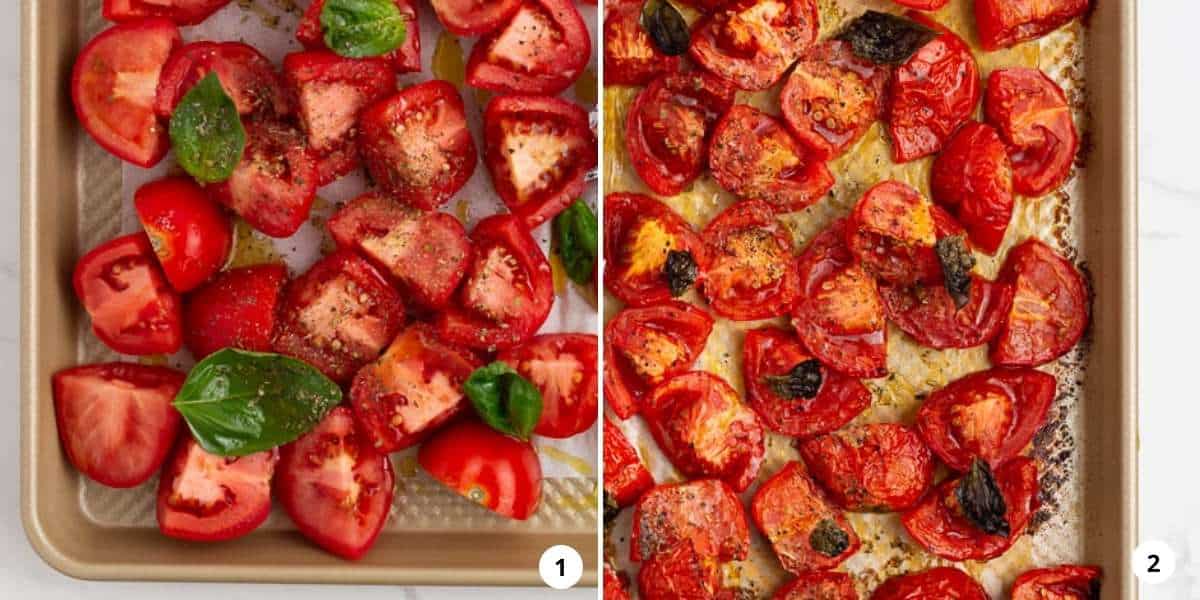 The oven does all the work and in just under an hour you've transformed them into a tasty side dish!
Arrange washed and cut tomatoes on a parchment-lined baking sheet in a single layer. Sprinkle with salt and pepper. Chop the basil and sprinkle some on top, if desired.
Bake in a preheated 400-degree oven for 45 minutes until the skin starts to shrivel. Allow them to cool slightly on the baking tray before serving. Add a bit of extra seasoning and fresh herbs and enjoy!
Recipe Tips
Fresh herbs. Add fresh basil before roasting, or after, or a bit of both!
Best way to cut tomatoes. Roast smaller ones whole if you like, or cut them in half. It's best to cut any that are larger into quarters or thick slices. Otherwise, it'll take quite a bit longer to get them as roasted as you'd like.
Make a big batch. Double or triple the recipe to make more and store them for later!
Variations
Choose to ramp up your roasted tomatoes with any of the following variations. You don't even have to pick just one, they can all be combined into one flavorful recipe!
Use a different herb. If you don't have any basil on hand, use fresh thyme, rosemary, or oregano instead. You can use an Italian seasoning blend at the end too!
Add garlic. Take what you know about how to mince garlic and use it to sprinkle with freshly minced garlic cloves over top for a garlicky flare. About 3 cloves should suffice.
Balsamic. Drizzle a Tablespoon of balsamic vinegar on its own before roasting to have that flavor penetrate the tomatoes. OR, finish it off when it comes out of the oven with a Tablespoon of balsamic glaze which is a reduction of balsamic and honey. So good!
Make them sweet. Tomatoes can be quite acidic, even once roasted, so if you like a sweeter finish, use a teaspoon of sugar on top of the entire sheet pan before roasting.
Sprinkle Parmesan cheese over top the tomatoes for the last few minutes of roasting time.
Ways to Use Oven Roasted Tomatoes
There's nothing easier than adding to a large bowl and allowing everyone to dish out their own side.
There are also many other ways to use them in recipes such as pasta sauces, stews, a sandwich, on toast, you name it! Here are a few of my favorites:
FAQs
Are tomatoes better for you when cooked?

They are! Roasted tomatoes provide vitamin c, protein, and fiber. They are low in calories and carbohydrates and flexible with the amount of sodium as you control the amount of salt.

The lycopene, which is an antioxidant that gives them their beautiful red color, is broken down in heat making it easier to digest and absorb.
How can I get more flavor out of my roasted tomatoes?

You want to make sure you're using the best, ripest, and juiciest of the bunch. Roasting them will naturally bring out all kinds of yummy flavor, but anything extra will depend on what you add to it.

If you like yours a bit saltier, add a bit of extra salt. If you want more garlic, add that! Like a little heat? Sprinkle some red pepper flakes…you get the idea!
How long to roast tomatoes?

This will depend on the size of your tomatoes and how soft you like yours. Some people prefer a quick roast for no longer than 20 minutes. If you like yours softer and fully roasted, keep them in for 45 minutes. You can always check along the way for the desired doneness.
What is the difference between sundried tomatoes and roasted tomatoes?
Both use heat to extract the juices and intensify the flavor of fresh raw tomatoes. Sundried tomatoes take it a step further in that they extract ALL the juices. They are made using low heat over an extended period (sometimes up to 10 hours) while roasting them takes high heat for under an hour and they remain juicy!

The texture of sundried tomatoes is tough and chewy, and while roasted tomatoes have a similar element they are not nearly as chewy.
Storing Tips
Keep leftovers in an airtight container or mason jar in the fridge for up to 1 week. Transfer them to freezer bags and keep them frozen for up to 4 months!
This is a great way to preserve your summer tomato haul!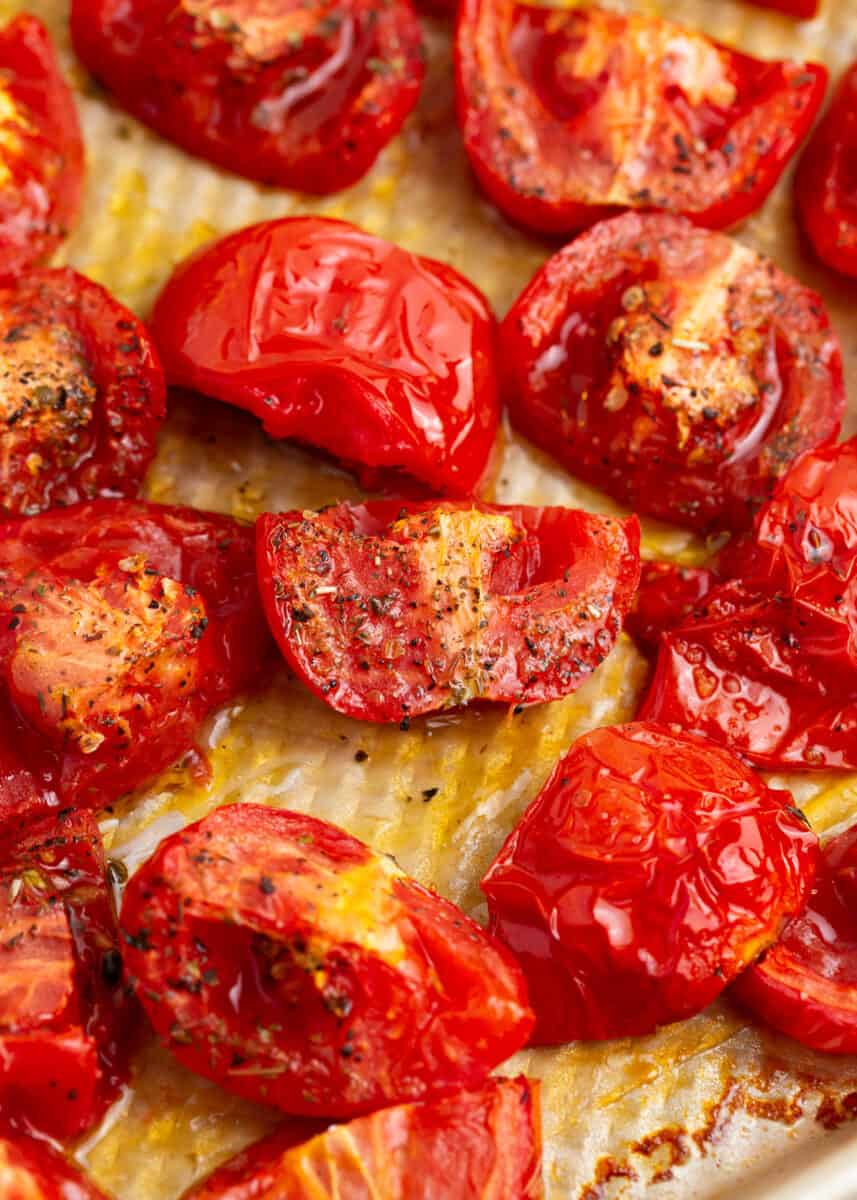 Check out these other easy vegetable side dishes.
HUNGRY FOR MORE? Subscribe to my newsletter and follow on Facebook, Pinterest and Instagram for all the newest recipes!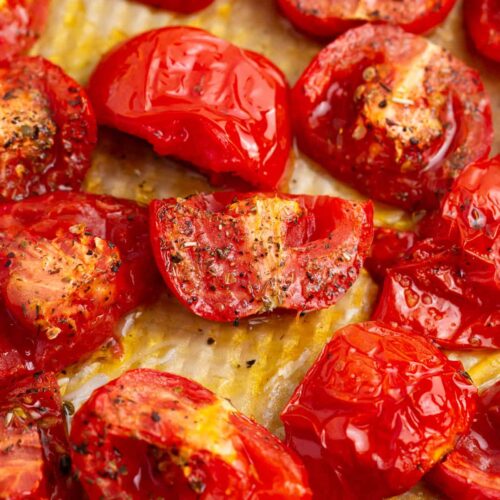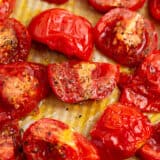 Roasted Tomatoes
Roasted tomatoes add immense flavor to any recipe. Just a few simple ingredients and 5 minutes of prep time can add zip to so many dishes!
Ingredients
3 pounds tomatoes , stems removed and quartered
1-2 Tablespoons olive oil , plus more if needed
Kosher salt , to taste
Freshly ground black pepper , to taste
Fresh basil , optional
Instructions
Preheat the oven to 400°F. Line a large baking sheet with parchment paper, if desired.

Place the tomatoes on the baking sheet. Drizzle with olive oil. Season with salt and pepper.

Roast 45 minutes, or until the skins start to shrivel. Remove from oven and let cool slightly. Season to taste. Top with fresh basil, if desired.
---
Notes
Storage: The tomatoes will keep in an airtight container for 1 week in the refrigerator or up to 4 months in the freezer.
Variations:
Sprinkle grated parmesan cheese over the top during the last few minutes of baking.
Add a Tablespoon of balsamic vinegar before roasting or drizzle with a Tablespoon of balsamic glaze after roasting.
For a sweeter tomato, sprinkle 1 teaspoon of sugar over the top before roasting.
For a garlic flavor, sprinkle over the top 3 cloves minced garlic halfway through roasting.
Nutrition
Serving: 1g | Calories: 61kcal | Carbohydrates: 9g | Protein: 2g | Fat: 3g | Saturated Fat: 1g | Polyunsaturated Fat: 1g | Monounsaturated Fat: 2g | Sodium: 11mg | Potassium: 538mg | Fiber: 3g | Sugar: 6g | Vitamin A: 1889IU | Vitamin C: 31mg | Calcium: 23mg | Iron: 1mg
Nutrition provided is an estimate. It will vary based on specific ingredients used.
Did you make this recipe? Don't forget to give it a star rating below!