Caprese bread is a delicious shareable appetizer or snack made with toasty bread, herb and garlic butter, fresh tomatoes, and cheese and baked until melted and delicious!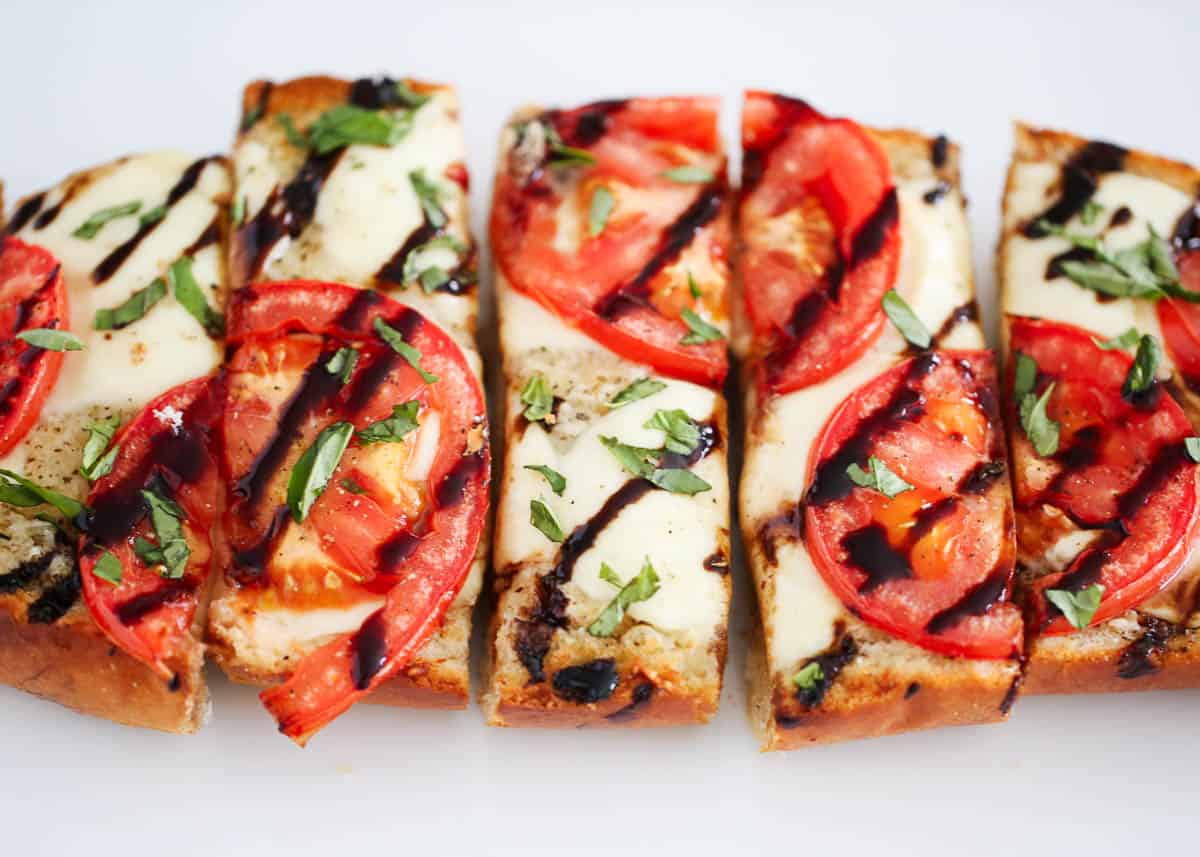 Cheesy Caprese Bread
I'm about to toot my own horn here because I am pretty sure I've discovered the next best way to use up ripe juicy summertime tomatoes! If you've been around for a while, you know I love all things Caprese, including traditional Caprese salad and pizza Caprese.
There's no better way to enjoy fresh tomatoes than with fresh mozzarella and basil!
Now, I've taken traditional garlic bread and turned it into an Italian-inspired appetizer. It's made with crispy homemade French bread smothered in garlic butter and Italian seasoning, then topped with fresh mozzarella cheese and tomatoes!
It may remind you of bruschetta Caprese except we're baking this one to ooey and gooey and finishing it with a balsamic glaze.
Caprese garlic bread is the ultimate appetizer, snack, or side dish all summer long!
Why We Love Caprese Bread
Quick and easy. With 10 minutes of prep time and 10 minutes in the oven, this loaf of Caprese bread is ready to serve!
Flavorful. There's a combination of things happening here. The Italian seasoning in the garlic butter, the ripe tomatoes, the crispy toasty Caprese bread, and the melty cheese. It tastes amazing!
Made for easy entertaining. A shareable appetizer that's made in no time can be sliced into as big or as few pieces as you need. Double or triple the recipe to serve a crowd.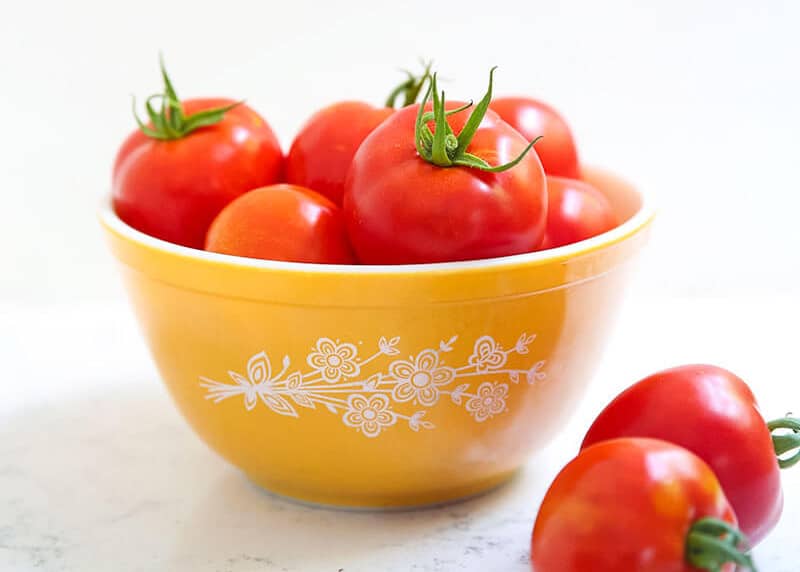 Ingredients Needed
French bread: If you have geared up to make this totally from scratch by making a loaf of homemade French bread, you're my hero. If you're taking a shortcut and buying store-bought because life is busy, you're also my hero.
Unsalted butter, room temperature: You want it easily spreadable!
Minced garlic: Learn how to mince garlic the easy way, so you can get that fresh garlic flavor into the butter without leaving big chunks in there.
Garlic powder: A bit of extra garlicky flavor is never a bad idea in Caprese garlic bread!
Italian seasoning: A combination of herbs such as Oregano, basil, thyme, rosemary, sage, and parsley. If you have all of those create a homemade blend of Italian seasoning to always have on hand.
Mozzarella cheese: Fresh from the brine! It's softer, melts easier, and just tastes better.
Sliced tomatoes: Any kind will do. Medium tomatoes like an heirloom, Roma, or plum tomato. A bunch of cherry tomatoes can be used as well.
Balsamic glaze: A beautiful reduction of balsamic vinegar and honey to finish off the bread with the taste of sweet and tart! If you aren't making your own balsamic glaze, check out the glaze from Trader Joe's.
Fresh basil: Although a garnish at the end, it is one of the main components of what makes Caprese as amazing as it is. So, don't skip it!
Salt & ground black pepper: A little extra seasoning.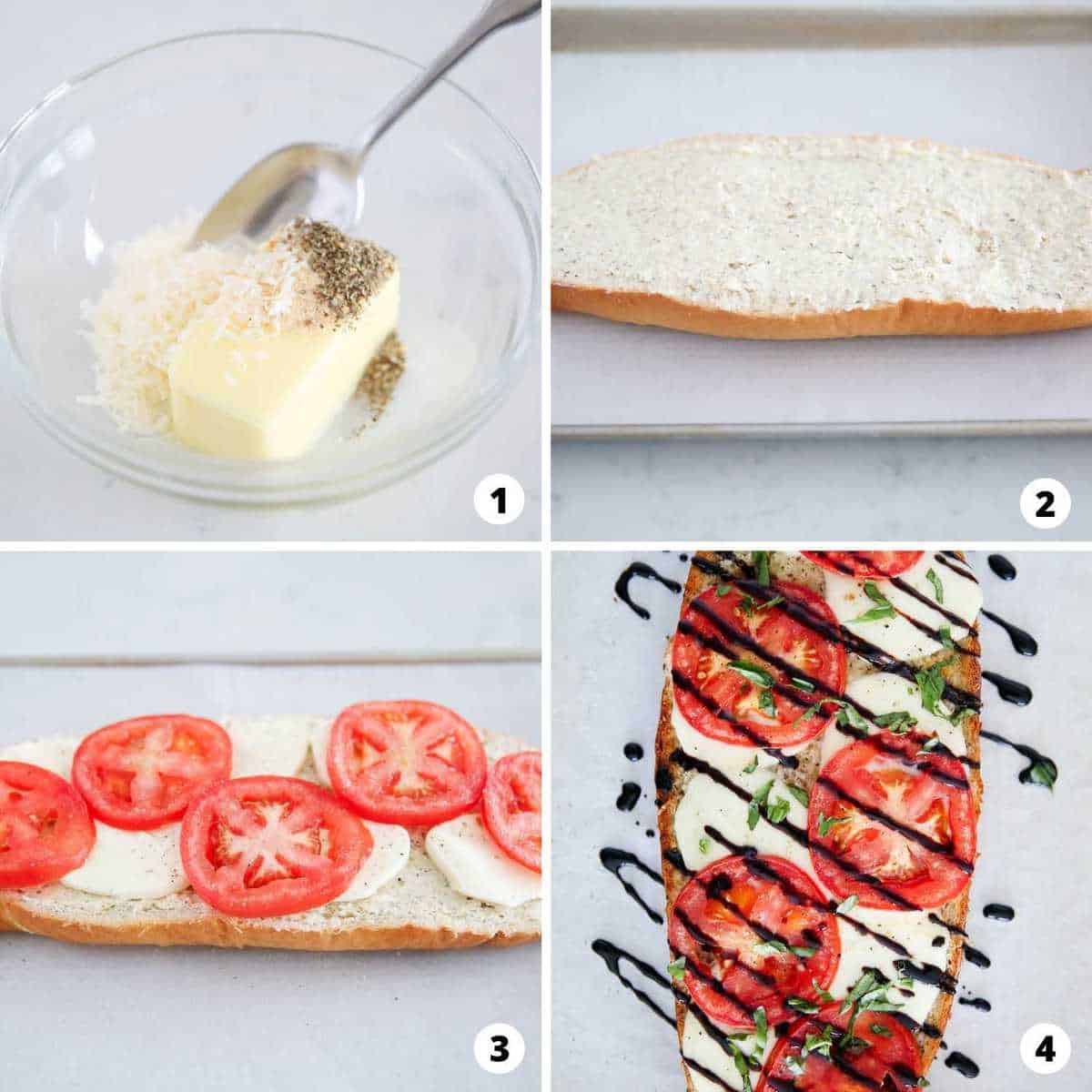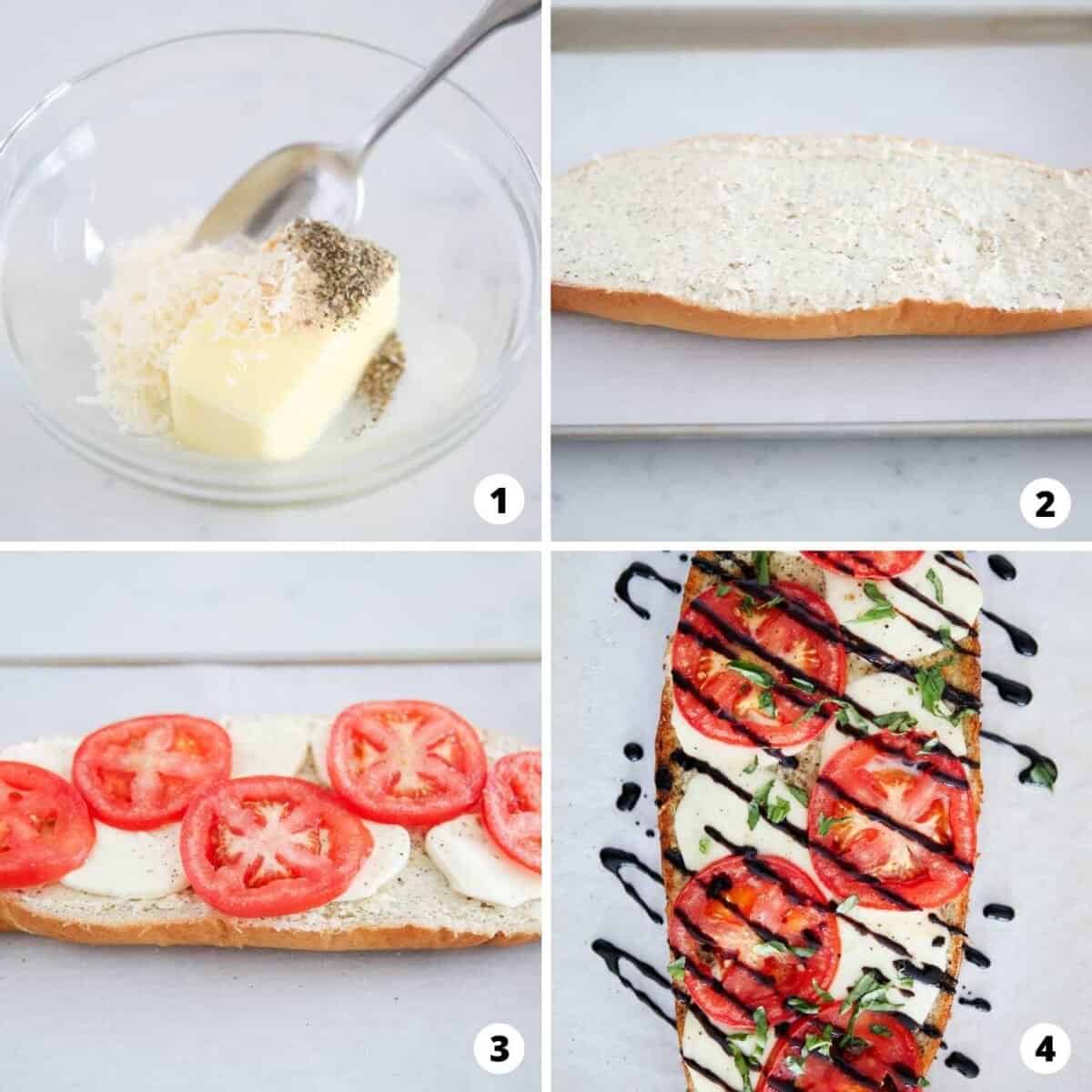 How to Make Caprese Bread
Flavor the butter. Combine butter, minced garlic, garlic powder, and Italian seasoning in a small bowl.
Add butter to the bread. Slice a loaf in half lengthwise and place bread halves on a large baking sheet, cut side up. Spread butter over the top.
Place the rest of the toppings onto the bread. Add mozzarella cheese slices on top followed by sliced tomatoes and a sprinkle of salt and pepper.
Bake, cool, and slice. Bake in a 400-degree oven for 13-15 minutes until the cheese is bubbly and melty. Remove from the oven and drizzle with balsamic and chopped fresh basil leaves. Allow it to cool for a few minutes then slice and enjoy!
Recipe Tips
Cutting the loaf. To easily cut your loaf of bread, use a serrated bread knife. It'll give you a cleaner cut without having to worry about a choppy ripped look.
Extra juicy tomatoes. If your tomatoes contain a lot of liquid, slice them and lay them on a paper towel to absorb some of the liquid. You can also bake them in the oven for 5-10 minutes. Having too much juice from the tomatoes will make your Caprese bread a bit soggy.
Broil. To get a bit of that extra golden brown top, place it under the broiler for a couple of minutes in the end. Don't walk away, be sure to keep an eye on it.
Make a sandwich. If you love a grilled Caprese sandwich, try it this way. Top the Caprese bread with the other half of the loaf and turn them into sandwiches.
Topping Variations
For something similar to a French bread pizza add 1/2 cup marinara sauce before the mozzarella.
For extra flavor and to use up items you've got in your fridge, add some of these to your bread:
Pepperoni
Sliced olives
Sliced peppers
Mushrooms
Red onions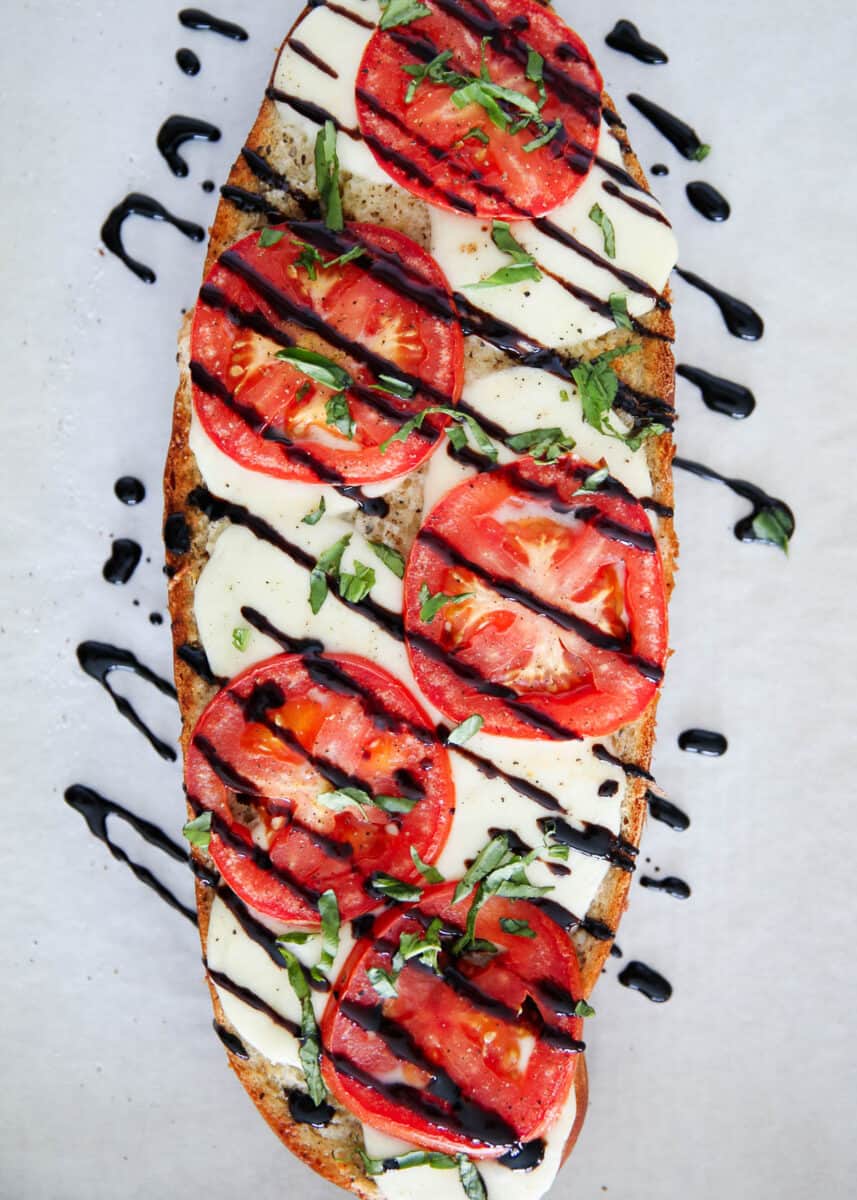 FAQs
What bread do you use for Caprese bread?

Use any you like. Ciabatta, Italian, any flatbread, or a slice of Texas toast. Once it is toasted and crispy it can hold all of the toppings without getting soggy. Of course, the thicker bread will maintain its structure for longer.
What is the difference between Caprese bread and bruschetta?

In traditional bruschetta, it's the tomato mixture that is the star of the show. If we're talking super authentic, bruschetta is a piece of toast rubbed with garlic, olive oil, and salt. Depending on what you add on top, it becomes that type of bruschetta.

Tomato bruschetta is a combination of fresh tomatoes, herbs, and spices that sit on top of a piece of seasoned crusty bread. There is typically no cheese or fresh basil leaves.
Can I store leftover Caprese bread?

You can store any leftover slices covered in the fridge for up to a day. The tomatoes will force things to get soggy at a certain point, so I recommend making what you need and enjoying it the same day.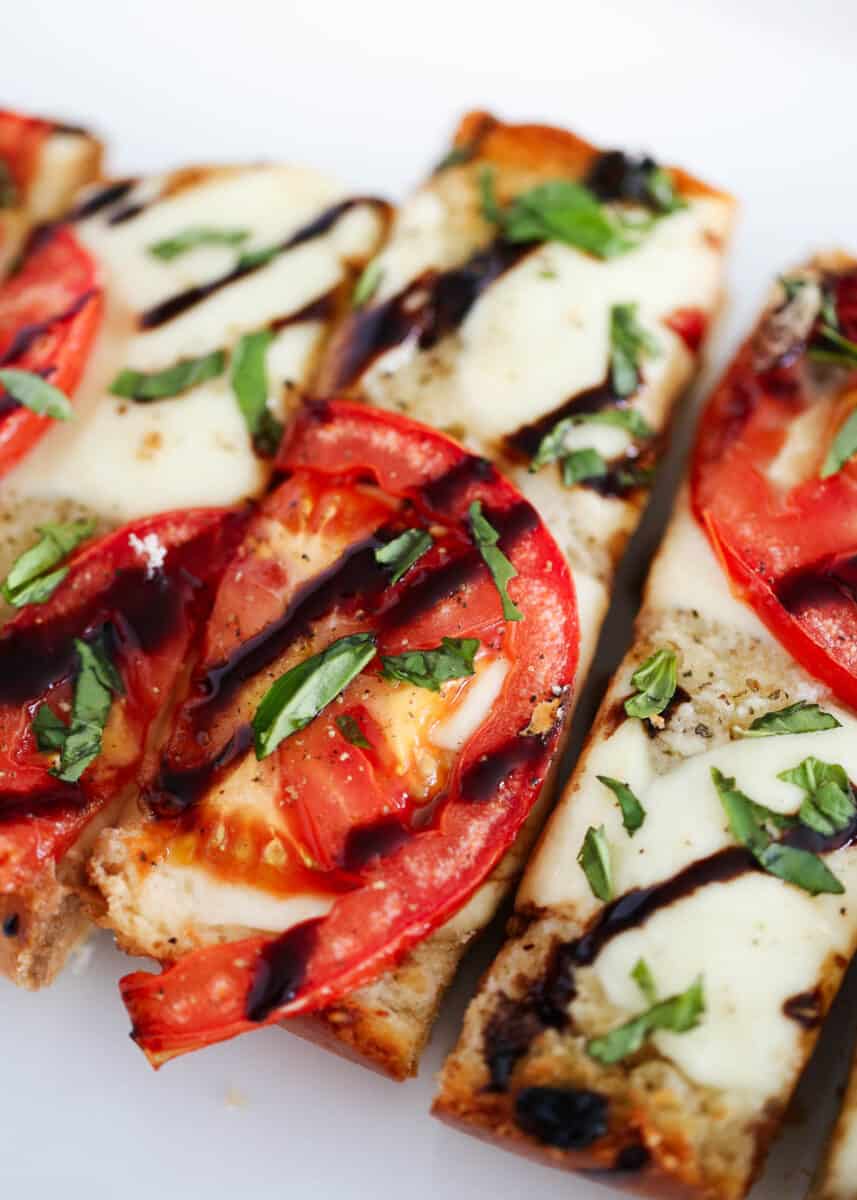 More Recipes You'll Love
Below are a few more of our favorite dishes made with those classic caprese flavors!
HUNGRY FOR MORE? Subscribe to my newsletter and follow on Facebook, Pinterest and Instagram for all the newest recipes!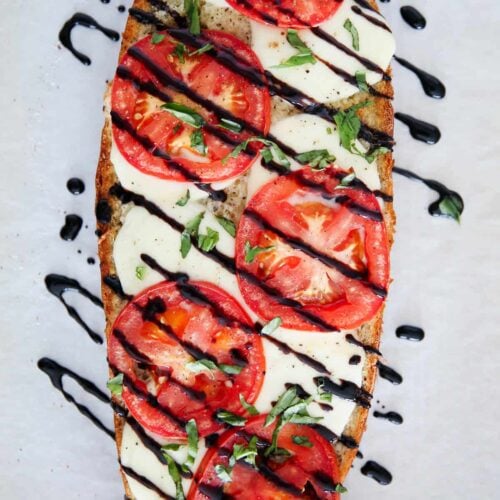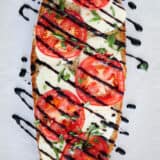 Caprese Bread
Caprese bread is a delicious shareable appetizer or snack made with toasty bread, herb and garlic butter, fresh tomatoes, and cheese and baked until melted and delicious!
Ingredients
1 loaf French bread
½ cup salted butter , at room temperature
1 teaspoon minced garlic
1 teaspoon garlic powder
1 teaspoon Italian seasoning
8-10 ounces sliced mozzarella cheese
2 tomatoes , sliced
Fresh basil
Salt and pepper
Optional toppings: pepperoni, sliced olives, sliced peppers, mushrooms, red onions, tomatoes, basil, etc.
Instructions
Preheat the oven to 400°F. Cut the loaf of french bread in half.

Mix the butter, garlic, garlic powder and Italian seasoning in a bowl. Spread the butter on top of the bread.

Place the sliced mozzarella on top of the bread. Then add the sliced tomatoes. Sprinkle salt and pepper on top. If you have a really juicy tomato, place them on paper towels beforehand to remove any excess water.

Bake for 13-15 minutes, or until the cheese is melted and bubbly. Remove from oven and drizzle with balsamic and add chopped basil.

Allow to cool for a few minutes then slice. Enjoy while warm.
---
Notes
Tomatoes: If I have the time, I like to slice the tomatoes and place them on a plate lined with paper towels to remove extra moisture. You could also bake them in the oven for 5-10 minutes with salt and pepper on top before adding them to the pizza.
Balsamic glaze: Make my homemade balsamic glaze or purchase store bought. I always keep a bottle from Trader Joe's on hand.
Variation: If you'd like this to taste more like a pizza, feel free to spread 1/2 cup marinara onto the bread before adding the cheese.
Nutrition
Calories: 331kcal | Carbohydrates: 28g | Protein: 12g | Fat: 19g | Saturated Fat: 11g | Polyunsaturated Fat: 1g | Monounsaturated Fat: 5g | Trans Fat: 1g | Cholesterol: 53mg | Sodium: 572mg | Potassium: 165mg | Fiber: 2g | Sugar: 3g | Vitamin A: 807IU | Vitamin C: 4mg | Calcium: 181mg | Iron: 2mg
Nutrition provided is an estimate. It will vary based on specific ingredients used.
Did you make this recipe? Don't forget to give it a star rating below!