This loaded baked potato casserole is made with baked potatoes, sour cream, cheese, and bacon, then baked until melty and scrumptious. A welcome addition to any table!
One of my favorite side dishes is twice baked potatoes. This version is a little easier and tastes just as delicious. It's a great way to use up leftover baked potatoes. We love to serve it with baked BBQ chicken and oven roasted vegetables.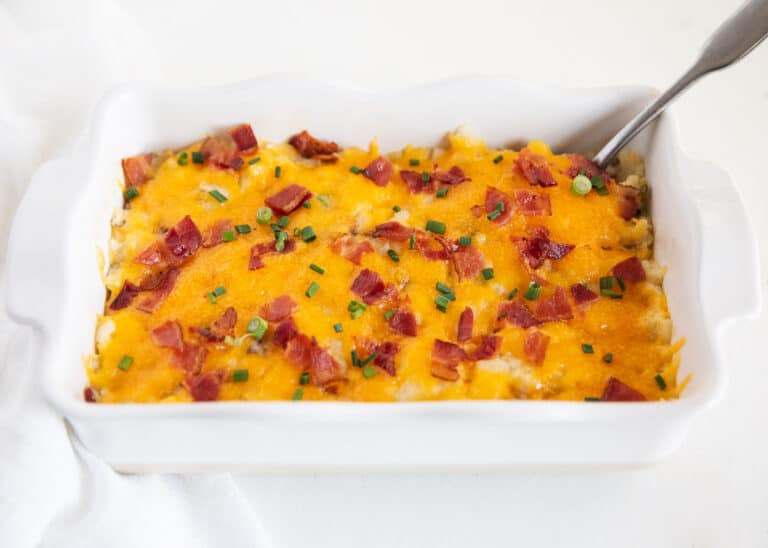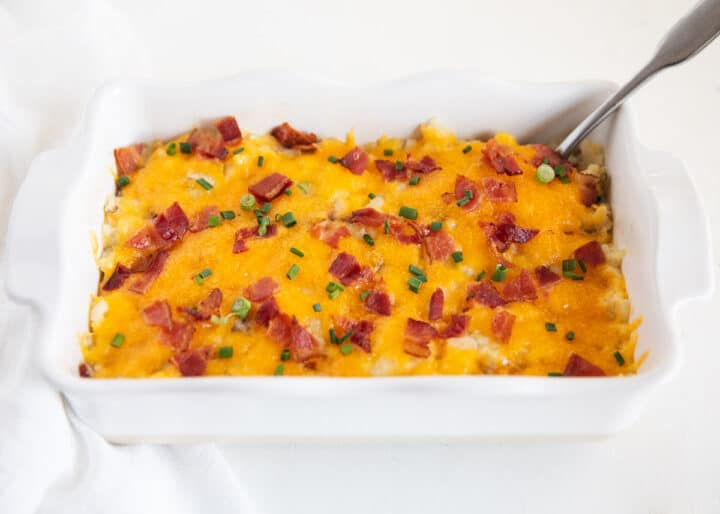 If you love twice baked potatoes as much as I do, and casseroles the same amount, with some extra room in your heart for a heaping pile of mashed potatoes, then this loaded baked potato casserole is for you! A no-fuss comfort dish to bring to a BBQ, serve at a potluck, or make during the holidays.
It is also a family favorite, so when I make it on the weekend I always make sure to make enough for leftovers for a couple of lunches! It's a great make-ahead dish, so I love that I can have it ready to pop in the oven when I'm ready to heat it through.
This baked potato casserole will remind you of all of the major flavors and textures of a loaded baked potato or a twice-baked potato but in the form of a casserole. Soft pillowy potatoes, ooey-gooey cheese, salty bits of crispy bacon, sour cream, and onions. It's a party-sized version of a twice-baked loaded potato, which makes for easy entertaining! It's a dish you can carry from the oven straight to the table and it's always a crowd-pleaser.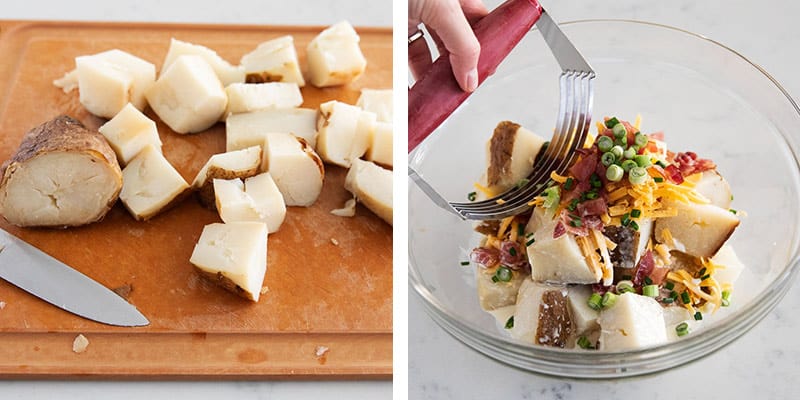 Loaded potato vs. twice baked potato
Before we move on we need to get down to some serious business. What is the difference between a loaded baked potato and a twice-baked potato anyway? And if you've tried both, which do you prefer?
The loaded baked potato is baked until the outer skin is nicely crisp, and the inside is baked, soft, and slightly fluffy. It is then loaded with all of the delicious toppings available to you. Traditionally it's sour cream, bacon, cheddar cheese, and probably green onions or chives.
The twice-baked potato goes one step beyond this. After the first bake, the inside flesh of the potatoes is scooped out into a bowl, mashed together with butter, cream, sour cream, and salt and pepper, then put back into the crispy skins, topped with the cheese, bacon, and onions and then baked again. Now, add these two together and you've got a loaded twice baked potato casserole. It's the best of everything!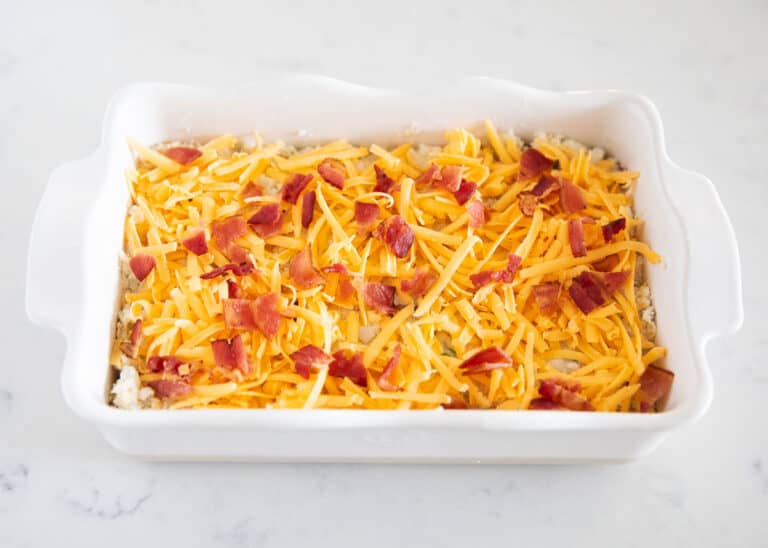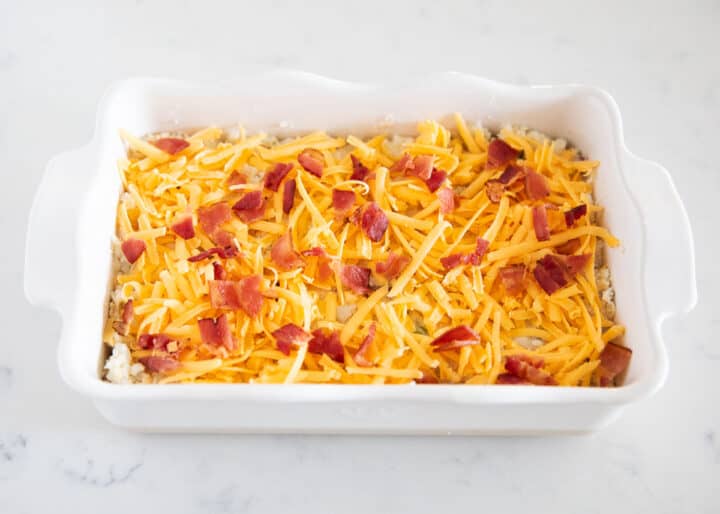 Should I peel my potatoes first?
No! I know it seems a little counterintuitive when thinking about mashed potatoes, but since we're baking them and not boiling them, you want to leave the skin on. It's what keeps the structure. Besides, bits of crispy skin in your casserole is kind of amazing. Before you begin mashing you can try and get rid of as much of the skin as you want.
Variations and possible add-ins
A little heat. Add in some diced jalapeno or hatch chilis. For mild heat, remove the seeds. For medium heat, keep some.
Different cheese. Cheddar is classic, but you could go with anything from gruyere to Parmesan to blue cheese.
Garlic. Adding some roasted garlic into your mashed potatoes is a great way to add more flavor.
Cream cheese. Use it instead of sour cream in the potatoes.
Corn niblets. Sweet kernels of corn pair well with potatoes.
Crispy onions. Sprinkle some on top for a little added crunchy texture.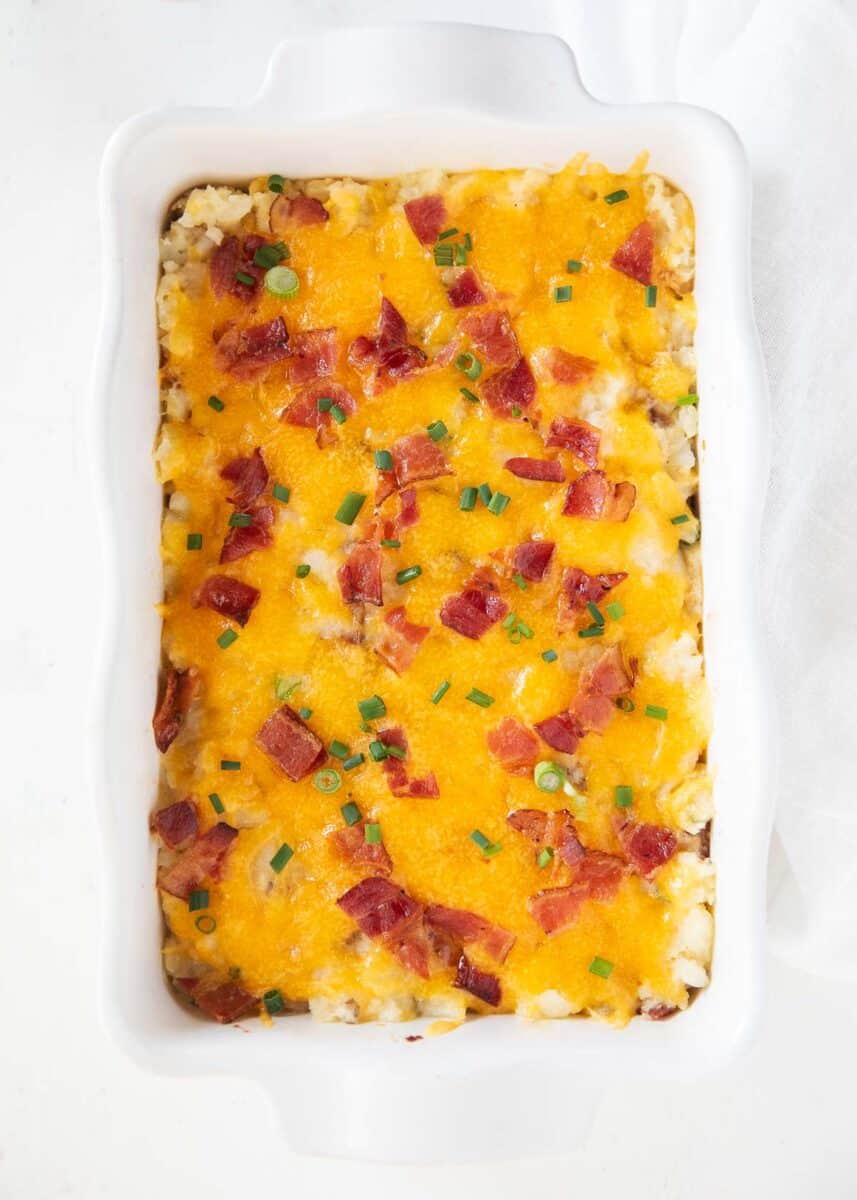 Cooking tips
Make ahead. Make this casserole up to 2 days ahead of time. For convenience, the whole thing can be assembled and kept in the fridge covered, until you're ready to bake it.
Pierce the potatoes. Don't forget to poke holes in the potato before baking it. This is to allow steam to escape, to get an even bake, and to avoid a potato explosion.
Texture. If you like very smooth and creamy potatoes, you'll want to mash a little longer. If you like a chunkier texture, keep an eye on it and stop mashing once you reach desired consistency.
Russets. When it comes to baking potatoes, russet potatoes are the best. This dish has a little bit more flexibility because they get broken down and no longer need to hold their structure. If you happen to have your favorite mashing potato on hand, that will also work.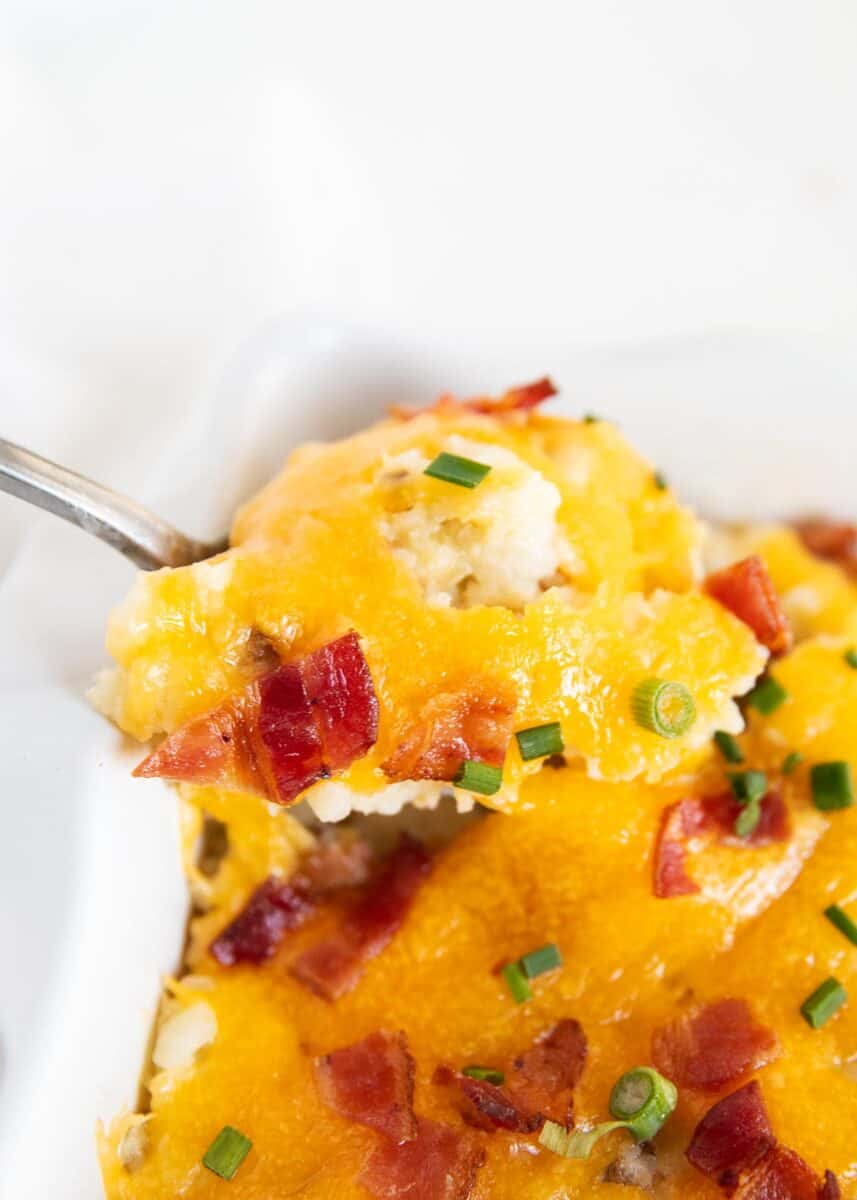 Storing, freezing, & reheating
To store: Once cooled, store leftovers in the fridge, covered, for up to 3 days.
To freeze: This dish freezes well, but keep in mind potatoes are a little funny when kept frozen. When they thaw you may find the consistency has changed and they're a bit watery. If this happens, just add a bit more sour cream and butter before reheating.
To Reheat: If reheating from frozen, bake in the oven for 25-30 minutes until heated all the way through. You can also use the microwave if you're just reheating an individual serving size.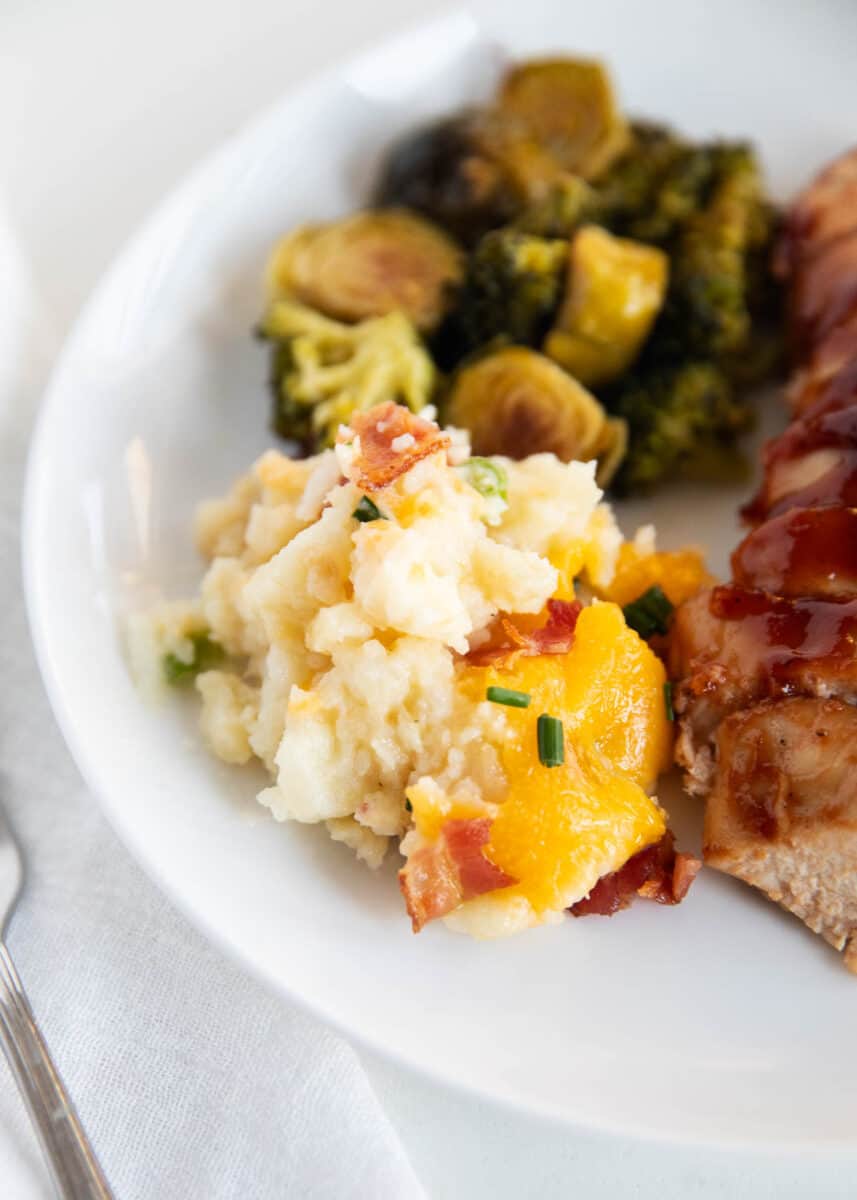 More potato recipes you'll love: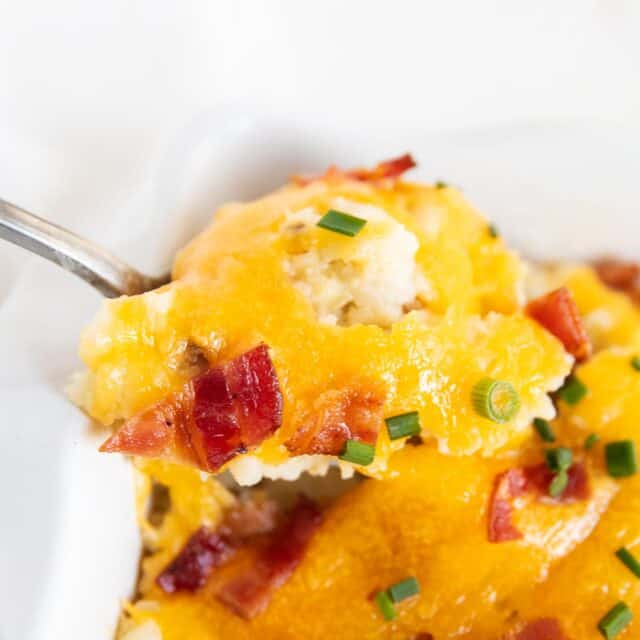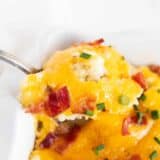 Loaded Baked Potato Casserole
This loaded baked potato casserole is made with baked potatoes, sour cream, cheese, and bacon, then baked until melty and scrumptious. A welcome addition to any table!
Ingredients
4 baked potatoes , medium-sized
1 Tablespoons olive oil
For filling:
6 Tablespoons butter , melted
1/3 cup half and half , more as needed
1/4 cup sour cream
1/2 teaspoon Kosher salt , more to taste
1/4 teaspoon pepper , more to taste
1/2 cup shredded cheddar cheese , more if desired
4-6 slices bacon , cooked and crumbled (about 1/2 cup)
2-3 green onions , sliced thin
Instructions
Preheat oven to 400°F and line a baking sheet with foil. Prep the potatoes by washing them under cold water. Next pierce them with a fork several times and then place on baking pan. Brush with olive oil. Bake potatoes for 60 minutes. Allow to cool.

Cut the potatoes and remove as much skin as desired. Place into a large bowl. Add in the butter, half and half, sour cream, salt and pepper. Next add half of the cheese, bacon and green onions (save the rest to add to the top). Mash until you reach desired texture. Add more half and half or milk as needed.

Once mashed, place into a 2 qt baking dish. Then top with remaining cheese, bacon and green onions.

Bake at 375°F for 25 minutes or until cheese is bubbly. Serve while warm.
---
Calories: 258kcal | Carbohydrates: 2g | Protein: 5g | Fat: 26g | Saturated Fat: 14g | Trans Fat: 1g | Cholesterol: 60mg | Sodium: 463mg | Potassium: 85mg | Fiber: 1g | Sugar: 1g | Vitamin A: 597IU | Vitamin C: 1mg | Calcium: 100mg | Iron: 1mg
Nutrition provided is an estimate. It will vary based on specific ingredients used.
Did you make this recipe? Don't forget to give it a star rating below!