Lightly seasoned, juicy baked shrimp with the BEST homemade cocktail sauce for dipping makes this the best shrimp cocktail recipe ready to serve on any occasion with just a few minutes of prep time!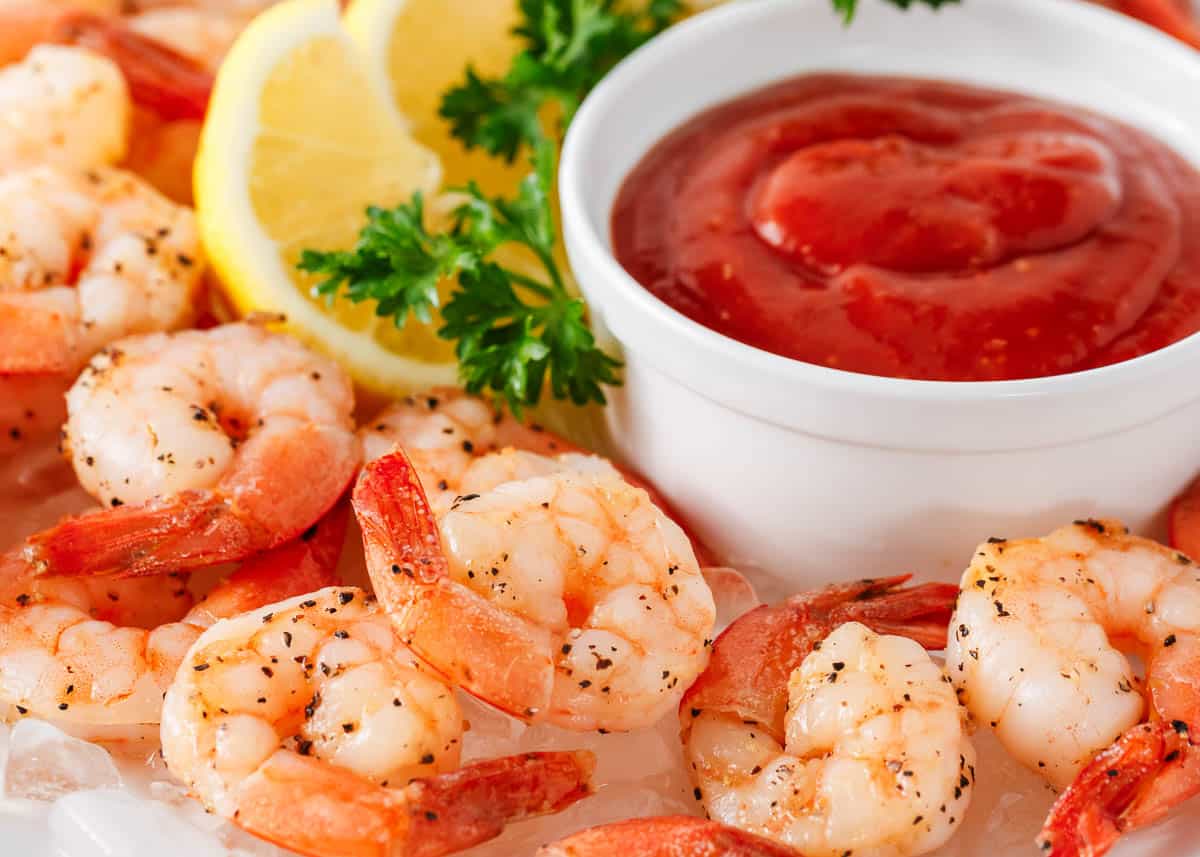 Best Recipe for Cocktail Shrimp
Shrimp cocktail is a timeless classic and a holiday party appetizer essential. With its quick preparation time of under an hour, this easy yet elegant shrimp appetizer effortlessly adds a touch of sophistication to any last-minute gathering.
This is the best shrimp cocktail recipe we've ever had. I love the extra flavor we get by roasting the shrimp for a few minutes.
It looks a bit fancy, especially when served in a cocktail glass with lemon wedges, but as far as appetizer recipes go, or even easy shrimp recipes, this is by far one of the easiest to make. Alongside shrimp ceviche, of course!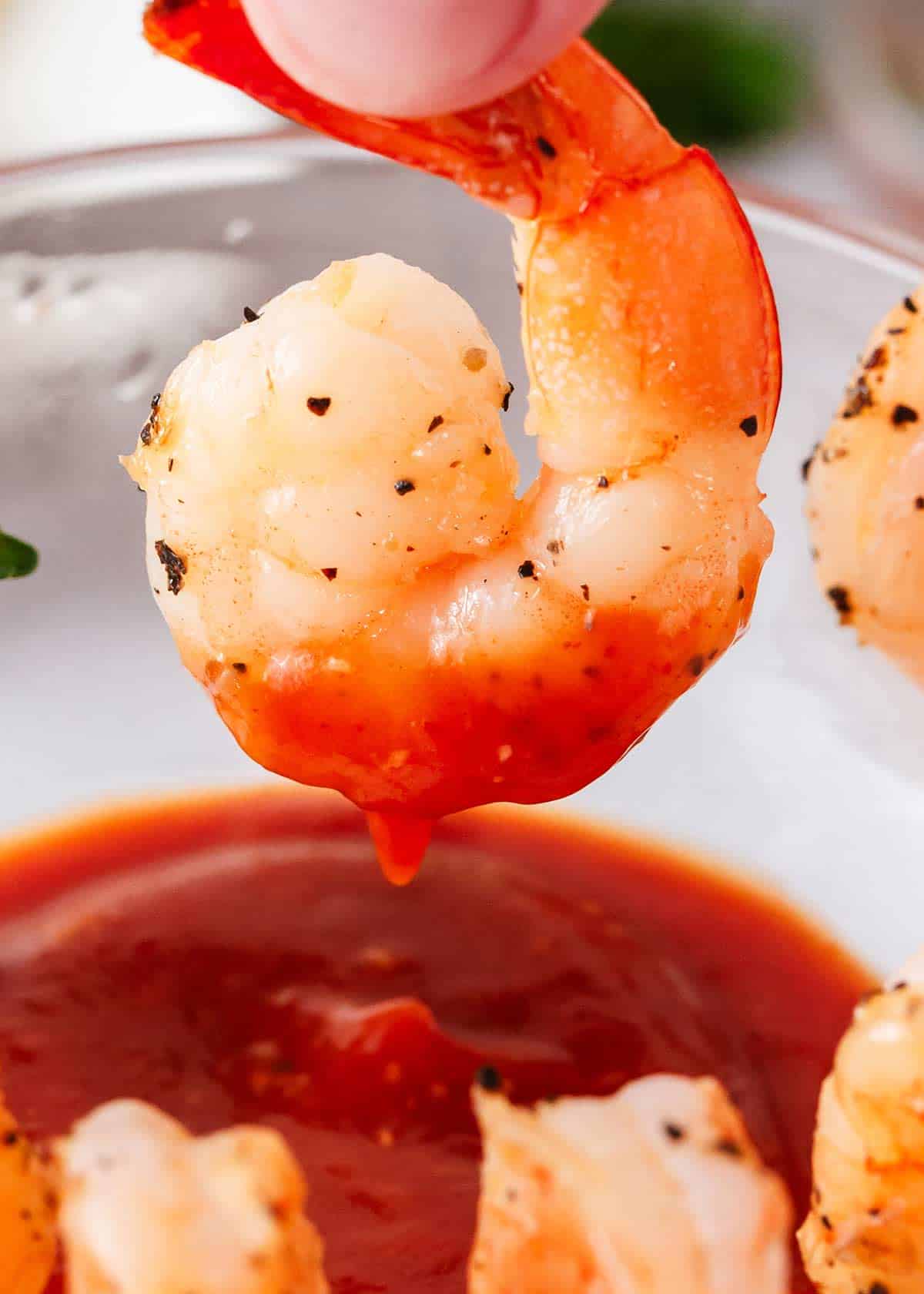 What is Shrimp Cocktail?
Shrimp cocktail, or prawn cocktail, as it was originally known, is a refreshing and tasty easy hors d'oeuvres that is named after the way it's presented. In a cocktail glass! It was popularized in the 60s and continues to be one of everyone's favorite appetizers.
Flavorful tender shrimp served cold with a zesty and sometimes spicy cocktail sauce. We can all agree, that this dish is all about the sauce!
Recipe Ingredients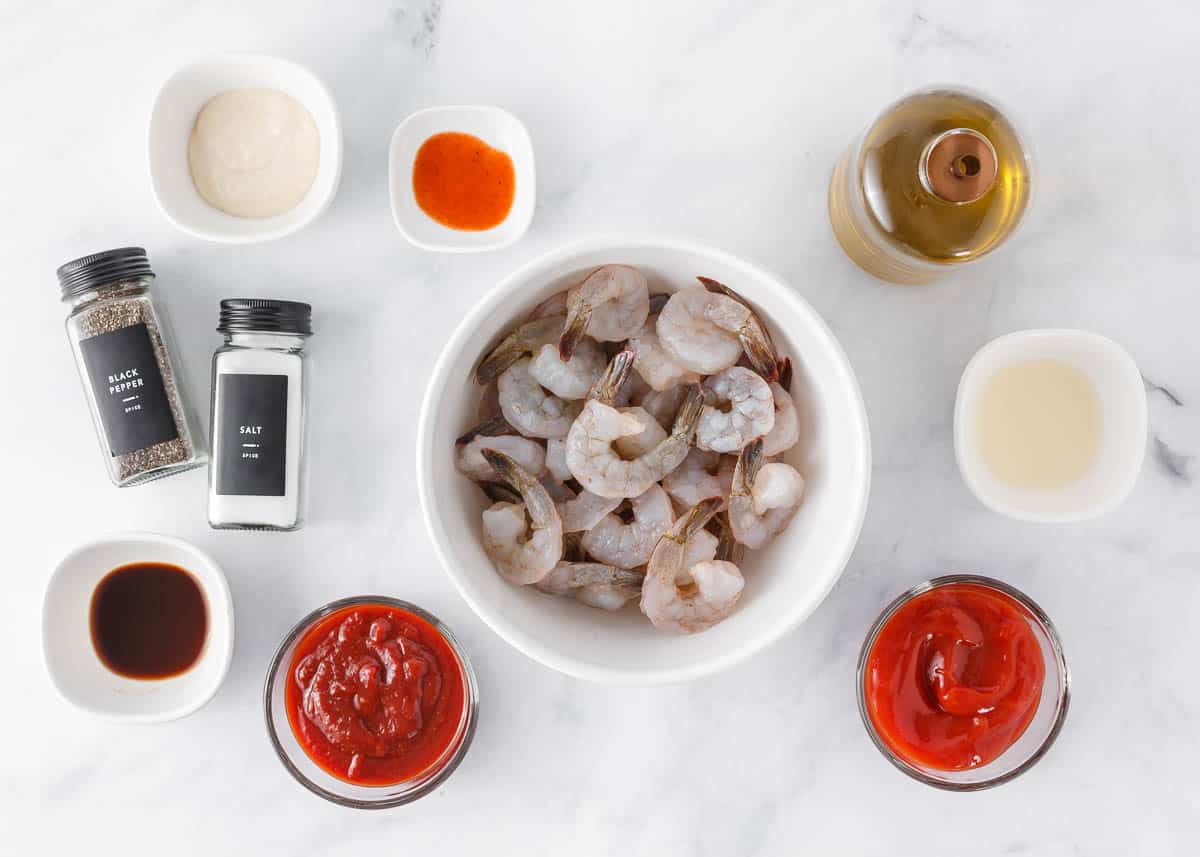 Find the full printable recipe with specific measurements below.
For the cocktail sauce: We're using a combination of ketchup and mild chili sauce for sweetness and tang, prepared horseradish for a kick, lemon juice for a hint of citrus, Worcestershire sauce for depth of flavor and that wonderful umami note, and a dash of hot sauce for extra spice!
Baked shrimp: Large raw shrimp, peeled and deveined. Leave the tails on for serving. If frozen, thaw them first. Olive oil, salt, and pepper, are all you'll need for seasoning.
For serving: Lemon wedges. Make sure to wash the outside of your lemons before slicing them into wedges.
What is the Best Shrimp to Use?
You'll want to avoid using anything smaller than large shrimp. Small or medium are usually reserved for those frozen cocktail rings you'd find on a plastic tray in the grocery store.

Large, extra large, or jump shrimp present the nicest on the rim and hold the most sauce on them.
Your best bet is to look for fresh or frozen already peeled, deveined, and without a head. Just to save you a bit of prep time.
A Variation
My favorite twist to a classic shrimp cocktail is to turn it into a Mexican shrimp cocktail with just a few swaps. Otherwise known as coctel de camarones, this appetizer eats like a meal. Almost like a ceviche meets cocktail meets pico de gallo.
Instead of the cocktail sauce, use red onion, cucumber, avocados, tomatoes, clamato juice, cilantro, and fresh lime juice. You'll also add garlic, ketchup, Worcestershire sauce, and seasoning. It's amazing!
How to Make Shrimp Cocktail
Follow these simple step-by-step instructions just once and you'll have it memorized in no time.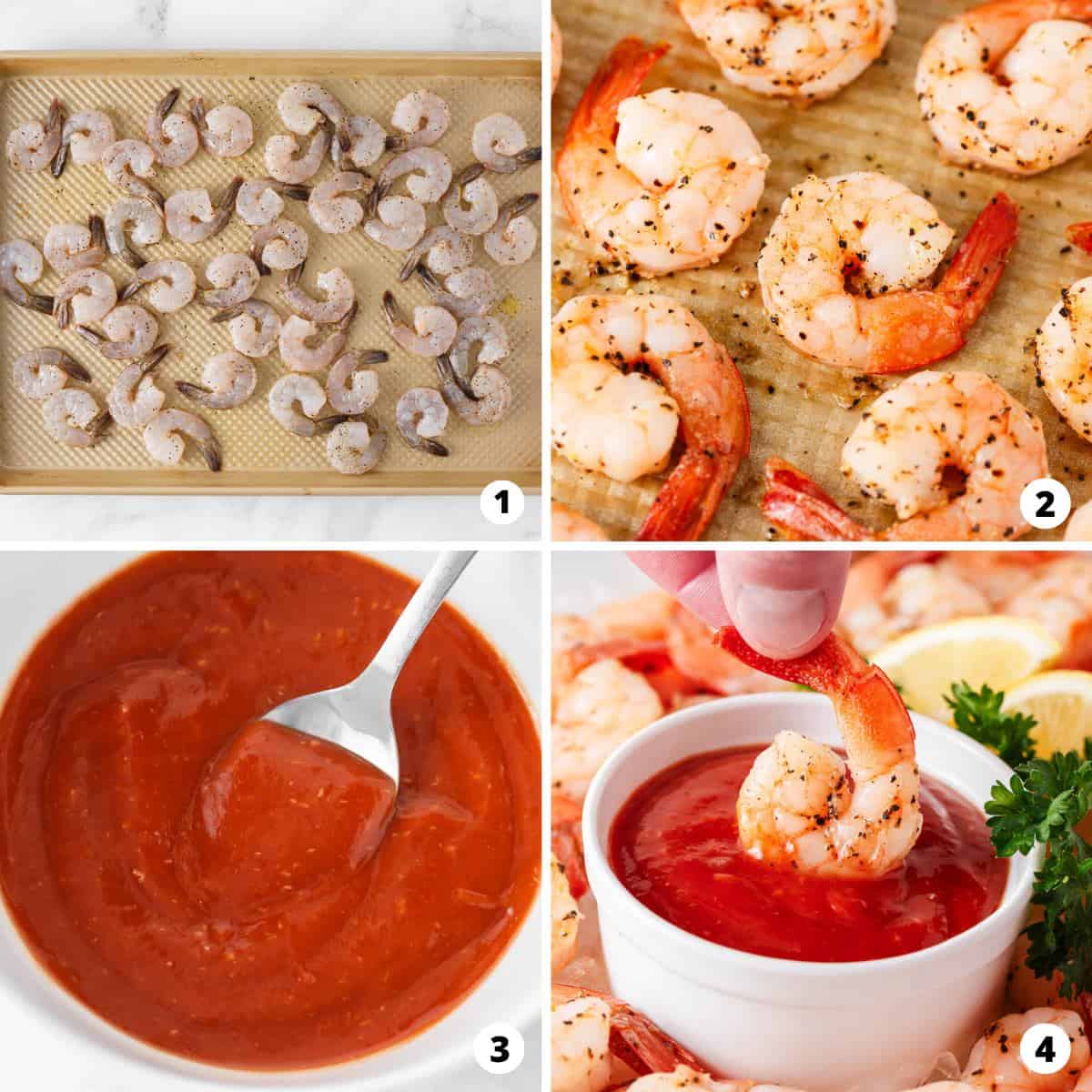 Prepare the shrimp. Peel and devein each piece, if they're not already. Rinse them under cold water and pat them dry with paper towels. On a large baking sheet, toss the shrimp in oil, salt, and pepper until well coated and arrange them in a single layer.
Bake them. Bake 6-7 minutes until the shrimp are just cooked through and no longer grey and translucent Immediately remove them from the oven and transfer them to a plate to stop the cooking process. Once cooled, cover them with plastic wrap and chill it in the fridge for at least 1 hour.
Make the sauce. In a small bowl, combine the cocktail sauce for shrimp and mix to combine. Cover with plastic wrap and chill for at least 1 hour. This is a great make-ahead recipe as it can be kept in the fridge overnight. It's even better the next day!
Serve. When you're ready to serve your shrimp cocktail, whether as a shareable app or individual servings, place the sauce in a cocktail (or other clear) glass and place the shrimp in a ring hanging overtop the rim. Serve with wedges of lemon and enjoy!
Expert Tips
Avoid overcooking. Tough, rubbery shrimp won't be pleasant to eat.
Remove the heads. Or better yet, buy them headless. If kept on, they tend to become mushy.
If you're using extra large shrimp, increase the baking time to 8-10 minutes, and jumbo to 10-11 minutes.
Leftover sauce. If you have anything left over, don't let it go to waste. Find an excuse to use it on everything! Dipping vegetables or homemade tortilla chips comes to mind.
Half the recipe if you don't need to feed as many as 10 people.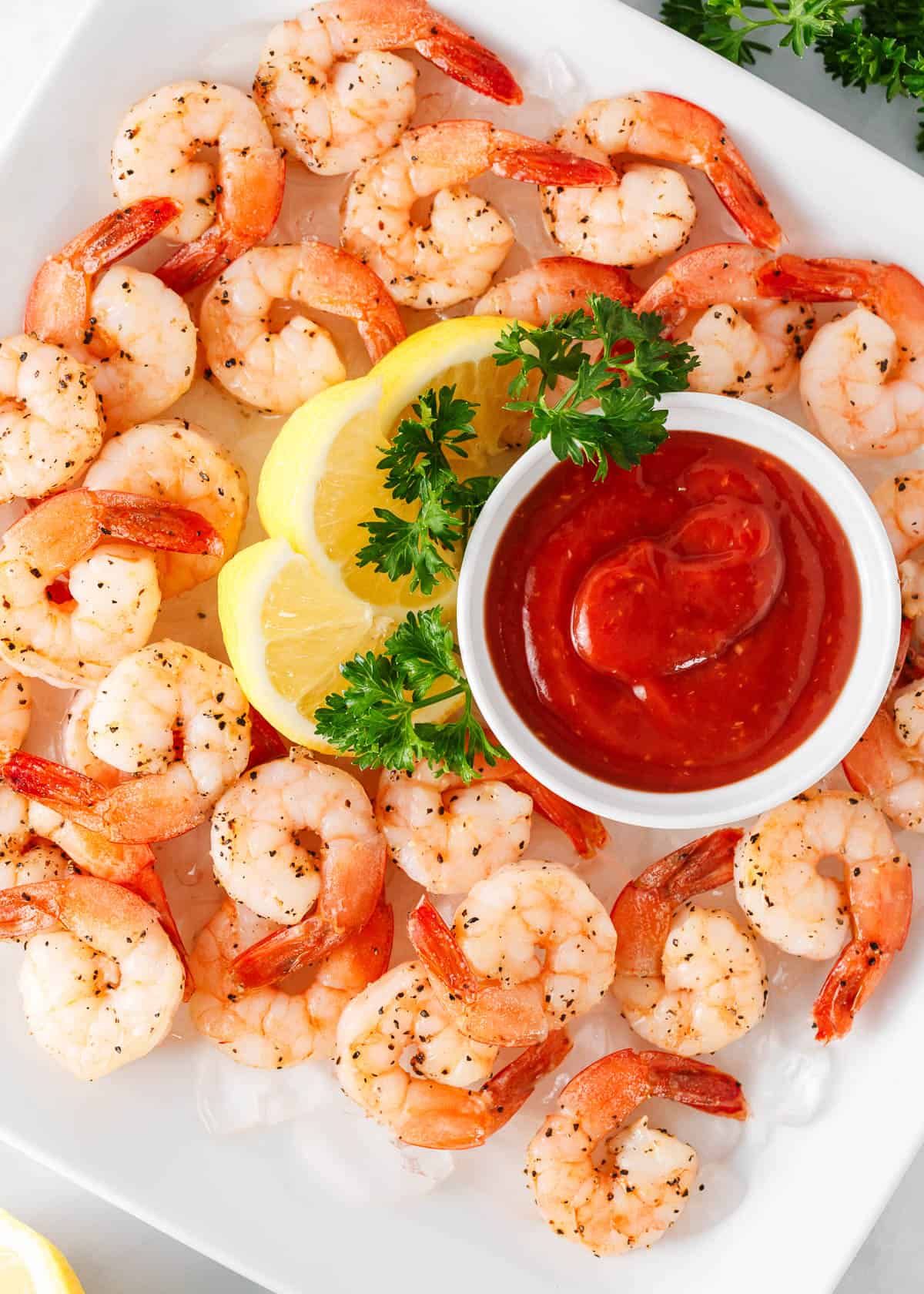 Recipe FAQs
How many people will this recipe for shrimp cocktail serve?
A pound will feed about 10 people if you give each serving about 4-5 pieces of shrimp.
What other ways can you cook shrimp?
There are no hard and fast rules regarding how you cook them for this recipe. If you'd prefer not to bake them, you can use a faster pan-sear method or the more popular poaching method to cook your shrimp.
What type of glasses should I use for serving?
Wine glasses, martini glasses, or a small glass bowl would be ideal. The fancier the better for special occasions. If it's just for you guys at home on a weeknight, keep it as simple as you'd like.
How do you keep shrimp cocktails from getting soggy?
You can line your glass with lettuce leaves. They'll help to absorb excess moisture. When placed nicely, it can add something to the presentation!
Storing
I wouldn't store any sauce that's been dipped into, but you can certainly put some of the cocktail sauce aside in an airtight container and store it in the fridge for up to 1 week.
Leftover shrimp can last up to 4 days in the fridge. This would be a great time to use leftovers to make bang bang shrimp or shrimp fajitas.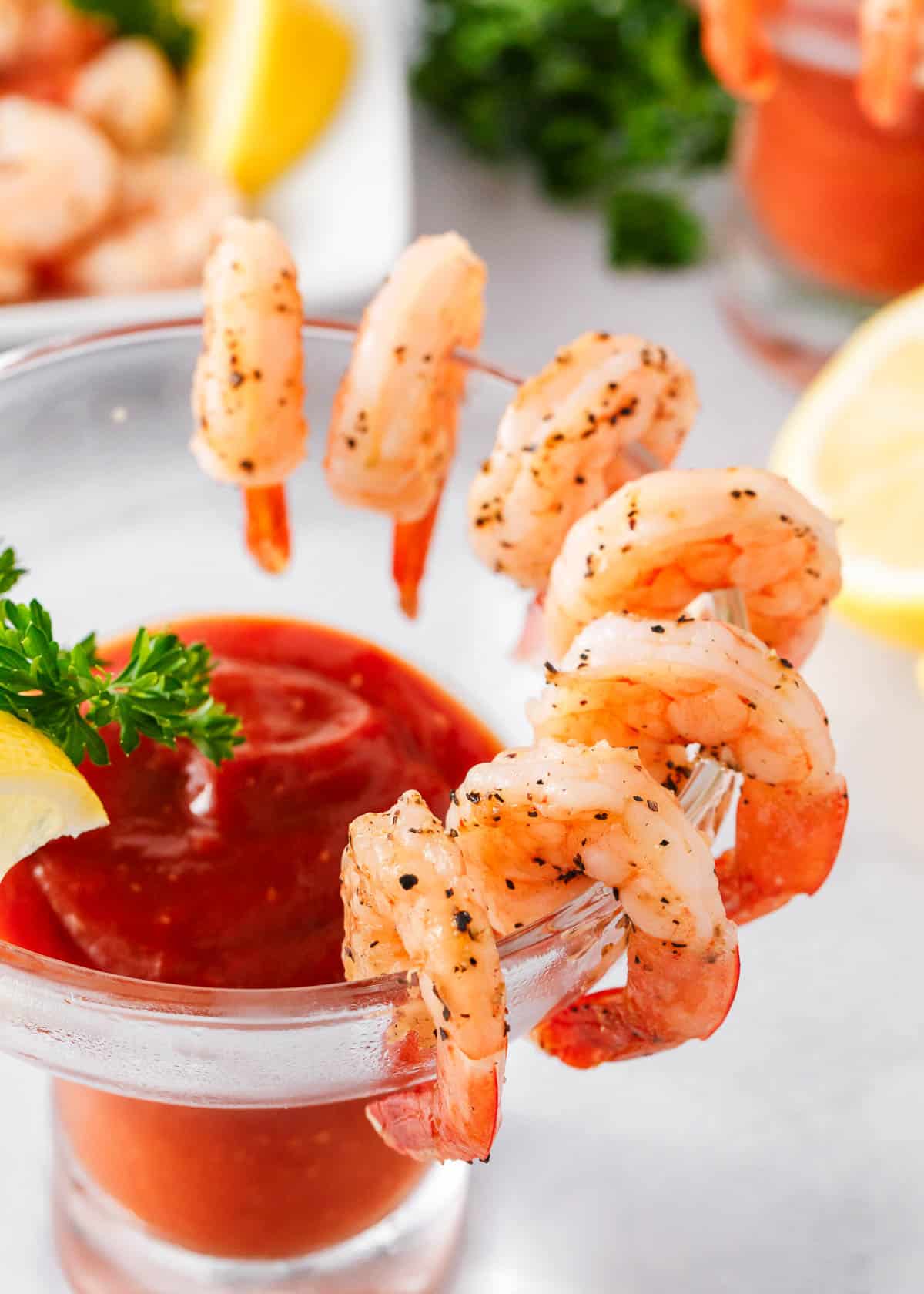 More Shrimp Recipes
HUNGRY FOR MORE? Subscribe to my newsletter and follow on Facebook, Pinterest and Instagram for all the newest recipes!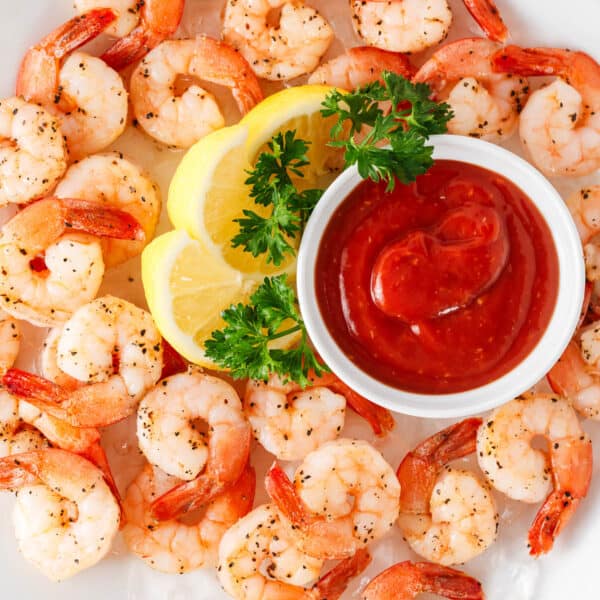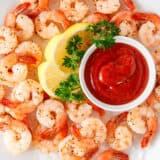 Shrimp Cocktail Recipe
Lightly seasoned, juicy baked shrimp with the BEST homemade cocktail sauce for dipping makes this the best shrimp cocktail recipe ready to serve on any occasion with just a few minutes of prep time!
Ingredients
Cocktail Sauce
½ cup ketchup
½ cup mild chili sauce (I like Heinz)
2-3 Tablespoons prepared horseradish , or to taste
1 Tablespoon lemon juice
1 teaspoon Worcestershire sauce
Dash hot sauce , plus more to taste
Baked Shrimp
1 pound large raw shrimp , peeled and deveined with tail-on, thawed
1 ½ Tablespoon olive oil
½ teaspoon Kosher salt
½ teaspoon ground black pepper
For serving: Lemon wedges
Instructions
Cocktail Sauce
In a small bowl, stir together the ketchup, chili sauce, horseradish, Worcestershire, lemon juice, and hot sauce until smooth and combined.

Cover with plastic wrap and chill at least 1 hour or overnight.
Shrimp
Preheat the oven to 450℉. Rinse shrimp under cold water and pat dry with paper towels.

On a large baking sheet, toss shrimp with olive oil, salt, and pepper until well coated. Arrange shrimp in a single layer.

Bake 6 to 7 min, or until shrimp turn pink and are just cooked through. Immediately transfer to a plate to stop cooking. Let cool.

Cover shrimp with plastic wrap and chill at least 1 hour or overnight.

Serve shrimp chilled with cocktail sauce and lemon wedges.
---
Notes
Shrimp size: Bake extra-large shrimp 8 to 10 minutes and jumbo shrimp 10 to 11 minutes. Recipe credit: Recipe slightly adapted from Natasha's Kitchen.
Nutrition
Calories: 78kcal | Carbohydrates: 7g | Protein: 7g | Fat: 3g | Saturated Fat: 0.4g | Polyunsaturated Fat: 0.3g | Monounsaturated Fat: 2g | Trans Fat: 0.004g | Cholesterol: 57mg | Sodium: 685mg | Potassium: 151mg | Fiber: 0.5g | Sugar: 5g | Vitamin A: 237IU | Vitamin C: 4mg | Calcium: 32mg | Iron: 0.3mg
Nutrition provided is an estimate. It will vary based on specific ingredients used.
Did you make this recipe? Don't forget to give it a star rating below!