Snickerdoodle cake mix cookies are the same thick, soft, and chewy cookies they've always been but with half the ingredients and made in a fraction of the time!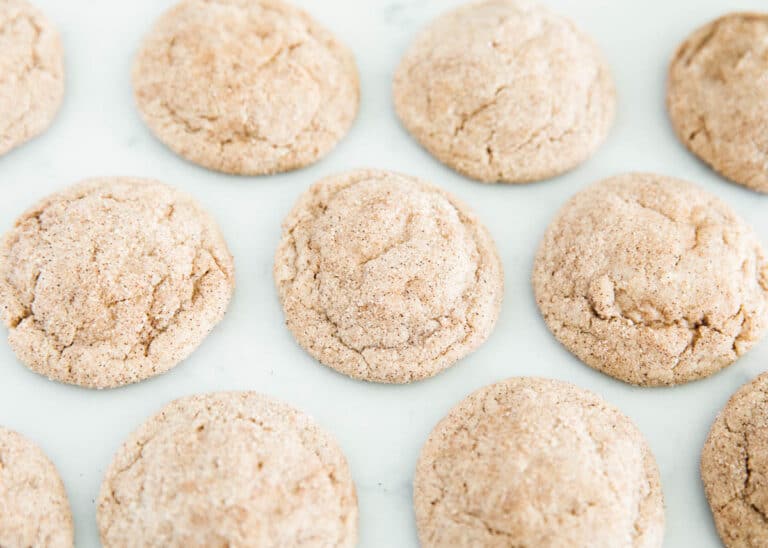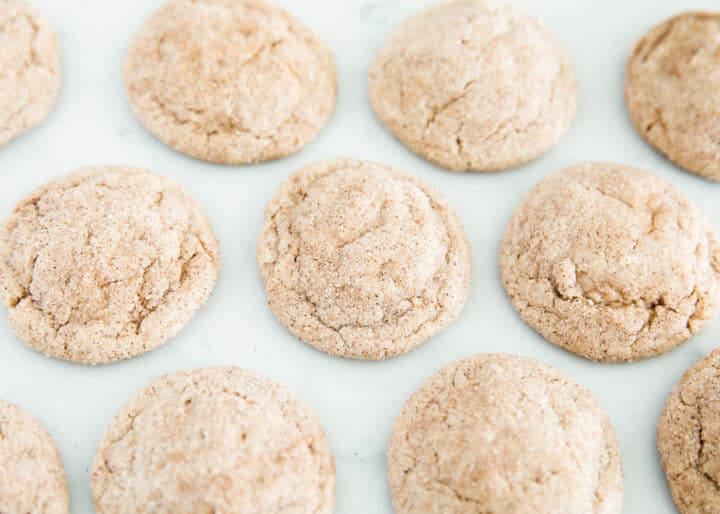 Easiest Snickerdoodle Recipe
There's a reason cake mix cookies are becoming so popular. They're a foolproof way to getting fluffy cookies every time. Lemon cake mix cookies and spice cake mix cookies are two of my other favorites you have to try!
Snickerdoodle cookies are a classic chewy cookie that has been around for generations. This version of snickerdoodles made with cake mix cuts the traditional ingredients list down by half! Its signature soft, chewy, buttery texture and coating of cinnamon sugar are all the things that make this cookie what it is. The very best!
You still get the same soft, thick texture, but without the need for things like cream of tartar or baking soda. It takes the guesswork out of working with butter, or a leavening agent. Instead, we're using a cake box mix which also cuts the bake time down to 20 minutes.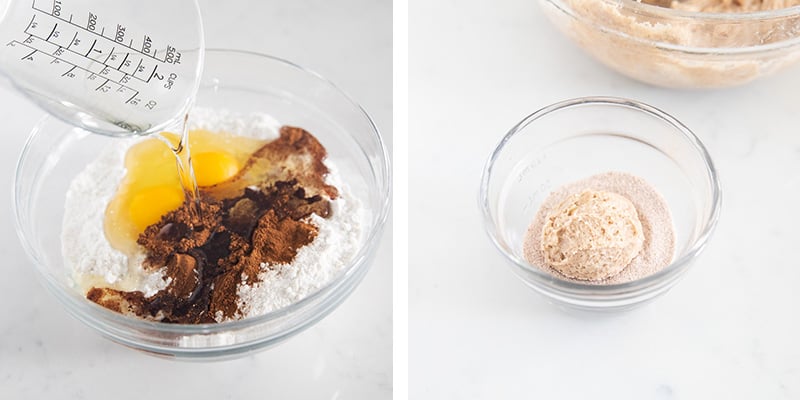 Can I mix in other spices?
For sure you can! Especially around the holidays or when the seasons change. Add in some nutmeg with the cinnamon. Or completely swap the cinnamon for some apple pie spice or pumpkin pie spice.
Can I use cream of tartar in this recipe?
Cream of tartar is used in the classic snickerdoodle recipe to add the ultimate chewy finish and nice pillow top. Because this recipe uses cake mix, it doesn't need it (especially as a leavening agent). But by all means, if you look forward to that signature tang and extra chewy texture, feel free to add it back in.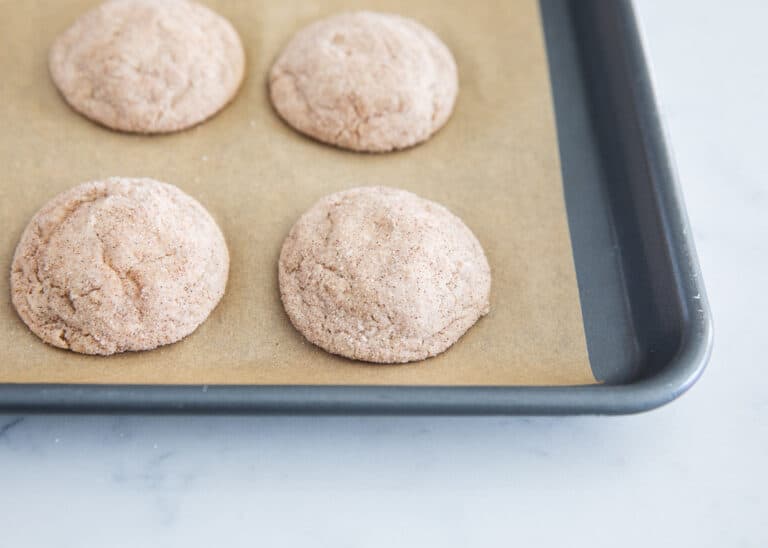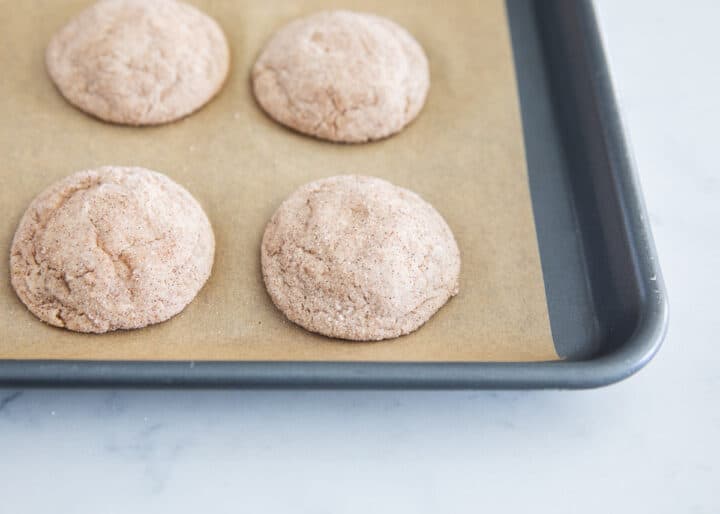 Tips for making snickerdoodle cookies with cake mix
Chill the dough. It's definitely not a must, but it's very helpful when wanting a thick fluffy cookie. It helps keep the dough from spreading too quickly in the oven and makes it easier to work with since it won't be as sticky after being chilled.
Use a silicone baking sheet. If you have one, these are great! Not only are they nonstick, but they have marked evenly spread out spots for your cookie balls to sit.
Don't overbake. The trick is to remove them from the oven just before they're done. They will continue to set a bit while they're cooling while still remaining chewy.
Use a different cake mix. Ok, so you're not going to get the traditional flavor, but cake mix cookies have become popular for a reason. They're so easy! Why not have some fun with different cake flavors!
Chocolate chips. Add in some white chocolate chips to the batter for a fun variation.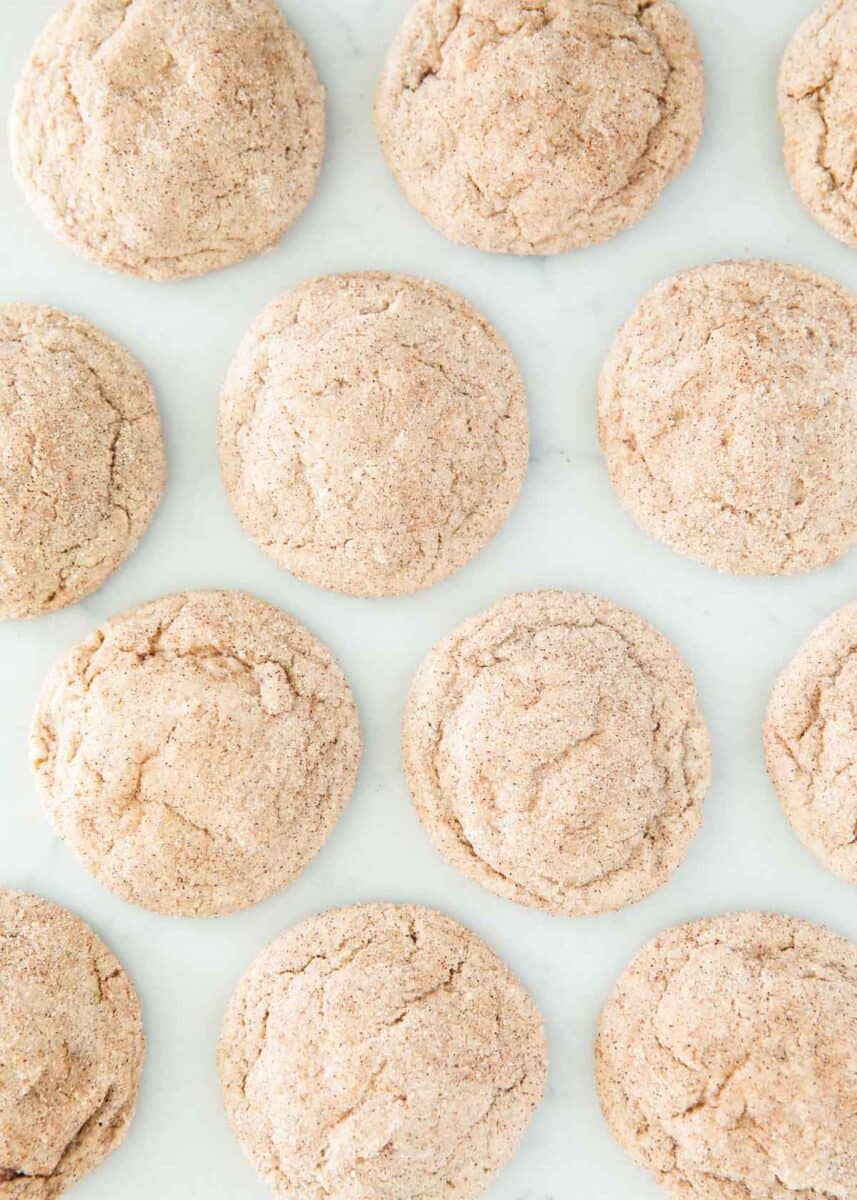 Storing and freezing
To store: Keep fresh in an airtight container in the fridge for up to 4 days. If they stay on your counter for the day, just make sure they're covered after a while.
To freeze: These freeze well and can be kept frozen for up to 3 months.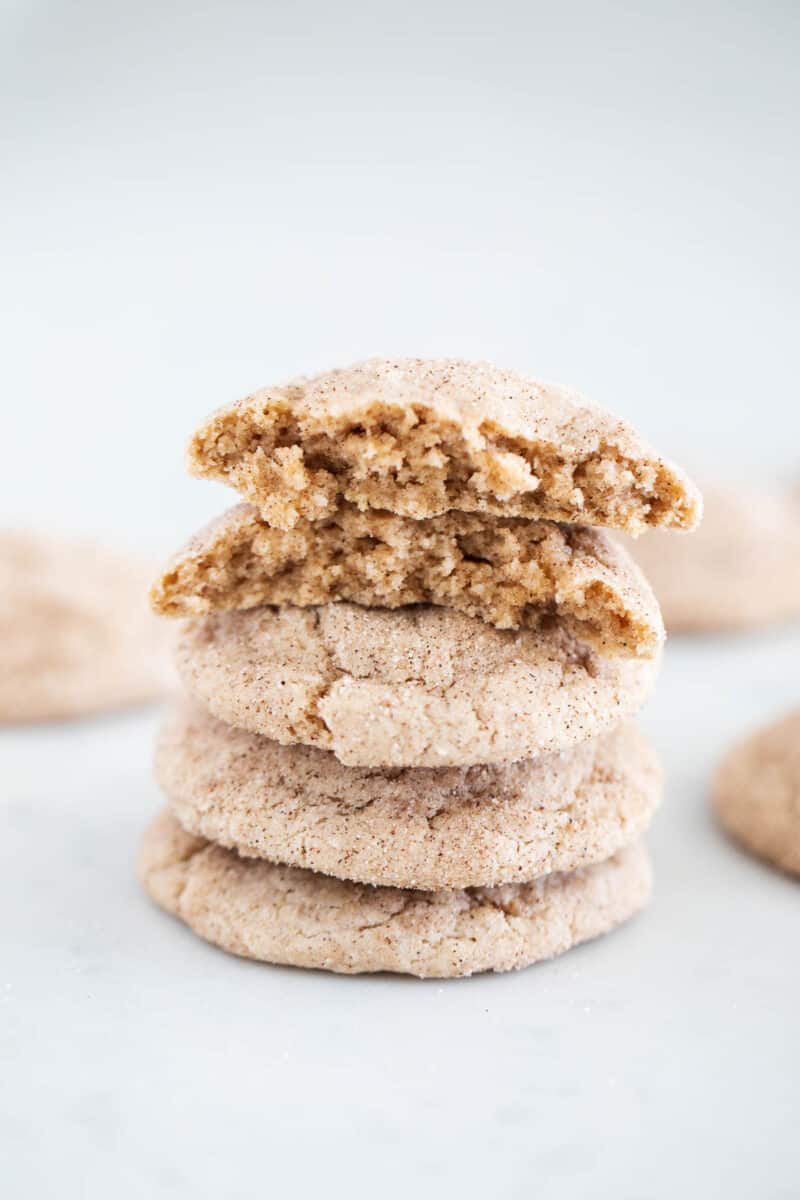 Other easy cookie recipes to try: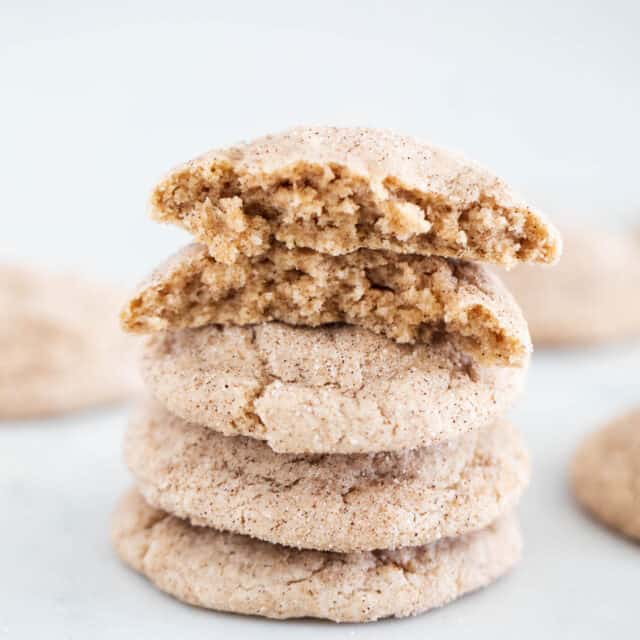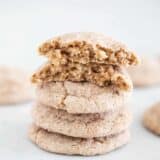 Snickerdoodle Cake Mix Cookies
Snickerdoodle cookies with cake mix are the same thick, soft, and chewy cookies they've always been but with half the ingredients and made in a fraction of the time!
Ingredients
15.25 ounce box white cake mix
1 Tablespoon ground cinnamon
1/3 cup vegetable oil
2 large eggs
cinnamon sugar , for rolling
Instructions
Preheat oven to 350°F. Line a baking sheet with parchment paper and set aside.

Combine the cake mix, cinnamon, oil and eggs in a large bowl. Stir together until combined. If you have the time, refrigerate the dough for 30 minutes (it will make it a little easier to work with, since it is sticky).

Using a medium scoop or spoon, scoop the dough and roll into a ball. Then roll into the cinnamon sugar and place onto the prepared baking mat.

Bake for 9-11 minutes, or until the cookies are set. You don't want them to brown.

Allow to cool on the pan for a couple minutes and then transfer to a cooling rack. Store in a covered container for up to 3 days or freeze up to 3 months.
---
Calories: 32kcal | Carbohydrates: 1g | Protein: 1g | Fat: 3g | Saturated Fat: 3g | Trans Fat: 1g | Cholesterol: 14mg | Sodium: 5mg | Potassium: 6mg | Fiber: 1g | Sugar: 1g | Vitamin A: 21IU | Vitamin C: 1mg | Calcium: 5mg | Iron: 1mg
Nutrition provided is an estimate. It will vary based on specific ingredients used.
Did you make this recipe? Don't forget to give it a star rating below!