In just 1 hour and a handful of ingredients including a boxed cake mix, butter, sugar, and cream cheese, these gooey butter cookies are the perfect cookie recipe when you need a quick and easy dessert!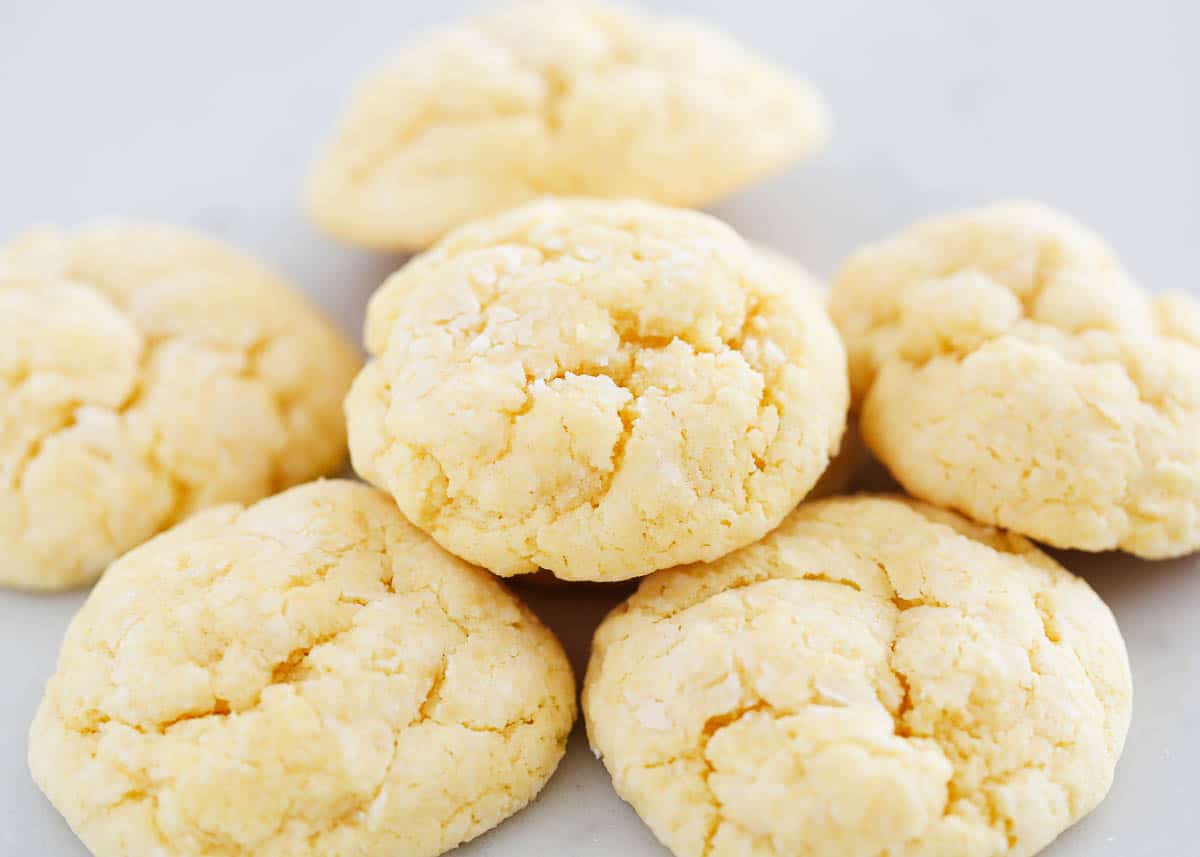 Chewy, Gooey and Delightful
If you're looking for a simple cookie recipe, gooey butter cake cookies are it! I'm talking homemade but not exactly from scratch kind of simple which is exactly what happens when you take classic butter cookies and turn them into cake mix cookies!
A cookie with a cake-like texture that is chewy, buttery, soft, and sweet. They're quick and easy to make and melt in your mouth with every bite. You can even use this recipe for a few different batches each using a different cake flavor!
The result is one of the best Christmas cookies for your Christmas dessert board, afternoon snacks, or a cookie exchange with friends and neighbors.
Why This Recipe Works
Texture. The combination of butter and cream cheese makes them rich and buttery, and the cake mix adds a light cake-like texture to them which makes them all kinds of addicting.
Simple to make. Make baking them a fun activity for the kids when you've heard, "I'm bored" one too many times. It's easy enough for them to do most of the work!
Versatile. You can use swap the yellow cake mix for any flavor you want! For instance, red velvet for red velvet cake mix cookies is a great place to start!
Recipe Ingredients
Making these yellow cake mix cookies is so easy with only 6 ingredients!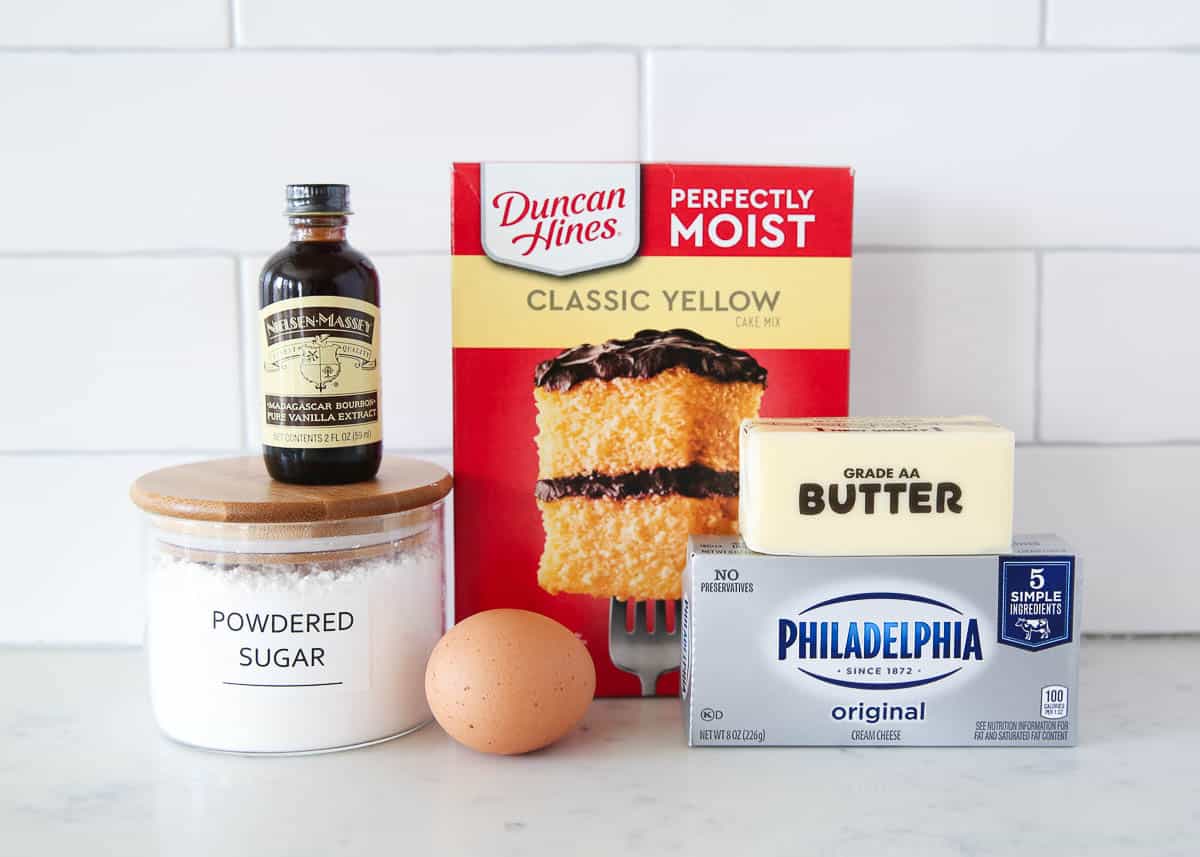 Find the printable recipe with specific measurements below.
Butter: Remember to soften your butter ahead of time by bringing it to room temperature well in advance. Check out my tips on how to do this quickly if you've forgotten. This is what gives the cookies their buttery flavor and texture. We are not using any additional salt, so I like to make sure to use salted butter.
Cream cheese: Same goes for making sure to use softened cream cheese. Using this thick, tart, and creamy spread helps to add moisture and richness to the cookie dough.
Cake mix: We're using yellow for this recipe, but as mentioned above, it's easily adaptable to whatever you've got in your cupboards. The yellow is soft and pretty and works for just about any occasion!
Powdered sugar: Much like Mexican wedding cookies or chocolate crinkle cookies, rolling the gooey butter cookies around in powdered sugar just before and after baking gives them a sweet final touch.
Variations
There are so many fun ways to level up these cookies. Use whatever flavor you want, add a few mix-ins like chocolate chips, butterscotch chips, or white chocolate chips, or dip the cookies in melted chocolate and festive sprinkles!
You can also use orange or almond extract instead of vanilla for a slight variation in taste. Here are just a few ideas for different boxed cake flavors:
Red velvet
Devil's food
Lemon
White
Spice
Strawberry
How to Make Gooey Butter Cookies
Just a few simple steps go into making gooey butter cookies with cake mix. You're just 1 hour away from a fresh batch!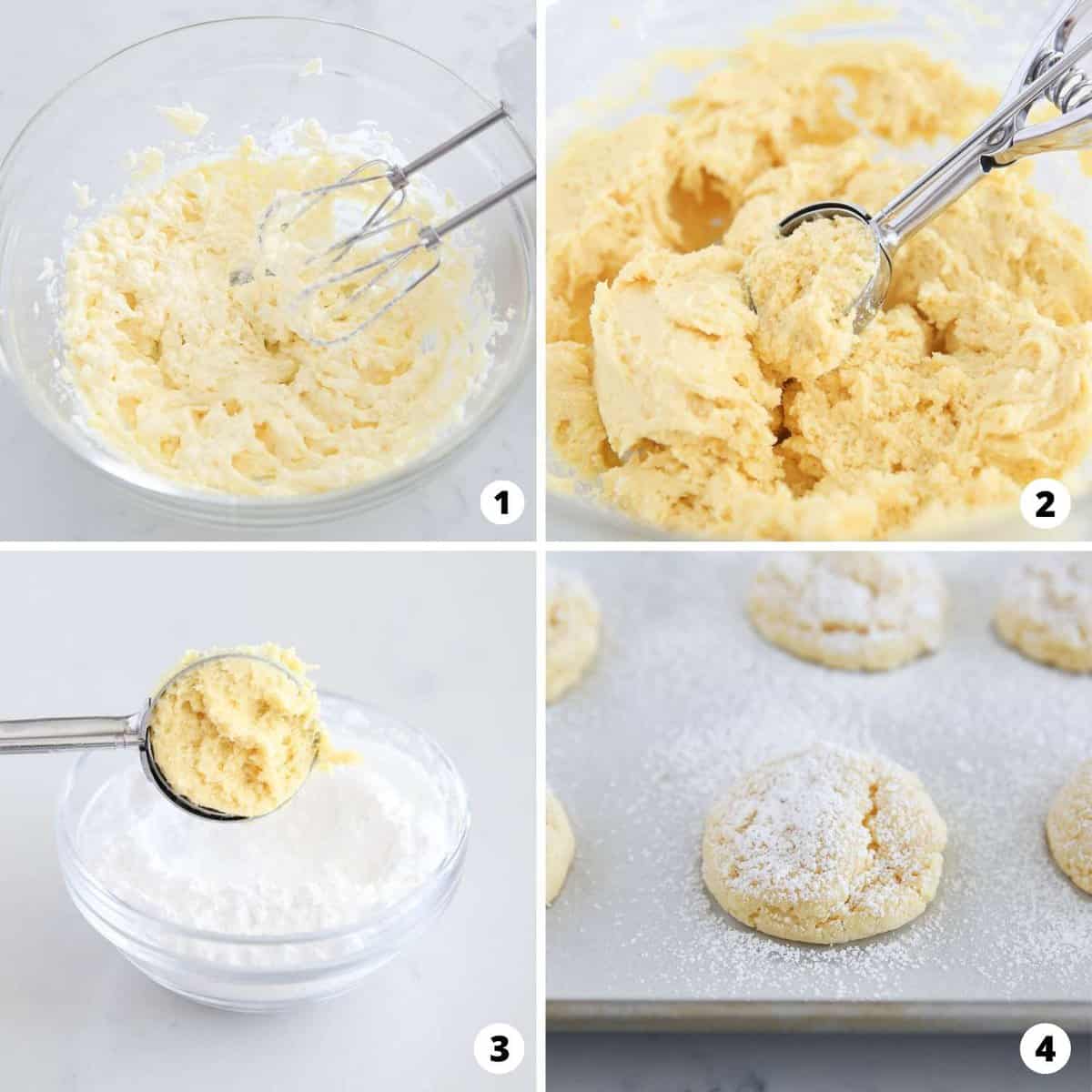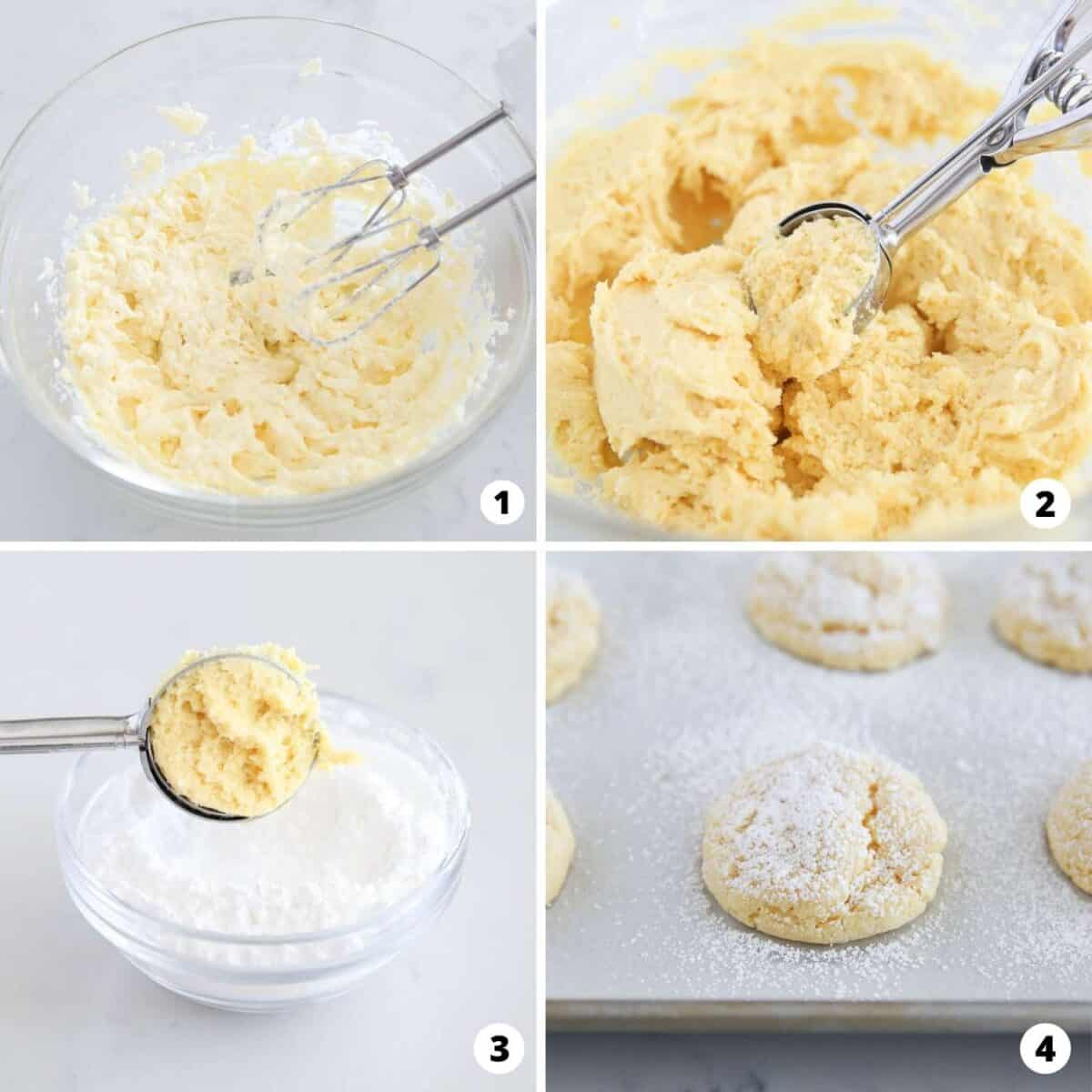 Make the batter. Beat together the butter and cream cheese in a large bowl until creamy. Add the egg and vanilla extract then mix in the cake mix until just combined. If you have time, chill the dough for 15-20 minutes.
Scoop out the dough. Use a medium cookie scoop or a spoon. This will help to keep all the cookies the same size.
Roll in sugar. Place each ball of dough in a shallow bowl of powdered sugar and roll it around until coated. Arrange cookie dough balls on a prepared baking sheet lined with parchment paper.
Bake and cool. Transfer the baking sheet to a preheated 350-degree oven and bake for 10 minutes until the cookies are set. You don't want them to brown, so keep an eye on them. Allow them to cool before transferring them to a wire rack to cool completely. Feel free to dust with extra sugar if desired.
Expert Tips
Tools. These ooey gooey butter cookies can be made with a bowl and electric mixer or a stand mixer with the paddle attachment. You can also whisk by hand.
Chill the dough. If you have the time! It will be easier to work with since it's sticky.
Do not overmix. Once you've combined the yellow mix with the batter, do not continue to stir. This will end up in denser cookies that aren't as chewy as you'd like.
Don't overbake. You don't want them to get to the point of being golden brown. This is a sign they're being overdone and won't be as chewy and gooey.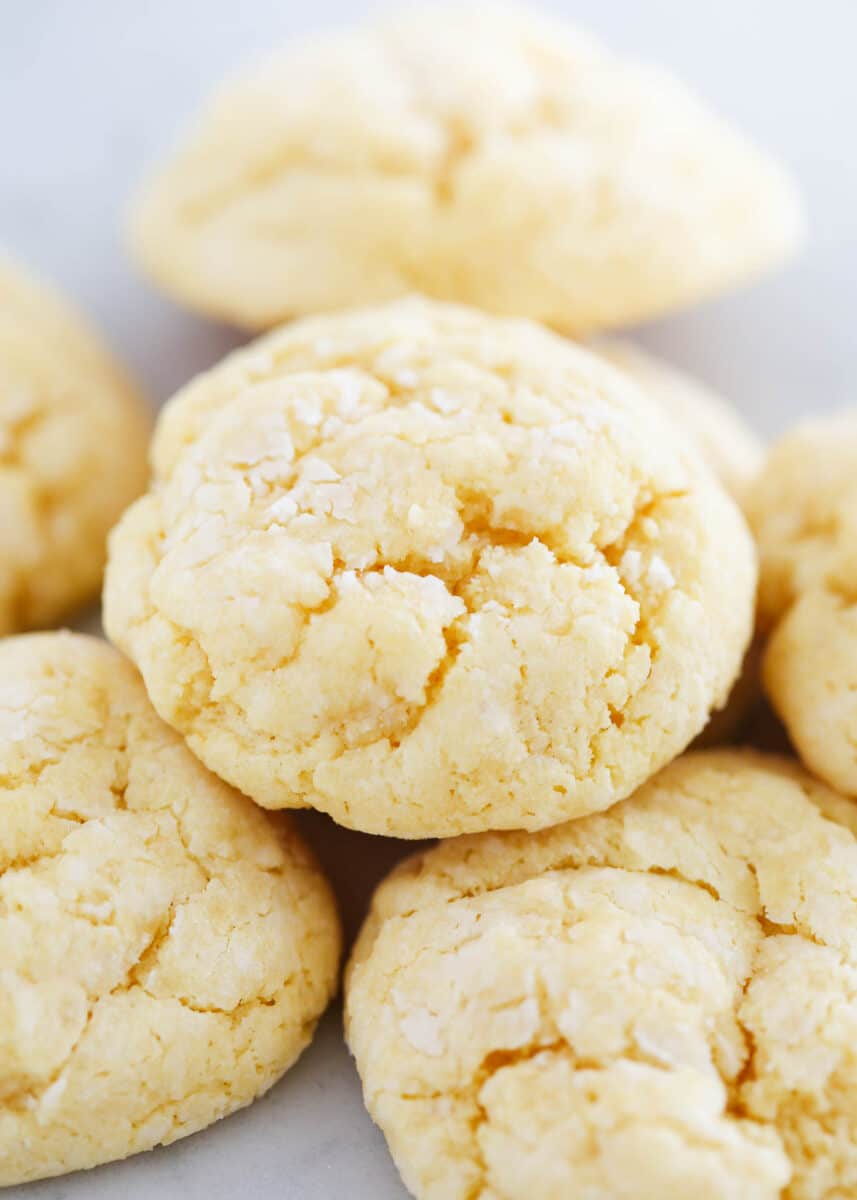 Recipe FAQs
What are ooey gooey cookies?
It's almost like a knock-off cookie version of the popular gooey butter cake originating in St. Louis, Missouri. Not the original though, the one that came after that uses cream cheese and cake mix!
Are these cookies based on gooey butter cake?
Yup! They have the same flavors and some of the same textures, although these cookies don't use cream cheese as a layer, but instead in the dough to help with consistency.

The cake is also a bit gooier and brownie-like, whereas the cookie is soft, gooey, and a bit lighter in texture.
Can I freeze the dough?
Once you've rolled the dough into balls, place them on the baking sheet and freeze them for 30 minutes until solid. Transfer them to a freezer bag and keep them frozen for up to 3 months. Thaw and bake when ready.
Storing
Keep leftover cookies in an airtight container on the counter for up to 3 days.
To freeze them, cool them completely then transfer them to a freezer-friendly bag or container. Separate the layers with parchment paper. Pull one or two out when you want or thaw them all at once for your guests.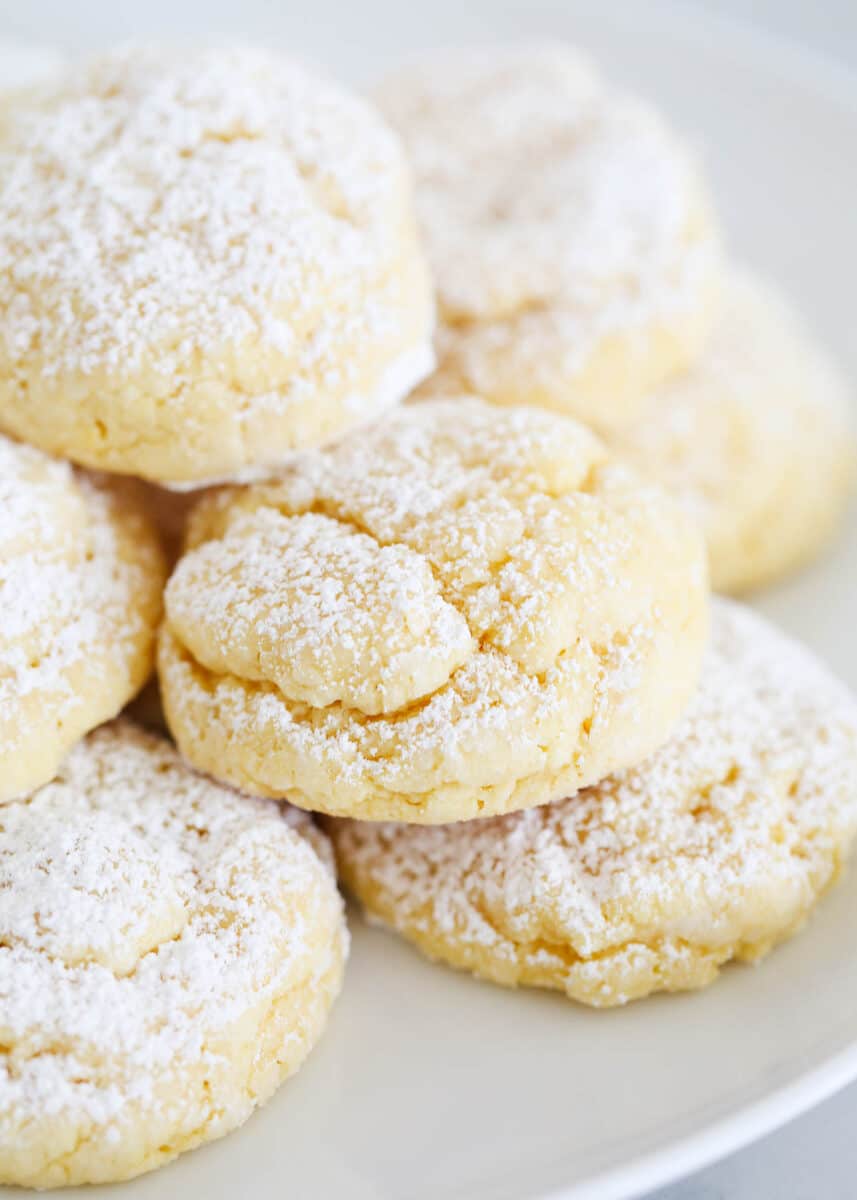 HUNGRY FOR MORE? Subscribe to my newsletter and follow on Facebook, Pinterest and Instagram for all the newest recipes!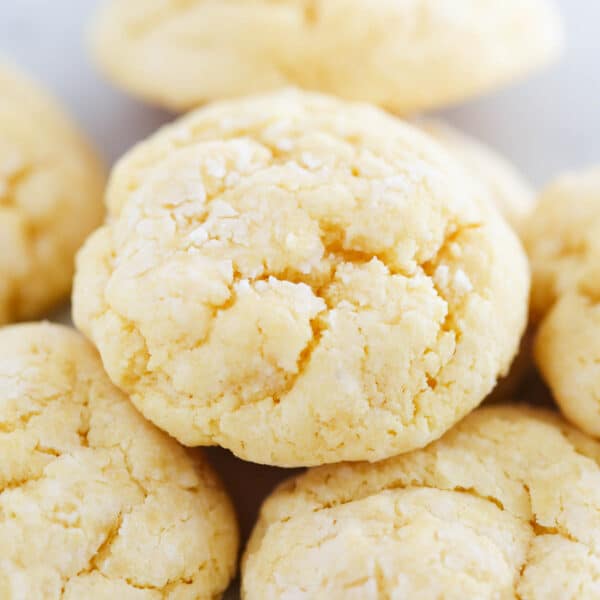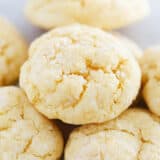 Gooey Butter Cookies
In just 1 hour and a handful of ingredients including a boxed cake mix, butter, sugar, and cream cheese, these gooey butter cookies are the perfect cookie recipe when you need a quick and easy dessert!
Ingredients
½ cup (113 grams) salted butter , softened
1 (8-ounce) package cream cheese , softened
1 large egg
1 teaspoon vanilla extract
1 (15.25-ounce) box yellow cake mix
½ cup (55 grams) powdered sugar
Instructions
Preheat the oven to 350°F. Line a baking sheet with parchment paper.

In a large bowl, beat the butter and cream cheese until creamy. Add the egg and vanilla. Mix in the cake mix just until combined. If you have time, chill the dough 15 to 20 minutes (it will make it a little easier to work with, since it is sticky).

Using a medium cookie scoop or spoon, scoop the dough onto the baking sheet. In a shallow bowl, add the powdered sugar. Roll dough into 1-inch balls and roll in the sugar until coated. Place on baking sheet.

Bake 10 minutes, or until the cookies are set. You don't want them to brown.

Let cool a few minutes on the baking sheet before transferring to a wire rack to cool completely. You can dust with extra powdered sugar if desired.
---
Notes
Variations: You can use pretty much any flavor of cake mix to make these cookies. Feel free to add in your favorite mix-ins or dip in chocolate.
If you're a fan of red velvet cake, use a red velvet cake mix.
If you're a chocolate lover, you can use a Devil's food cake mix.
Storage:
Store in an airtight container on the counter up to 3 days.
Nutrition
Calories: 90kcal | Carbohydrates: 5g | Protein: 1g | Fat: 7g | Saturated Fat: 5g | Polyunsaturated Fat: 0.3g | Monounsaturated Fat: 2g | Trans Fat: 0.2g | Cholesterol: 27mg | Sodium: 64mg | Potassium: 16mg | Sugar: 5g | Vitamin A: 260IU | Calcium: 12mg | Iron: 0.05mg
Nutrition provided is an estimate. It will vary based on specific ingredients used.
Did you make this recipe? Don't forget to give it a star rating below!