Juicy and tender chicken meatballs tossed in a sweet and tangy teriyaki sauce. These teriyaki meatballs make an easy appetizer or delicious main dish served over rice.
Easy Teriyaki Meatballs
Last night I decided to whip up a batch of my homemade teriyaki sauce. Instead of making my usual slow cooker teriyaki chicken or teriyaki chicken bowls, I made chicken meatballs tossed in the sauce. This may be my new favorite way to eat meatballs! It was so delicious.
These teriyaki chicken meatballs are now one of my husband's favorite dishes that I make. They're loaded with flavor and are perfectly moist and tender. We love to serve them in a bowl with rice and steamed vegetables.
Similar to baked teriyaki chicken wings, they also make a great appetizer idea. They're easy to make ahead of time before your guests arrive. Just bake them in the oven, then transfer to a slow cooker and mix with the sauce. Then keep on the warm setting until serving. Guests always love them!
Recipe Ingredients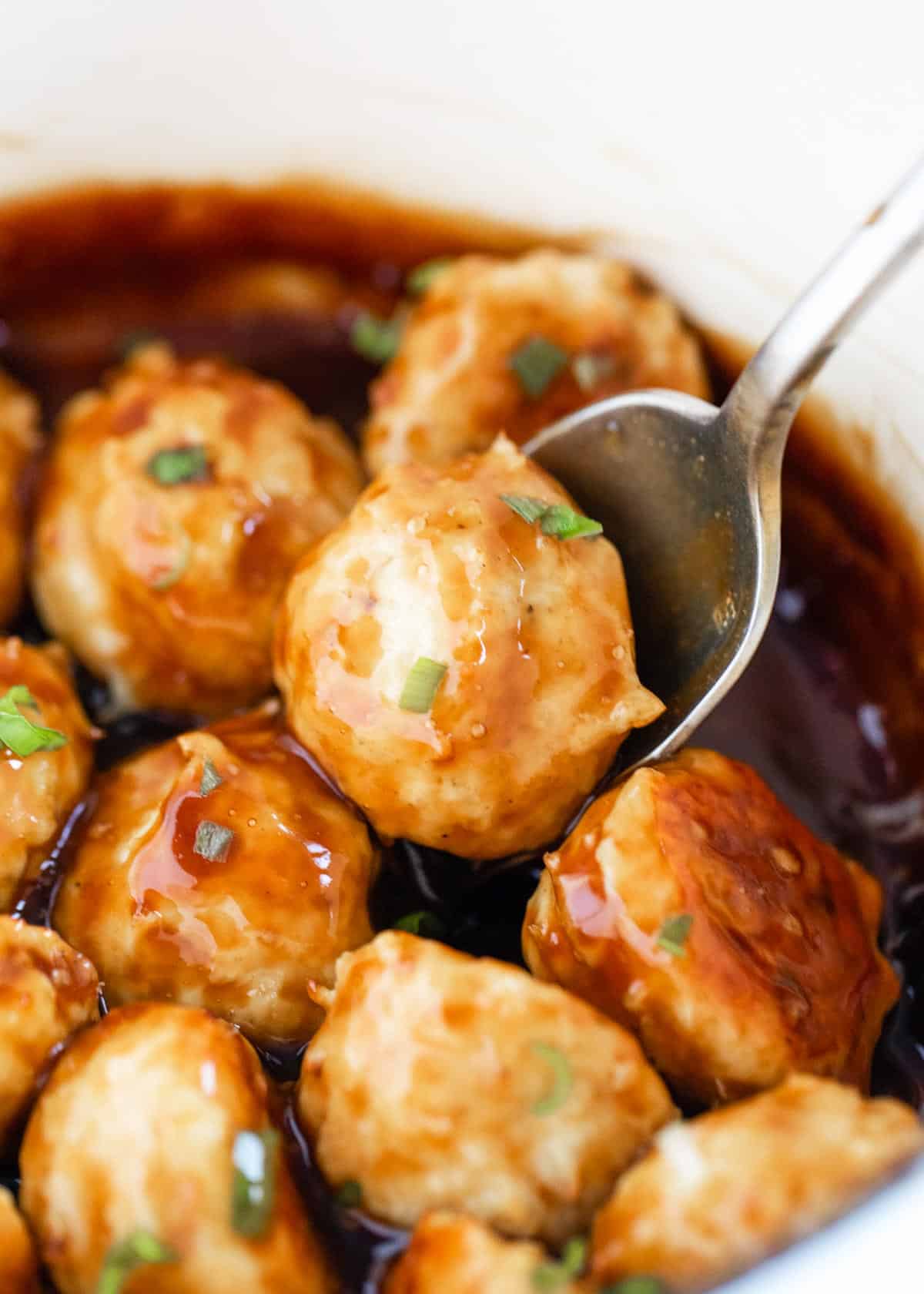 Find the full printable recipe with specific measurements below.
Ground chicken: I like to use a lean ground chicken for these meatballs, because the meat absorbs the sauce really well.
Egg: A well-beaten egg and the addition of olive oil help keep the meatballs moist and hold their structure.
Panko crumbs: I prefer panko to regular breadcrumbs because they tend to hold the meatballs together well, but you can use your favorite breadcrumbs, if you prefer.
Parmesan cheese: This cheese adds a nice saltiness and a little bit of creaminess to the meatballs.
Green onion: The freshness of finely chopped green onions elevates the flavors and play really well with the sauce.
Garlic: Minced garlic helps balance the sweetness of the sauce.
Seasonings: A simple mixture of onion powder, Kosher salt, and black pepper is all that is needed to give the meatballs a nice boost of flavor.
Teriyaki sauce: I love to make my own sauce for these meatballs, but you can always use store-bought if you are short on time.
How to Make Teriyaki Meatballs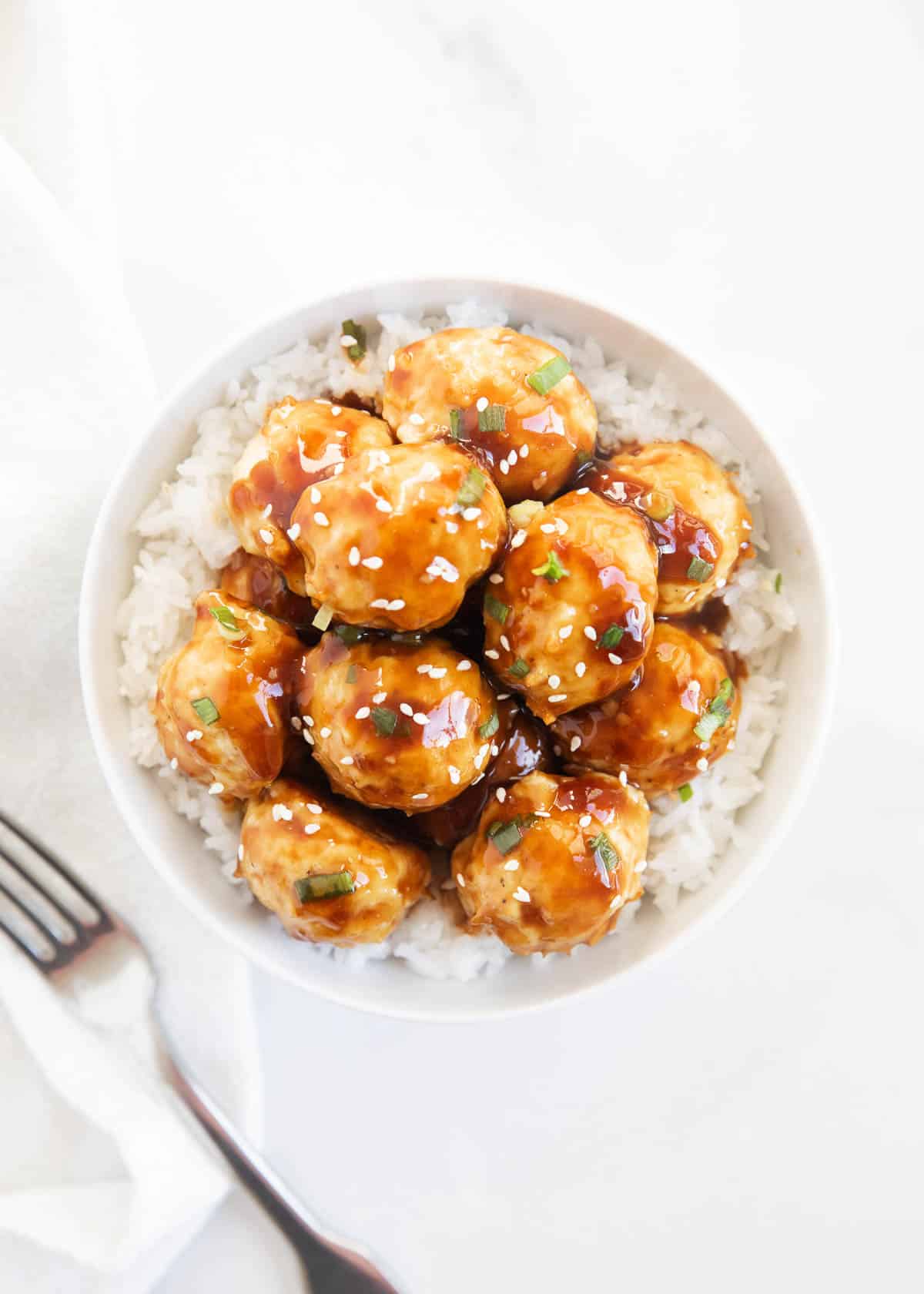 Mix. Stir all of the ingredients (except the teriyaki sauce) together until just combined. Make sure not to over mix or else your meatballs could be dry. Then scoop the mixture with a spoon, roll into 1 1/2-inch balls and place on a lined baking sheet.
Bake. Bake in the oven at 400°F for about 16 to 20 minutes, or until the meatballs are cooked through. I like to flip them halfway through baking so that the bottom don't get too brown.
Toss. Transfer the meatballs into a skillet and pour the teriyaki sauce on top. Toss until well coated. Alternatively, you can place them in a slow cooker, stir in the sauce and keep on the warm setting until serving.
Stovetop version
You can also fry the meatballs on a skillet. Simply cook them in a pan with 2 Tablespoons oil over medium-high heat until cooked through (usually about 7 to 10 minutes).
Cooking Tip + Modifications
Meat. This recipe also tastes delicious with turkey meatballs or beef meatballs.
Don't overmix. Overmixing causes dry meatballs. The trick to keeping them juicy is to stir the meat mixture just until combined.
Turn halfway. Flip the meatballs halfway through baking so both sides cook evenly and the bottoms don't brown.
Pineapple. For a Hawaiian twist, feel free to mix in some diced and drained pineapple when tossing in the sauce or just make this Hawaiian meatball recipe!
Sauce. I made homemade teriyaki sauce, but you can definitely use a store-bought version too.
Serving. These taste amazing served over rice with chopped green onions and sesame seeds. You could also serve them over cooked quinoa, coconut rice or cauliflower rice.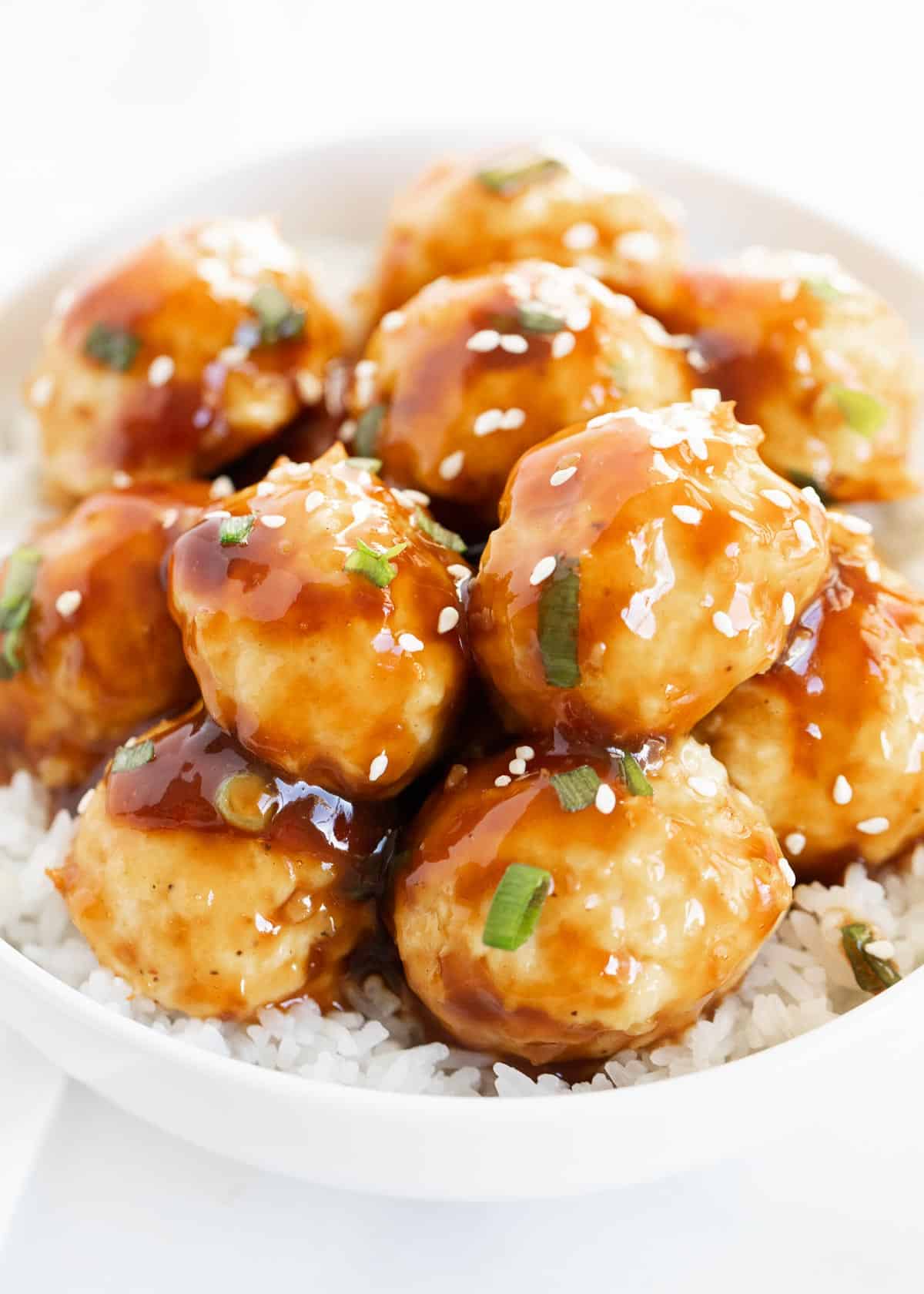 Recipe FAQs
What can I use instead of panko breadcrumbs?
I like to use panko in this baked meatball recipe because they absorb the natural juices and help the meatballs to keep their shape. If you don't have panko in your pantry you can use crushed crackers. You can also make homemade breadcrumbs by toasting a few slices of bread. Then place in a food processor and pulse into crumbs.
Can I make these teriyaki meatballs in advance?
Yes, you can make them up to 3 days advance. Simply let them cool and then place in an airtight container. Rewarm in the oven or stove for a few minutes, tossing occasionally until heated through.
More Meatball Recipes
HUNGRY FOR MORE? Subscribe to my newsletter and follow on Facebook, Pinterest and Instagram for all the newest recipes!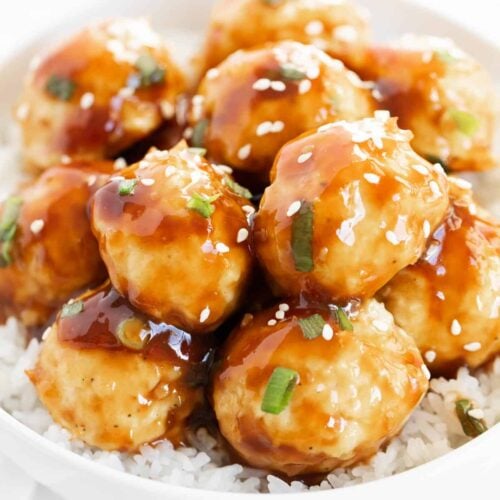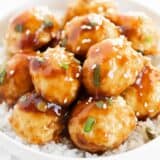 Teriyaki Meatballs
Juicy and tender chicken meatballs tossed in a sweet and tangy teriyaki sauce. These teriyaki meatballs make an easy appetizer or delicious main dish served over rice.
Ingredients
1 pound 80% lean ground chicken
1 large egg , beaten
1 Tablespoon olive oil
¼ cup panko crumbs
¼ cup grated parmesan cheese
2 Tablespoons finely chopped green onion
2 teaspoons minced garlic
½ teaspoon onion powder
½ teaspoon Kosher salt
¼ teaspoon ground black pepper
1 cup teriyaki sauce
For serving: Rice, Green onions, Sesame seeds (optional)
Instructions
Preheat the oven to 400°F. Line a baking sheet with foil and spray with nonstick cooking spray.

In a large bowl, mix the chicken, egg, oil, panko, parmesan, green onion, garlic, onion powder, salt. and black pepper using your hands or a wooden spoon just until combined, being careful not to overmix.

Use a medium cookie scoop or spoon to portion the meat mixture. Form into 1 1/2-inch balls and place on the baking sheet.

Bake uncovered 16 to20 minutes, or until no longer pink in the middle. Turn halfway through, if needed, so the bottoms don't brown.

Place meatballs in a skillet or slow cooker over low heat. Pour teriyaki sauce over the top and stir until coated and warmed through. Keep warm until ready to serve.

Serve over rice. Top with green onions and sesame seeds, if desired.
---
Notes
Fry meatballs: You can also cook in a pan with 2 Tablespoons oil over medium-high heat for 7-10 minutes, or until cooked through. Substitutes: You can use 1/2 teaspoon garlic powder if you do not have fresh garlic. Freezer: Store in a freezer container up to 3 months. Place in the fridge overnight to thaw and then reheat on the stovetop over medium-low heat or in the microwave until warm. Storage: Store in an airtight container in the refrigerator up to 3 days.
Nutrition
Serving: 5meatballs | Calories: 214kcal | Carbohydrates: 11g | Protein: 19g | Fat: 11g | Saturated Fat: 3g | Polyunsaturated Fat: 2g | Monounsaturated Fat: 5g | Trans Fat: 0.1g | Cholesterol: 100mg | Sodium: 2181mg | Potassium: 539mg | Fiber: 0.3g | Sugar: 7g | Vitamin A: 102IU | Vitamin C: 1mg | Calcium: 67mg | Iron: 2mg
Nutrition provided is an estimate. It will vary based on specific ingredients used.
Did you make this recipe? Don't forget to give it a star rating below!