This 4th of July fruit pizza is sure to be a hit this summer! Display your red, white, and blue pride with this fun, festive, and tasty dessert made with a sugar cookie crust, whipped topping, and fresh berries!
Patriotic Fruit Pizza
This fruit pizza flag is a fun patriotic version of my favorite fruit pizza recipe making it on my list of delicious and easy 4th of July desserts.
A patriotic dessert beaming with pride is sure to garner oohs and ahhs from your crowd. It looks stunning and intricate but couldn't be easier to make. Especially when the crispy buttery sugar cookie crust is made from store-bought dough!
It's then topped with cool whip and adorned with rows of raspberries to represent the stripes and fresh blueberries to represent the stars. The sweet and tart flavors combined with a cookie crust are irresistible.
Make this Fourth of July that much more fun with this adorable American flag fruit pizza!
Why We Love This Recipe
There are so many reasons why we love this patriotic sugar cookie so much! It has just the right amount of sweetness with fresh fruit, a perfect treat for any celebration, and easy ingredients. Plus it is so simple to make!
Simple. When looking for a red, white, and blue dessert, this one is at the top of my mind every year. It's so easy to pull together and everyone loves it!
Customizable. You can easily swap the raspberries and blueberries for other berries. You can also make a homemade crust, or use a different kind of frosting. Get creative!
Serves a crowd. You can make it as big as you'd like! Double the amount of crust and use a big baking sheet pan to be able to fit the accurate number of stars and stripes. If you have made more than enough, enjoy some leftovers the next day!
Ingredients Needed
Flag fruit pizza has just a few ingredients many of which are flexible. They are simple to keep on hand and make this fruit pizza more than once. It is simple to make and comes together quickly and easily!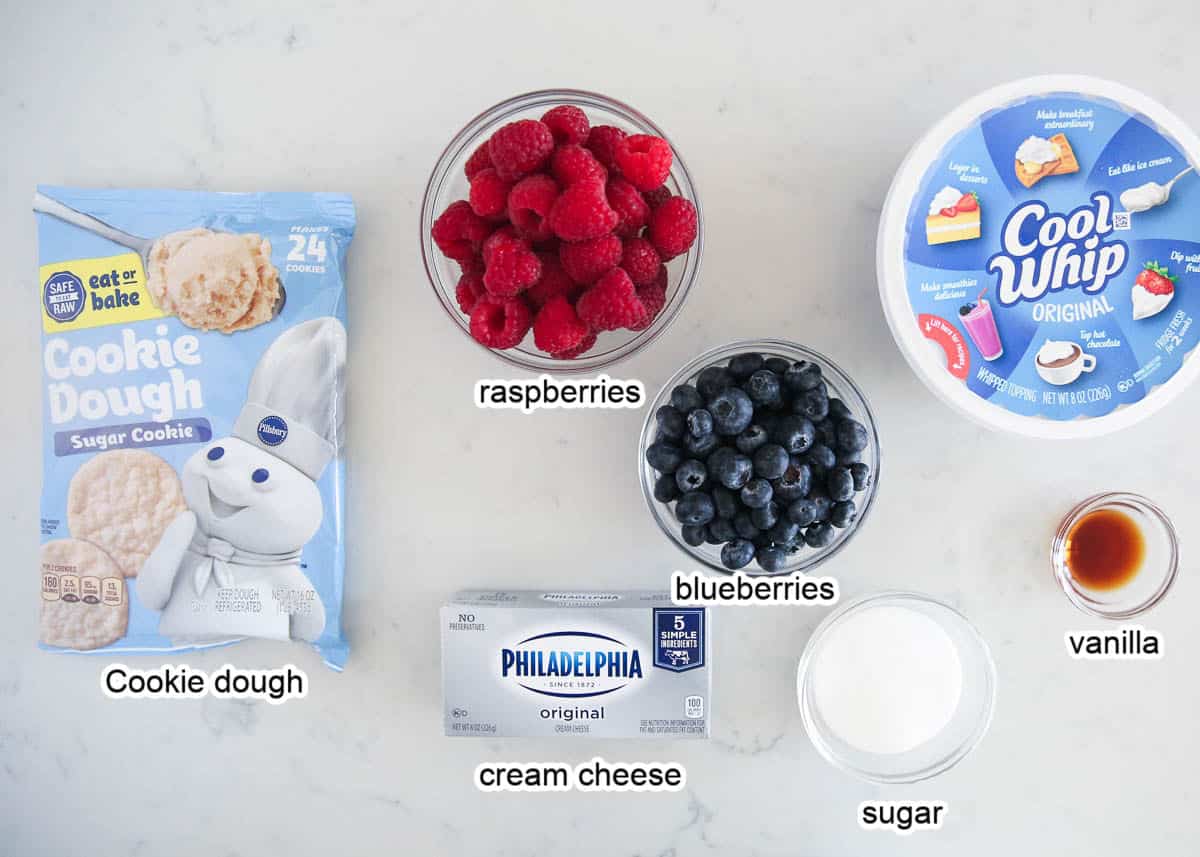 Find the full printable recipe with specific measurements below.
Sugar cookie dough: A fantastic shortcut is to use a premade Pillsbury sugar cookie dough as I do! If you want to use homemade, then a half batch of my soft sugar cookie dough or sugar cookie bar recipe would be great.
Cream cheese frosting: Made from a combination of room-temperature cream cheese, sugar, and vanilla. Then room temperature cool whip gets folded in. Here's how to soften cream cheese if you happen to have forgotten earlier!
Fruit topping: I use fresh raspberries and blueberries for my dessert pizza but you can swap for the berries you prefer.
How to Make Fruit Pizza Flag
Start with a sugar cookie base and work your way up from there! This fruit pizza flag is made with all the favorite freshly picked berries that make a beautiful flag for the fourth of July. Heat your oven and in just minutes you will have the best-looking flag fruit pizza!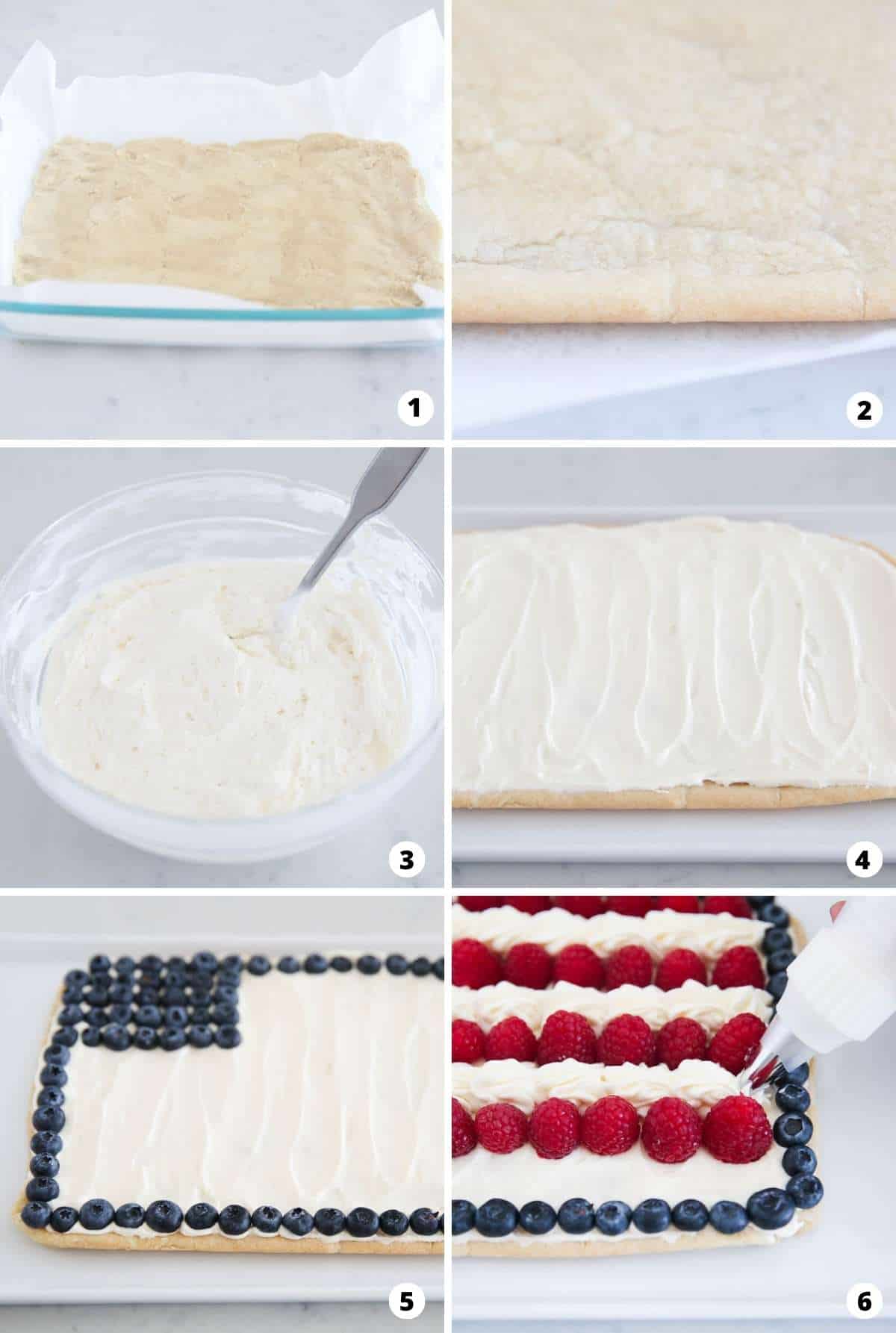 Form crust. Press cookie dough down into a lightly greased 9 x 13″ pan. I like to use a lining of parchment paper so that it's easy to remove. Press the dough to about 1/8″ thick and pierce it several times with a fork. This allows the steam to escape so it won't puff up.
Bake. Transfer to a preheated 350-degree oven and bake for 10-15 minutes, until the edges are slightly golden.
Make the frosting. Beat together the cream cheese, vanilla, and sugar with an electric mixer until creamy. Gently fold the cool whip into the cream cheese mixture with a spatula until fully combined.
Spread across the crust. Add half the frosting to the baked and cooled crust and use a rubber spatula to spread it evenly across the surface of the crust.
Top with berries. I like to make a blueberry border to begin, then a rectangle in the top left corner, filled with rows of blueberries for the stars. I use the raspberries to make stripes all the way down, leaving space in between for extra frosting.
Pipe extra frosting. Use a 1M piping tip to pipe the remaining frosting in between the stripes. It gives it a fuller 3D effect.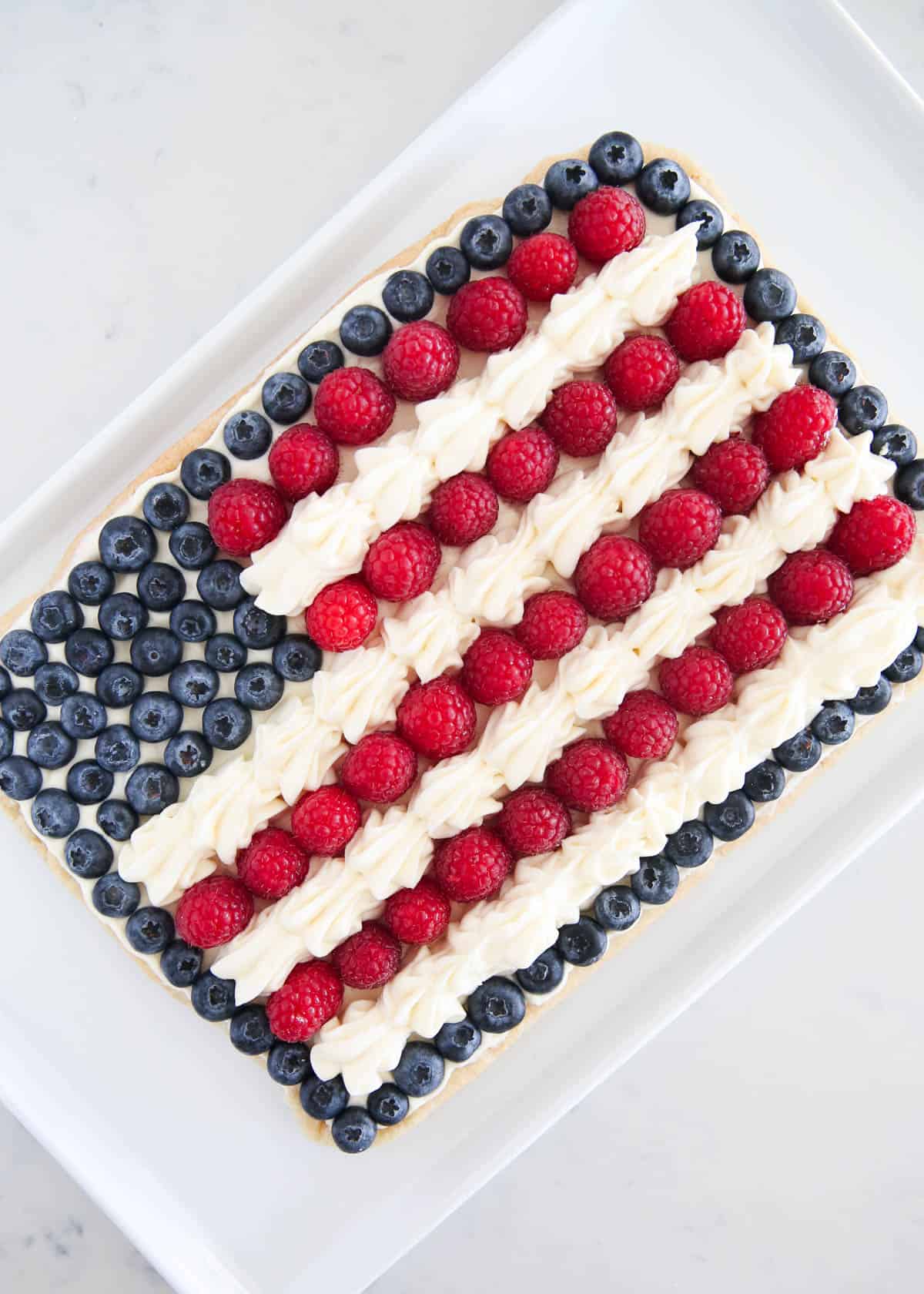 Recipe Tips
Here are a few tips to make your flag fruit pizza look even better and easier! Take your sugar cookies to the next level with fruit and icing made into a flag. Using the right tools and preparing your pans are all great ways to ensure this flag pizza is going to be a hit!
Make it easier. If you don't have a piping bag or tip, you can decide to leave the extra frosting off and just use the underlying frosting as the white part of the flag.
Substitute the fruit. Use strawberries, banana slices, grapes, blackberries, you name it.
More than enough fruit. Sometimes you'll run into berries that aren't so appealing or mushy. Having more than you need helps to avoid running low when you've had to discard a few of them.
Line your baking dish with parchment paper so you can easily pull it out to decorate it once it has cooled. At the very least, use cooking spray to grease it so that the slices come out intact.
A different frosting. You could also use a classic buttercream or cream cheese frosting on top.
Cool the crust. Make sure to cool it completely before adding any frosting. This way it won't be runny.
Don't let the crust brown. Sugar cookie dough is not meant to turn brown. It can easily start to taste burnt this way. You want the edges to be ever so slightly golden brown and removed from the oven immediately.
A Mini Twist!
Make individual cookie-sized pizza crusts with the sugar cookie dough and get the kids to decorate their own with frosting and fresh berries!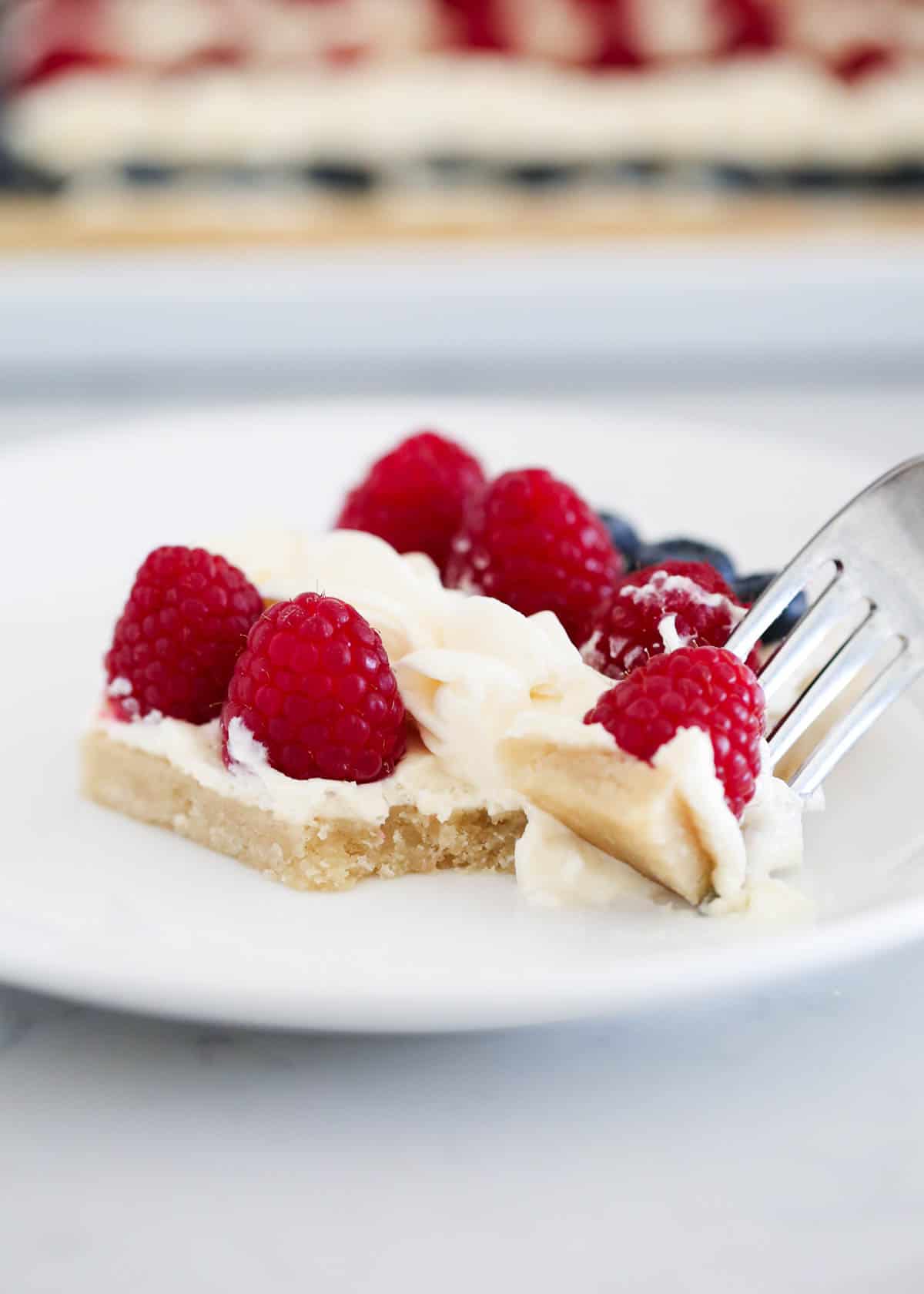 Recipe FAQs
What is the difference between a fruit tart and a fruit pizza?
The main difference between a fruit tart and a fruit pizza is the crust. A fruit tart has a crust similar to the pie that comes up over the edge whereas a fruit pizza is a round-shaped cookie that looks like a pizza. Both have fresh fruit on them and a thin icing or a thick frosting depending on what type of fruit dessert it is.
What is fruit pizza made of?
This fruit pizza is made for the fourth of July but most fruit pizzas are made round and on a pizza pan. Then you add fruit like berries, kiwi, mango, grapes, and mandarin oranges with frosting underneath.
Should I wash my fruit first?
Absolutely! You should always wash your fruit before consuming it, but it's equally as important to dry them too. If not, the remaining liquid will cause your crust to get soggy and your frosting to become runny.
How to slice this patriotic fruit pizza?
The easiest most effective way to do this is to use a pizza cutter! If you're going to use a knife, make sure it's sharp and wipe it off in between slices for cleaner cuts.
Can I serve this Fourth of July fruit pizza on any other occasions?
Absolutely! This would be great to serve on Memorial Day too!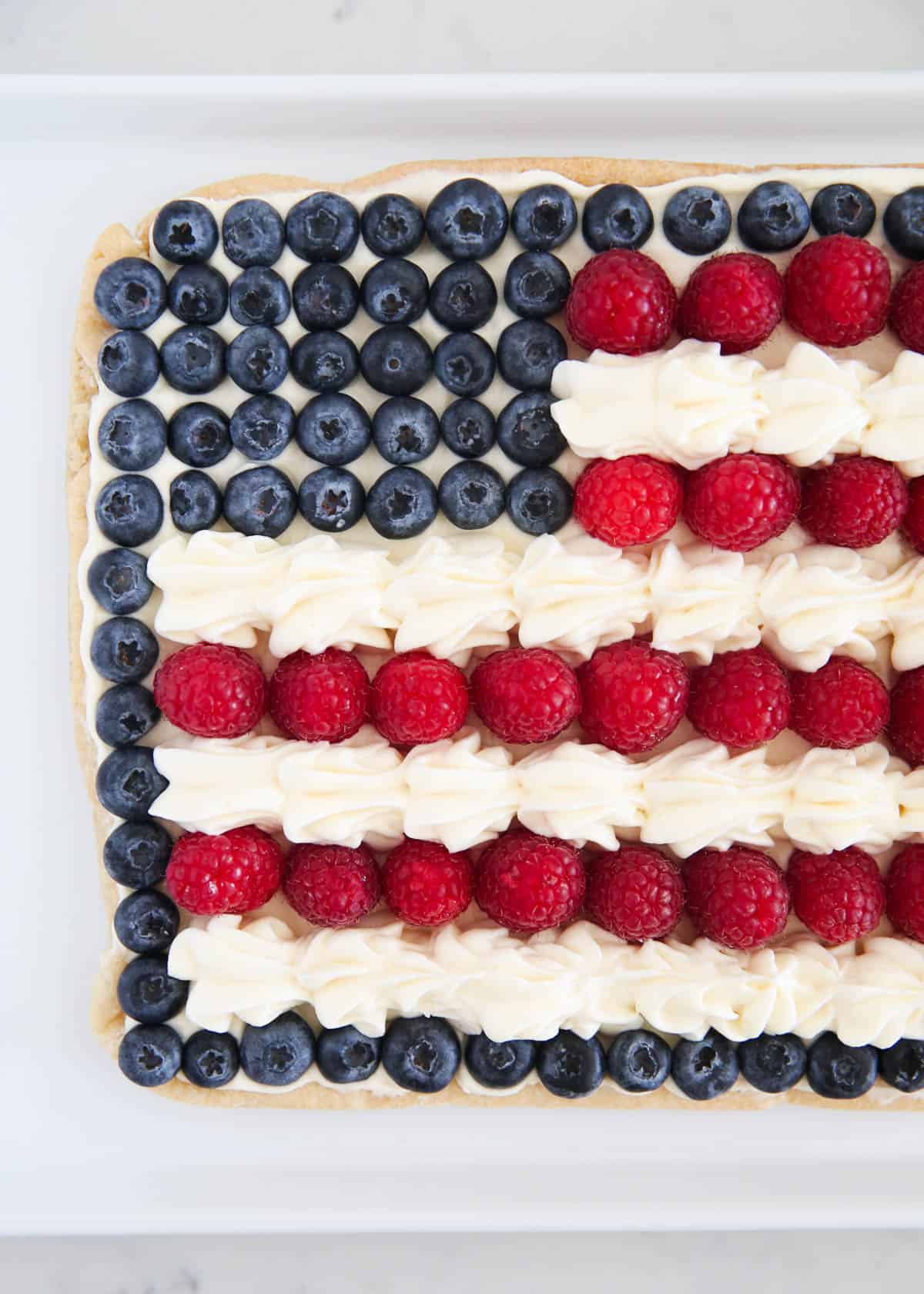 5 star review
"Made this and it turned out perfect!!! It was definitely a favorite this year for the 4th of July!"

-Sadie
Make-Ahead
Plan ahead and make this 4th of July fruit pizza ahead of time. Bake it and allow it to cool completely. Store it in an airtight container at room temperature overnight.
Make the frosting and keep it in an airtight container in the fridge overnight. The next day assemble the red white and blue fruit pizza just before serving!
How to Store 4th of July Fruit Pizza
Store leftover fruit pizza in an airtight container for up to three days in the fridge. When ready to enjoy, simply eat it chilled or let sit for a few minutes at room temperature.
Below are some other fun ideas that are always crowd favorites!
HUNGRY FOR MORE? Subscribe to my newsletter and follow on Facebook, Pinterest and Instagram for all the newest recipes!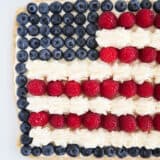 4th of July Fruit Pizza
This 4th of July fruit pizza is sure to be a hit this summer! Display your red, white, and blue pride with this fun, festive, and tasty dessert made with a sugar cookie crust, whipped topping, and fresh berries!
Ingredients
1 (1-pound) package premade Pillsbury sugar cookie dough , can also use homemade
1 (8-ounce) package cream cheese , at room temperature
3-4 Tablespoons granulated sugar
1 teaspoon vanilla extract
8 ounces Cool Whip , at room temperature
Fruit Topping:
10 ounces raspberries , plus more as needed
6 ounces blueberries , plus more as needed
Instructions
Preheat the oven to 350°F. Lightly grease a round glass pizza pan or 9×13-inch pan. I used a 9×13-inch pan lined with parchment paper, so I could pull it out to decorate at the end.

Press the dough into the pan, about 1/8 inch thick. Pierce the dough several times with a fork.

Bake 10 to 15 minutes, or until edges are lightly golden and a toothpick inserted in the center comes out clean. Be careful not to brown. Let cool completely.

In a large bowl, beat together the cream cheese, sugar, and vanilla with an electric mixer. Using a rubber spatula, fold in softened cool whip.

Once the crust has cooled, evenly spread half of the frosting over the top with a rubber spatula. Top with berries. I like to make a rectangle in the top left corner with blueberries and then build the stripes with the raspberries.

Place the remaining frosting in a piping bag fitted with a 1M tip. Pipe the frosting in between the fruit stripes.
---
Notes
Variations:
I use the Pillsbury sugar cookie dough for convenience, however half a batch of homemade cookie dough works great too. You can also use my sugar cookie bar recipe.
Feel free to substitute any of the fruit toppings with blackberries, grapes, bananas, and more.
Flag size: If you want to make the actual number of stars and stripes, you may want to try doubling the recipe and baking in a big sheet pan.
Storage: Store leftovers in a covered container in the refrigerator for up to 3 days.
Nutrition
Calories: 127kcal | Carbohydrates: 14g | Protein: 2g | Fat: 8g | Saturated Fat: 4g | Polyunsaturated Fat: 1g | Monounsaturated Fat: 2g | Cholesterol: 22mg | Sodium: 73mg | Potassium: 93mg | Fiber: 2g | Sugar: 9g | Vitamin A: 302IU | Vitamin C: 8mg | Calcium: 46mg | Iron: 1mg
Nutrition provided is an estimate. It will vary based on specific ingredients used.
Did you make this recipe? Don't forget to give it a star rating below!