Learn how to make homemade cool whip substitute with just 4 simple ingredients! It's perfectly light and fluffy with amazing flavor. Makes a delicious homemade whipped topping for so many of your favorite desserts!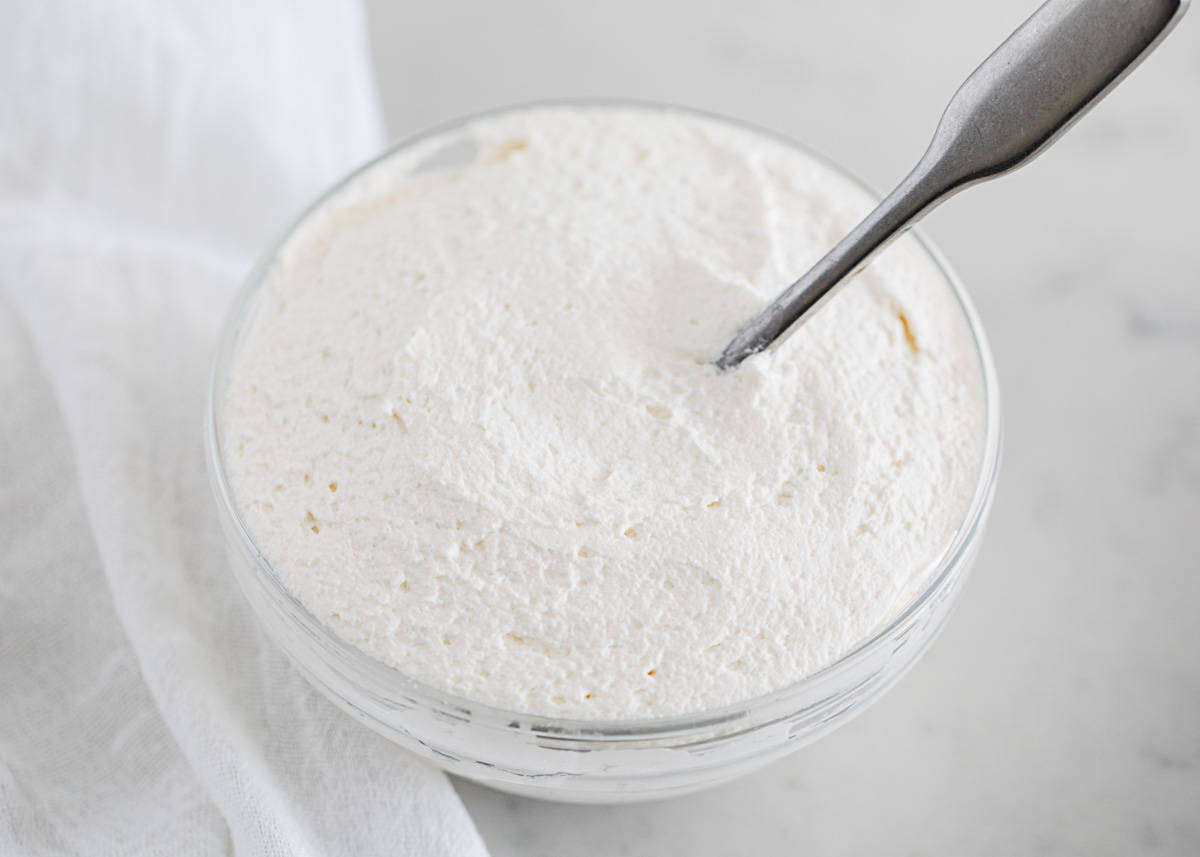 Easy Homemade Cool Whip
Making homemade cool whip has never been easier. In just 5 minutes, you'll have the most fluffy and delicious whipped topping you've ever tried. It tastes amazing on so many desserts, but I especially love to use it on my jello poke cake, watergate salad and my no-bake chocolate lasagna.
I recently made homemade cool whip and I am obsessed! It tastes WAY better than store bought and has the perfect texture and flavor. I love how fresh it is and that you don't have to worry about any extra preservatives added in.
The great thing about this whipped topping is that it will hold it's shape for about 24 hours (similar to stabilized whipped cream). The gelatin helps makes it sturdy, so it won't deflate quickly like homemade whipped cream does. You can use it cup for cup for any recipe that calls for cool whip including in the frosting for this death by chocolate poke cake!
It makes a delicious frosting or topping, can be mixed into your favorite dessert recipes or even used as a dip with fruit. And let's not forget enjoying it by the spoonful because you definitely won't be able to resist!
Key Ingredients
It takes so few ingredients to create a rich and creamy homemade cool whip.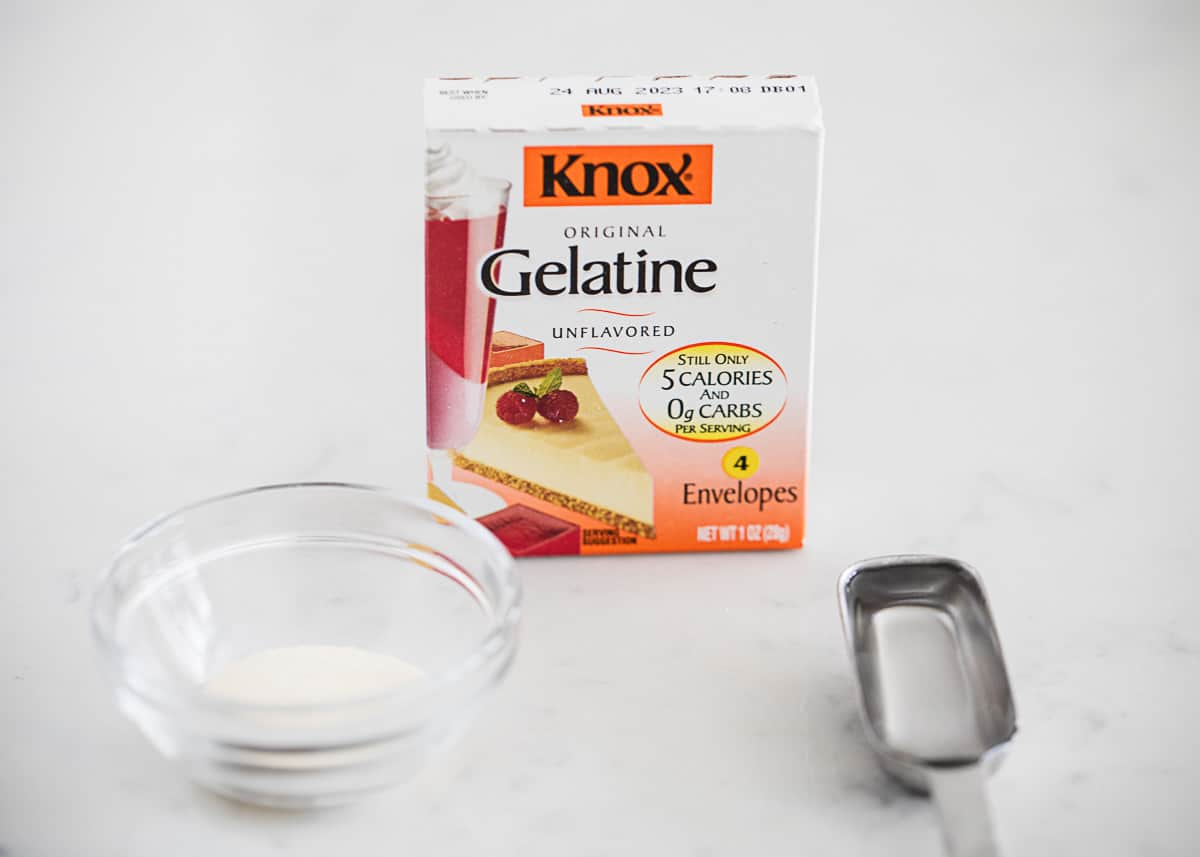 Find the full printable recipe with specific measurements below.
Gelatin: The gelatin is what helps keep it from deflating. Make sure to use unflavored gelatin.
Water: This is what the gelatin dissolves in. After a few minutes, the mixture will thicken.
Heavy cream: The colder the cream, the better! It gives it a light consistency and makes it easier to whip.
Powdered sugar: Achieve the perfect amount of sweetness by adding a few Tablespoons of powdered sugar.
Vanilla: A subtle hint of vanilla helps round out the flavors in this whipped topping.
How to Make Homemade Cool Whip
It takes so little time and energy to make your own cool whip at home.
Freeze. Before getting started, freeze your mixing bowl and beaters for about 15 minutes.
Dissolve. Place the gelatin in a bowl with the water. The mixture will dissolve and start to thicken after a few minutes. Then place the bowl in the microwave and cook for about 10 seconds, or until it's back in liquid form.
Beat. Add the cold heavy cream, powdered sugar and vanilla into the chilled mixing bowl. Beat on low until mixed together, then turn to high and beat until a soft peak forms. This usually takes about 1 minute. While the beaters are on, slowly pour in the gelatin and continue beating until a soft peak forms. Then refrigerate until ready to use.
Helpful Tips
Chill your bowl and beaters. You want these to be COLD. Stick them in the freezer for about 15 minutes before you start making the cool whip. It helps to form stiff peaks faster.
Flavoring. Vanilla extract gives it the traditional flavor. Depending on what dessert you're making, feel free to use other type of extracts (like almond, lemon or orange).
Keep a close eye. It doesn't take long for the stiff peaks to form (especially if you chill your bowl and beaters first). So make sure not to walk away or get distracted! The last thing you want to do is over mix the whipped topping.
Whipped cream replacement. It can be used interchangeably with whipped cream. Use it as a 1:1 replacement.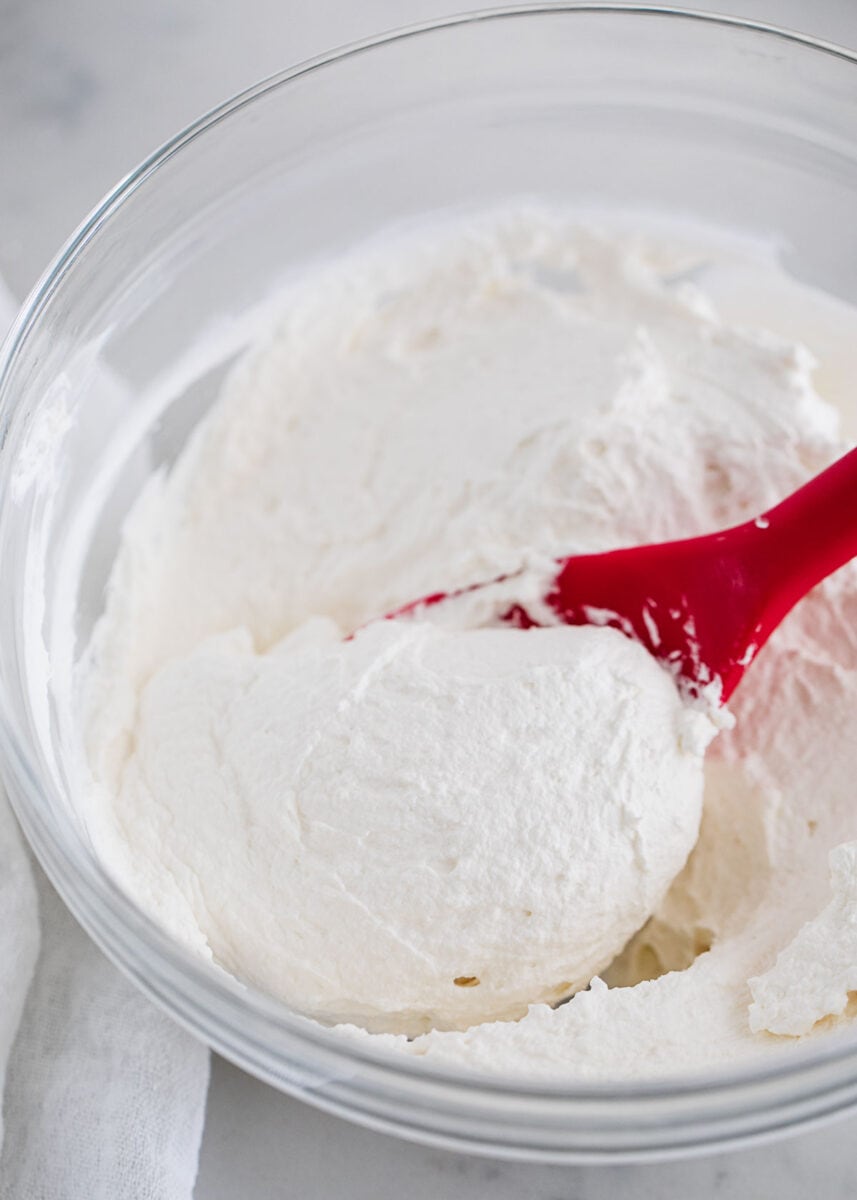 Recipe FAQs
Can I use the same amount of this homemade cool whip as store-bought cool whip?
You sure do! Just replace store-bought cool whip with the exact same amount of this recipe. Simple as that.
Can I make this easy homemade cool whip recipe dairy-free?
I haven't tried it, but I have heard that coconut cream can be a great dairy-free substitute that works well.
Can I use this recipe to make cool whip frosting?
If you're looking for a frosting that is similar to a whipped cream frosting, this recipe will do the trick. You could even add a few drops of food coloring to make it more decorative, if you like.
Storing
This homemade cool whip is best if stored in the fridge. You can make it a day in advance, then cover and refrigerate until serving. It will hold it's shape for about 24 hours.
Favorite Ways to Use It
HUNGRY FOR MORE? Subscribe to my newsletter and follow on Facebook, Pinterest and Instagram for all the newest recipes!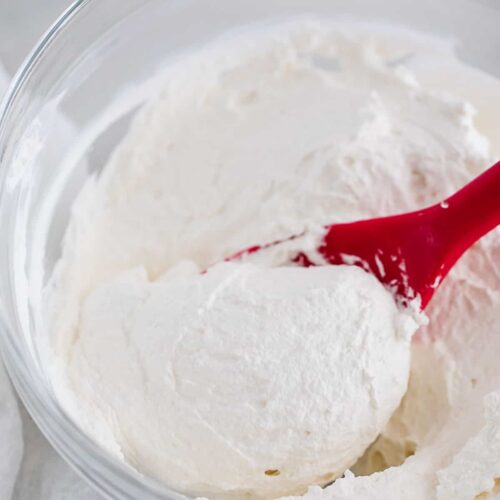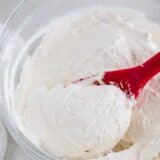 Homemade Cool Whip
Learn how to make homemade cool whip with just 4 simple ingredients! It's perfectly light and fluffy with amazing flavor.
Ingredients
½ teaspoon gelatin (unflavored)
1 ½ teaspoons water
1 cup cold heavy cream
2 Tablespoons powdered sugar
½ teaspoon vanilla extract
Instructions
Place a medium to large bowl and electric beaters (or whisk attachment and a stand mixer bowl) in the freezer and chill 15 minutes.

In a small bowl, dissolve the gelatin in the water. Let sit a few minutes until thickened. Microwave about 10 seconds, or until it turns back to liquid.

In the chilled bowl, add the cream, sugar, and vanilla. Using an electric mixer fitted with chilled beaters, beat on low until combined. Beat on high 1 minute, or until soft peaks form. Slowly mix in the liquid gelatin while the beaters are on. Beat until soft peaks forms or it reaches the texture of cool whip.

Chill until ready to use. It will stay stable for 24 hours. Replace in any recipe using cool whip, cup for cup.
---
Notes
Make-ahead: This recipe can be made 1 to 2 days in advance and stored in the fridge. Storage: Store in an airtight container in the refrigerator up to 24 hours.
Nutrition
Calories: 55kcal | Carbohydrates: 1g | Protein: 1g | Fat: 5g | Saturated Fat: 3g | Polyunsaturated Fat: 0.2g | Monounsaturated Fat: 1g | Cholesterol: 17mg | Sodium: 4mg | Potassium: 14mg | Sugar: 1g | Vitamin A: 219IU | Vitamin C: 0.1mg | Calcium: 10mg | Iron: 0.02mg
Nutrition provided is an estimate. It will vary based on specific ingredients used.
Did you make this recipe? Don't forget to give it a star rating below!