Jump to Recipe⌄
Cherry Pie Bars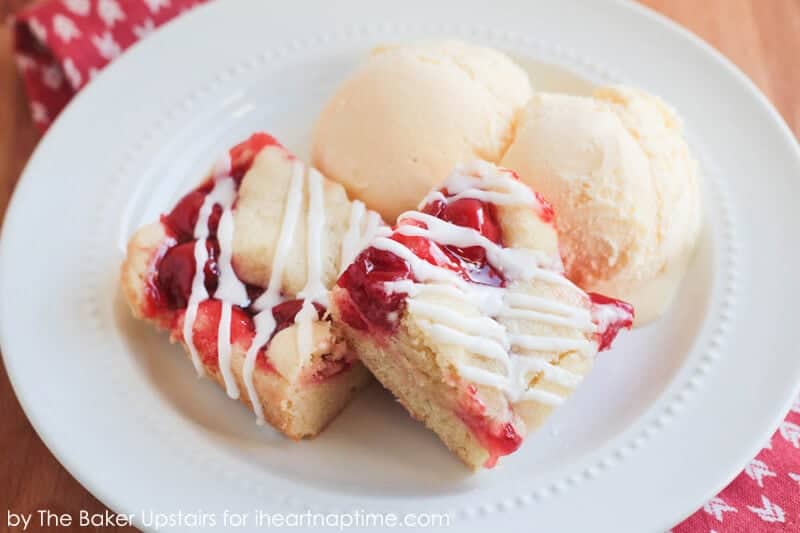 Created by Alicia of The Baker Upstairs for I Heart Nap Time
Can you believe it's summer already? My first grader had her last day of school last week, and we're trying to adjust to the big change in our routine. I love so many things about summer… lazy days by the pool, relaxing our schedule, taking the kids on adventures, and spending hours and hours playing on the playground. I get pretty excited about all the summer food, too! Grilled chicken, potato salad, all the fresh fruits and vegetables… yum! These cherry pie bars make the perfect summer dessert. They're super easy to make and they're about as all-American as you can get! They would make the perfect treat for the 4th of July or any summer barbecue or gathering.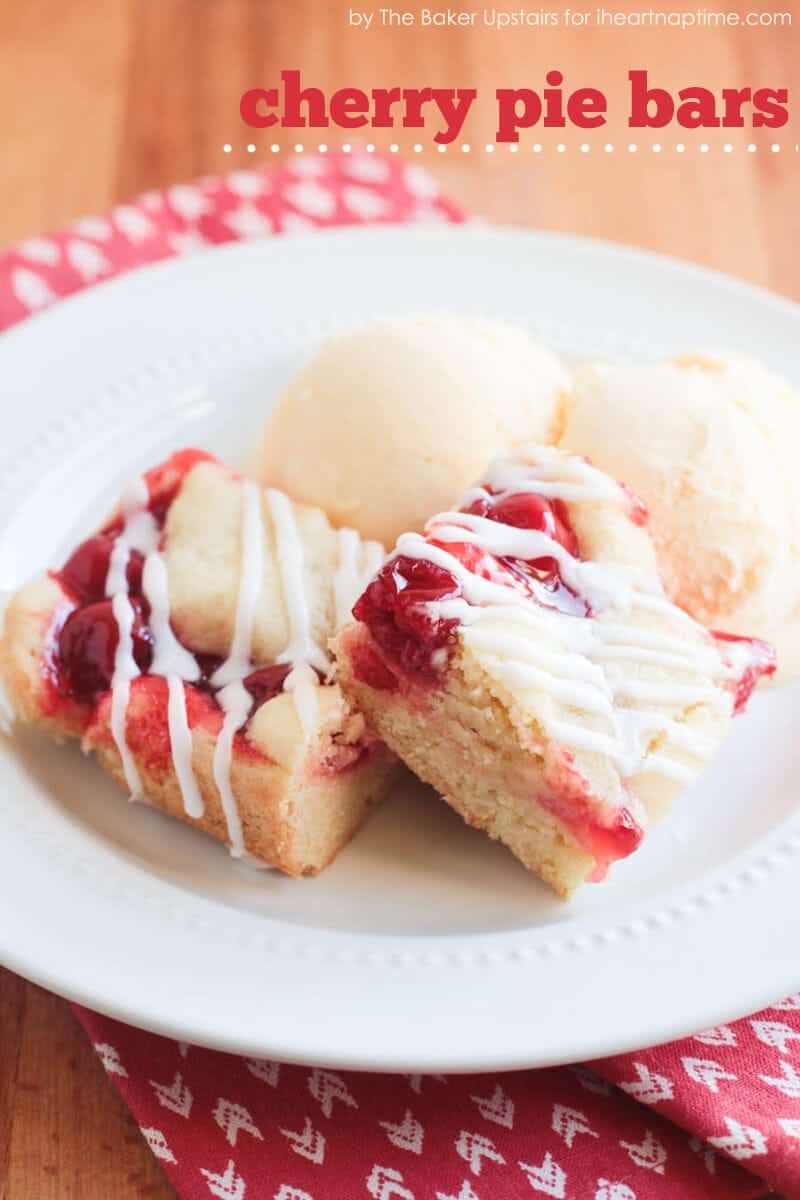 I've made these a few times now and I've discovered a few little tricks to make them a little easier and tastier. For starters, the dough is a little sticky, and at first I was having a hard time getting it to spread very well in the pan. What has worked great for me is scooping the dough into the baking dish, and then placing a layer of plastic wrap over the top. I then smush the dough with my hands through the wrap, and it spreads easily in the pan without sticking. Easy peasy and I get a nice even layer of dough. The second trick is to make sure the little gobs of dough that you drop on top are small and well-spaced. The first time I made them I tried to spread the dough fairly evenly across the pan, and it made the top a lot less pretty, and the bars less ooey-gooey and delicious. You want a lot of that pretty pie filling showing through! I also reduced the recipe a little to make it more manageable. My bars with the original recipe ended up being too thick and I liked them better in the smaller size.

MY OTHER RECIPES
This recipe is so good! If you love cherry pie, you have to try these bars!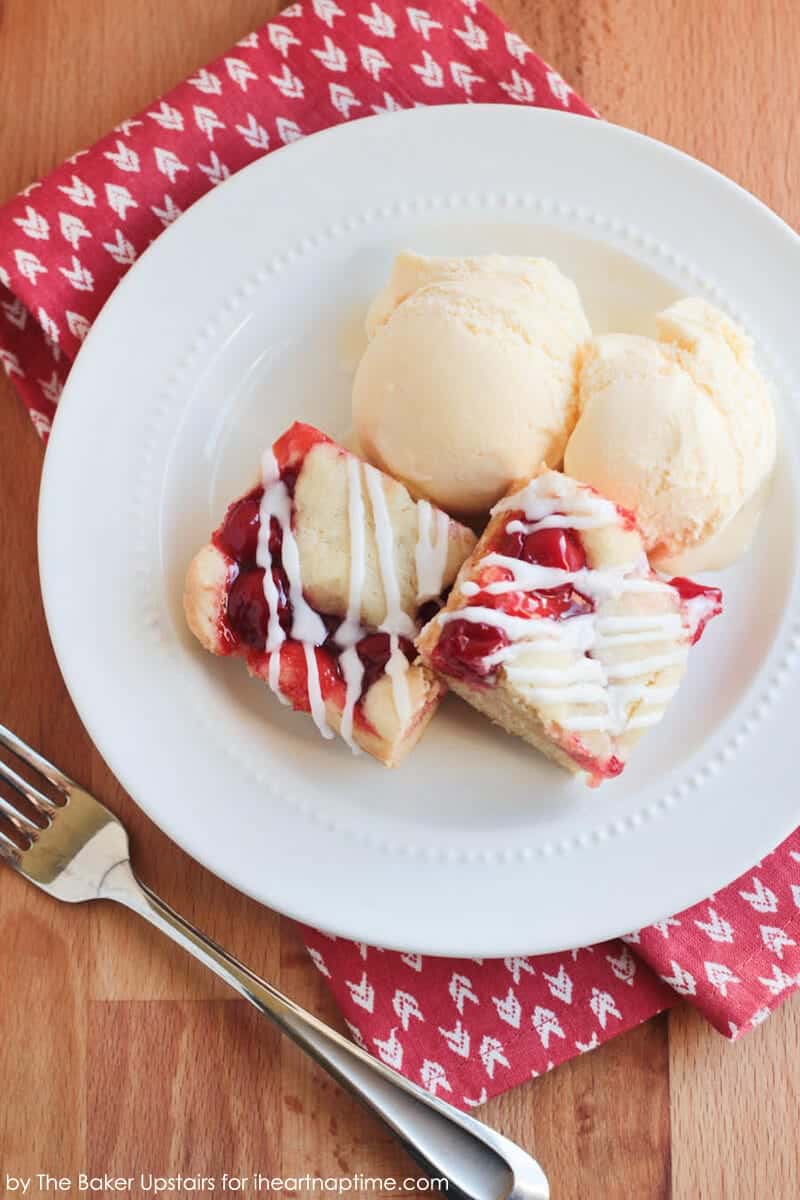 If you're looking for some more yummy dessert recipes, you'll love these: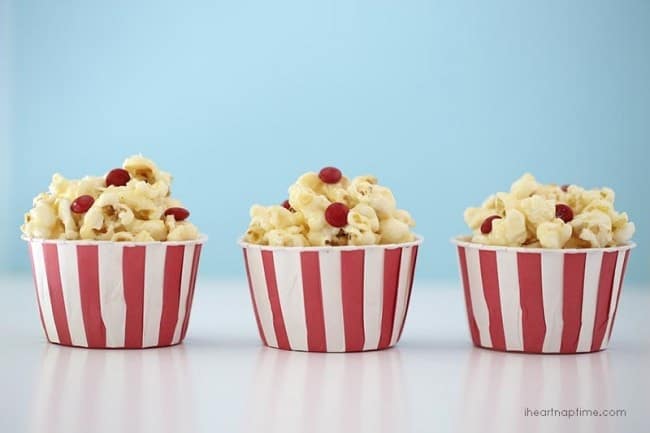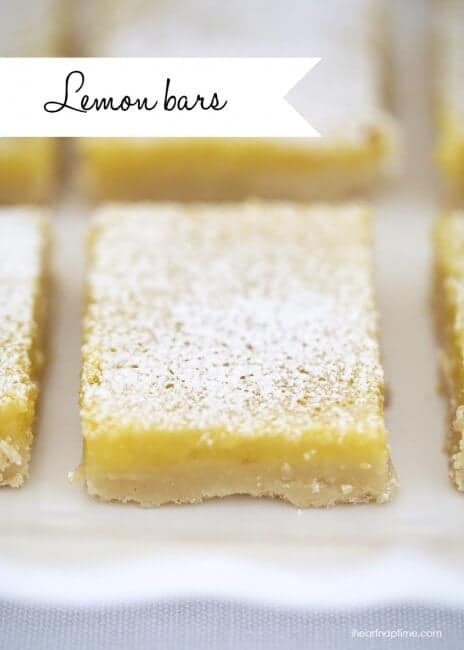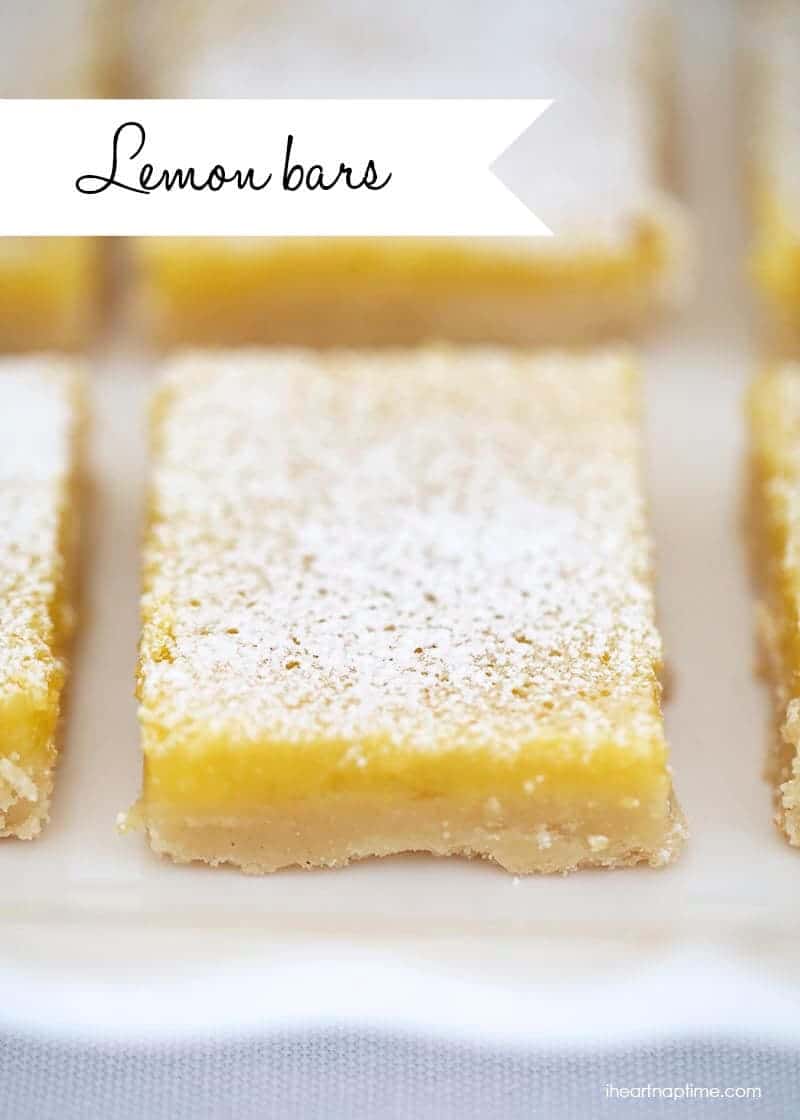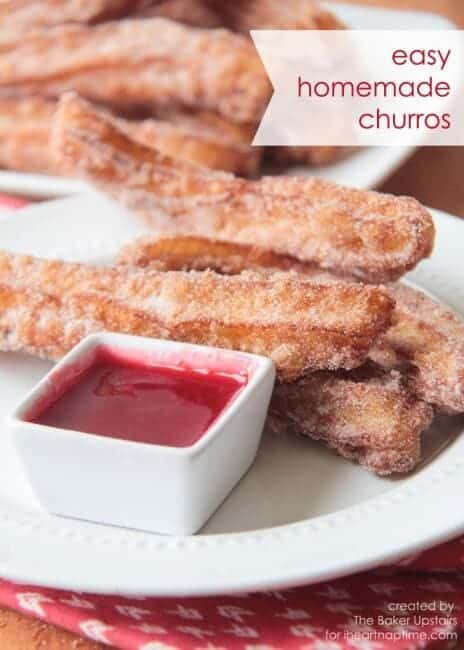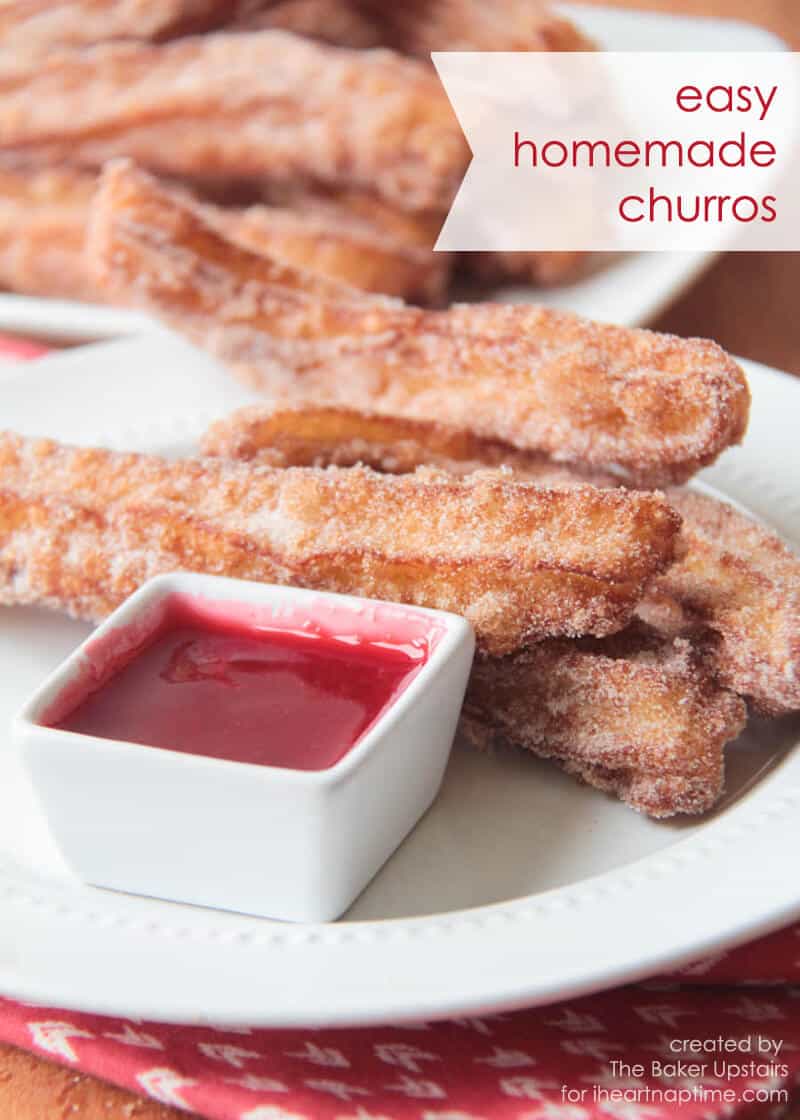 Making this recipe? Don't forget to rate the recipe below and tag #iheartnaptime on Instagram. Thank you! XO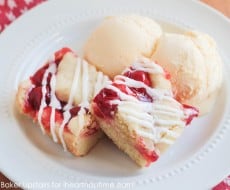 Cherry Pie Bars
This recipe is so good! If you love cherry pie, you have to try these bars!
Print
Ingredients
for the bars:
1/2 cup butter softened
3/4 cup sugar
1 whole egg + 1 egg yolk
1 teaspoon vanilla
1/2 teaspoon almond extract
1 1/2 cups flour
3/4 teaspoon baking powder
1/2 teaspoon salt
21 ounces cherry pie filling (1 can)
for the glaze:
1/2 cup powdered sugar
1/2 teaspoon almond extract
1-2 tablespoons milk
Instructions
Preheat the oven to 350. Prepare a 9 x 9 pan by lining with foil and spraying with cooking spray, then set aside.

In a large bowl or the bowl of a stand mixer, beat the butter and sugar together until light and fluffy. Add the egg, egg yolk, vanilla, and almond extract, and mix until smooth. Add the flour, baking powder, and salt, and mix until combined.

Reserve about 3/4 cup of the dough, and spread the remaining dough in the prepared pan (the plastic wrap trick I mentioned above works great for this step!). Top with the pie filling. Drop the remaining dough by small spoonfuls evenly over the top of the pie filling, leaving space between the spoonfuls.

Bake 25-35 minutes, or until the dough on top does not indent when lightly pressed with your finger. Remove and let cool completely.

When the bars have cooled, whisk together the powdered sugar, almond extract, and 1 tablespoon milk. Add more milk or powdered sugar as needed to achieve the desired consistency. Drizzle the glaze over the cooled bars and allow to set (I usually just pop it in the fridge for a few minutes). Slice and enjoy!
Nutrition Facts
Cherry Pie Bars
Amount Per Serving
Calories 194 Calories from Fat 54
% Daily Value*
Total Fat 6g 9%
Saturated Fat 3g 15%
Cholesterol 25mg 8%
Sodium 135mg 6%
Potassium 77mg 2%
Total Carbohydrates 32g 11%
Sugars 13g
Protein 1g 2%
Vitamin A 5.4%
Vitamin C 1.6%
Calcium 1.9%
Iron 4.1%
* Percent Daily Values are based on a 2000 calorie diet.