Jump to Recipe⌄
Fruit Salsa and Cinnamon Chips
Fruit salsa and cinnamon chips -the perfect summer dessert or appetizer! Fresh, easy and delicious!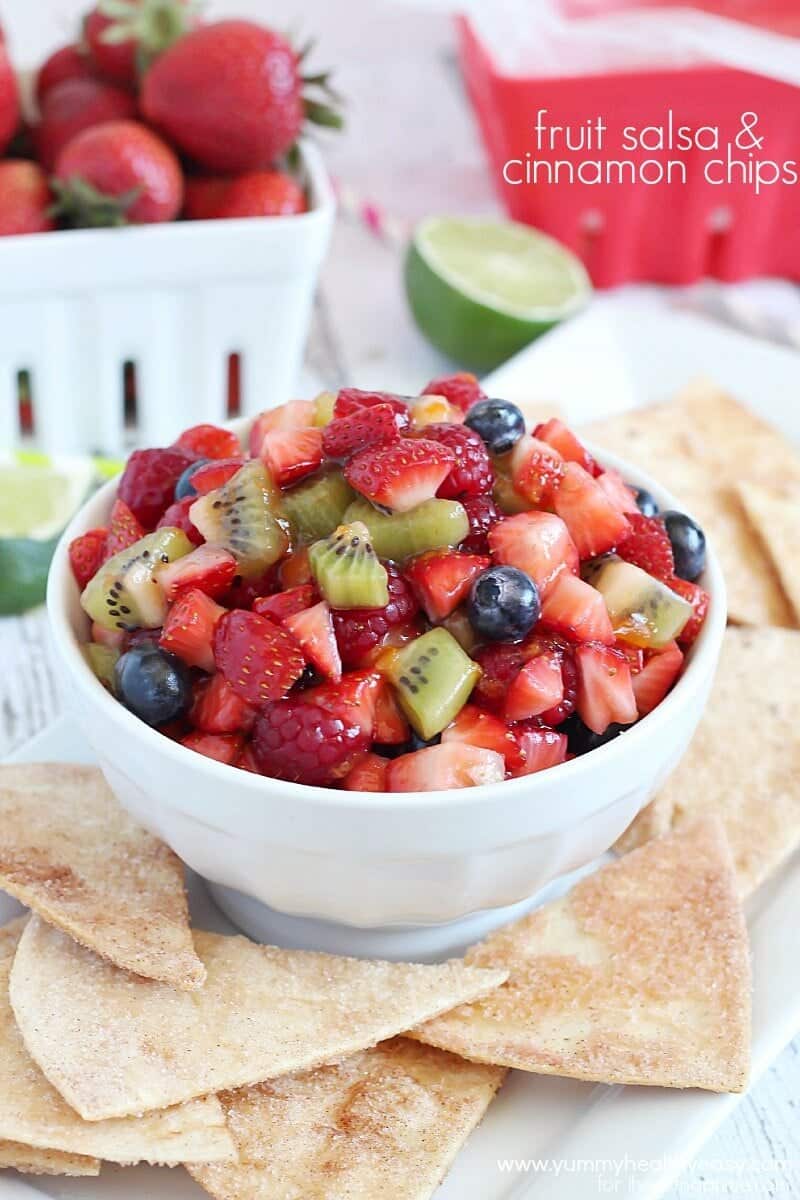 Hi everyone! Jen here from Yummy Healthy Easy and I'm sharing with you one of my families favorite summertime snacks of all time…Fruit salsa and homemade cinnamon chips!
We are what you would call a dip-loving family. I didn't grow up in a dip-loving family but it all started when I married my husband. He LOVES dips of all kinds and converted me. If you happen to drop by my site, you'll find several dip recipes, like one of my faves ranch hummus dip. And those are just a few of the dips I have over at YHE! (obsessed, I tell you!)
I feel silly always sharing dips/salsa recipes but it's what my family loves and I love making things they'll eat. Anyway, this fruit salsa is beyond amazing. It doesn't take long to make and tastes fantastic. Fruit salsa + summertime = great idea because all the produce is in season and it all tastes so good! The chips are the star of the show, though. They are crispy, sugary and amazing. My boys love them! Together they are a match made in summertime heaven!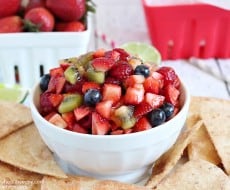 Fruit Salsa and Cinnamon Chips
Ingredients:
*Fruit salsa*
16-oz. strawberries, diced
2 kiwi, peeled and diced
1/2 cup blueberries
1/2 cup raspberries
3 Tbsp. sugar-free apricot preserves or jam
*Cinnamon chips*
4 flour tortillas (I used soft taco size)
cooking spray
1/2 cup sugar
1 1/2 tsp. cinnamon
Directions:
Preheat oven to 350º F. Cover a large baking sheet with parchment paper.
On a large plate, combine the sugar and cinnamon. Spray each tortilla front and back and carefully lay on the plate, one at a time. Move around lightly to get the cinnamon and sugar to adhere to the tortilla, then flip coating the other side.
With a pizza cutter, cut cinnamon and sugar tortilla in half and then each half into four pieces, creating 8 slices per tortilla. Spread out on the baking sheet. Repeat with all tortillas and then place in the oven for 8-10 minutes. Pull baking sheet from oven and set aside to cool.
Meanwhile, combine the fruit and the preserves in a medium sized bowl. Serve with cooled cinnamon chips and enjoy!
All images and text ©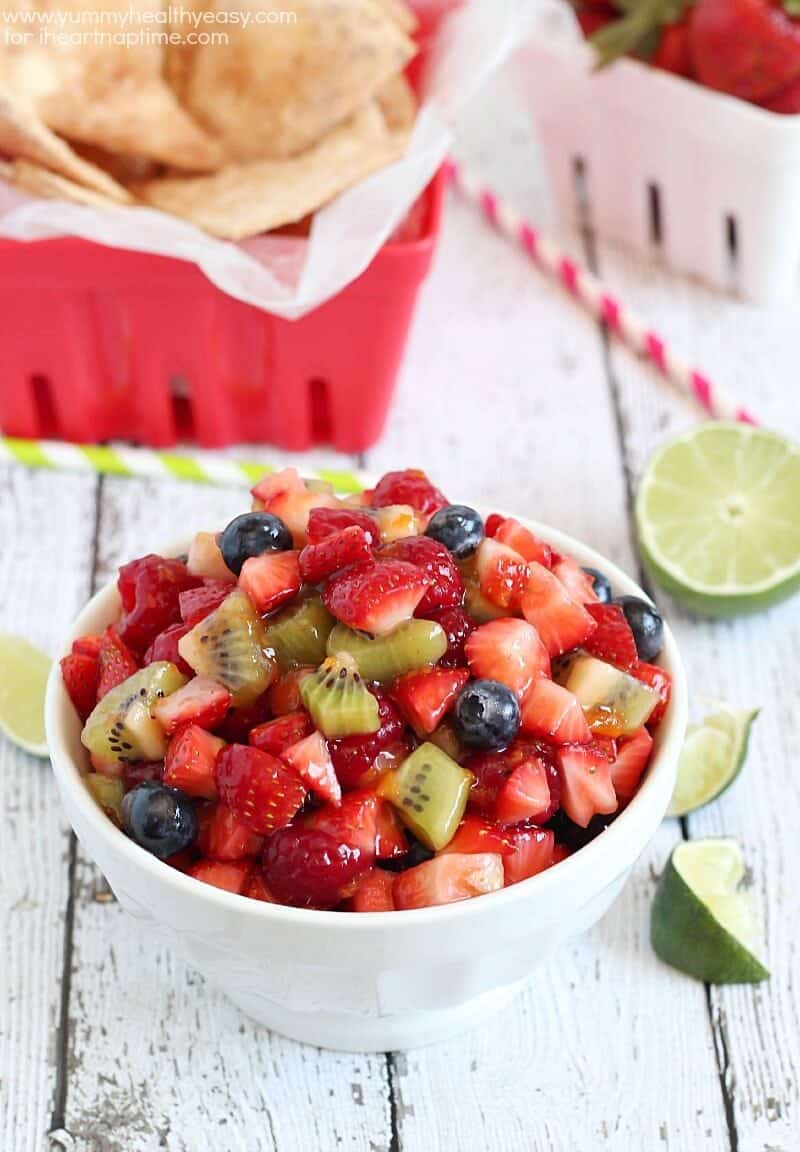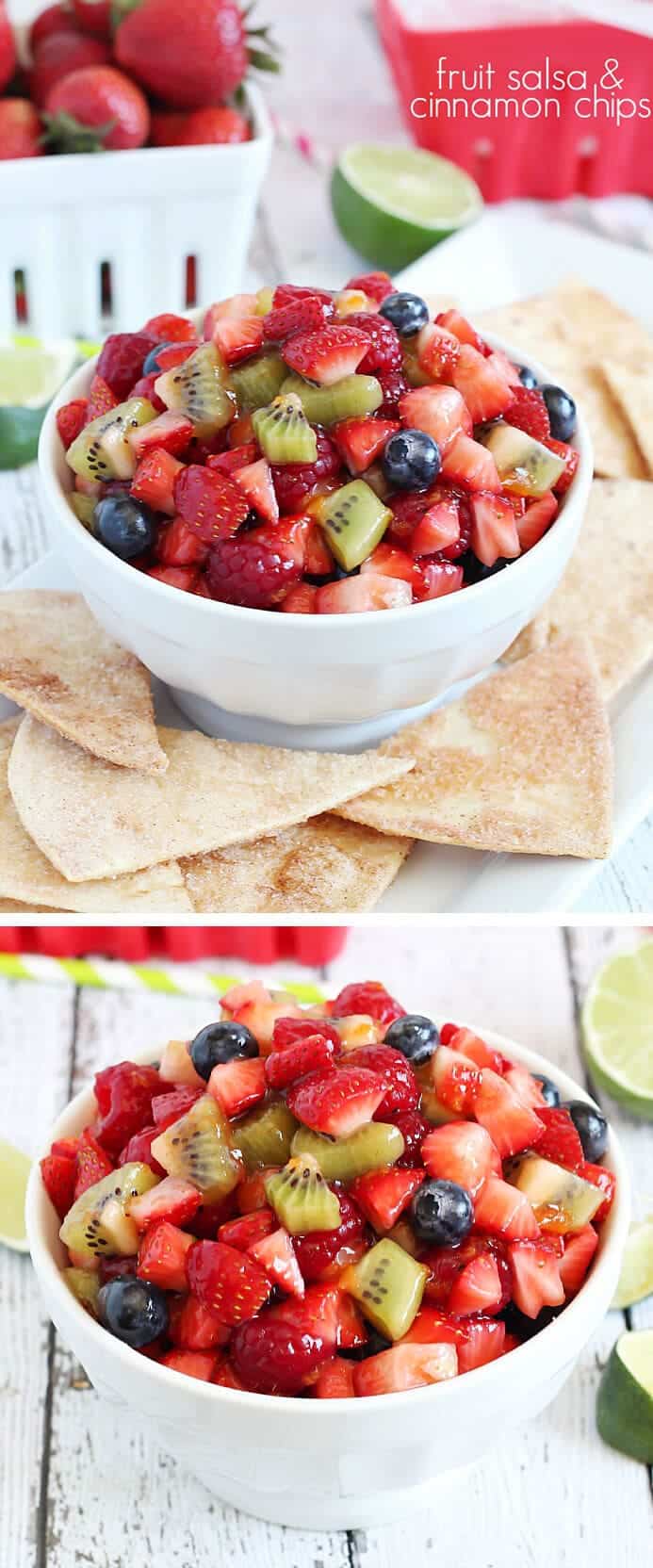 If you're looking for more yummy fruit recipes, you'll love these: