These easy air fry baked potatoes are a potato lover's dream! Quickly and easily baked tender fluffy potatoes with flavorful crispy skins without ever having to turn on the oven!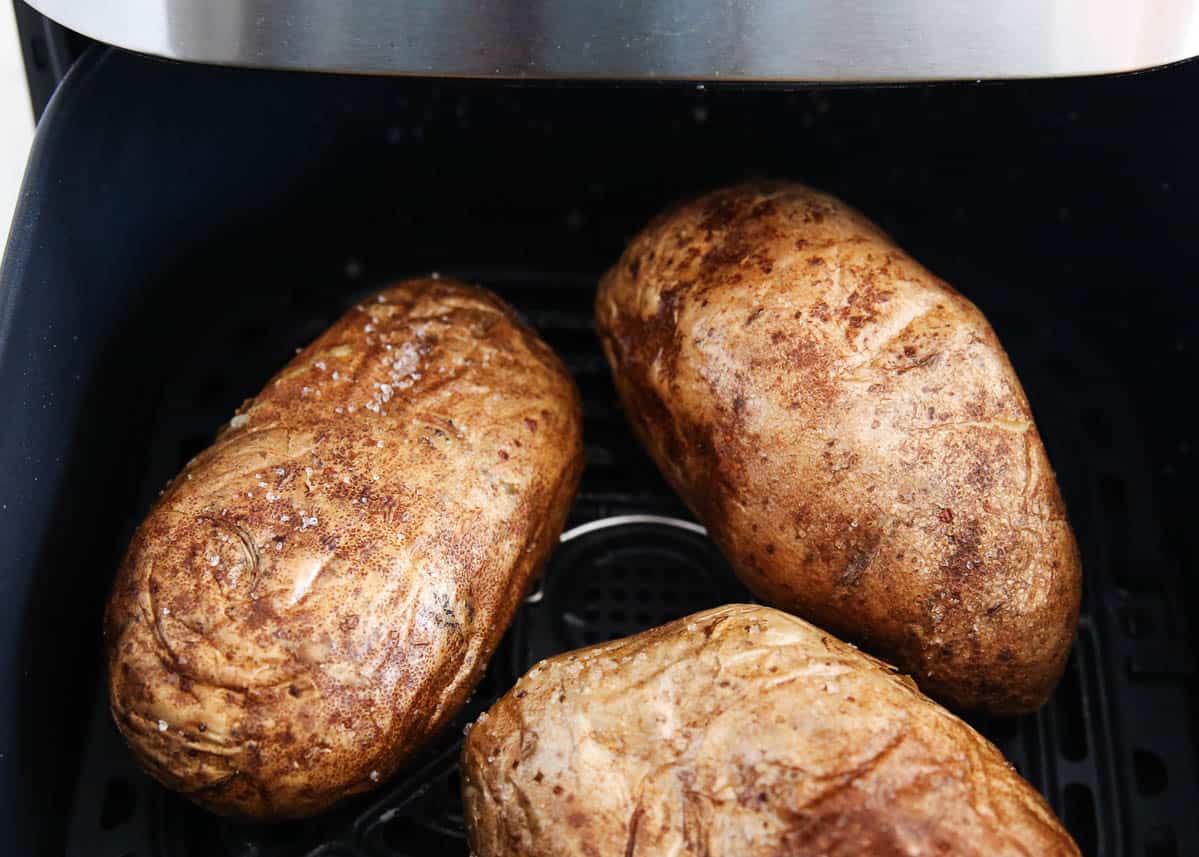 The Easiest Way to Bake a Potato
Air fryer baked potatoes offer a quick and efficient alternative to the traditional oven baking method. The result is the best baked potato with crispy exterior and fluffy interior. The rapid cooking time also makes it a convenient choice for when you're craving the perfect baked potato but want to minimize the wait.
The versatility of a baked potato is unmatched. We love it as an appetizer when we make air fryer potato skins just as much as we enjoy it on the side of a juicy steak transformed into this hasselback potatoes recipe. And when it comes time to set up a baked potato bar, you can bet we love our loaded baked potatoes as a main dish too!
Making baked potatoes in the air fryer checks all of the boxes. It's less of a recipe and more of a method, but lucky for us, it couldn't be easier!
Just 3 Ingredients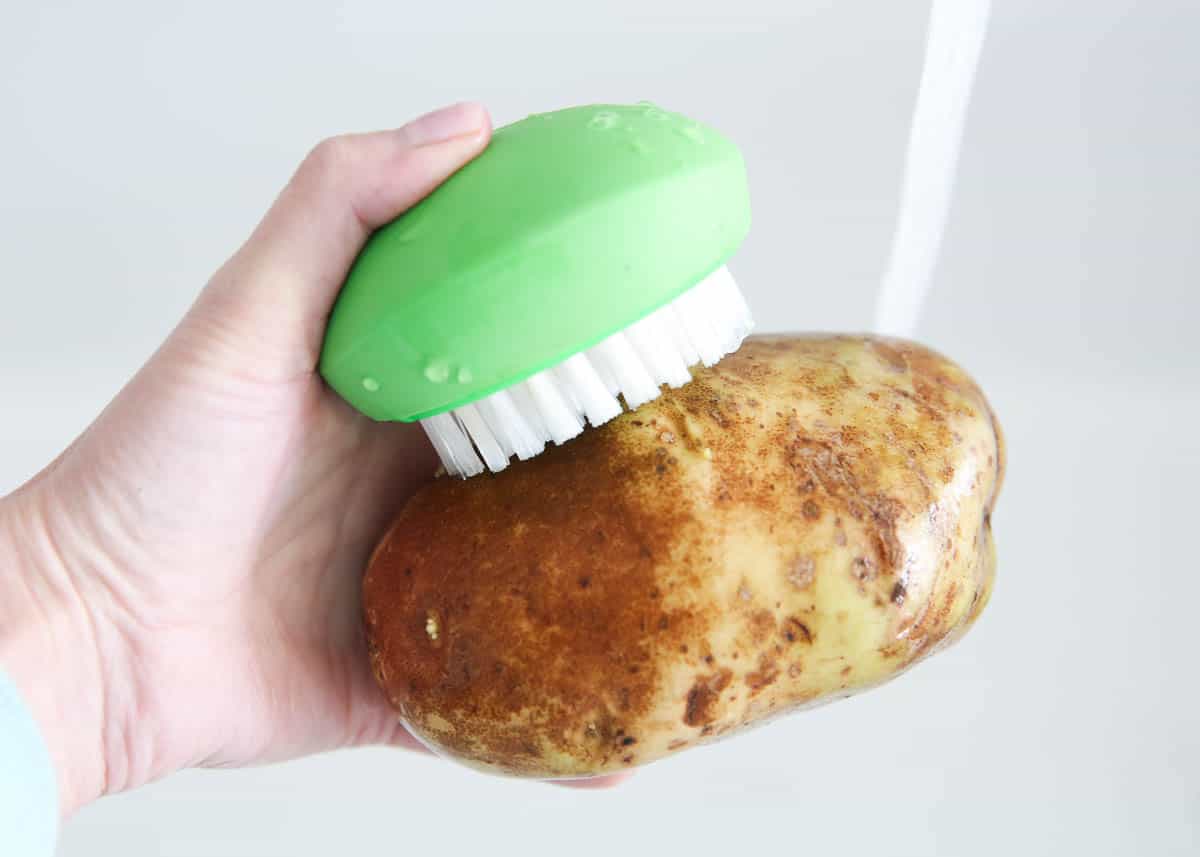 Russet Potatoes – If you're using small to medium potatoes you may be able to fit 4 into your air fryer basket, depending on the size but I usually do 3.
Salt – Just a pinch of salt will do. Of course, if you like salty crispy skin, I get that too. In which case, be generous with the amount!
Oil – I use olive oil, but you can use avocado oil or canola oil if preferred.
How to Make Baked Potatoes in Air Fryer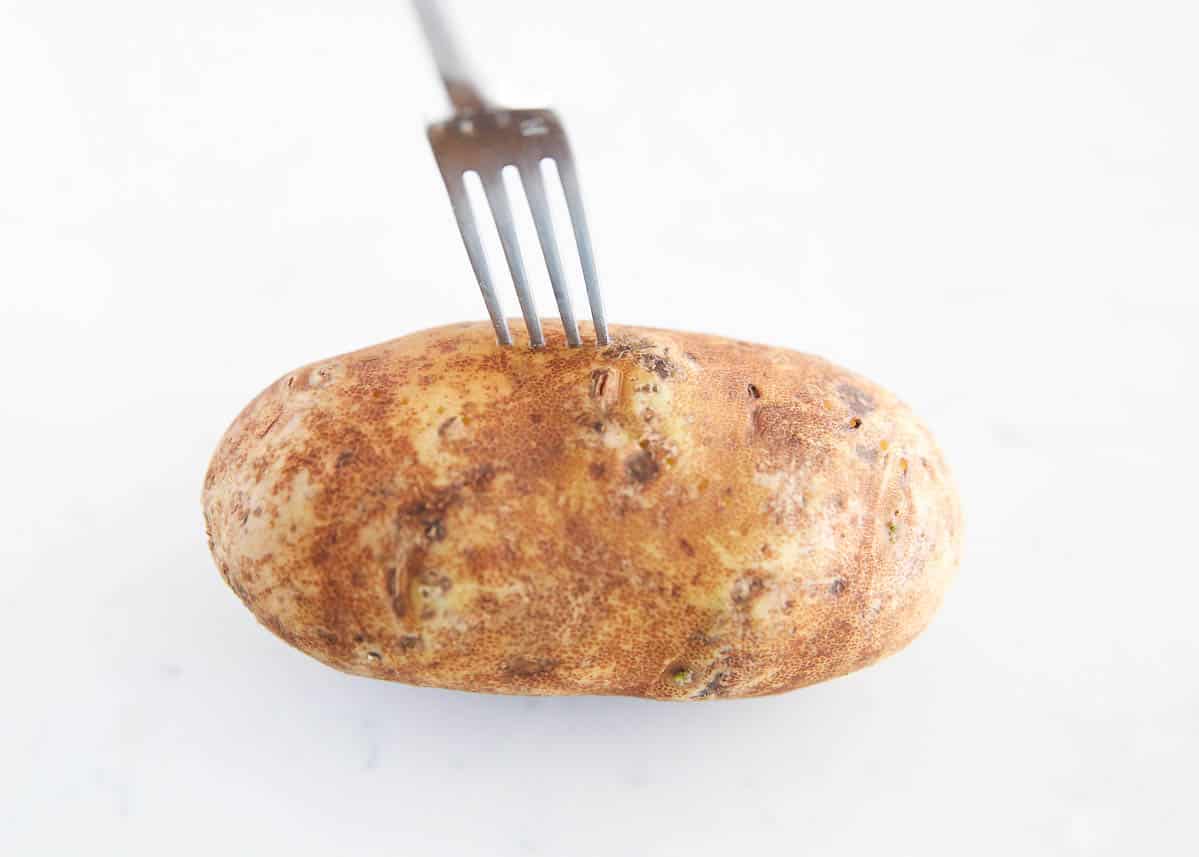 Prepare: Preheat the air fryer to 400 degrees F. Some air fryer recipes don't require a preheat. This one does!
Clean: Scrub your potatoes clean using your hands or a potato scrubber if you have one. Pat dry with a paper towel, removing as much of the water as possible.
Pierce: Use a fork and pierce each one several times. This will allow the steam to escape and prevent your potatoes from exploding.
Cook: Brush the potatoes with oil and sprinkle with salt. Place in the air fryer basket, leaving enough room between each one and air fry for 30 minutes. Turn them over and cook for 8-10 minutes more until fork tender.
Top: Allow them to cool to the touch. Slice in half and serve with your favorite toppings.
Cooking Tips
No need for a cooking spray for this air fryer recipe. The oil on the potatoes is enough.
Look for russets that are even in size. If you're working in batches place similar-sized potatoes in a batch for even cooking.
Leave space between each potato for the air to circulate, otherwise, you won't get a crispy skin with too much of the steam transferring from one tater to the other.
I love using kosher salt, sea salt, or any coarse salt because I like seeing the granules of salt on the skin, plus it's harder to use too much salt, but any kind will work.
If you are using a toaster-style air fryer, reduce the heat to 375 degrees F, keeping the same cooking time.
For a little more flavor on the skin, you can add a bit of extra seasoning, like garlic powder or black pepper.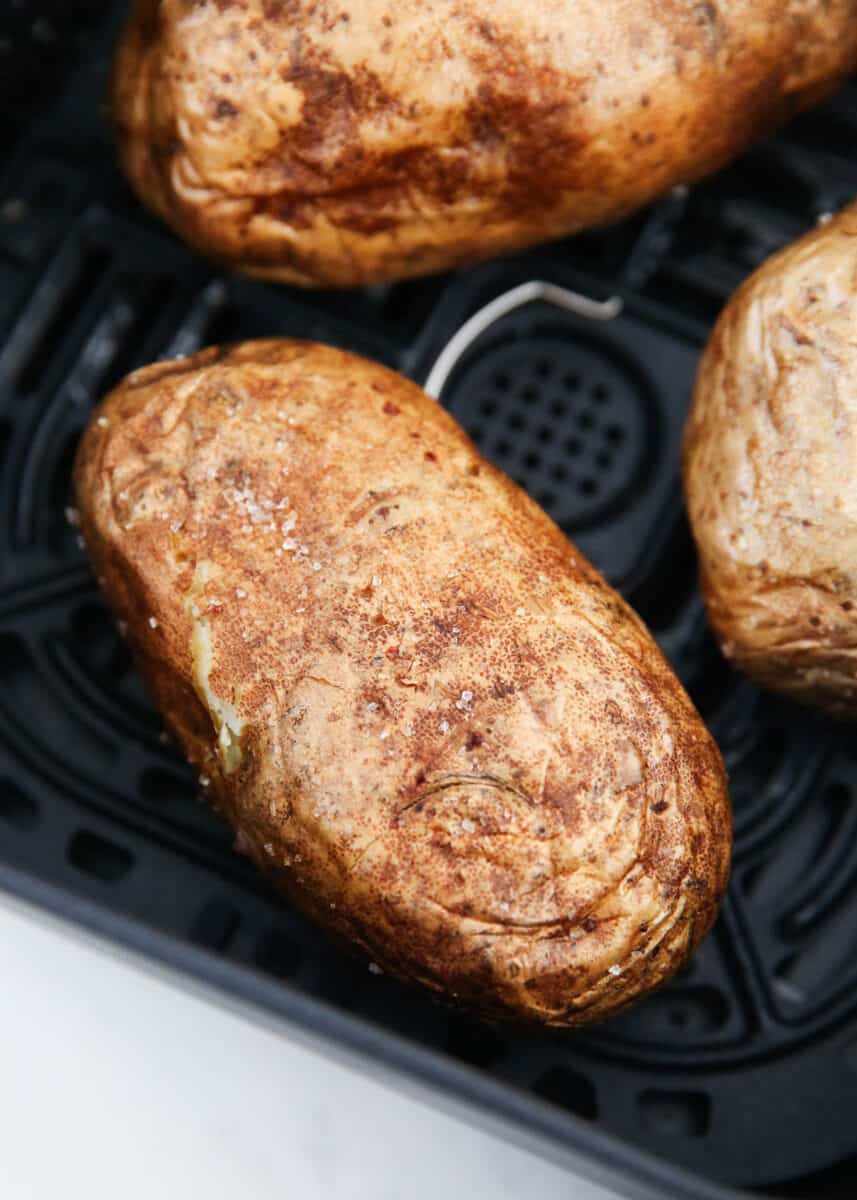 Favorite Toppings
We absolutely love a fully loaded air fry baked potato or baked sweet potato. My go-to toppings are a little bit of cheese, bacon and sour cream with chives.
Shredded cheddar cheese
Sour cream
Bacon bits
Chives
Chopped green onion
Pats of butter
Recipe FAQ's
How to reheat baked potatoes in an air fryer?
Pop them back in the air fryer for 3 minutes at 400 degrees. You could also use the microwave if you're reheating a single serving.
What does fork tender mean?
This means, when pierced with a fork it should meet with no resistance. This is an easy way to tell if the insides are cooked without splitting open the potato. That way, if it's not quite ready you can continue cooking a little while longer.
Can I eat the skin?
Russet potato skin is perfectly edible and incredibly delicious when crispy and seasoned! You can also scoop out the flesh of the potato and discard the skin , although I prefer to use them for potato skins. Just be sure to scrub it clean before you bake it if you will be eating it.
Can I make these using sweet potatoes?
Absolutely! Sweet potatoes overall don't take as long as regular russets do to cook through, however it would depend on the size of the potato. After about 30 minutes, check on them. If they're not fork-tender keep them in there a little longer. You could even dress them up and turn them into stuffed sweet potatoes or make sweet potato fries. So good!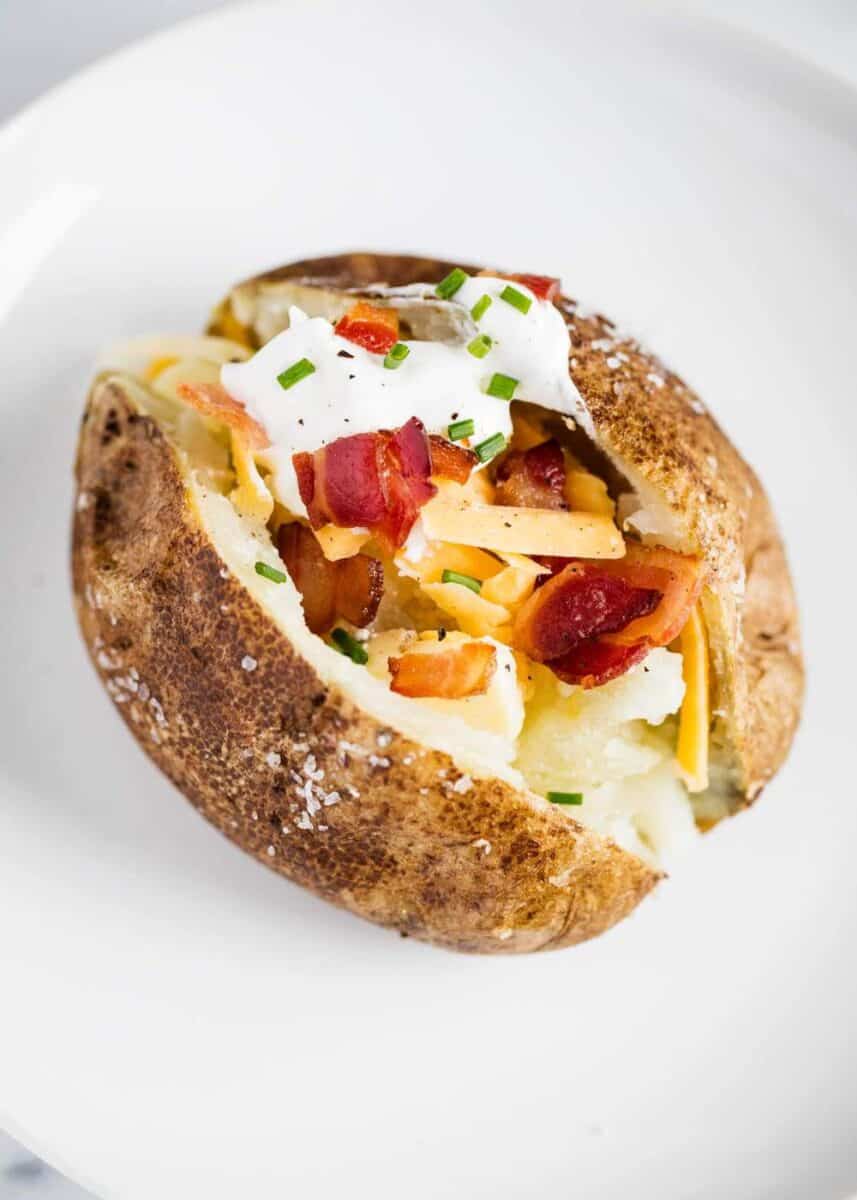 More Potato Side Dishes
HUNGRY FOR MORE? Subscribe to my newsletter and follow on Facebook, Pinterest and Instagram for all the newest recipes!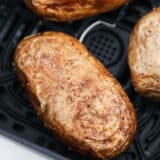 Air Fry Baked Potato
Air fryer baked potatoes are a potato lover's dream! Quickly and easily baked tender fluffy potatoes with flavorful crispy skins without ever having to turn on the oven!
Ingredients
3 russet potatoes
1-2 Tablespoons olive oil
1-2 teaspoons Kosher salt
Optional Toppings: Butter, cheese, sour cream, bacon, chives, chili (or anything else you want!)
Instructions
Preheat air fryer to 400°F. Give potatoes a good scrub and then dry them completely with a paper towel.

Pierce a few times with a fork or knife. Then brush them all over with olive oil. Sprinkle with coarse salt.

Place in air fryer and cook for 30 minutes. Turn potatoes and cook an additional 8-10 minutes or until fork tender. Remove from air fryer and allow to cool a few minutes.

Slice in half, then add your favorite toppings.
---
Notes
Potatoes: I like to do 3 potatoes, but if yours are smaller you can add in 4. Air Fryer: If using a toaster style air fryer, reduce the heat to 375°F. Reheating: You can reheat the potato in the air fryer at 400°F for 3 minutes or until heated. You could also reheat in the microwave.
Nutrition
Serving: 0.5potato | Calories: 209kcal | Carbohydrates: 38g | Protein: 4g | Fat: 4g | Sodium: 1173mg | Potassium: 888mg | Fiber: 2g | Sugar: 1g | Vitamin C: 12.1mg | Calcium: 28mg | Iron: 1.8mg
Nutrition provided is an estimate. It will vary based on specific ingredients used.
Did you make this recipe? Don't forget to give it a star rating below!