Our classic loaded baked potato is crispy on the outside, light and fluffy on the inside, and filled with sour cream, bacon, chives and melty cheese. It's the perfect quick and easy side dish that easily shines on its own!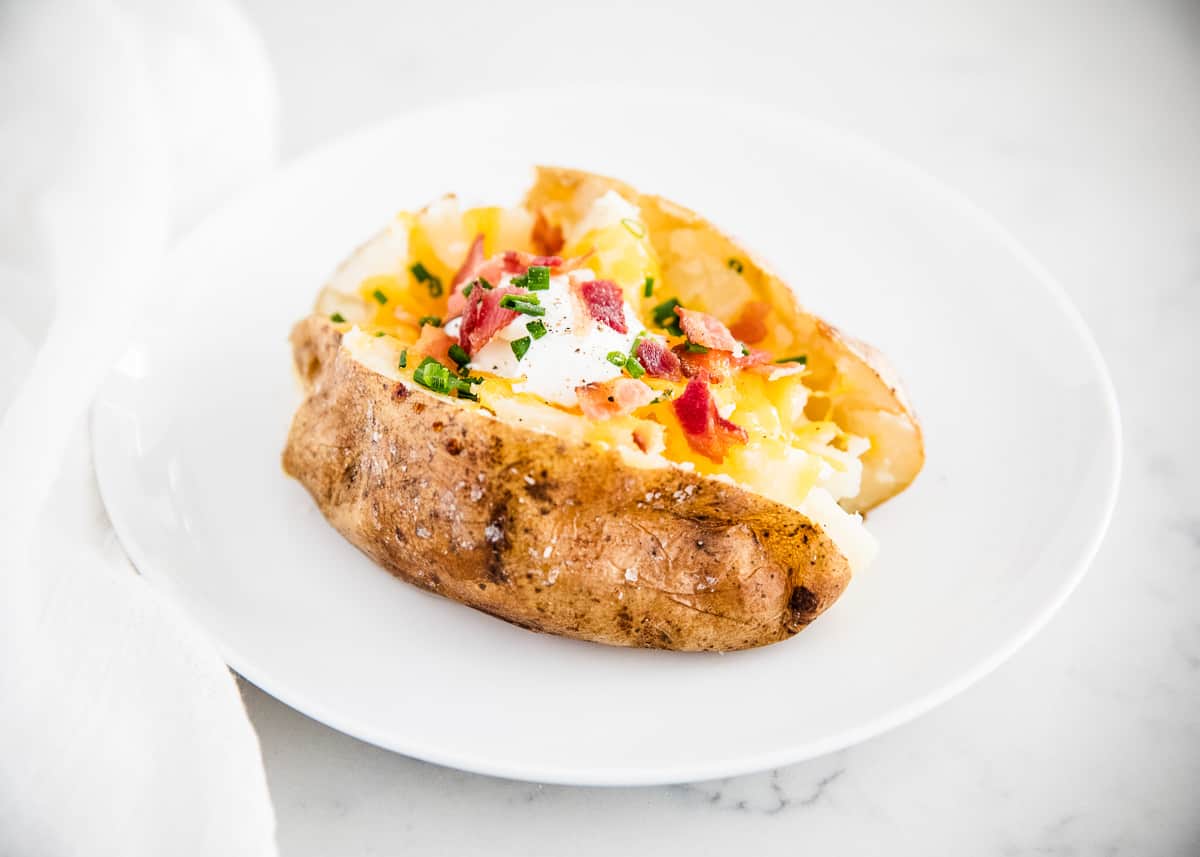 Twice Baked Potatoes
There is so much to love about this loaded baked potato recipe. A salty crispy skin on the outside, soft and fluffy potato on the inside, then topped with sour cream, bacon, chives, and gooey cheese that melts from the heat of the potato. It's a fully loaded baked potato, both in toppings and flavor!
One of the best things about this side dish is that it takes almost no effort at all compared to my recipe for potato skins!
Making the perfect baked potato takes a little prep and then the oven does the rest of the work, giving you time to prepare other things on your menu. Learning how to make loaded baked potatoes is a simple way to get a restaurant-quality side dish that everyone loves.
What is the Best Type of Potato for Baking?
Russet potatoes are definitely what you want to look for when picking out your potatoes. They've got great length which is great for holding all of those delicious toppings, but they've also got a sturdy skin that crisps up nicely. Russet potatoes are also higher in starch which means once baked, the potato flesh gets all nice and fluffy. You can't beat a russet for this recipe!
Can I Make a Loaded Sweet Potato Using the Same Recipe?
Yes, absolutely! Oven baked sweet potatoes are amazing and the sweetness will bring a nice balance to the rich bacon, cheese, and sour cream topping. Plus they come with some added nutrients that regular potatoes don't have. The cooking time may need to be adjusted, but otherwise, follow the recipe as directed.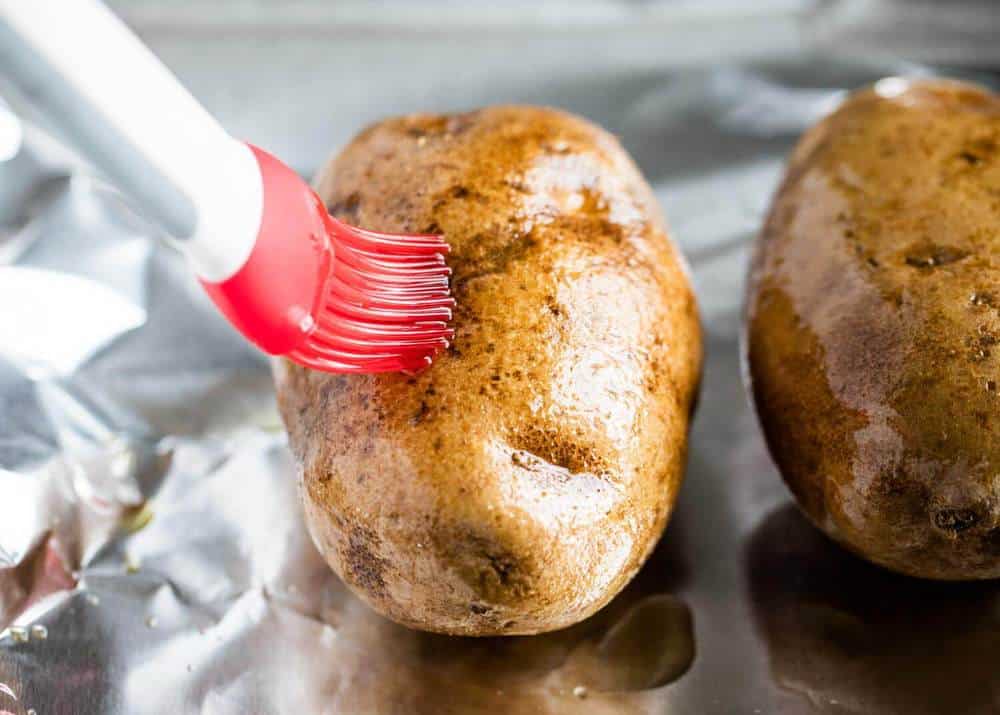 Can I Make this Recipe in the Microwave?
Technically yes. You can use the microwave to "bake" your potato and then add toppings to your steaming potato. However, keep in mind you won't get that same crispy exterior you would with the oven. If you're making more than one at a time, it's also probably easier to toss them all in the oven and walk away for the hour, rather than standing at the microwave.
In a nutshell, stick with the oven method if you can help it! Air fryer baked potatoes are another easy option that will get just as crispy and delicious as the oven. So if you have an air fryer, try giving it a shot!
Cooking Tips
Choose wisely. This is especially true when you're serving a crowd, you want to pick nice-looking potatoes. Smooth, clean, and without any offshoots (those things that start to poke and grow out of potatoes – some people call them eyes).
Clean the skin. The skin can be eaten too, so make sure to scrub it clean.
Season the outside. Make sure to brush the potato with olive oil and sprinkle it with kosher salt. It gives the skin a great flavor.
Pierce the skin. Poking holes in your baked potato allows for the steam to escape and helps avoid exploding potatoes (yes, that's a thing).
No foil needed. You may have seen potatoes wrapped in foil in order to bake them, whether in the oven, on the BBQ, or over a campfire. This method works if you're baking a potato and trying to soften the skin. But to get the extra crispy skin sturdy enough to hold everything, you don't need to wrap it in any foil.
Create an opening. Use your fork to break apart the potato before adding your toppings.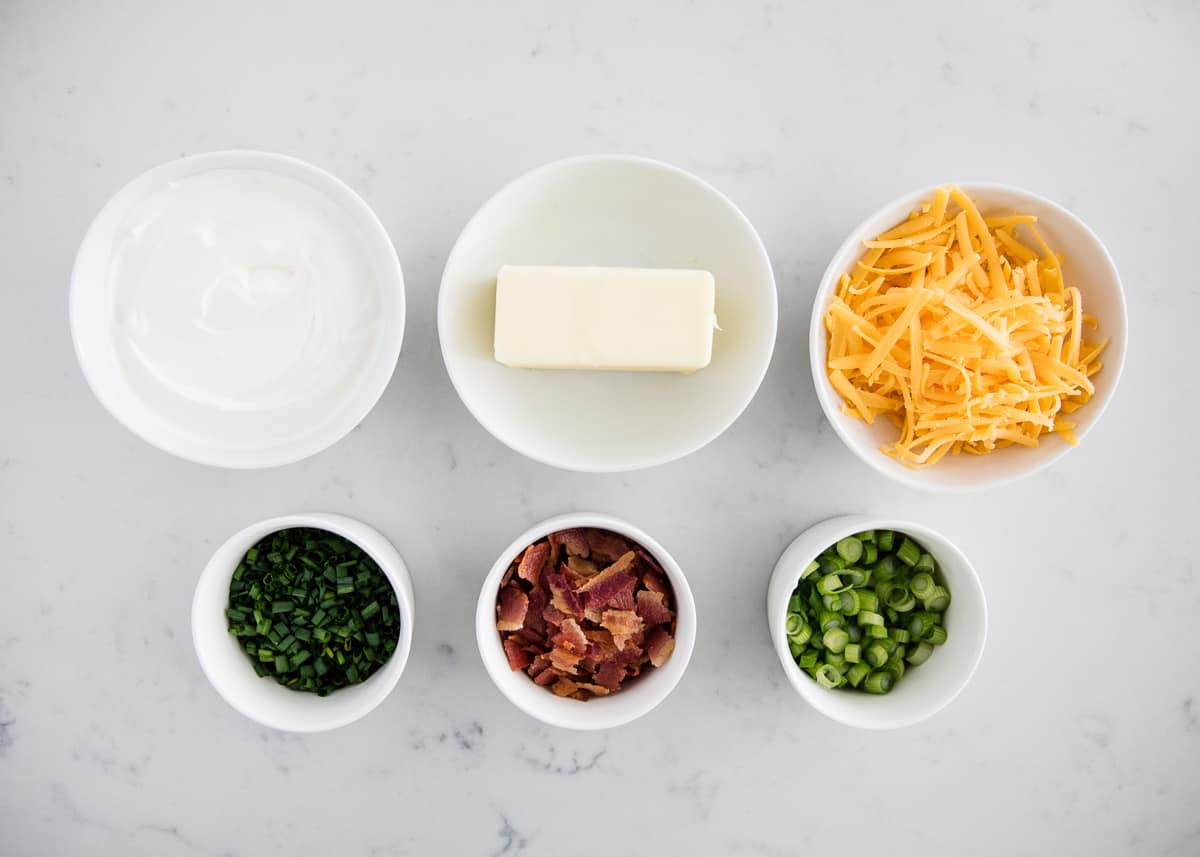 Loaded Baked Potato Toppings
Loaded baked potatoes have to be one of my favorite side dishes. It's my favorite thing to order at a steak house or make at home for a nice dinner. My guests love when I set up a baked potato bar so they can choose their own toppings. It's a great way to entertain a crowd and still keep it classy!
Butter
Shredded cheese
Sour cream
Crumbled bacon
Green onions or chives
Salt and pepper
Variations
A classic loaded baked potato has sour cream, bacon, cheddar, and chives, but this is just the beginning. There are so many ways to switch up the toppings, mix and matching flavor combinations is one of the best ways to show off the versatility of the potato!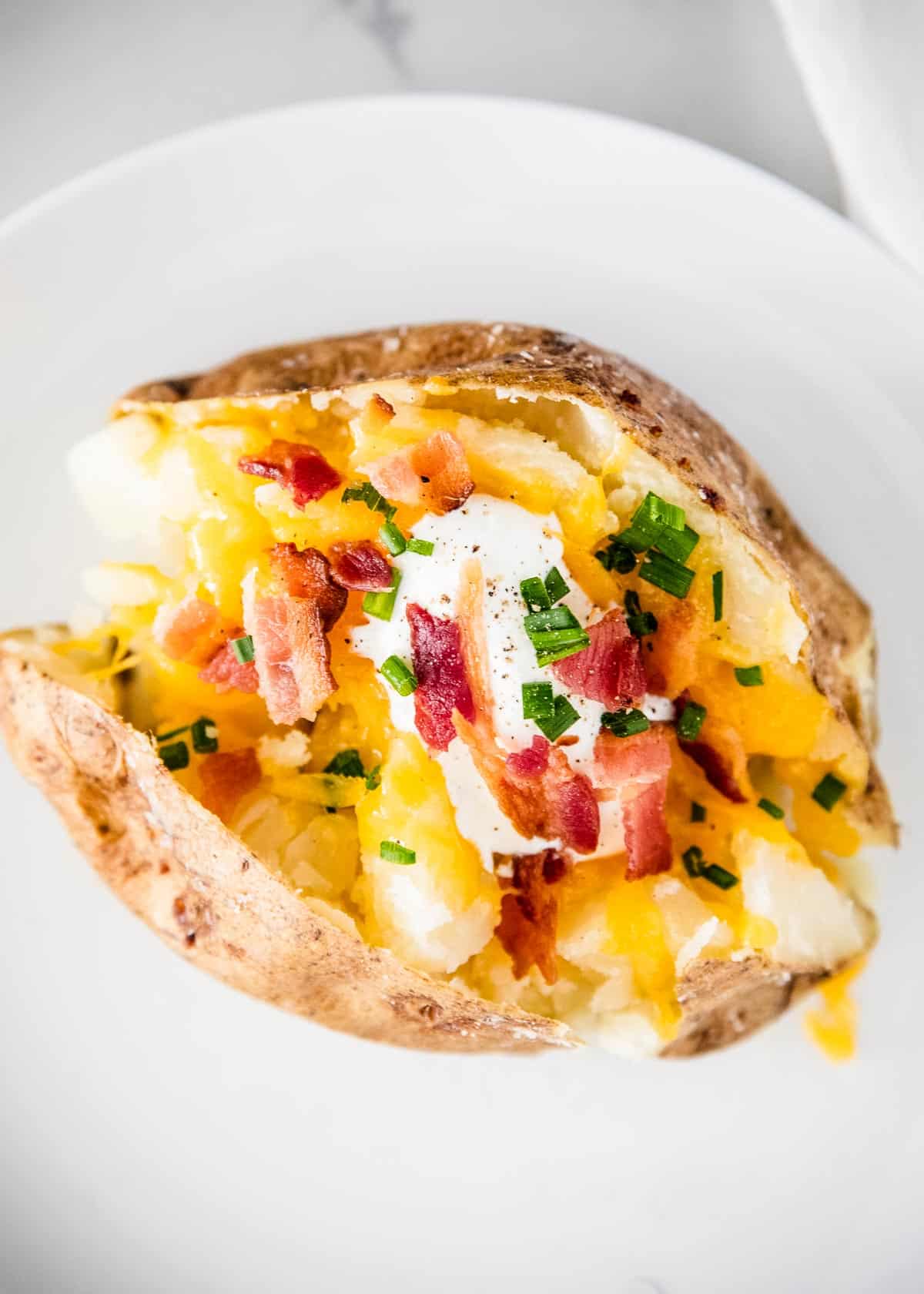 What to Serve With
HUNGRY FOR MORE? Subscribe to my newsletter and follow on Facebook, Pinterest and Instagram for all the newest recipes!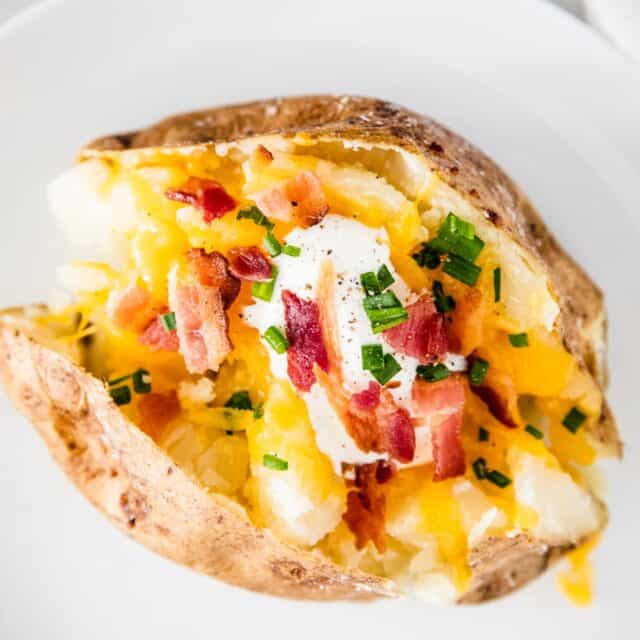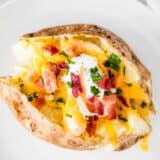 Loaded Baked Potato
Our classic loaded baked potato is crispy on the outside, light and fluffy on the inside, and filled with sour cream, bacon, chives and melty cheese. It's the perfect quick and easy side dish that easily shines on its own!
Ingredients
Instructions
Preheat oven to 400°F and line a baking sheet with aluminum foil. Spray foil with nonstick spray.

Give potatoes a good scrub and then dry them completely with a paper towel.

Lay on a foil-lined baking sheet, then brush them all over with olive oil. Pierce a few times with a fork or knife and then sprinkle with coarse salt.

Bake in preheated oven for 1 hour, or until soft and tender.

Slice potato in half and then use a fork to break apart the potato. Add the butter, salt and pepper then mix around. Top with cheese, sour cream, bacon crumbles and chives. Top with salt and pepper and serve while warm.
---
Nutrition
Calories: 413kcal | Carbohydrates: 39g | Protein: 10g | Fat: 25g | Saturated Fat: 11g | Trans Fat: 1g | Cholesterol: 46mg | Sodium: 1437mg | Potassium: 963mg | Fiber: 3g | Sugar: 2g | Vitamin A: 398IU | Vitamin C: 13mg | Calcium: 113mg | Iron: 2mg
Nutrition provided is an estimate. It will vary based on specific ingredients used.
Did you make this recipe? Don't forget to give it a star rating below!