A crowd pleasing side dish these twice baked potatoes are made with potato shells stuffed with creamy mashed potatoes then topped with cheese, bacon and green onions. The perfect flavorful side for parties or holiday gatherings!
Can't get enough potato dishes? Try these easy potato skins, loaded baked potato soup or garlic mashed red potatoes, too!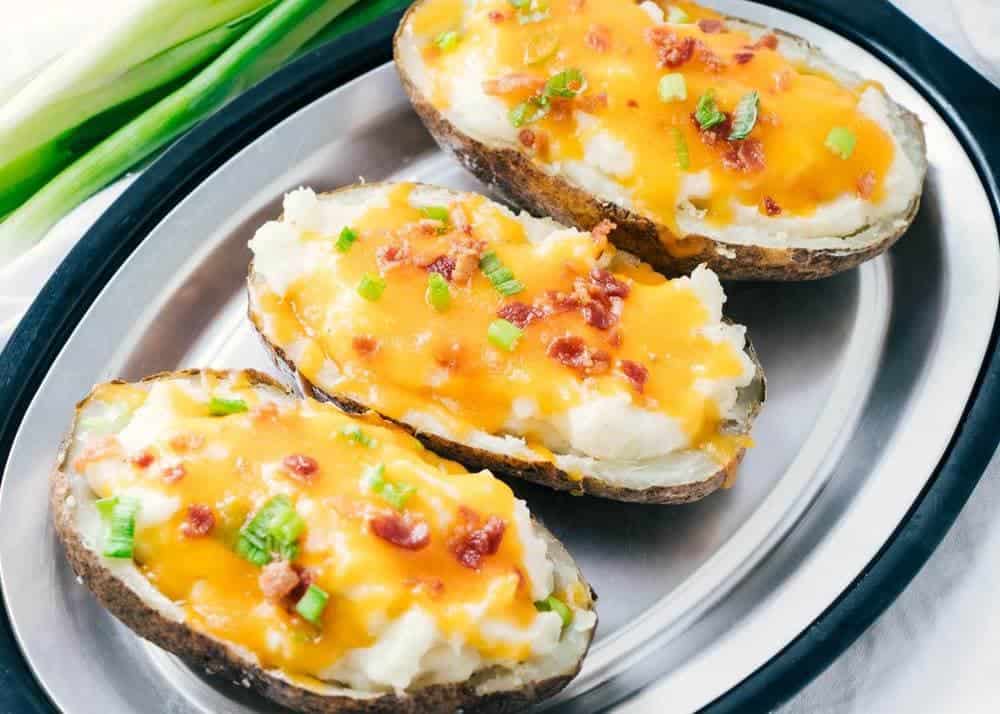 The Best Twice Baked Potatoes
This twice baked potatoes recipe is one of my favorite Christmas dinner or Thanksgiving side dishes to make. We never go a holiday without them. They are a family favorite and are always gone so fast!
If you are a potato, cheese and bacon lover like me, you are bound to love these! They have the same flavors as a loaded baked potato and are perfect for the holidays.
Using my best tip for baking potatoes really takes this recipe over the top! I love the skin when it has added salt and is a little crisp like my hasselback potatoes recipe. Seriously, if you haven't tried these yet, you have got to make them!
Recipe Ingredients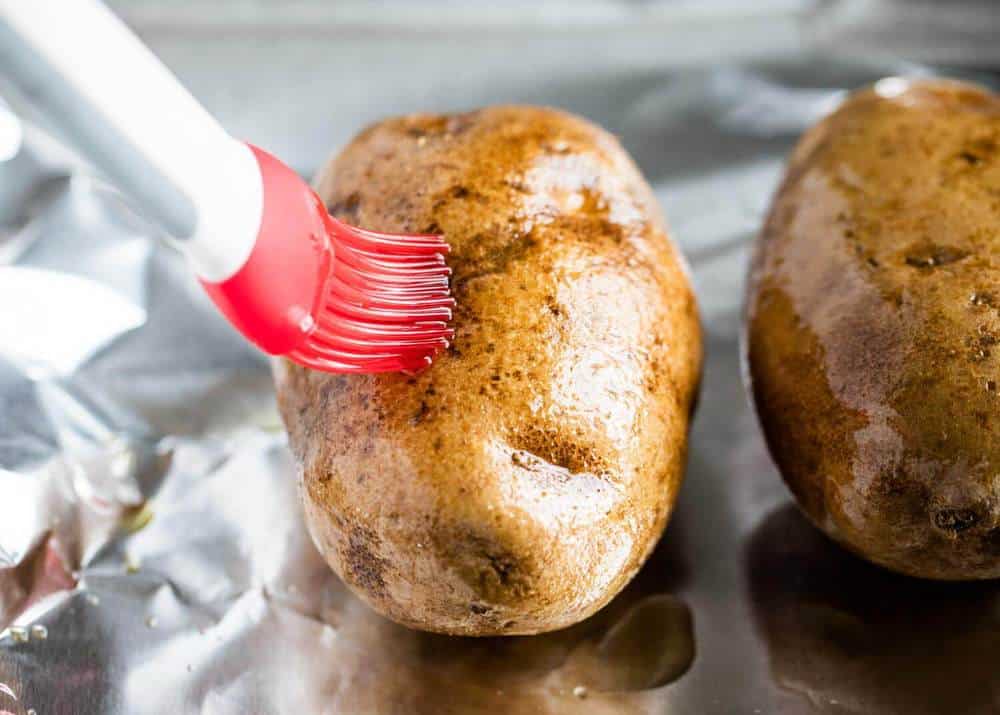 Find the full printable recipe with specific measurements below.
Potatoes: You can't have twice baked potatoes without the potato. Russets are the best to use as they are easy to fill.
Olive oil: This is used to coat the exterior of the potatoes before baking to help give them a crispy skin.
Butter: Add a little to help make the filling extra creamy.
Half-and-half: The creamy texture of theses mashed potato filling is no joke, thanks to the addition of half-and-half.
Sour cream: The tang of sour cream works so well with the sharpness of the cheese and the salt from the bacon.
Cheese: I love using a sharp cheddar cheese to help balance the all the flavors.
Bacon bits: The saltiness of the bits cut through the creaminess.
Green onion: This is optional, but I love the freshness and a little spice it adds.
Seasoning: Kosher salt and ground black pepper are all that you need for seasoning.
Best Type to Use
Russets are the best potatoes to use when making this recipe. They are large enough to hold the filling, and the insides are nice and starchy, resulting in a super creamy and fluffy consistency. The skin also gets extra crispy when baked which adds an amazing texture and flavor.
How To Make Twice Baked Potatoes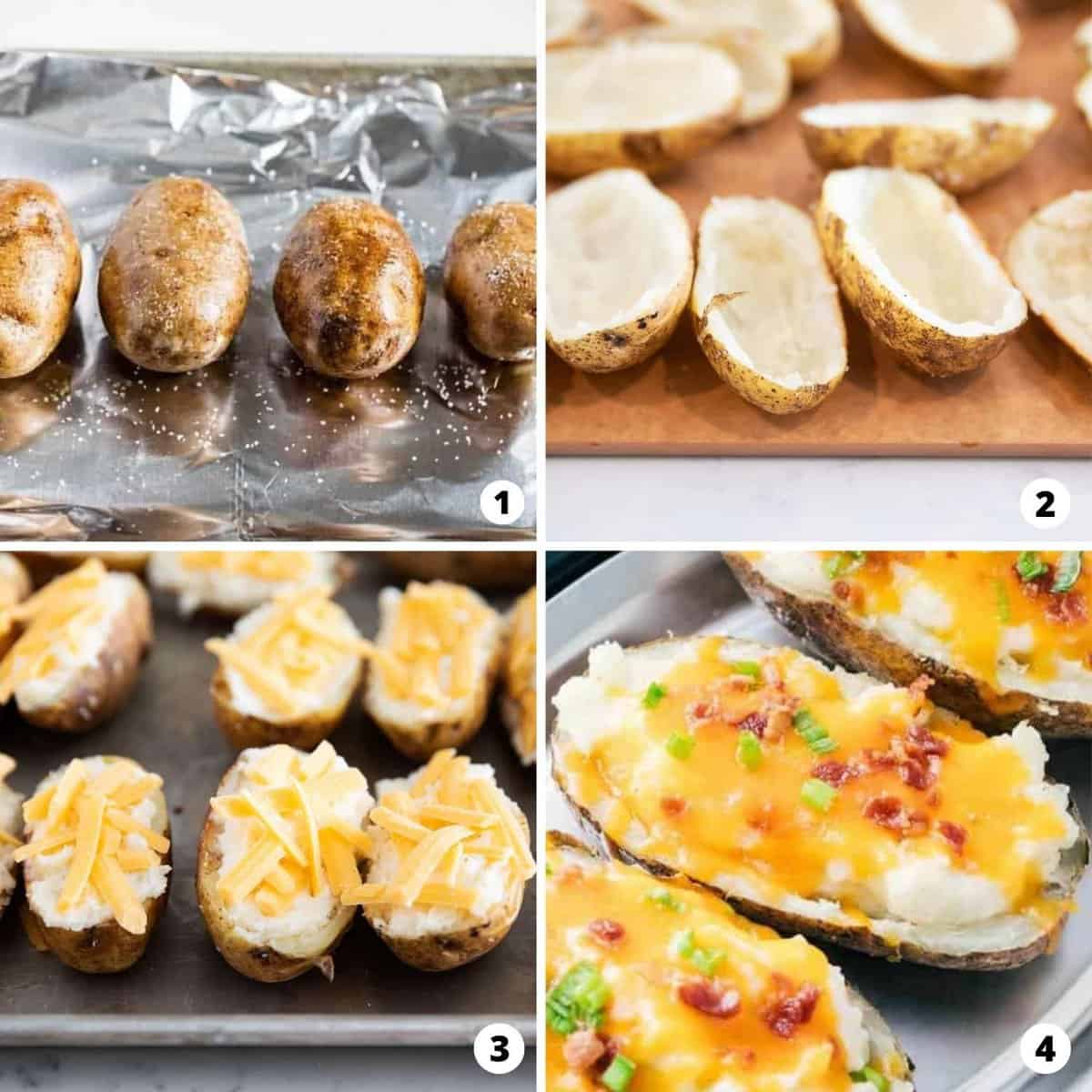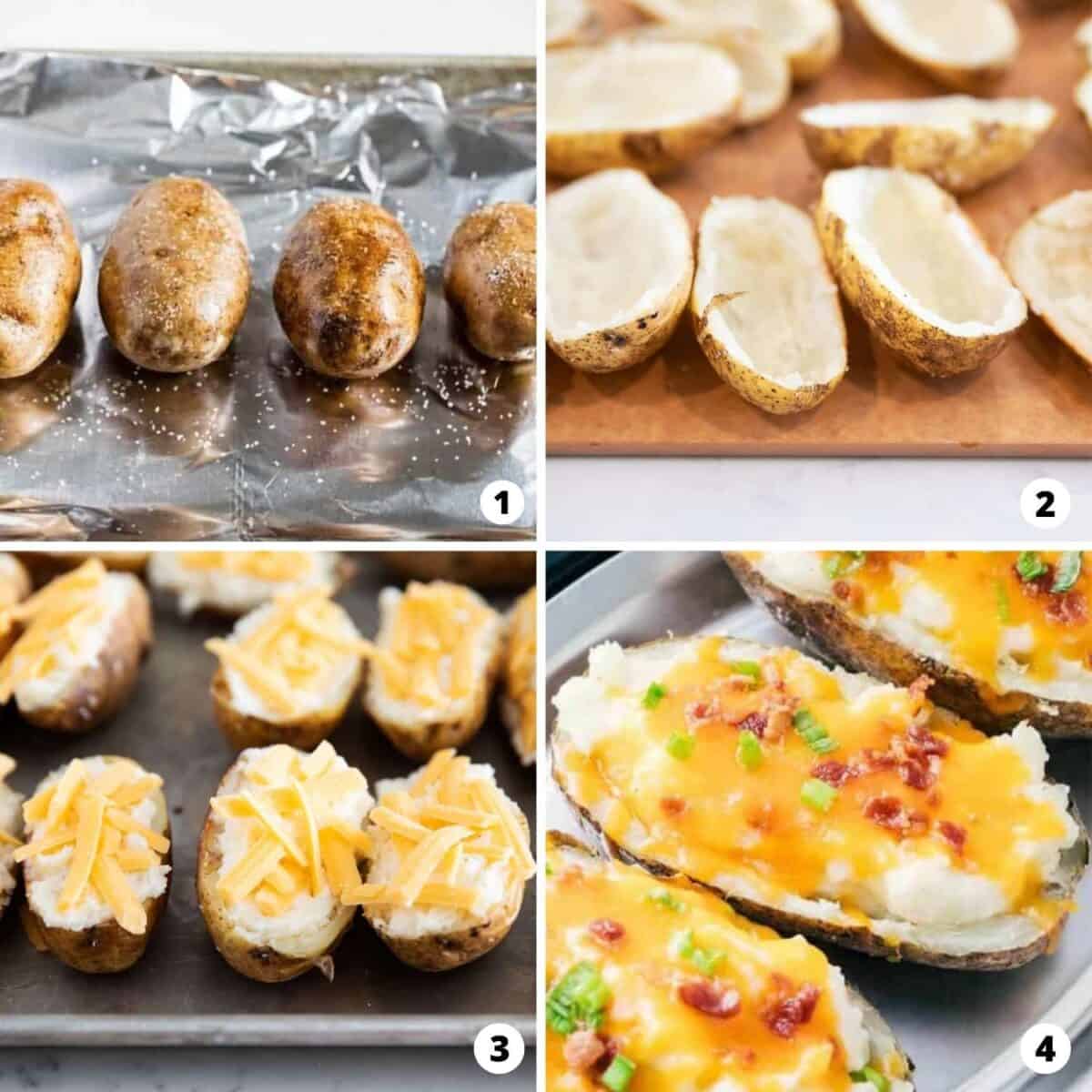 Bake the potatoes. Preheat oven to 400°F and line baking sheet with foil. Wash potatoes under cold water and then pierce with fork several times. Place potatoes on pan and brush with olive oil and sprinkle with kosher salt. Bake for one hour until fork tender, then allow to cool.
Scoop out interior and make potato mixture. Slice potatoes in half and scoop out majority of inside of potato (leave a little bit so that skins don't tear). Mash insides in large mixing bowl and then stir in butter, half and half, sour cream, salt and pepper. You can use an electric mixer to speed up the process, but make sure not to over mix or else they'll taste gummy. Usually about 10 seconds is the sweet spot.
Add filling back in potato shells. Once potatoes are mashed, spoon the mixture back into the skins.
Bake again. Top with cheese, bacon bits and chives. Bake in the oven at 375°F for 10-15 minutes or until cheese is bubbly. Salt and pepper to taste. We love to serve them with ranch dressing on the side for dipping.
Make Them Your Own!
There are plenty of ways to jazz up the classic recipe to make these double baked potatoes your own. Add a sprinkle of paprika or garlic powder to the filling for more flavor. You can even make a yummy vegetarian option with broccoli and cheddar cheese. Don't be afraid to get creative with it!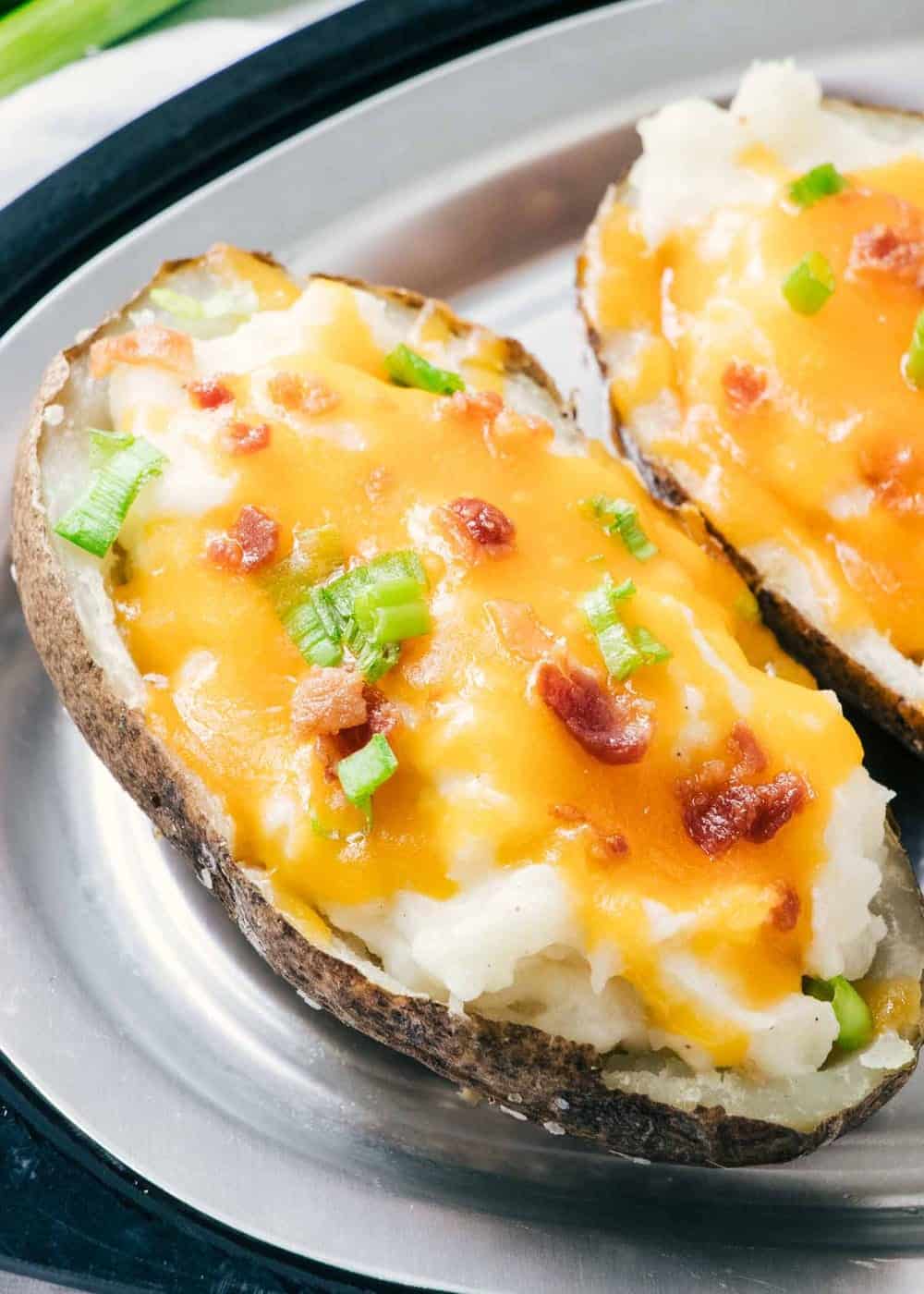 Recipe FAQ
What are twice baked potatoes?
A twice baked potato is a potato that has first been fully cooked in the oven. The white potato interior is then scooped out, to leave the potato skin as the 'shell.'

Then the potato interior is mixed with fillings such as butter, sour cream, cheese and bacon. Next the potato mixture is scooped back into the potato shell and baked in the oven again with cheese on top.
What is the difference between baked potato and twice baked potato?
They are called twice baked because the potato is baked twice. You basically start with a baked potato and then scoop out the filling to make mashed potatoes and put it back in. Then top with cheese and bake again.
Can you make the day before?
Yes! If making the day before, follow recipe instructions, however do not bake for the second time yet (step 4). Once the potato mixture has been scooped back into the potato shells, transfer the potatoes to an airtight container and refrigerate overnight. When ready to serve the next day, preheat oven and bake for 15-20 minutes, or until nice and bubbly.
Why are my twice baked potatoes gummy?
If the potatoes are gummy they you over-baked, underbaked or over mashed the potatoes. Only bake for 1 hour and test with a fork to see if they're soft. When you're mashing, be careful to not over-mix. Try to add all the ingredients at once and mash quickly.
Best Way to Reheat
I typically reheat my twice baked potatoes in the oven for about 15 to 20 minutes (I add a few extra minutes since they're cold before baking). You can microwave them as well, however I prefer the crispy texture that the oven gives them. If microwaving, I'd reheat them for about 2-3 minutes.
Freezing Instructions
To freeze, allow to cool and then wrap each potato individually in aluminum foil. Then place in freezer. To thaw, stick in the refrigerator overnight then bake in oven for 15-20 minutes the next day.
5 star review
"Throw out all your other baked stuffed potatoes recipes. This is the winner!!! Followed instructions exactly, and these are delicious!! Love them!"

– Jeanenne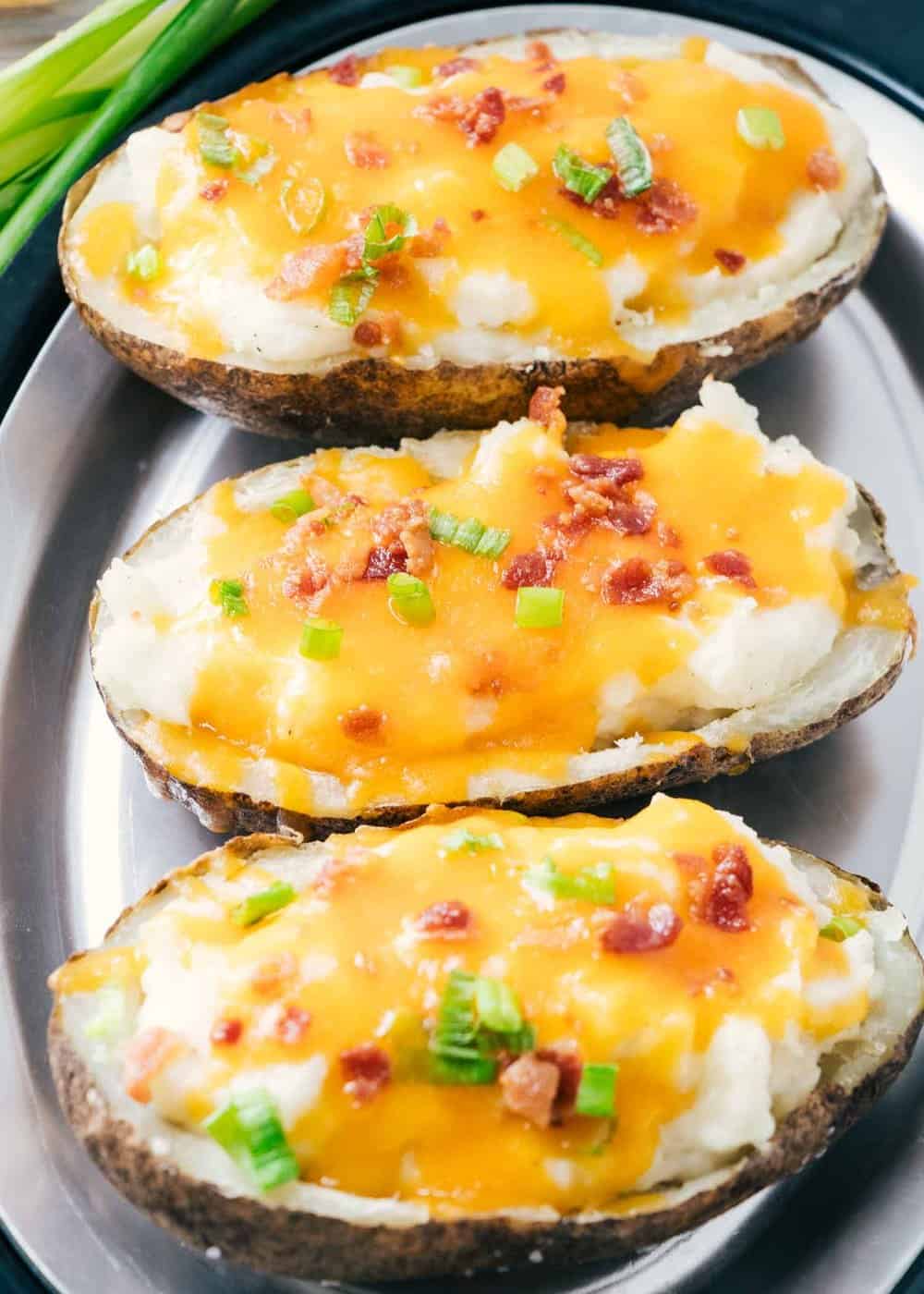 More Favorite Potato Recipes
HUNGRY FOR MORE? Subscribe to my newsletter and follow on Facebook, Pinterest and Instagram for all the newest recipes!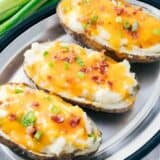 Twice Baked Potatoes
One of my all-time favorite side dishes! These twice baked potatoes make the perfect appetizer and are a true crowd pleaser! So easy and yummy!
Ingredients
6 medium baked potatoes
2 Tablespoons olive oil
1 Tablespoon Kosher salt
Filling
6 Tablespoons unsalted butter
⅓ cup half-and-half
¼ cup sour cream
½ teaspoon Kosher salt
¼ teaspoon ground black pepper
Topping
1 cup shredded cheese
½ cup bacon bits
1 bunch green onions , chopped thin, optional
Kosher salt , to taste
Ground black pepper , to taste
Instructions
Preheat the oven to 400°F. Line a baking sheet with foil.

Scrub the potatoes under cold water. Pierce each with a fork several times and place on the baking sheet. Brush with olive oil and sprinkle with salt. Bake 1 hour. Let cool. Reduce oven temperature to 375°F.

Cut potatoes in half. Scoop the white potato interior into a large bowl, leaving a little bit so the skins don't tear. Add the butter, half-and-half, sour cream, salt, and pepper to the bowl. Mash until combined, being careful not to over-mash.

Scoop the potato mixture back into the skins. Top with cheese and bacon.

Bake 10 to 15 minutes, or until cheese is bubbly. Top with sliced green onions, if desired, and season with salt and pepper.
---
Notes
Note: I usually end up only filling 10 potato skins. I like to fill them to the top, so I will usually discard 1-2 skins if they've broke. Storage: Store leftovers in an airtight container in the refrigerator up to 4 days. Reheat in the oven or a toaster oven for best results.
Nutrition
Calories: 280kcal | Carbohydrates: 2g | Protein: 8g | Fat: 27g | Saturated Fat: 13g | Polyunsaturated Fat: 2g | Monounsaturated Fat: 10g | Trans Fat: 0.5g | Cholesterol: 65mg | Sodium: 1645mg | Potassium: 107mg | Fiber: 0.1g | Sugar: 1g | Vitamin A: 627IU | Vitamin C: 1mg | Calcium: 127mg | Iron: 0.3mg
Nutrition provided is an estimate. It will vary based on specific ingredients used.
Did you make this recipe? Don't forget to give it a star rating below!