Air fryer potato skins are a cross between air fryer baked potatoes and loaded baked potatoes with the inside of the potato hollowed out to make room for the melty cheese and bacon! The perfect crispy salty appetizers for game day parties, potlucks, or summer BBQs!
The Perfect Appetizer, Snack, or Side Dish!
Air Fryer potato skins are known for their deliciously crispy skin and melted cheesy bacon flavor which is why they're always a hit on game day or as a party appetizer! Normally I'm all over my easy potato skins recipe, but this time I thought I would use the air fryer to give them that crisp texture while also being a healthier alternative to traditional deep-fried potato skins!
Making delicious potato skins in the air fryer not only frees up oven space for when I have other recipes on the go, but for summer potlucks and BBQs, I don't need to turn on the oven at all. Checking so many boxes my friends.
Whether you enjoy them as an appetizer, a side, or a main meal all on its own, making them is worth every rich and heavenly bite!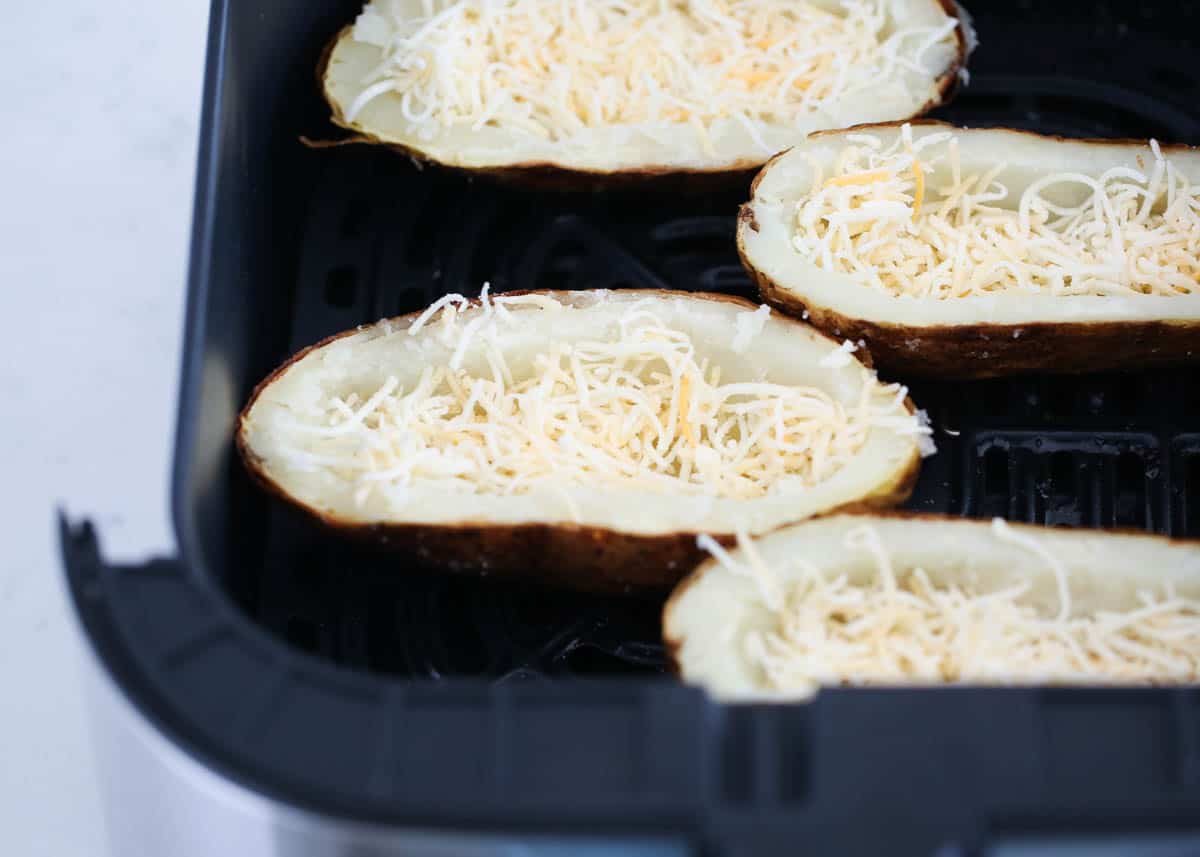 How to Make Potato Skins in the Air Fryer
Prepare: Preheat the air fryer to 400 degrees F. Scrub the potatoes well and pat dry with a paper towel.
Brush: Pierce them with a fork to allow the steam to escape. Brush with oil and sprinkle the potatoes with coarse sea salt.
Cook: Air fry the potatoes for 30 minutes, then flip them and air fry for 8-10 minutes longer until they are fork-tender. Remove from the air fryer and allow them to cool.
Scoop: Slice the potatoes in half and scoop out the middle flesh of the cooked potato. You want to leave enough potato so that they are still sturdy. Don't go too close to the potato peels.
Spray: Spray the potatoes with olive oil and place them back into the air fryer for 5 minutes.
Top: Remove the air fryer basket and add cheese and bacon to the grooves of each of the potato skins. Turn the heat down to 350 degrees and air fry once more for 2 minutes until the cheese melts.
Cool: Allow them to cool slightly before serving with your favorite toppings!
Cooking Tips
Make sure you start with dry potatoes. Too much moisture will keep the skin from getting nice and crispy.
Adding salt to the outside skin gives it a nice salty flavor, however, skip it if the salt in the cheese and bacon is enough for you.
Work in batches, especially once you've sliced potatoes in half. Keep room for heat circulation in between the potatoes so the skin stays nice and crispy.
If you are using a toaster-style air-fryer, reduce the heat to 375 degrees F.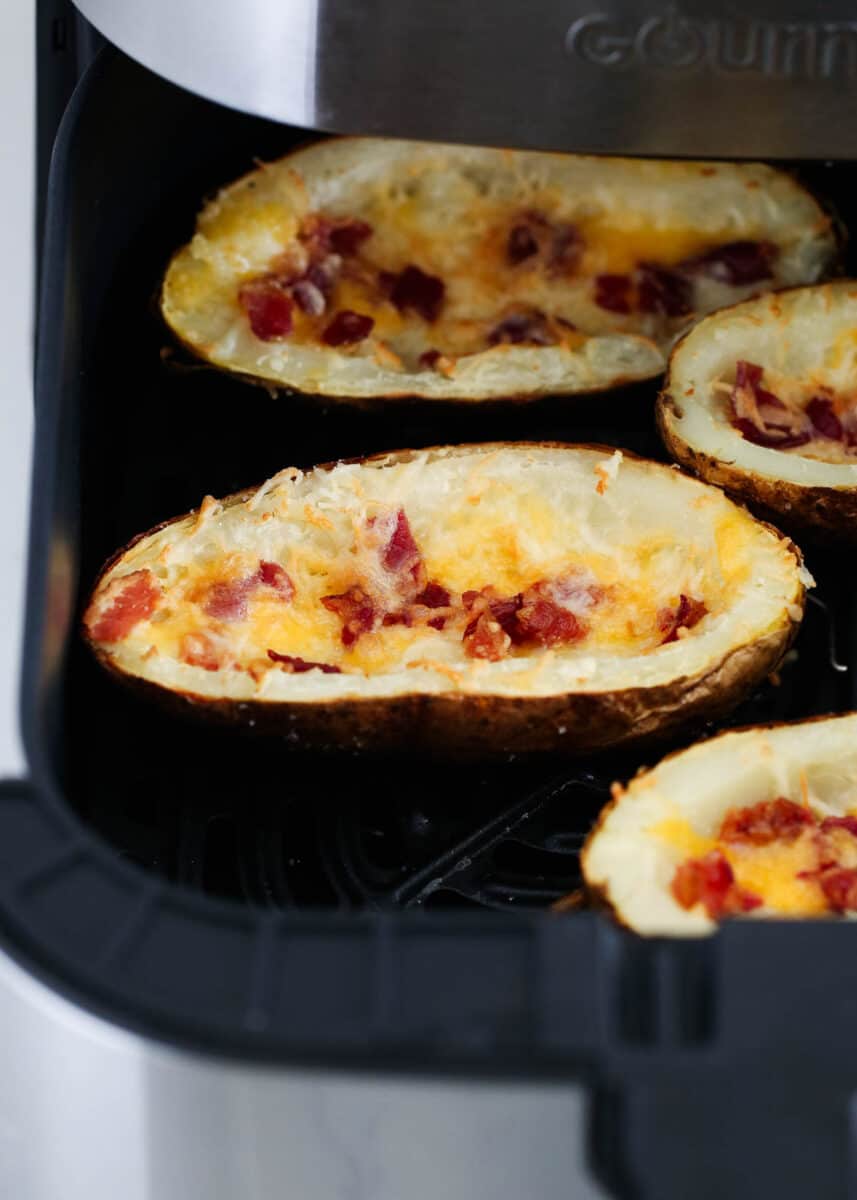 Variations
The best potato skins are what you make of them! Play around with the ingredients and provide a variety of different kids. Something for everyone is what I call the perfect appetizer!
Try adding some more seasoning to the skins, like garlic powder, black pepper, paprika, smoked paprika, taco seasoning, or chili powder.
Add shredded chicken, turkey, or leftover taco meat to the filling for added protein.
Make it buffalo chicken and top it off with blue cheese or saucy BBQ chicken!
Prepare meatless options and fill the air fryer potato skins with diced veggies, like broccoli along with the cheddar cheese.
FAQs
What are the best potatoes to use for this Air fryer potato skins recipe?
Russet potatoes are always a popular choice. They're large enough to make one potato a great serving size for one person with enough surface area to work with. The skin is sturdy and delicious when crispy! You can also use Yukon gold potatoes as they too hold sturdy. Their skin is a little more delicate so be careful when you're scooping out the flesh.

If you're serving them for snacks or side dishes for you and your family, use what you have. If you're serving them for guests, head to the grocery store and pick out nice-looking potatoes that have smooth skin and are similar in size.
Are they gluten-free?
If you are following the recipe as listed these potato skins are gluten-free. It's when you start topping them with all the delicious sauces that you have to be careful about. Gluten hides in everything!
What is the best way to reheat potato skins?
The best way to reheat them is in the air fryer! Add the potato skins to the air fryer and heat for 3-4 minutes then add as toppings desired. Do not microwave as they will turn out soggy.
Can I freeze potato skins?
Yes! This is a great way to satisfy that potato skin craving when it hits! Make your potato skins following the instruction but do not add toppings. Cool then flash freeze in a single layer before placing them in a freezer safe bag. To reheat, place frozen skins in the air fryer basket and heat for a couple minutes until warmed through and crispy.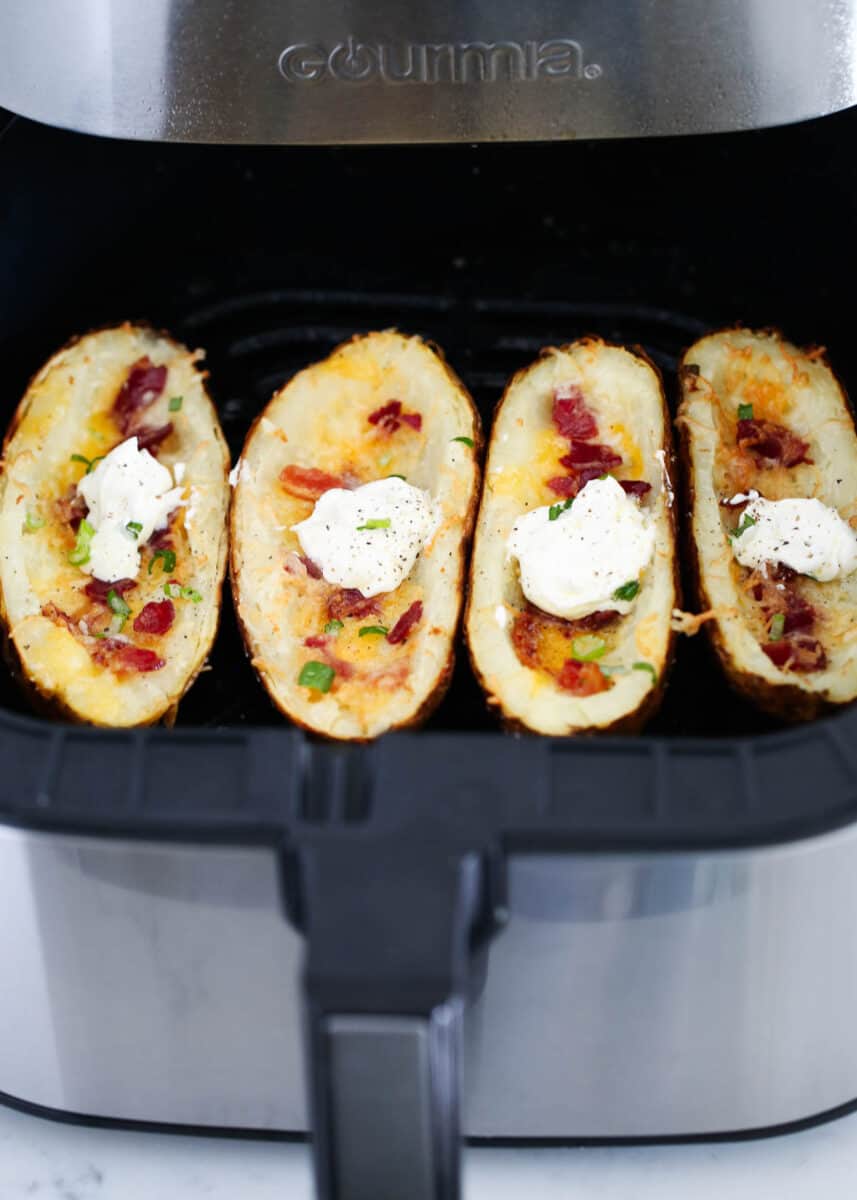 More Easy Appetizers
HUNGRY FOR MORE? Subscribe to my newsletter and follow on Facebook, Pinterest and Instagram for all the newest recipes!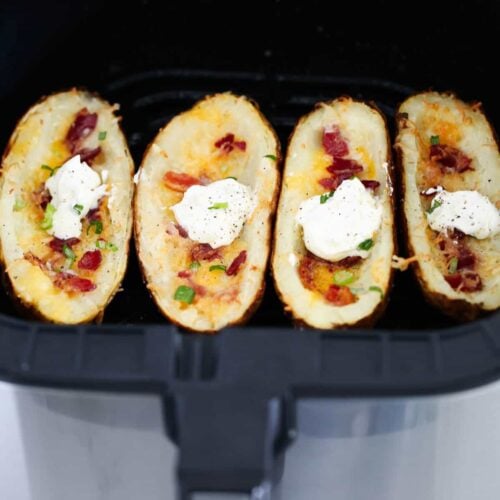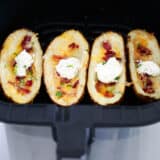 Air Fryer Potato Skins
Air fryer potato skins are a cross between air fryer baked potatoes and loaded baked potatoes with the inside of the potato hollowed out to make room for the melty cheese and bacon! The perfect crispy salty appetizers for game day parties, potlucks, or summer BBQs!
Ingredients
3 russet potatoes
1-2 Tablespoons olive oil
1-2 teaspoons Kosher salt
1/2-1 cup shredded cheddar cheese , more as desired
2-4 Tablespoons bacon crumbles , about 3 slices cooked and crumbled
Olive oil spray
Ground black pepper , to taste
Optional Toppings: sour cream, bacon, chives (or anything else you want!)
Instructions
Preheat air fryer to 400°F. Give potatoes a good scrub and dry them completely with a paper towel.

Pierce potatoes a few times with a fork or knife. Brush them all over with olive oil. Sprinkle with salt.

Place in air fryer and cook 30 minutes. Turn potatoes and cook an additional 8 to 10 minutes, or until fork tender. Remove from air fryer and allow to cool a few minutes.

Slice in half, and scoop out the middle of the potato. Spray the potatoes with olive oil spray and season with salt and pepper. Place back in the air fryer 5 minutes. If there is not enough room, you may need to do 2 batches.

Remove basket and reduce the temperature to 350°F. Sprinkle the cheese and bacon into the pocket of the potato skin. Cook an additional 2 to 3 minutes.

Cool a couple of minutes before topping with sour cream and chives. Serve while warm.
---
Notes
Air Fryer: If using a toaster style air fryer, reduce the heat to 375°F. Reheating potatoes: You can reheat the potato in the air fryer at 350°F for 2 minutes or until heated. You could also reheat in the microwave.
Nutrition
Serving: 1potato skin | Calories: 154kcal | Carbohydrates: 20g | Protein: 5g | Fat: 6g | Saturated Fat: 2g | Polyunsaturated Fat: 1g | Monounsaturated Fat: 3g | Cholesterol: 10mg | Sodium: 493mg | Potassium: 457mg | Fiber: 2g | Sugar: 1g | Vitamin A: 95IU | Vitamin C: 6mg | Calcium: 84mg | Iron: 1mg
Nutrition provided is an estimate. It will vary based on specific ingredients used.
Did you make this recipe? Don't forget to give it a star rating below!