Entertaining on a budget has never been easier, impressive and more fun! Setting up a baked potato bar with different toppings is perfect for any occasion from parties to potlucks and allows guests to top their potato how they like it.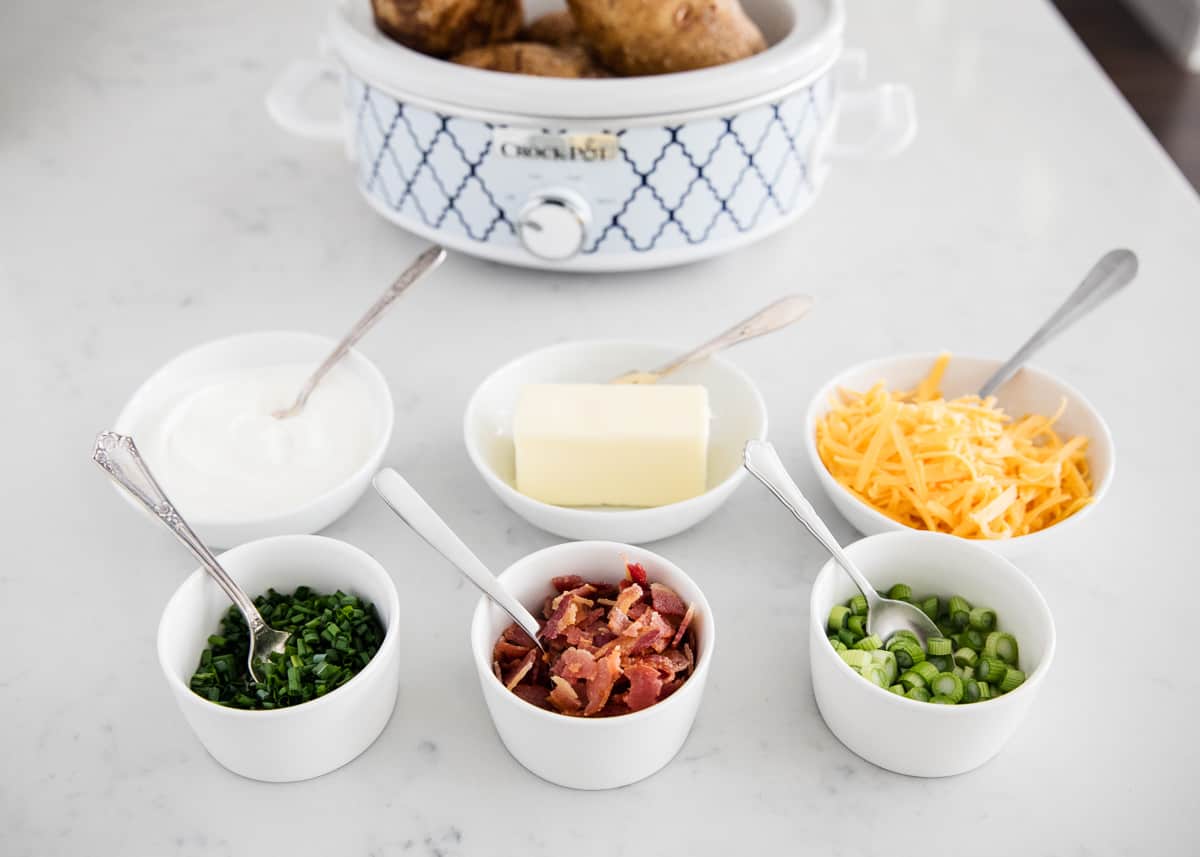 Loaded Baked Potato Bar
As much as I love a baked potato bar for entertaining a crowd, truth be told, there's nothing I love more than setting it up for family dinner night! This quick and easy kid-friendly meal never fails to please picky eaters. My kids love a classic loaded baked potato with bacon, sour cream, and cheddar cheese, so whatever toppings don't get used up, I like to use the next day as a garnish for this ham and potato soup, especially during cooler months.
Having a baked potato bar is all about having options. It's what we love about buffets! Being able to not only choose your own toppings but knowing you can go back and have something different the second time around is a treat!
It's such an easy, budget-friendly way to serve a crowd, for game days, movie nights, summer BBQs, or even birthday parties! It makes entertaining so much fun and it really is so customizable that you never need to worry about not pleasing individual tastes.
Baked potato bar toppings range in everything from sour cream, shredded cheese, and crumbled bacon, to loads of veggies and saucy bbq chicken or spicy chili! Whatever you've got going on for baked potato bar ideas, you're sure to come up with something for everyone.
Ingredients You'll Need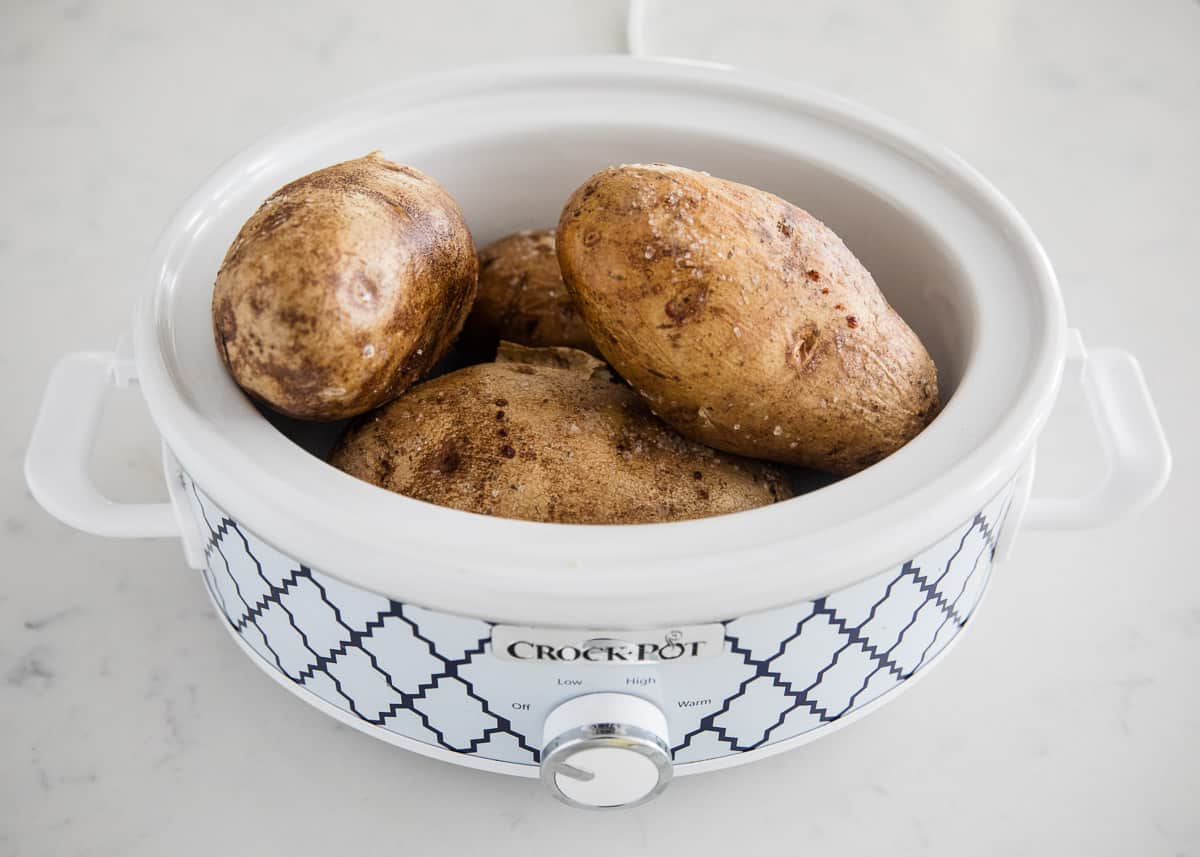 Russet potatoes: The main star of the potato bar! You will also need olive oil and Kosher salt.
Toppings: Choose any toppings you would like to top your potato! Other than butter, green onion or scallions, sour cream and cheese the list is endless. You can opt for plain cheddar or get fancy with feta, gouda or pepper jack! The list is endless, check out more toppings below.
What Potatoes Should I Use?
Russet potatoes are definitely the way to go. The skin crisps up nicely, you get a soft fluffy interior thanks to the high starch content and they're a nice size to be able to fit all of those delicious toppings.
The prep is easy for this meal because you can get your toppings together while your potato is baking. Once you've got the perfect baked potato that's crispy on the outside and perfectly soft and fluffy on the inside, it's then time to let the topping's shine.
You could also provide oven baked sweet potatoes as an option!
How to Set Up a Baked Potato Bar
Make your potatoes. This recipe is for making baked potatoes in the oven. Although you could make air fryer baked potatoes if you like crispy skin or switch things up and make crockpot potato soup instead!
Prep toppings. Place desired toppings in small bowls, plates or bottles. A variety of sizes will make your display more appealing and interesting.
Assemble the bar. I like to just place everything right on my counter island with the potatoes in the middle and the toppings around it. Fresh herbs will add a pop of color if desired. You could also use a large tray or baking sheet!
Baked Potato Toppings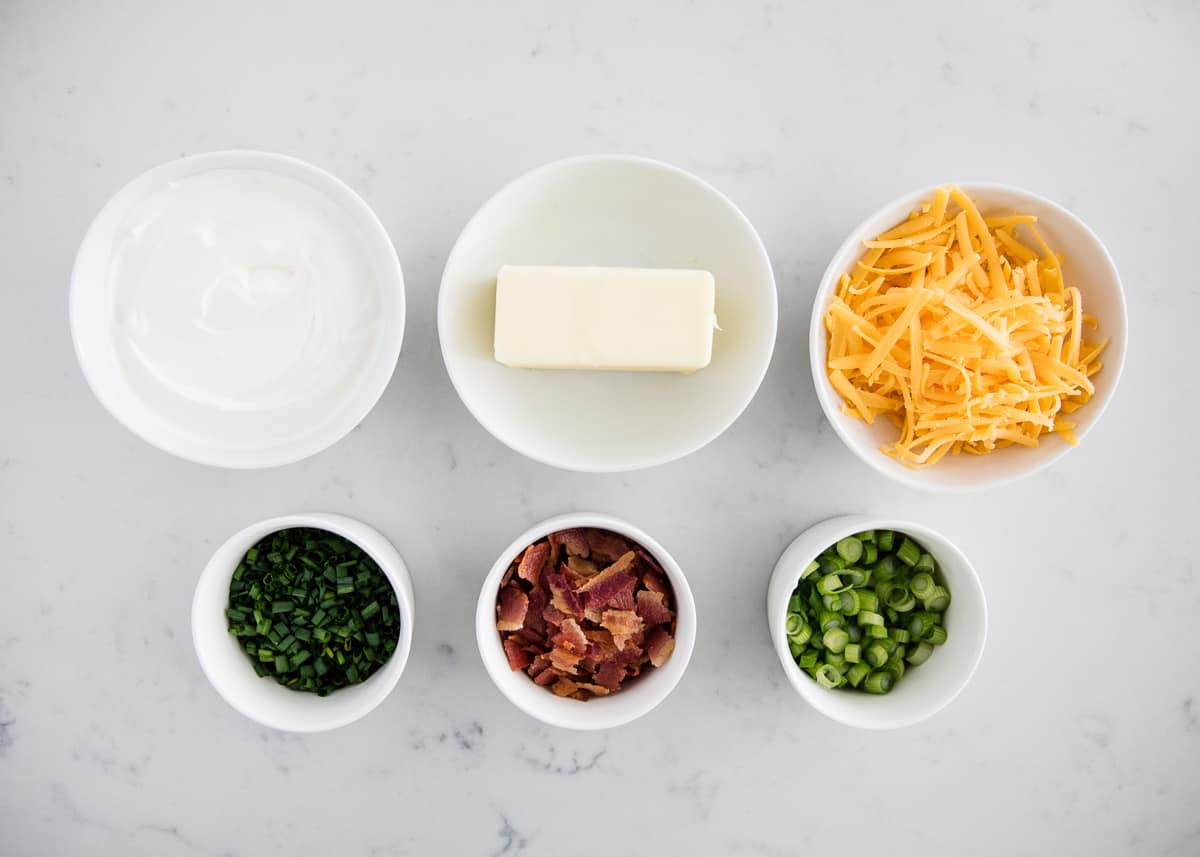 When thinking about how to plan a potato bar, coming up with a variety of topping ideas is key! Have a bit of everything from vegetarian options to meat options to everything in between.
Black beans and corn
Salsa and avocado
Broccoli
Shredded cheese
Ground beef
The Best Method for the Perfect Baked Potato
If you're making a baked potato for one, you could technically use the microwave. It will "bake" a potato quickly, but it won't give you a crispy exterior. Neither will grilling it wrapped in foil! Although, if you're having an outside BBQ anyway, you may want to give this method a try.
I find the BEST way to bake a potato is actually to literally bake the potato! Making sure to pierce the skin, to allow the steam to escape, all it takes is 400 degrees in the oven to get you beautiful crispy skin. This also means you want to make sure to scrub your potatoes clean and sprinkle a bit of salt before baking because it's definitely meant for eating!
Using the air fryer will also give you delicious results with a crispy exterior and fluffy interior. Air fryer baked potatoes are my latest obsession!
What to Serve Them With
Your choice of what to serve it with will be different based on what you have going on. If it's a sit-down dinner you may want to serve them with pork carnitas, baked hamburgers or buffalo chicken salad.
If it's a party and the situation is more move and mingle meatloaf muffins are a great option! At a summer BBQ, grilled chicken or baked mac and cheese always go over well.
FAQs
How do I keep baked potatoes warm for a potluck?
I like to add the cooked potatoes to a slow cooker and keep on the warm setting.
How many baked potatoes per person for a potato bar?
A good estimate is one potato per person. 10 pounds of potatoes will usually contain 10-15 potatoes and can feed up to 15 people. Sizes might vary though, and if your potatoes are smaller or larger this could change the amount you need.
How do I know when my potato is baked?
When you can easily pierce it with a fork, it's ready!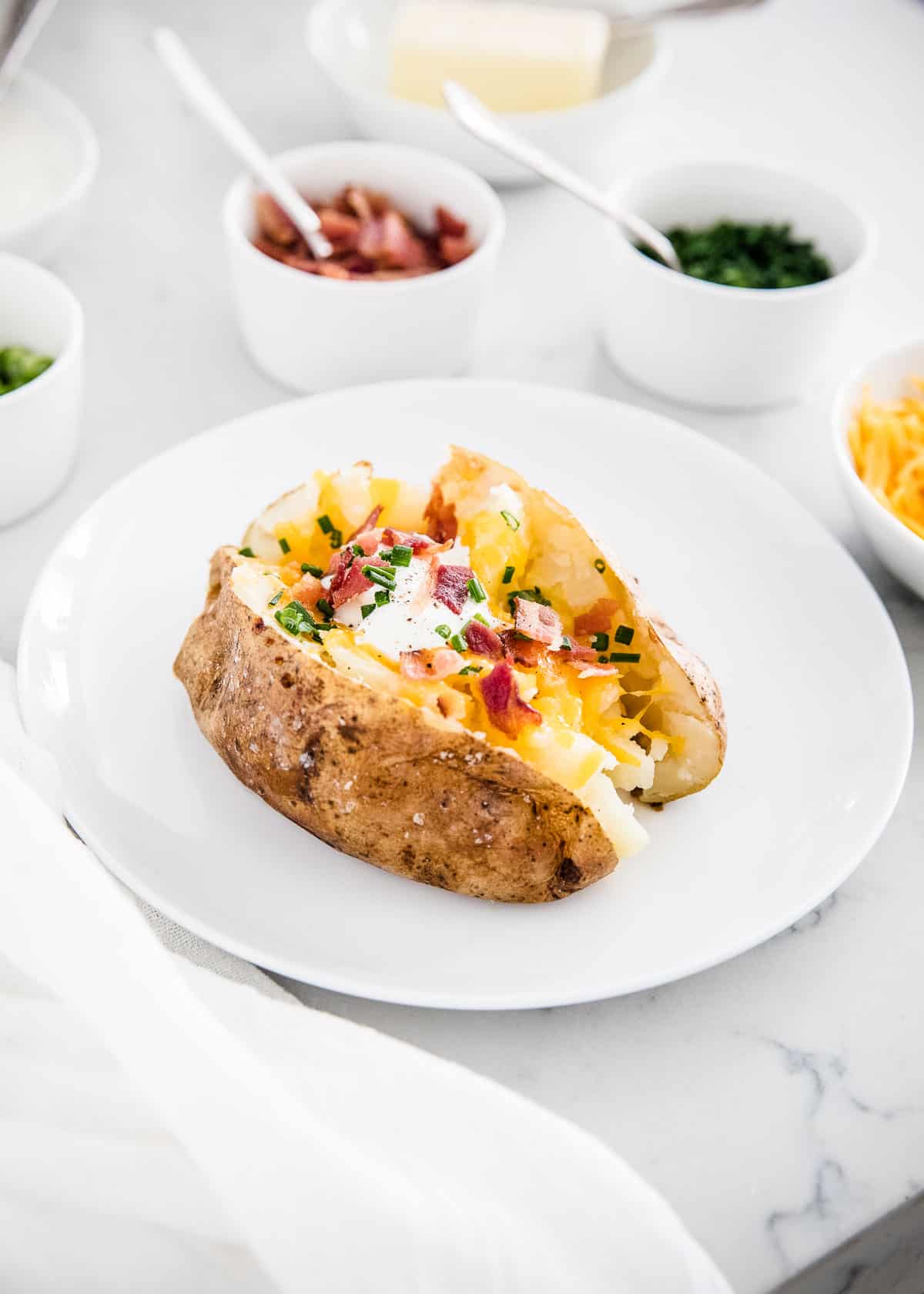 HUNGRY FOR MORE? Subscribe to my newsletter and follow on Facebook, Pinterest and Instagram for all the newest recipes!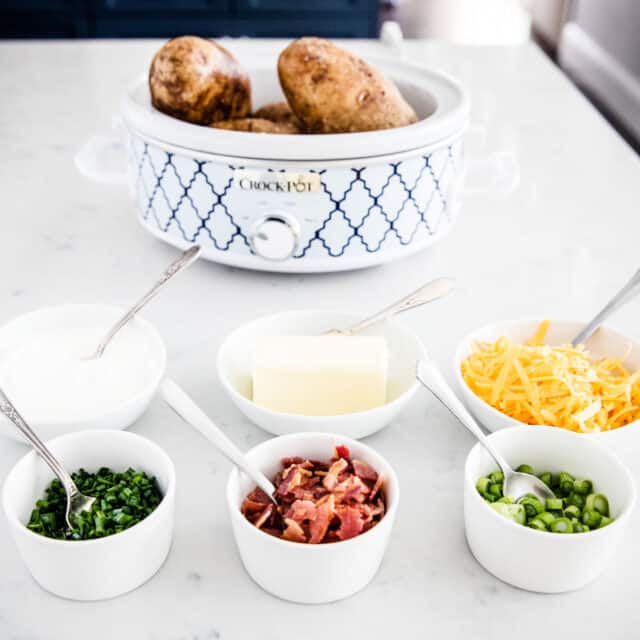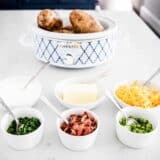 Baked Potato Bar
Entertaining on a budget has never been easier, impressive and more fun! Setting up a baked potato bar with different toppings is perfect for any occasion from parties to potlucks and allows guests to top their potato how they like it.
Ingredients
Potatoes
6 russet potatoes
2 Tablespoons olive oil
1 Tablespoon Kosher salt
3 Tablespoons butter
Toppings
½ cup grated cheddar cheese , more if desired
½ cup sour cream
6 pieces bacon , cooked and crumbled
2 Tablespoons chopped chives
salt and pepper
Optional toppings: Cheese sauce, Chili, Taco Meat, BBQ chicken, Pulled Pork, Beans, Broccoli
Instructions
Preheat oven to 400°F and line a baking sheet with aluminum foil. Spray foil with nonstick spray.

Give potatoes a good scrub and then dry them completely with a paper towel.

Lay on a foil-lined baking sheet, then brush them all over with olive oil. Sprinkle with coarse salt.

Pierce a few times with a fork or knife.

Bake in preheated oven for 1 hour, or until soft and tender.

Place all of desired toppings in bowls. You can add the cooked potatoes to a slow cooker and keep on the warm setting. Then when ready to serve slice potato in half and then use a fork to break apart the potato. Add the butter, salt and pepper then mix around. Add desired toppings and serve while warm.
---
Nutrition
Calories: 413kcal | Carbohydrates: 39g | Protein: 10g | Fat: 25g | Saturated Fat: 11g | Trans Fat: 1g | Cholesterol: 46mg | Sodium: 1437mg | Potassium: 963mg | Fiber: 3g | Sugar: 2g | Vitamin A: 398IU | Vitamin C: 13mg | Calcium: 113mg | Iron: 2mg
Nutrition provided is an estimate. It will vary based on specific ingredients used.
Did you make this recipe? Don't forget to give it a star rating below!