Have some fun learning how to cut an avocado with this easy-to-follow, foolproof guide. You'll learn everything from how to peel an avocado to how to slice and dice it. Basically, you'll be a pro!
This deliciously creamy fruit provides us with good fats, protein, and of course taste! I love to use sliced avocado as a topping on my buffalo chicken salad. If I'm making guacamole or avocado toast, I'll usually dice it before I mash it and whatever I don't use, I'll pop it in the freezer for easy access when making my avocado smoothie.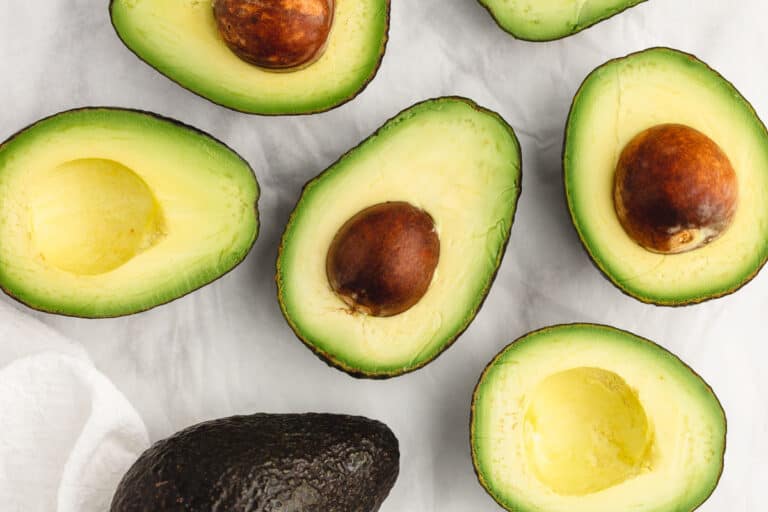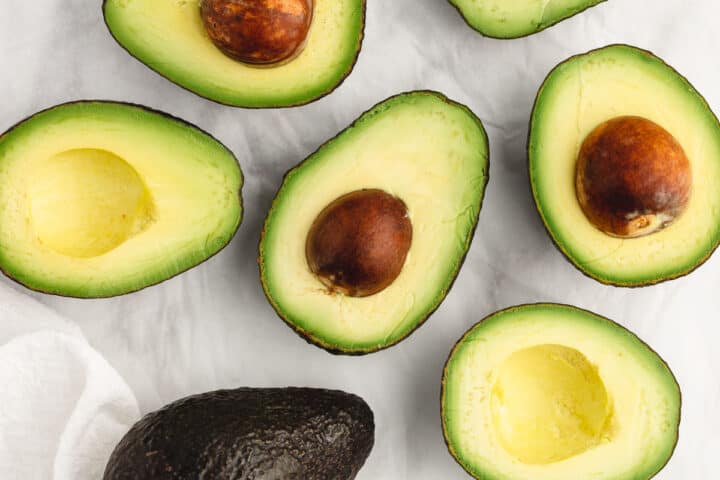 Avocado can be used in everything from savory breakfast foods to sweet desserts, so knowing how to peel an avocado and use its flesh in so many recipes comes in handy!
Figuring out the best way to cut an avocado for your particular recipe can sometimes help avoid a hand full of mush. It's not rocket science, but because it's an awkward fruit, there's a few tips and tricks.
What you'll need to get started:
Avocados. Below you'll find tips on ripe avocados.
A sharp paring knife, or chef's knife. Being gentle and careful, you'll need a sharp knife for precision.
Large cutting board. Having a stable surface is necessary.
A spoon. For scooping out the flesh from the skin.
Tea towel. To use for grip.
Tips for picking a ripe avocado
There are a few things to look for when choosing your avocados:
First, it should have a little give when squeezed. Not too much, but just enough to feel it's soft and not completely solid.
Second, the stem should fall off easily and should be nice and green underneath.
Finally, it should look and smell like an avocado. Any signs of skin discoloration are not good and could be a sign of decay.
Pro Tip: If yours are not quite ripe yet, place them in a brown paper bag alongside a banana or an apple and leave it on your counter overnight. On the other hand, if yours are ripe but you're not ready to use them, keep them in the fridge to slow down the ripening process.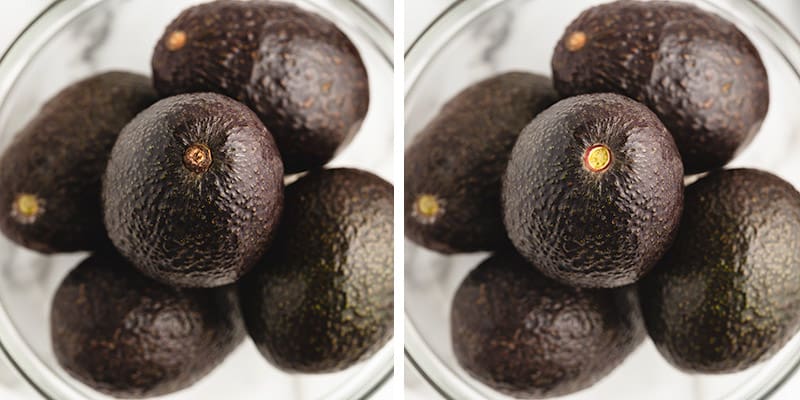 How to cut an avocado
Cut in half. Place avocado on the cutting board, and use your knife to pierce through the skin. You'll notice that the skin is a bit rough and bumpy, but once you cut through, a portion of it the rest of the way should be smooth. Holding the avocado steady with one hand, use the knife to continue cutting the avocado lengthwise, rotating it as you move along. The knife should be deep enough into the avocado that you can feel the pit.
Twist to open. Once you have the avocado cut in half, grab the two sides and twist it open, revealing the large pit in one of the two halves.
Remove the seed. Grab a kitchen towel and place it in one hand. Use it to grip the avocado half that's got the pit in it. Using your other hand, take your knife and carefully tap the pit with the knife, gripping the pit. Give it a little twist and the pit should come right out. It'll stick to your knife, so be careful when removing it.
Dicing
Method 1. Leaving the two halves of the avocado intact with the flesh still in the skin, use your knife to score the avocado into diced size pieces. This means you'll cut lines lengthwise and then crosswise. Use a spoon to then scoop out the flesh, getting as close to the layer of skin as possible.
Method 2. Cut your avocado halves into quarters, then use your thumb to peel back a bit of the skin. Once you have a grip on it, continue to peel the skin completely off. This way you can dice the avocado right on the cutting board.
How to cut slices
The second method above explains how to peel an avocado, and you'll need to follow this step before slicing. It is very difficult to slice while the skin is still on, and there's more of a chance you'll end up with slices that are not as clean. Once you've removed the skin, place the flesh on the cutting board, pit side down and carefully slice lengthwise as thin or as thick as you'd like.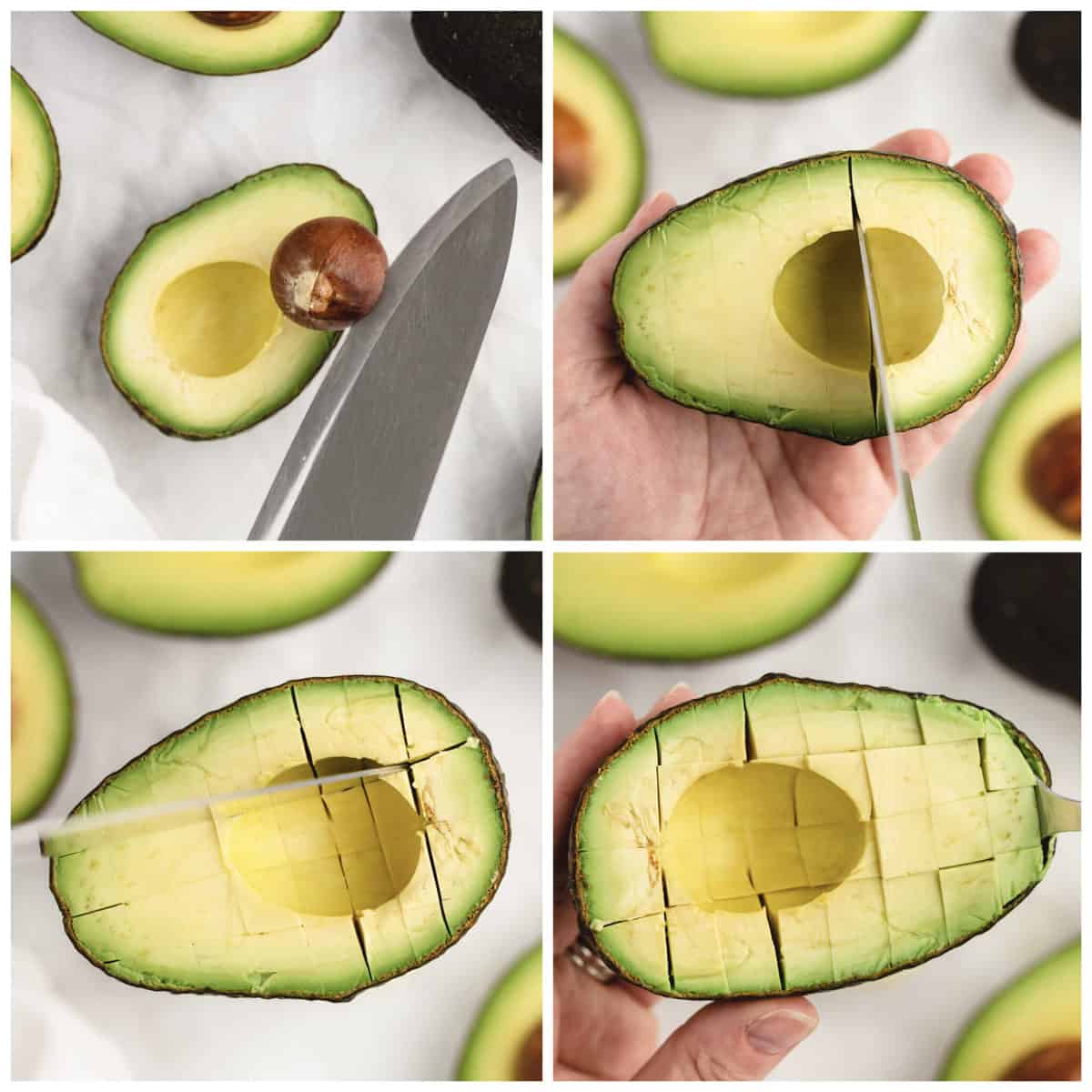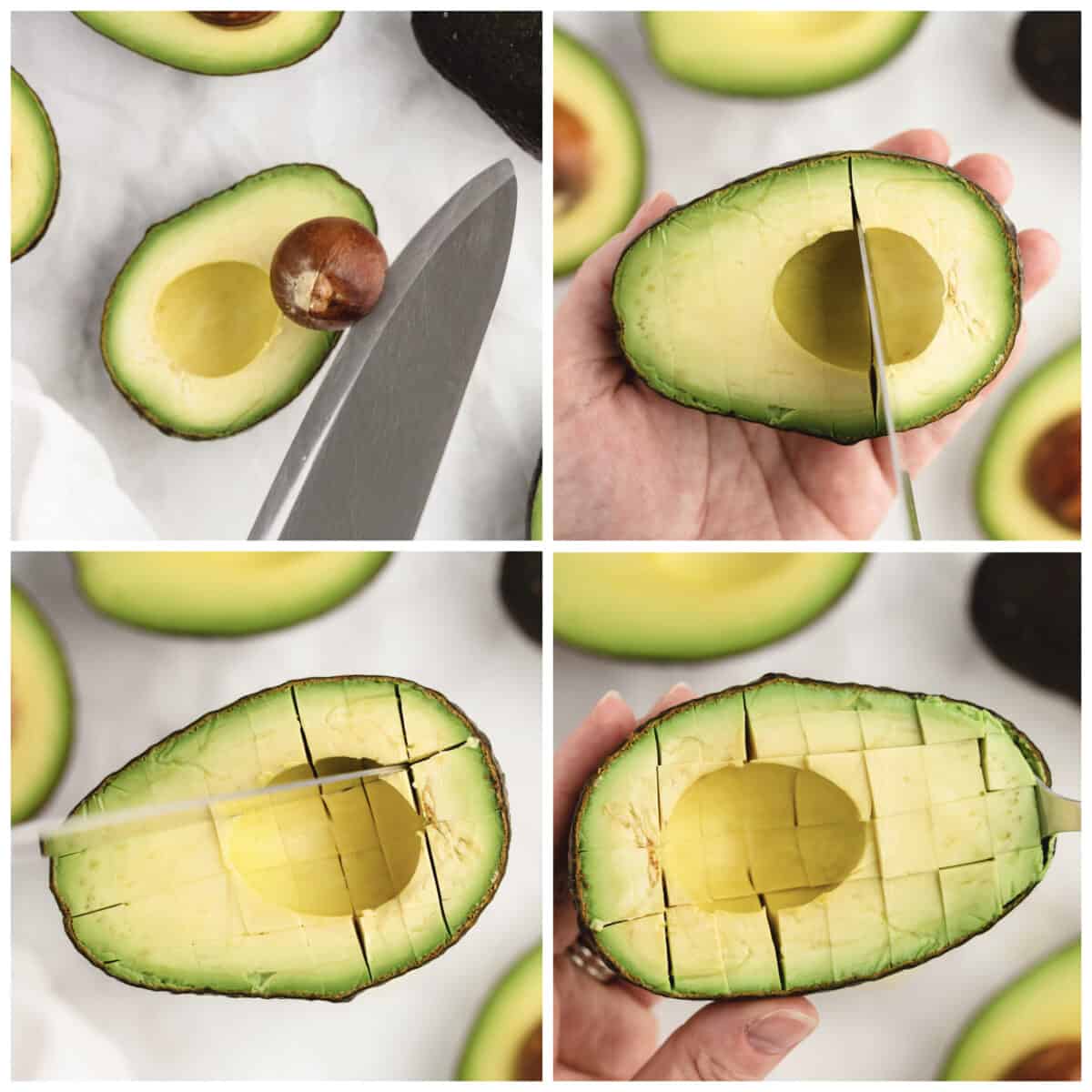 How to keep cut avocado fresh
When it's diced or sliced. If you plan on using your cut avocado within the same day you've cut it, place them in a bowl of cold water and drain and pat dry just before using them. The water will help prevent the pieces from turning brown.
When it's mashed. If you have mashed avocado, put it in a bowl along with the pit and squeeze lemon juice over top. Cover with plastic wrap and keep it in the fridge. Even if there is a brown layer that forms, you can just scrape it off and find a nice green layer right underneath.
When it's cut in half. Brush the open sides with olive oil and place face down on a plate. The oil will act as a barrier to the oxygen helping to preserve its color. Rince the oil off before using.
Storing + freezing
Store cut avocado, with a squeeze of lemon juice, in the fridge covered in an airtight container for up to 4 days or in the freezer for up to 6 months!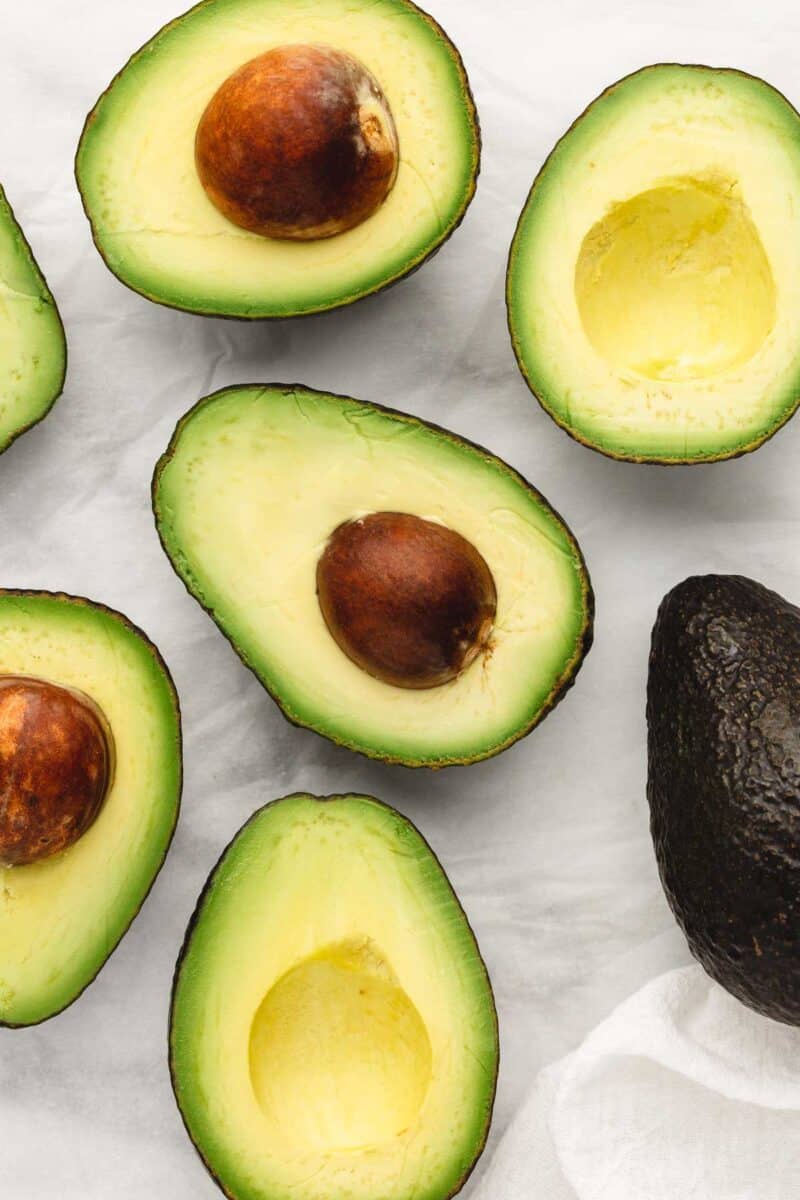 Recipes with avocado: