Jump to Recipe⌄
Mexican Salad with Chipotle Dressing
Mexican Chopped Salad with Chipotle Dressing – a hearty and delicious salad recipe made with fresh ingredients.  Surrounded by baked tortilla strips and smothered with a homemade chipotle dressing.
This Mexican salad and dressing is so easy to make and incredibility fresh-tasting.  The best thing about this salad is that it is hearty enough for a main meal.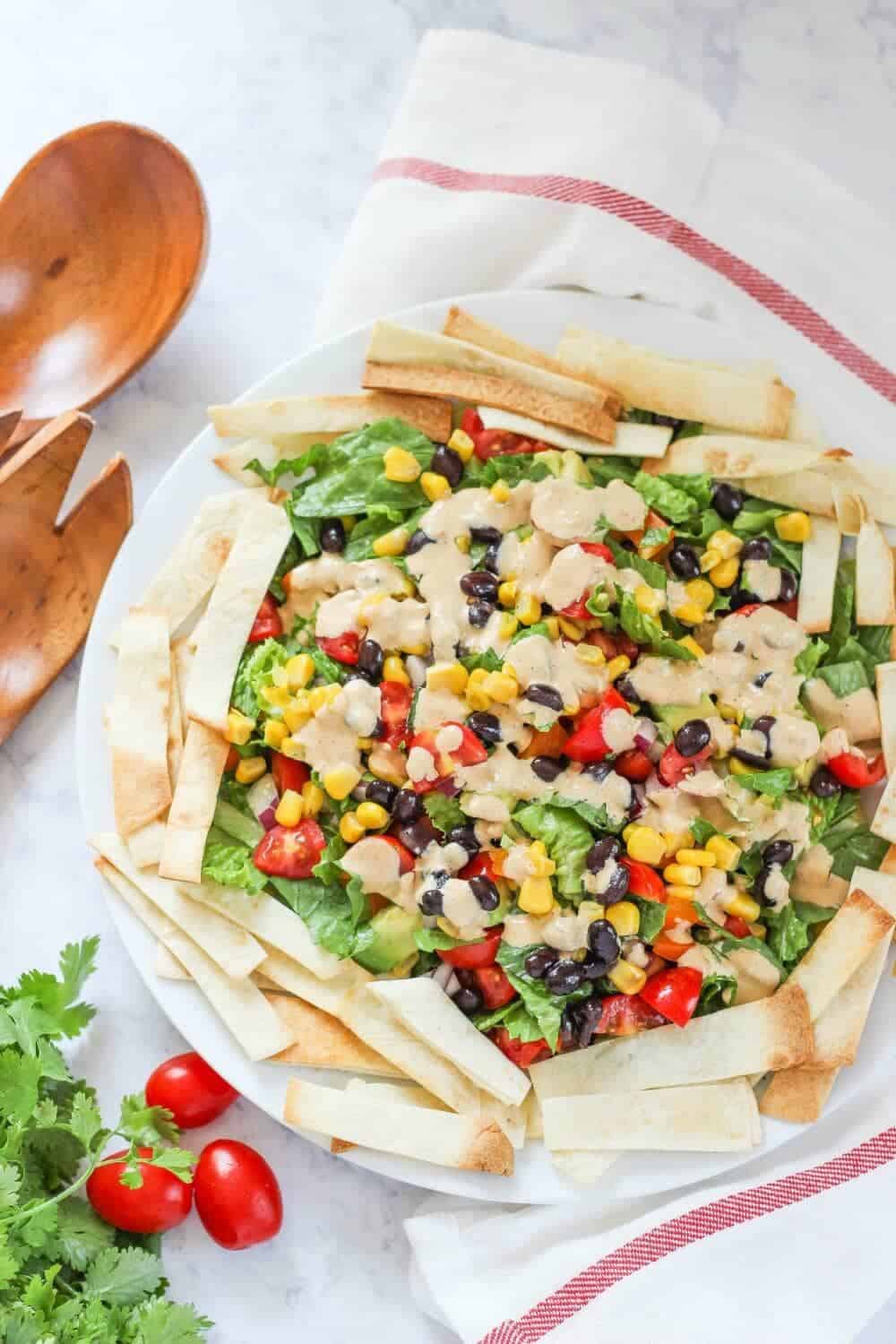 This Mexican Salad with Chipotle Dressing is perfect for the bounties of summer!
This recipe is great for using all those fresh garden vegetables and farmer's market produce.  It's light and refreshing, making it perfect for summer.  This is definitely a new family favorite and will be put on the meal rotation for sure!

MY OTHER RECIPES
This salad is great for lunch or dinner.  You can enjoy the salad as a main meal or a side dish and can be made for meatless Mondays or taco Tuesdays.  It's a double win!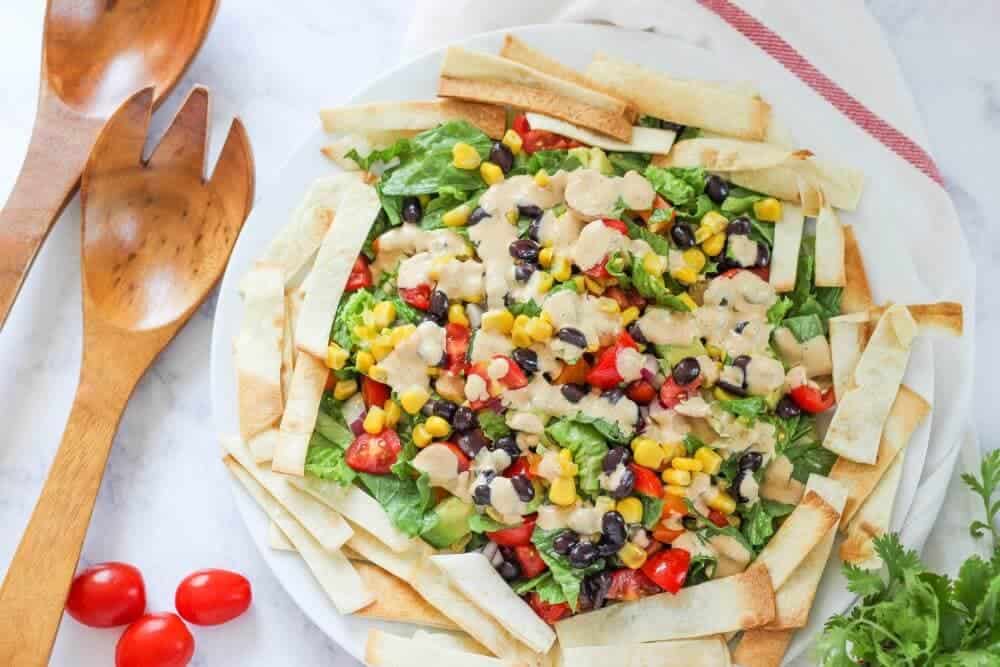 Mexican Salad is easy to make, and even more delicious to eat!
For this recipe, I used the Old El Paso 6-inch flour tortillas, taco seasoning mix, and salsa. Also, I used mild taco seasoning mix and salsa for the dressing, since I am using chipotle peppers. You could definitely use a medium or hot, depending on your heat preference.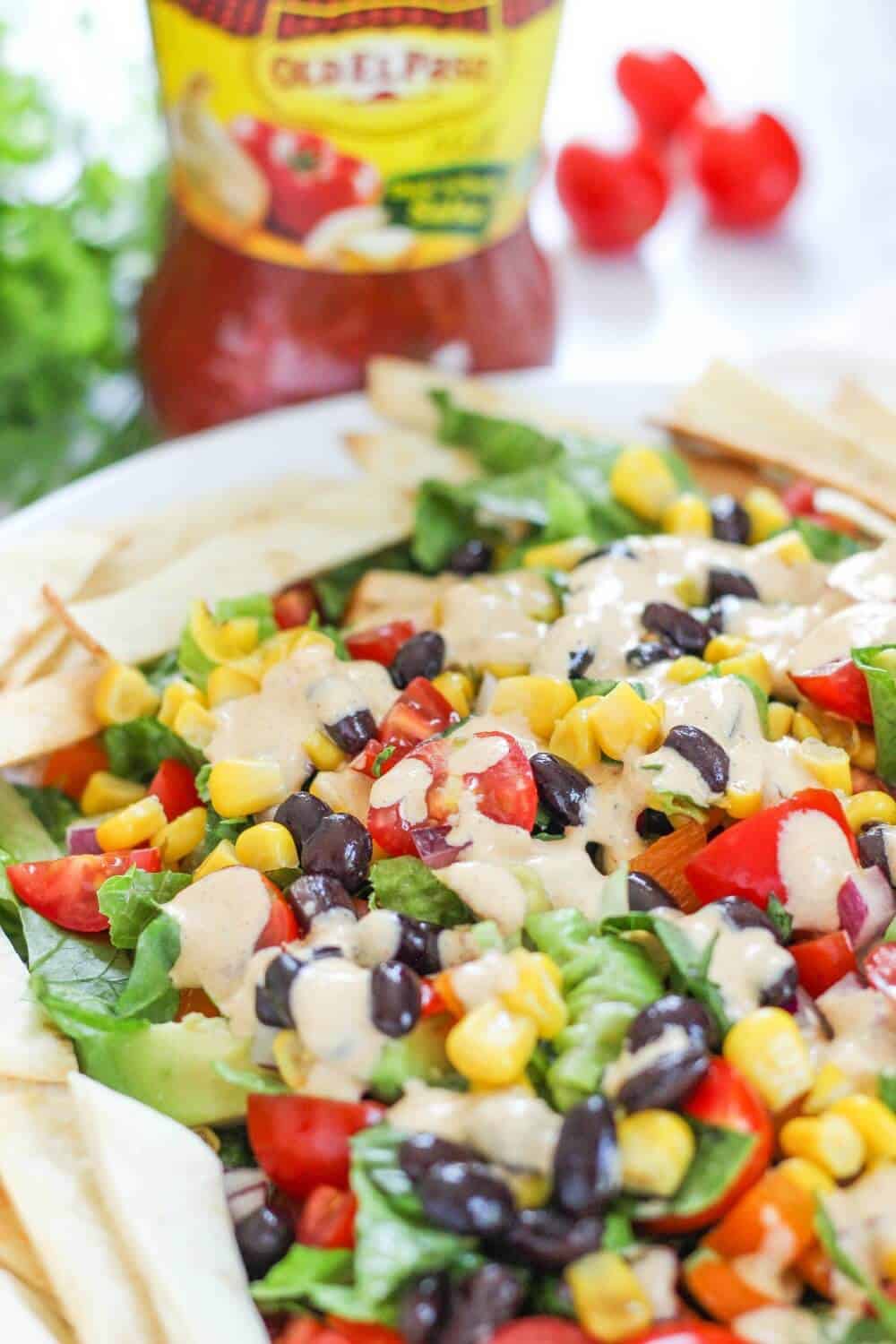 There are three separate components to this dish: the chopped salad with fresh vegetables, homemade chipotle dressing, and easy baked tortilla strips.  This recipe is so fresh and vibrant.
I love using fresh vegetables to serve and eat with my family.  The homemade chipotle dressing has a nice kick of heat to it but it is not overpowering.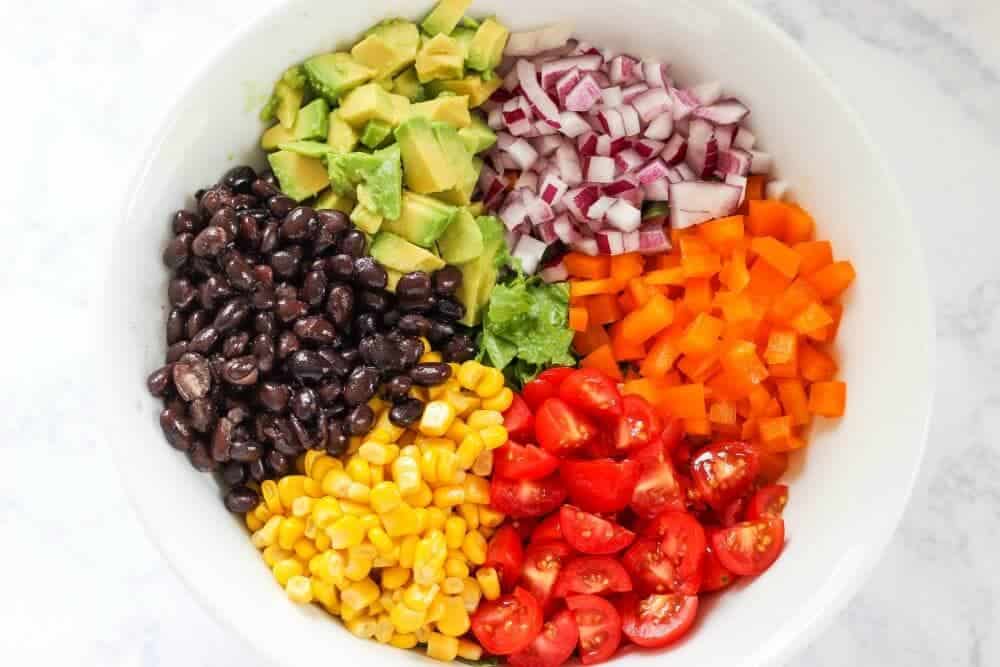 Then, the tortilla shells provide a nice crunchy texture and delicious flavor to the chopped salad.  All the vibrant colors from these fresh ingredients come together to make a salad that looks and tastes great!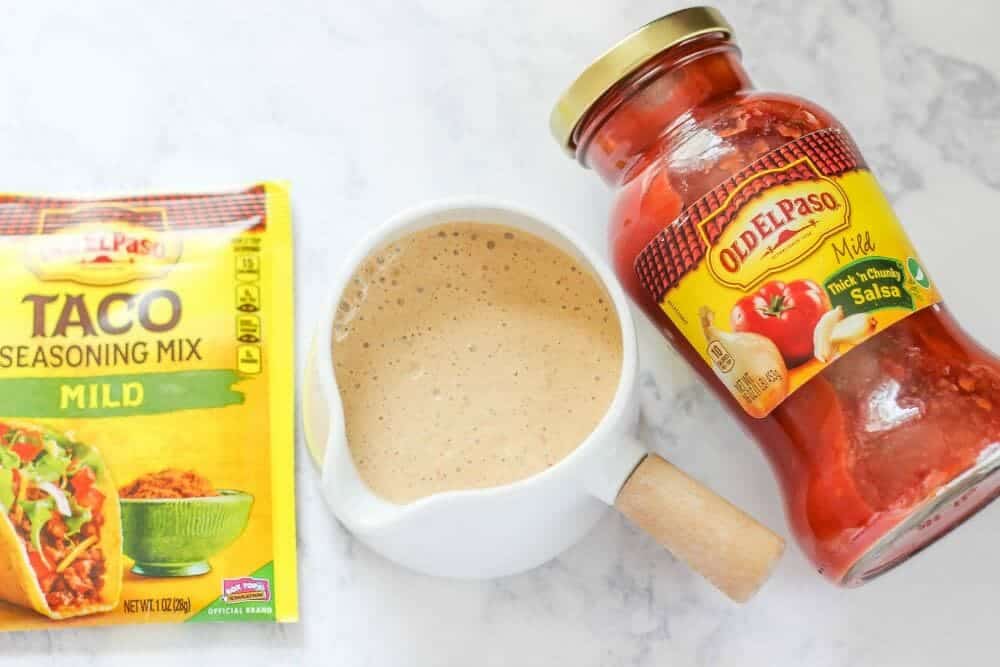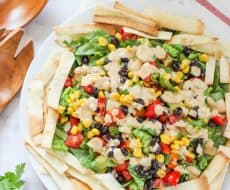 Mexican Salad with Chipotle Dressing
Mexican Chopped Salad with Chipotle Dressing is a hearty salad recipe made with fresh ingredients and surrounded by baked tortilla strips.
Print
Ingredients
10 6-inch Old El Paso flour tortillas
1 head romaine lettuce chopped
1 can sweet corn whole kernels
1 can black beans rinsed and drained
1 pint cherry tomatoes quartered
1 large orange pepper diced
1/2 medium red onion chopped
1 ripe avocado diced
1 tablespoon taco seasoning
2 tablespoons salsa
3 Tablespoons fresh cilantro chopped
2/3 cup sour cream light is fine
1 tablespoon chipotle in adobo sauce
1 fresh lime juiced
Instructions
Preheat oven to 400 degrees F.  Spray both sides of tortilla shells with non-stick cooking spray.  Align prepared shells in an even stack and cut down the middle.  Dice the halves into about 1/4″ strips.  Arrange strips in a single layer on a silpat lined baking sheet.  Season with salt to taste.  Bake for 10 to 12 minutes until golden brown, flipping the strips once during baking.

While the tortilla strips are baking, chop lettuce, tomatoes, orange pepper, onion, and avocado.  Drain and rinse the corn and black beans.  Add chopped vegetables, corn, and black beans to a large bowl.

In a blender or food processor, combine cilantro, sour cream, chipotle in adobo, lime juice, taco seasoning and salsa.  Pulse until creamy and smooth.

Pour the dressing over the bowl of vegetables and toss until coated.  You can top the salad with the tortilla strips or serve on the side.  The salad is served best cold.
Nutrition Facts
Mexican Salad with Chipotle Dressing
Amount Per Serving
Calories 292 Calories from Fat 126
% Daily Value*
Total Fat 14g 22%
Saturated Fat 4g 20%
Cholesterol 13mg 4%
Sodium 962mg 40%
Potassium 540mg 15%
Total Carbohydrates 36g 12%
Dietary Fiber 5g 20%
Sugars 6g
Protein 6g 12%
Vitamin A 34%
Vitamin C 62.3%
Calcium 10.3%
Iron 15.1%
* Percent Daily Values are based on a 2000 calorie diet.

Enjoy!
This post was brought to you by Old El Paso. All opinions are 100% my own. Find out more about their products here or connect with them on Facebook.