The best guacamole recipe that takes just 10 minutes to make! Made with ripe avocados, lime juice, red onion, garlic, cilantro and a spoonful of salsa, this delicious Mexican appetizer is loaded with flavor in every bite.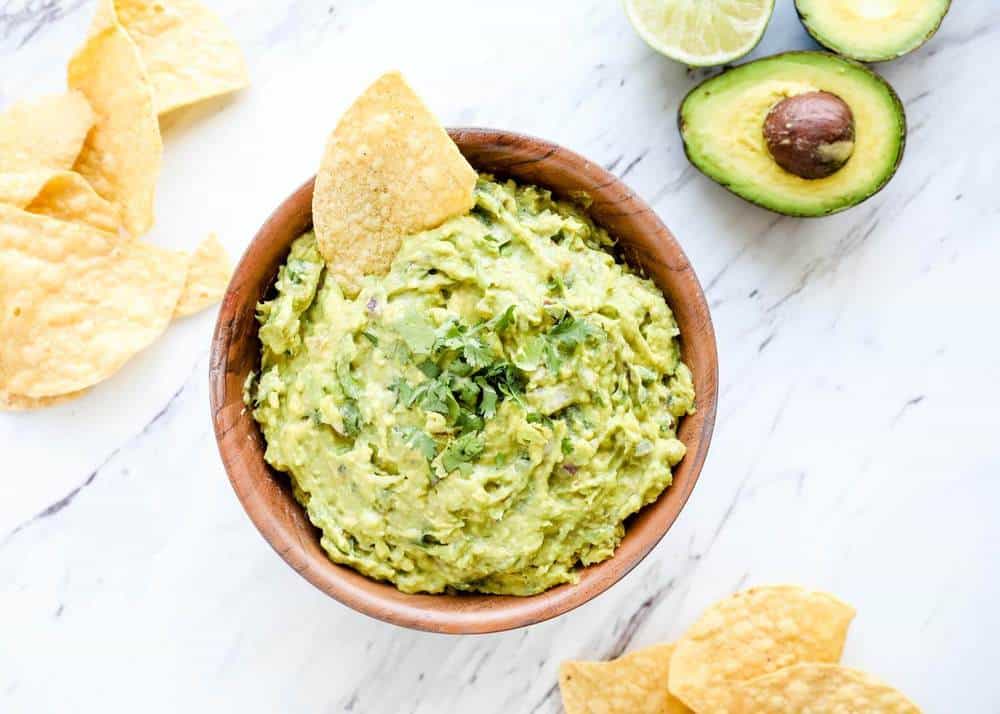 The Best Guacamole You'll Ever Try
Today I have one of the best guacamole recipe for you! I think I've made this recipe at least 3 times this month. It is seriously so good and completely addicting. It has amazing flavor and the texture is creamy and chunky all at the same time. You are fair warned! ;)
The best part is, this recipe only takes about 10 minutes to make. It's the perfect recipe to bring to a BBQ or enjoy as a mid day snack with some fresh chopped veggies. Serve with crisp tortilla chips or add it to your favorite Mexican dish like ground beef tacos or baked chicken taquitos. You can't go wrong!
Recipe Ingredients
The key to making the best guacamole recipe is using fresh ingredients that are ripe and flavorful. Check out what you'll need below to get started.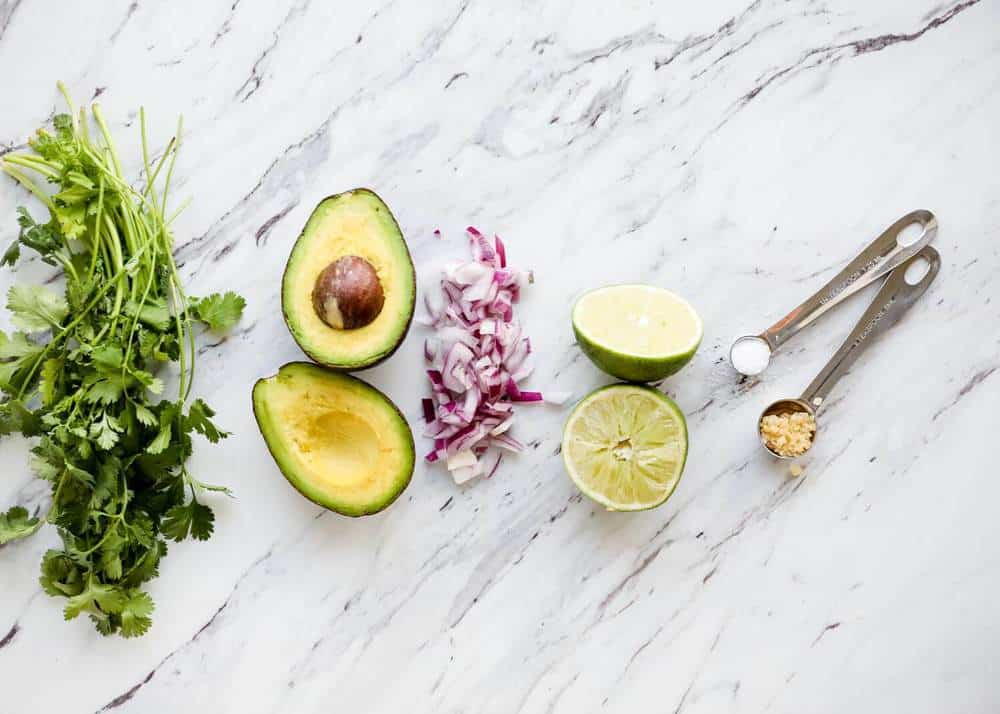 Find the full printable recipe with specific measurements below.
Avocado: The key ingredient to making guacamole, and why it is so important to use only ripe avocados.
Red onion: The sweetness and tang play perfectly with the creaminess of the avocado.
Lime: The acid helps elevate the flavors and cut some of the avocado. You could also use lemon juice.
Salsa: My secret ingredient to making this guacamole shine. Choose your favorite and thank me later.
Garlic: This gives the guacamole depth of flavor.
Cilantro: The brightness of the herb adds a nice touch to the dip.
Salt + Pepper: Salt is crucial to enhance the flavors and a dash of pepper or ground cumin never hurts.
Variations
If you like spice, try adding in some cumin, chili powder or even some chopped jalapeños. This homemade guacamole would also taste delicious topped with some crumbled cotija cheese for more flavor.
How to Make the Best Homemade Guacamole
With 3 easy steps, this easy guacamole recipe comes together in just 10 minutes and tastes better than a Mexican restaurant! It has the perfect texture and flavor.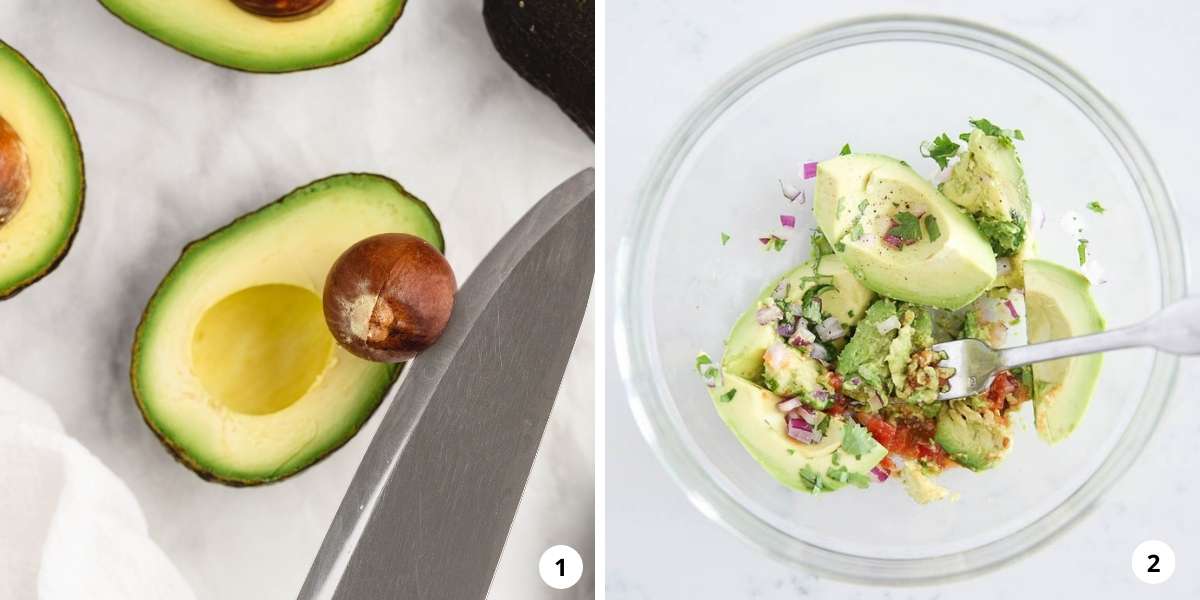 Mash. Sprinkle avocados with lime juice in a large bowl. Add in the salsa, onion, garlic, cilantro, salt, and pepper. Mash with a fork until you reach your desired consistency.
Taste and adjust. After the guacamole is mixed together, give it a taste. Add in more lime juice or spices depending on your preference. This is where you can make it your own!
Serve. Dip tortilla chips to serve.
Expert Tips
Ripening avocados. If they still feel a little hard, place them in a brown paper bag and add a ripe banana or apple. Leave the bag on the counter overnight. The fruit gives off ethylene gas, which makes the avocados ripen more quickly.
Cutting an avocado. Learn how to cut an avocado with these simple tips and tricks.
Consistency. Use a fork or a potato masher to mash the avocados. You want to mash them well, but not ALL the way. Leaving a few lumps of avocado gives the guacamole the perfect consistency and flavor in each bite.
Salsa. One of my secrets to the best guacamole is mixing in some fresh homemade salsa. You only need a few spoonful's to add great flavor and texture. You could also add tomatoes like I do in avocado salsa. Trust me, it's an easy trick that will instantly ramp up the deliciousness.
Add cheese. Sometimes I add in about 1 Tablespoon of cotija or feta cheese. You could even add a dollop of sour cream. I tried this once at a restaurant and was a huge fan.
Recipe FAQs
How can I keep homemade guacamole from turning brown?
Believe it or not, avocado pits actually help keep the guacamole from browning. Just add the pit on top of the dip and then cover the bowl tightly with saran wrap.

Make sure the plastic wrap is directly on top of the guacamole so that there isn't any air coming in contact with it. This should help slow down the oxidation process, which in turn will keep it from browning too quickly. Even if there is a brown layer that forms, you can just scrape it off and find a nice green layer right underneath.
Why does my guacamole taste bitter?
If you are getting a bitter taste from the guacamole, it may mean that your avocados weren't ripe enough. Since there are so few ingredients in this recipe, it is crucial that each one is the very best it can be.
What are the best avocados for guacamole?
Hass avocados are my first choice. They have the best flavor and texture for guac.
How to choose the perfect avocado for the best guacamole?
Look for avocados that are soft to touch and have a green stem. They shouldn't feel too soft, but soft enough that they have a little give when squeezed. Ripe avocados make all the difference when making homemade guacamole!
Favorite Ways to Enjoy Guacamole
Storage
Store: While guacamole will always taste best served fresh immediately after making it, you can store it in an airtight container up to 48 hours. Cover it with plastic wrap to prevent exposure to air which will cause oxidation. You can also try adding a thin layer of water which will also act as a barrier. Just remember to drain the water off before enjoying it again!
Freezer: You can freeze guacamole, but I would not add the salsa if you are planning to freeze it. The tomatoes in the salsa will change in texture and be mushy upon thawing. You can freeze larger portions of homemade guacamole in a freezer safe bag or smaller portions in containers. Thaw overnight and stir in your salsa with tomatoes before serving.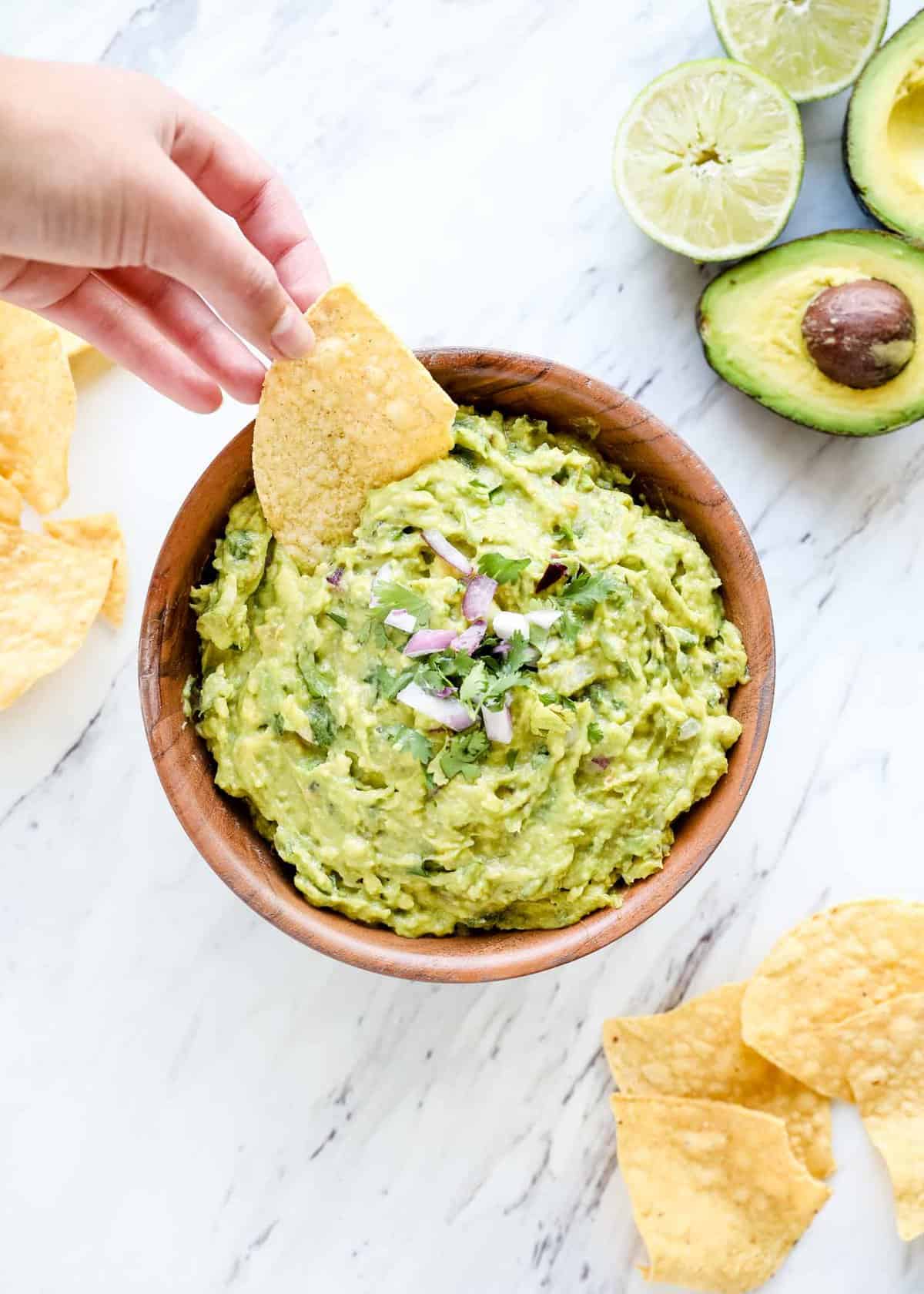 HUNGRY FOR MORE? Subscribe to my newsletter and follow on Facebook, Pinterest and Instagram for all the newest recipes!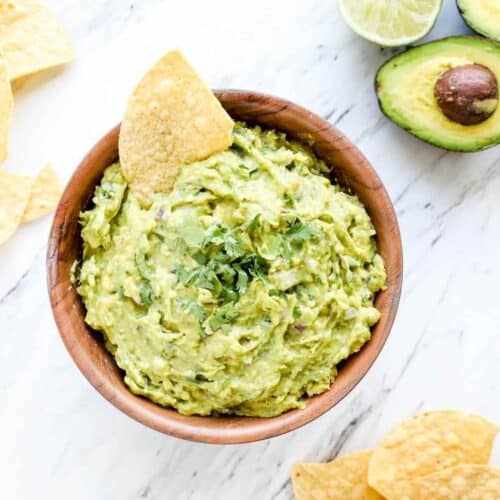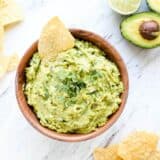 Best Homemade Guacamole
The best homemade guacamole recipe that takes just 10 minutes to make! Made with ripe avocados, lime juice, red onion, garlic, cilantro and a spoonful of salsa, this delicious Mexican appetizer is loaded with flavor in every bite.
Ingredients
3 avocados , peeled and pitted
1 lime , juiced
2 Tablespoons salsa
¼ cup finely chopped red onion
1 clove garlic , minced
¼ cup chopped cilantro
½ teaspoon Kosher salt
Dash of ground black pepper
For serving: Tortilla chips
Instructions
In a large bowl, add the avocados. Sprinkle with lime juice.

Add salsa, red onion, garlic, cilantro, salt, and pepper. Mash with a fork until you reach desired consistency.

Cover tightly with plastic wrap and refrigerate until ready to serve. Enjoy with fresh tortilla chips!
---
Notes
Note: Homemade guacamole is best served the first day. Extra mix-in's: For spice, add in a little cumin, chili powder, or chopped jalapenos. Sometimes I add 1 to 2 Tablespoons cotija or feta cheese for extra flavor. Keep from browning: Avocado pits will keep the guacamole from browning. Add them on top of the guac, then cover tightly with plastic wrap. Store in fridge until ready to eat.
Nutrition
Calories: 169kcal | Carbohydrates: 11g | Protein: 2g | Fat: 15g | Saturated Fat: 2g | Polyunsaturated Fat: 2g | Monounsaturated Fat: 10g | Sodium: 237mg | Potassium: 528mg | Fiber: 7g | Sugar: 1g | Vitamin A: 223IU | Vitamin C: 14mg | Calcium: 20mg | Iron: 1mg
Nutrition provided is an estimate. It will vary based on specific ingredients used.
Did you make this recipe? Don't forget to give it a star rating below!