Chickpea salad is fresh, lively, and full of classic Mediterranean flavors! This beautiful salad is composed of buttery chickpeas, crispy bell peppers, crunchy cucumbers, and zesty tomatoes topped with a vibrant dressing that just gets better the longer it marinates!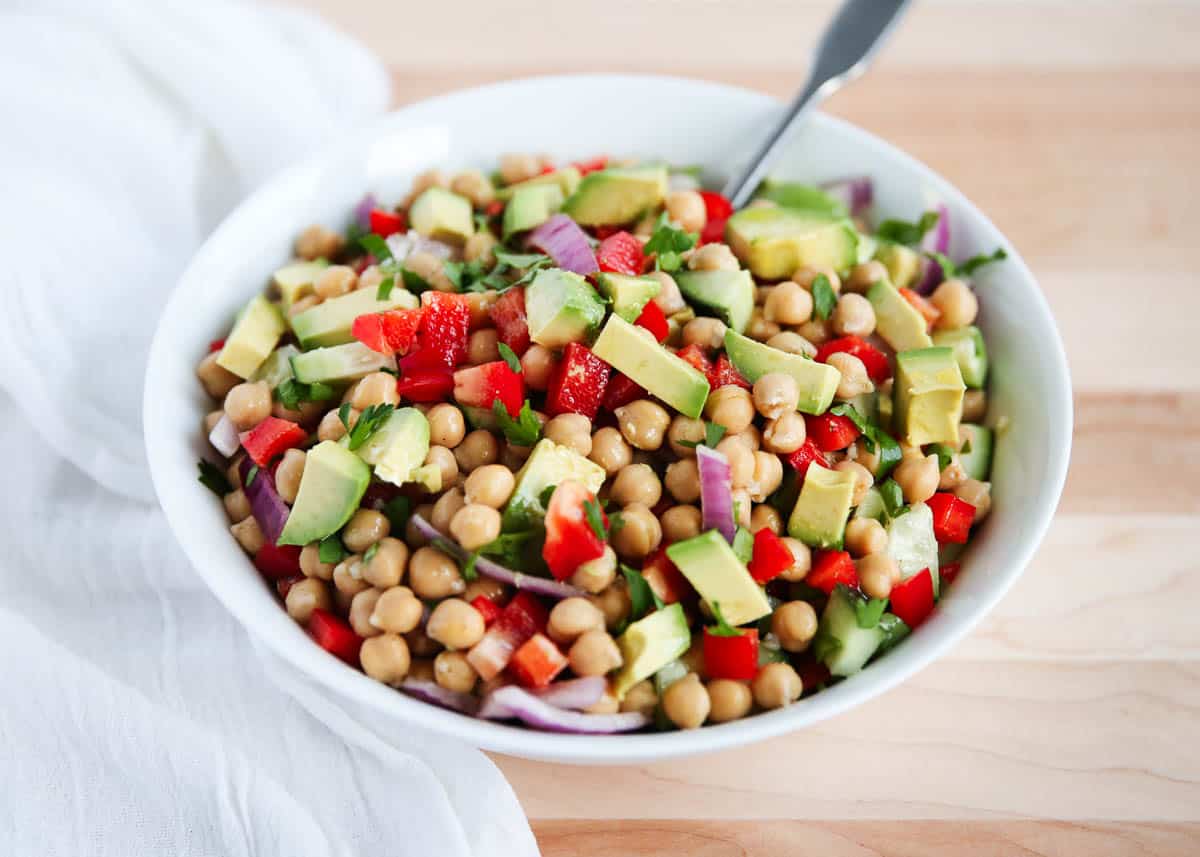 Mediterranean Chickpea Salad
I love a good salad that takes virtually no work to put together but still tastes great and is healthy to boot. Chopping veggies is as complicated as it gets with this chickpea salad recipe and because it's made with budget-friendly ingredients it's easy to food prep and make a lot at once.
There are so many ways to customize this simple salad. It's got a lot of similar elements to this cucumber tomato salad as well as a Greek salad, and much like both of them, the ingredients are quite flexible. Checking all the boxes here friends!
I love it in the summertime for backyard BBQs and potlucks because it makes a great side salad for any grilled meat. It's also earthy and wholesome enough to enjoy all through winter, which means it's definitely a year-round salad!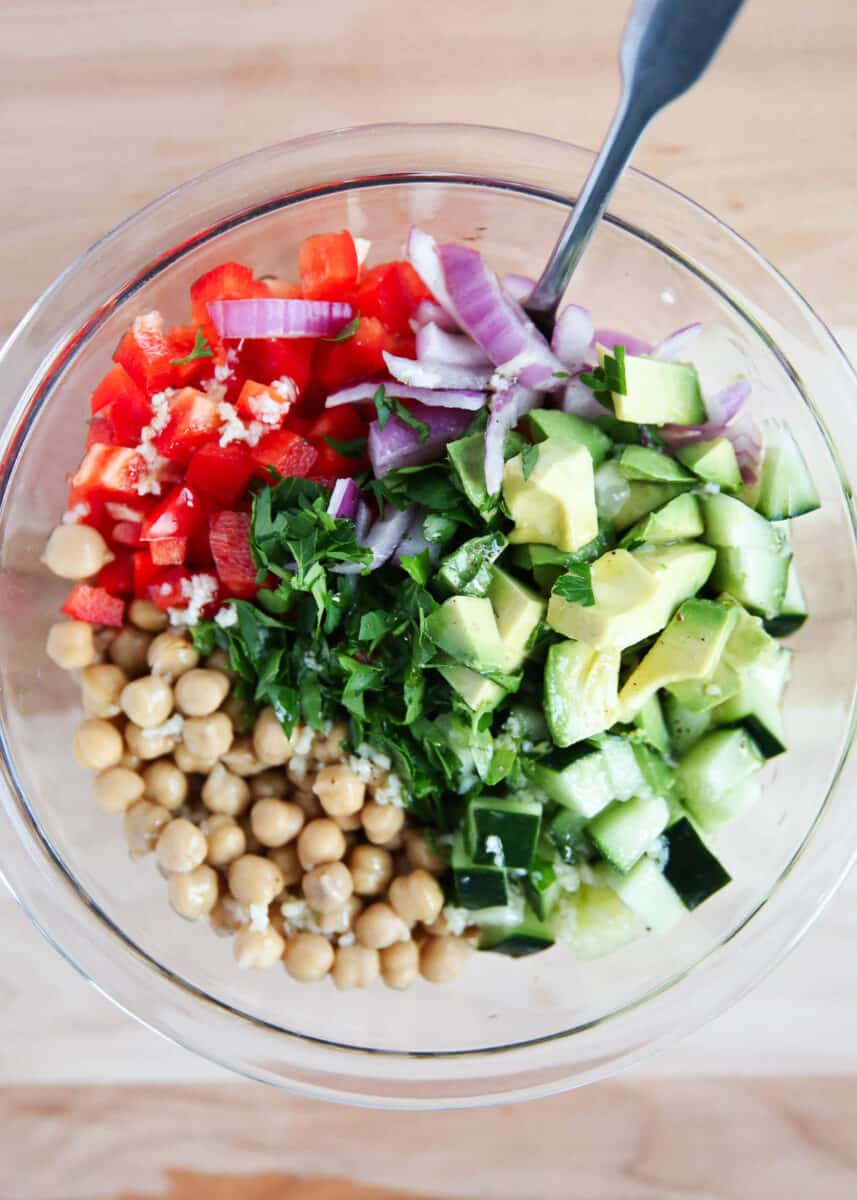 What's In this Greek Chickpea Salad?
Chickpeas – Also known as garbanzo beans. Drain and rinse if you're using canned beans. They're high in fiber and are mild in flavor which is why they're often used to make gluten-free flour, pasta, and all kinds of yummy baking.
Cucumber – I prefer to use English cucumbers in salads because the skin is thinner and edible if you don't feel like peeling and it's generally less bitter than a regular cucumber.
Red bell pepper – The sweetest of the bell peppers, but also carries the most nutrients. The red bell pepper is harvested last which gives it a longer chance to develop its nutrients.
Grape tomatoes – These types of tomatoes don't have a lot of water content, so they're not going to drench your entire salad in tomato juice!
Red onions – Sweet, mildly pungent, and add a crispy element.
Garnishes – Chopped fresh parsley is part of the salad, but if you're not a parsley lover you can omit it. The salty feta on top adds a deliciously creamy, crumbly layer and if desired, you can add some chopped avocado in there too.
An Easy Dressing
Olive oil, lemon juice, minced garlic, salt, and pepper. That's it! Mix to combine, pour it on top of the salad and allow it to sit in the fridge for 15 minutes before serving.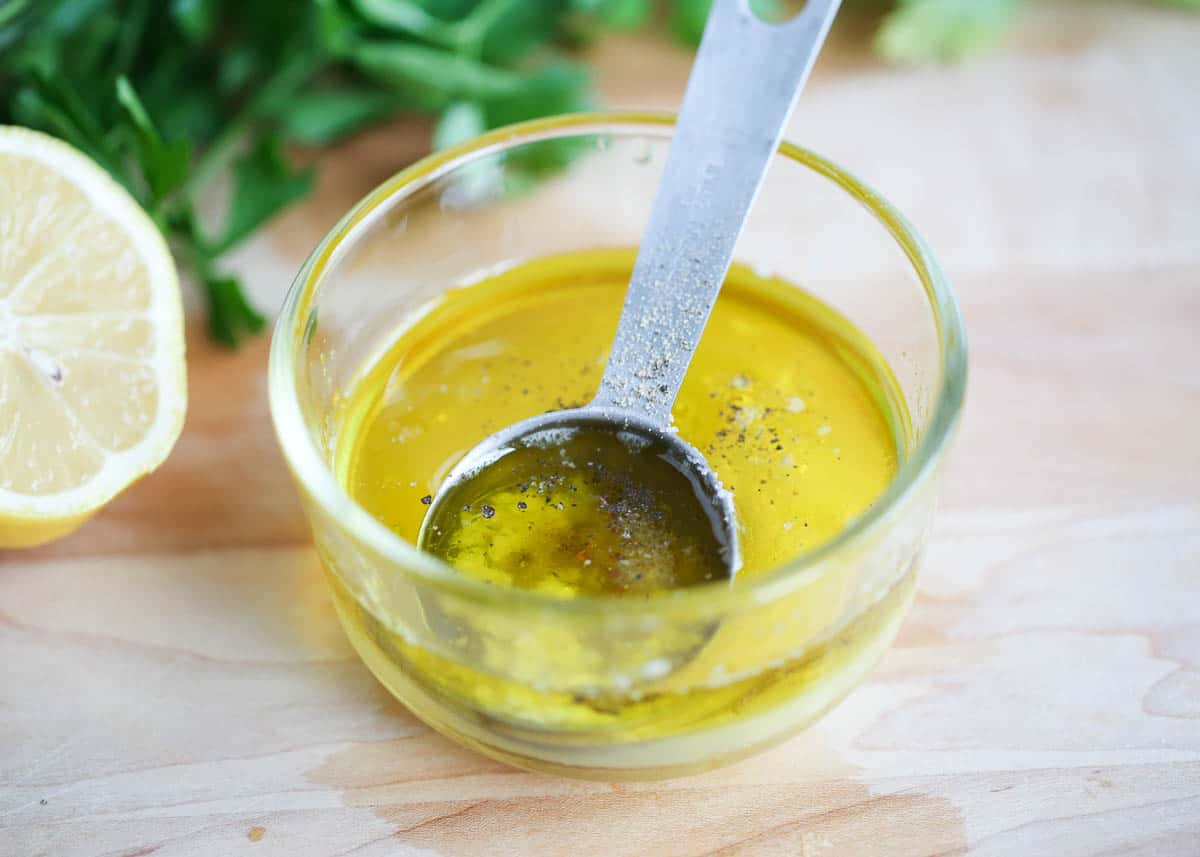 Ways to Customize Cucumber Chickpea Salad
You can make this vegetarian salad vegan by skipping the feta cheese.
Add some rotisserie or grilled chicken for a bit more protein. Flaked tuna or grilled salmon works too!
For a different flavor, dressing try my easy vinaigrette or Greek salad dressing instead.
Quinoa is a nice hearty addition to this salad. Similar to my Mediterranean quinoa salad, it's easy to consider it a complete, gluten-free meal with an added textural component.
Make it a chickpea avocado salad by adding in some creamy diced avocado.
You could also add in some dark leafy greens if you wanted to make it a bit more of a traditional lettuce salad.
Toss in half a cup of sliced olives, another popular Mediterranean ingredient. Black or green, whichever you prefer.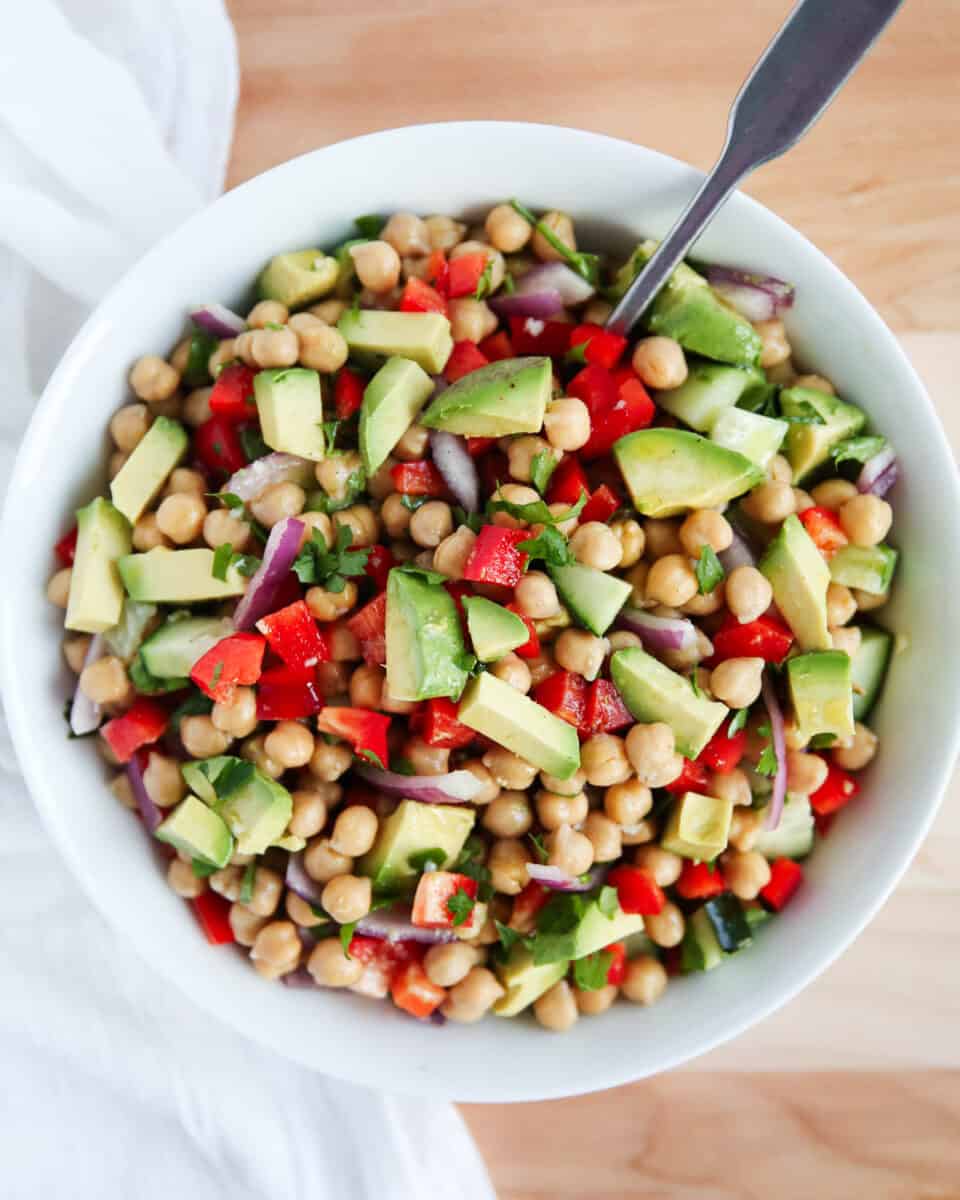 Make Ahead
This is a great salad to make in advance. All the veggies are sturdy enough to withstand getting soggy and when it sits in the dressing, the flavors only get better. Chop the veggies, pour the dressing, and let it sit for at least 15 minutes ahead.
If you're wanting to make it well in advance, keep the dressing separate until 15 minutes before serving. Then pour, and give it a chance to sit and chill.
Storing Leftovers
Keep remaining salad in an airtight container for up to 3 days. Portion it out into smaller containers and you've got 3 days' worth of salad for lunch or sides for burgers, grilled meat, or fish for dinner!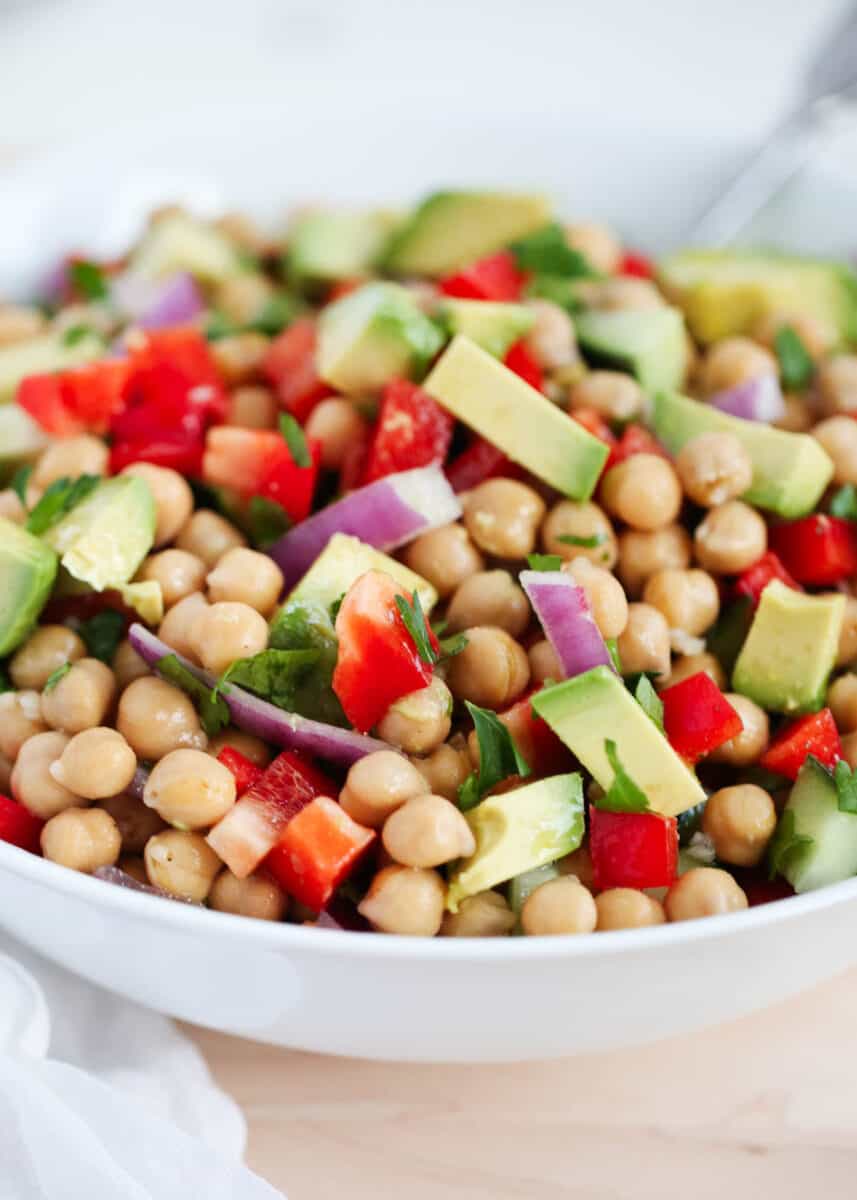 More Healthy Salad Recipes:
HUNGRY FOR MORE? Subscribe to my newsletter and follow on Facebook, Pinterest and Instagram for all the newest recipes!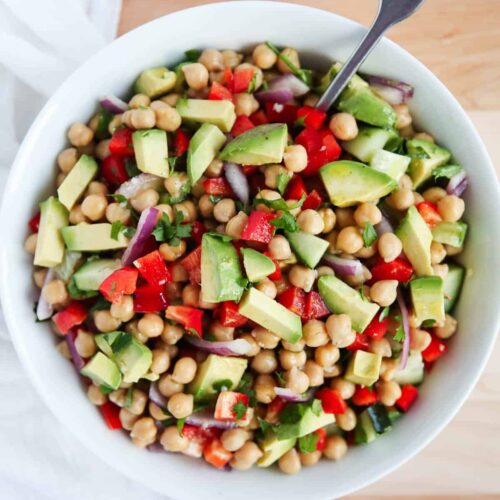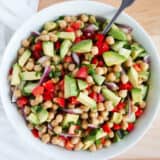 Chickpea Salad
Chickpea salad is fresh, lively, and full of classic Mediterranean flavors! This beautiful salad is composed of buttery chickpeas, crispy bell peppers, crunchy cucumbers, and zesty tomatoes topped with a vibrant dressing that just gets better the longer it marinates!
Ingredients
Dressing
3 Tablespoons olive oil
3 Tablespoons lemon juice , 1 lemon juiced
2 cloves garlic , minced
½ teaspoon Kosher salt
¼ teaspoon freshly ground pepper
Salad
30 ounces chickpeas (garbanzo beans) , rinsed and drained
1 cucumber , quartered
1 red bell pepper , diced
½ pint grape tomatoes , halved
¼ cup sliced red onion
¼ cup chopped parsley , more to taste
1-2 ounces crumbled feta cheese , more if desired (omit if vegan)
avocado , diced (optional)
Instructions
Whisk together the olive oil, lemon juice, garlic, salt and pepper in a small bowl. Set aside.

Combine the chickpeas, cucumbers, bell peppers, tomatoes, onion, parsley and feta in a medium-sized bowl.

Then pour the vinaigrette over the top and toss until combined. Add more feta, parsley and S&P to taste. Refrigerate at least 15 minutes before serving. Add avocado if desired, just before serving.
---
Notes
Extras to add in: Feel free to add in 1/4 cup sliced olives. To store: Place in an airtight container and refrigerate for up to 3 days. To make ahead: Chop veggies and make dressing, then refrigerate. When ready to serve, mix together and chill at least 15 minutes prior to enjoying.
Nutrition
Calories: 116kcal | Carbohydrates: 5g | Protein: 2g | Fat: 10g | Saturated Fat: 2g | Cholesterol: 4mg | Sodium: 59mg | Potassium: 250mg | Fiber: 1g | Sugar: 3g | Vitamin A: 590IU | Vitamin C: 11.8mg | Calcium: 47mg | Iron: 0.6mg
Nutrition provided is an estimate. It will vary based on specific ingredients used.
Did you make this recipe? Don't forget to give it a star rating below!