Looking for a classy and elegant appetizer for your upcoming holiday party or celebration? These 3-ingredient cranberry brie bites have everything you love about baked brie and preserves in individual bite-size portions. Perfect for easy entertaining!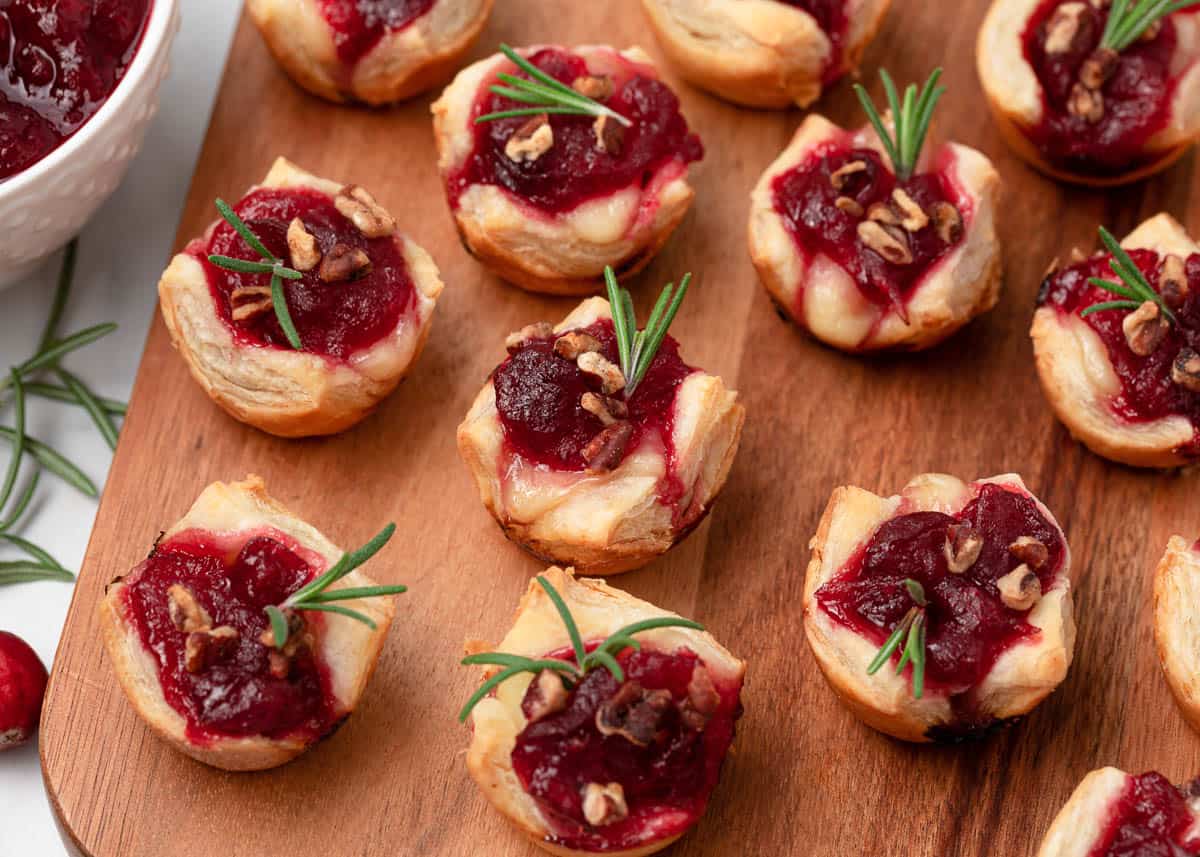 A Classy Appetizer
This cranberry brie bites recipe is one of my favorite appetizers to whip up during the holidays! They present so classy and elegant but they're really just a simple finger food that people can't get enough of!
They're made with a light and flaky buttery puff pastry topped with creamy melted brie and a topping of sweet and tart cranberry sauce. The addition of crunchy pecans and sprigs of rosemary adds a beautiful festive flare!
I think the cranberry sauce works best for a Christmas dinner menu and easy Thanksgiving appetizers. For other occasions, you can easily swap out the cranberry sauce for any other type of preserves you love with your baked brie.
Why This Recipe Works
Customizable. Whether you're adding them to your Thanksgiving menu, serving them as New Year's appetizers, or preparing them for any holiday party, these can be customized with a variety of jam or jelly flavors!
A flavor explosion. And not just flavors, textures too! Creamy, flaky, juicy, tart, sweet, and buttery. They're too good not to sample a few before your guests arrive!
Super simple. It's all done in a muffin tin. Simply add the puff pastry, top with cheese and jam, and bake until golden brown. How easy is that?!
Recipe Ingredients
There are just 3 ingredients needed to make these bites. Everything else is an optional garnish!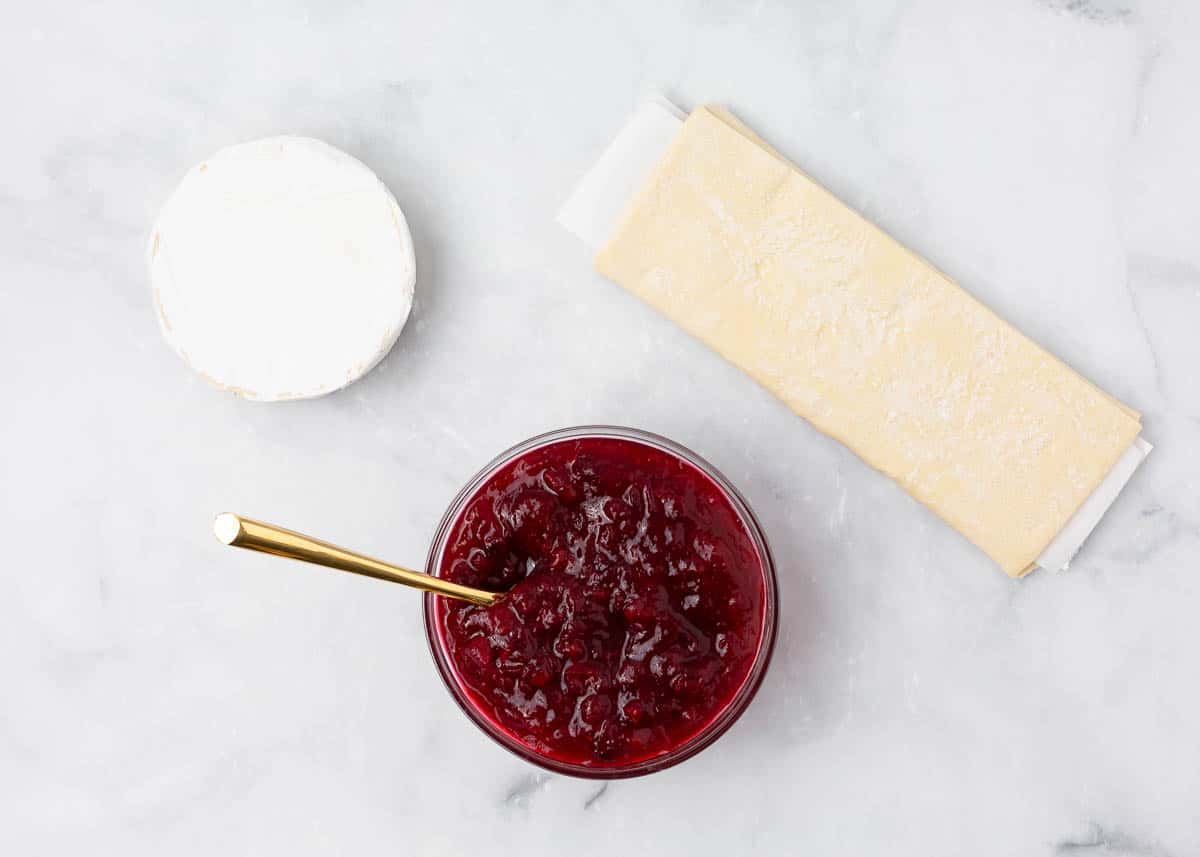 Find the full printable recipe with specific measurements below.
Puff pastry: Use 1 sheet of ready-made frozen puff pastry. Thaw it first so it's easily foldable and can sit nicely in the muffin tin. Available in the freezer section of your local grocery store.
Brie cheese: This is a soft, rich, and creamy cheese, held together by an edible rind. It usually comes in a wheel, and when baked, the center of the cheese becomes melty and runny which is great for dipping.
Cranberry sauce: Use store-bought canned cranberry sauce or homemade cranberry sauce, either works. It's great for using up any leftover cranberry sauce.
Garnish: Optional garnish can include chopped pecans, flaked sea salt and fresh thyme or rosemary for a pop of green for the holidays. You can also use chopped walnuts, pistachios, or almonds.
Variations
These are great year-round appetizer ideas. A simple switch of the topping can take these from an easy Christmas appetizer to a summer appetizer tray!
I do love the light, crispy flakes from the puff pastry, however these baked brie bites are also great using crescent roll dough.
Skip the nuts on top and just add a sprinkle of coarse sea salt and a sprig of fresh rosemary to each one. Or, for the sake of variety, have some with nuts and some without!
You can also play around with the cranberry sauce. Swap with red pepper jelly, orange marmalade, peach jam, apple, raspberry or strawberry jam! Some apricot or fig jam or a drizzle of honey would work too.
How to Make Cranberry Brie Bites
These beauties are a great way to serve individual bites of brie without having to bake an entire wheel. I love adding them to my Christmas charcuterie board too!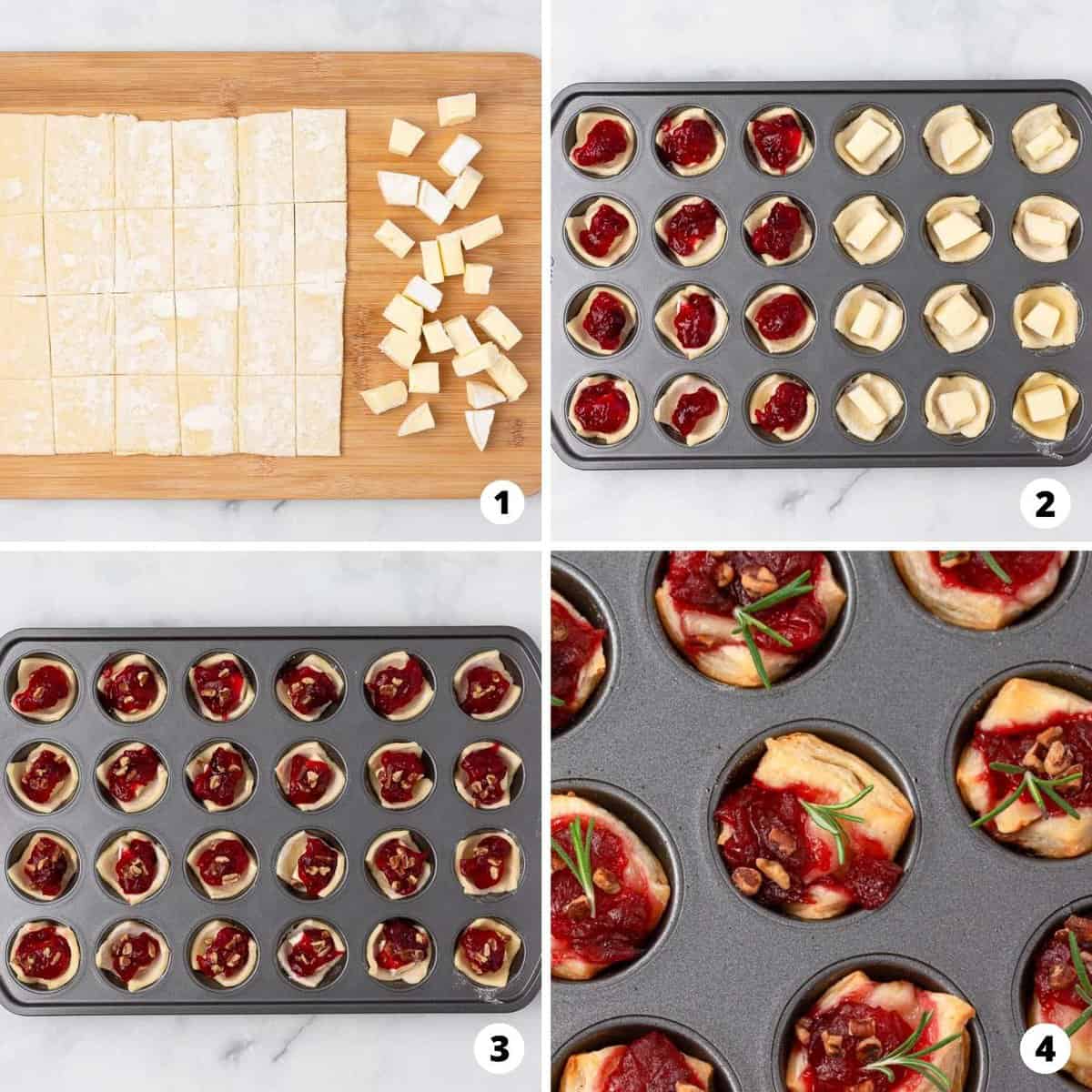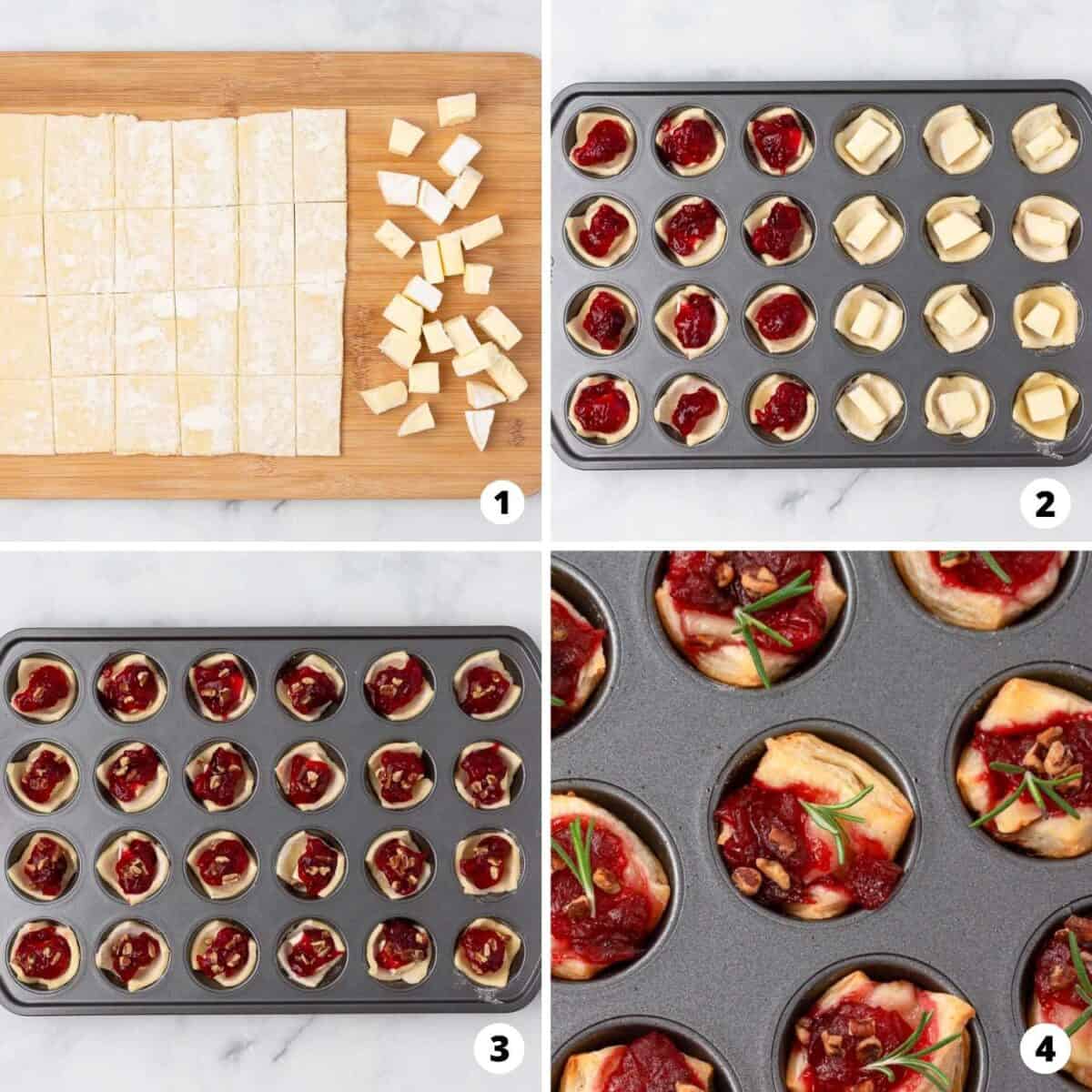 Cut squares of pastry dough. Place the brie in the freezer for about 15 minutes before baking. Take your thawed-out puff pastry dough and roll out the pastry sheet if it needs to be flattened. Cut it into 6 vertical strips and then cut across 4 times horizontally. This will create 24 squares or rectangles. Remove the brie from the freezer and cut the wedge or wheel into 24 1/2-inch cubes of brie.
Assemble the cups. Place 1 square of puff pastry into each of the sprayed muffin tin cups. Press the sides up so they are flush against the walls. Add 1 piece of brie to each one, followed by a spoonful of cranberry sauce. This is about 1 teaspoon of cranberry sauce.
Top them. Sprinkle a couple of pieces of chopped nuts if desired, but hold off on any salt or sprig of rosemary until the end.
Bake, cool, and serve! Bake in a preheated 400°F oven for 15 minutes until the puff pastry is golden and the cheese has melted. Allow them to cool slightly before serving. If desired, garnish with some flaked sea salt and rosemary or thyme!
Expert Tips
Highly recommend homemade cranberry sauce! The addition of freshly squeezed orange juice (or lemon juice) adds a great balance to the tart cranberries and really makes it pop. If you have extra cranberries make my cranberry banana bread or cranberry fluff salad.
Spray the muffin tins. You don't want to take the chance of ruining the presentation by having them stick to the pan.
Feel free to cut off the rind if you'd like. I prefer to keep it on, but it's completely optional.
A simple way to cut the strips of dough is to use a pizza cutter. A sharp knife works too.
Puff pastry works best when it's cold. You want it thawed, but not warm. Keep it in the fridge until you're ready to use it and bake it.
5 star review
These were SO easy and absolutely delightful too! Everyone raved about them and I felt so good. Thank you for making me look good at the party!

Jessica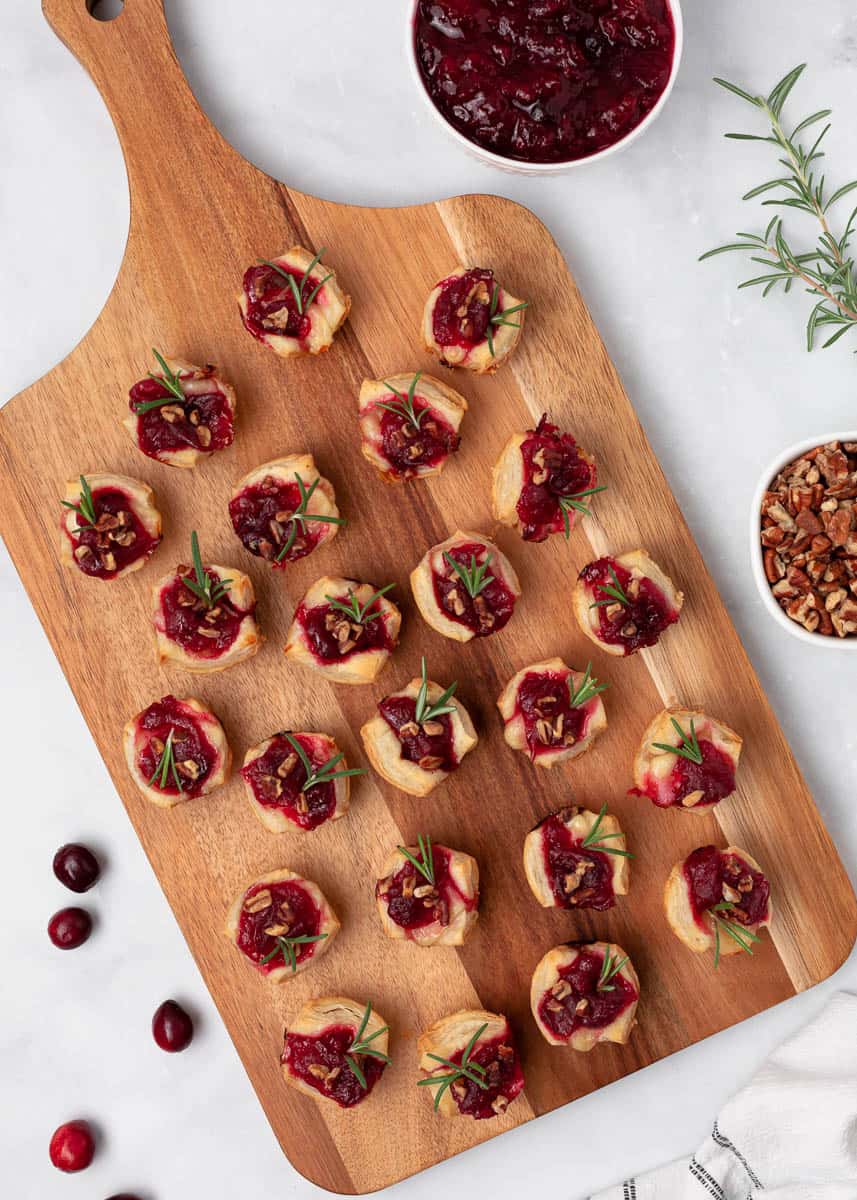 Recipe FAQs
Can I make brie bites in puff pastry ahead of time?
You can! Assemble them up until the point of baking them. Cover the muffin tin with plastic wrap and keep them in the refrigerator for up to 3 days before you're ready to bake them. This takes easy entertaining to a whole new level.
How should I store them?
Keep any leftover baked cranberry brie bites in an airtight container in the fridge for up to 3 days.
Can I freeze cranberry brie bites?
Yes, keep them individually wrapped in plastic to prevent freezer burn, then transfer them to a freezer-friendly zip-top bag. Store them for up to 2 months and then reheat straight from frozen.
Do they need to be reheated?
Technically no, there's nothing wrong with eating them cold straight out of the fridge, or even at room temperature, however you may notice a change in crispness. To get back a bit of their texture, pop them in the air fryer or on a baking sheet in the oven at 350 degrees.
What to serve with these cranberry brie bites?
Fresh fruit is always a great addition to any cheese platter. Slices of pear, grapes, apples, and fresh figs. You could also have a variety of crackers, nuts, and olives, and decorate your serving tray with more fresh thyme or rosemary.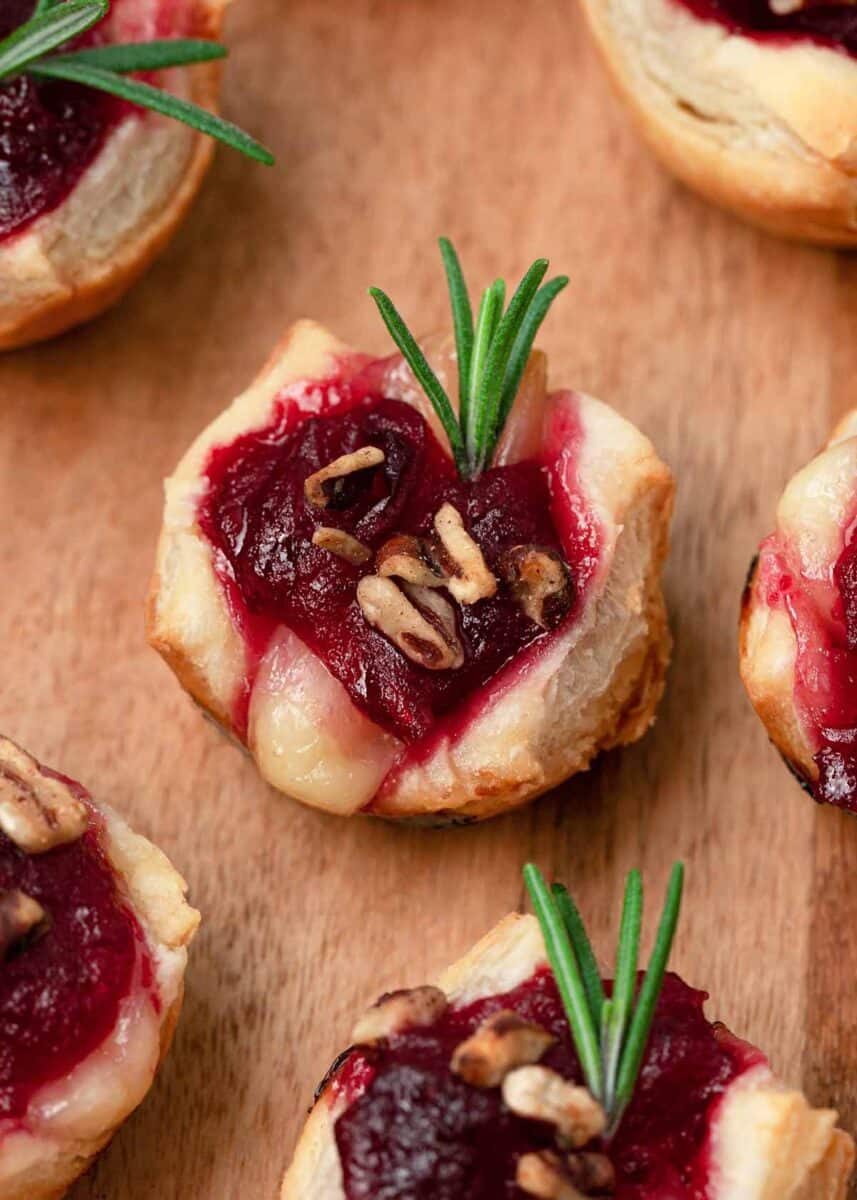 HUNGRY FOR MORE? Subscribe to my newsletter and follow on Facebook, Pinterest and Instagram for all the newest recipes!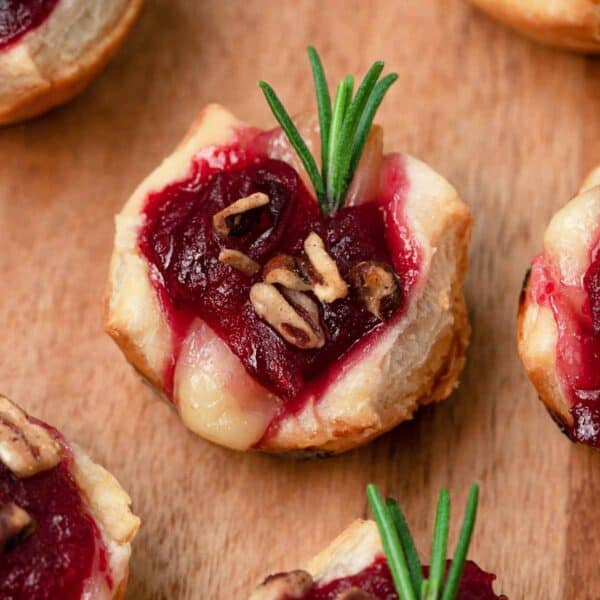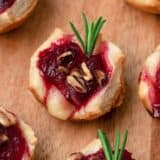 Cranberry Brie Bites
Looking for a classy and elegant appetizer for your upcoming holiday party or celebration? These 3-ingredient cranberry brie bites have everything you love about baked brie and preserves in individual bite-size portions. Perfect for easy entertaining!
Ingredients
½ (17-ounce) package frozen puff pastry (1 sheet)
4 ounces brie cheese
1/3-1/2 cup cranberry sauce , homemade or canned
chopped pecans , optional
For serving (optional): Flake sea salt, Thyme or rosemary
Instructions
Thaw the puff pastry according to package directions. Place the Brie in the freezer 15 minutes before baking.

Preheat the oven to 400°F. Spray a mini muffin pan with non stick spray.

Roll the puff pastry if needed to flatten. Cut into 6 strips vertically and then 4 horizontally, creating 24 squares. Cut the Brie into 24 1/2-inch pieces.

Place puff pastry squares into the pan, pressing up the sides. Add 1 Brie piece into the center of each. Spoon 1 teaspoon cranberry sauce over the top of the Brie. Sprinkle a couple nuts on top if desired.

Bake 15 minutes, or until the puff pastry is golden. Remove from oven and let cool slightly before serving. Top with flake sea salt and thyme or rosemary, if desired.
---
Nutrition
Serving: 24bites | Calories: 77kcal | Carbohydrates: 6g | Protein: 2g | Fat: 5g | Saturated Fat: 2g | Polyunsaturated Fat: 1g | Monounsaturated Fat: 3g | Cholesterol: 5mg | Sodium: 55mg | Potassium: 14mg | Fiber: 0.2g | Sugar: 1g | Vitamin A: 30IU | Vitamin C: 0.04mg | Calcium: 10mg | Iron: 0.3mg
Nutrition provided is an estimate. It will vary based on specific ingredients used.
Did you make this recipe? Don't forget to give it a star rating below!