Fall off the bone braised short ribs are cooked in a delicious rich sauce and cooked until tender. The perfect dish for entertaining!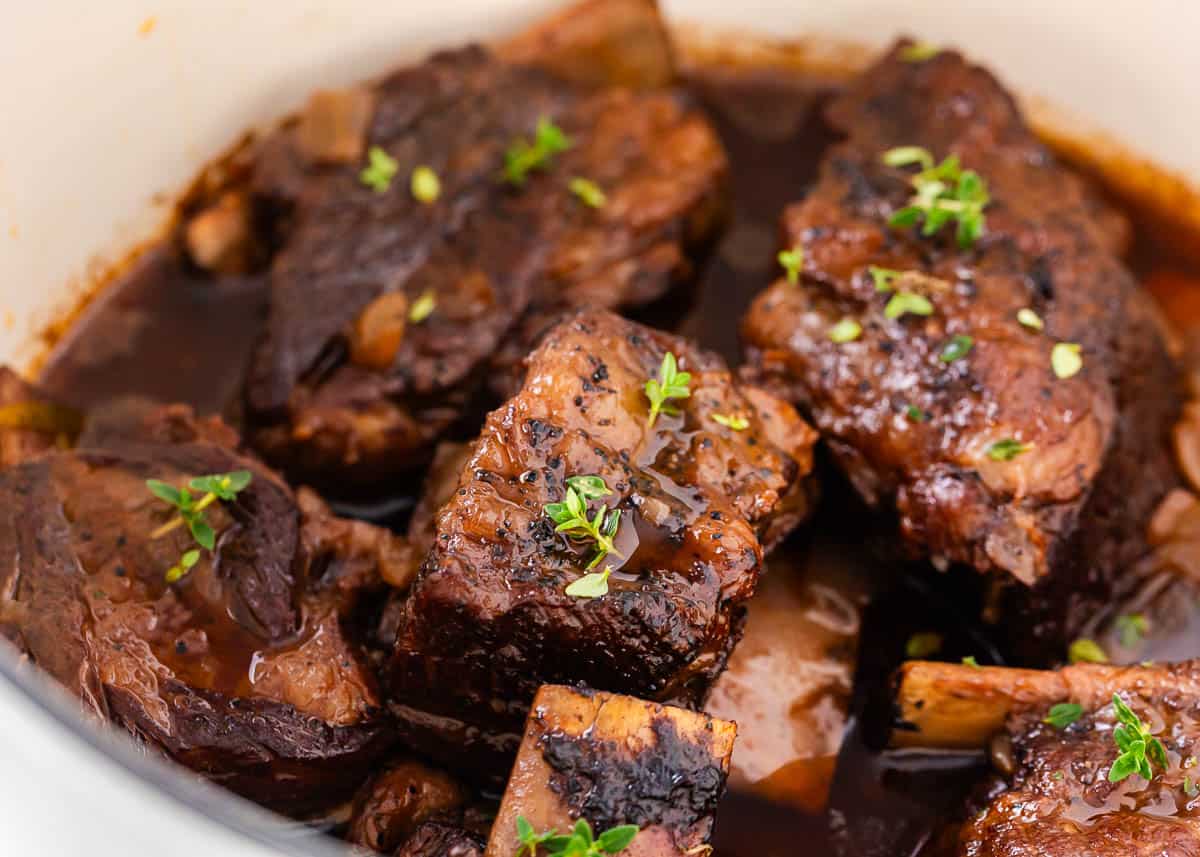 Beef Short Ribs with Red Wine
Today, I'm bringing you a classic and hearty recipe that you'll want to have in your back pocket now that the cooler weather is here – braised short ribs.
This dish is all about succulent, melt-in-your-mouth beef, a rich, flavorful sauce, and the kind of comfort that only a hearty meal can provide! This dish is surprisingly foolproof, and I'm here to guide you through each step.
Whether hosting a fancy dinner party or looking to elevate a Sunday dinner, braised short ribs will earn you well-deserved adoration from friends and family! For more soft and tender beef recipes, try crockpot beef stew or slow cooker ribs, too.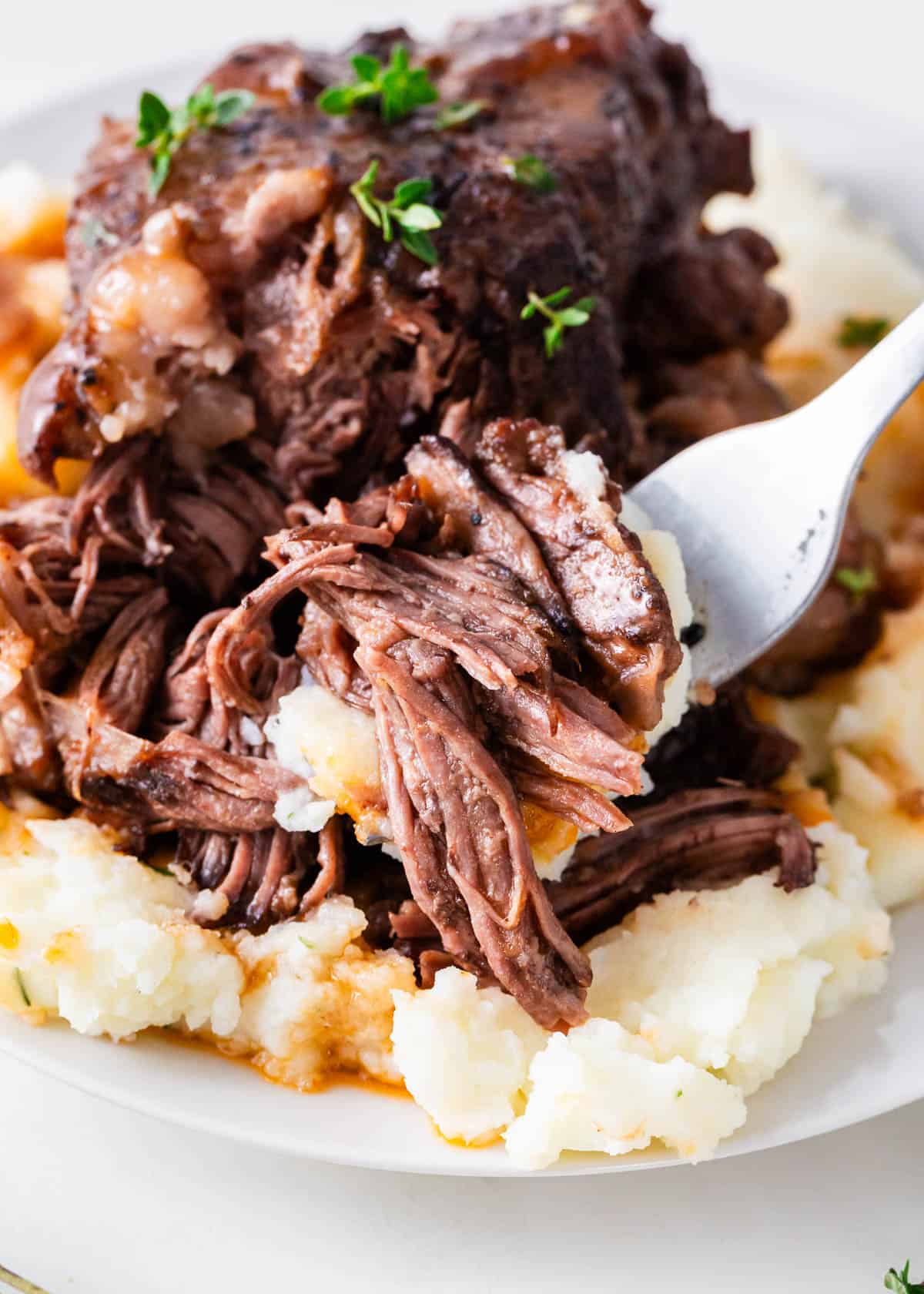 Why You'll Love Braising Short Ribs
Braising is a cooking method that combines searing and slow cooking in liquid. It's perfect for cuts of meat like short ribs that are tougher and require a longer cooking time to become tender and delicious.
It involves searing the meat first, which creates a flavorful crust, and then cooking it slowly in a flavorful liquid. This allows the meat to absorb all the tasty juices, becoming incredibly tender in the process.
My beef birria and slow cooker beef bourguignon recipes both use the braising technique to get meltingly soft beef. I know it may seem a little bit time-consuming, but I promise you, it is worth the wait!
Recipe Ingredients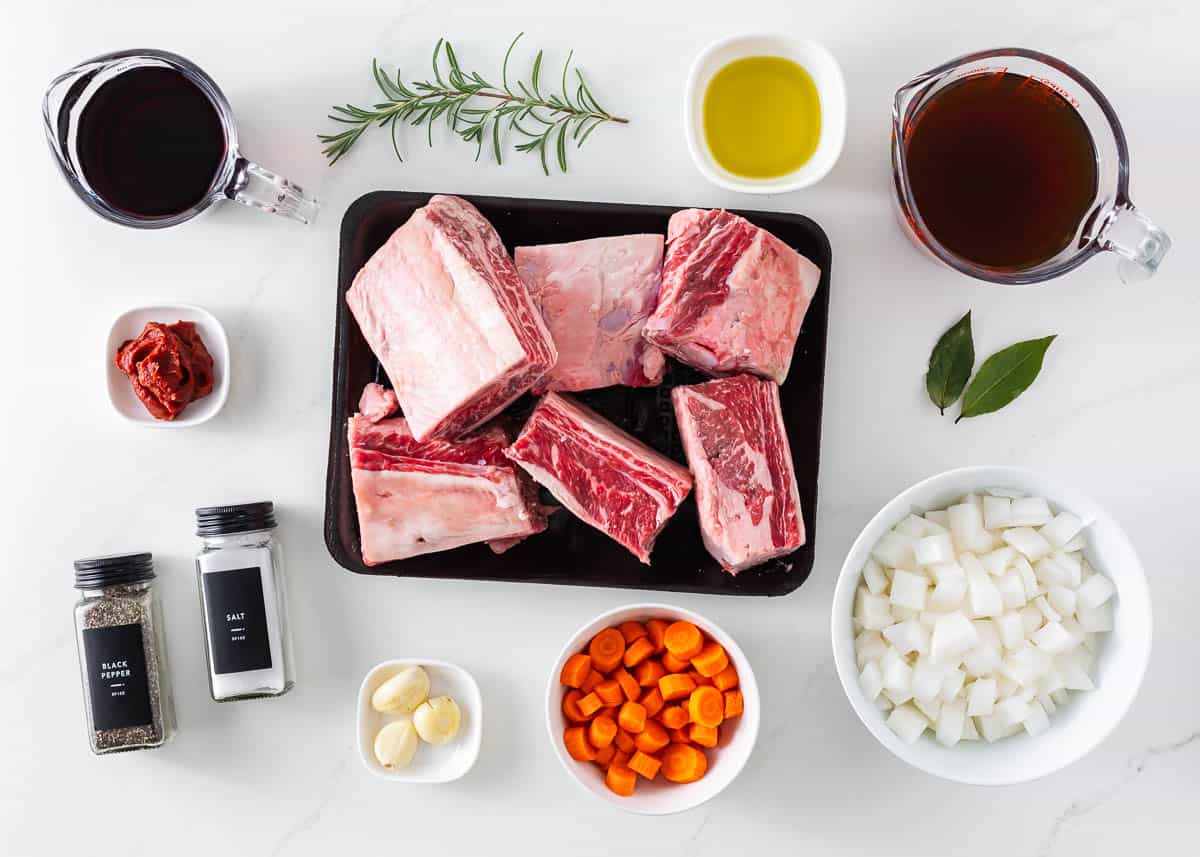 Find the full printable recipe with specific measurements below.
Beef short ribs: Short ribs are small, flavorful cuts of beef from the lower portion of the ribcage. These bone-in ribs are packed with flavor and perfect for braising.
Tomato paste: This lends a rich flavor to the sauce, plus it also helps to thicken it.
Dry red wine (Pinot Noir): Don't worry; the alcohol evaporates, leaving behind a rich, complex flavor.
Beef stock: I use the low-sodium kind for the braising liquid.
Herbs: Rosemary and bay leaves add hints of fragrance and earthy flavor.
How to Cook Short Ribs
There's only a few minutes of hands-on time and then the rest of the time, the ribs slowly cook in the oven until they are meltingly tender. Here's the step-by-step guide to making the best braised short ribs: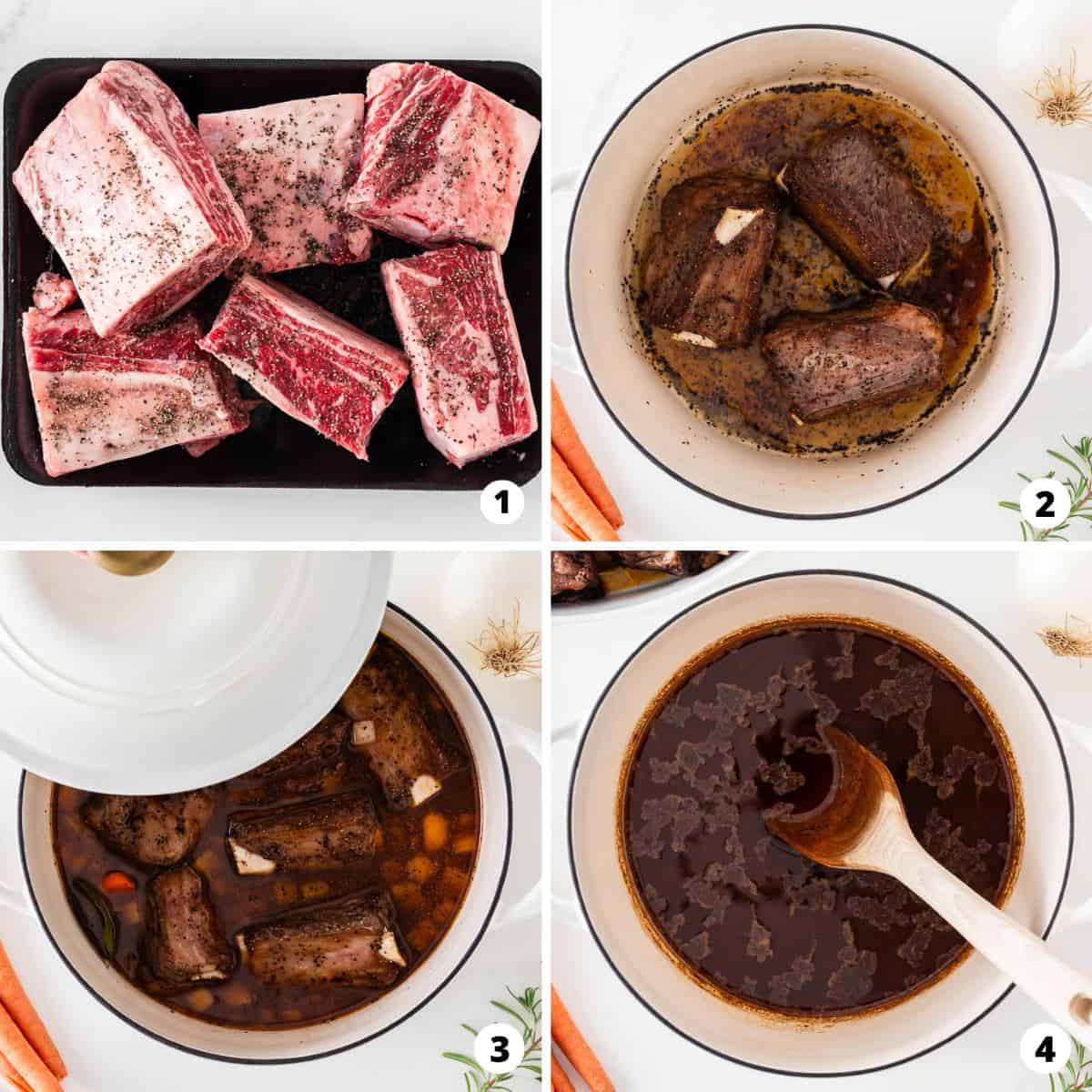 Season the short ribs with kosher salt and ground black pepper. Allow them to sit for 15-20 minutes for flavor infusion.
Sear the ribs in a large Dutch oven or ovenproof pot with olive oil. Brown them for 5-7 minutes on all sides, then remove and repeat with the remaining ribs.
Build flavor by sautéing onions, garlic, and carrots. Stir in tomato paste. Pour in red wine, beef stock, rosemary sprig, and bay leaves. Return the seared ribs to the pot and cover.
Braise the ribs in a preheated 325°F oven for about 3 hours until tender. Remove the ribs and keep them warm. Strain the sauce, return it to the pot, and simmer until it reduces by half. Season with salt and pepper. Serve the ribs with the sauce.
Cooking Variations
If you don't have an ovenproof pot or simply want to explore other methods of cooking, here are a couple of alternative options:
Stovetop
After searing the meat and sautéing the vegetables, simmer everything covered on the stovetop over low heat for about 2 1/2 hours.
Slow Cooker
Sear the beef and sauté the veggies in a skillet, then add the liquid. Bring it to a simmer and transfer it all into a slow cooker.
Cook on low for about 8 hours or on high for 5 hours until the beef is fork-tender.
Once the beef is ready, strain the liquid into a large skillet and simmer it rapidly for about 10 minutes, or until it reduces to a syrupy consistency.
Expert Tips
Quality beef short ribs are essential. Look for well-marbled, bone-in ribs for the best flavor.
Don't skip the searing step. It creates a flavorful crust on the meat and locks in the juices.
Whether you strain the sauce is a matter of personal preference. A strained sauce will be smoother while skipping this step will give you a chunkier, rustic sauce.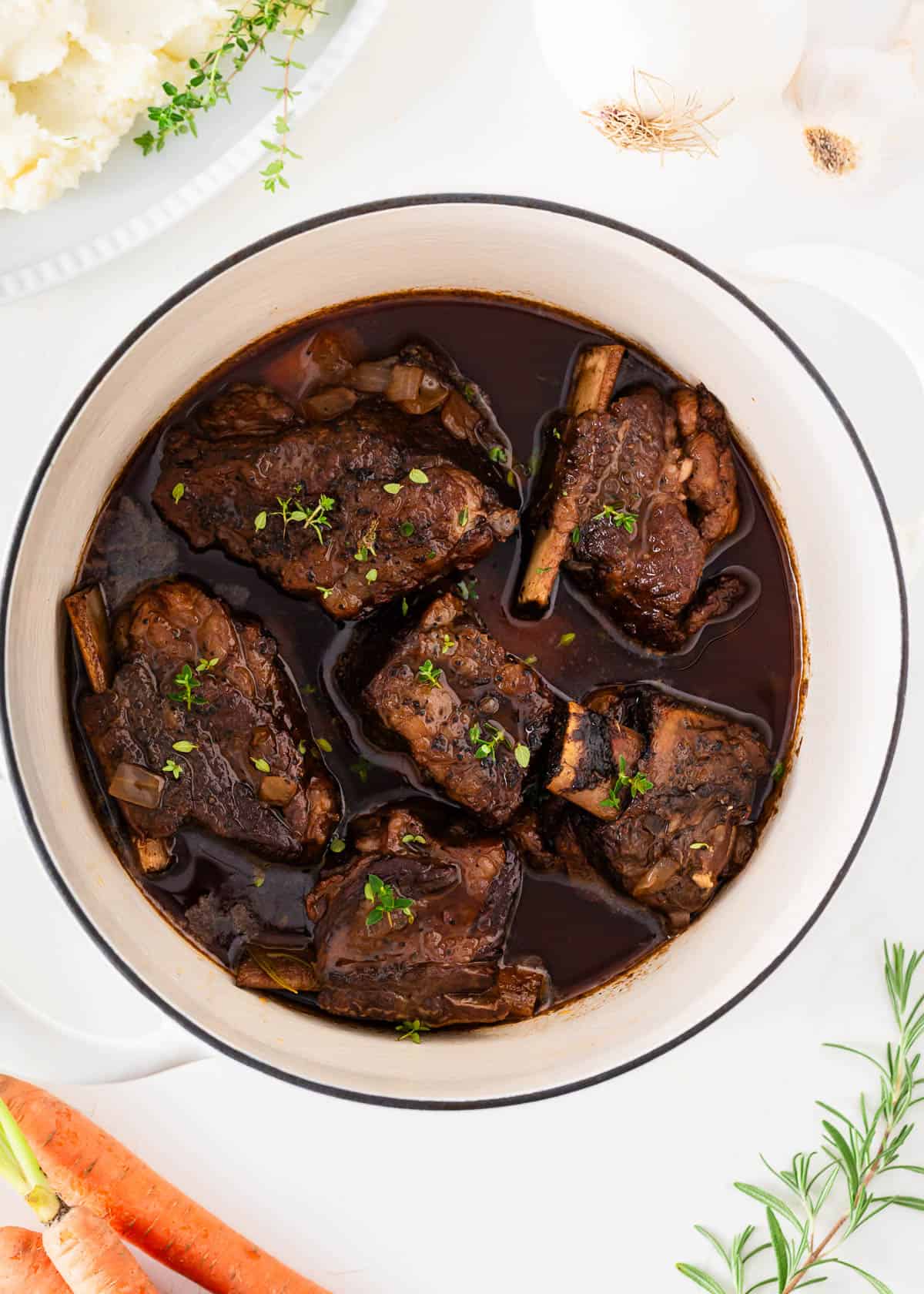 Recipe FAQs
Can I make red wine braised short ribs in a slow cooker?
For sure! Sear the beef ribs and veggies on the stovetop first, then add them to the slow cooker along with the liquid. Cook on high for 8 hours or low for 5 hours. You can also strain and reduce the sauce on the stovetop before serving.
Can I make boneless beef short ribs?
While bone-in short ribs are traditional, you can certainly use boneless ones. Keep in mind that boneless ribs might cook a bit faster, so adjust your cooking time accordingly.

What can I do with leftover braising sauce?
Don't let that flavorful liquid go to waste! It makes a fantastic base for soups, stews, or even as a sauce for other meats. You can also reduce it further to make a concentrated sauce for other dishes.
How to store leftover braised short ribs?
Store the braised short ribs in an airtight container in the refrigerator for up to 3-4 days. You can also store them for an extended period. Freeze the ribs and sauce in an airtight container or freezer bag for up to 3 months.
Best way to reheat them?
To reheat, the best method is to use the oven, so the ribs don't dry out. Heat the oven to 400°F, place them on a baking sheet, and cover with foil. Heat the ribs until warmed through which will take 10 – 15 minutes.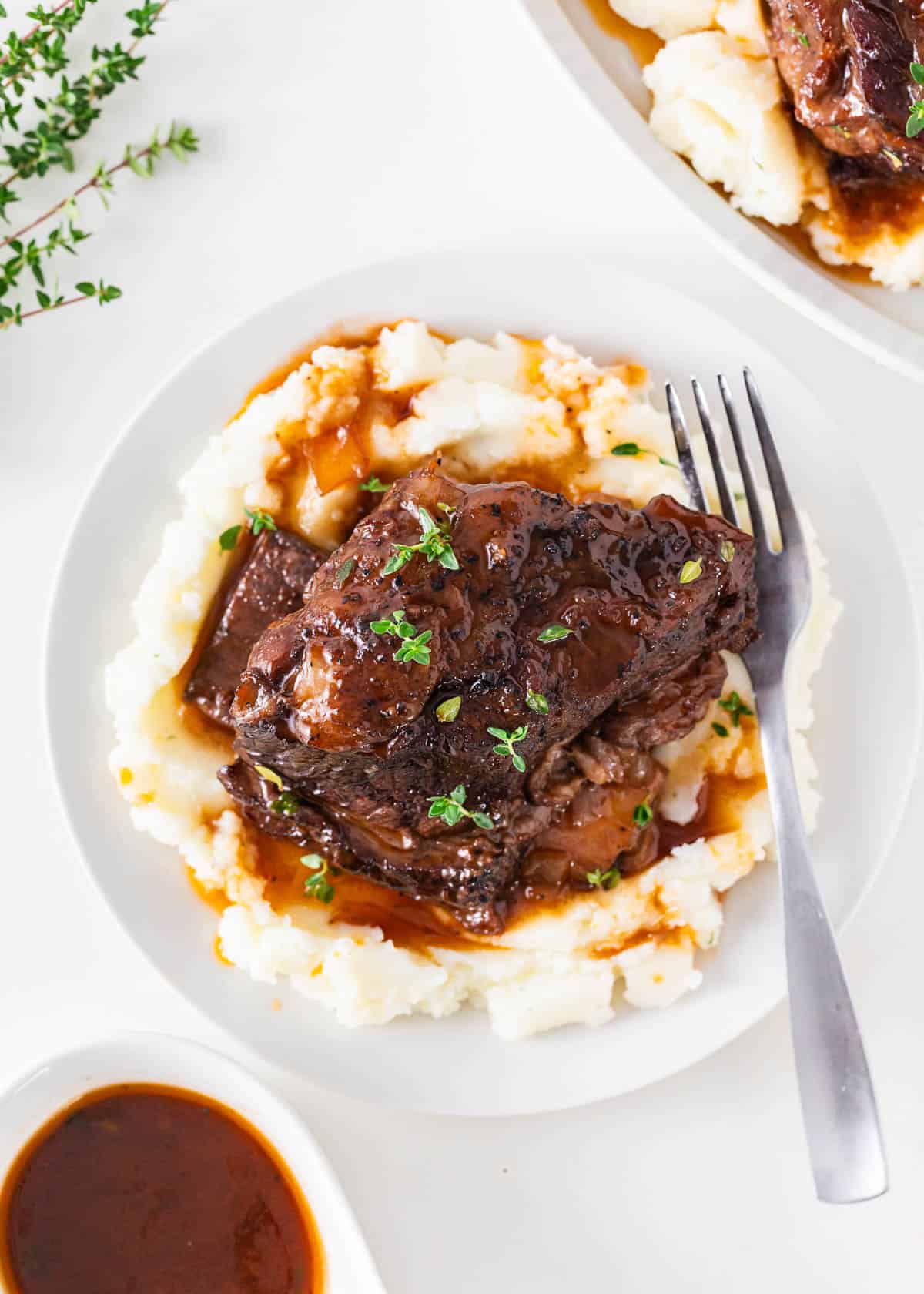 HUNGRY FOR MORE? Subscribe to my newsletter and follow on Facebook, Pinterest and Instagram for all the newest recipes!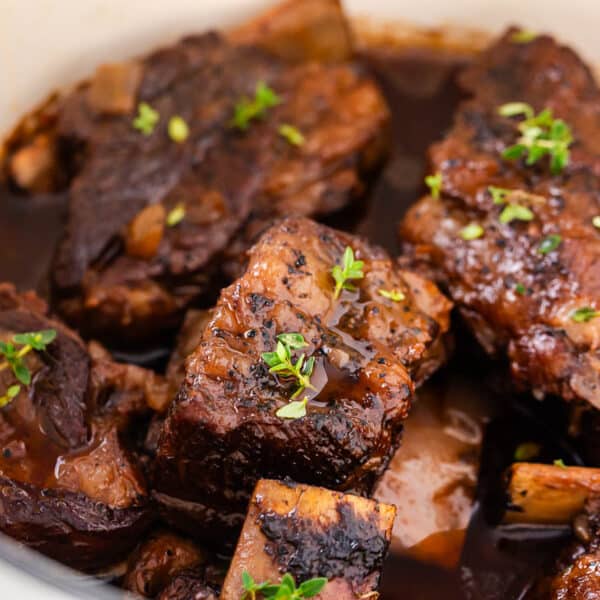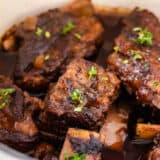 Braised Short Ribs Recipe
Fall off the bone braised short ribs are cooked in a delicious rich sauce and cooked until tender. The perfect dish for entertaining!
Ingredients
6 beef short ribs
1 ½ teaspoons Kosher salt , plus more to taste
1 ½ teaspoons ground black pepper , plus more to taste
2-3 Tablespoon olive oil
3 cloves garlic , crushed
1 large onion , chopped
2 carrots , peeled and chopped
2 Tablespoons tomato paste
1 cup dry red wine (Pinot Noir)
2 cups low-sodium beef stock
1 sprig rosemary
2 bay leaves
Instructions
Sprinkle beef all over with salt and pepper. Allow to sit 15-20 minutes.

Preheat the oven to 325°F. In a large, ovenproof pot, heat oil over medium-high heat. Add half the ribs and sear 5 to 7 minutes, or until brown on all sides. Remove and repeat with remaining ribs.

Turn down heat to medium. Add the onion and cook 3 minutes, or until translucent. Stir in garlic and carrots and cook 5 minutes, or until tender. Stir in tomato paste. Next, add wine, broth, rosemary, and bay leaves, stirring until tomato paste is dissolved. Return ribs to the pot, being sure each one is submerged in liquid. Cover with a lid and place in oven.

Cook 3 hours, or until the meat falls off the bone with a fork. Remove ribs, being careful to keep the meat on the bones. Cover with foil to keep warm.

Strain liquid through a sieve, pressing juices any juices out of the vegetables (skip for a chunkier sauce). Return sauce to pot. Simmer over medium heat, stirring until reduced by half. Season with salt and pepper.

Serve ribs on a plate with sauce spooned over the top.
---
Notes
Red wine:
Nearly 100% of the alcohol in the wine will evaporate during cooking, however you can replace it with 1/2 extra cup of beef broth, 1 1/2 cups water, and 1 Tablespoon Worcestershire sauce.
Cooking variations:
Stove: Simmer covered on the stove top 2 1/2 hours over low heat.
Slow cooker: Sear beef and sauté vegetables in a skillet, add the liquid, bring to simmer then tip it all into a slow cooker. Cook 8 hours on low or 5 hours on high. When beef is fork tender, strain liquid into a large skillet and simmer liquid rapidly for 10 minutes or until it reduces down to a syrup consistency.
Nutrition
Calories: 430kcal | Carbohydrates: 49g | Protein: 16g | Fat: 2g | Saturated Fat: 1g | Polyunsaturated Fat: 0.3g | Monounsaturated Fat: 1g | Cholesterol: 4mg | Sodium: 4788mg | Potassium: 1922mg | Fiber: 8g | Sugar: 19g | Vitamin A: 20905IU | Vitamin C: 28mg | Calcium: 160mg | Iron: 4mg
Nutrition provided is an estimate. It will vary based on specific ingredients used.
Did you make this recipe? Don't forget to give it a star rating below!