An easy and hearty meal made with beef, burgundy wine, fresh vegetables, and herbs, all cooked to perfection within the slow cooker! The alcohol is cooked out, leaving a rich and thick liquid for the beef and vegetables to cook in.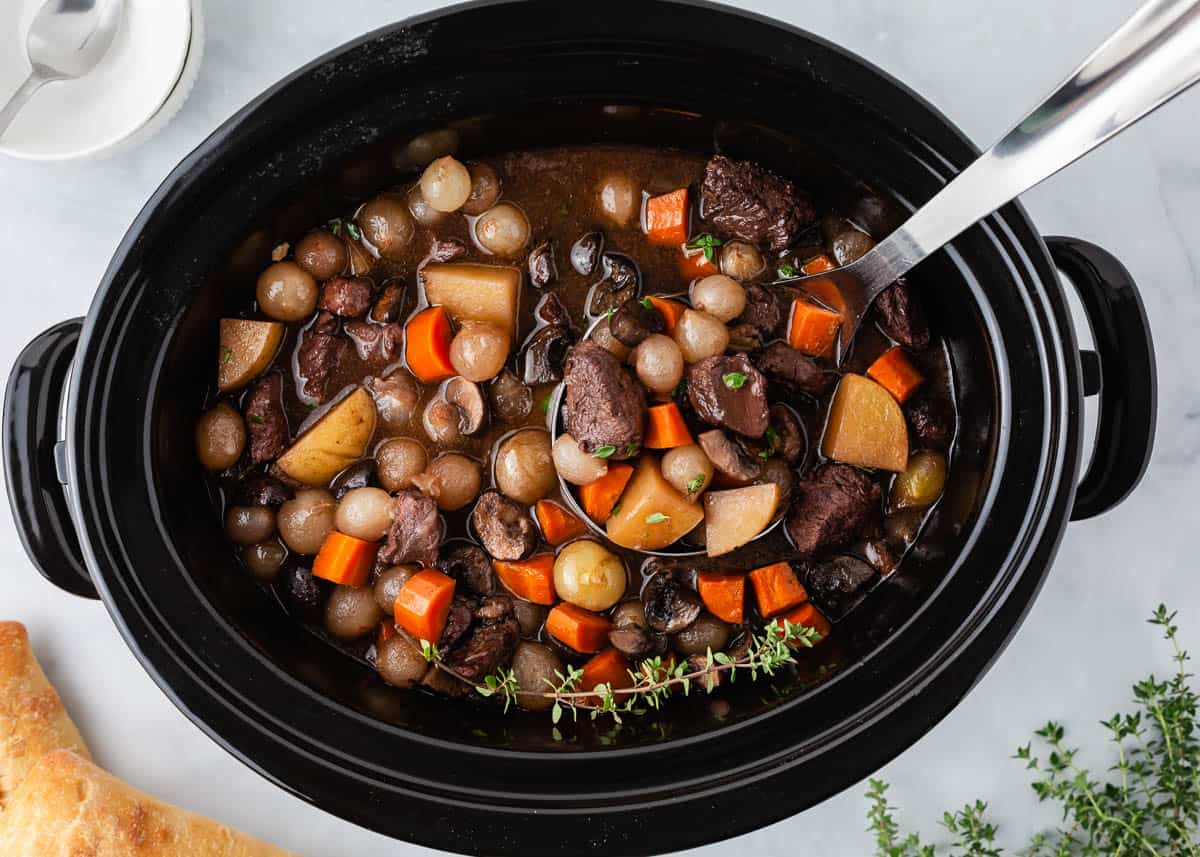 The Best Crockpot Beef Burgundy
Slow cooker recipes allow you to enjoy tender, tasty meals that cook for you while you go about your day. Some of my other favorites are slow cooker chicken enchilada soup, crockpot honey chicken and these shredded beef tacos.
If you haven't had beef bourguignon before, you are in for a real treat! This recipe tastes almost like a crockpot beef stew but it has slightly different ingredients and more depth of flavor. It has a rich taste, with chunks of tender beef and vegetables in every bite.
This crockpot beef burgundy is the perfect recipe to make when you want something that is hearty and flavorful. It tastes amazing served with cornbread muffins or homemade dinner rolls and is the ultimate comfort meal. My kids also love this recipe—even if they can't pronounce it properly. :)
What is Beef Bourguignon?
Beef Bourguignon is a traditional French recipe made with stew meat, garlic, onions, mushrooms, beef broth, burgundy wine, and a bundle of herbs. The word "Bourguignon" means it's a dish that comes from the French region of Bourgogne, which we call Burgundy in English.
The traditional beef bourguignon recipe simmers on the stove for a few hours, however we're giving it an easy twist by cooking the stew in the crock pot all day. It only takes 20 minutes to prep, then cooks low and slow as the beef and veggies tenderize. You still get the same delicious flavors by making slow cooker beef bourguignon, but with the "set it and forget it" benefit of using the crockpot.
Why This Recipe Works
Easy dump and go meal. Although the traditional recipe is made on the stove, we're making it even easier by making slow cooker beef bourguignon! It'll cook low and slow all day and will be ready just in time for dinner.
Tender beef. By cooking this beef bourguignon recipe in the crockpot, the beef gets super tender and will basically melt in your mouth by the time you enjoy it. It's the best!
Comfort food. If you're a meat and potatoes lover or a big fan of comfort food, this soup is right up your alley. It's hearty and savory with chunks of stew meat, potatoes and carrots in every bite.
Recipe Ingredients
Made with a mix of beef, veggies, herbs and liquid, this slow cooker beef bourguignon recipe is jam packed with rich flavor and texture in every bite. Check out what you'll need to get started below.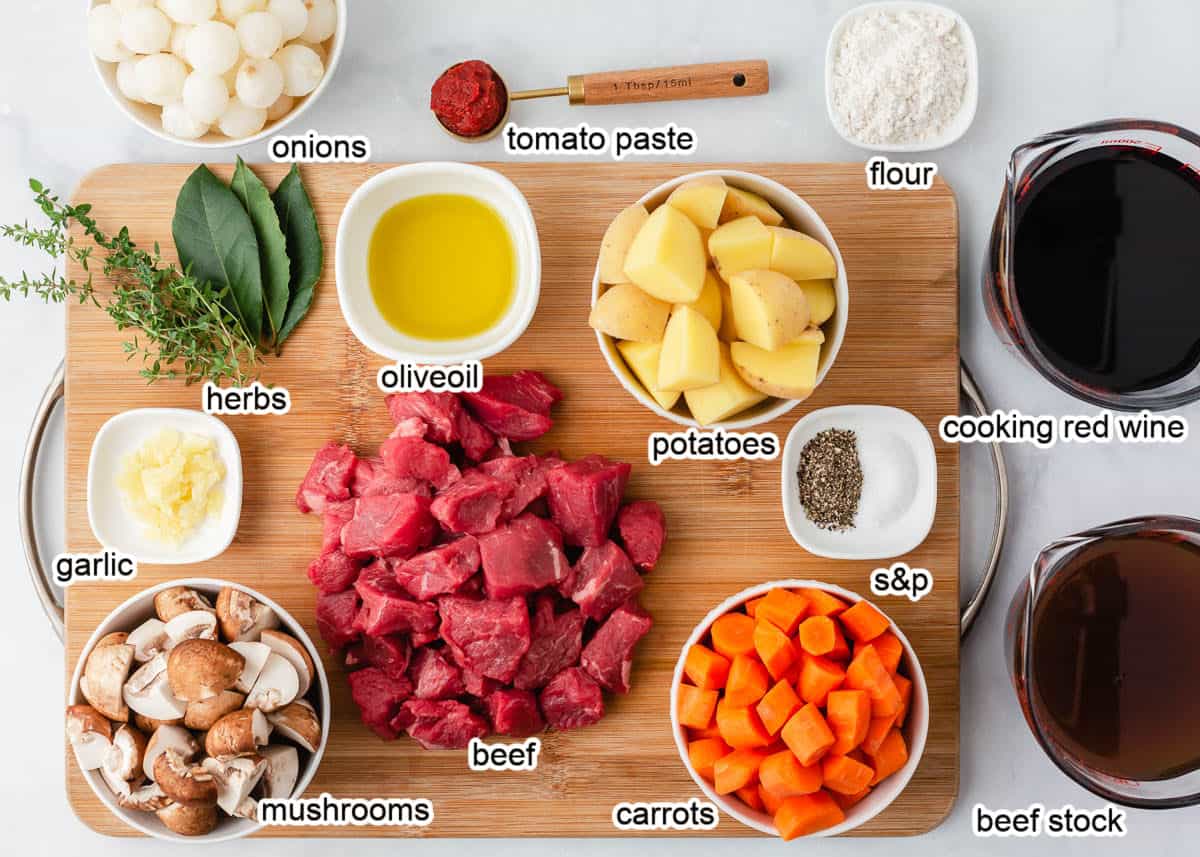 Find the full printable recipe with specific measurements below.
Beef: I recommend using cubes of stewing meat, which adds a hearty texture and gets melt-in-your-mouth tender as it cooks low and slow in the crockpot all day. It's important to sear the exterior of the meat first on the stove with a little olive oil, flour, salt and pepper to give it more flavor and a delicious outer crust before adding to the slow cooker.
Red cooking wine: Using a red cooking wine (such as a Burgundy wine) helps make the flavor of the meat even bolder. All of the alcohol cooks out, so really it's just there to add richness and more depth to the dish.
Beef stock: Also used as the base liquid of the stew, creating a richer beef flavor.
Tomato paste: Helps to thicken the soup, as well as add some acidity and tartness.
Vegetables: A mix of baby white potatoes, carrots, mushrooms, onions and garlic.
Herbs: Adding in a few sprigs of fresh thyme and fresh bay leaves is an easy way to pack a punch of flavor in this beef bourguignon recipe.
How to Make Slow Cooker Beef Bourguignon
There is one simple trick to getting this dish super rich and flavorful. Before you place all the ingredients into the slow cooker, brown the stew meat in a pan on the stove. This allows the outside of the meat to get a nice brown crust.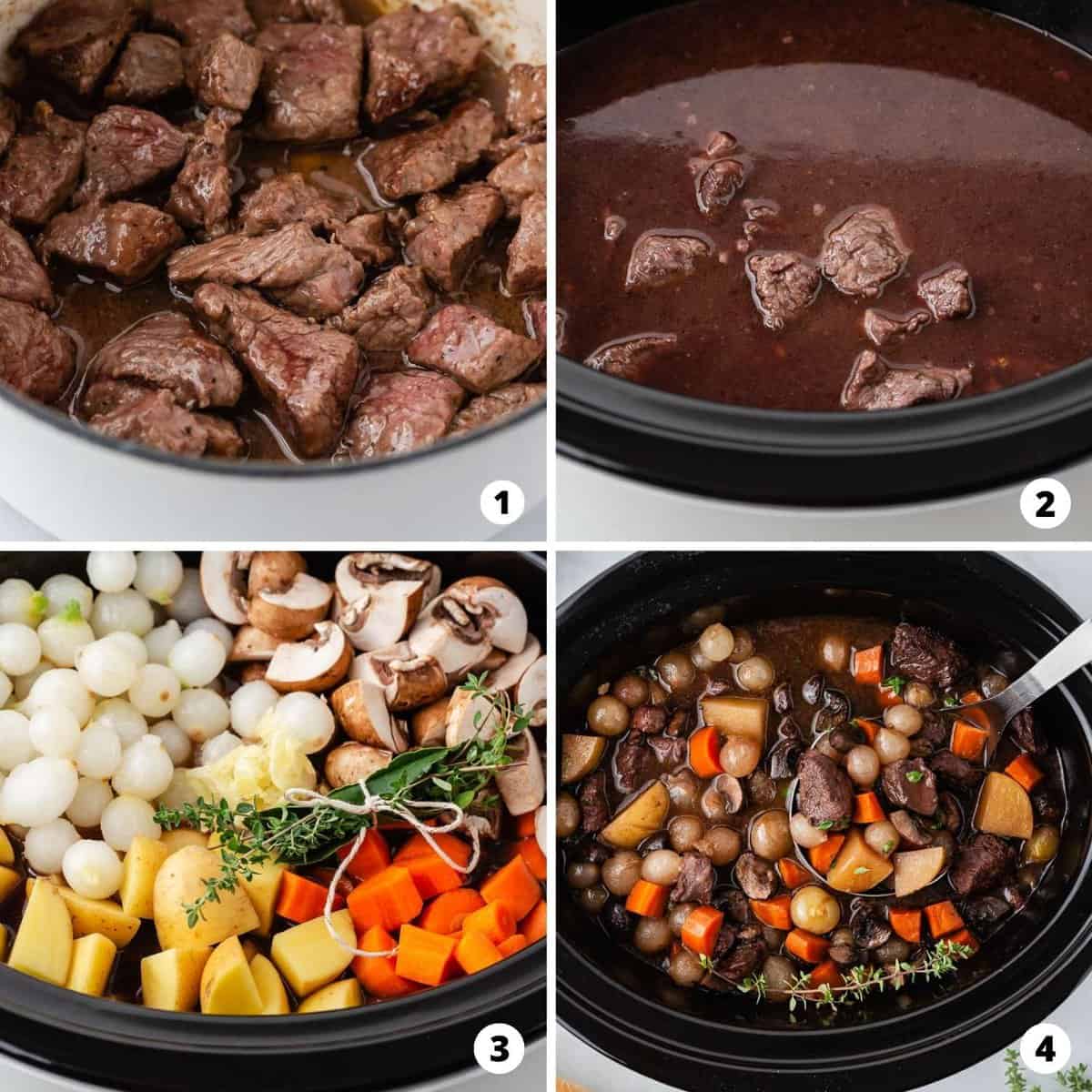 Brown the beef. Start by coating 2 pounds of beef stew meat with salt, pepper, and flour. Add olive oil to a large skillet on the stove and cook half of the meat about 6 minutes or until a brown crust has formed. Add that batch of beef to the slow cooker and then cook the second batch of beef for an additional 6 minutes.
Simmer the sauce. Once that batch has cooked, add the beef to the slow cooker. Next, pour in beef stock, burgundy wine, and tomato paste to the pan. Simmer until the alcohol is cooked out, scraping the bottom of the pan to get the brown bits. Then pour the liquid in the crockpot over the beef.
Combine and cook. Next add all of the vegetables and herbs into the slow cooker. Give it a stir, then place the lid on top and cook for 6 to 8 hours on the low heat setting.
Season and serve. Once the stew is done cooking, discard the sprigs of fresh herbs and season with more salt and pepper to taste if needed. Then serve and enjoy!
Expert Tips
Type of wine: Typical red wines to use in beef bourguignon include Burgundy red wine such as Pinot Noir. A dry full bodied Merlot or Cabernet can also be used.
Don't skip browning the meat: This imparts so much flavor to the meat! It may seem unnecessary to dirty another pan, but it's worth it!
Size of vegetables: Cutting your vegetables into larger chunks ensures that they don't get too soft from cooking all day.
Cooking method: To make this in the oven, brown meat in a Dutch oven then add remaining ingredients and cook at 325°F for for four hours. For the stovetop after browning the meat and adding all the ingredients, bring to a boil then cover and simmer up to two hours until the meat is tender. Add liquid as necessary.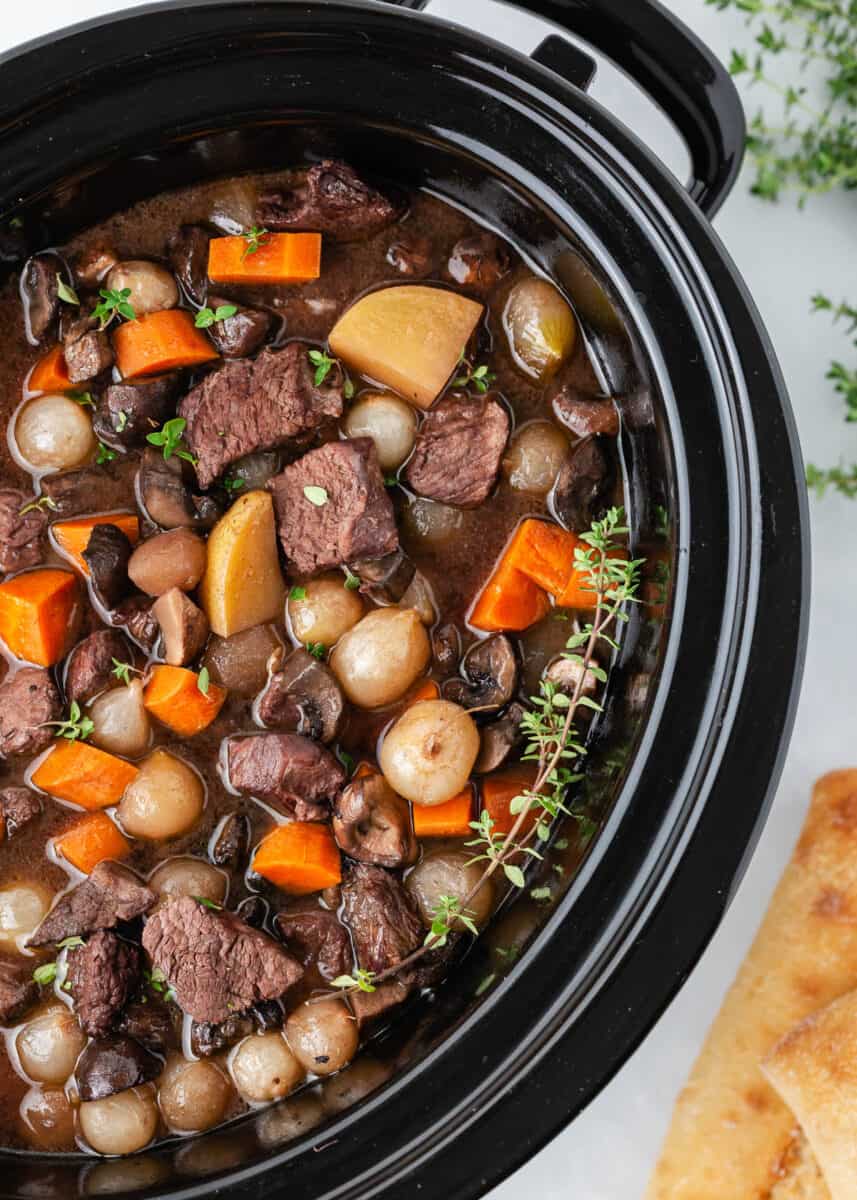 Recipe FAQs
What is the best meat to use for beef bourguignon?
Stew meat (made from beef chuck roast or round) is typically used when making soups or stews because it's less expensive and contains more tough connective tissue than other cuts of beef.

Cooking the meat low and slow all day in a flavorful broth will break down the tissue, resulting in beef that's super tender and will basically melt in your mouth.
Do I have to brown the meat first?
If you don't have time, you can skip this step but I highly recommended cooking the beef first before putting into the slow cooker. You will get a much better flavor and exterior crust this way—while still keeping this an easy recipe.
What is traditionally served with beef bourguignon?
This recipe is hearty and delicious enough to be a meal in itself. Alternatively, you could also serve the beef with egg noodles, rice or mashed potatoes. Oh, and don't forget a piece of crusty French bread or French baguette for dipping!
What is the difference between beef stew and beef bourguignon?
The main difference between the two is that beef bourguignon is made with red burgundy wine, adding another layer of flavor and giving the meat an even bolder taste.

The alcohol cooks out of the wine, but leaves you with a rich and delicious broth. However if you would prefer not to use wine, a classic beef stew is just as tasty and hearty!
How to Store Beef Burgundy
Any leftovers will stay fresh in an airtight container in the refrigerator for up to 3 days. It can also be frozen, although the texture of the potatoes might change as they soak up liquid in the freezer.
Let thaw in the fridge overnight and then reheat in a pot on the stove until warm throughout, or in a bowl in the microwave.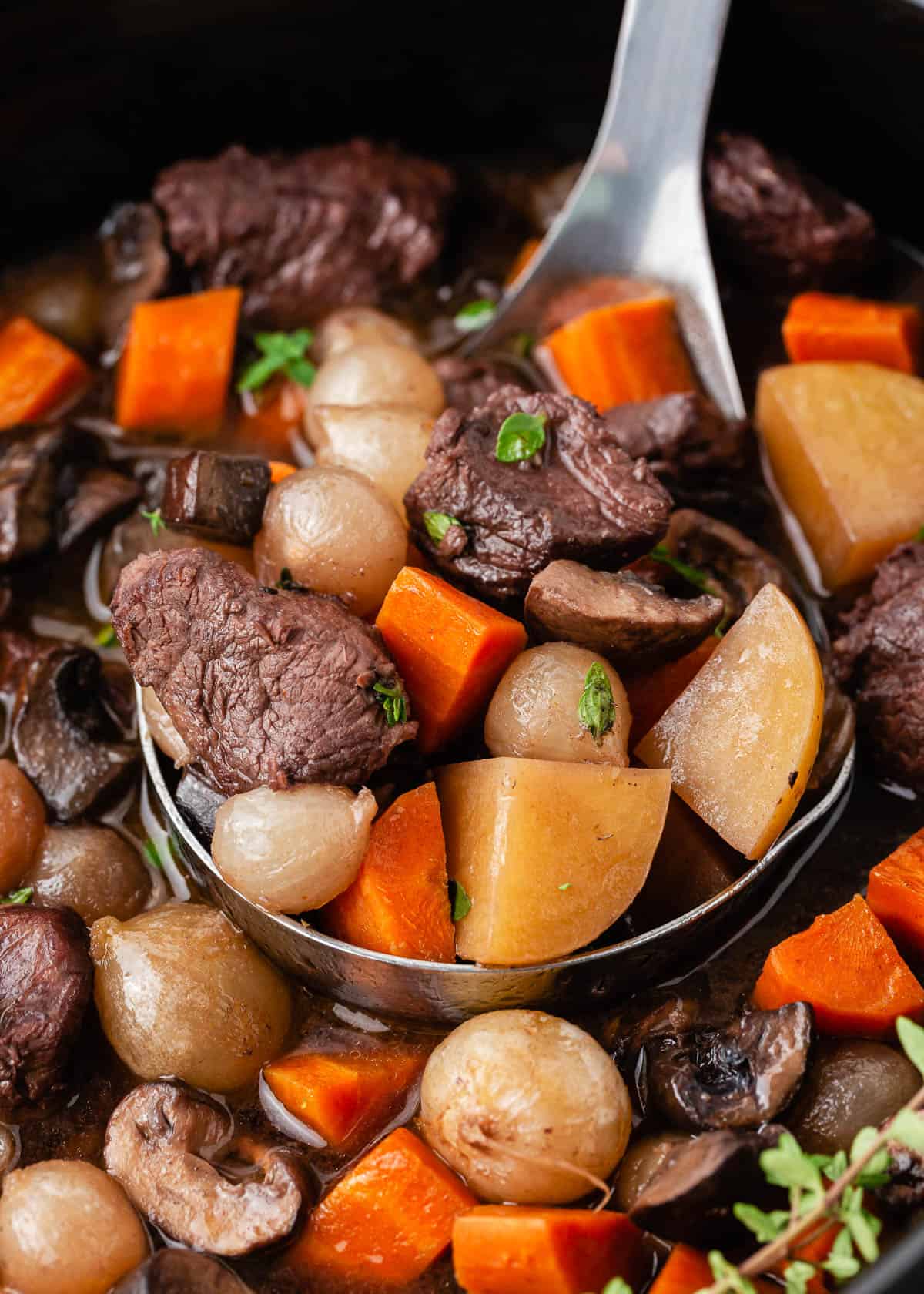 HUNGRY FOR MORE? Subscribe to my newsletter and follow on Facebook, Pinterest and Instagram for all the newest recipes!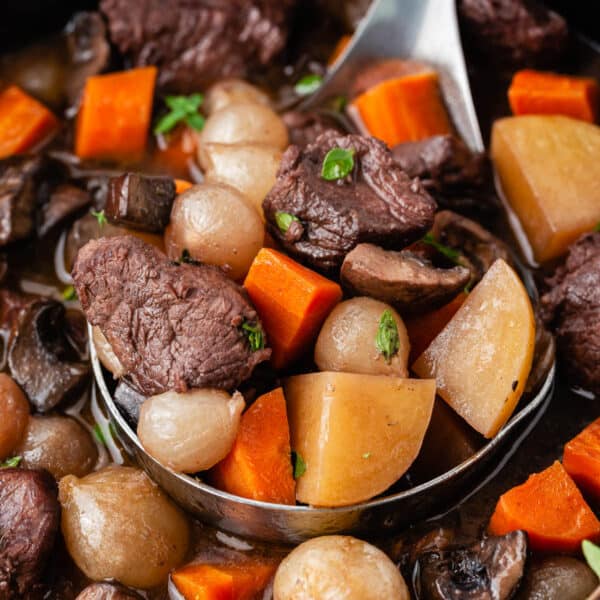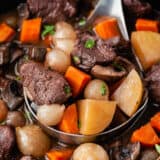 Slow Cooker Beef Bourguignon
An easy and hearty meal made with beef, burgundy wine, fresh vegetables, and herbs, all cooked to perfection within the slow cooker! In this beef bourguignon recipe, the alcohol is cooked out, leaving a rich and thick liquid for the beef and vegetables to cook in.
Ingredients
2 Tablespoons olive oil
2 pounds stewing beef , cut into large 1-inch chunks
1 teaspoon Kosher salt
1 teaspoon fresh cracked black pepper
2 Tablespoons all-purpose flour
2 cups cooking red wine , such as Burgundy wine
2 cups beef stock
1 Tablespoon tomato paste , heaping
3 cloves garlic , crushed
4 carrots , peeled and diced into 1-inch pieces
1 pound baby white potatoes , left whole if small, or cut in large chunks
1 pound mushrooms
1 bag frozen pearl onions
5 sprigs fresh thyme and 3 fresh bay leaves , tied in a bundle
Fresh thyme leaves , for serving
Instructions
In a large bowl, toss beef with the salt, pepper, and flour. Heat oil in large heavy sauté pan or stockpot. When hot, brown the beef, in 2 batches, until browned on all sides, about 6 minutes per batch. Transfer the beef to the bottom of your slow cooker.

Add wine, stock, and tomato paste to the pan. Simmer and scrape the bottom of the pan to get the bits. Pour the liquid from the pan over the beef in the slow cooker.

Add the garlic, carrots, potatoes, mushrooms, and pearl onions to the slow cooker. Place the bundle of fresh herbs on top. Cover and cook on low 6 to 8 hours.

At the end of cooking, remove the bundle of herbs and season with salt and pepper. Serve the stew with a sprinkling of fresh thyme leaves.
---
Notes
Storage: Store in an airtight container in the refrigerator up to 3 days.
Nutrition
Calories: 610kcal | Carbohydrates: 26g | Protein: 32g | Fat: 35g | Saturated Fat: 12g | Polyunsaturated Fat: 2g | Monounsaturated Fat: 17g | Trans Fat: 2g | Cholesterol: 107mg | Sodium: 708mg | Potassium: 1392mg | Fiber: 4g | Sugar: 5g | Vitamin A: 6879IU | Vitamin C: 21mg | Calcium: 74mg | Iron: 5mg
Nutrition provided is an estimate. It will vary based on specific ingredients used.
Did you make this recipe? Don't forget to give it a star rating below!