Jump to Recipe⌄
Slow Cooker Beef Bourguignon
Slow Cooker Beef Bourguignon …an easy and hearty holiday meal made with beef, burgundy wine, fresh vegetables and herbs.  The alcohol is cooked out, leaving a rich and thick liquid for the beef and vegetables to cook in.
Hello there!  This is Katie from The Casual Craftlete blog.  Today, I am sharing one of my new favorite slow cooker meals and it is perfect for the Christmas season.  This Slow Cooker Beef Bourguignon is like a beef stew recipe but has slightly different ingredients and I think has more depth of flavor.  Plus, this recipe is quite easy to make.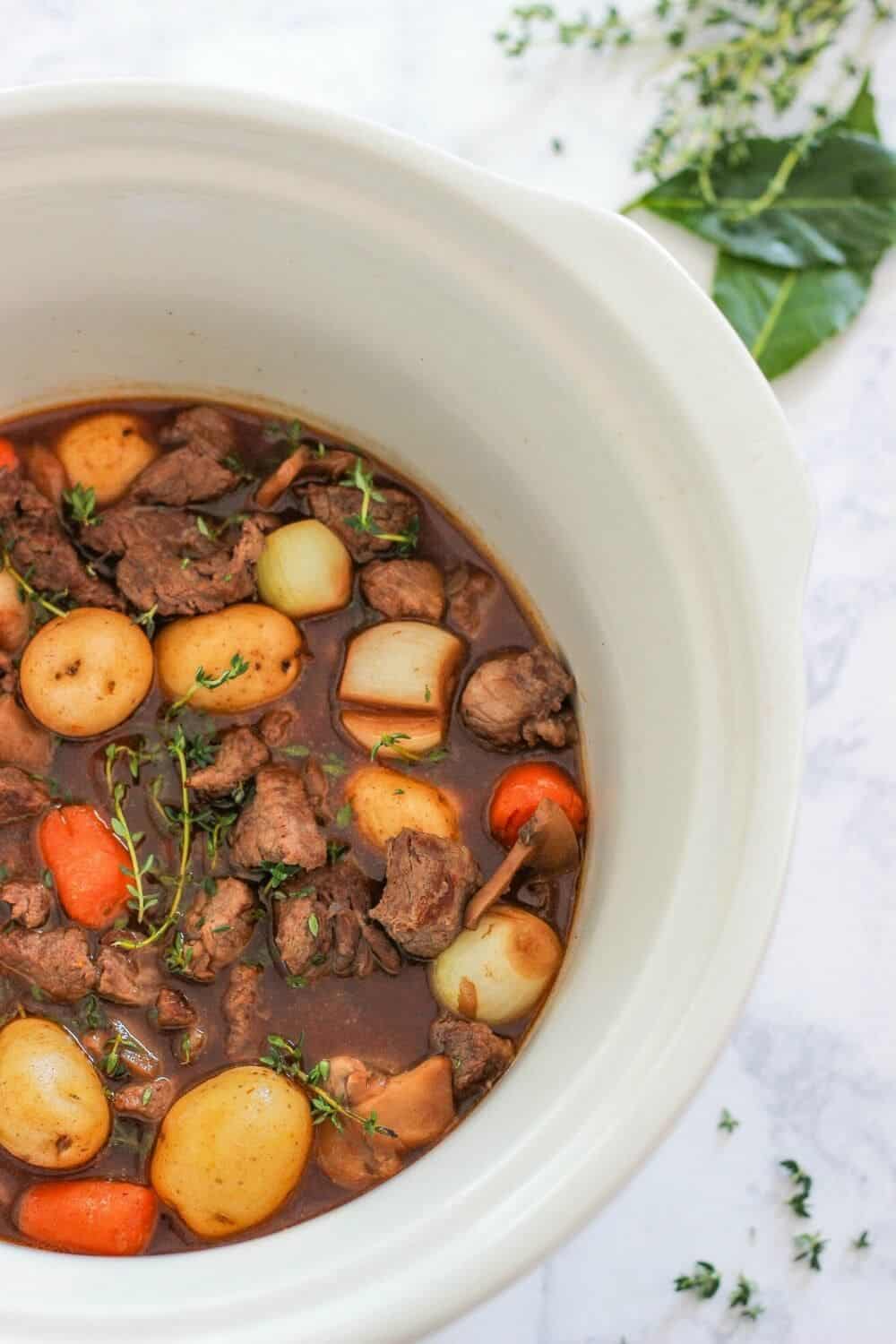 Beef Bourguignon is a traditional French recipe made with stew meat, garlic, onions, mushrooms, beef broth, burgundy wine, and a bundle of herbs.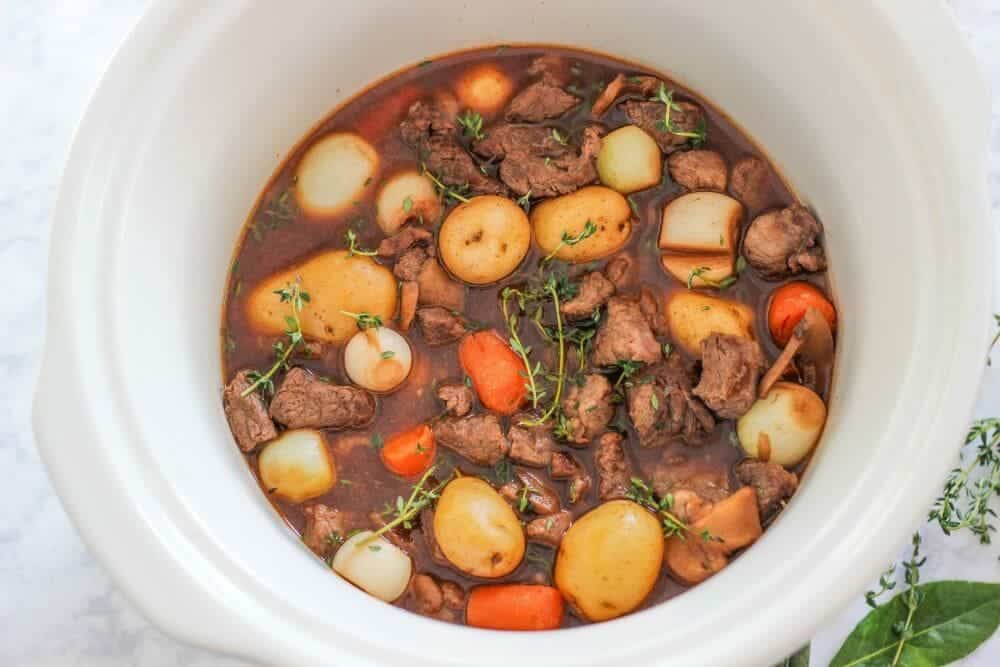 This slow cooker recipe is hearty and delicious enough to be a meal in itself or you could serve it over egg noodles or mashed potatoes.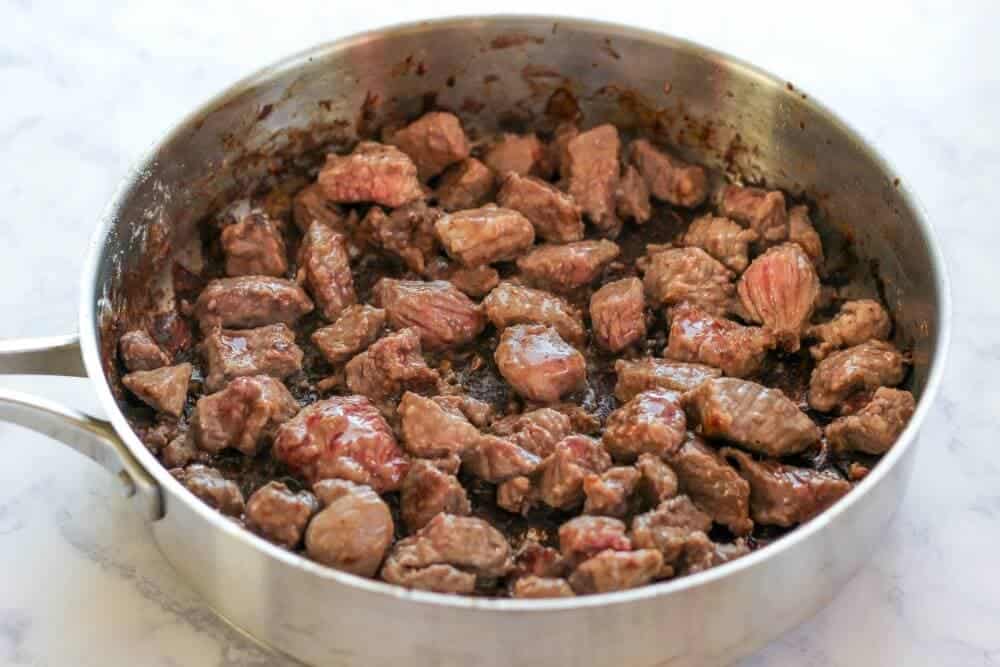 The trick to a rich and flavorful Slow Cooker Beef Bourguignon
There is a step that I like to do before placing all of the ingredients into the slow cooker.  I like to brown the stew meat in a pan on the stove.  This allows the outside of the meat to get a nice brown crust.  I start by coating 2 pounds of stew beef with salt, pepper, and flour.  I add olive oil to a large pan on the stove and cook half of the meat about 6 minutes or until a brown crust has formed.
I add that batch of beef to the slow cooker and cook the second batch for an additional 6 minutes.  Once that batch has cooked, I add the beef to the slow cooker.
Next, I pour in beef stock, burgundy wine, and tomato paste to the pan.  Simmer until the alcohol is cooked out, scrapping the bottom of the pan to get the bits.  If you don't have time, you can skip this step but I highly recommended cooking the beef first before putting into the slow cooker.  You will get a better flavor this way.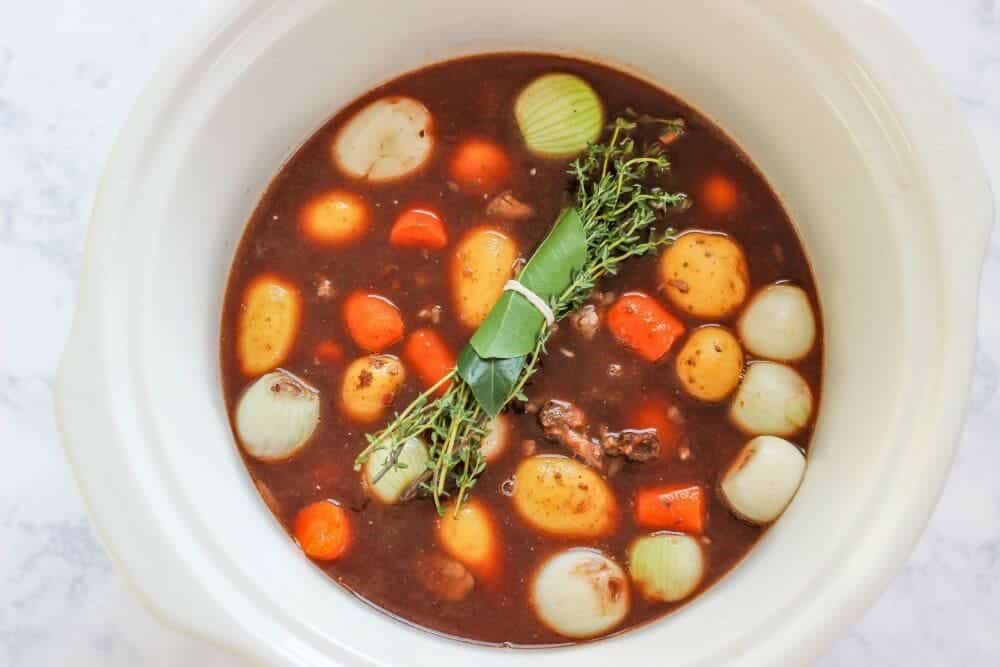 Slow Cooker Beef Bourguignon
Pour the liquid into the slow cooker over the cooked stew beef.  Add carrots, mushrooms, potatoes, pearl onions, and a bundle of thyme and bay leaves.  Cover and cook on low for 6 to 8 hours.  You can serve the Slow Cooker Beef Bourguignon over egg noodles, mashed potatoes, or enjoy on its own.  This is a great recipe to make for the holiday season.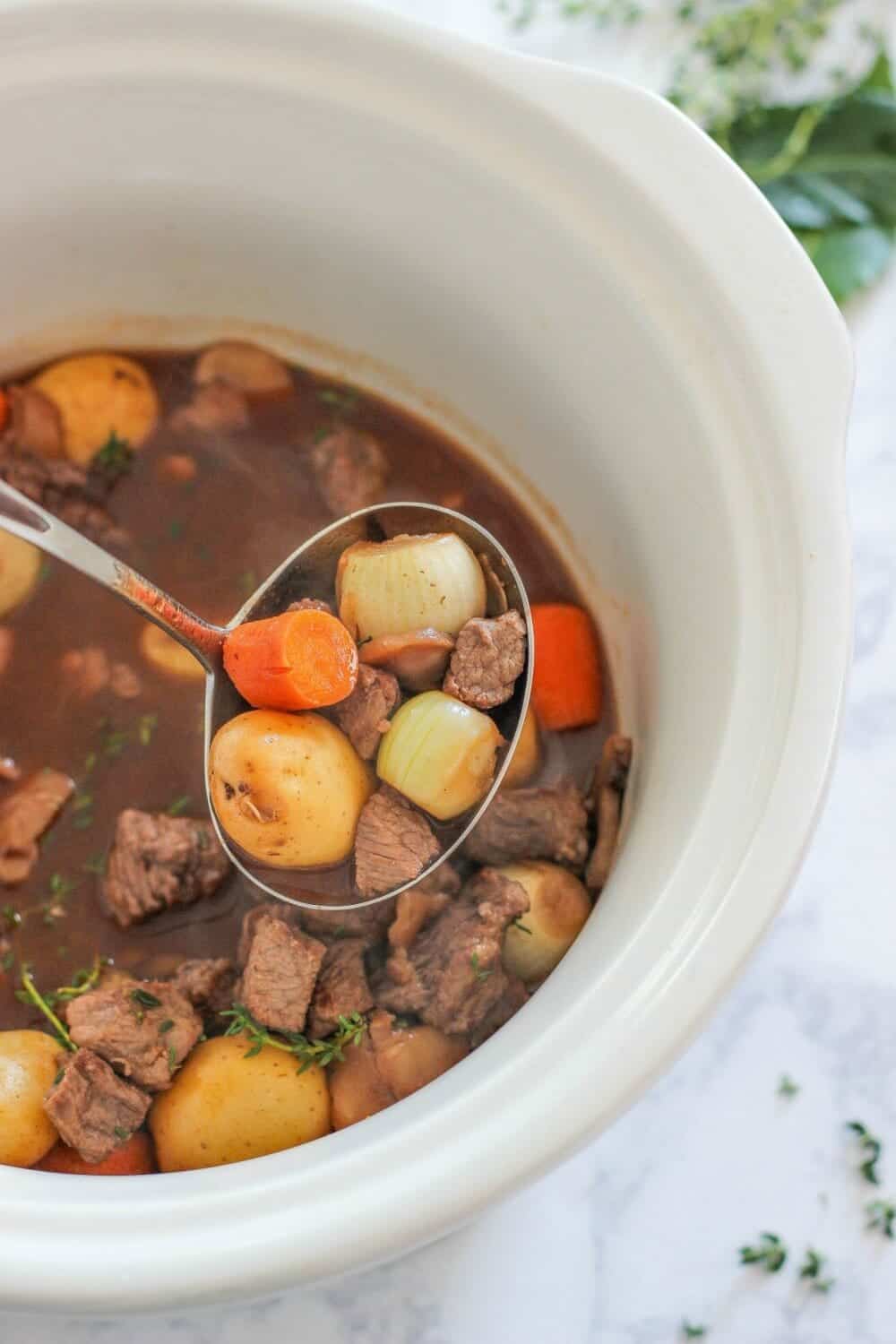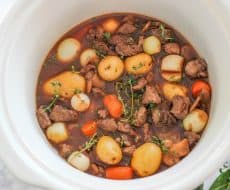 Slow Cooker Beef Bourguignon
Ingredients:
2 Tbsp olive oil
2 lb stewing beef, cut into large 1 inch chunks
1 tsp salt
1 tsp fresh cracked black pepper
2 Tbsp flour
5 sprigs of fresh thyme and 3 fresh bay leaves, tied in a bundle
2 cups beef stock
2 cups Burgundy wine
1 heaping Tbsp tomato paste
3 cloves garlic, crushed
3 carrots, peeled and diced into 1 inch pieces
1 lb small white skinned potatoes, left whole if small, or cut in large chunks
1 bag frozen mushrooms
1 bag frozen pearl onions
Directions:
Heat olive oil in large heavy saute pan or stock pot. In a large bowl, toss stew meat with the salt, pepper, and flour, When the oil is hot, brown the meat, in 2 batches, until browned on all sides, about 6 minutes per batch. Put the meat in the bottom of your slow cooker.
Add Burgundy wine, beef stock, and tomato paste.  Simmer and scrape the bottom of the pan to get the bits. Pour the liquid from the pan into the slow cooker for the beef.
Add the garlic, carrots, potatoes, mushrooms and pearl onions to the slow cooker.  Place the bundle of fresh herbs on top.
Cover and cook on low for 6-8 hours.
At the end of cooking, remove the bundle of thyme season to taste.
Serve the stew with a sprinkling of fresh thyme leaves.
All images and text ©
Thanks, Katie!

If you love this delicious slow cooker recipe, you'll enjoy these too!