Bruschetta Caprese is a summer appetizer made with a slice of lightly toasted bread, fresh ripe tomatoes, basil, and good quality mozzarella tossed in a balsamic vinaigrette. It's a simple appetizer that comes together in minutes and is always a crowd favorite!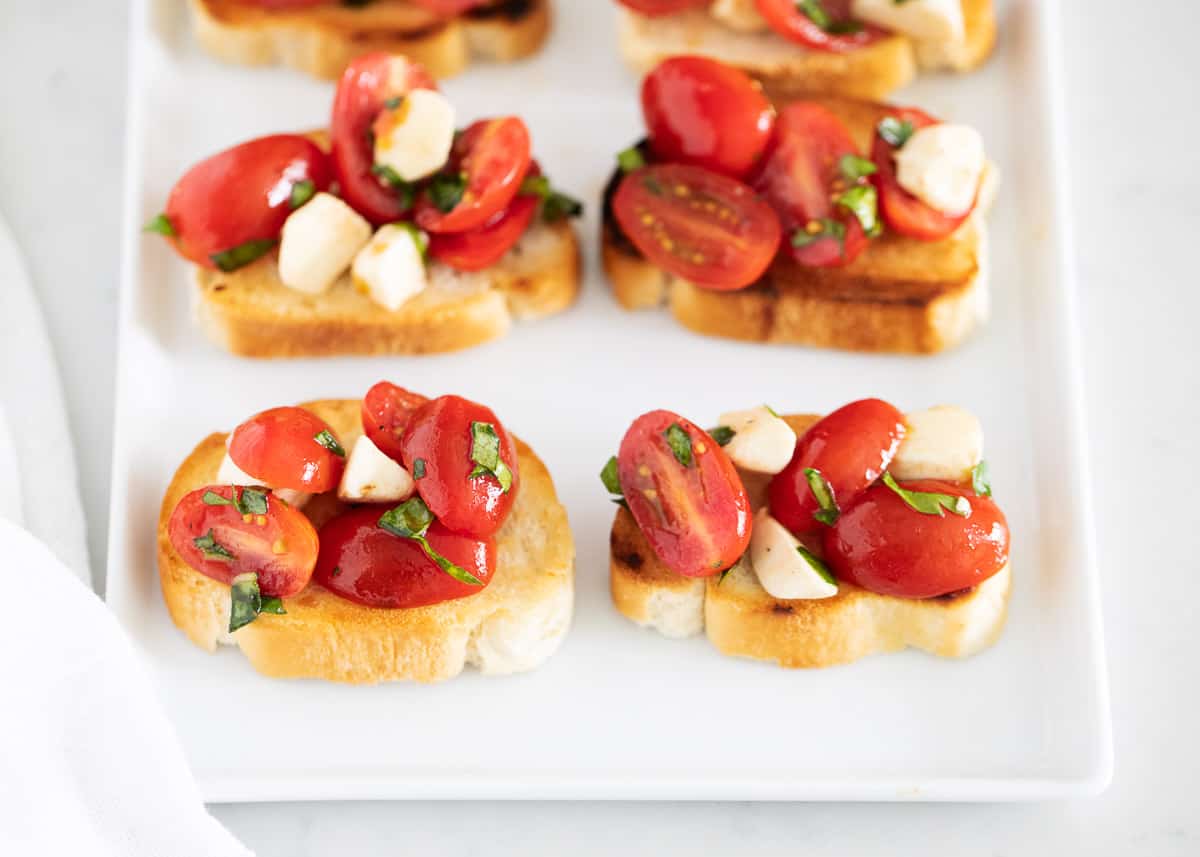 Bruschetta with Fresh Mozzarella
Caprese bruschetta is made with a thick slice of french bread that has been lightly toasted with a bit of olive oil, until beautifully crisp. It is then topped with a Caprese salad topping of juicy ripe tomatoes, fresh basil, and soft mozzarella that has been tossed in a balsamic dressing. You could even finish it with a drizzle of balsamic glaze to really put it over the top!
Let me tell you when those juices drip down into that toasted bread, all of that flavor gets absorbed, and biting into both a crispy yet tender bite of flavor explosion, well, it is just something you'll have to try for yourself!
Despite how amazing it is and how complex the flavors, it couldn't be more simple to make. So easy, in fact, you could make the topping the night before, and assemble it just before serving. It's a simple way to serve a crowd and is one of the BEST appetizers around. Save some topping for later because it can be used in salads, sandwiches, and pasta!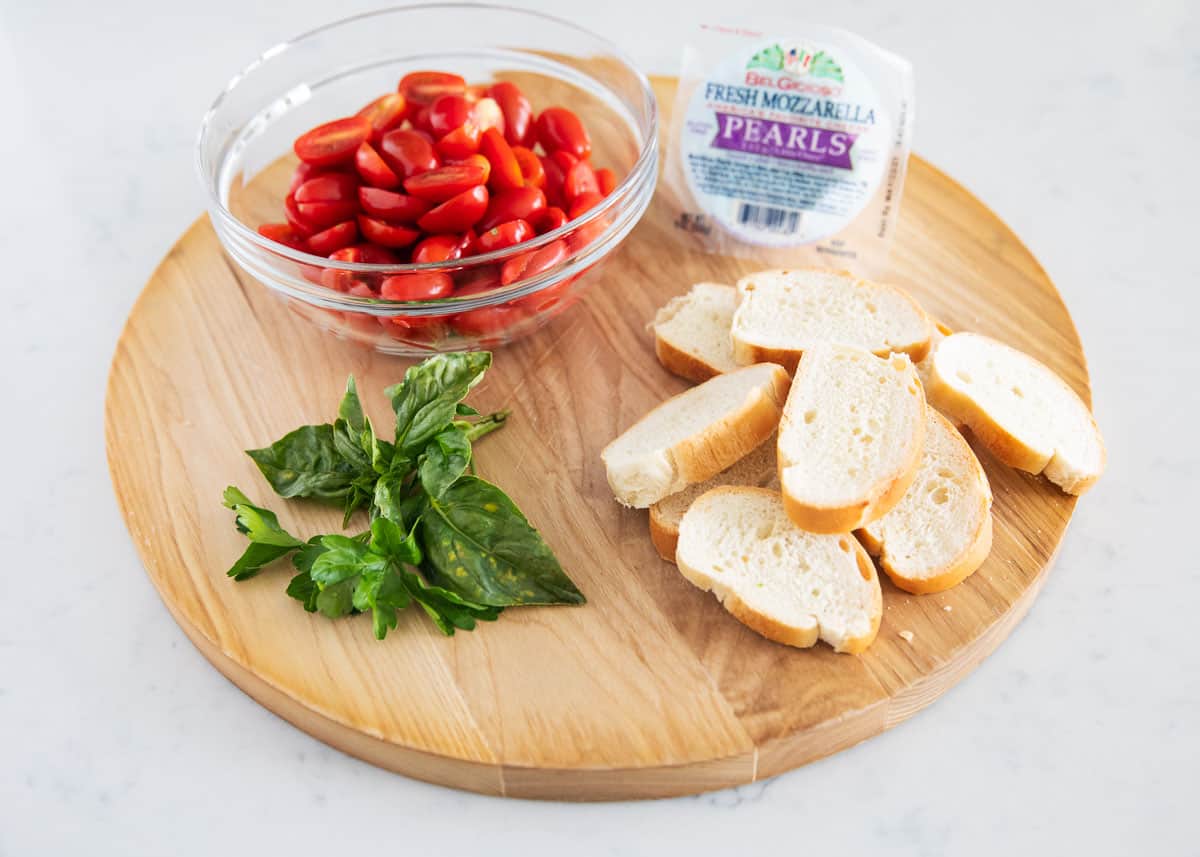 Is Bruschetta the Bread or the Topping?
Bruschetta is an Italian word for bread that is stale or toasted. Originally meant to be coated in olive oil, rubbed with garlic, and sprinkled with salt, the bruschetta refers to just the bread. Anything on top of that is considered the topping. Any variation to the topping gives the type of bruschetta its name.
Best Bread to Use
As with any type of bruschetta, you want a bread that is sturdy enough to hold the toppings but also one that will absorb the flavors without falling apart.
Italian bread
Crostini
Any day-old bread you have on hand.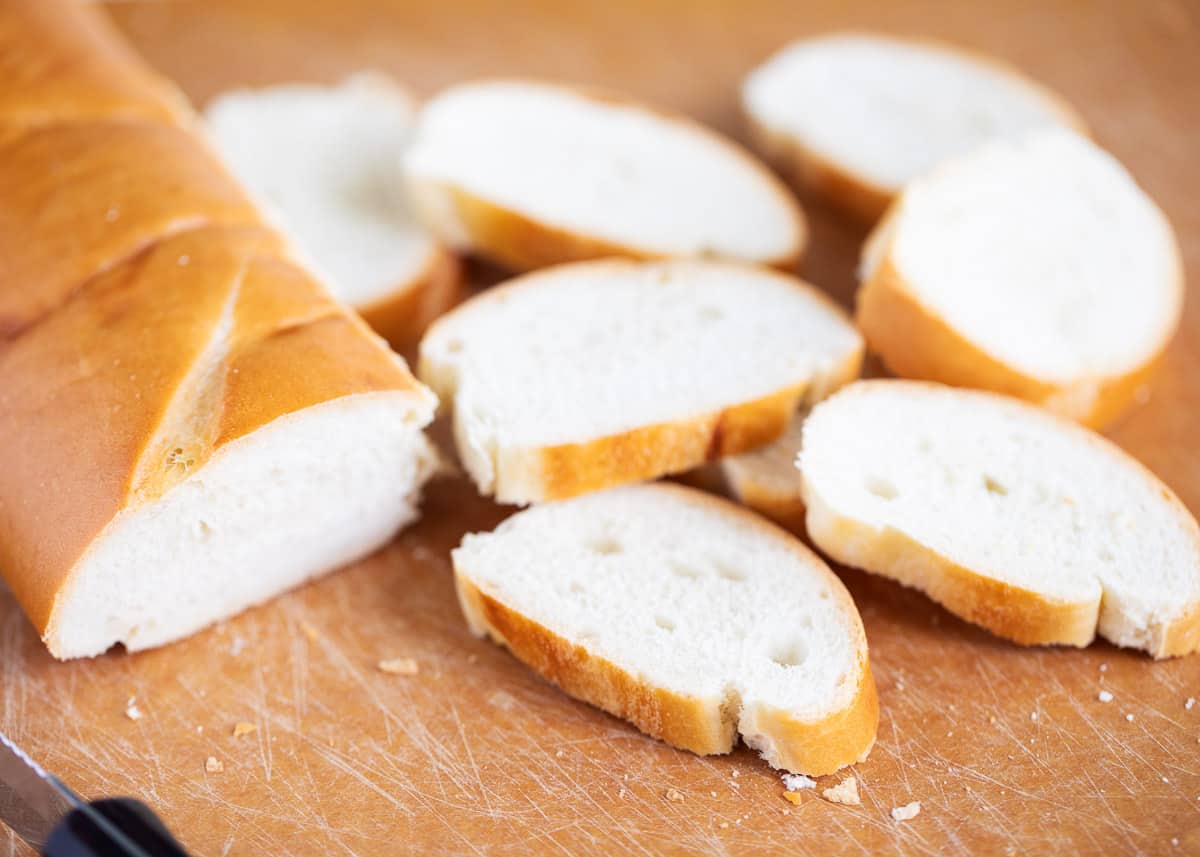 How Do you Keep Bruschetta from Getting Soggy?
Toasting your bread is key. You can do this in the oven or in a skillet on the stove.
Toasting your bread with olive oil is even better. It acts as a bit of a barrier once the bread has a topping. It is inevitable that your bread will get soggy over time, especially if you assemble it too far in advance.
The next important step to remember is not to assemble it until just before serving. Sure, you can make the topping ahead, and you can even toast the bread earlier on, but putting them together comes later.
For fun, you could also serve the bread and topping separately and have everyone serve themselves.
Tips for Success
Choose your tomatoes wisely. Fresh, ripe, and still relatively firm is what you're looking for. If they are too ripe, there will be way too much juice. If they're not ripe enough then you're stuck with less flavor. Heirloom tomatoes work well, as do plum tomatoes and cherry tomatoes. Whatever you do, don't even think about using canned!
Use good quality olive oil if you can. Whatever you have on hand will work, but this simple dish gives us so much flavor because of the quality of the ingredients.
Add a few fresh herbs like parsley and oregano.
Drizzle a bit of a balsamic glaze on top. It adds a layer of sweet and tangy flavor but it also looks beautiful.
Fresh mozzarella is the way to go. Prepackaged will be hard and a bit waxy and throw the Caprese off balance.
If you find your tomatoes to be too juicy after cutting, you can drain them immediately and sprinkle with a bit of salt to draw out the liquid, and drain what comes out of it. The remaining tomatoes should then be good to go.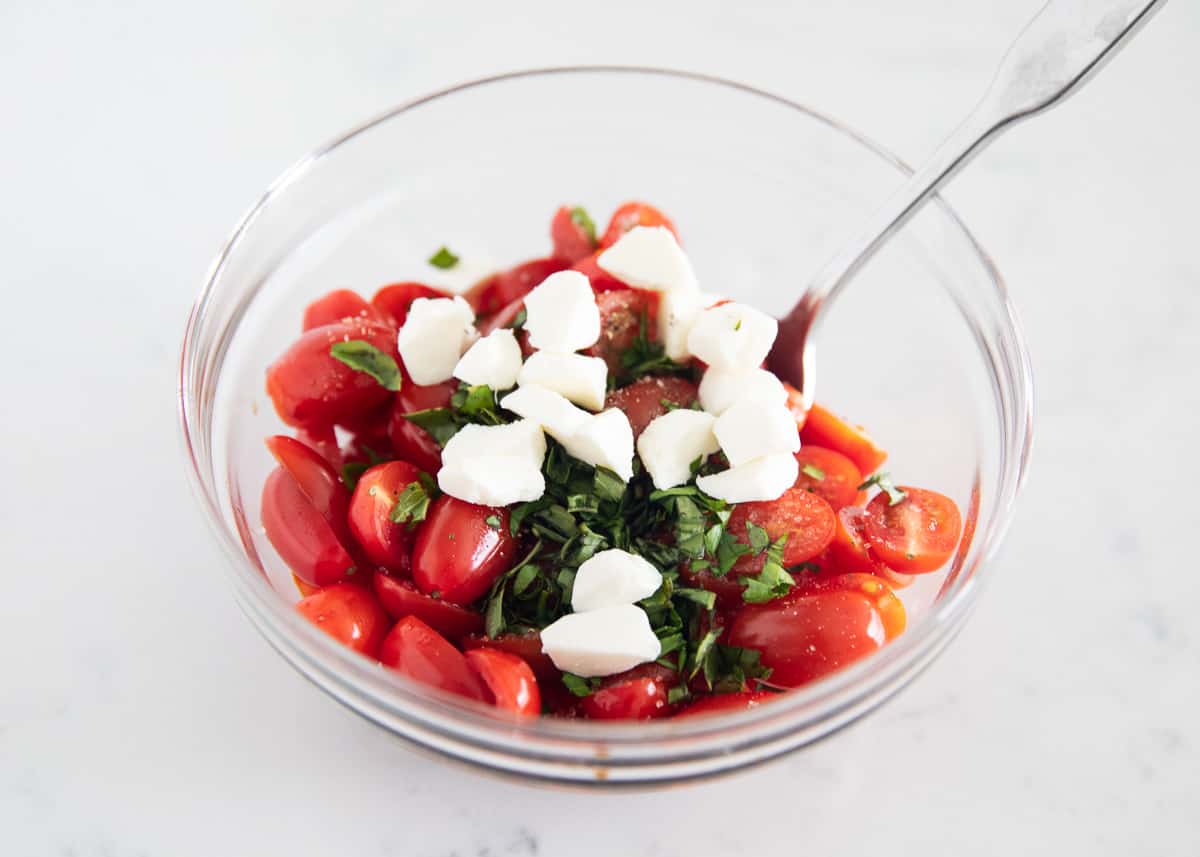 Ways to Use Caprese Topping Leftovers
Make-Ahead & Storing
To make ahead: Make the topping up to 24 hours in advance. Keep the in the fridge until ready to assemble and serve and taste how much more the flavors have come together. So good!
To store: Once assembled, they should be eaten right away because they will get soggy eventually. You can keep the topping stored in the fridge in an airtight container for another couple of days to use as leftovers. The longer it sits, however, the juicier it gets.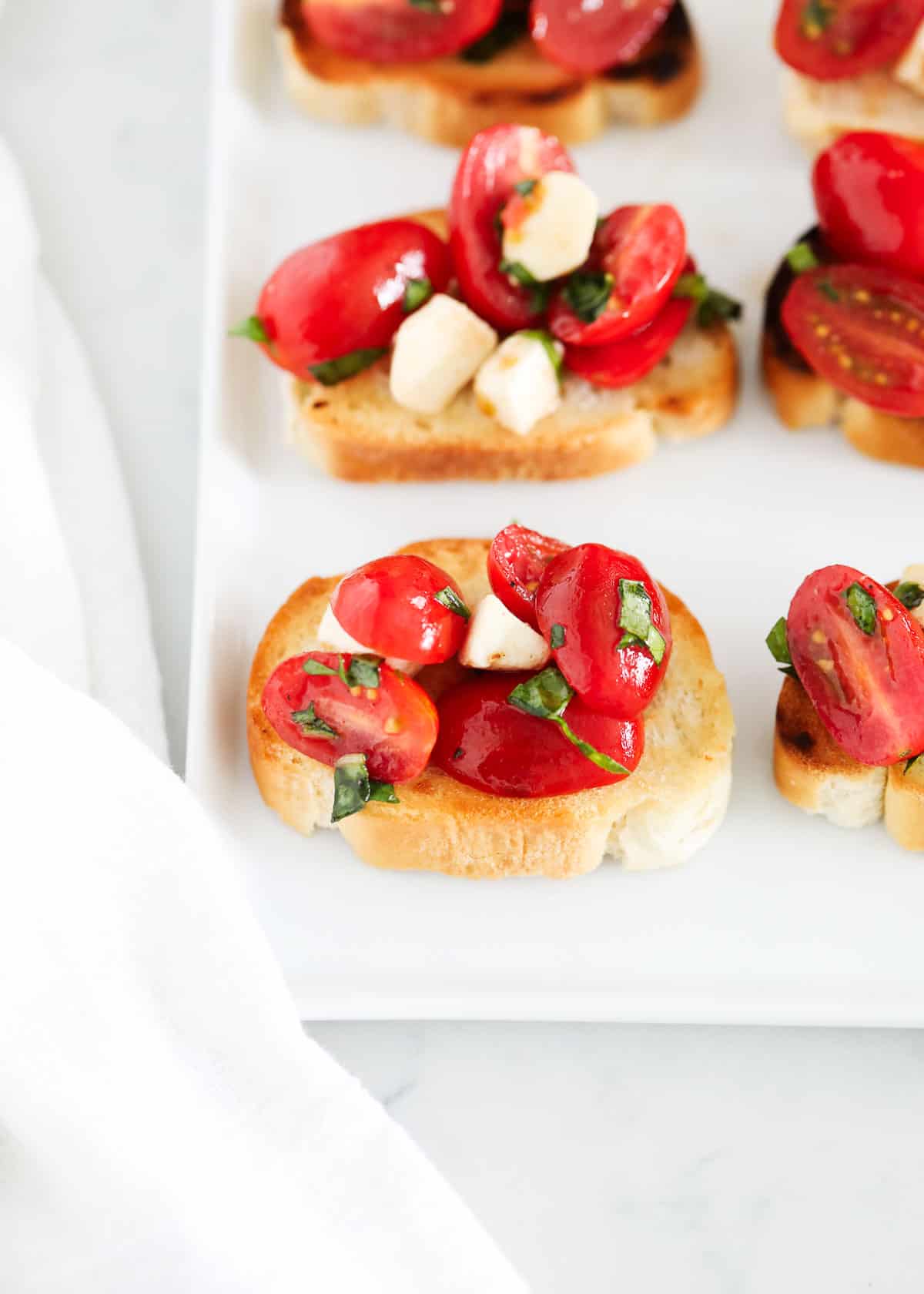 HUNGRY FOR MORE? Subscribe to my newsletter and follow on Facebook, Pinterest and Instagram for all the newest recipes!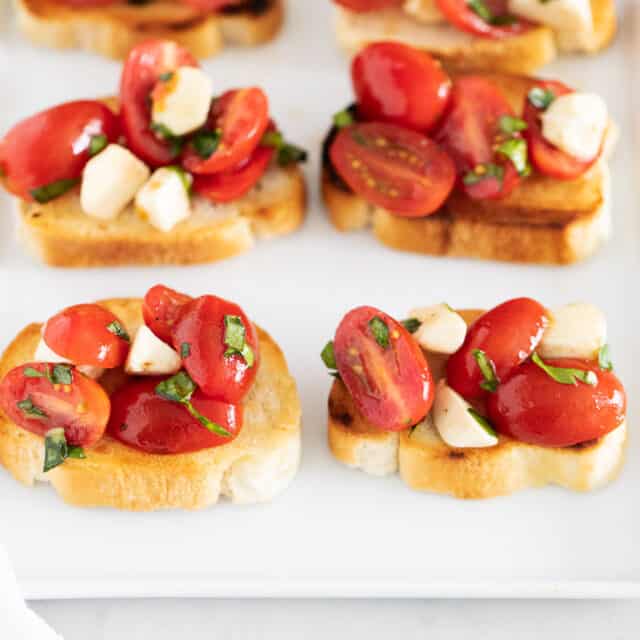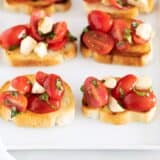 Bruschetta Caprese
Bruschetta Caprese is a summer appetizer made with a slice of lightly toasted bread, fresh ripe tomatoes, basil, and good quality mozzarella tossed in a balsamic vinaigrette. It's a simple appetizer that comes together in minutes and is always a crowd favorite!
Ingredients
1 pint grape tomatoes , sliced in half or quartered
½ cup mozzarella balls , or diced mozzarella
1-2 Tablespoons olive oil
1-2 Tablespoons balsamic vinegar
1 teaspoon minced garlic
¼ cup chopped fresh basil
salt and pepper (to taste)
1-2 Tablespoons olive oil
Instructions
Combine the tomatoes, mozzarella balls, olive oil, balsamic vinegar, garlic and basil. Salt and pepper to taste. Refrigerate for 15 minutes.

Preheat oven to 425°F. Line a baking sheet with foil and set aside.

Cut the french baguette into 1/2 inch slices. Lightly brush olive oil on the top. Bake until lightly toasted (about 3-5 minutes).

Top bread with bruschetta right before serving. Serve and enjoy!
---
Notes
Make ahead: The tomato mixture can be made 24 hours in advance. Wait to add to the bread until serving.
Variations: You can use a variety of different tomatoes. You can also add in chopped parsley or oregano. You can also drizzle balsamic glaze on top before serving.
Baguette: Make your own mini baguette by using my homemade french bread recipe. Just roll the loaves out longer in size so that the slices are smaller than regular french bread.
Nutrition
Calories: 144kcal | Carbohydrates: 18g | Protein: 4g | Fat: 6g | Saturated Fat: 1g | Cholesterol: 2mg | Sodium: 200mg | Potassium: 181mg | Fiber: 2g | Sugar: 2g | Vitamin A: 532IU | Vitamin C: 8mg | Calcium: 55mg | Iron: 1mg
Nutrition provided is an estimate. It will vary based on specific ingredients used.
Did you make this recipe? Don't forget to give it a star rating below!