Made with simple ingredients and very easy to assemble, this creamy, sweet, and tangy buttermilk pie recipe is perfect for all occasions. Serve it either at room temperature or cold on its own or topped with whipped cream and fresh berries!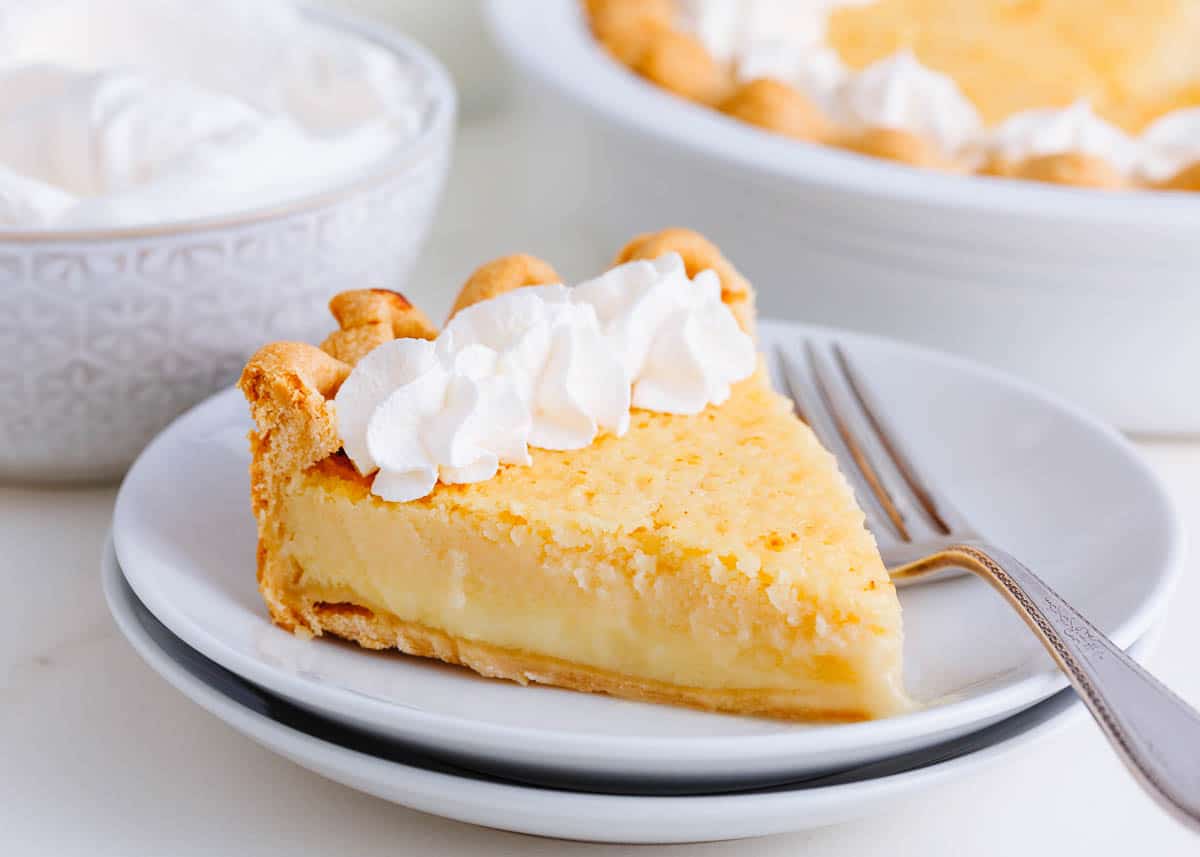 Humble & Heavenly
Freshly baked homemade pies, whether a cherry pie, banana cream pie, or coconut cream pie always do such a good job of evoking memories.
The same goes for a classic buttermilk pie. One look at it and you just know you're about to eat a piece of something special!
Think of it like a creme brulee recipe in the form of a pie! Well, sort of. This southern buttermilk pie doesn't have the crystallized sugar topping, but as it bakes it develops its own thin layer of deliciousness on top!
What is Buttermilk Pie?
This old-fashioned buttermilk pie, also known as "make-do" pie, originates from a time when ingredients were sparse and money was tight. So, people had to "make do" with what they had.
And so the tender, sweet and tangy, custard-like pie was born from a few simple ingredients in a buttery flaky pie crust! It's a popular pie in the South just like Southern sweet potato pie.
The custardy filling isn't as smooth as a creamy custard, but instead has the familiar texture of a pecan pie, ensuring every bite is nice and light. The buttermilk combined with the sugar and the optional lemon juice is what strikes a pleasurable balance of sweet and tangy.
Why This Recipe Works
A family tradition. It's something that gets passed on from generation to generation and if this is your first time hearing about it, making it, or tasting it, it'll soon become a big part of your family gatherings too!
So easy to make. It's made with basic pantry staples and a ready-made pie crust. Just 15 minutes of prep time and 45 minutes of baking time, the hardest part is waiting for it to chill.
Recipe Ingredients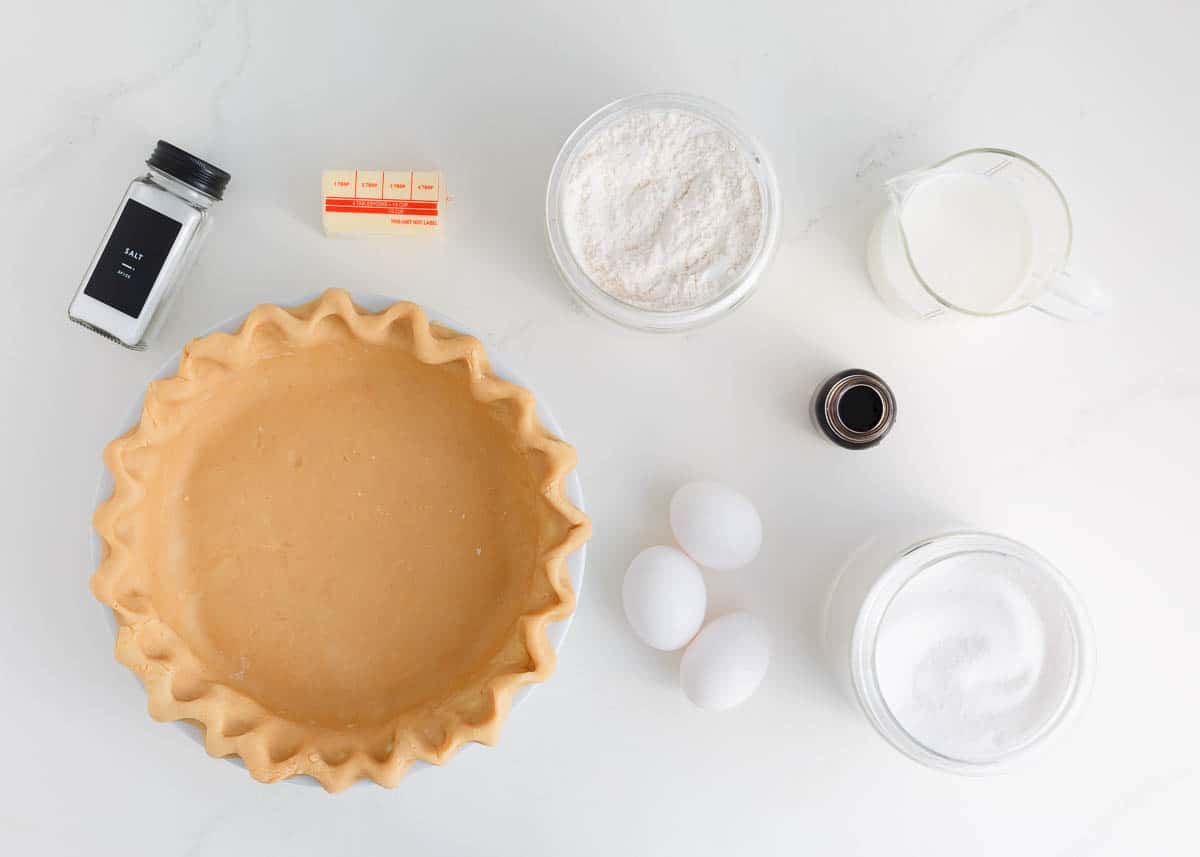 Find the full printable recipe with specific measurements below.
Unbaked pie crust: I have a really easy pie crust recipe that I like to make and freeze for later so I usually have a couple on hand that I've thawed. If you have a little extra time, I suggest using homemade dough!
Unsalted butter softened: The butter gives the filling richness thanks to the extra fat. Not to mention the buttery flavor!
Granulated sugar: When added to the filling it's the only thing that adds sweetness and gives the tang a run for its money.
Large eggs: An important ingredient in any custard pie, it helps to bind the ingredients and helps it set once cooled.
All-purpose flour: Acts as a thickening agent and gives the buttermilk pie its structure.
Fine sea salt: To enhance all the flavors in this delightful southern dessert.
Buttermilk: You can't beat real buttermilk, especially in a buttermilk pie, however, if you must make this pie and have none on hand, you can certainly make homemade buttermilk instead.
Vanilla extract: A delicious flavor addition to many traditional custard-like fillings. So good!
Lemon juice: This is an optional ingredient. I like to add it as a little extra zip to the tangy flavor, but it's not a must.
Variations
Add some nutmeg for enhanced flavor by sprinkling in some warmth. You can also add lemon zest instead of lemon juice or use a graham cracker crust rather than a flaky pie crust.
How to Make Buttermilk Pie
This easy pie recipe is made even easier with a store-bought pie crust. All you need is a deep dish pie plate, a whisk, and a handful of ingredients and you're all set!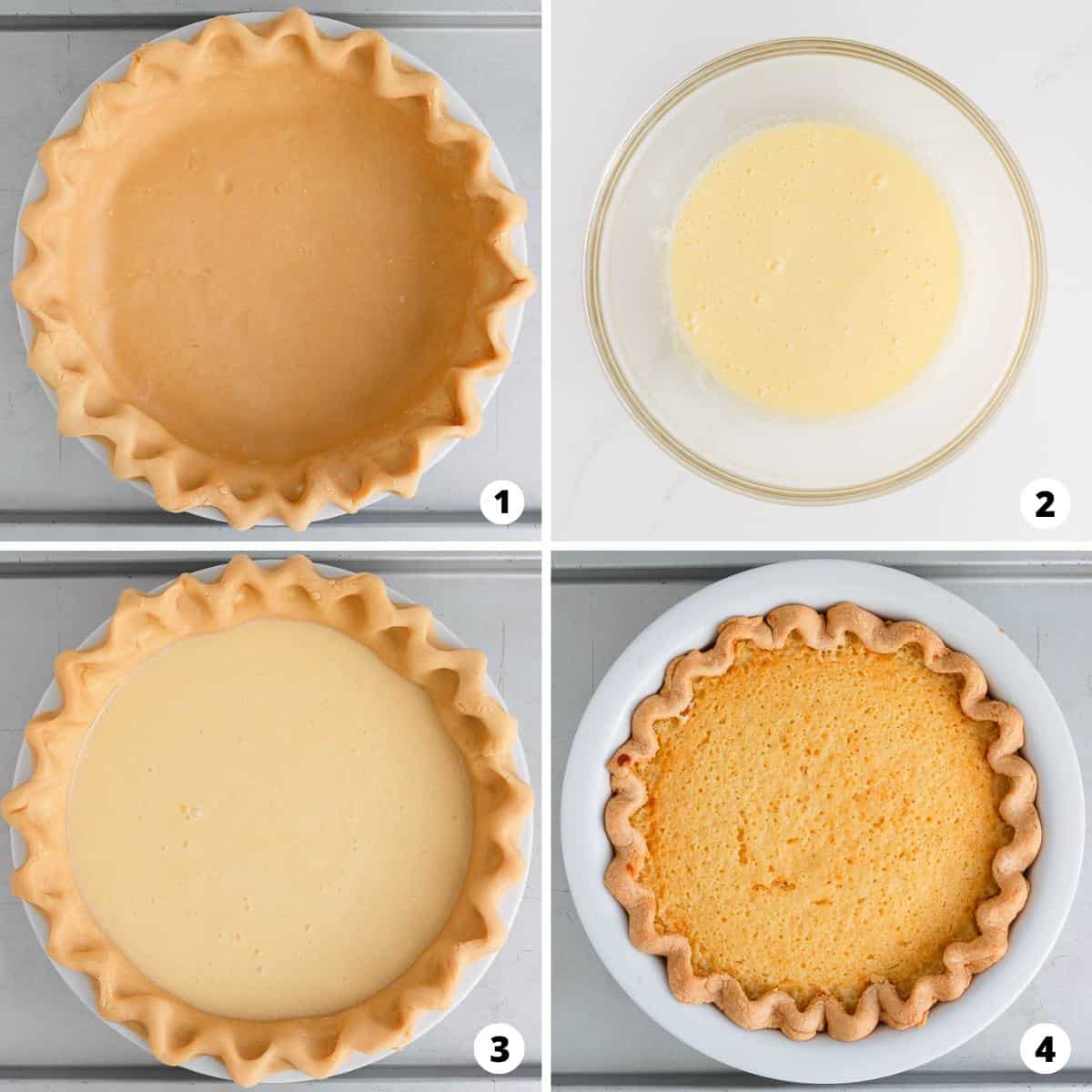 Assemble the pie crust. Roll out your pie crust and cover a 9 or 10-inch pie dish and insert it so that it sits in the bottom. Decorate the edges how you like, whether ridges with a fork or pinching the edges between your fingers.
Make the filling. Cream the butter and sugar together on medium speed until smooth and creamy. Then, incorporate 1 egg at a time, mixing in between, and at low speed add the flour and salt. Finally, add the buttermilk, and vanilla and mix to combine. Lemon juice too, if you're adding it!
Add filling to crust and bake. Pour the buttermilk pie filling mixture into the crust. Bake in a preheated 350°F oven for 45-50 minutes. The top will be lightly brown and the center will have a slight jiggle to it. The outer edges should be set.
Cool and serve. Allow it to cool on a wire rack for 30 minutes and then cover it and chill for 2-3 hours until the buttermilk pie has completely set. Serve cold or at room temperature with a dollop of whipped cream and any of your favorite toppings.
Expert Tips
Keep the crust cold before filling. Make sure your dough is thawed, however, keep it nice and cold until you're ready to use it.
Use real buttermilk if you can, there's just no comparison. The same goes for fresh lemon juice, however, just like the buttermilk substitute, bottled lemon juice can be used if needed.
If you notice the edges of the crust are browning too quickly before the filling has had a chance to bake, cover the edges loosely with aluminum foil.
Serving temperature. I prefer to serve buttermilk pie at room temperature but it's a personal preference whether you like yours warm, cold, or somewhere in the middle. Try them all!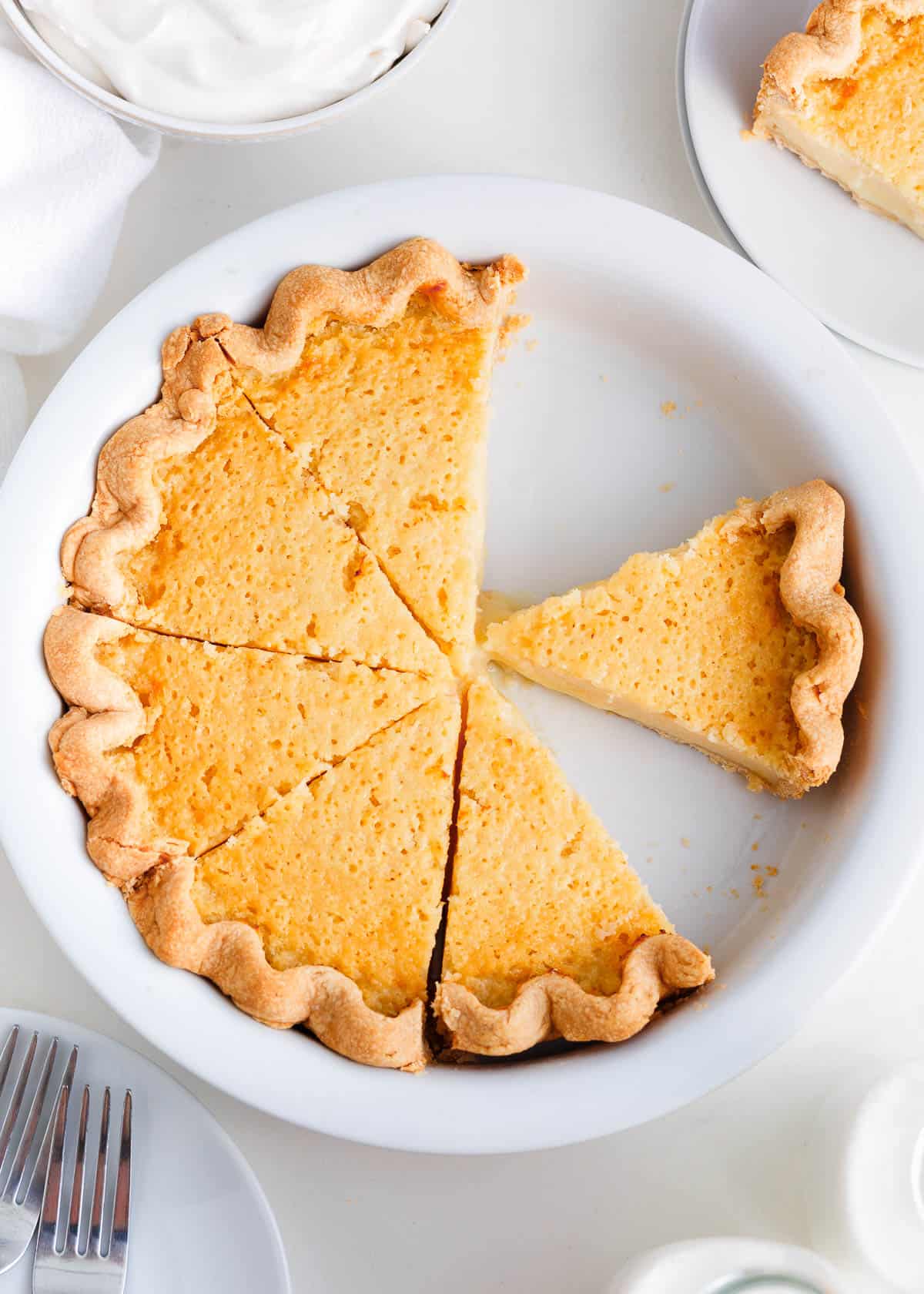 Recipe FAQs
Is buttermilk pie the same as chess pie?
Did you know that buttermilk pies are chess pies? However, chess pies are not always buttermilk pies. Chess pies are classic Southern desserts that usually contain cornmeal in the filling and not necessarily milk. Buttermilk pies, however, include the obvious buttermilk and sometimes lemon juice which chess pies do not contain.
What is the origin of buttermilk pie?
As southern as this pie has become it originated in England. Settlers brought it over to the southern United States where buttermilk was widely used.
Why is my buttermilk pie runny?
This is usually due to not allowing it to bake long enough. The edges will set faster than the center. It's ok if it jiggles slightly in the center, but if it's too soupy, leave it baking for a little while longer.

You also need to make sure you're giving it enough time to cool and set before slicing it.
How to tell when my buttermilk pie is done?
The most accurate way to tell is by inserting a kitchen thermometer into the center of it. Once it has reached between 175°F-180°F it's ready to be taken out of the oven.
How to Serve Southern Buttermilk Pie
This recipe for buttermilk pie is best when served the same day it's made either room temperature or cold. It can even be served warm, however not straight out of the oven. It would still need to be chilled and then warmed up before serving.
Enjoy a slice with a hot drink, a cold glass of iced tea, or a scoop of vanilla ice cream.
Toppings can include everything from caramel sauce and whipped cream or chocolate sauce and fresh berries.
Storing
If you have leftover pie, cover it loosely and keep it refrigerated for up to 3 days. It's one of those desserts that's perfect for grabbing a fork and eating it cold right out of the fridge.
To freeze it, transfer any slices to a zip-top freezer bag and keep it frozen for up to 2 months. Thaw in the fridge overnight.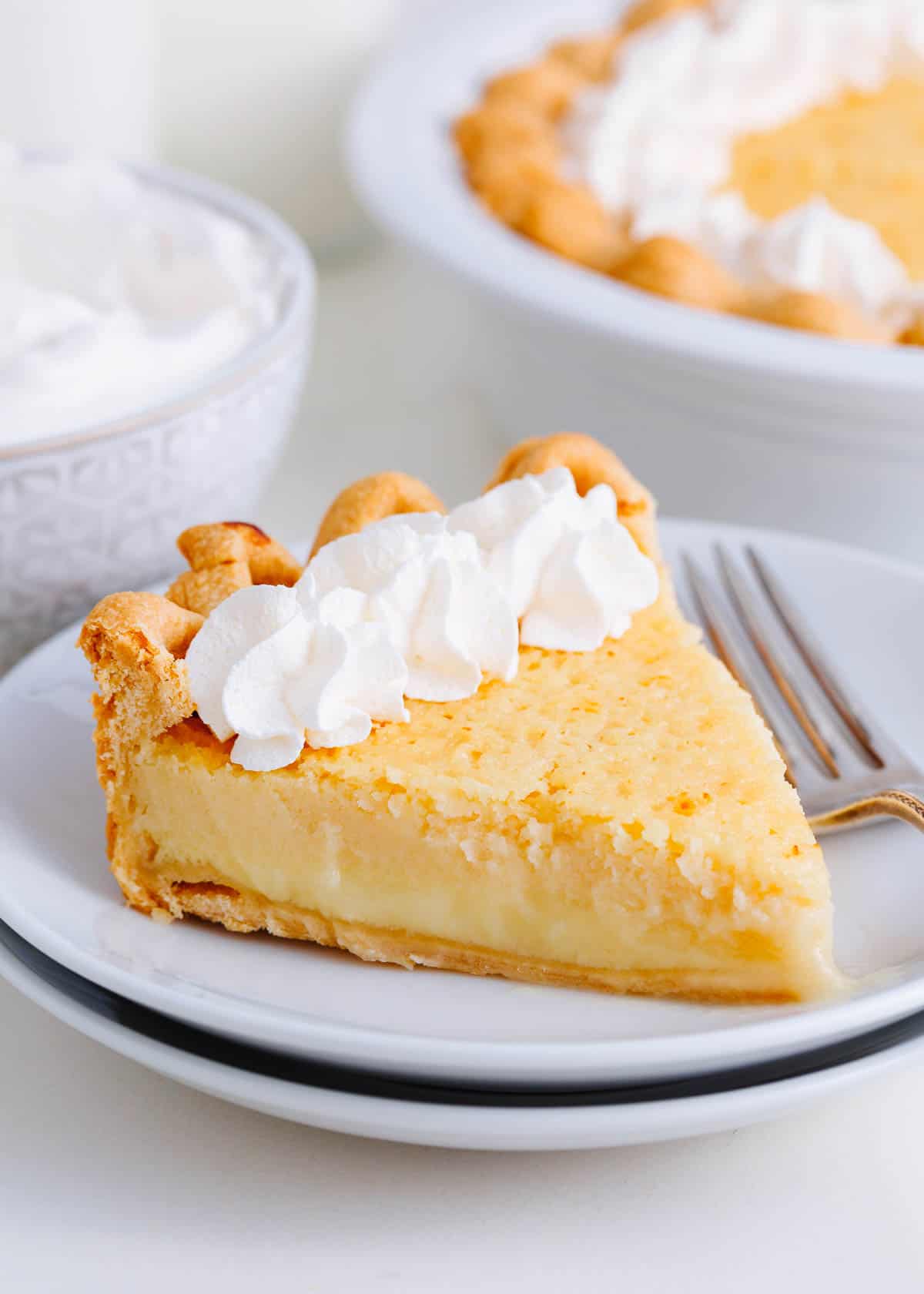 HUNGRY FOR MORE? Subscribe to my newsletter and follow on Facebook, Pinterest and Instagram for all the newest recipes!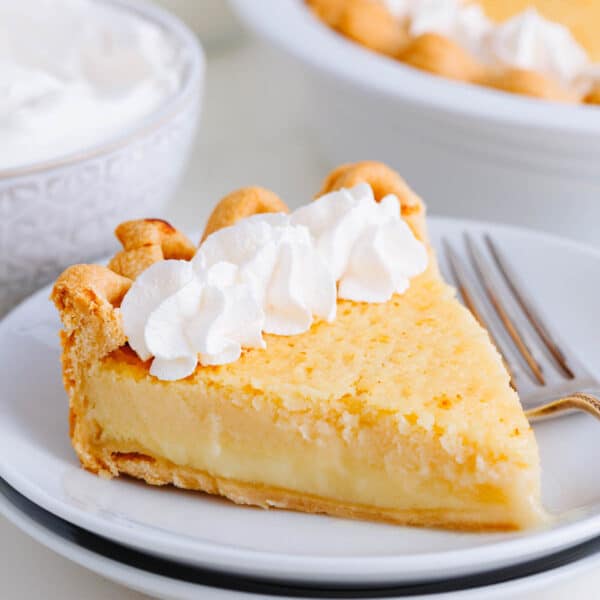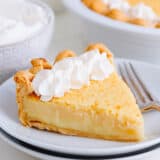 Buttermilk Pie Recipe
Made with simple ingredients and very easy to assemble, this creamy, sweet, and tangy buttermilk pie recipe is perfect for all occasions. Serve it either at room temperature or cold on its own or topped with whipped cream and fresh berries!
Ingredients
1 unbaked pie crust
6 Tablespoons unsalted butter , softened
1 ¼ cups granulated sugar
3 large eggs
3 Tablespoons all-purpose flour
¼ teaspoon fine sea salt
1 cup buttermilk
1 ½ teaspoons vanilla extract
lemon juice , optional
Optional toppings: Whipped cream, Fresh berries, Caramel sauce, or Chocolate sauce
Instructions
Preheat the oven to 350°F. Cover a 9- to 10-inch deep pie dish with pie crust and decorate the edges to your liking. Place on baking sheet.

In a large bowl, beat butter and sugar together with an electric mixer on medium speed until creamy and smooth. Mix in 1 egg at a time until incorporated.

Mix in the flour and salt on low speed. Add the buttermilk and vanilla and mix until combined. Add a couple teaspoons of lemon juice if desired. Carefully pour into pie crust.

Bake 45 to 50 minutes, or until lightly browned on top with a slight jiggle in the center. If browning too quickly, cover loosely with foil. Transfer to a cooling rack to cool 30 minutes. Cover and chill 2 to 3 hours, or until set. Serve at room temperature with a dollop of whipped cream and your favorite toppings.
---
Notes
Pie crust: You can use store-bought or try it with my easy pie crust recipe.
Storage: This pie is best served the same day. Wrap any leftovers loosely with plastic wrap and store in the refrigerator up to 3 days.
Freeze. Store in a zip-top bag in the freezer up to 2 months. Thaw in the fridge overnight before serving.
Nutrition
Calories: 317kcal | Carbohydrates: 43g | Protein: 5g | Fat: 14g | Saturated Fat: 6g | Polyunsaturated Fat: 1g | Monounsaturated Fat: 5g | Trans Fat: 0.2g | Cholesterol: 88mg | Sodium: 219mg | Potassium: 91mg | Fiber: 1g | Sugar: 33g | Vitamin A: 326IU | Calcium: 51mg | Iron: 1mg
Nutrition provided is an estimate. It will vary based on specific ingredients used.
Did you make this recipe? Don't forget to give it a star rating below!