This recipe has all the delicious flavors of good old-fashioned banana cream pie but is literally done in minutes. Takes only 5 ingredients and is an easy no bake dessert that tastes amazing!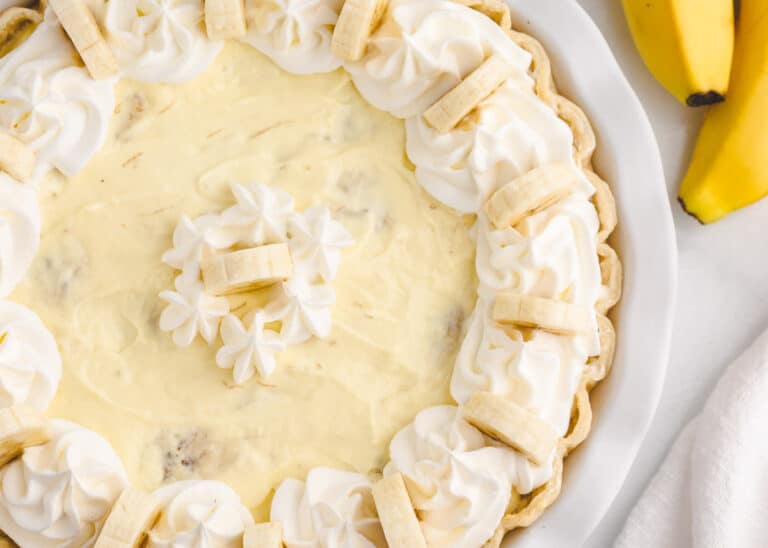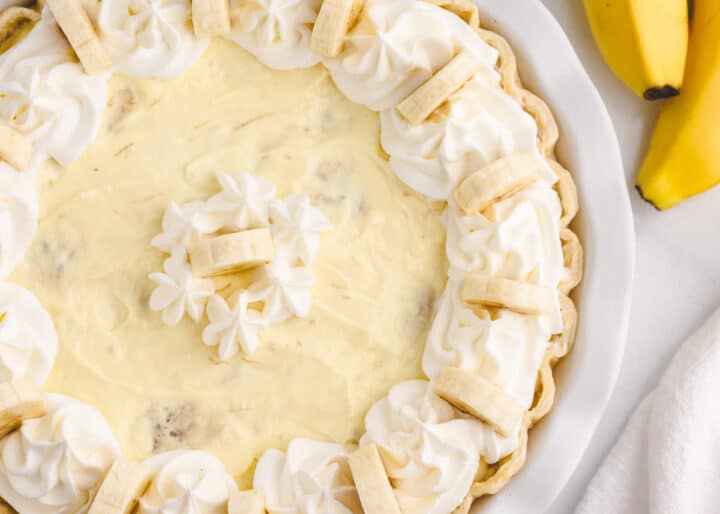 Banana Cream Pie with Pudding
One of my very favorite pies is banana cream pie. My husband's grandma makes it for our Thanksgiving menu every year (along with about a dozen other pies) and it's always the kid's favorite.
I was shocked when I heard it was so simple to make! It not only tastes delicious around the holidays, but makes a great summer time pie to whip up since you don't have to warm up the kitchen with a hot oven.
If you love bananas, you are bound to love this pie too. It's light, fluffy and full of delicious banana flavor. Plus it's made with just 5 simple ingredients…one being a box of instant banana pudding mix.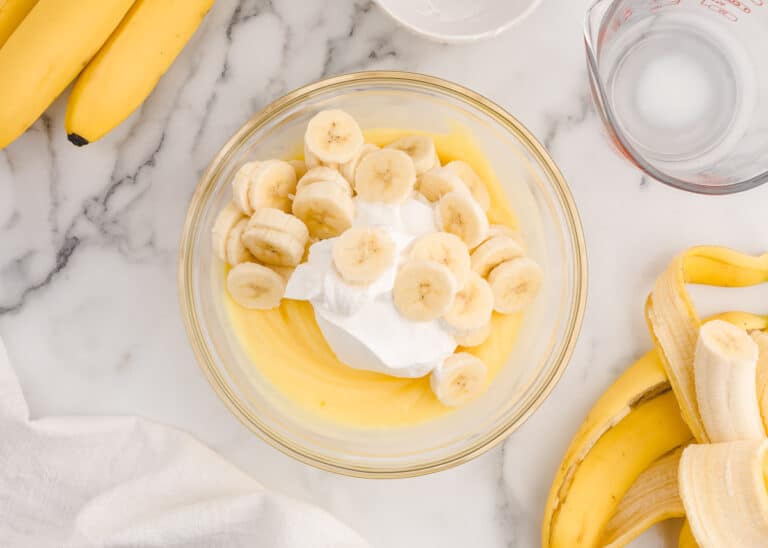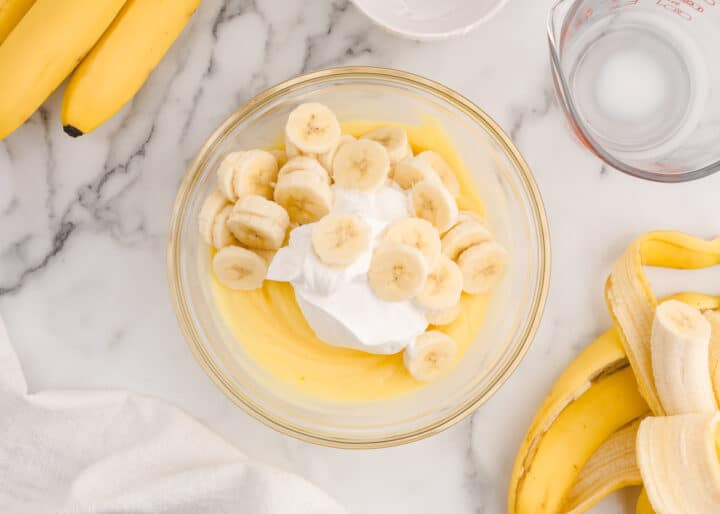 5 Ingredient Banana Cream Pie
Pie crust: You can use a store-bought or homemade pie crust for this recipe. I usually buy a premade crust to stick with the easy theme. A graham cracker crust, nilla wafer crust or gingersnap crust would also taste delicious.
Instant banana pudding: Using the instant banana cream pudding mix is what makes this recipe so simple. No cooking on the stovetop required. Just simply mix with milk and let set!
Milk: Make sure to use either whole milk or 2% milk. Other varieties like skim, almond or soy won't thicken the pudding enough.
Cool whip: This adds a light and fluffy component to the filling. Just make sure it's thawed before mixing it in. If you're feeling up to it, you can even make homemade cool whip or substitute with homemade whipped cream.
Bananas: Look for bananas that are ripe with a few brown spots (but not overly brown). These will have the best sweet flavor and a soft yet sturdy texture.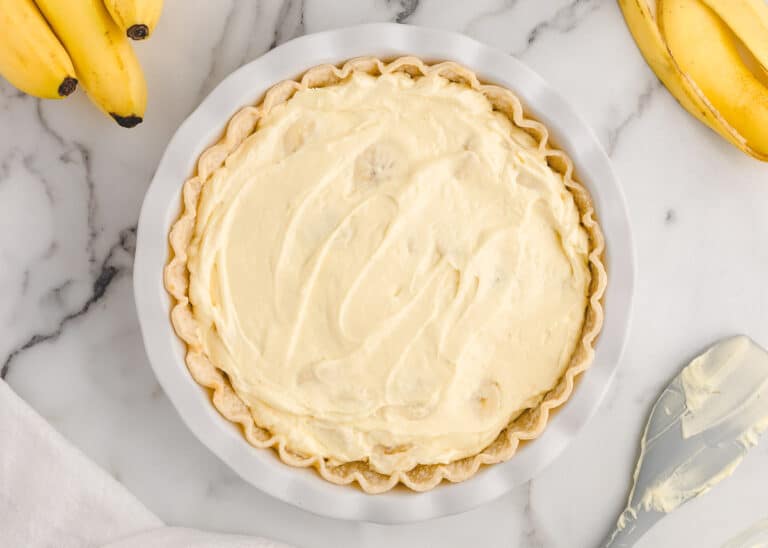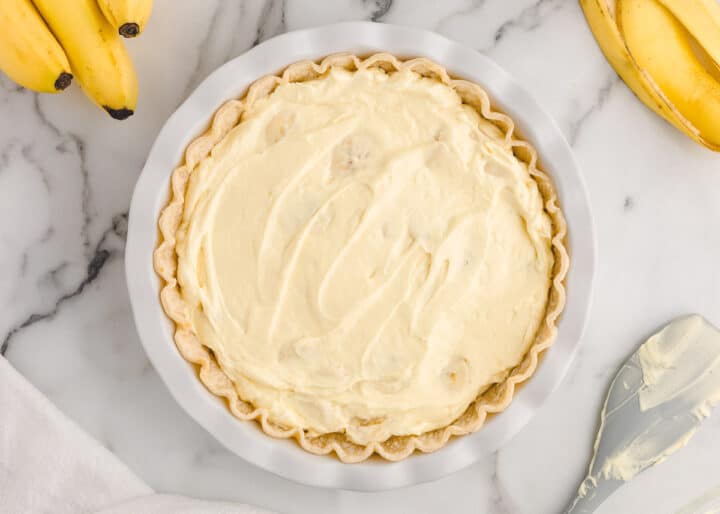 Tips + variations
Cook and Serve pudding. If you can only find Cook and Serve pudding, that's fine to use. Simply prepare as instructed on the package and let chill in the fridge until the pudding is set. Then mix in the Cool Whip and banana slices before folding into the pie crust.
Keep bananas from browning. Although bananas brown pretty quickly, it's not too big of a concern in this recipe. Because they're mixed in with the pudding, they aren't exposed to air which usually keeps them from browning. If you're adding fresh banana slices on top of the pie, then I'd recommend adding those on right before serving, so they stay fresh.
Toppings. This pie is super simple to make, so the toppings are where you can make it look a little more sophisticated. Pipe on a fun design with some stabilized whipped cream (I use a large 1M tip) and then add more fresh banana slices on top (or caramelized bananas for a richer flavor). You can also sprinkle on some toasted coconut or crushed vanilla wafers to fancy it up a little more.
Chocolate version. If you love chocolate, try making this delicious chocolate banana cream pie variation. Simply swap the banana cream pudding mix for instant chocolate pudding mix. The fresh sliced bananas still give it that delicious banana flavor, but with a rich chocolaty addition.
5 star review
"My daughter asked for this for her birthday instead of cake. Such a creamy and rich pie. The whole family loved it."

-Janelle
Make Ahead + Storing
To make ahead. This pie needs to chill for at least 3 hours before serving in order to set, so it's even better if you can let it set overnight! Make the recipe according to instructions (do not add toppings) and then cover and place in the refrigerate overnight. When ready to serve, top with whipped cream and fresh bananas.
To store. Loosely cover the pie top with aluminum foil (or plastic wrap) and place in the fridge. It will keep in the refrigerator for about 3-4 days.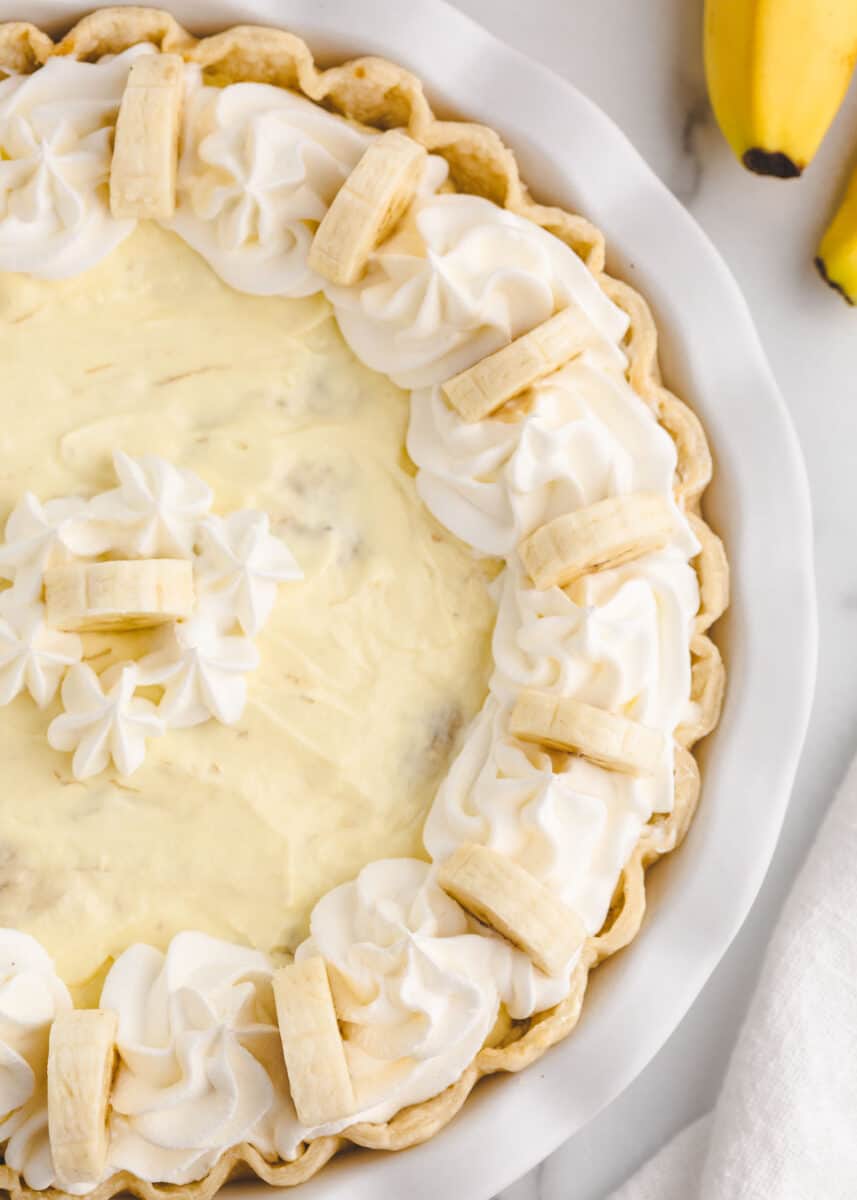 More Easy No Bake Desserts: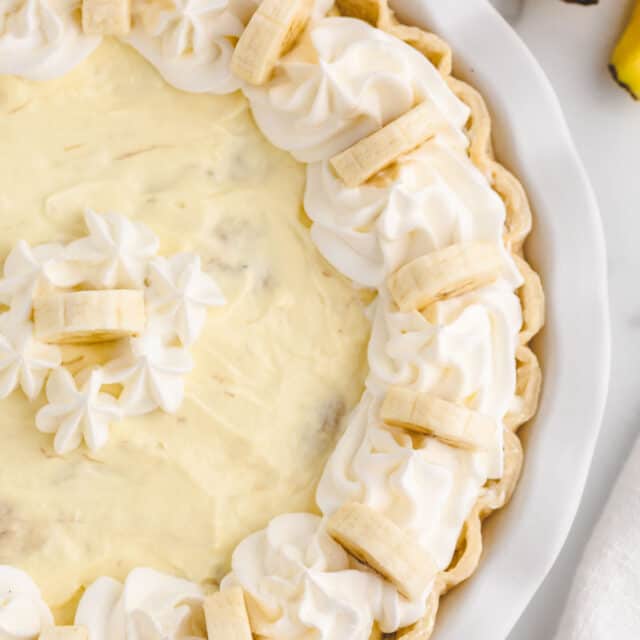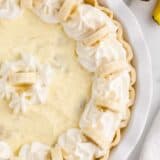 Easy Banana Cream Pie
This recipe has all the delicious flavors of good old-fashioned banana cream pie but is literally done in minutes. Takes only 5 ingredients and is an easy no bake pie that tastes amazing!
Ingredients
Optional toppings: Cool Whip or Whipped Cream and Sliced Bananas
Instructions
In a large bowl, whisk the pudding mix and milk 2 to 3 minutes, or until it has thickened. Fold in the cool whip and bananas.

Spread the filling evenly into the pie crust.

Chill at least 2 to 3 hours before serving. Top with any remaining cool whip (or whipped cream) and fresh bananas. Slice and serve chilled.
---
Notes
Milk: Make sure to use whole milk or 2% milk. If you use skim milk, almond milk or soy milk it will not thicken properly.
Crust: You can use a store bought or homemade crust for this recipe.
Calories: 271kcal | Carbohydrates: 44g | Protein: 5g | Fat: 9g | Saturated Fat: 4g | Polyunsaturated Fat: 1g | Monounsaturated Fat: 3g | Cholesterol: 12mg | Sodium: 246mg | Potassium: 252mg | Fiber: 2g | Sugar: 25g | Vitamin A: 168IU | Vitamin C: 3mg | Calcium: 112mg | Iron: 1mg
Nutrition provided is an estimate. It will vary based on specific ingredients used.
Did you make this recipe? Don't forget to give it a star rating below!