This Chick-fil-A nuggets recipe is a spot-on copycat version of the original. Complete with the signature flavors of a deliciously seasoned crispy coating tender bites of juicy chicken. Serve hot with your favorite dipping sauces!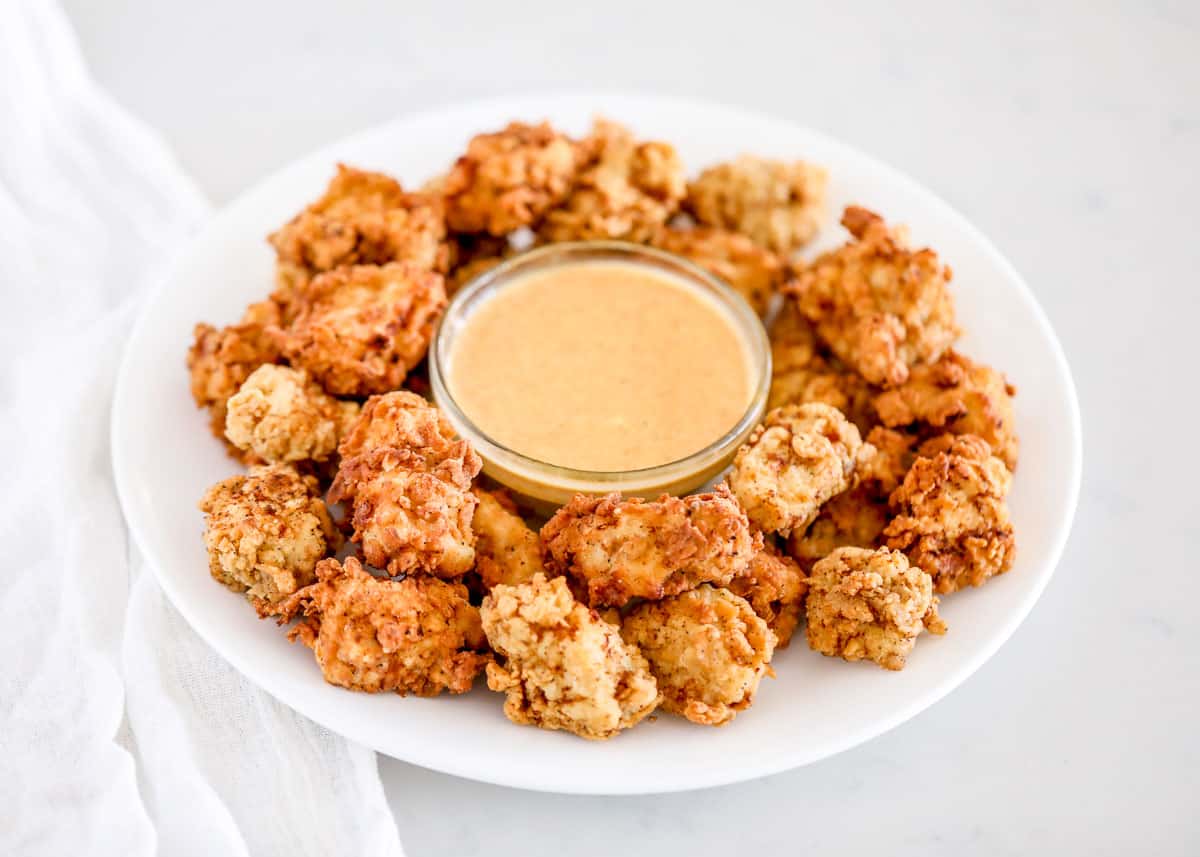 Copycat Chick-fil-A Nuggets
This Chick-fil-A chicken nuggets recipe comes pretty darn close to the real thing if I do say so myself. I love creating copycat recipes because not only am I impressed with the results but it saves money and time spent in lineups. Definitely a win-win!
My kids go nuts for this and honestly so do I! Serving it on a platter with different dips like honey mustard sauce, Chick-fil-A sauce, BBQ sauce, buffalo sauce, or ranch dressing as an appetizer for everyone to share is one of my favorite ways to enjoy them.
Sometimes we'll make a fun lunch out of it and enjoy it with a side of homemade french fries and fry sauce for dipping and take it out onto the back patio and have ourselves a little "lunch on the patio" right at home.
Try this Chick-fil-A chicken nuggets recipe just once and you'll never go back to buying the takeout version again. Mostly because your family will be asking you to make this over and over again because it is so much better than the real deal!
What are Chick-fil-A Nuggets?
Chick-fil-A nuggets are crispy golden nuggets of chicken breast that have been soaked in a milk or buttermilk bath then coated in a deliciously seasoned flour fried until tender and juicy on the inside and light and crispy on the outside.
They're a signature menu item at the popular fast food joint but despite the rumors, they do not use a pickle brine to soak their chicken in, so neither do we. Although, I'm not opposed to trying it out one day just for fun! They've got a remarkable taste, partly due to the fact that the recipe uses powdered sugar which allows for more even distribution and helps with the texture.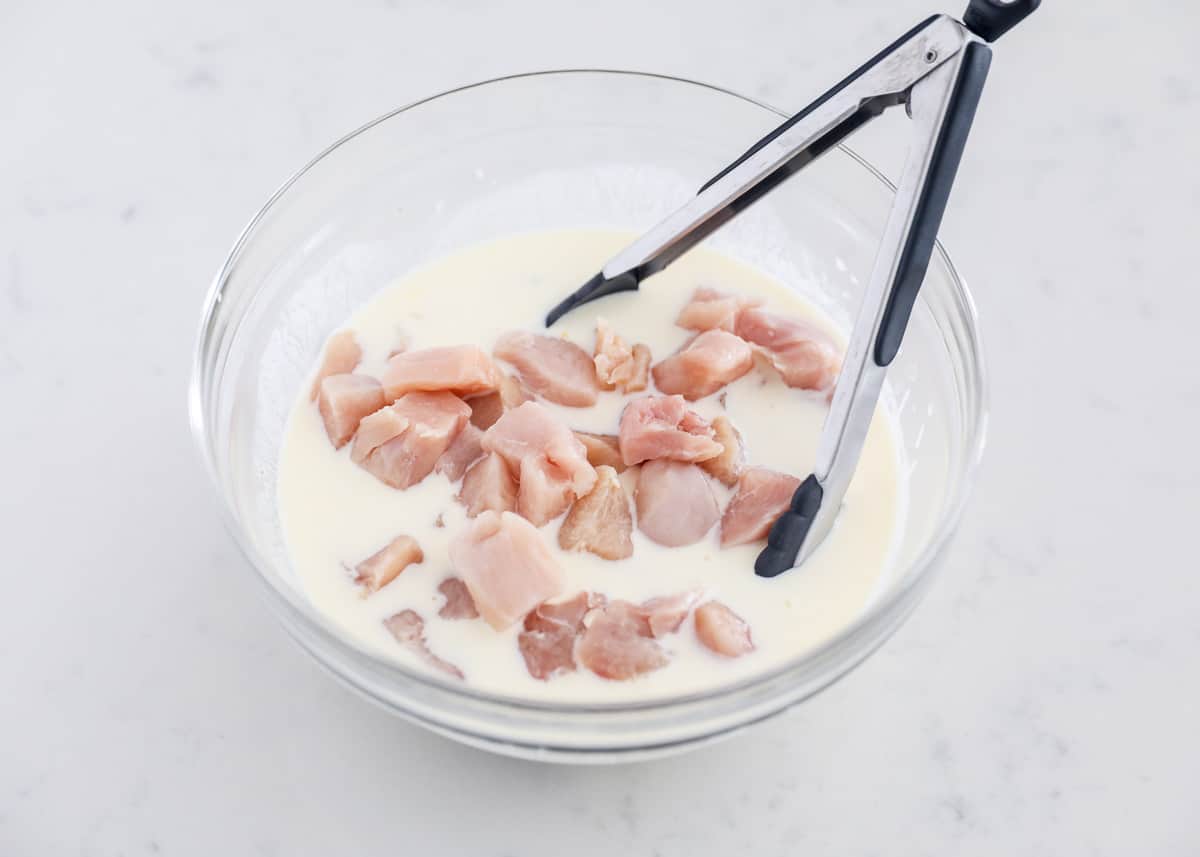 Copycat Recipe Tips
Don't skimp on soaking the chicken breasts in milk or buttermilk. It helps retain moisture, making the chicken nice and juicy as you bite through the crispy coating. The slight acid in buttermilk also helps tenderize the meat without drying it out.
Use a thermometer, if you have one. It will be much easier to know when the oil is hot enough. Not having it at the right temperature can mean the difference between exactly the crispness we're looking for and not crispy enough or burnt. Knowing the internal temperature will also help you figure out if your chicken is cooked just right.
Canola oil. Chick-fil-A does use refined peanut oil, but since most of us have Canola oil on hand, that's what I used. It came out close enough to the real thing!
Fry in batches. This way you leave room for even cooking making sure all sides crisp up.
Variations. As with any recipe, altering ingredients is totally up to your preference. Just know that this recipe is as close to the real thing as you're going to get, so anything different will affect the taste. Even down to the powdered sugar. You want to use it, it's a signature ingredient!
What Dipping Sauces go with Nuggets?
So many options! Try one (or as many) of the delicious sauces below.
Why are my Nuggets not Crispy?
If your nuggets didn't turn out as crispy as you had hoped, consider the following for next time:
If the nuggets retain too much of the oil once removed from the pot, it will become soggy quickly.
Using a slotted spoon will help with that, as well as allowing them to sit on a rack on top of a baking sheet to allow for excess grease to fall.
Some people find it helpful to use a paper towel to blot the grease.
Be sure to leave enough room between the nuggets as they sit and keep warm while you finish the other batches. If they're too close together, the steam released will transfer over making the batch soggy.
Make sure the oil is hot enough before adding the nuggets.
Make Ahead
To prep ahead, cut your chicken into 1″ pieces and soak in the milk. Place the bowl in the fridge for a couple of hours ahead of time until you're ready to start frying.
Storing & Reheating
To store: Keep covered in an airtight container in the fridge to retain the moisture.
To reheat: Once out of the fridge, reheat them in the oven to get back the crispness.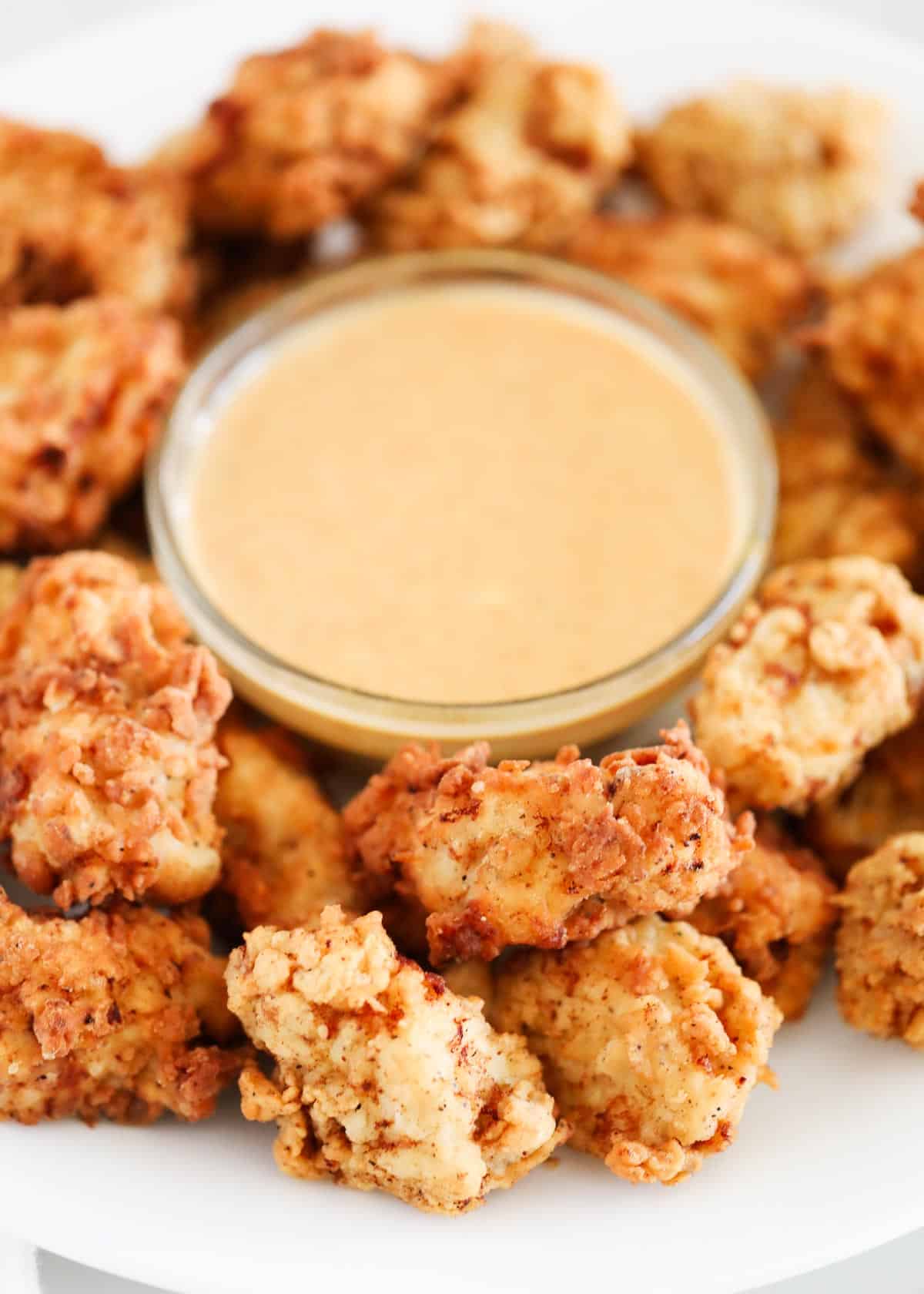 More copycat Recipes to Try
HUNGRY FOR MORE? Subscribe to my newsletter and follow on Facebook, Pinterest and Instagram for all the newest recipes!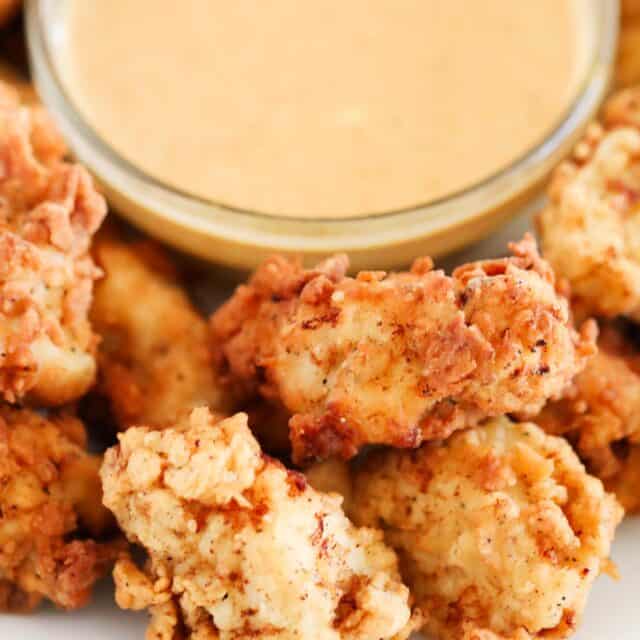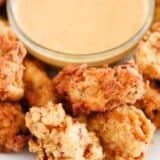 Chick-fil-A Nuggets Recipe
This Chick-fil-A nuggets recipe is a spot-on copycat version of the original. Complete with the signature flavors of a deliciously seasoned crispy coating tender bites of juicy chicken. Serve hot with your favorite dipping sauces!
Ingredients
1 ½ pounds boneless skinless chicken breasts , cut into 1" cubes
1 ½ cups milk , or buttermilk
2 large eggs
1 Tablespoon salt , divided
1 ½ cups all-purpose flour
3 Tablespoons powdered sugar
1 teaspoon paprika
1 teaspoon ground black pepper
canola oil or peanut oil , for frying
For dipping: Ranch, Honey mustard, Chick-fil-A sauce, Ketchup
Instructions
In a large bowl whisk together the milk, eggs and 1 1/2 teaspoons of salt. Add the chicken to the milk and allow to sit for a few minutes (you can also place in the refrigerator for a couple hours if prepping ahead of time).

Place 1 to 2 inches of canola or peanut oil into a large skillet. Heat the oil over medium high heat and place a thermometer to get it to 350ºF.

In a large bowl or casserole dish, whisk together the flour, powdered sugar, 1 1/2 teaspoons salt, paprika and pepper.

Working in small batches, add 1/4 of the chicken from the milk mixture into the flour (try to drip the excess liquid from the chicken before putting in the flour. Move the chicken with tongs to coat with the flour.

Place the chicken pieces in oil once it is hot enough. Monitor the temperature and turn the heat down if it goes above 350ºF so it doesn't burn. Cook for 4 minutes or until the crust is golden brown and the internal temperature reaches 160ºF.

Remove from the oil with a slotted spoon and place on a baking sheet lined with a cooling rack. Place in a preheated oven (I keep it around 175ºF) while repeating the other batches.

Serve chicken while hot. Dip in your favorite sauce. Store leftovers in a covered container. Reheat in the oven to retain the crisp.
---
Notes
Oil: Chick-fil-A does use peanut oil. I usually just use canola oil, since that's what I have on hand. They also have professional fryers, so while the chicken nuggets may not come out exactly like they when you purchase them, they come really close.
Chick-fil-A Sauce: https://www.iheartnaptime.net/chick-fil-a-sauce-recipe/
1/3 cup mayo
2 to 3 Tablespoons BBQ sauce
2-3 teaspoons mustard
1 to 2 Tablespoons honey
Salt and pepper, to taste
Whisk until combined and add more seasonings to taste.
Nutrition
Serving: 5nuggets | Calories: 232kcal | Carbohydrates: 23g | Protein: 24g | Fat: 4g | Saturated Fat: 1g | Trans Fat: 1g | Cholesterol: 103mg | Sodium: 1009mg | Potassium: 433mg | Fiber: 1g | Sugar: 5g | Vitamin A: 304IU | Vitamin C: 1mg | Calcium: 72mg | Iron: 2mg
Nutrition provided is an estimate. It will vary based on specific ingredients used.
Did you make this recipe? Don't forget to give it a star rating below!