A luscious twist on a classic southern recipe, chocolate pecan pie is rich, velvety, and chocolatey loaded with pecans and topped with chocolate shavings. This is a decadent dessert you'll want to show off!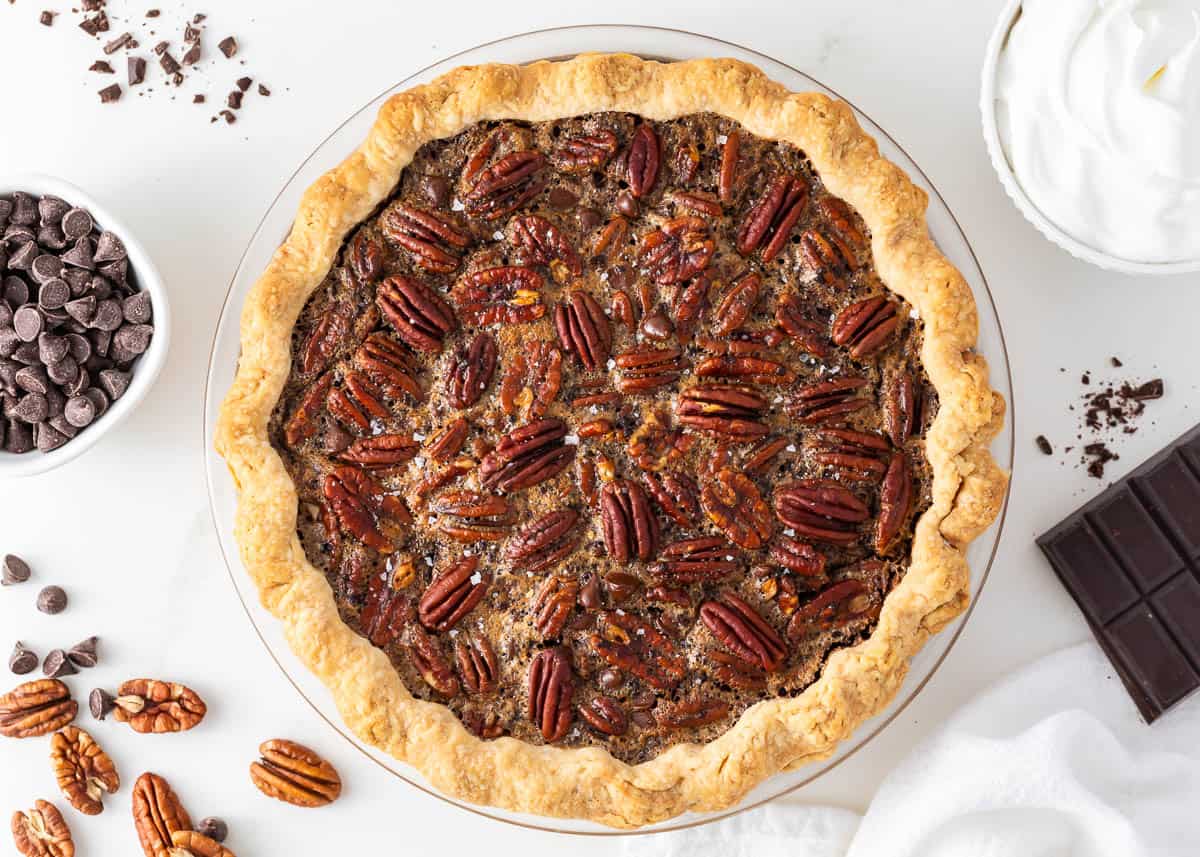 Easy Chocolate Pecan Pie
When you can't decide between chocolate or pecan pie, make both! Even though pecan pie is typically a Thanksgiving or Christmas dessert, you're going to make up an excuse to bake it all year long.
It takes about an hour to bake easy chocolate pecan pie; while it does, it will fill your kitchen with sugary, chocolaty, nutty aromas!
And if you have a party coming up, make this pie and serve it with vanilla ice cream or homemade whipped cream for added indulgence! It's as easy as pecan pie bars, and guests love it!
Even if this is your first time baking pecan pie, this recipe is so easy to follow that you'll have no trouble. You don't even need any specialty kitchen gadgets.
Simple ingredients. We used common ingredients that are easy to find at the grocery store.
Quick prep. It only takes about 10 minutes to prepare the pie before you put it in the oven.
Shows off. With just a few chocolate shavings and whipped cream, this pie is ready to impress everyone.
Freezer-friendly. Make it months before your party and thaw it the night before. This saves you so much time.
Recipe Ingredients
This recipe for chocolate pecan pie uses the same basic ingredients as classic pecan pie. So, if you've ever made pecan pie, you probably have just what you need.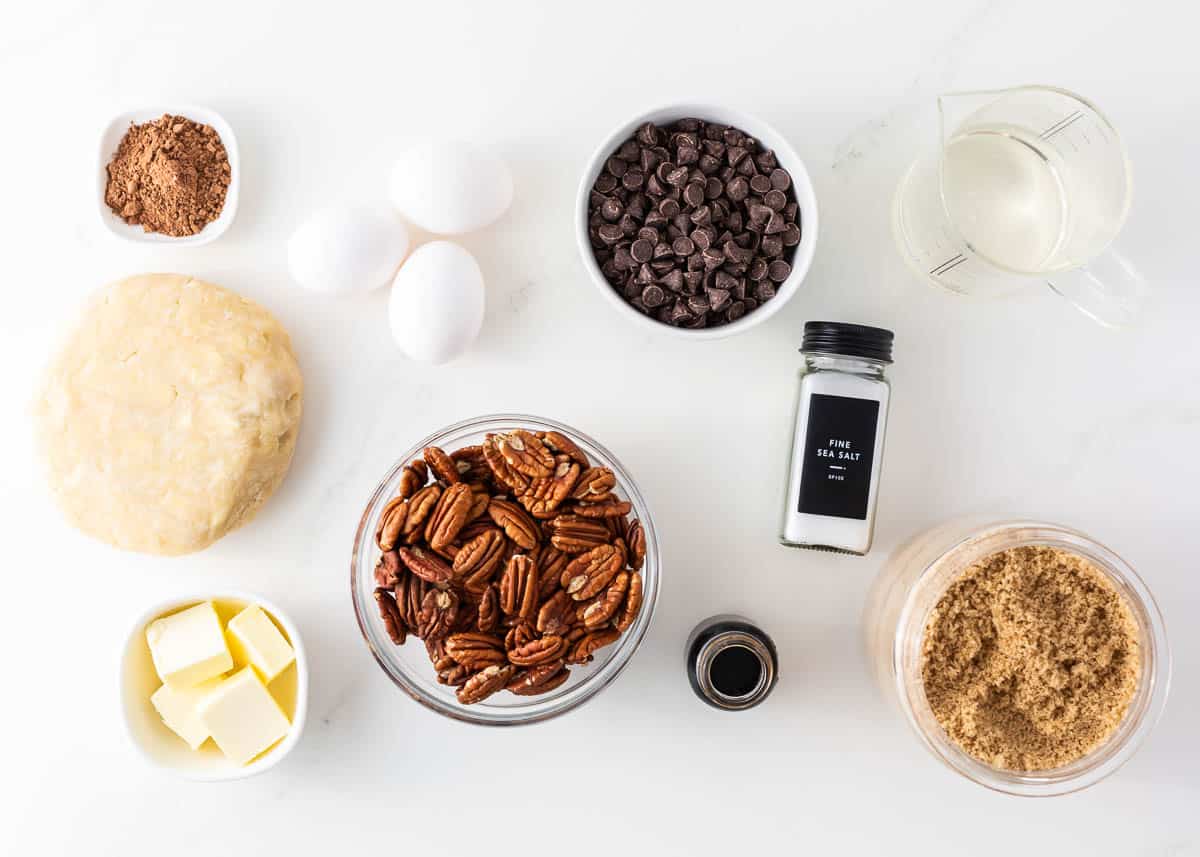 Find the full printable recipe with specific measurements below.
Pie crust. Make a homemade pie crust if you have some extra time, or use store-bought pie crust, unbaked.
Pecans. You'll use pecan halves in filling and topping, so get plenty.
Chocolate. To get the chocolate flavor, use semi-sweet chocolate or dark chocolate chips, chopped bars, and unsweetened cocoa powder.
Sugars. This makes the pie so sweet – a combination of light corn syrup or dark corn syrup and packed light brown sugar.
Variations
This is a no-fail, easy pecan pie recipe with a lot of room for making changes. Here are some of the most straightforward tweaks you can make.
Bourbon: Many southern bakers like adding a few tablespoons of bourbon to pecan pie to give it a deeper flavor.
Size: Cut the pie dough to match your pie tin. Make mini pies or use a muffin tin to make bite-size pecan pies and serve them with other favorite holiday desserts.
Crust: Make it extra decadent and bake it in a chocolate pie crust.
How to Make Chocolate Pecan Pie
This easy chocolate pecan pie recipe is written with beginning bakers in mind!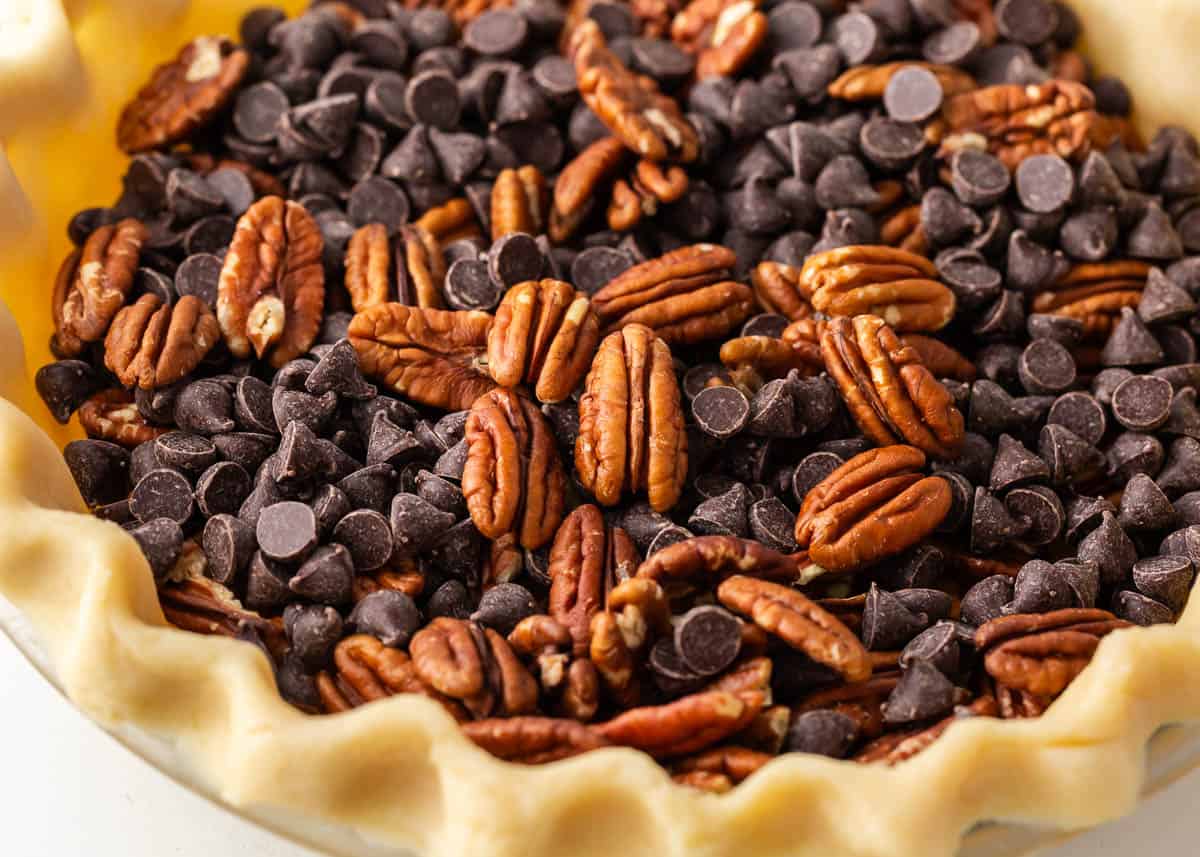 Prepare the pie crust. Place it on your 9-inch pie plate and add the pecans to the bottom of the crust.
Make the filling. Whisk the filling ingredients together in a large mixing bowl.
Pour filling into pie crust. Pour the filling mixture over the pecans on the pie crust. Add more pecans on top.
Bake the pie. Bake the pie and add foil to the crust halfway through baking.
Let it cool. When it's finished baking, let it cool on a wire rack.
Serve. Add whipped cream, chocolate shavings, and sea salt flakes.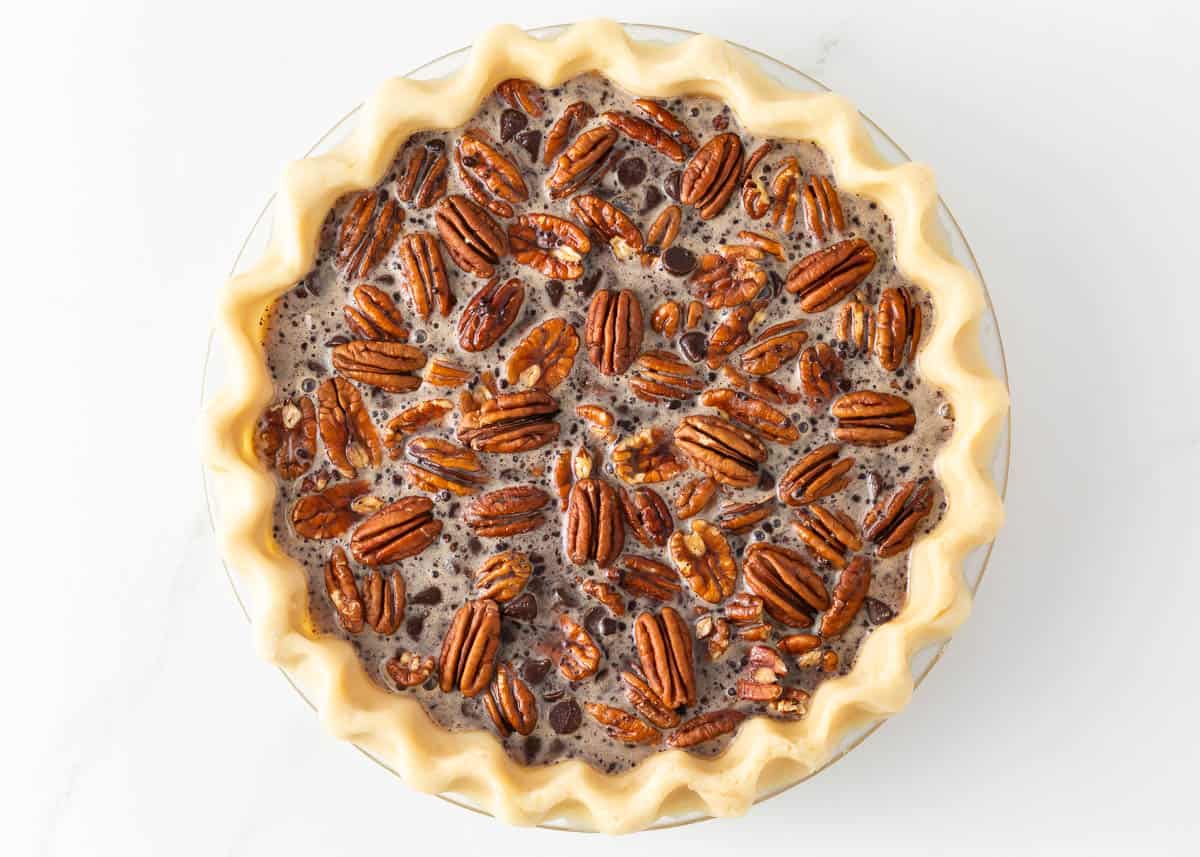 Expert Tips
The most difficult part of baking a chocolate chip pecan pie is waiting for it to cool down and set. Don't cut into it too soon; it's so much better after it cools down.
Let the pie rest. Pecan pie tastes best when you serve it at room temperature or even chilled. Let it rest for about 2 hours before serving it.
Use good quality chocolate. Just like with French chocolate silk pie, the chocolate has such a pronounced flavor that you should splurge and buy high-quality chocolate.
Protect the crust. Wrap aluminum foil around the crust about 25 minutes into the baking time. This will prevent the crust from burning while the filling keeps baking.
Sprinkle sea salt on top. Salt naturally intensifies all the other flavors, so adding some sea salt flakes will bring out the richness of the chocolate and nuttiness in the pecans.
Recipe FAQs
How can you tell when pecan pie is done baking?
My favorite way to tell if it is done baking is to do the jiggle test. Gently tap the pie dish. The middle should have a uniform jiggle, like Jell-O jigglers. If it's still too loose, keep baking it.
Can you freeze pecan chocolate pie?
Yes, you can freeze this pie. If you're going to freeze it, I suggest baking it in an aluminum pie tin. Then, let it cool completely and then wrap it tightly in aluminum foil. Keep it in the freezer for up to three months.
Why did my pie deflate?
This is normal. As it bakes, the pie will puff up. But as it cools, it will deflate a bit and flatten back down. It's supposed to do this.
Storage
Loosely wrap the cooled pie in plastic wrap or aluminum foil. Keep in the refrigerator for up to 4 days.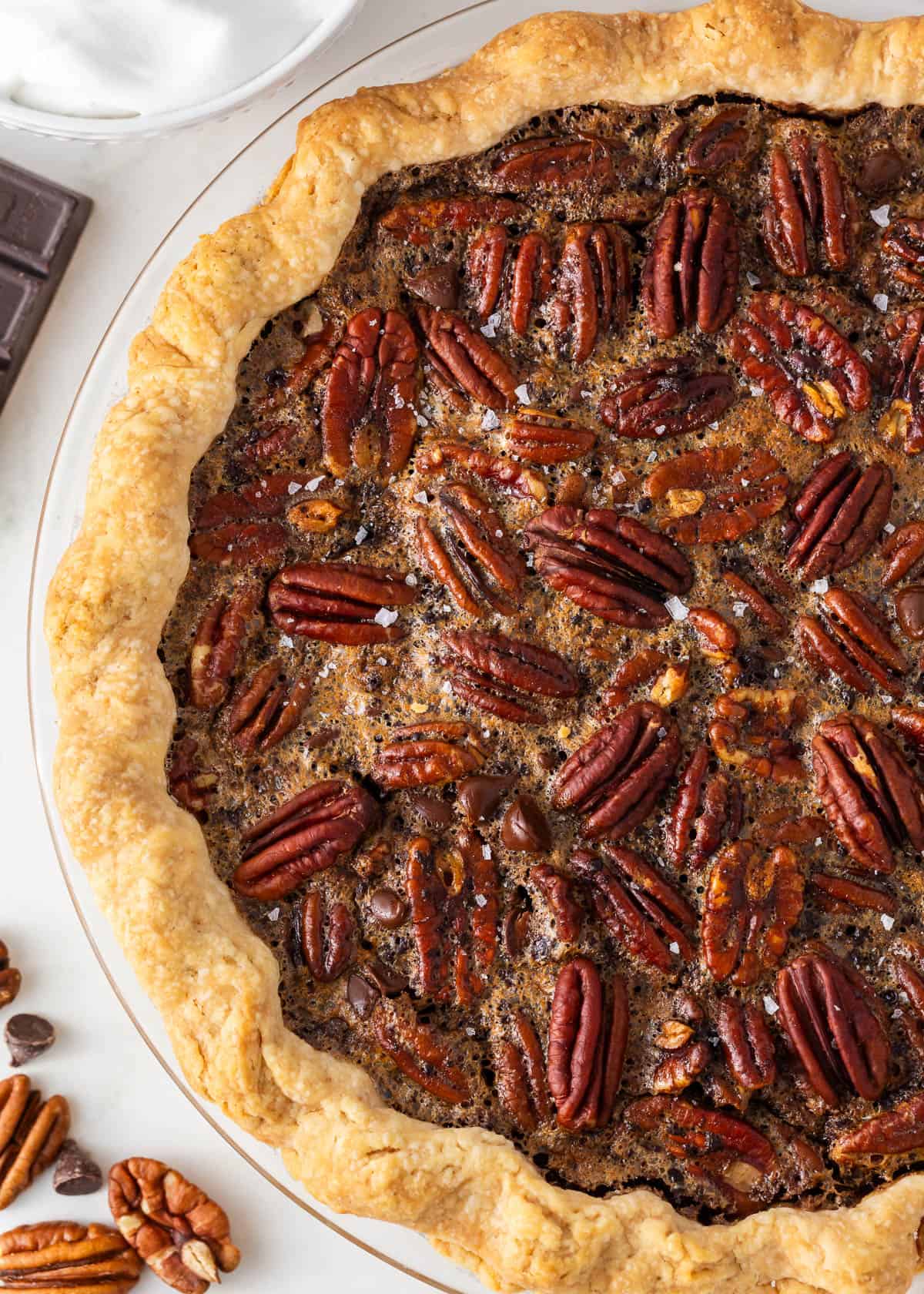 HUNGRY FOR MORE? Subscribe to my newsletter and follow on Facebook, Pinterest and Instagram for all the newest recipes!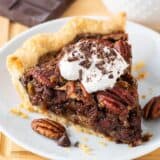 Chocolate Pecan Pie Recipe
A luscious twist on a classic southern recipe, chocolate pecan pie is rich, velvety, and chocolatey loaded with pecans and topped with chocolate shavings.
Ingredients
1 pie crust , unbaked
1 1/2-2 cups pecan halves , plus whole pecans for the top
1 cup semi-sweet or dark chocolate , chips or chopped
3 large eggs , at room temperature
¾ cup light or dark corn syrup
½ cup light brown sugar , packed
1 Tablespoon unsweetened cocoa powder
4 Tablespoons unsalted butter , melted and slightly cooled
2 teaspoons vanilla extract
½ teaspoon fine sea salt
Flake sea salt , optional
For serving: Whipped cream and Chocolate shavings
Instructions
Preheat the oven to 350ºF.

Prepare your pie crust and press into a 9-inch pie dish. Place in the refrigerator until ready to bake. When ready to bake, place chopped pecans and chocolate in the bottom of the crust.

In a large bowl, whisk together the eggs. Whisk in the corn syrup, brown sugar, cocoa powder, melted butter, vanilla, and salt until combined. Pour over the pecans. Place whole pecans on top, being sure to press the pecans lightly into the filling.

Bake 50 minutes to 1 hour, or until edges are golden and the center is set (it's ok if it's a little jiggly). Halfway through baking, place a pie crust shield or tent foil over the top of the pie to prevent the crust from burning.

Remove from oven and place on a cooling rack to cool completely. Sprinkle with flake sea salt, if using. Serve with whipped cream and chocolate shavings, if desired.
---
Notes
Storage: Loosely wrap the cooled pie in plastic wrap or aluminum foil. Keep in the refrigerator up to 4 days.
Nutrition
Calories: 461kcal | Carbohydrates: 50g | Protein: 6g | Fat: 28g | Saturated Fat: 10g | Polyunsaturated Fat: 4g | Monounsaturated Fat: 12g | Trans Fat: 0.2g | Cholesterol: 69mg | Sodium: 229mg | Potassium: 222mg | Fiber: 3g | Sugar: 37g | Vitamin A: 238IU | Vitamin C: 0.2mg | Calcium: 47mg | Iron: 2mg
Nutrition provided is an estimate. It will vary based on specific ingredients used.
Did you make this recipe? Don't forget to give it a star rating below!