The ultimate French chocolate silk pie made with a chocolate crust, and silky smooth chocolate filling and topped with homemade whipped cream and chocolate shavings. This dessert is a chocolate lover's dream!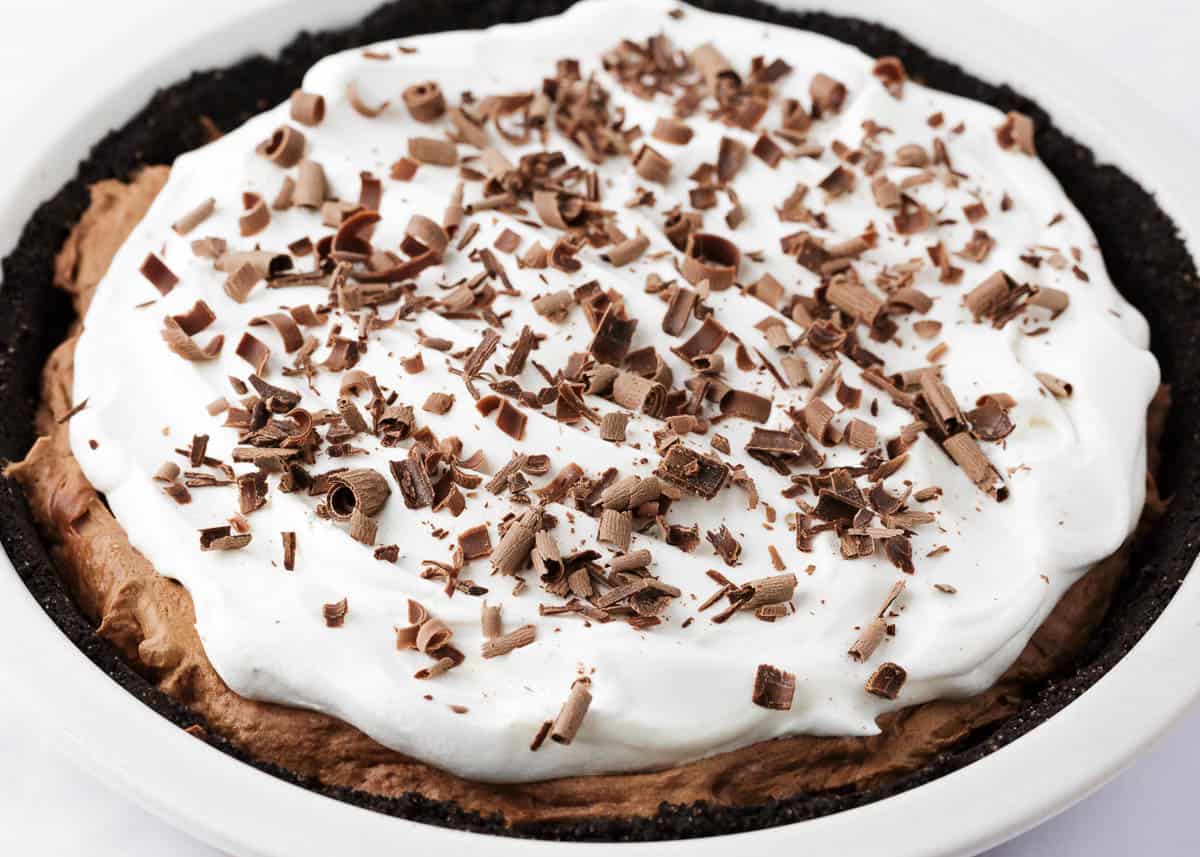 Chocolate Pie with Oreo Crust
With Thanksgiving coming up, I thought I would share my favorite French silk chocolate pie with you today. I've made this recipe for the past couple of years and it's always the first pie gone. As much as I love pumpkin pie and razzleberry pie, there's just something about a homemade chocolate pie that is so tempting.
This pie has everything you could dream of…an Oreo cookie crust, a rich, silky and easy chocolate mousse filling, and a light and fluffy whipped cream topping.
One of my favorite parts about Thanksgiving is the homemade pies. As much as I love Thanksgiving dinner, I always look forward to dessert. We usually wait a few hours and clean up/play games in between. It's always a great time!
Why This Recipe Works
The recipe isn't too complicated to make, however, the filling does take a little bit of time to make (and chill), so plan ahead. Once you're finished, you'll have the most beautiful silky smooth filling that is to die for.
Double the chocolate. Made with an Oreo crust and a rich chocolate filling, this French silk pie is the ultimate chocolate dessert for chocolate lovers!
Smooth and silky. It's called chocolate silk pie for a reason! The filling is so smooth, creamy, and fluffy all at the same time. It's the best part of the dessert!
Perfect holiday dessert. It makes the perfect finishing touch to your Thanksgiving menu or Christmas dinner menu. Guests always go crazy over this chocolate silk pie recipe.
Recipe Ingredients
Some simple pantry staples come together to create the most decadent and divine chocolate silk pie. It is the perfect combination with layers of deliciousness!
Find the full printable recipe with specific measurements below.
Crust: The decadent chocolate Oreo pie crust is made by combining crumbled Oreo cookies, butter, sugar, and salt. It's that simple.
Butter: The fat from the butter gives the filling its richness and helps it hold its shape.
Sugar: The sweetness balances the bitter notes from the chocolate and makes this pie absolutely irresistible.
Chocolate: Unsweetened chocolate is transformed into a dreamy dessert and acts as the backbone of this pie. It gives just the right amount of chocolate flavor without being too bitter or sweet.
Eggs: The eggs help lift the ingredients up and make the pie so silky and smooth. Since you are using raw eggs in this recipe, use the freshest eggs possible. Leave them at room temperature and fold or mix into the chocolate mixture.
Vanilla: Just a little goes a long way in balancing the bitter-sweet flavors.
Whipped topping: Heavy cream is whisked with powdered sugar and vanilla to create a quick homemade whipped cream that is light while still holding its structure.
How to Make Chocolate Silk Pie
It may seem like a lot of steps, but it comes together quickly and is worth every minute of effort that's needed to make this French silk pie recipe! It is full of layers of deliciousness. You will have friends and family raving over this delicious dessert and wanting more of it!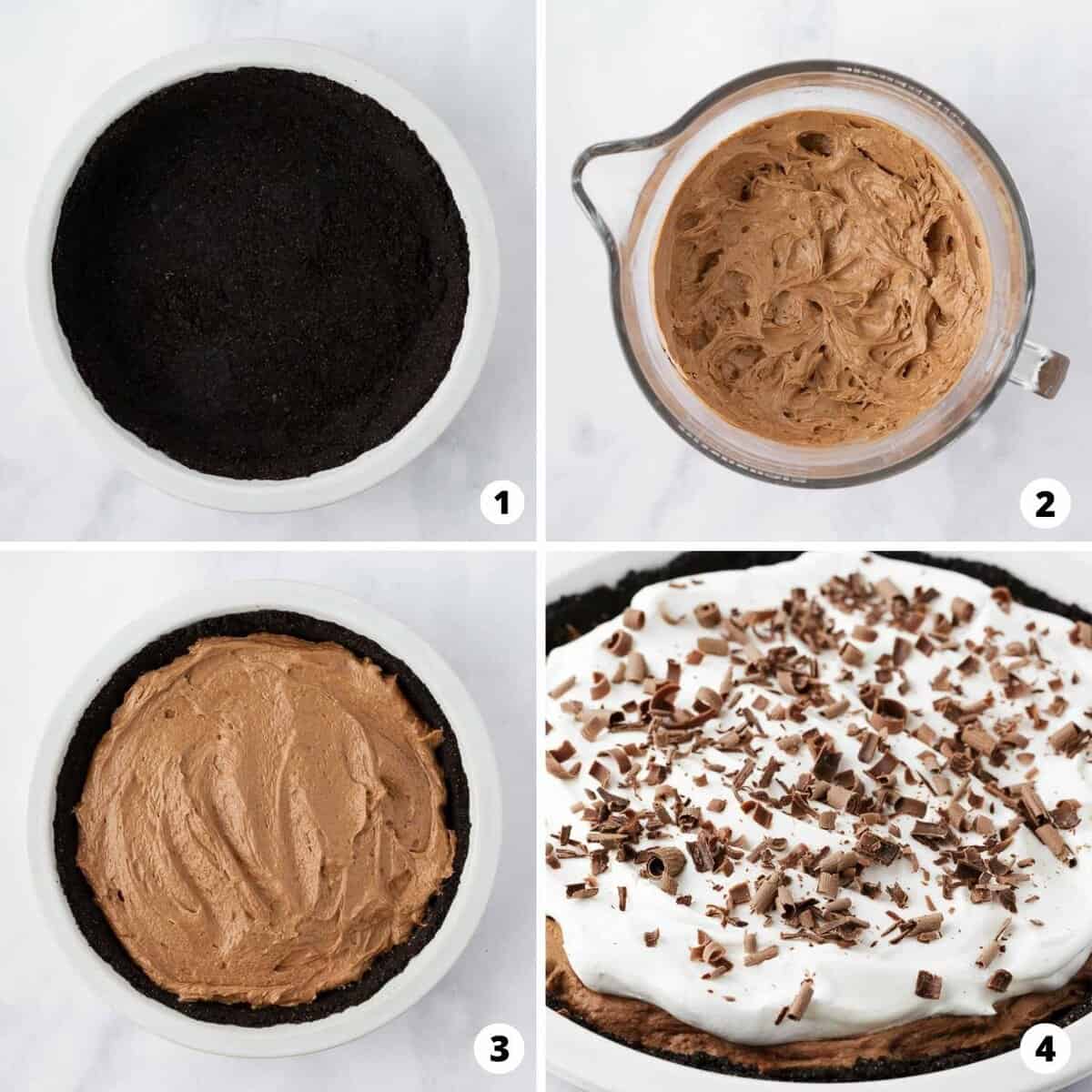 Crust. Pulse the cookies in a food processor or blender until fine crumbs form. Then mix the crumbs with melted butter, sugar, and salt until combined. Press the mixture into a 9-inch pie pan, then bake. Remove from oven and let cool while you make the filling.
Whip. Using an electric mixer, whip together the butter and sugar in a mixing bowl until it's nice and fluffy. Then mix in the cooled melted chocolate until combined. Next, add ONE egg and beat on medium speed.
Beat. Use a spatula to scrape the sides down and then add the next egg. Finally, add in the third egg and beat for 3 more minutes. Then mix in the vanilla extract.
Spread. Pour the filling into the cooled pie crust and spread it out evenly with a spatula.
Chill. Cover with saran wrap and let chill in the refrigerator for at least 4 hours (or overnight).
Toppings. After it has chilled, I love to top mine with homemade whipped cream. If you're in a pinch, you can always use store-bought whipped topping. The chocolate curls are also completely optional, but they make the pie look so pretty! You can even buy them premade (I've found them at Hobby Lobby in the baking section).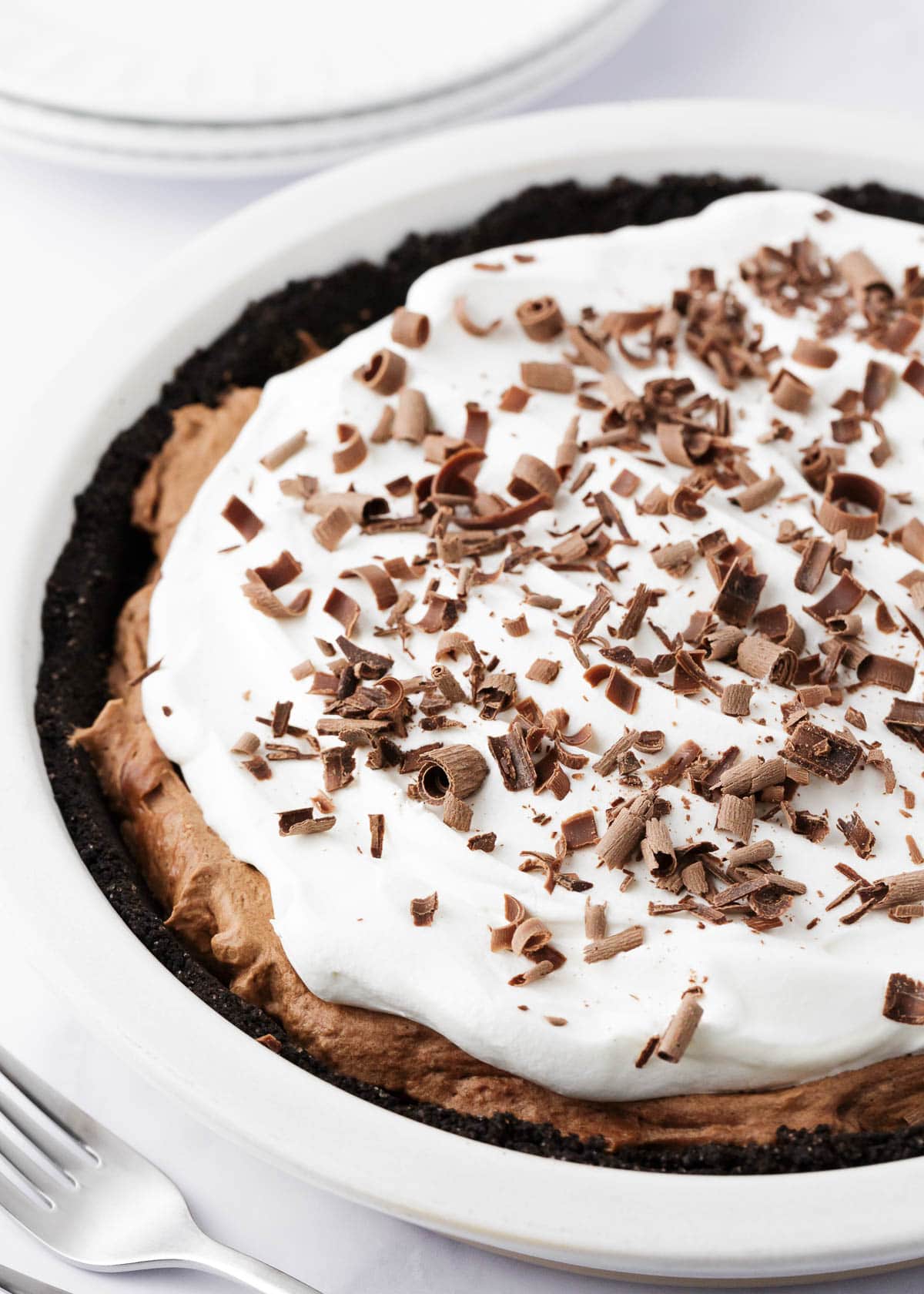 Tips for the Perfect Chocolate Silk Pie
These are great tips to help make this chocolate silk pie even better! There are a few tips to keep in mind you need to plan ahead, learn the proper way to melt chocolate, and make it look presentable with pretty chocolate curls. The perfect pie every time!
Plan ahead. Plan to make your pie crust ahead of time so that it has time to cool. You can make it at home or use a store crust.
Melted chocolate. Once you melt the chocolate, let it cool completely. You want it to still be stirrable, but if it's still hot it it will ruin the filling.
Fresh eggs. Use fresh eggs for the filling and make sure to follow the instructions and beat for the full amount of time before adding the next egg. If you're concerned about using raw eggs, you may use pasteurized eggs.
Whipped cream. You can also make this a few days in advance if you'd like. Just make sure it's stabilized whipped cream with gelatin so that it holds its shape.
Chocolate curls. Make your own chocolate curls by shaving off pieces of a chocolate bar with a potato peeler.
Let chill. Allow to chill for at least 4 hours, so that the filling has time to set. If you can let it sit overnight, even better!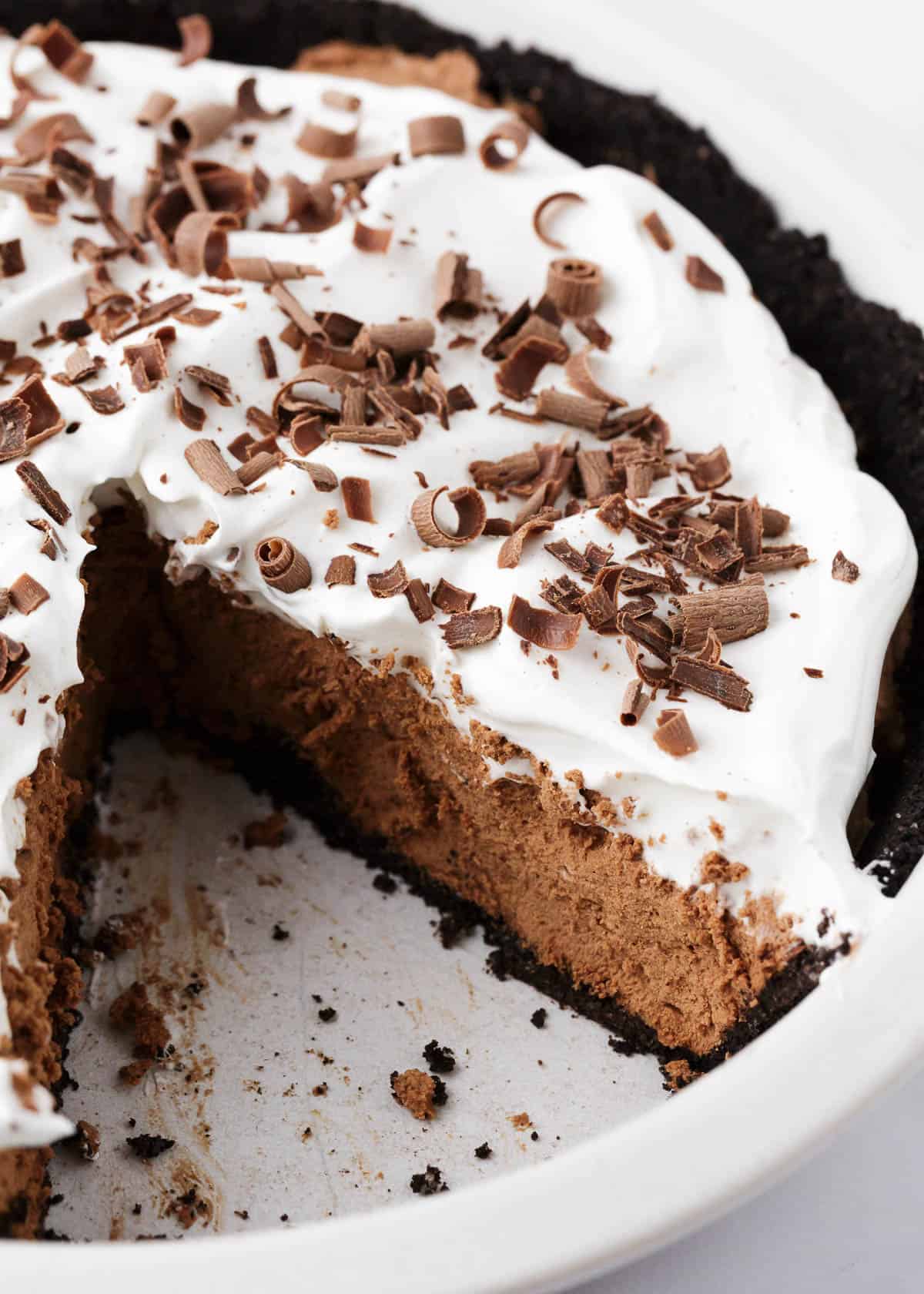 Recipe FAQs
Can I make ahead chocolate silk pie?
Yes! This pie is actually best after it has sat overnight in the fridge.
What is a French silk pie made of?
French silk pie has a few layers together. It starts with an Oreo cookie crust, and rich and creamy chocolate filling, and is topped with whipped cream with decorated chocolate shavings.
Why is it called French silk?
This pie dessert is called French silk because it is smooth and silky. It was made by Betty Cooper and made it to the 3rd annual Pillsbury Bake Off Competition in 1951.
Why is my French silk pie runny?
When you mix the filling too quickly it tends to create a runny consistency and texture. Make sure to chill the pie ahead of time before serving it to avoid any problems within the layers.
Can I use cocoa powder in place of the unsweetened chocolate?
Sadly, no. This pie needs melted chocolate to achieve the right texture and flavor.
What is the difference between French silk pie and chocolate pie?
French silk pie has a few layers within the pie starting with an Oreo base, creamy chocolate, and whipped cream on top whereas chocolate pie usually has a pie crust with a thick and creamy chocolate pudding mixture and a dollop of whipping cream on top.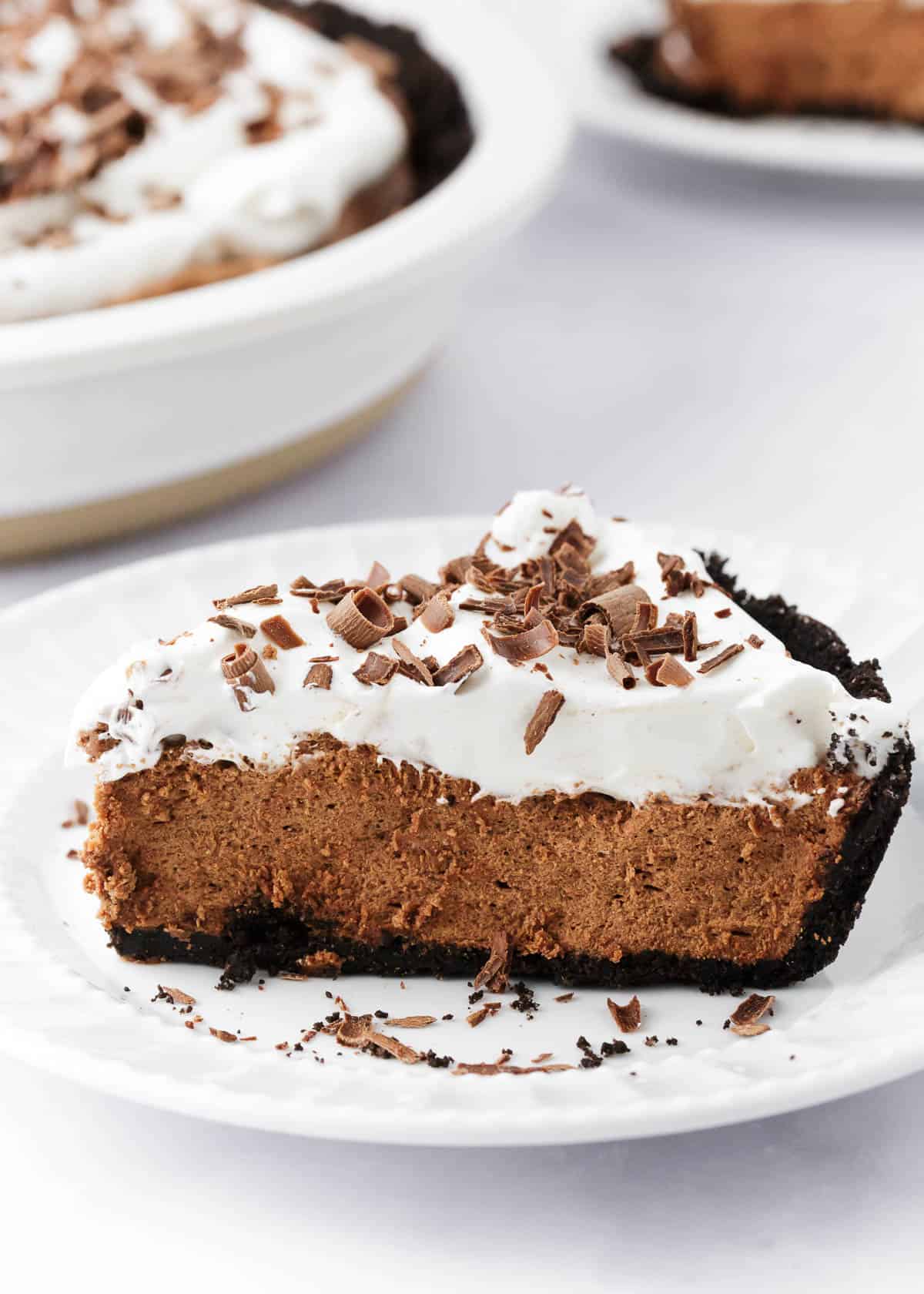 5 star review
Amazing!!! I've been making this for all the holiday and family gatherings and it is a hit every time! May just have to make it for my birthday this weekend! :) Thank you for making me feel like a real baker!

– Amanda
Freezing French Silk Pie
I don't see why not. I would recommend waiting to add the whipped topping and wrapping it in several layers of plastic wrap or a freezer-safe container. It should last up to 3 months in the freezer.

You could also freeze in individual slices so you can have some any time! To do this, slice and freeze on a parchment-lined pan. After the slices are frozen, wrap them individually. Thaw on the counter and top it just before serving.
HUNGRY FOR MORE? Subscribe to my newsletter and follow on Facebook, Pinterest and Instagram for all the newest recipes!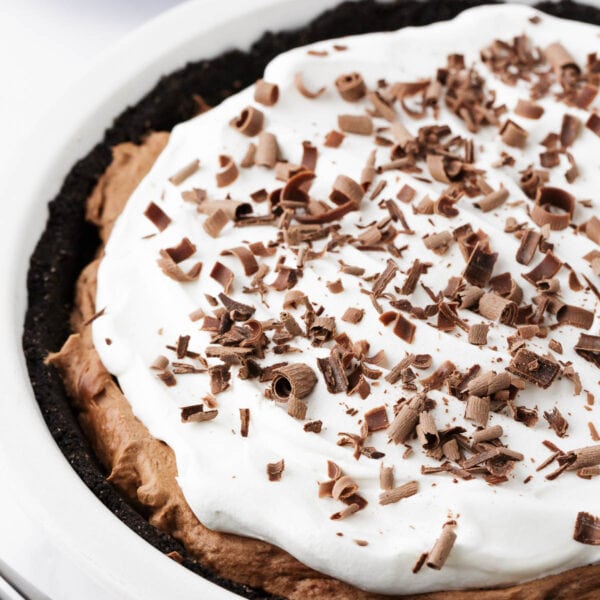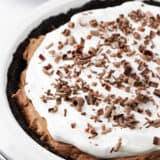 Chocolate Silk Pie
The ultimate chocolate silk pie made with a chocolate crust, silky smooth chocolate filling and topped with homemade whipped cream and chocolate shavings. This dessert is a chocolate lovers dream!
Ingredients
Chocolate Crust (can also use a premade pie crust)
1 ½ cups chocolate cookie crumbs (from Oreos or chocolate graham crackers)
5 Tablespoons unsalted butter , melted
2 Tablespoons granulated sugar
Pinch Kosher salt
Chocolate Filling
12 Tablespoons unsalted butter , softened
1 cup granulated sugar
3 ounces unsweetened chocolate , melted and cooled
3 large eggs
1 ½ teaspoons vanilla extract
Pinch Kosher salt
Optional garnish: Chocolate curls (see note)
Instructions
Chocolate Crust
Preheat the oven to 350°F.

In a medium bowl, whisk together cookie crumbs, melted butter, sugar, and salt until combined. Press into a 9-inch pie dish with the bottom of a measuring cup. Bake 10 minutes. Set aside to cool completely.
Chocolate Filling
Once the pie crust has cooled, you can start the filling. In the bowl of a stand mixer fitted with a paddle attachment, whip the butter and sugar on high speed 3 to 4 minutes, or until fluffy. Mix in the cooled chocolate until combined. Add 1 egg and beat 3 to 4 minutes on medium speed. Scrape down the sides of the bowl and add the next egg. Beat 3 minutes. Repeat with the last egg. Add vanilla and salt and mix until combined.

Spread filling evenly into pie crust. Cover with plastic wrap and place in the fridge at least 4 hours and up to overnight.
Whipped Topping
Make the whipped cream topping just before serving. Place a large bowl and the beaters from an electric mixer in the freezer 10 to 20 minutes. Add the cream, powdered sugar, and vanilla to the chilled bowl. Beat on low speed until combined, then beat on high 2 minutes, or until stiff peaks form. Spread evenly onto the chilled pie.

Garnish with chocolate curls, if desired. Slice and serve!
---
Notes
Chocolate curls: To make chocolate curls, use a potato peeler and shave off pieces of a chocolate bar.
Fresh eggs: Since you're using raw eggs in this recipe, use the freshest eggs possible. You can also use pasteurized eggs if you prefer.
Pie crust: I love the chocolatey goodness of this Oreo crust, but you can opt to make a non-chocolate version if you prefer. Try it with my easy pie crust recipe.
No-bake: Use a store-bought, premade Oreo crust to make this an easy no-bake dessert.
Whipped cream. You can also make this a few days in advance if you'd like. Just make sure it's stabilized whipped cream with gelatin so that it holds its shape.
Storage: Wrap the pie loosely with plastic wrap and store in the refrigerator up to 4 days.
Nutrition
Calories: 487kcal | Carbohydrates: 43g | Protein: 5g | Fat: 35g | Saturated Fat: 19g | Polyunsaturated Fat: 1g | Monounsaturated Fat: 10g | Trans Fat: 3g | Cholesterol: 112mg | Sodium: 177mg | Potassium: 137mg | Fiber: 2g | Sugar: 29g | Vitamin A: 855IU | Vitamin C: 0.1mg | Calcium: 32mg | Iron: 2mg
Nutrition provided is an estimate. It will vary based on specific ingredients used.
Did you make this recipe? Don't forget to give it a star rating below!