Jump to Recipe⌄
Easy Brown Bag Apple Pie
Easy brown bag apple pie – the most delicious crumb top apple pie that is perfect for beginner pie makers! The brown bag helps seal in all the delicious flavors.
Hope everyone had a great weekend. I had my friend in town over the weekend and you may have seen on instagram that we headed to the Amish country. It was so fun and absolutely beautiful there. They had the most amazing pies and baked goods in their bakery. Seriously to die for!
Since Thanksgiving is just around the corner I thought it would be fun to do a whole week on the blog dedicated to just PIES. Today I'll be kicking off pie week with this delicious and easy brown bag apple pie.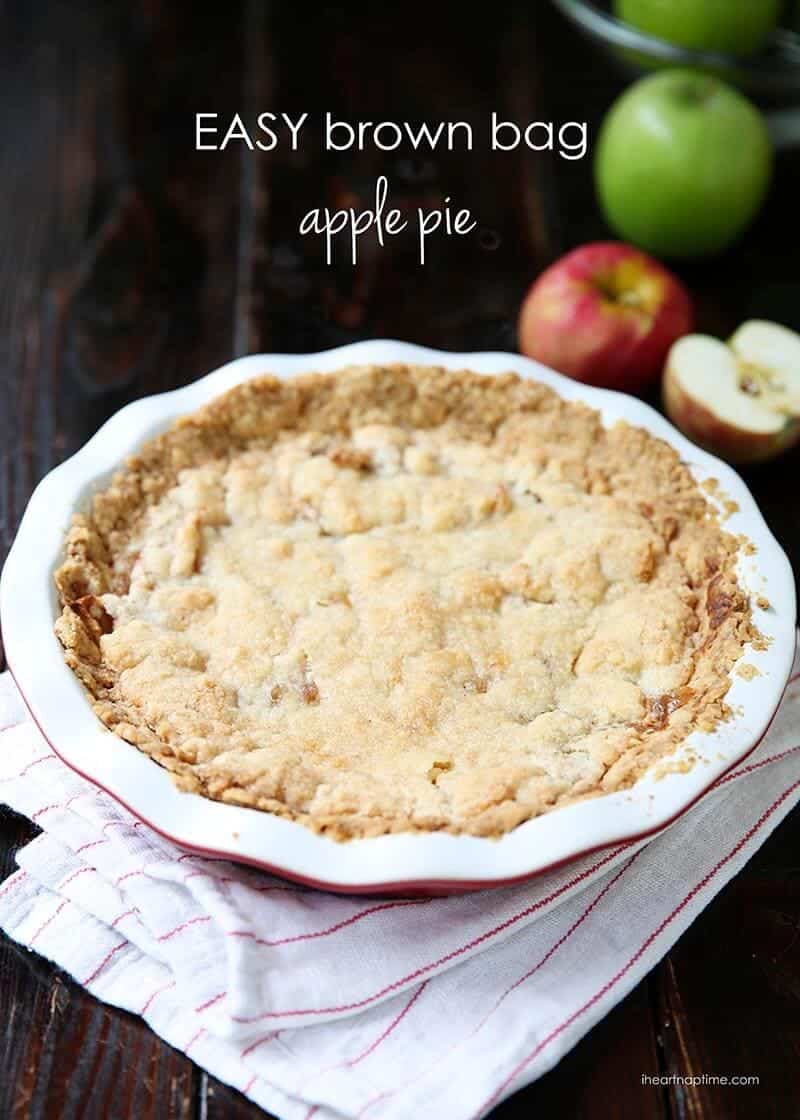 MY OTHER RECIPES
My friend brought this pie to my home last year for Thanksgiving dinner and I knew I needed to get the recipe to share with you. This recipe comes from her grandma. We drizzled a little salted caramel and added ice cream on top. Seriously divine. The crumb topping is amazing. This pie is perfect for anyone to make. It's pretty simple (as far as pie making goes) to make and turns out amazing every time.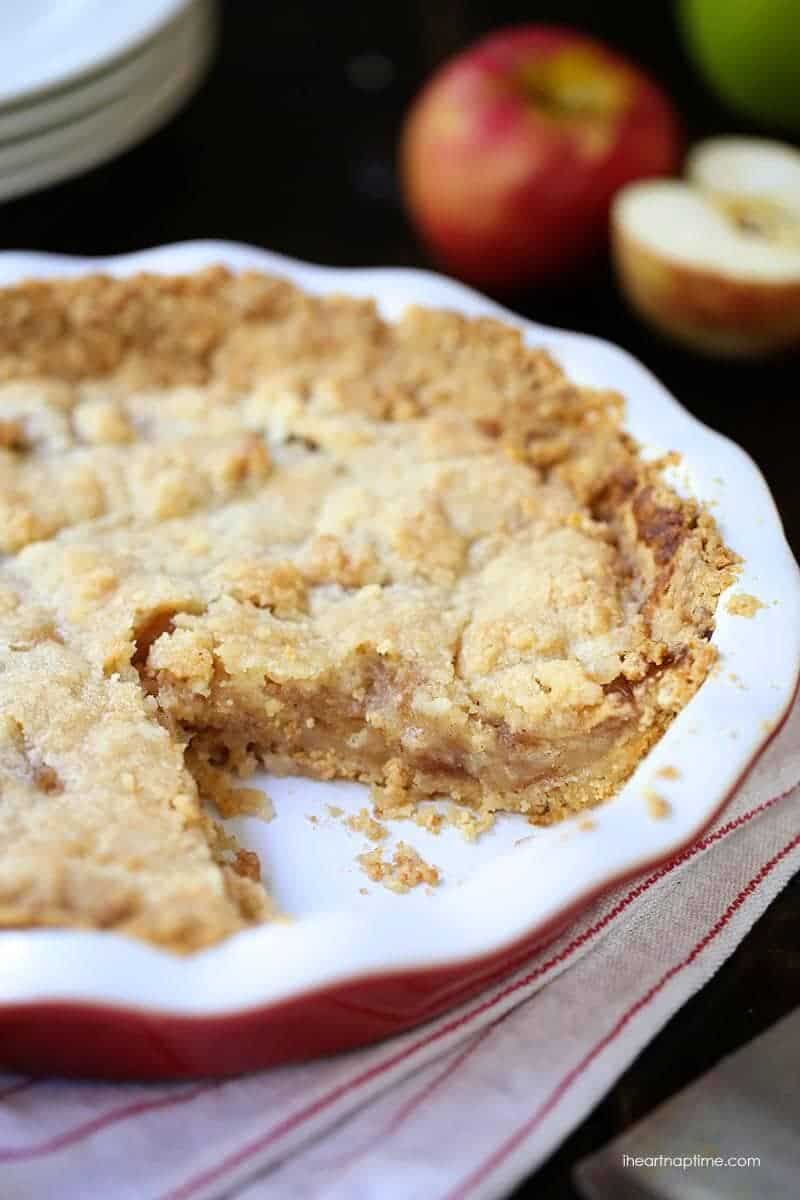 The brown bag helps seal in the all yummy juices and flavors! YUM! Let's dig in, shall we?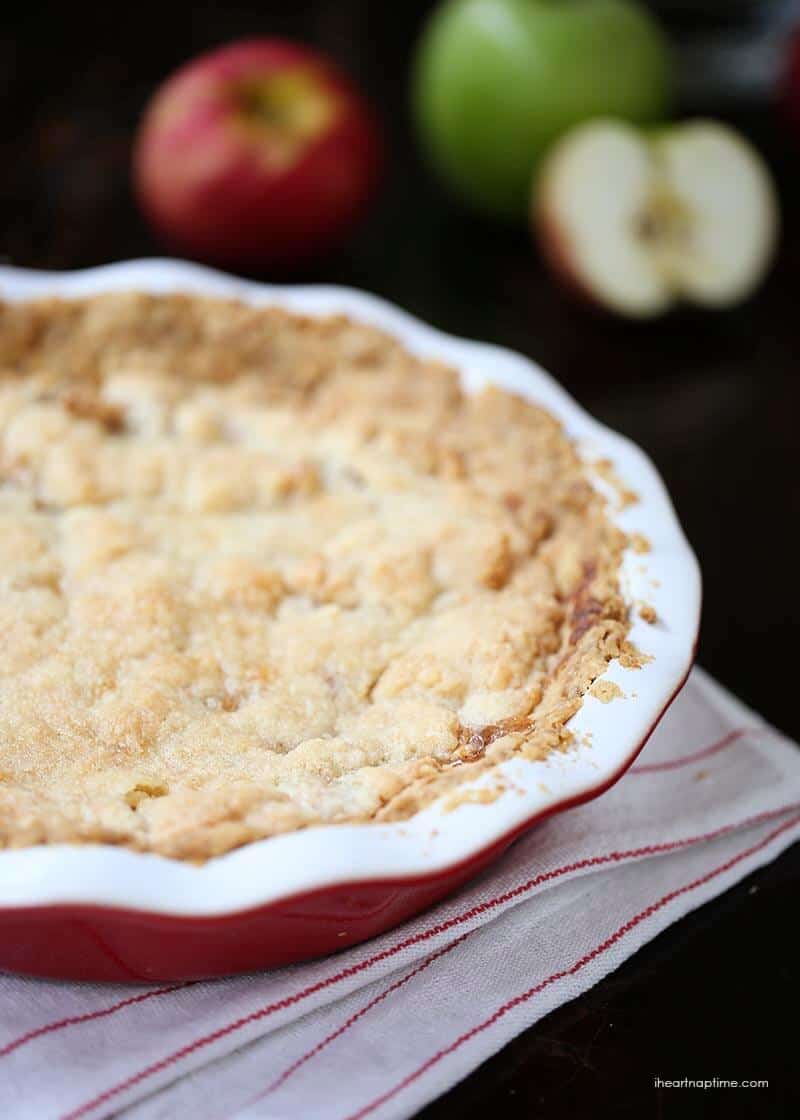 Enjoy!! Come back tomorrow for my favorite pie crust and razzleberry pie! :)
Looking for more delicious apple recipes? You'll love these too: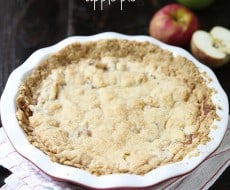 Easy Brown Bag Apple Pie
Easy Apple Pie for anyone to make! Using the brown grocery bag helps seal in the yummy juices!

Print
Ingredients
1 pie dish
1 paper grocery bag
Crust:
1 1/2 cups flour
1 1/2 teaspoon sugar
1 teaspoon salt
1/2 cup oil
2 Tablespoons cold milk
Filing:
4 cups sliced apples
1/2 teaspoon cinnamon
1/2 cup sugar
2 Tablespoons flour
1/2 teaspoon nutmeg
Topping:
1/2 cup flour
1/2 cup butter softened
1/2 cup sugar
Instructions
First make the crust by combining the flour, sugar, salt, oil & milk.  Mix until well blended.  Pat mixture in bottom and side of a 9″ pie pan.  Do not roll out. (To smooth it out use the back of a hot metal spoon and gently push down to smooth evenly.) Set Aside.

Filling: Combine sugar, flour, nutmeg and cinnamon.  Toss lightly with sliced apples. Let sit 10 minutes for sugar mixture to melt onto the apples and then pour into the unbaked pie shell.

Topping: Combine flour, butter, and sugar.  Mix together with fingers or a fork, until crumbly.  Sprinkle over pie. You'll want to bake soon before the butter mixture softens too much.

Place pie in brown paper bag and staple shut.  Bake at 350 degrees for 1 1/2 hours. (If oven bakes hot, reduce to 325 degrees. No peeking.)  Slit sack open with sharp knife.  Cool pie on a cooling rack.

Serve warm. Tastes great with vanilla ice cream and caramel on top.
Recipe Notes
If you are using a bigger pie dish, you may need to add more apples in filling. You may also need to make a little more dough to cover the entire dish.
Nutrition Facts
Easy Brown Bag Apple Pie
Amount Per Serving
Calories 308 Calories from Fat 153
% Daily Value*
Total Fat 17g 26%
Saturated Fat 5g 25%
Cholesterol 15mg 5%
Sodium 247mg 10%
Potassium 65mg 2%
Total Carbohydrates 36g 12%
Dietary Fiber 1g 4%
Sugars 16g
Protein 2g 4%
Vitamin A 3.9%
Vitamin C 1.7%
Calcium 1.2%
Iron 6.5%
* Percent Daily Values are based on a 2000 calorie diet.