This easy homemade pecan pie is one of my favorite desserts among my Thanksgiving recipes. It's made with a prepared flaky pie crust, a sweet and smooth custard-like filling, and tons of pecans!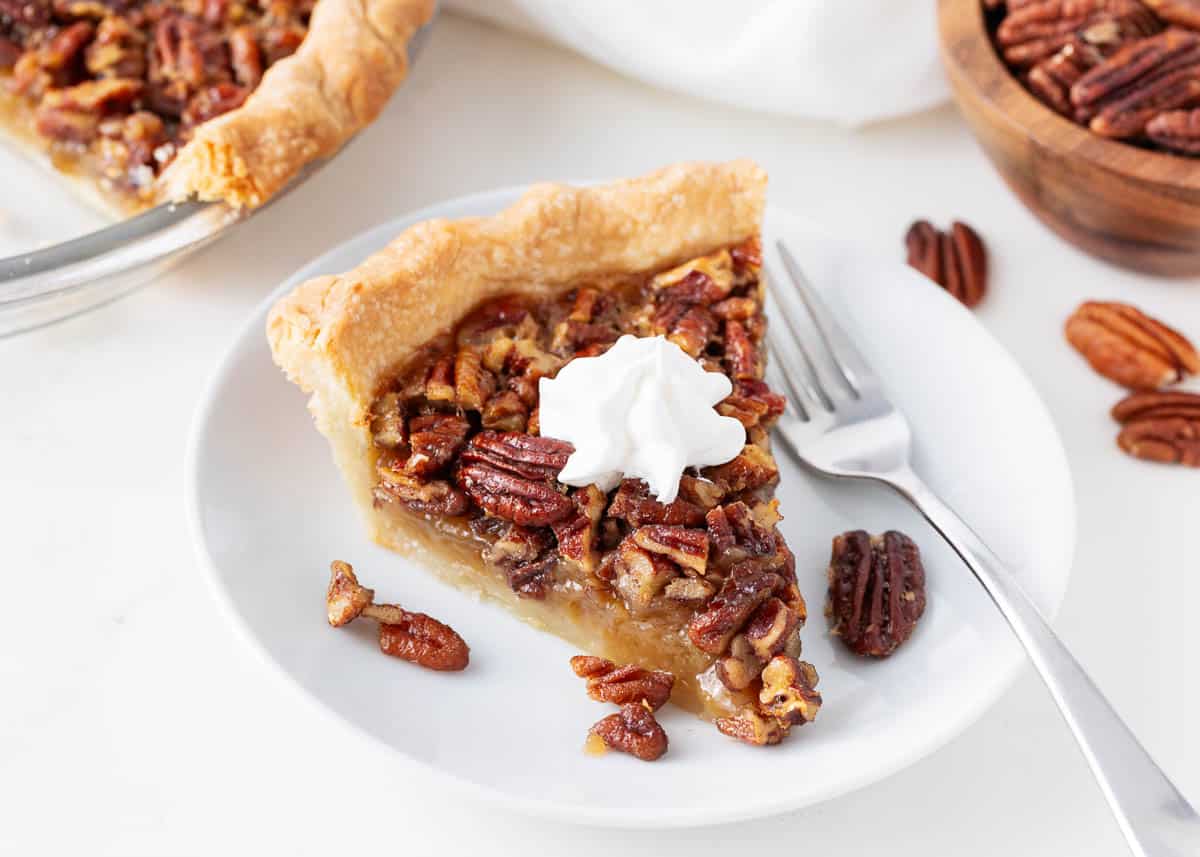 Best Pecan Pie Recipe
A classic dessert for Thanksgiving and Christmas is almost always pie! We love everything from pumpkin pie and Dutch apple pie to apple cranberry pie and sweet potato pie. And you can certainly never go wrong with a classic pecan pie like this one!
This rich and flavorful pie is prepared in just 15 minutes and into the oven it goes. Every bite has the perfect sweet, creamy, and crunchy balance and although it's usually reserved for special occasions, you'll start to wonder why you don't make it all the time!
Why This Recipe Works
It's homemade. A slice of your pecan pie might be the only chance your guests have to enjoy pie made from scratch. Not everyone has the time or desire to bake a pie, but I know everyone has the desire to eat one!
Ready-made pie crust. We're all about shortcuts during the busy holiday season! You can absolutely use a store-bought pie crust instead of a homemade pie crust if preferred.
The flavor and texture. We're not shy with our use of corn syrup. The best pecan pie recipe is meant for special occasions after all. You can't beat the silky, smooth, texture that corn syrup delivers.
Pecan Pie Ingredients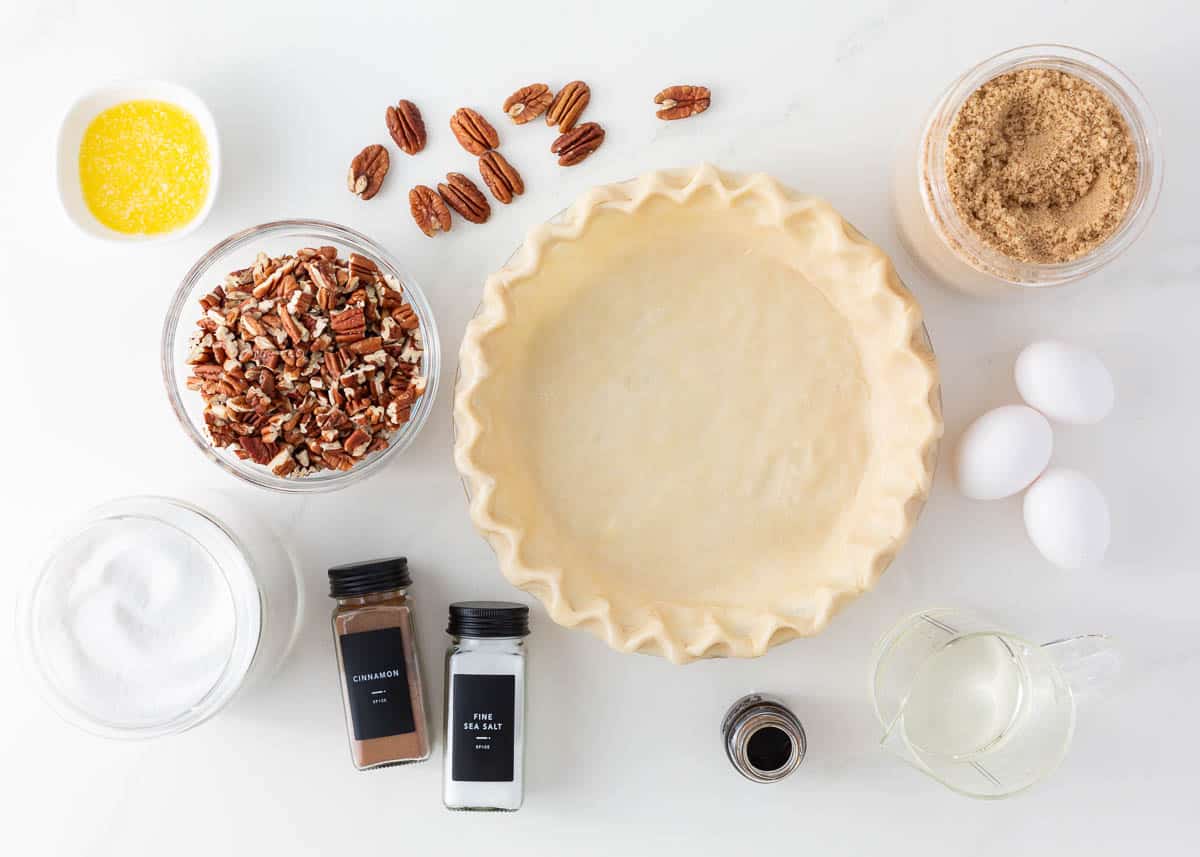 Find the full printable recipe with specific measurements below.
Pie crust: You'll need just 1 unbaked pie crust since there's no top crust. If you have a little extra time and want to try your hand at a homemade crust, you'll love my easy pie crust recipe.
Pecans: Most of your pecans will be chopped and placed in the filling so they become buttery and tender but don't forget to keep about 8-10 pecans whole to be placed on the top for a crunchy decoration.
Large eggs: These not only help to bind the ingredients in the filling but also help with the custard-like texture.
Light corn syrup: Corn syrup is sweet but it also serves a purpose. It prevents crystalization which keeps the pecan pie filling nice and smooth and not gritty.
Light brown sugar, packed: Also adds a delicious caramelized sweetness and a golden brown color to the pie.
Granulated sugar: More sugar, because why not?
Unsalted butter, melted: Butter always does a good job of enriching a pie filling with a buttery flavor.
Vanilla extract: A warm flavor enhancer that improves the taste of many baked goods.
Fine sea salt: Another flavor enhancer. It also balances the sweetness in the pie.
Ground cinnamon: A delicious warm spice that is perfect for the fall.
For serving: You can serve it on its own or with a dollop of whipped cream or a scoop of vanilla ice cream.
Variations
If you're opposed to corn syrup, pure maple syrup is a great alternative. It won't be the same, but close enough!
Adding unsweetened cocoa powder to your pecan pie filling turns it into a chocolate pecan pie!
If you're looking for a dessert bar recipe with the same classic flavors, check out my recipe for pecan pie bars.
How to Make Pecan Pie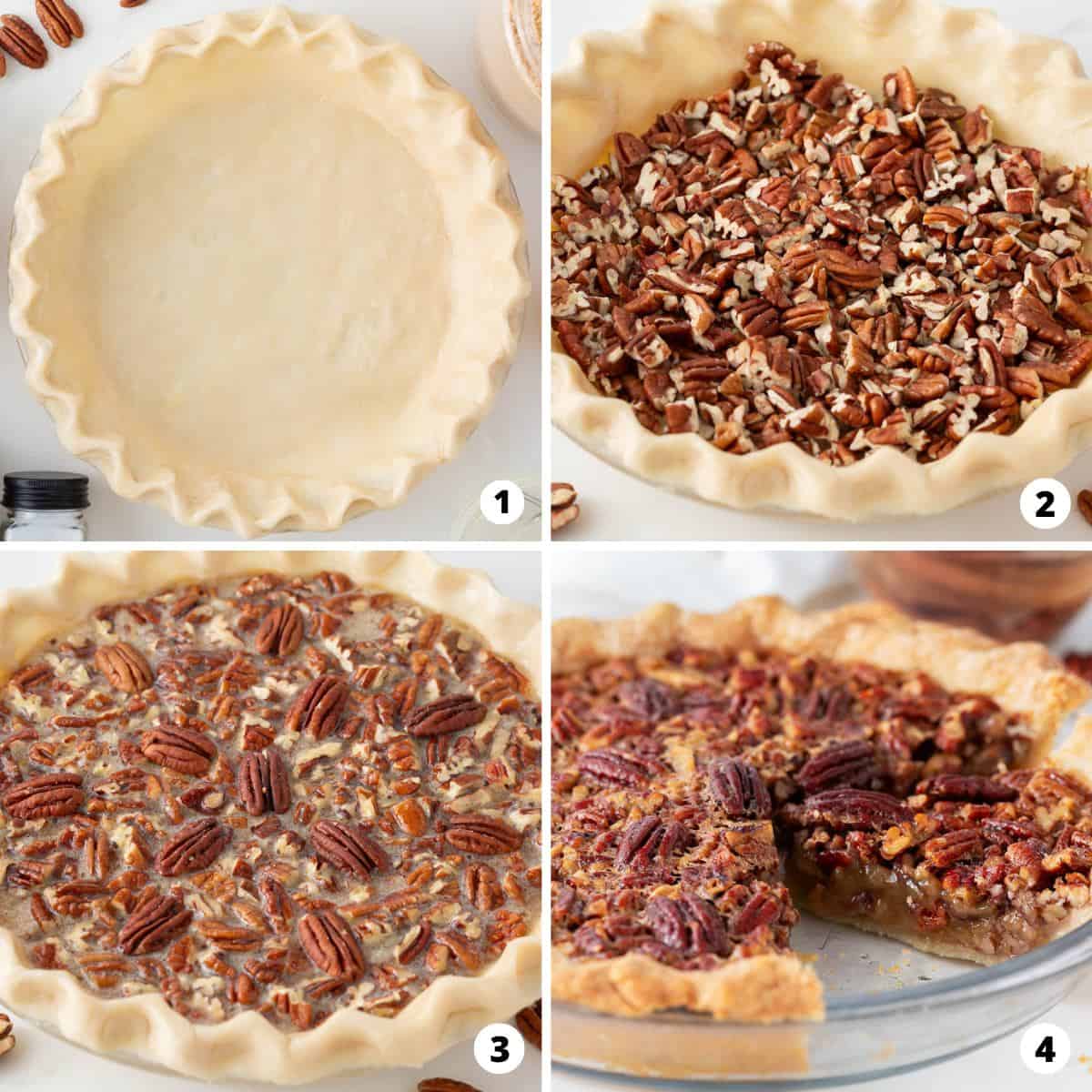 Prepare the crust. Lay the pie dough down into a 9-inch pie dish and press it down so that it sits flush against the plate. Keep it refrigerated until you're ready to bake it.
Make the filling. In a large bowl, whisk the eggs. Then, whisk in the corn syrup, brown sugar, sugar, melted butter, vanilla, salt, and cinnamon. Once combined, grab your pie crust, add chopped pecans to the bottom of the crust, and pour the filling overtop.
Bake. Place the whole pecans in a circular design on the top, making sure to gently press the pecans into the filling. Bake for 50-60 minutes until the edges are golden and the center is set (slightly jiggly is fine). Halfway through the baking time, place aluminum foil over the pie to prevent the crust from burning.
Chill, then serve. Take the pie out of the oven and place it on a wire rack to cool completely. If you try and slice it too early it will be runny and won't have time to set properly. When you're ready to serve, enjoy it with ice cream or whipped topping for an extra special treat.
Expert Tips
When it's ready. A slight jiggle to the center of the pie is okay because it will continue to set as it cools. If it's too jiggly, it'll need to bake a little more.
Avoid overbaking it. As mentioned earlier, a slight jiggle is sometimes better than no jiggle. If you notice there's no jiggle, take it out immediately.
Chop your own pecans or buy them already chopped to skip a step. You can also buy pecan halves if you prefer to use them instead.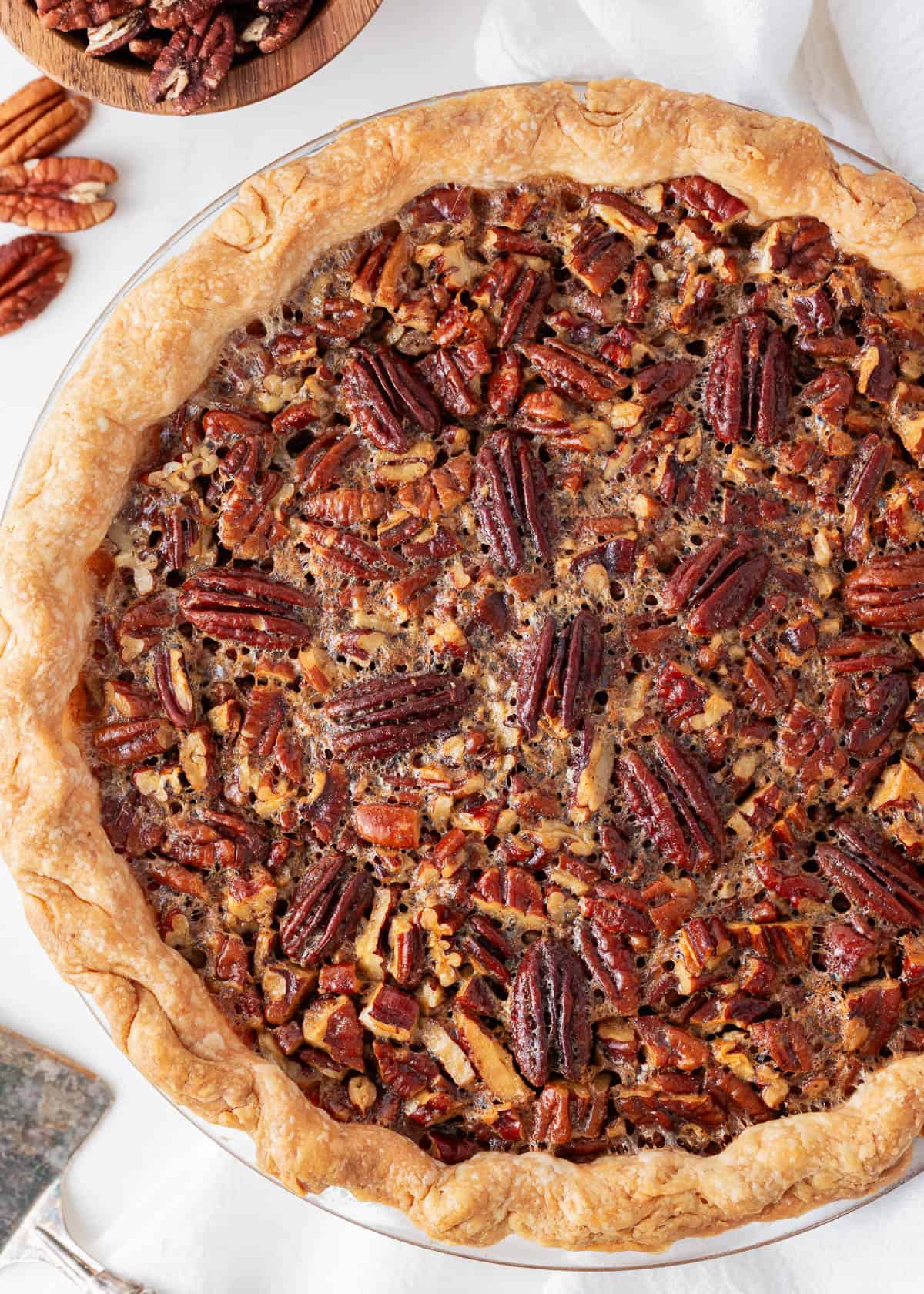 Recipe FAQs
Does pecan pie need to be refrigerated?
It's okay to stay out for a couple of hours while serving, but it will need to be put back in the fridge after that because it does contain eggs.
Can you freeze pecan pie?
Yes! Once completely cooled, wrap it with plastic wrap to avoid freezer burn. Then, transfer it to a freezer bag or freezer-safe container. Keep it frozen for up to 1 month. You could probably stretch it to 3 months but you may notice some texture changes.

Thaw overnight in the fridge and enjoy it within a couple of days.
Is it best to serve pecan pie warm or cold?
Once it is baked, you always want to cool it entirely down to room temperature. You can enjoy it as is, or cold straight out of the fridge. If you want to warm it a bit, pop it in the microwave for a few seconds.

If it's given a chance to set in the first place, you can enjoy it however you like.
Is dark or light corn syrup better for pecan pie?
This is a personal preference. I prefer light corn syrup because I think the brown sugar gives enough of the caramel molasses flavor, and I prefer the lighter, more vanilla flavor profile.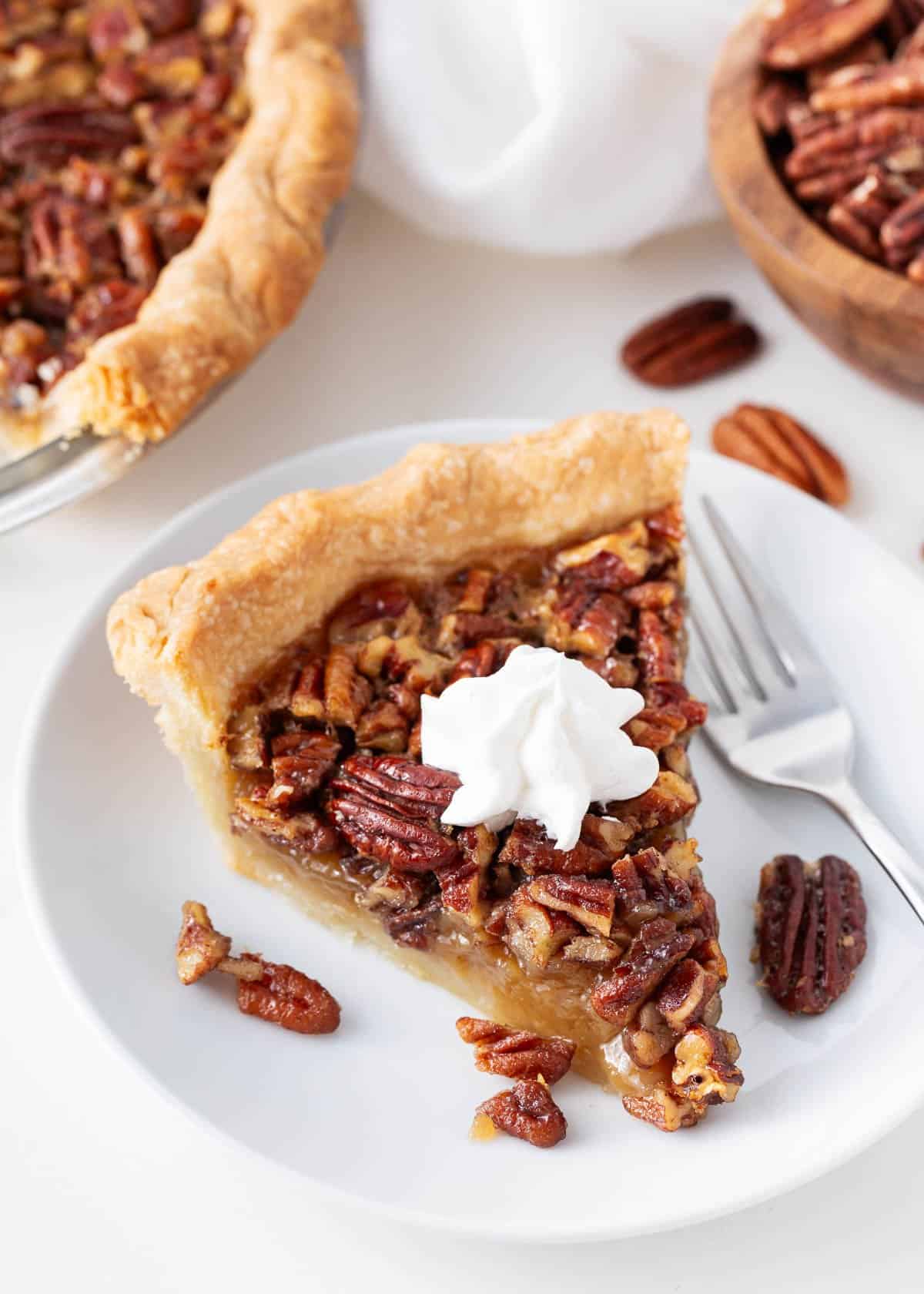 HUNGRY FOR MORE? Subscribe to my newsletter and follow on Facebook, Pinterest and Instagram for all the newest recipes!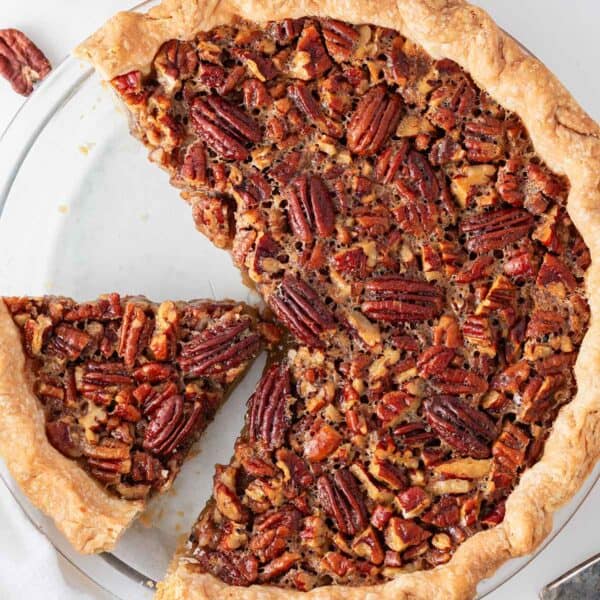 Pecan Pie Recipe
This easy homemade pecan pie is one of my favorite desserts among my Thanksgiving recipes. It's made with a prepared flaky pie crust, a sweet and smooth custard-like filling, and tons of pecans!
Ingredients
1 pie crust , unbaked
2 cups chopped pecans , reserve 8-10 whole pecans
3 large eggs
1 cup light corn syrup
½ cup light brown sugar , packed
¼ cup granulated sugar
4 Tablespoons unsalted butter , melted
2 teaspoons vanilla extract
½ teaspoon fine sea salt
¼ teaspoon ground cinnamon
For serving: Ice cream or Whipped cream
Instructions
Preheat the oven to 350ºF.

Prepare your pie crust and press into a 9-inch pie dish. Place in the refrigerator until ready to bake. When ready to bake, place chopped pecans in the bottom of the crust.

In a large bowl, whisk together the eggs. Whisk in the corn syrup, brown sugar, sugar, melted butter, vanilla, salt, and cinnamon until combined. Pour over the pecans. Place whole pecans in a circle design on top, being sure to press the pecans into the filling.

Bake 50 minutes to 1 hour, or until edges are golden and the center is set (it's ok if it's a little jiggly). Halfway through baking, place a pie crust shield or tent foil over the top of the pie to prevent the crust from burning.

Remove from oven and place on a cooling rack to cool completely. Serve with whipped cream or ice cream.
---
Notes
Storage: Loosely wrap the cooled pie in plastic wrap or aluminum foil. Keep in the refrigerator up to 4 days.
Nutrition
Calories: 450kcal | Carbohydrates: 54g | Protein: 5g | Fat: 26g | Saturated Fat: 6g | Polyunsaturated Fat: 6g | Monounsaturated Fat: 13g | Trans Fat: 0.2g | Cholesterol: 68mg | Sodium: 232mg | Potassium: 144mg | Fiber: 3g | Sugar: 43g | Vitamin A: 233IU | Vitamin C: 0.2mg | Calcium: 43mg | Iron: 1mg
Nutrition provided is an estimate. It will vary based on specific ingredients used.
Did you make this recipe? Don't forget to give it a star rating below!