These cornbread muffins are light and fluffy muffins with a deliciously sweet flavor! So easy to make and tastes amazing with chili and soup.
Don't miss my savory pumpkin muffins or sweet cinnamon apple muffins for an extra snack or side dish during dinner!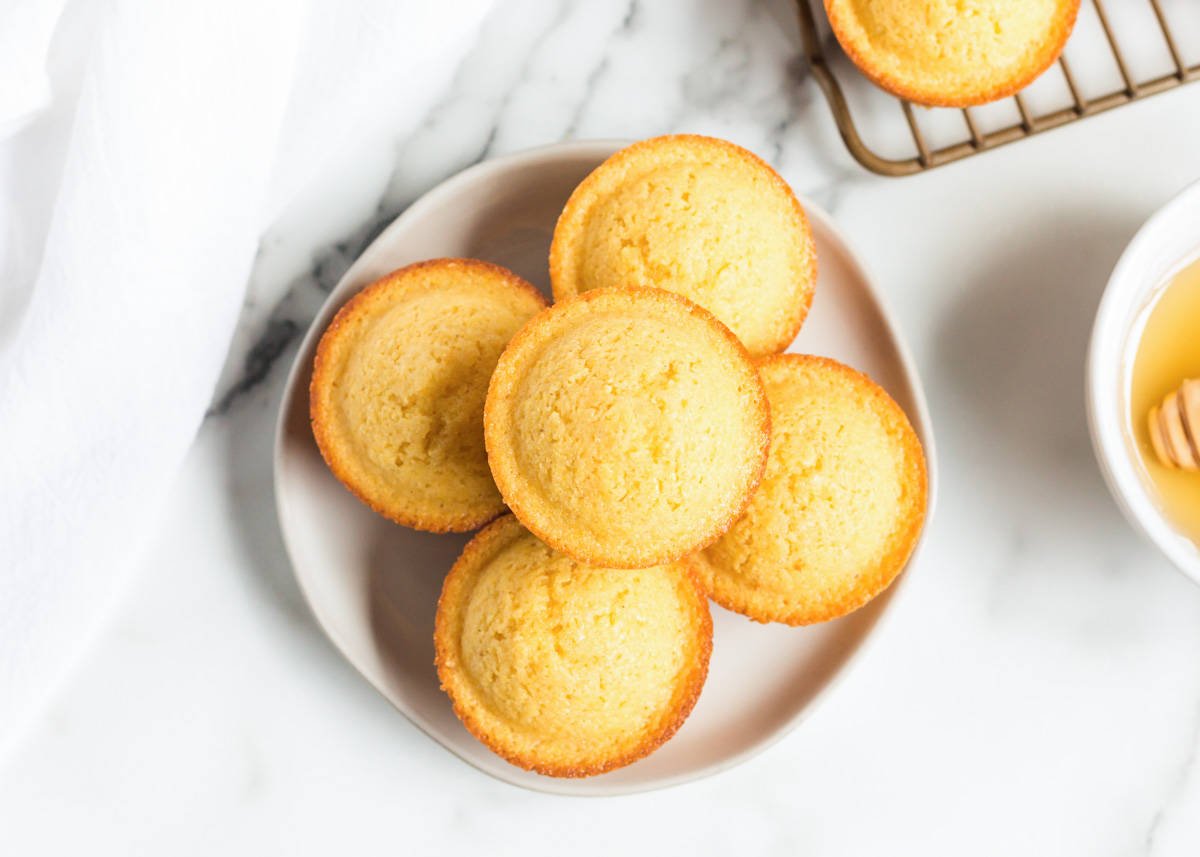 Perfect Muffins for Fall
These cornbread muffins are perfect to bring to a get-together or to serve along with a big bowl of homemade chili. While I also love a giant slice of cornbread from this skillet cornbread, I find the muffins are easier to grab and go!
These sweet cornbread muffins are sweet, fluffy, moist, and tender. They are super easy to make and you can whisk up the batter in no time at all. They taste great year-round with all types of soup and comfort food.
Recipe Ingredients
With just a few pantry staples, you can have sweet cornbread muffins to serve as a side or the main event.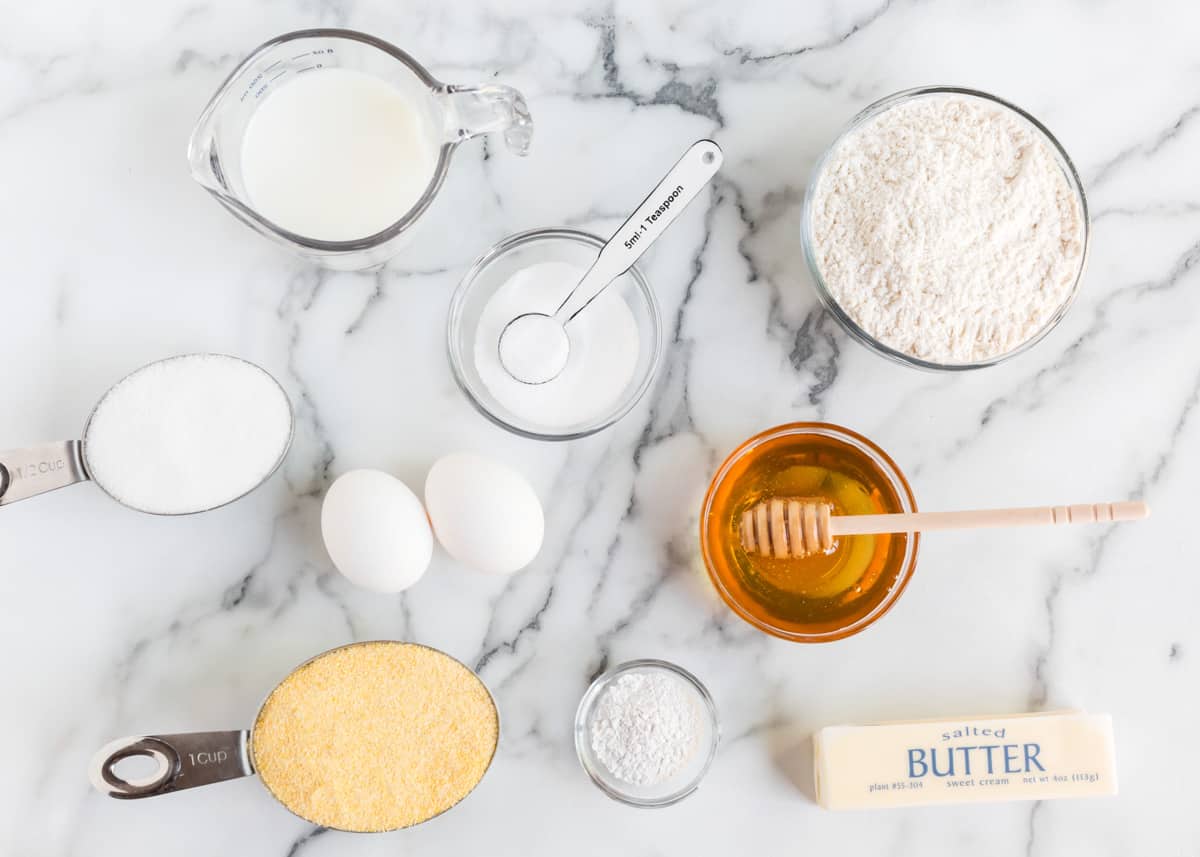 Find the full printable recipe with specific measurements below.
Yellow cornmeal: The key ingredient that gives cornbread mix its corny flavor and texture.
Milk: I like to use 2% to add a little extra fat but still keep things light.
Honey: This provides a little extra sweetness with a bit of depth.
Eggs: The binder that brings all the other ingredients together.
Dry ingredients: Flour gives these muffins their structure and keeps the crumb tight. Sugar adds just the right amount of sweetness. Baking powder leavener makes the muffins rise.
Butter: Melted butter added right at the end makes the muffins moist and a bit nuttier.
Favorites to Spread on Top
These muffins taste amazingly warm with any type of spread on top. My personal favorites are butter, honey, or cinnamon butter.
Butter: Try a variety of different types of butter like this cinnamon butter, apple butter, or smooth and creamy unsalted butter.
Honey: A classic combination that is loved by everyone.
Strawberry jam: The strawberries and corn combination is out of this world tasty!
Cinnamon sugar: Sprinkle this cinnamon sugar mixture overtop butter for extra sweetness!
How to Make Cornbread Muffins
This homemade cornbread muffin recipe is the perfect side dish that can be made in less than 20 minutes!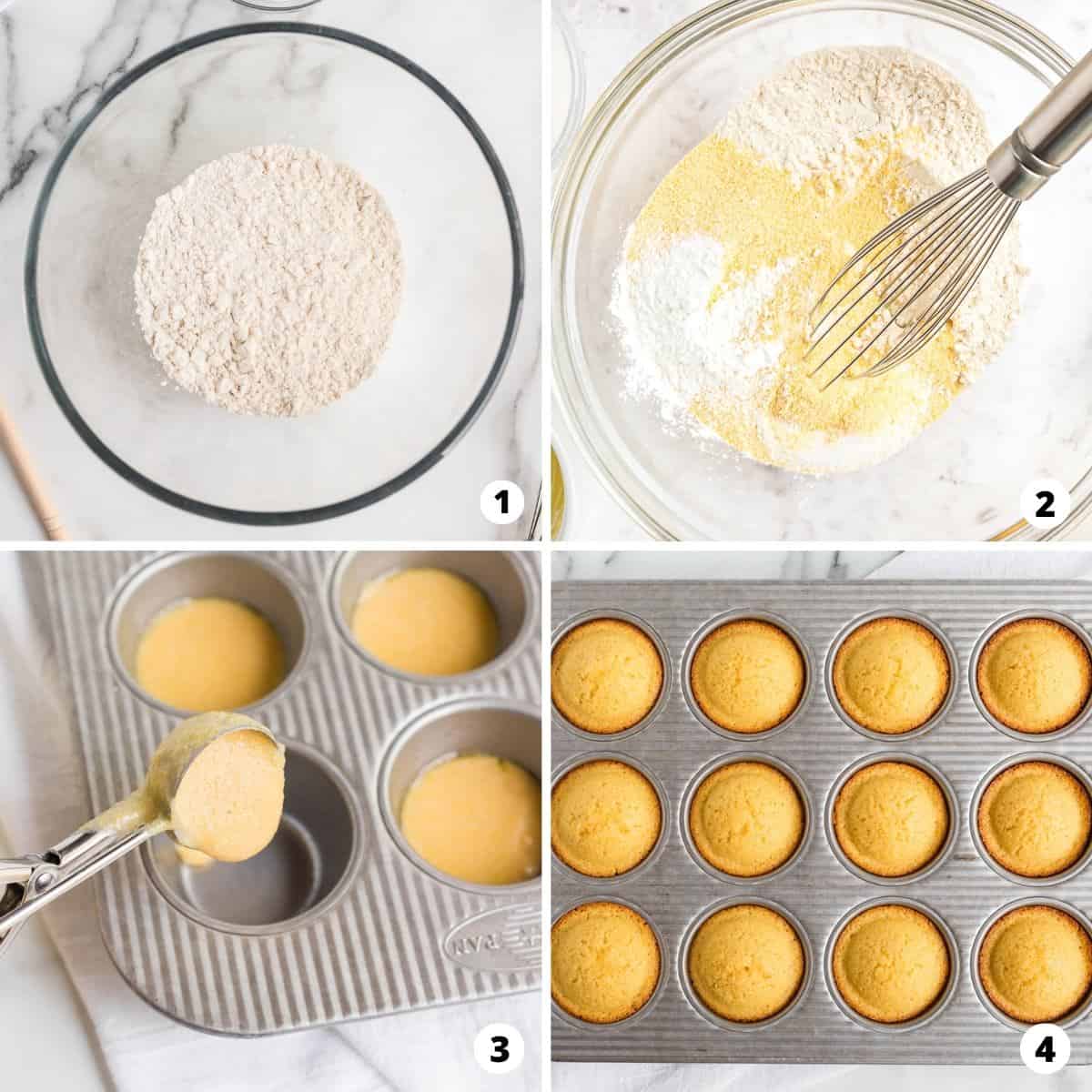 Combine. In a large bowl, combine the flour, cornmeal, sugar, baking powder, and salt.
Whisk. Pour the milk mixture into the flour mixture and stir just until combined. Then mix in the melted butter without don't over-mix. Fill a measuring cup with 3/4 cup milk, then whisk in the eggs and honey.
Fill. Pour the batter into a greased 12-cup prepared muffin cups, so that each cup is about 3/4 full. Divide batter evenly in each muffin cup.
Bake. Bake in oven at 350°F for about 17 to 20 minutes, or until the tops are golden. Poke a toothpick in the center of one of the muffins to make sure it comes out clean. Then remove from oven and let cool slightly before serving.
Cooking Tips + Variations
For serving, I love adding a little bit of butter and honey or cinnamon butter on top too. If we have leftovers, I love to toast them up to make cornbread croutons for my favorite cornbread salad. So delicious and always a crowd-pleaser!
Cooking spray. Make sure to use a good amount of nonstick cooking spray so the muffins don't get stuck to the muffin tin.
Cookie scoop. Use a medium cookie scoop to evenly fill each muffin cup with batter (it should be 3/4 of the way full). An ice cream scoop works well too.
Less sugar. This recipe is forgiving, you can cut the sugar in half if you prefer them not as sweet.
Mexican blend. For more savory Mexican cornbread muffins, cut out the sugar and try adding in 1/2 cup shredded cheddar cheese and chopped green chiles or jalapeños. You could also add in 1/2 cup creamed corn.
Kid approved. Turn these into corn dog muffins by adding a hot dog in the center of each. My kids love this version!
Leftovers. Make cornbread croutons or cornbread stuffing with any leftovers that you need to use up.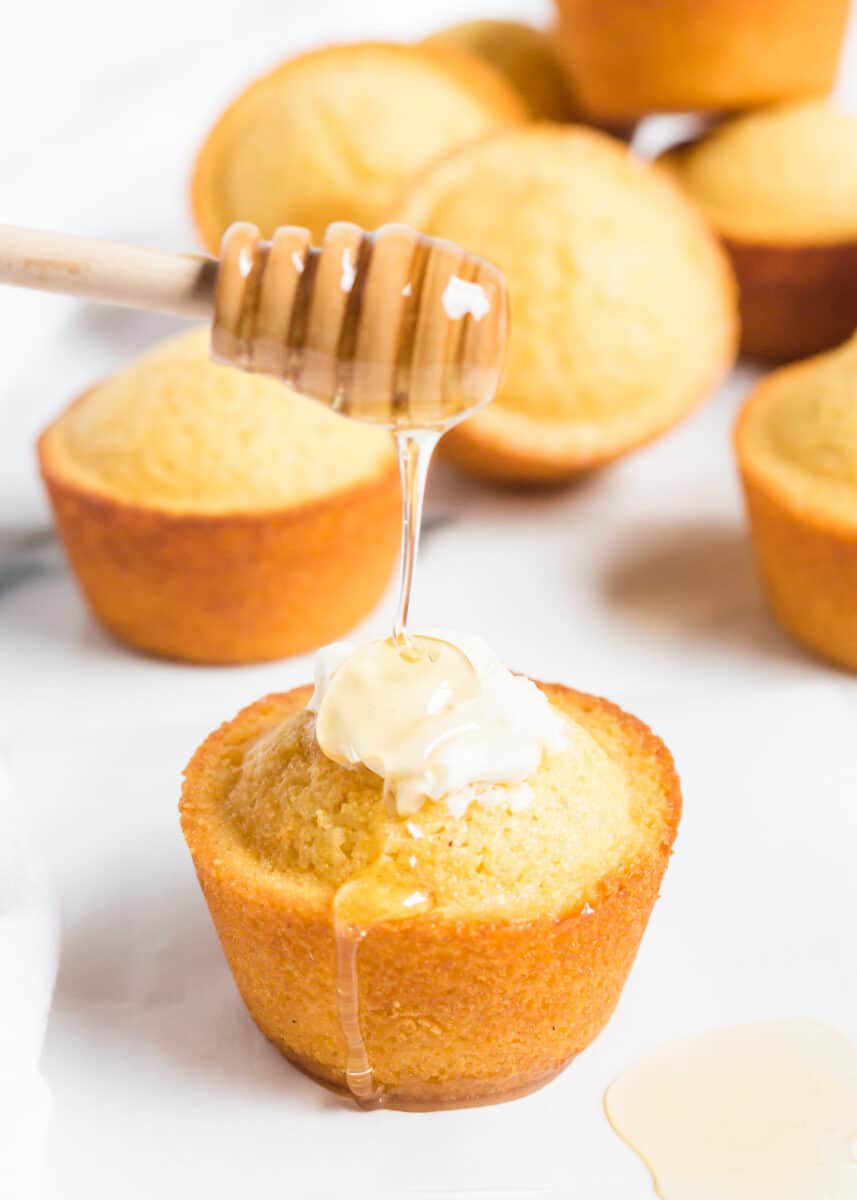 Recipe FAQs
Are sweet cornbread muffins the same as cornbread?
Sweet cornbread muffins are similar to cornbread just in muffin form with extra sweetness and moisture from the sugar added in. Homemade cornbread recipe does not have sugar added to the recipe.
Can I make sweet cornbread muffins without sugar?
Yes! You can either reduce the amount of sugar or omit it altogether. They would be more homemade cornbread muffins instead of sweet cornbread muffins.
Can I make sweet cornbread muffins gluten-free?
Yes, this recipe can be transformed into a gluten-free corn muffin recipe by substituting gluten-free all-purpose flour or a mixture of gluten-free corn flour.
How to add mix-ins to sweet cornbread muffins?
Create different variations of sweet cornbread muffins with a few extra mix-ins to the muffins. Try creamed corn, jalapenos, cheese, or even diced bacon to change the texture and flavor.
How can I prevent my sweet cornbread muffins from being too dry?
Make sure not to overmix the ingredients when mixing the dry and wet ingredients with a whisk or rubber spatula. You can even fold the ingredients together to avoid overmixing. It is best not to overbake the muffins too.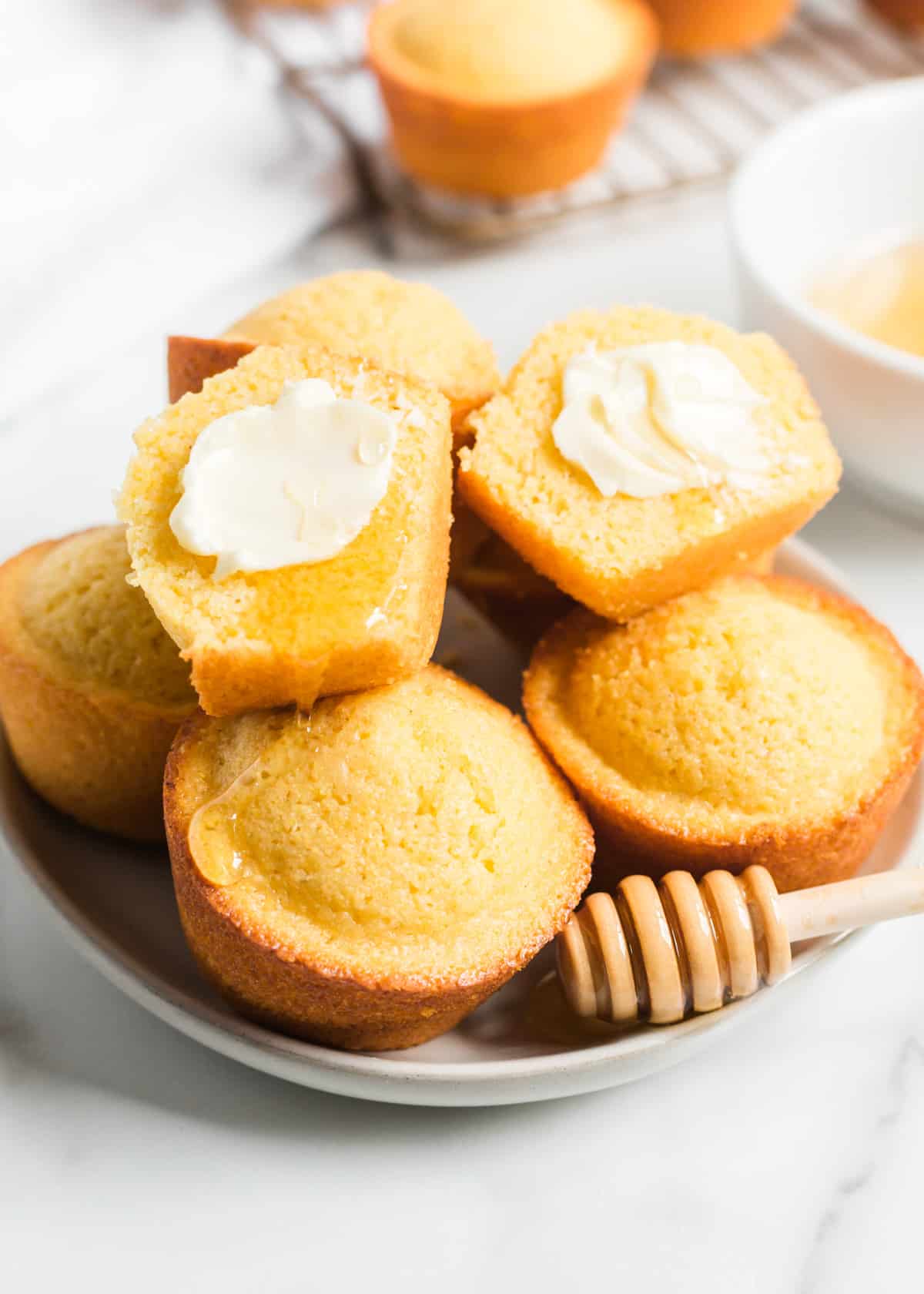 5 star review
"Fluffy inside, crispy edges and so easy to make. My search for the perfect muffin stops right here."

-Kellie
Freezing + Reheating Sweet Cornbread Muffins
Here are the best ways to store, make ahead, and reheat these easy sweet cornbread muffins! They are amazingly delicious every time!
Making ahead: Yes, you can make these sweet cornbread muffins up to 2 days ahead of time. Just wrap them in plastic wrap and foil and keep them in an airtight container at room temperature or in the fridge
Freezing: These muffins hold up great in the freezer. Once they have cooled, wrap them individually in foil or place them in a freezer bag. They will keep in the freezer for up to 2 months.
Reheat: When ready to enjoy, let them thaw in the fridge overnight or at room temp until they are no longer frozen. Then re-wrap in foil and place in the oven at 350°F until warmed throughout.
Serve Muffins with
HUNGRY FOR MORE? Subscribe to my newsletter and follow on Facebook, Pinterest and Instagram for all the newest recipes!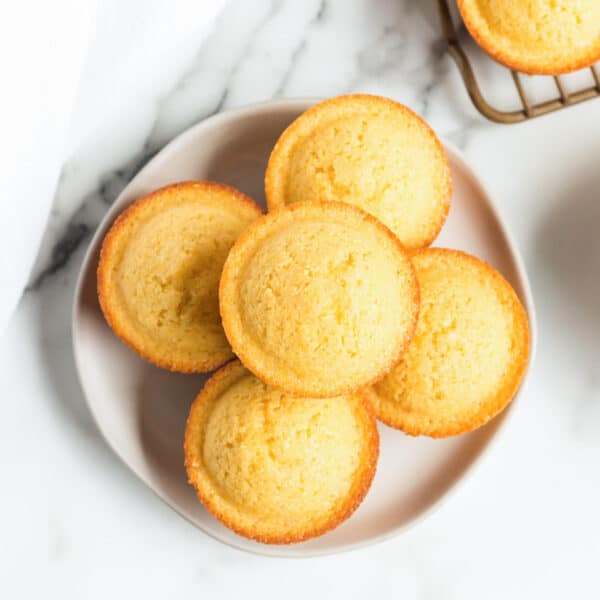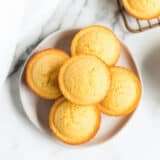 Sweet Cornbread Muffins
These cornbread muffins are light and fluffy muffins with a deliciously sweet flavor! So easy to make and tastes amazing with chili and soup.
Ingredients
¾ cup milk , I used 2%
⅓ cup honey
2 large eggs
1 cup all-purpose flour
1 cup yellow cornmeal
⅓ cup granulated sugar
2 teaspoons baking powder
1 teaspoon Kosher salt
½ cup salted butter , melted and cooled slightly
For serving: Butter and honey
Instructions
Preheat the oven to 350°F. Butter or spray a 12-cup muffin pan with nonstick spray or line it with paper liners.

In a large measuring cup or small bowl, whisk together milk, honey, and eggs.

In a large bowl, mix together the flour, cornmeal, sugar, baking powder, and salt. Add in the milk mixture and stir just until combined. Stir in the melted butter, being careful not to overmix.

Pour batter into muffin pan, about 3/4 way full. Bake for 17 to 20 minutes, or until muffin tops are nice and golden and a toothpick inserted in the center comes out clean. Let cool on a wire rack slightly before serving.

Best served warm with a little butter and honey, if desired, on top.
---
Notes
Freezer instructions:
To freeze: Let cool completely, then wrap in aluminum foil or place in a freezer bag. Store in freezer for 1-2 months.
Thawing: Place in refrigerator overnight or thaw at room temp until soft and fluffy (no longer frozen).
Reheating: Re-wrap in aluminum foil and place in oven at 350°F until warmed throughout.
Nutrition
Calories: 228kcal | Carbohydrates: 32g | Protein: 4g | Fat: 10g | Saturated Fat: 6g | Polyunsaturated Fat: 1g | Monounsaturated Fat: 3g | Trans Fat: 0.3g | Cholesterol: 53mg | Sodium: 274mg | Potassium: 163mg | Fiber: 2g | Sugar: 14g | Vitamin A: 306IU | Vitamin C: 0.05mg | Calcium: 58mg | Iron: 1mg
Nutrition provided is an estimate. It will vary based on specific ingredients used.
Did you make this recipe? Don't forget to give it a star rating below!